My all time, nothing else compares Christmas memory is all thanks to my incredibly awesome Mom! I must have been about 7 or 8 that Christmas. I woke up on Christmas morning to find this beauty of a Barbie Dream House all set up in the living room, Barbies posed on the furniture and all! I was over joyed with excitement. But this wasn't any plain old Barbie Dream House. Keep reading...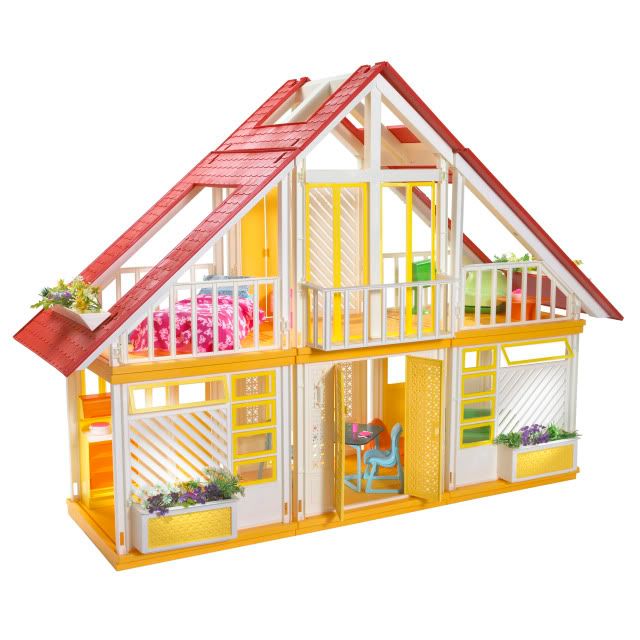 See for weeks my Mom kept locking herself in our carport shed (a tiny little room), and I remember I kept going out there asking "what are you doing in there?" She never told us.
My parents didn't have very much money and my Mom knew I wanted this Dream House, she had found one at a garage sale and decided she would make it way better than just some plain Barbie Dream House! She had spent all that time in the carport shed creating...she handmade amazing furniture. She created all the furniture out of old butter tubs, old tin cans, cardboard, popsicle sticks, fabric and batting. And I know your thinking that must have been some ugly furniture! Uh NO it wasn't! She actually created a couch and upholstered it using the other items as a base for the shape, same with the amazing chair for Barbies room that had a pleated skirt around the base of the chair (butter tub underneath). I could go on...it was all amazing! She even carpeted the Dream House! She took something that was just okay and popular at the time for little girls and made my version so memorable and special! All these years I've remembered how dedicated she was to creating this perfect Dream House for me to play pretend Barbies with, she did this for everything she did for us! Nothing was ever just plain and generic, even if we couldn't afford the very best....she always turned something into or created the very best for us!
I will NEVER forget that Barbie Dream House! I still secretly wish I had it to still play with (yes I just admitted that!), not because I love playing Barbies at the age of 32...but because I would love to see that memory in real life again. So thanks Mom! Thank you for taking the time to create something so wonderful and magical for me, for making an everlasting memory of a wonderful Christmas, and for not ever just giving us plain old generic gifts!
P.S. That year my brother also got this ginormous train set she also worked on!