I'm so excited! Today is my very first Linky party! Whoop, Whoop. Every Friday I will be hosting this link party, I will open the parties usually on Thursday nights just to give everyone a head start on the fun. I am so stoked to see everyones awesomeness! There are going to be some rules if you want to participate in the linky party though, and if your use to linky parties on other blogs then you probably already know the rules.
* Post only original projects and tutorials
* Shop or giveaways, they will be deleted
* Be sure to link directly to your project page
Every week I will feature some of my favorite projects that were linked up.
:-:-:-:-:-:-:-:-:-:-:-:-:-:-:-:-:-:-:-:-:
One more exciting thing! I'm hosting a great giveaway that is being sponsored by Stephanie over at
COZYmade
. I featured some of her lovely wreaths on my Spring Wreath post. She has a great Etsy shop filled with wonderful wreaths & hair accessories. Stephanie is offering one of you lucky readers a $50 Gift Certificate to her shop to pick anything you'd like. Let me just say those wreaths are fantastic!
Stephanie spends her days as a graphic designer for a fun New England retailer, and nights as a hard working crafter and freelance designer. Although she loves what she does professionally, Stephanie finds joy in coming home and making things by hand. She has been exploring the world of crafting both online and at local fairs. Prior to opening this shop, Stephanie had an Etsy shop which sold fabric flowers headbands, earrings and rings.
With her adventures in flower making, Stephanie discovered how much she loved felt and decided to dedicate a chunk of time to making new things with it.
The

COZYmade

shop had a successful winter and has so much more to offer come spring/summer.
"What I love most about my shop is the ability to create new things at any given moment. With so many ideas flowing in my head, you can expect many new styles in the months to come.
The intentions of this shop are simple. To fund my addiction to making new things and also to hopefully bring in some money for the American dream of owning a home. I currently day dream of a space I can call my own, where I can create what ever my heart's desire.
"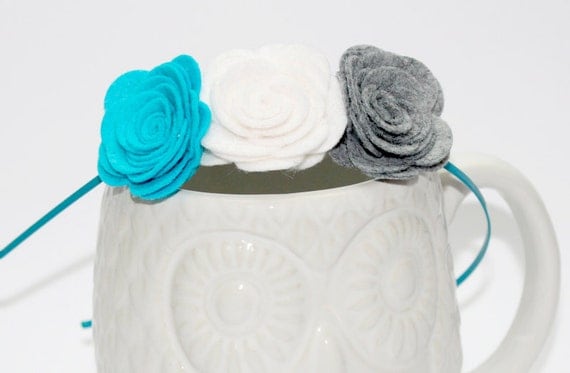 :-:-:-:-:-:-:-:-:-:-:-:-:-:-:-:-:-:-:-:-:
Here's what you need to do
to enter this Giveaway:
a Rafflecopter giveaway