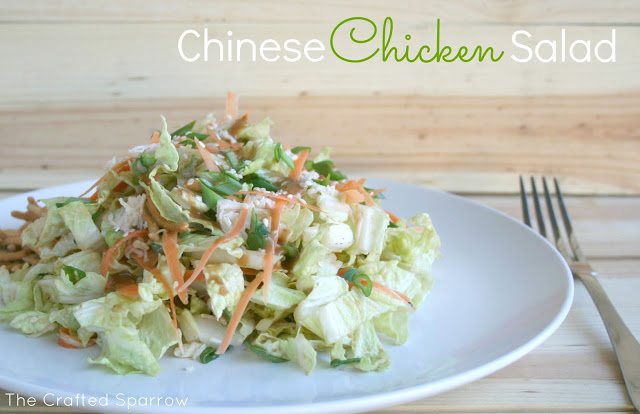 I love Asian inspired food, and salads are one of my favorites. Today I'm sharing this
Chinese Chicken Salad
. Make it for lunch or dinner, anytime it's the perfect light salad.
Ingredients:
– 1 can chicken breast (10 oz), or fresh rotisserie chicken (diced)
– 2 heads nappa cabbage
– 2 whole carrots washed and peeled
– 1 bunch green scallions, diced on an angle
– 1 bag crispy chow mein noodles
– 1 bottle Asian toasted sesame dressing
– sesame seeds
Instructions:
1. Chop all your nappa cabbage in to fine strips and place in large serving bowl.
2. Add your diced scallions, reserving some for a garnish.
3. Use a vegetable peeler to peel the carrots in to the bowl.
4. Add entire can of chicken breast (use a fork to break apart) or diced rotisserie chicken.
5. Toss in 1 cup of crispy chow mein noodles.
6. Add 1/2 cup Asian dressing, and toss entire salad. You can add more dressing to taste.
7. Garnish with green scallions and toasted sesame seeds.
Looks so good doesn't it?!