Disclosure | This post is sponsored by PediaSure®, and I have received product and compensation in return for this post. However, all ideas and opinions are my own.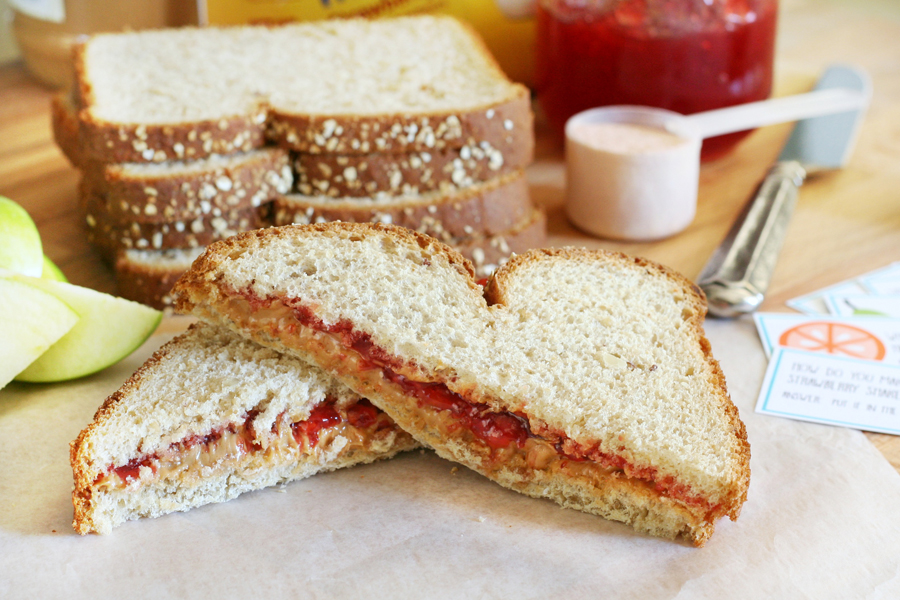 In just a few short weeks, our kiddo's will be headed back to school – I'm not sure who is more excited me or them! Soon we will be purchasing new school supplies, backpacks, and lunch boxes. I love to plan the kids lunches ahead of time for the first couple weeks, it really helps to keep things running smoothly each day when they go back. Today I'm sharing a simple lunchbox staple with a nutritious twist and some really fun Free Printable Lunchbox Notes to help add a little fun to lunchtime.
While my oldest will eat just about anything, which makes packing lunches a breeze for him – my youngest son is the one that is particular about what goes in that lunchbox. Typically he's all about pepperoni and mustard sandwiches (his own creation), but this year he's agreed to try a few new things. Peanut Butter & Jelly being one of them, while most kids at his school have this on a daily basis in their lunch boxes, not my kid. For years, he has said a big fat NO to the idea of jelly touching his sandwich until now. He's loved all the recipes I've been making with the new PediaSure SideKicks Fruit & Veggie Smoothie Mix and agreed to try it in this simple lunchbox sandwich. I'm happy to report he loved it!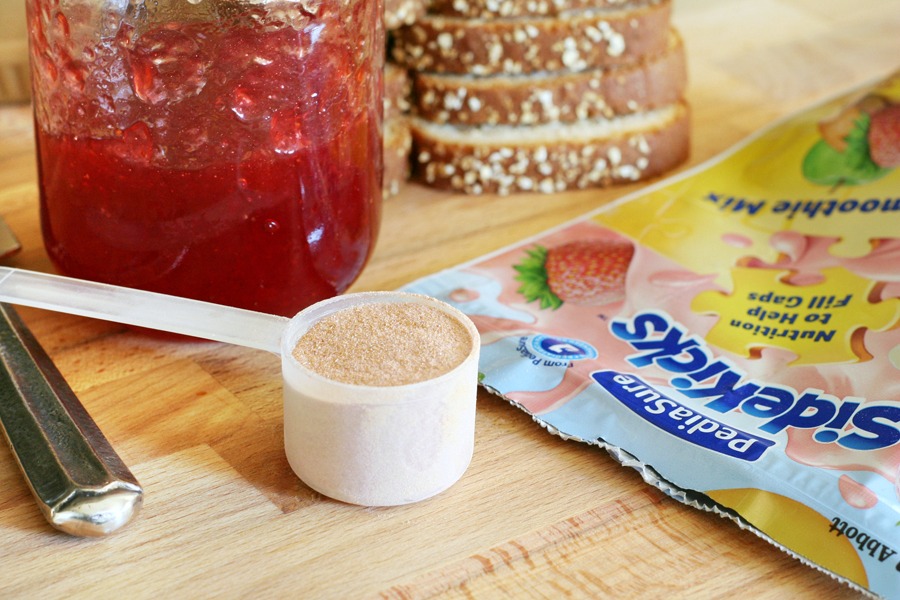 Following a super easy recipe I found on the PediaSure website I took an ordinary sandwich and turned it into a power packed sandwich full of extra nutrients that help to fulfill their daily fruit and veggie servings with real dried strawberries, bananas, apples, and sweet potatoes. Just one serving of the smoothie mix provides them with the equivalent of 1/4 cup fruits and 1/4 cup of their daily servings needed.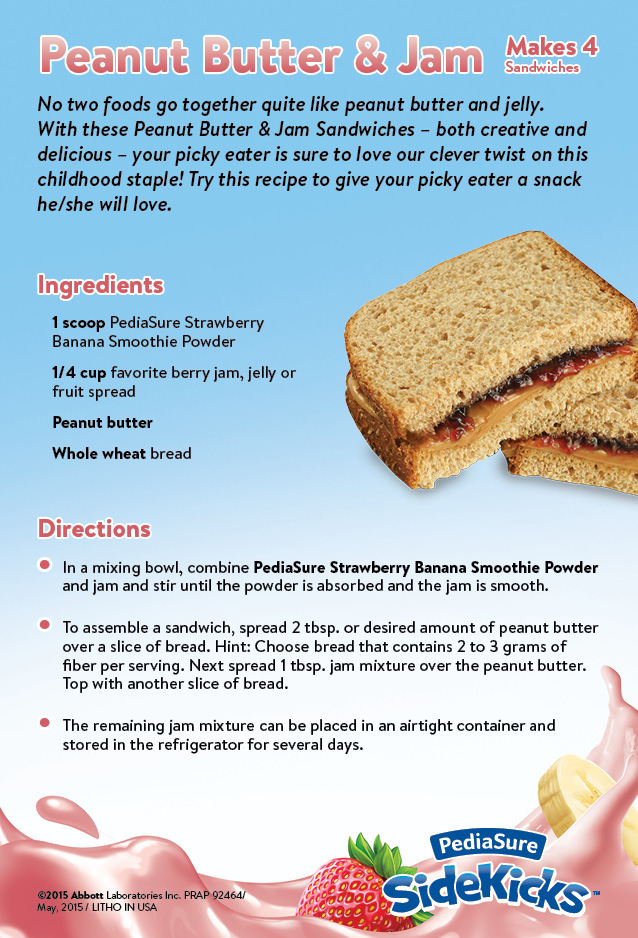 Just add the PediaSure SideKicks Fruit & Veggie Smoothie Mix to your Jam, Jelly or Fruit Spread and mix well. Assemble the sandwich as normal. If you have any extra jam mixture it can be refrigerated for up to a couple of days.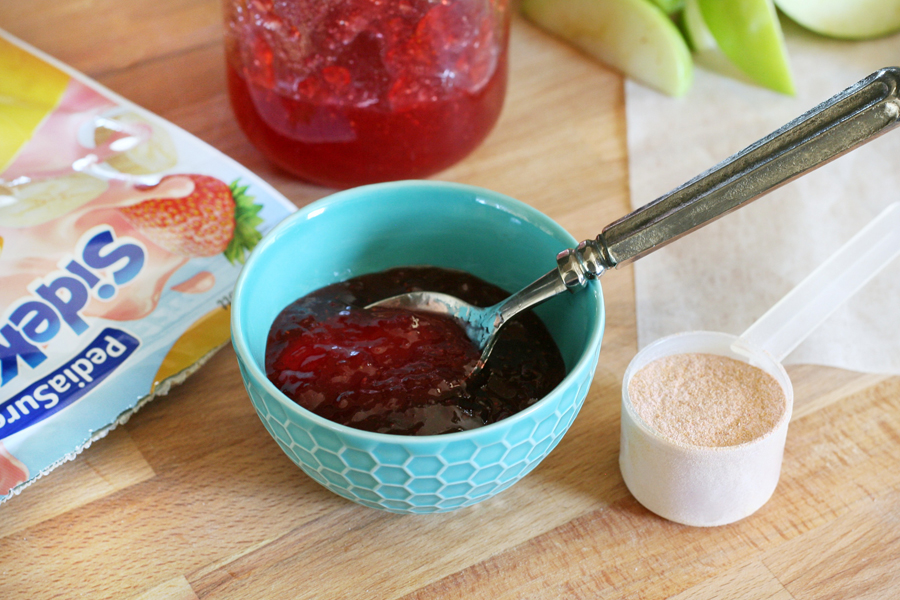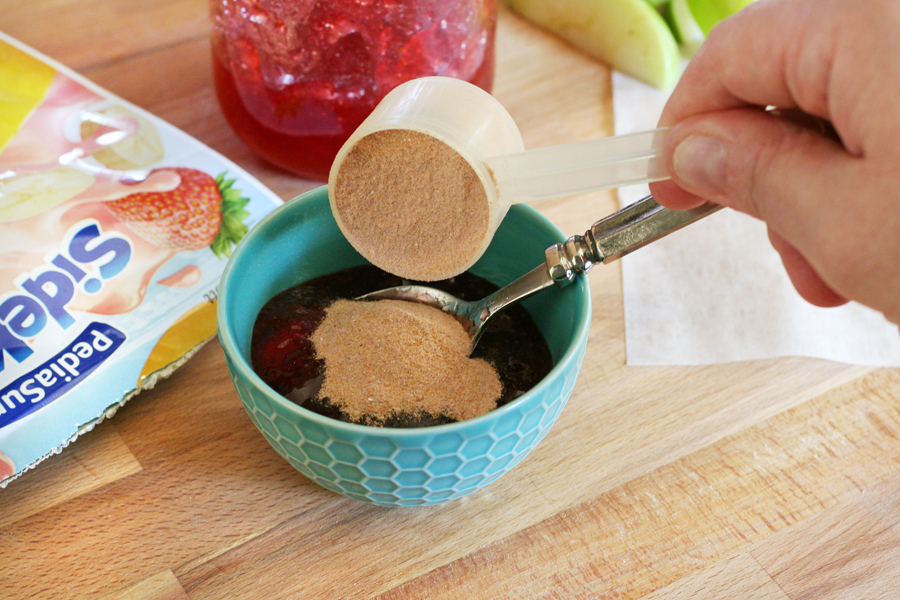 To make lunchtime a little extra fun I thought it would be fun to include some fun lunchbox jokes and notes. Since we are talking healthy choices and nutrition I kept with a fruit theme to these printables.
My boys love it when we include notes in their lunch boxes, I know it makes them smile since most of the time they try to keep all the notes long after lunchtime is over. You can download and print them HERE, two pages are full of silly jokes and one page is sweet notes to make them feel extra special.
Be sure to check out my other fun recipes and ideas made using the PediaSure SideKicks Fruit & Veggie Smoothie Mix: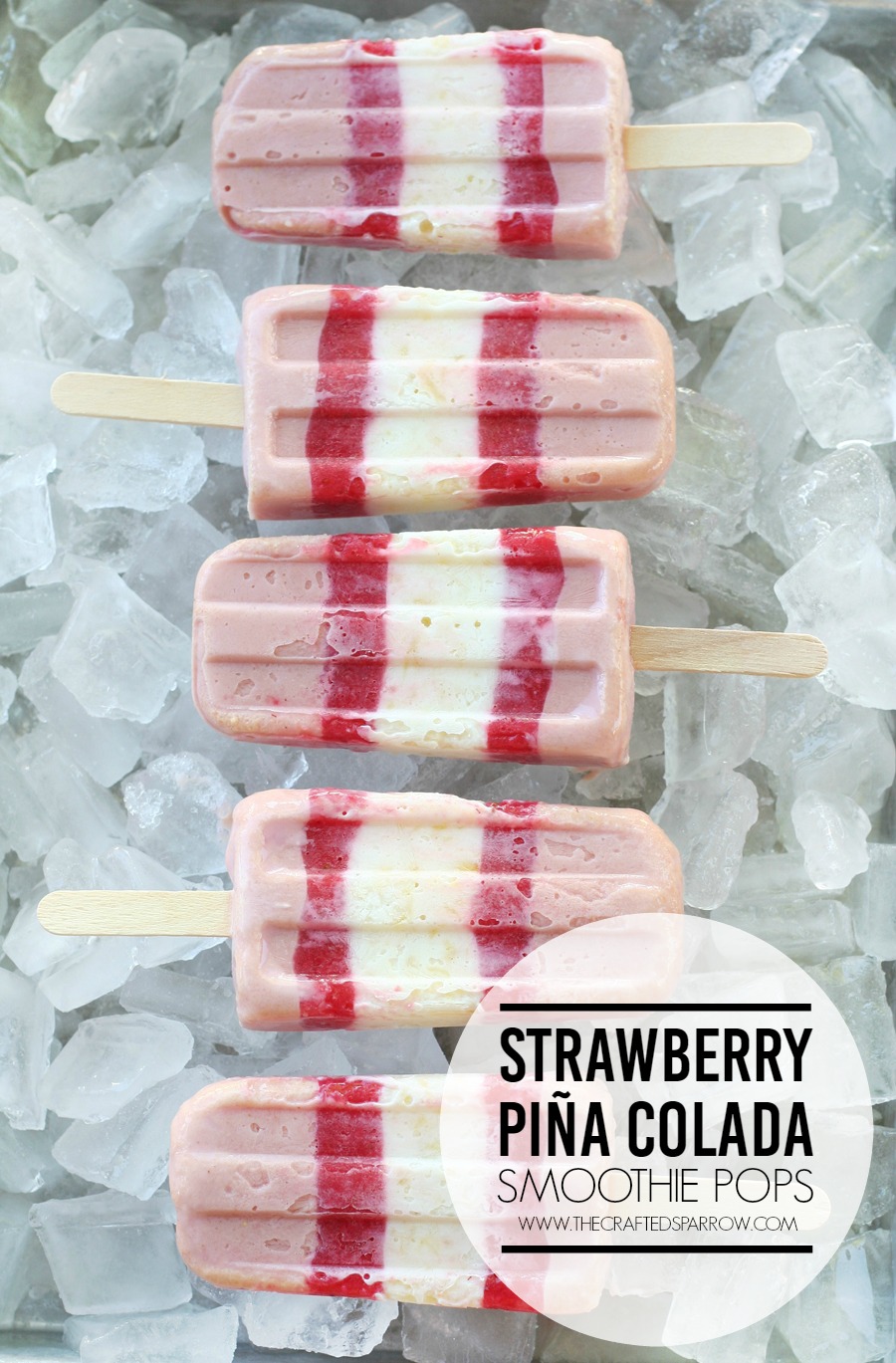 Strawberry Piña Colada Smoothie Pops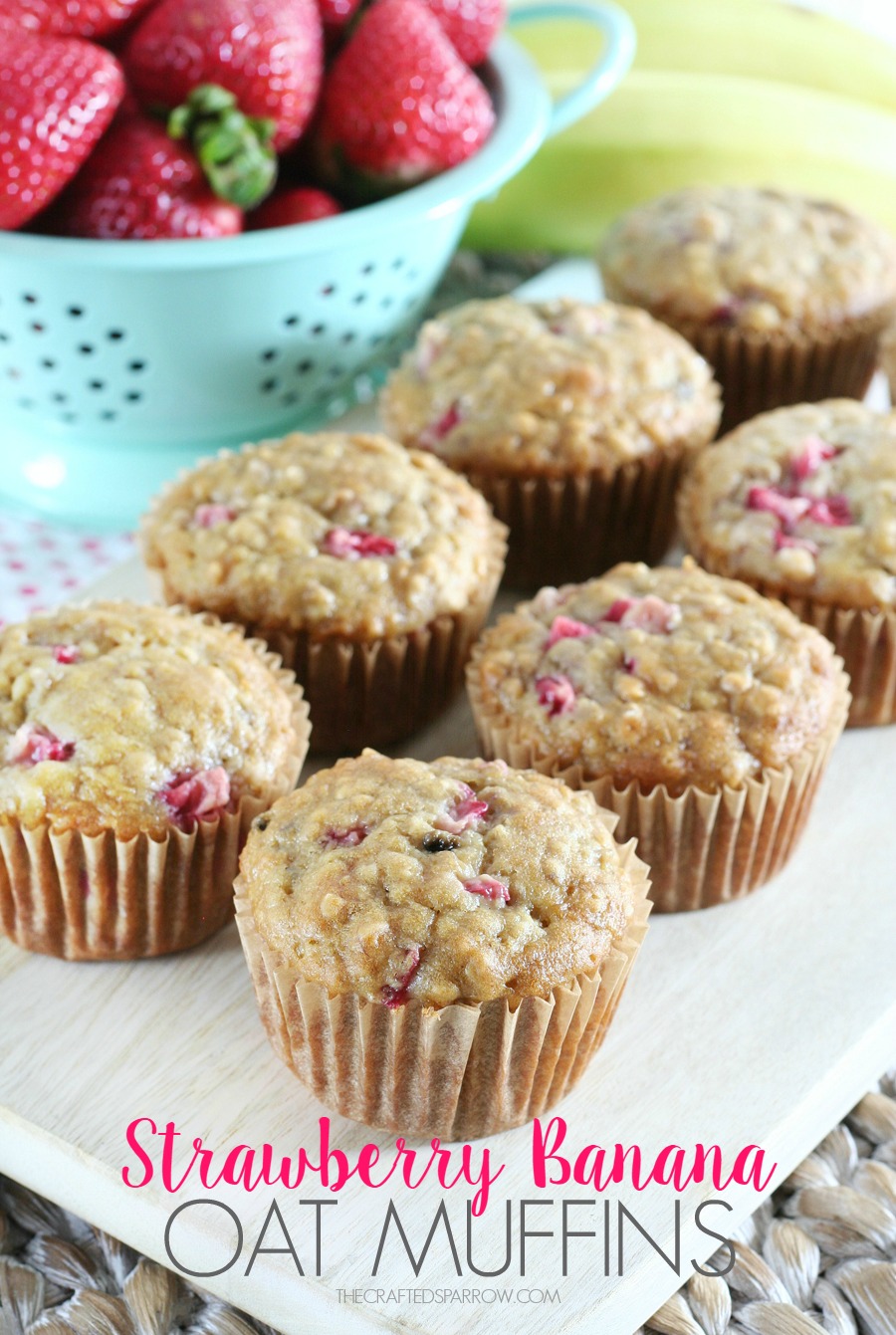 Strawberry Banana Oat Muffins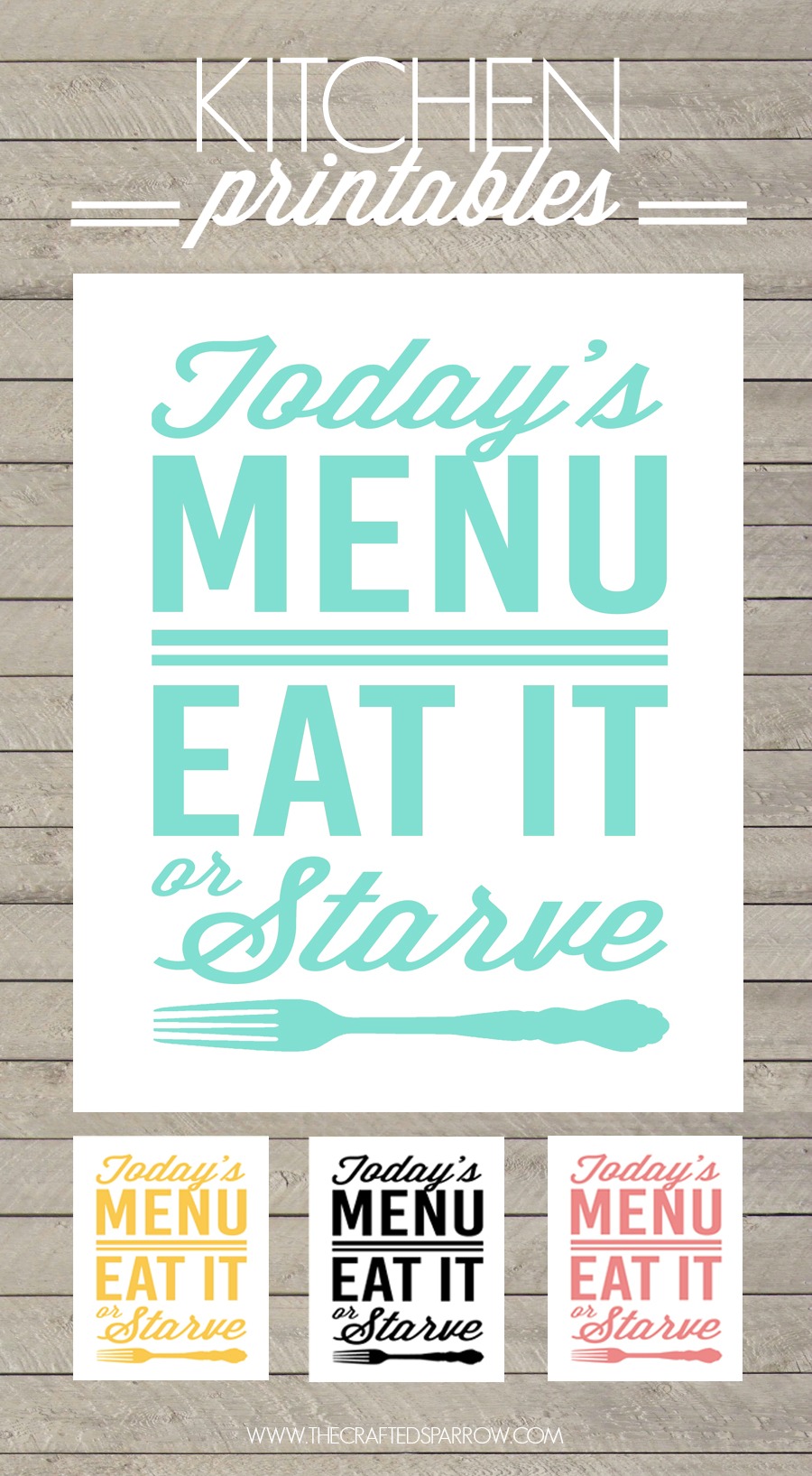 Free Kitchen Printables
There are a ton of great recipe ideas for the PediaSure SideKicks Fruit & Veggie Smoothie Mix, to learn more about them head over to PediaSure for more information. Be sure to follow them on Facebook to stay up to date on fun things.