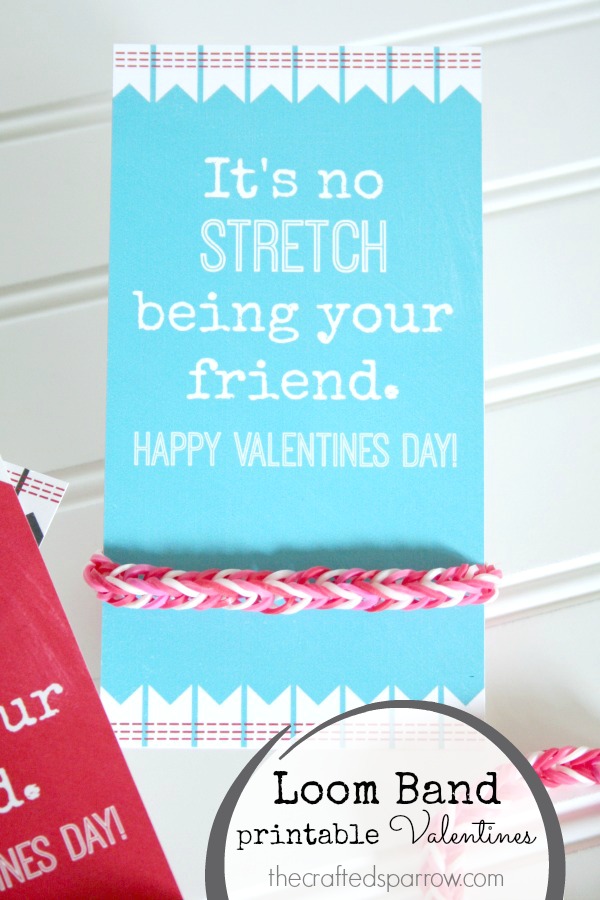 Happy New Year friends! I'm back. This year has already gotten off to a busy start. For Christmas I purchased my son the super popular loom bands & a loom. Since then we've been super busy looming away. Today I wanted to share the fun Valentines Day idea that we came up with for his class. These
Loom Band Printable Valentines
are sure to be a hit in your kids classroom!
Supplies:
Loom bands
Loom band kit (optional)
C-clips or S-clips that come with loom bands
Free Printable Loom Band Valentines found below
Hole punch
I'm sharing these printables now so that you your kiddos have plenty of time to make the loom band bracelets that go with each card before Valentines Day. Have your kids make a bracelet for each friend or classmate they want to give a Valentine to. A fun idea is to make the bracelets either Valentines themed or use their school colors.
Next just download the free printables below and print. To download them just click on the color/s you want and "save as" to your computer. Then open in a program like word or publisher, I made mine 3 x 5.5″ in size so the kids sized bracelets fit on it properly. I always suggest printing on a matte photo paper for best quality, but any white card stock will do.
There are 5 colors to choose from. You can go HERE to DOWNLOAD them all or pick the colors you love best.
Once they are all printed and cut you will need to grab your hole punch. I punched a half circle on each side of the card. This is where the bracelet will sit in the grooves. You can always tape the bracelet as well from the back of the card to be sure it doesn't fall off.
Cute right?! I love how these turned out. Be sure to check out these
Loom Band Printable Valentine's Tags
if you're looking for another cute idea.