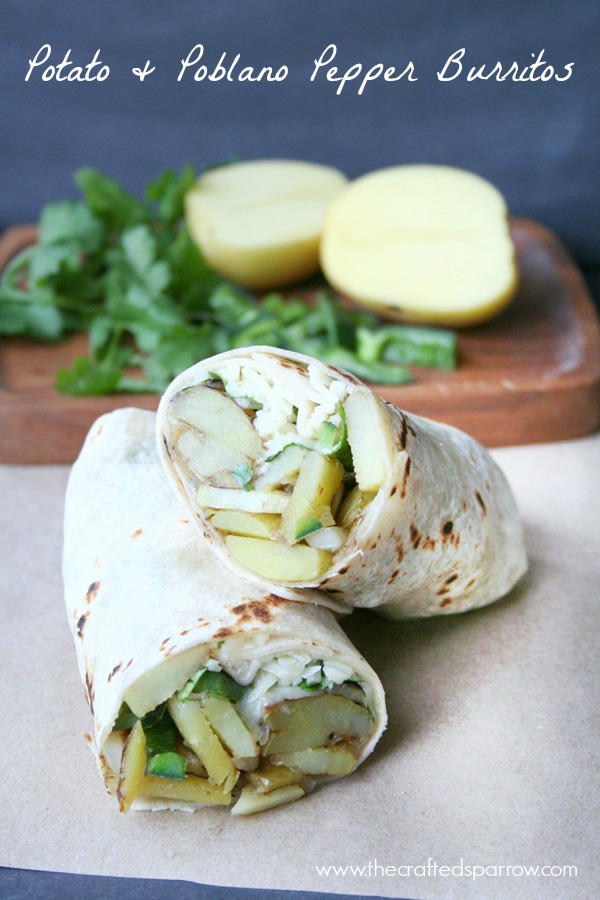 I have to start off by saying that this recipe is brought to you from my better half Mr. Lopez.  By day he is a Kitchen Manager for Pei Wei Asian Diner.  He has cooked professionally for over twenty years and for all of those years he has cooked Asian food.  We are so lucky that even on his days off he will cook for us when the boys request something special from him.  Lately he's been making these Potato & Poblano Pepper Burritos.  They are so good, easy to cook, and are a great make ahead meal.
Ingredient List:
– 10 medium size yukon gold potatoes, washed and sliced
– 2 large poblano peppers, washed and sliced in to 1″ long pieces (remove seeds to make the dish mild, leave some in for a spicy kick)
–  1 large white onion, sliced in to 1″ long pieces
– 10+ extra large burrito size flour tortillas
– canola oil
– salt & pepper
– 1 bunch cilantro, washed/dried and chopped
– 1 x 8 oz bag monterey jack cheese, shredded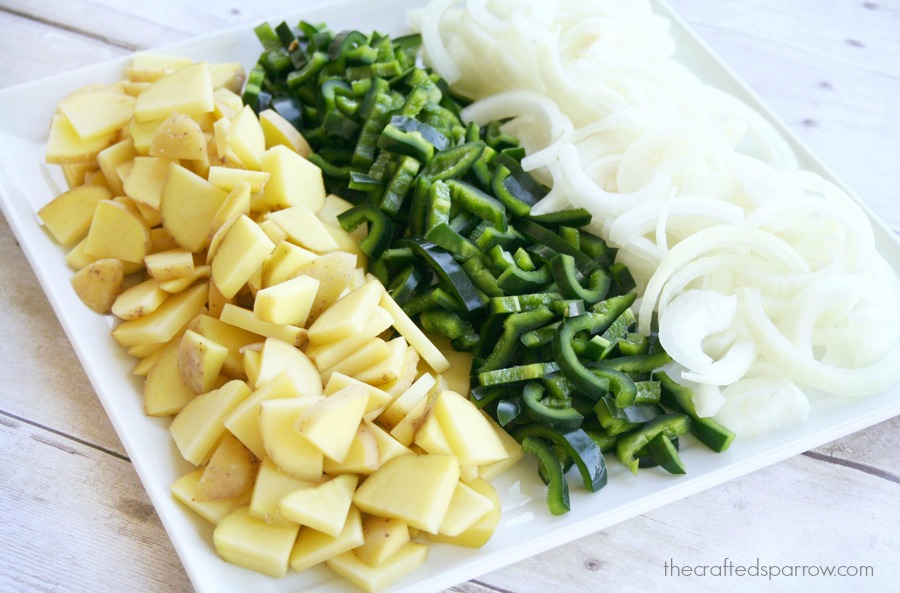 Directions:
In a large skillet over medium – high heat add 1 TB of oil.  Add in your sliced yukon gold potatoes.  Season with salt and pepper, I will leave this up to your taste on how much you add.  Continue to cook potatoes, moving the potatoes around occasionally.  You want the potatoes to become caramelized on the sides.  Once the potatoes have become tender and caramelized remove from the pan and set aside.  Now add 1/2 tsp of oil to the skillet and toss in your poblano peppers and onions.  Sautee until onions begin to turn transulcent and darken around the edges.  Add your potatoes back in to the pan, toss together.  Taste your seasoning one last time, add any additional salt and pepper if you need to.  Remove from heat and set aside covered.
Either on a large open griddle, grill pan, or skillet set on low to medium heat you will need to heat each tortilla.  This is the key to ANY mexican dish involving tortillas to taste it's very best.  The tortillas must always be heated!  Heat your tortilla on each side until the tortilla begins to puff up, then flip.  Once both sides are done place in a dish covered with foil so they stay warm.  Once all your tortillas are heated you can begin rolling your burritos.
On your tortilla layer your monterey jack cheese, your potato & poblano pepper mix, and top with a small handful of fresh cilantro.  Roll your burrito by rolling one end over the center filling first, then take both sides and tuck in, then tightly roll your burrito closed.
Serve with sour cream or a spicy salsa.
I thought it would be fun for you to see how my hubby cooks most of our meals when he cooks.  He has made his own wok station outside, I love when he cooks outside using the wok.  Not only is the flavor better, but it's so fun to watch all the high dancing flames around our food.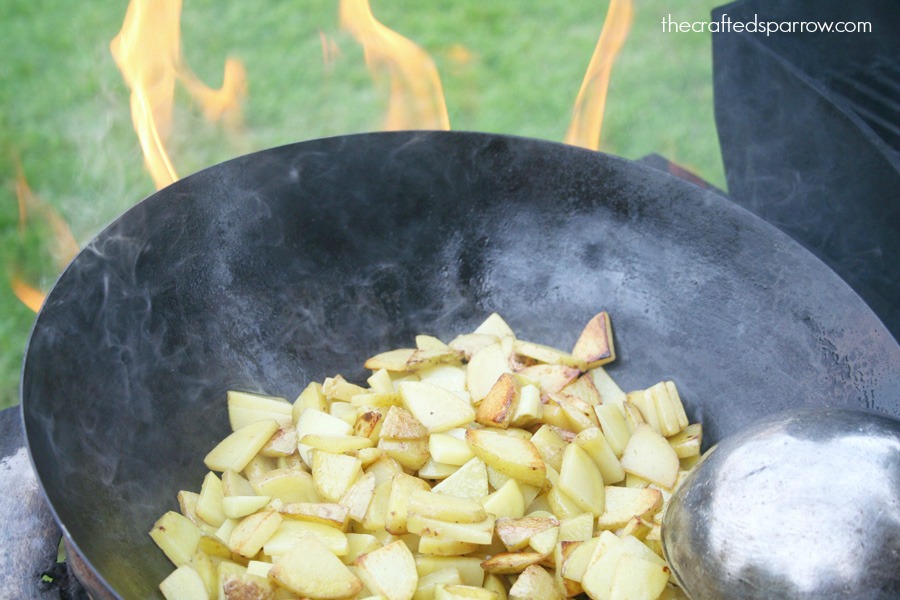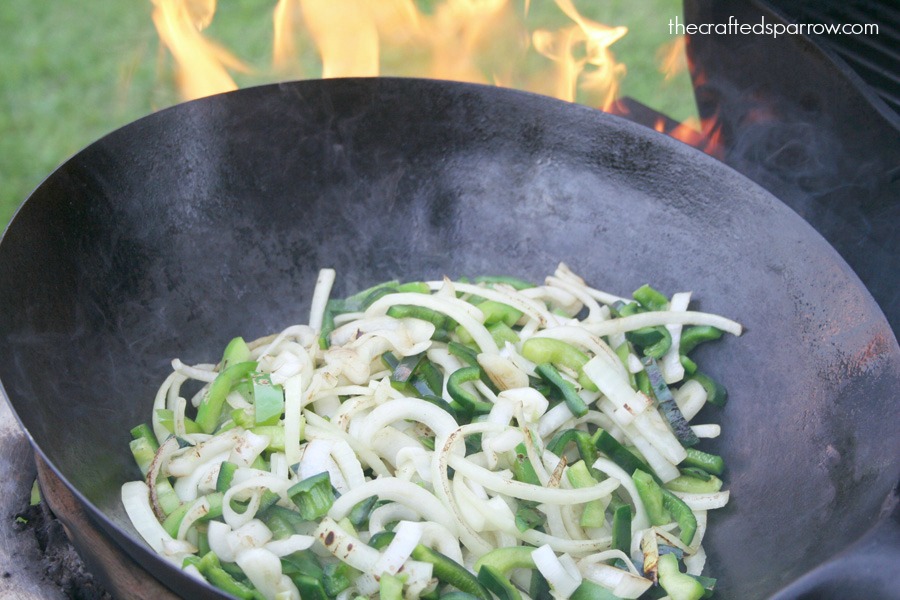 These burritos are great leftover too, we usually make a huge batch of this potato & poblano mixture and make as many burritos as we can.  They freeze well, just wrap each burrito in plastic wrap and place in a large ziplock bag in the freezer. Remove when you want them and let the thaw in the fridge the night before you want them.  My kiddos love these cold in their lunch boxes too.
I hope you love this recipe, we get so many compliments on my hubby's cooking so I have asked if he would help share some of his recipes every once in a while.  I can't wait to share his next recipe with you.  Enjoy!