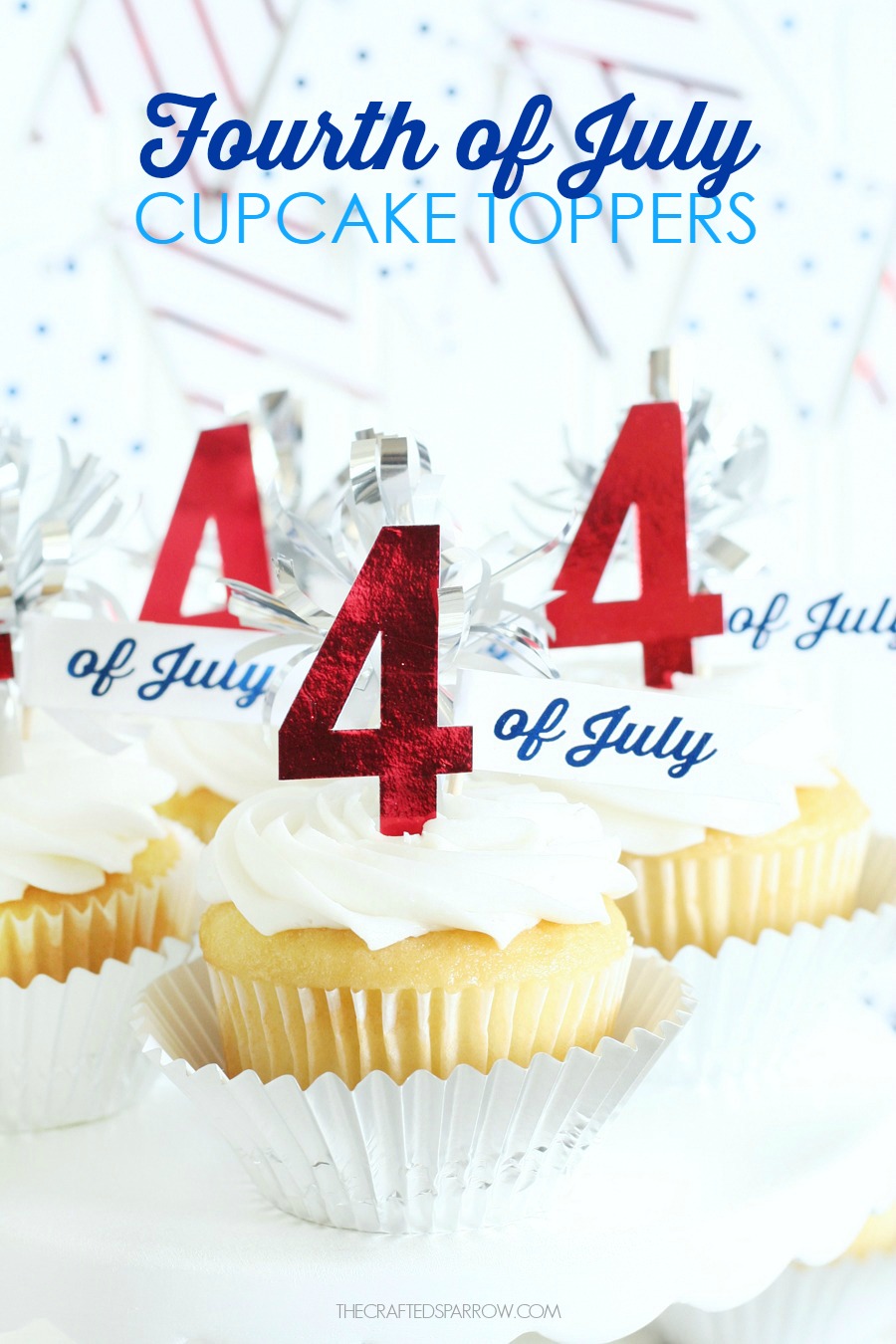 Who's ready for the fabulous 4th of July and all the fun festivities that come with this awesome holiday?! I love the 4th of July, I mean what's not to love – fireworks, all things patriotic, bbq's, and friends & family. If you're still looking for some cute ideas to help make your festivities sparkle I've got a cute idea for you, today I'm showing you how easy it was to make these fabulous foiled 4th of July Cupcake Toppers.
Supplies:
MINC Foil Applicator
MINC Foil, red – silver – blue
MINC Transfer Fold (the plastic sleeve that comes with the machine)
Free 4th of July Cupcake Topper Printable, found HERE
Scissors
Toothpicks
Glue gun
Start by downloading the free 4th of July Cupcake Topper Printable found HERE in the black and white. To complete this project you will need to have a laser printer to print the printable for foiling, if you don't own a laser printer you can take the file to your local copy shop to have it printed there.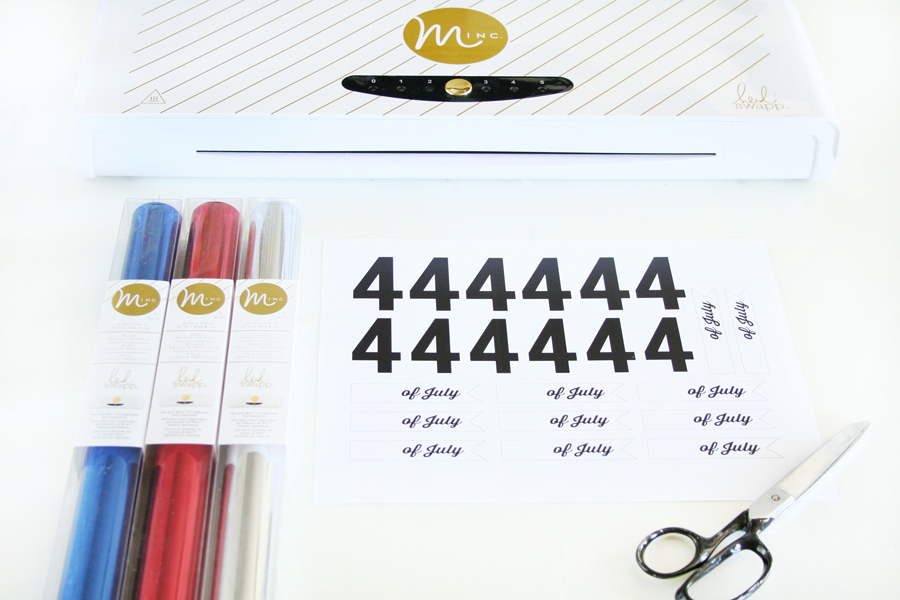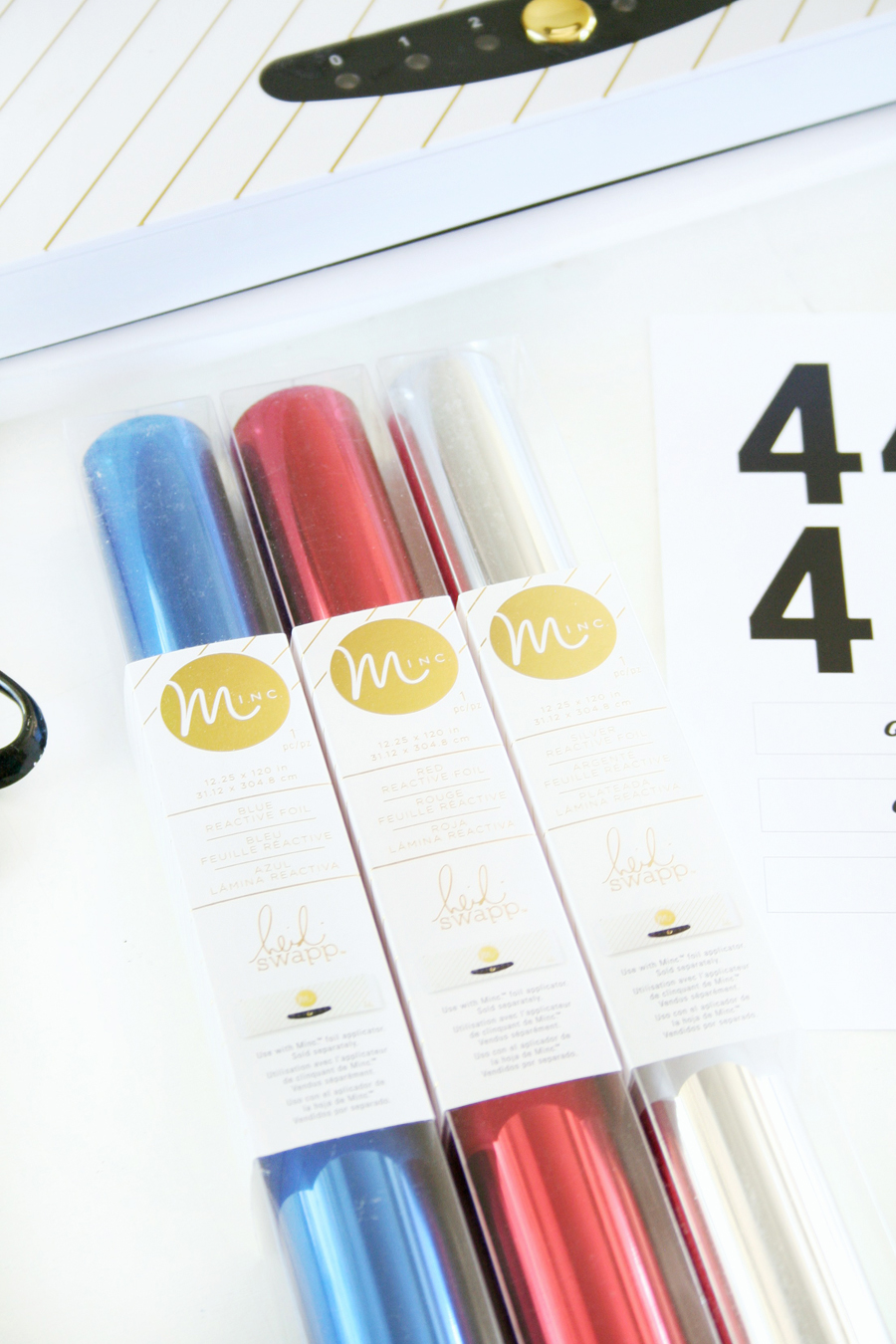 Once you have your print simple cut the small flags away from the larger number 4's. You don't need to cut everything out yet, you will foil it first.
Cut a piece of red foil to cover all the 4's, and a piece of blue foil to cover all the flags.
Turn on your machine and set it to the "3" setting. Place your foil covered print inside the plastic sleeve and send it through the Minc.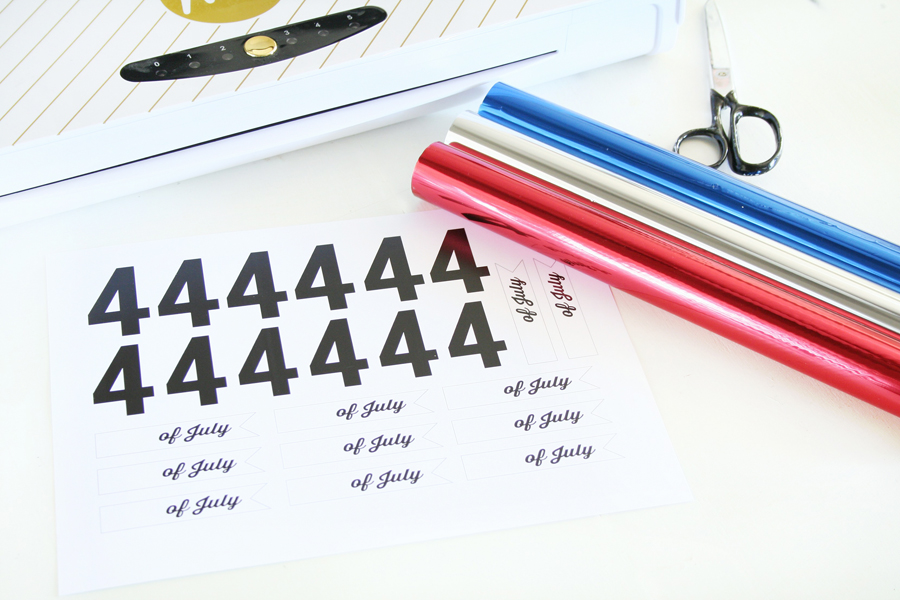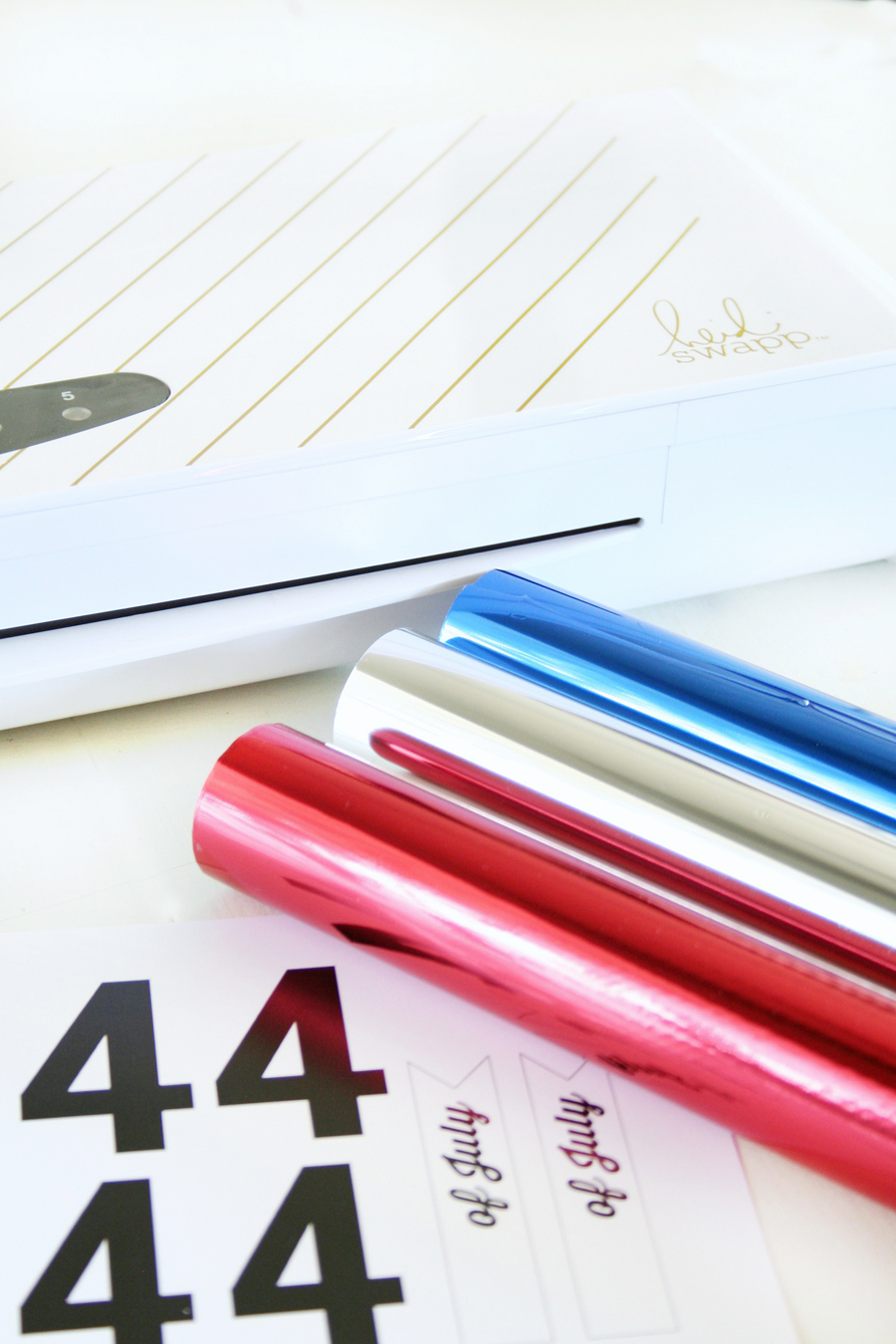 Once it's done remove the foil.
Cut each number 4 out by hand with a pair of scissors, I found it helpful to use an Xacto knife on the inside of the number. Also, cut out your mini flags with your scissors.
Note: The free printable has a gray outline for the flags, this is simply to give you a template for cutting. It will most likely not foil when run through the machine, only the lettering will.
Using a glue gun attach toothpicks to the back of your 4's, and flags. For the flags, there is enough excess to the left of the lettering to wrap around the toothpick and fold back.
To make the cute little silver firework picks, I simply used the silver Minc foil by itself. I folded a small piece about 4 x 5″ in half lengthwise. I then used some scissors to fringe it, only cutting down to about 1/4″ above the folded part. Do not cut all the way through that. Then glue one end to a toothpick and start rolling tightly. Gluing the end. Fluff and you're done!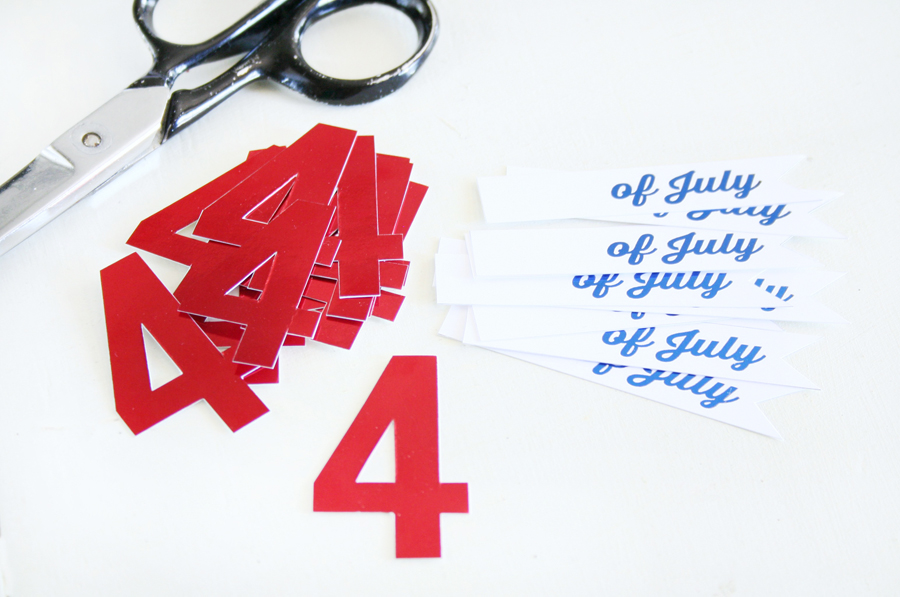 The silver fireworks picks were exactly what these toppers needed. They are perfect. If for some reason you can't find the foil to make your own you can use a metallic tissue paper found in most stores instead.
To decorate your cupcakes just insert all three picks into your cupcake, easy! Aren't they so fun?!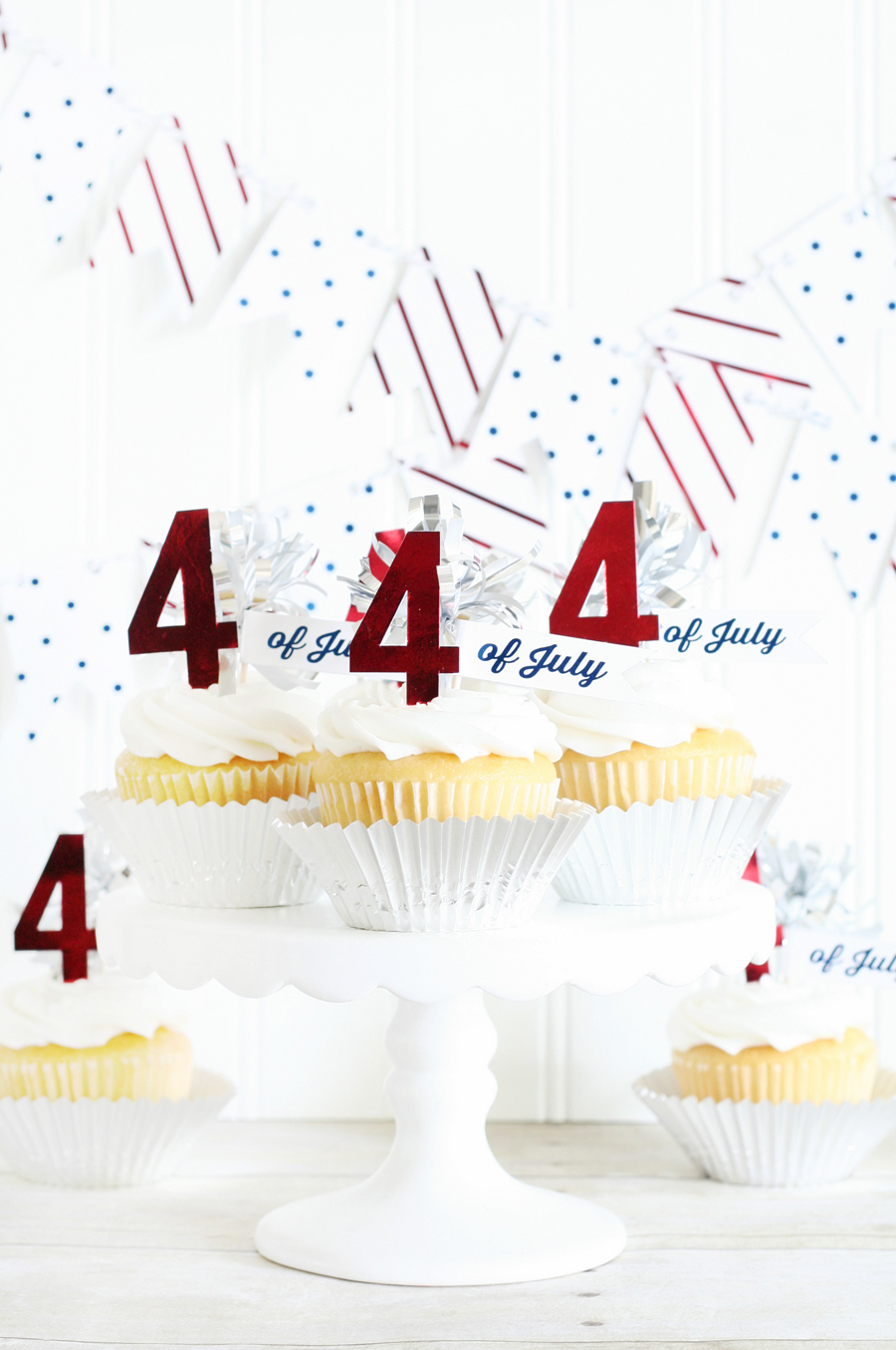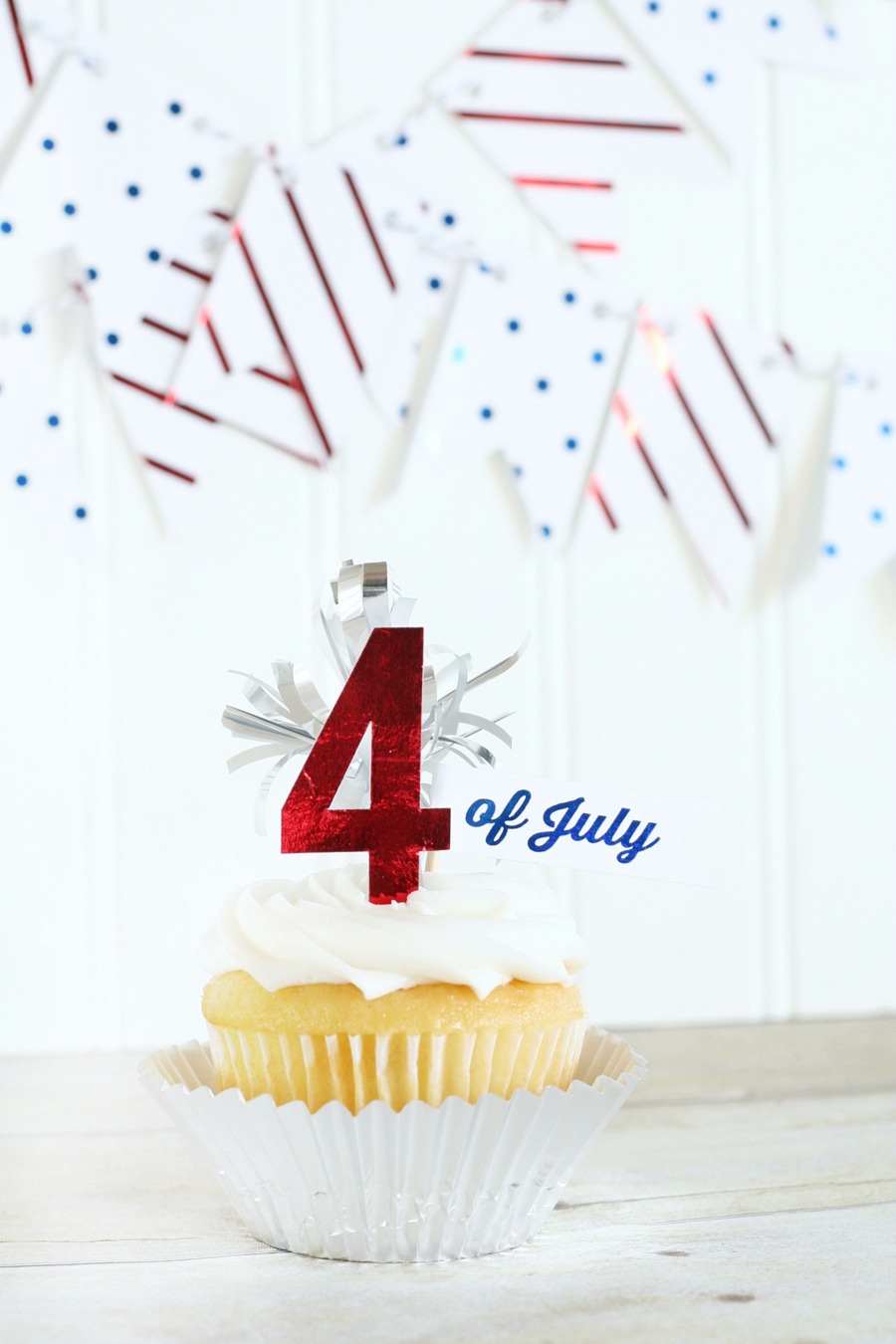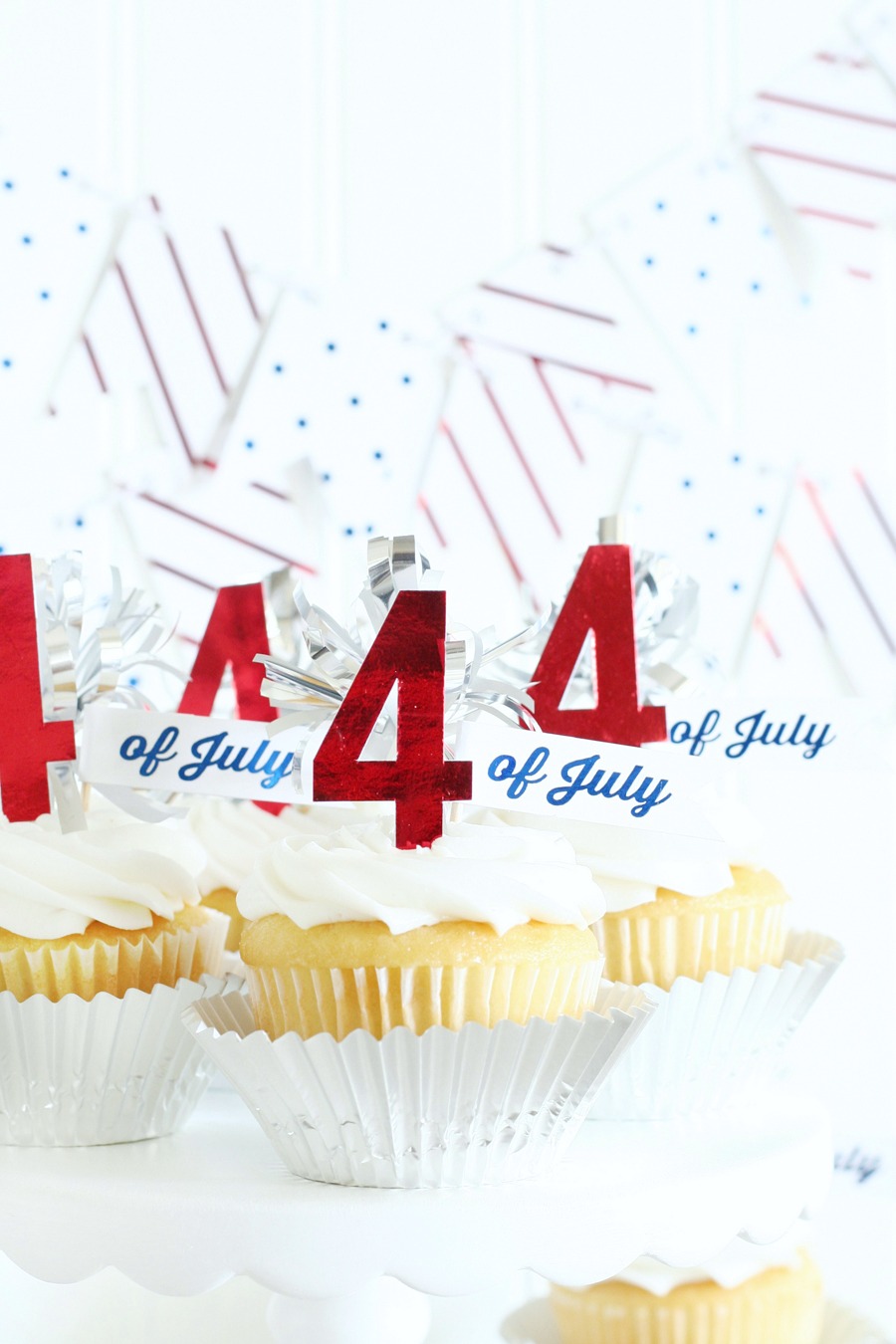 For those of you who don't own the new Minc Foil Applicator yet, you can click on the link below for a free colored printable version of these toppers. Just follow the above steps minus the foil application process. If you're interested in purchasing a Minc you can find them at most craft stores like Jo-Ann Fabric and Crafts, and Hobby Lobby.

Need some awesome cupcake wrappers to go with these fun 4th of July Cupcake Toppers?! Be sure to check out these awesome Quick & Easy Foiled Cupcake Wrappers found HERE from my sweet friends over at Classy Clutter! They go perfectly with my toppers!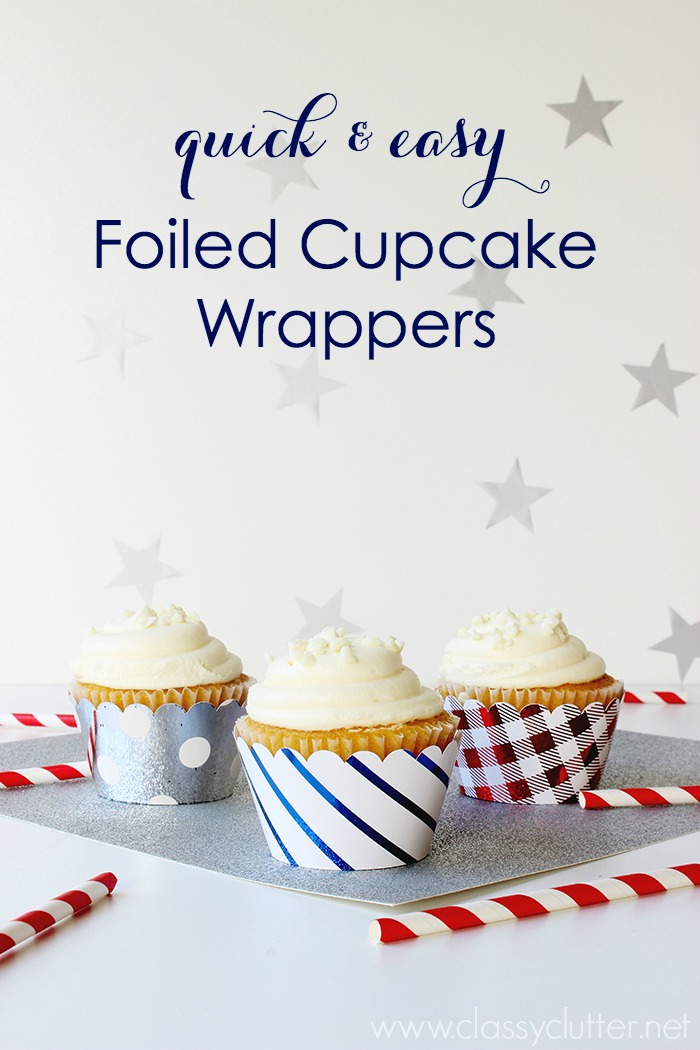 Quick & Easy Foiled Cupcake Wrappers
Here are a few of the other fun projects I've created with the Minc machine, be sure to check them out!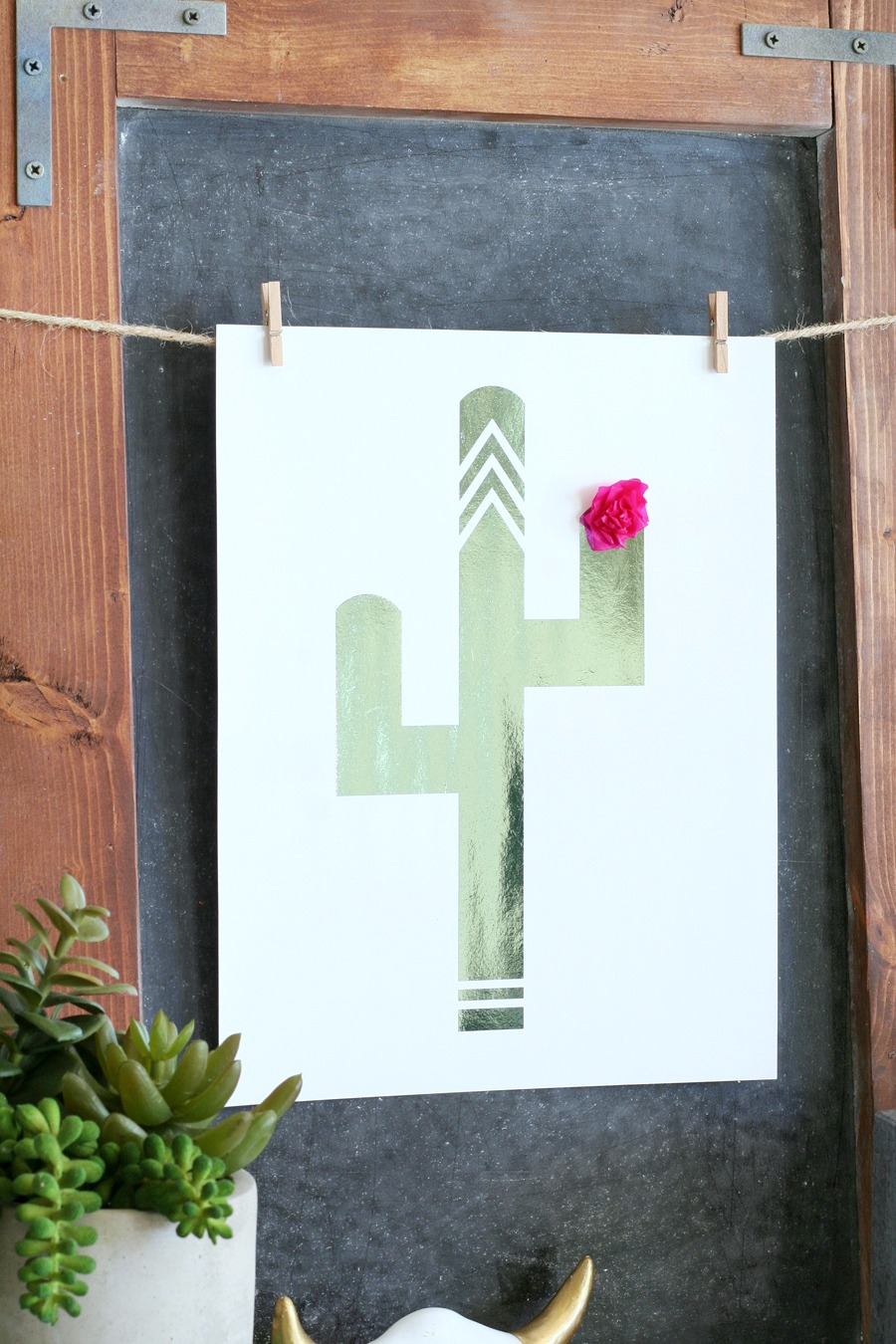 Foiled Cactus Prints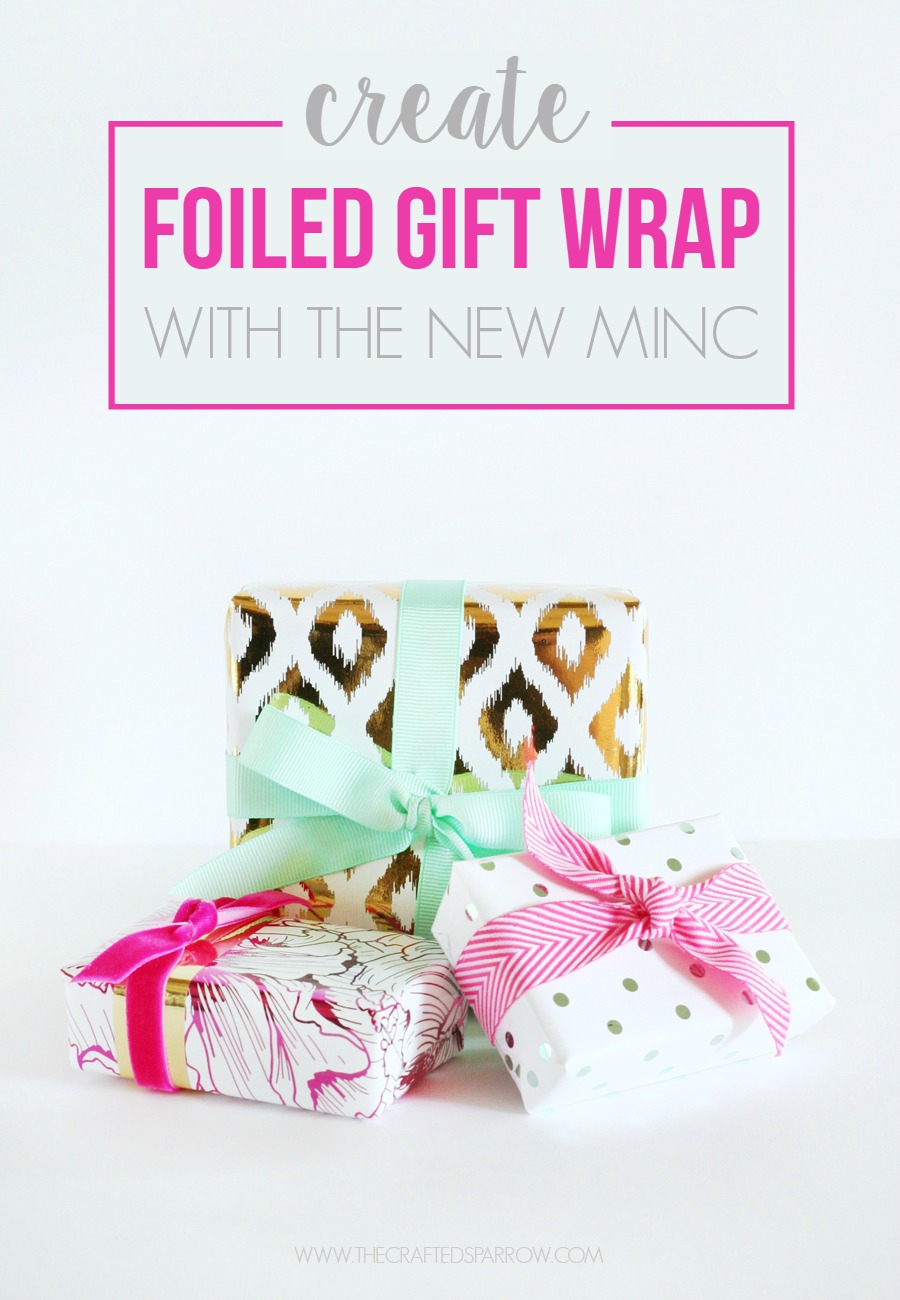 Metallic Foiled Gift Wrap
Be sure to stay up to date on all the latest MINC product releases and information by following Heidi Swapp!
Facebook | Instagram | Twitter | Pinterest
Disclosure | This post was sponsored by Heidi Swapp and American Crafts. All opinions and ideas are 100% my own. Post may contain affiliate links.