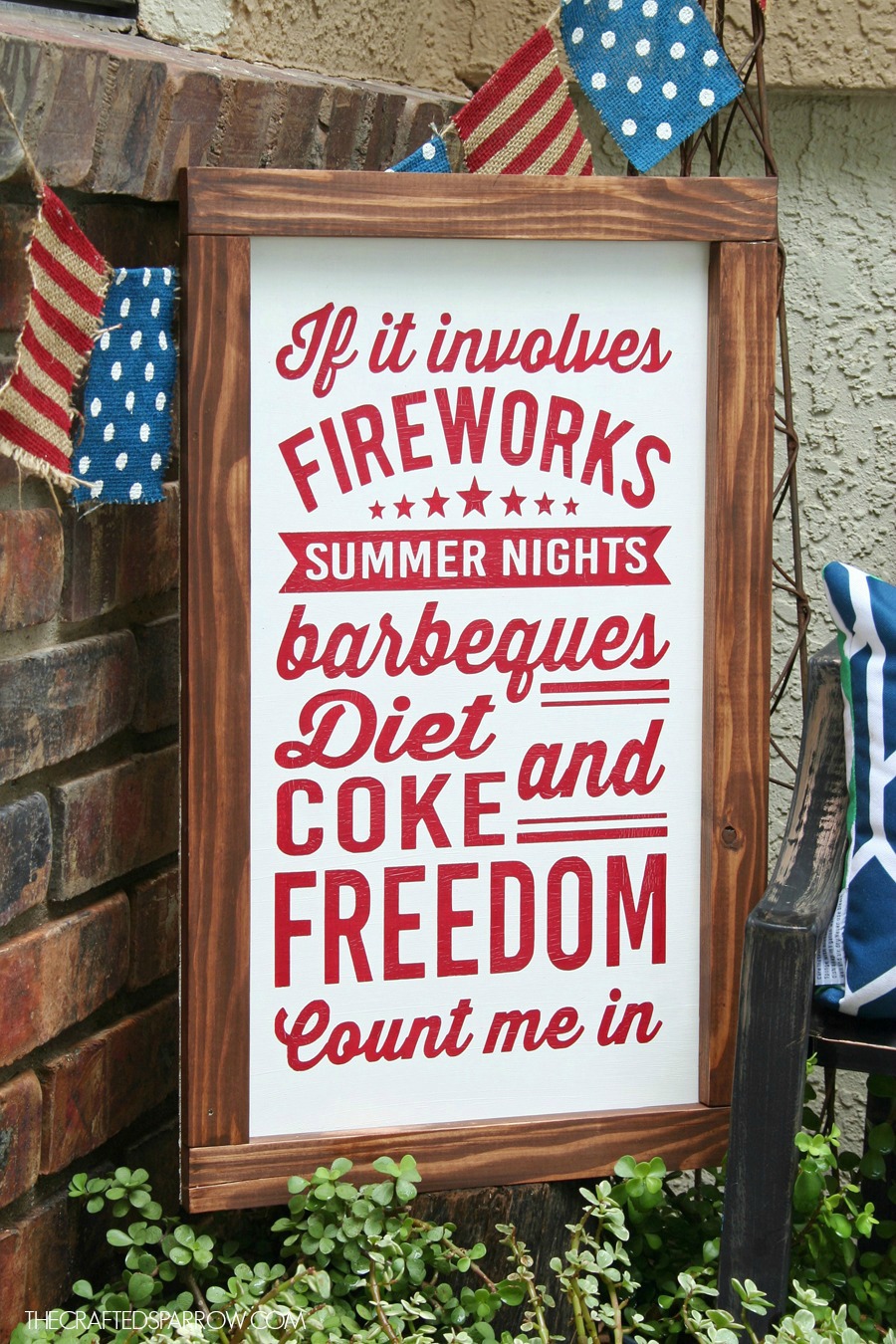 I know how much people love the 4th of July, I just love July in general since it's my birthday month…but there is something so special about all the awesome patriotic decor out and seeing how much everyone loves this holiday. I also know how much you guys love Diet Coke! Now while I'm a huge Coke Zero fan, I wanted to make something special that you guys would love because I love you guys! What's a better combo than Diet Coke and the 4th of July?! I'm showing you how I made this fun 4th of July Sign.
Be sure to check out all the amazing Red – White – & Blue projects from my friends at the bottom of this post when you're finished reading through this project.
14.5 x 24″ Piece of MDF board (1/8″ thick – it's sold usually in a 4 x 8′ piece at Home Depot by the peg board)
Pine 1 x 2″, cut (2) 21″ pieces and (2) 14.5″ pieces
DecoArt Americana chalky finish paint, Everlasting (white) and Romance (Red)
DecoArt Americana soft touch varnish
Americana gel stain, Walnut
Americana decoupage, matte
Foam brushes, 3 – 4
Soft cloth for waxing
Cricut Explore Air
Vinyl stencil, feel free to use my template found HERE
Drill
1/2″ Screws

*Please Note: The above printables and downloads designed by The Crafted Sparrow are for personal use only. Please do not alter the file or image and claim it as your own. This file and this sign idea is not intended for resale, nor are the printed version of this file!
Begin by painting the smooth side of your MDF board white with the Americana Decor chalky finish paint. You will need 2 – 3 coats, be sure to let each coat dry 10 -15 minutes at least before applying the next coat.
I designed a fun graphic and uploaded my image to Cricut Design Space so I could create a vinyl stencil to cut with my Cricut Explore Air. Once I had the image cut and weeded I applied the vinyl stencil to the front of my painted MDF board with transfer tape, being sure to use a ruler to center it before applying it. HERE'S another sign I've made using these techniques for more photos of the process.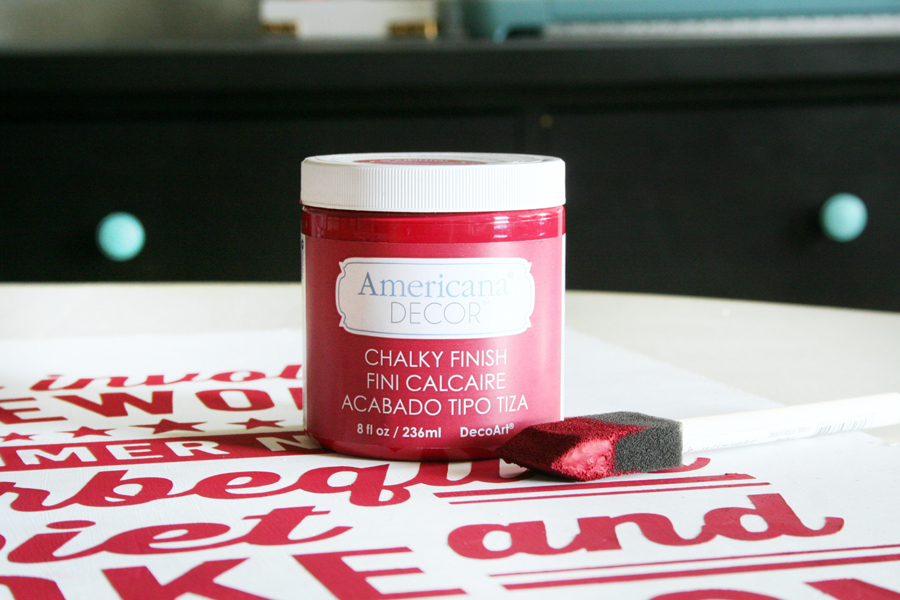 Once you're sure the vinyl stencil is in place and completely smoothed with your smoothing tool I have a trick for you to get perfect signs every time! If you apply some decoupage over the portion you want painted and let it dry it creates a seal that won't allow paint to bleed under the stencil. Once the decoupage is dry apply the red chalky finish paint to your stencil. You will only need 2 coats. just before it's all dry remove the vinyl stencil carefully.
When all the paint is dry you can seal your piece with a soft touch varnish for a durable finish. I did this because my sign might endure some weather while on my front porch.
Stain your 1 x 2's with the Americana gel stain using a foam brush and soft cloth or paper towel. Basically brush it on, and remove the excess with the towel or cloth. This is by far my favorite method of staining, little to no mess and it dries super quick. I also suggest sealing the stained 1 x 2's with the soft touch varnish as well to prevent the stain from running if it gets wet. This is totally optional, if your sign will be indoors then no need to worry.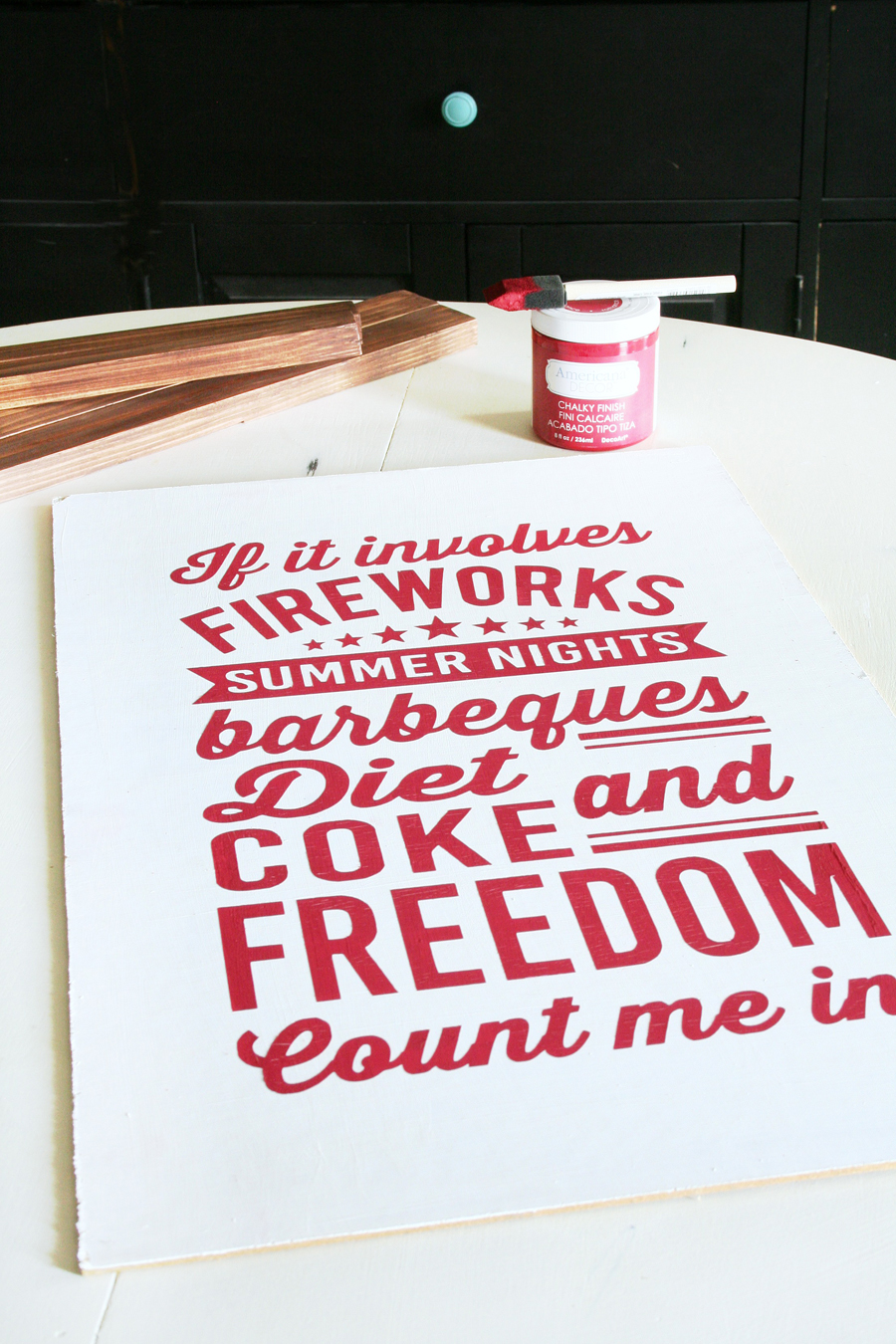 Now it's time to assemble your sign, using your favorite drill (mines Ryobi) attach the 1 x 2 trim pieces to the edges of your sign. Just align the top and bottom pieces first. You will need to pre-drill pilot holes using a drill bit just a smidge smaller than your screw size. This will keep your pine trim from splitting when you drill the screws in.
In case you were wondering, I totally forgot to start with pilot holes when I drilled the first screws because I was so excited to put the sign together and see if finish that I split two corners. I left them split in the photos and on the sign, I figure it adds more character! So be sure to drill the pilot holes first.
You will need to drill one screw from the back of the sign on each corner piece of trim. So 8 screws total.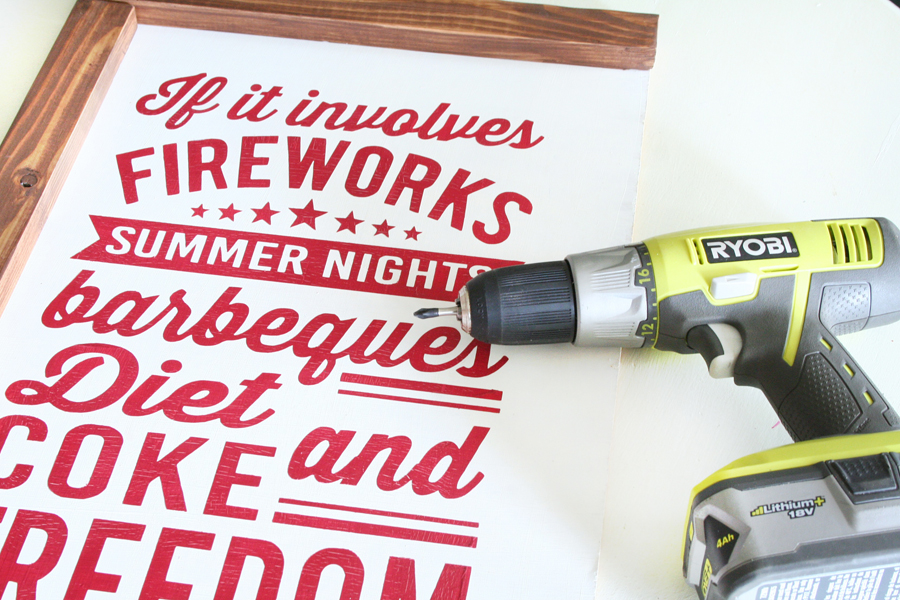 That's it! By the way do you see how my sign is distressed in the above pic, crackled sort of? That was purely an accident, I'm pretty sure it was caused by the MDF board and the finish it had on it. Regardless, it was an accident but made this sign 100 times better since I didn't have to sand it to age it.
I hope you love this sign as much as I do! Even if it does say Diet Coke, I might change that to say Coke Zero someday. It goes so perfectly with the vintage Coke crate some sweet friends gave me last year for my birthday. Want to know more about that easy 4th of July Painted Burlap Banner in the photo, go HERE.
Don't forget to check back next week for a special something extra that goes with this sign!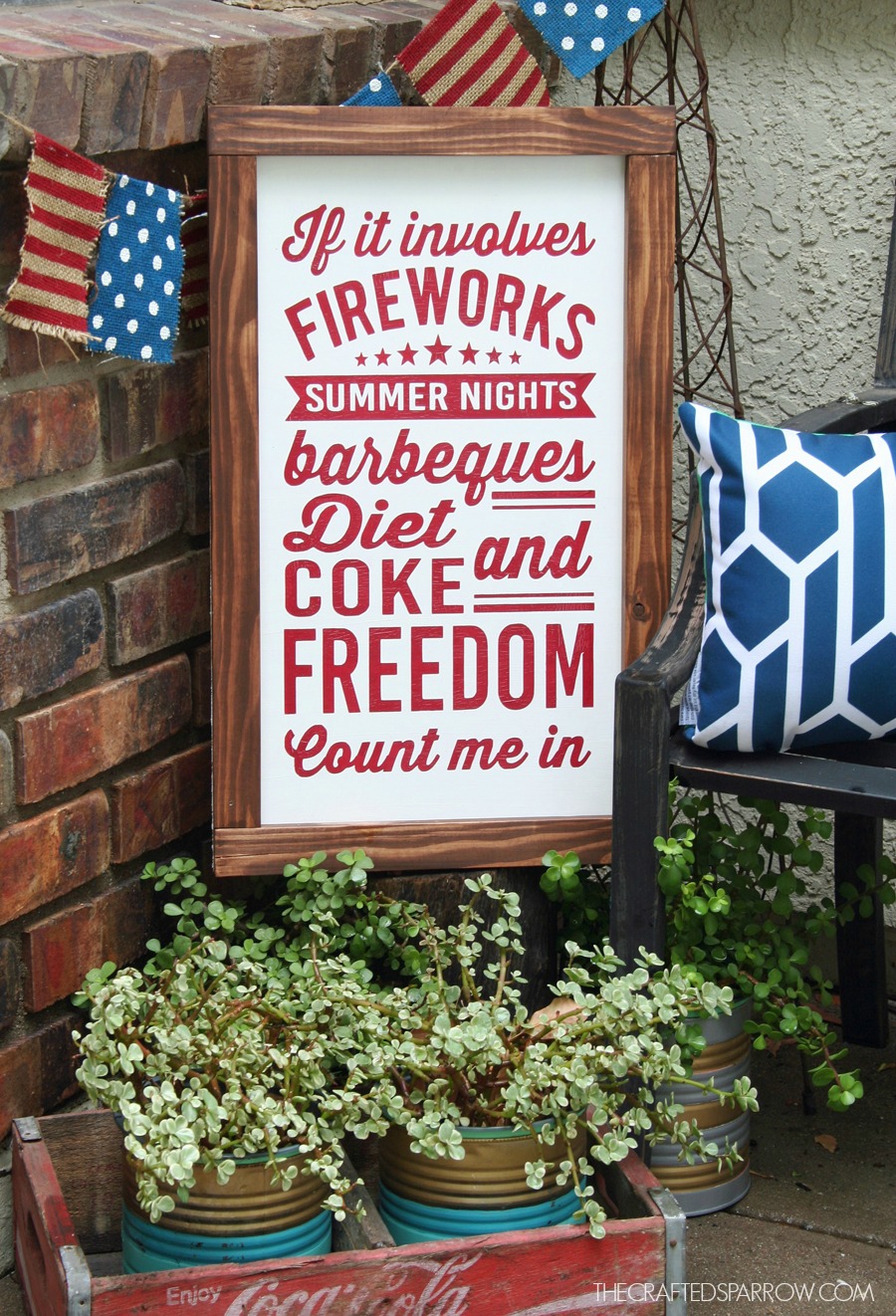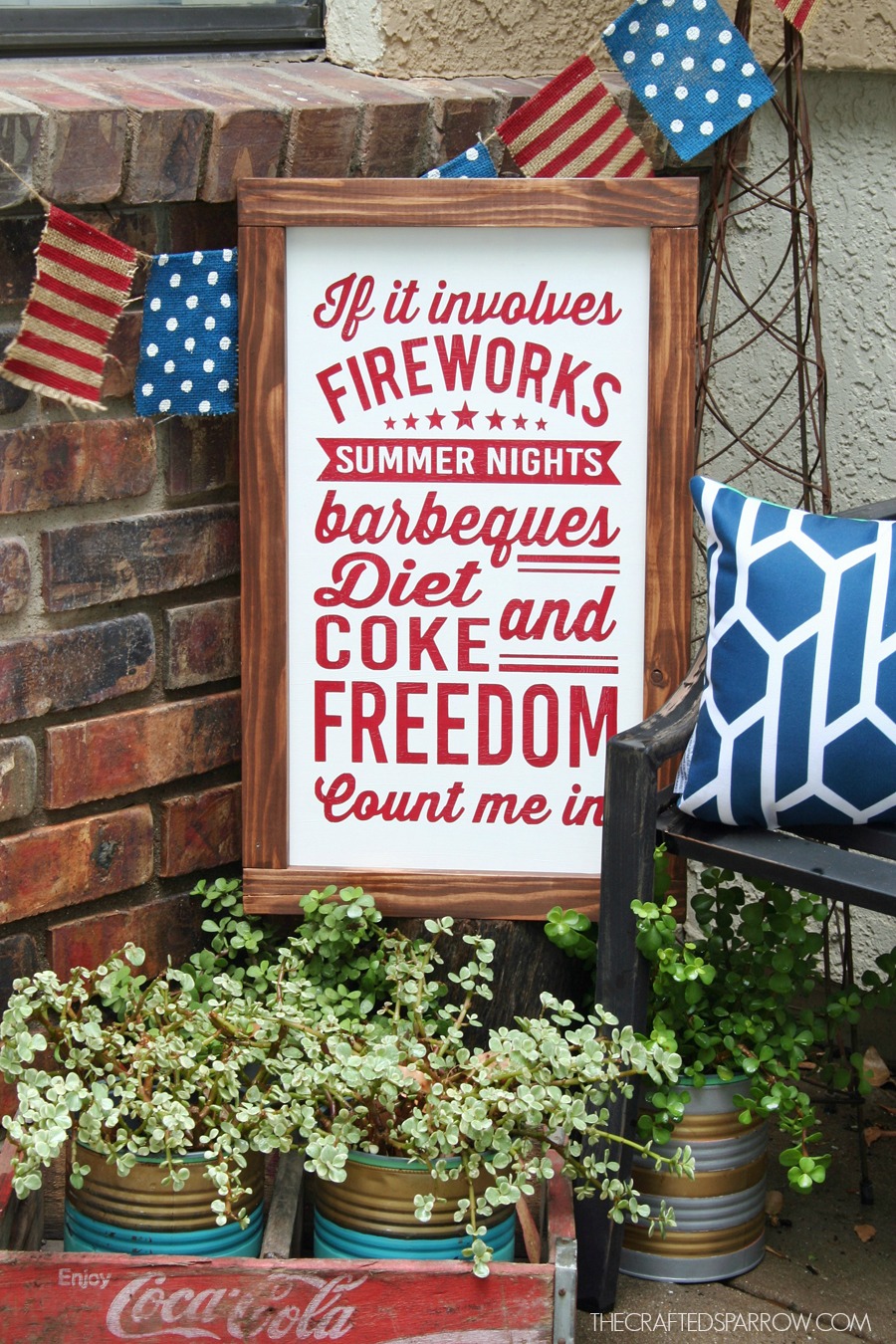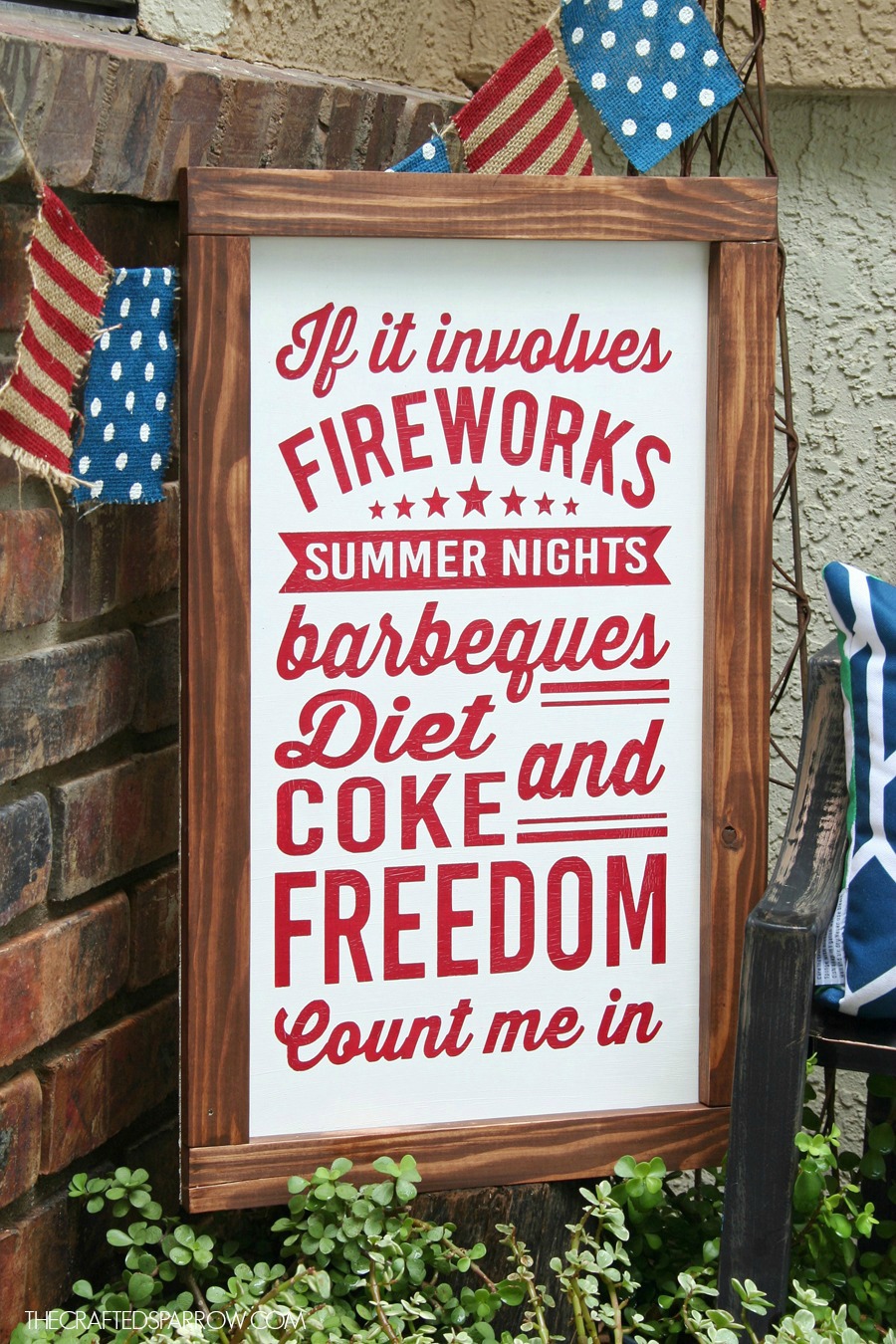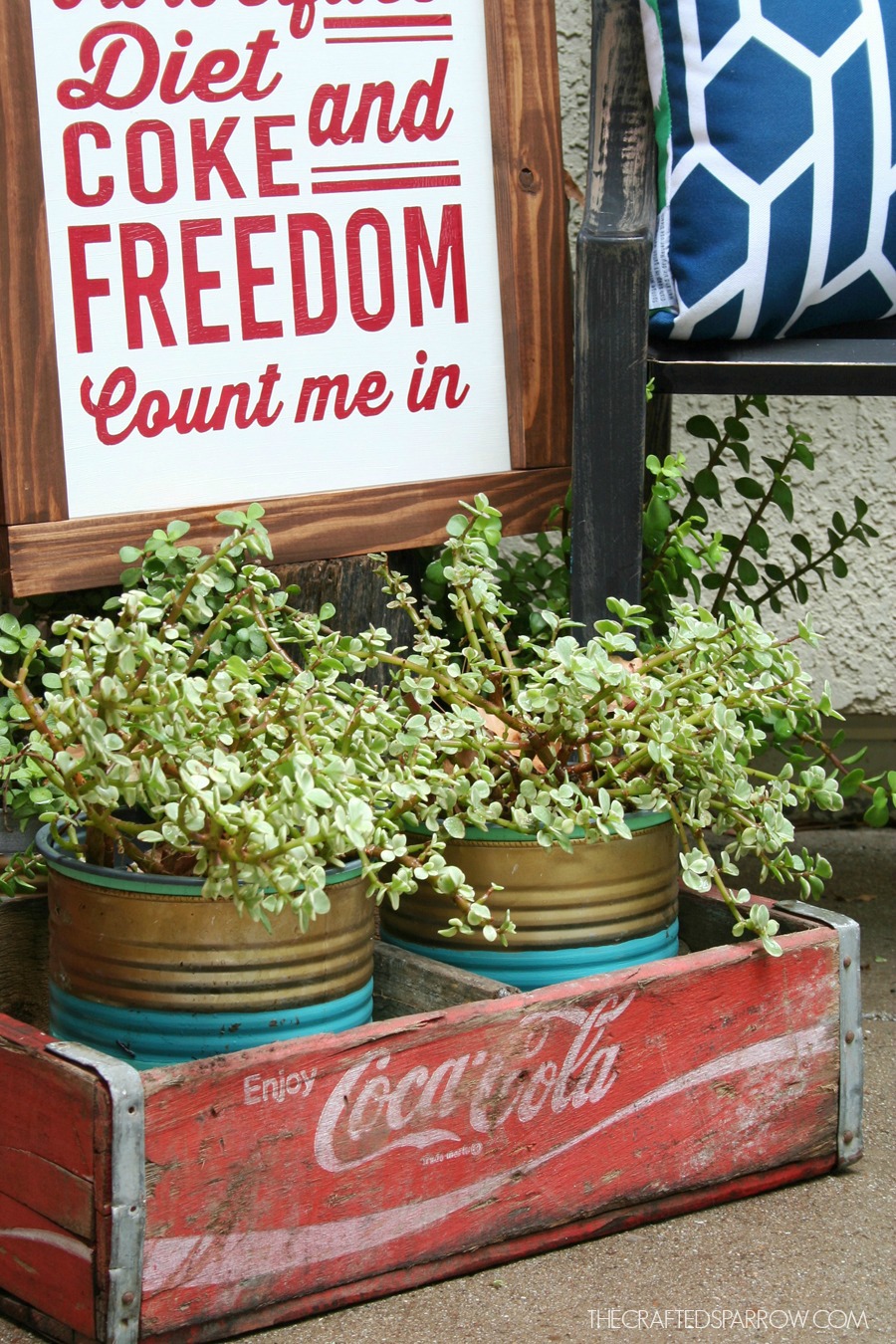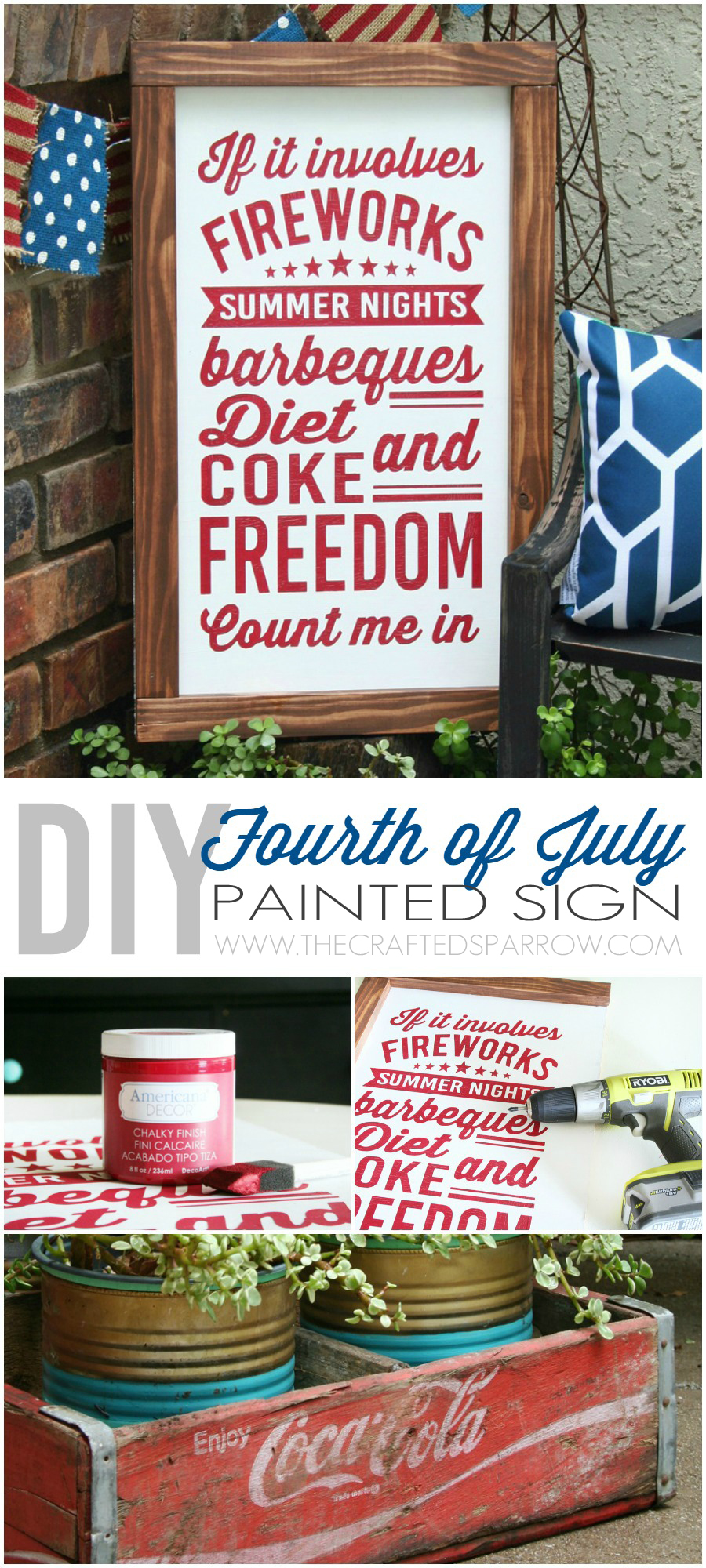 Don't want to make the sign? Be sure to snag the free 4th of July Printables HERE.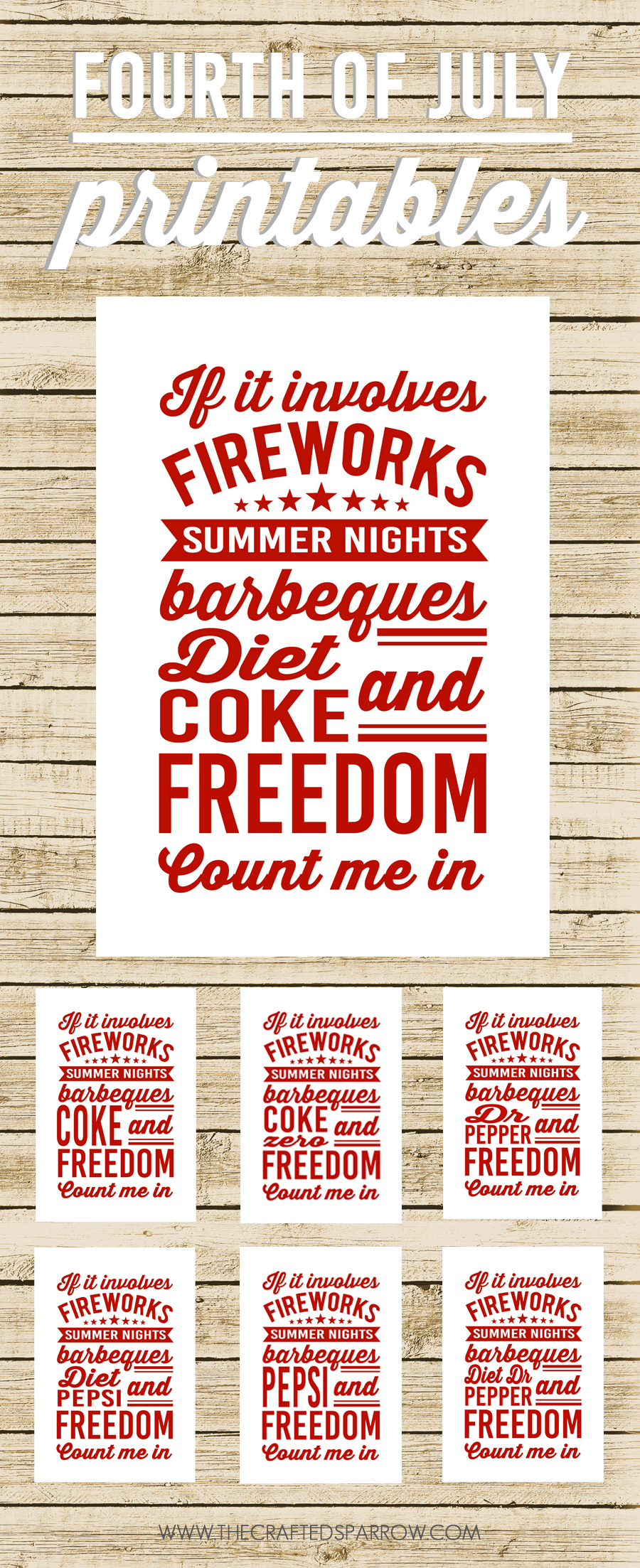 Be sure to check out all these other amazing projects & ideas!