One of my favorite things each year is to send out Christmas cards to our friends and family. Each November we get all prettied up for our annual family photo session with our sweet photographer friend from Shannon Worley Photography, if you're local to AZ I highly recommend her. I typically don't order school photos of our boys during the school year so this is our time to document not only us as a family, to document the boys in a more personal way and share it with those we love.
I love everything about sending out our cards, from choosing our wardrobe and theme for the year – to the card design – to addressing the envelopes…I love it all. This year I've ordered our cards from Minted.com, and I'm so excited to get them. Minted had so many amazing card choices to pick from, that's the hardest part for me…there are so many I love! I'm so excited to share our Christmas Cards 2015 + Minted Giveaway offering three lucky readers a $100 credit!
First, I thought it would be fun to round-up and share some of my favorite cards from Minted. There is something for everyone.
VINTAGE TYPOGRAPHY HOLIDAY CARDS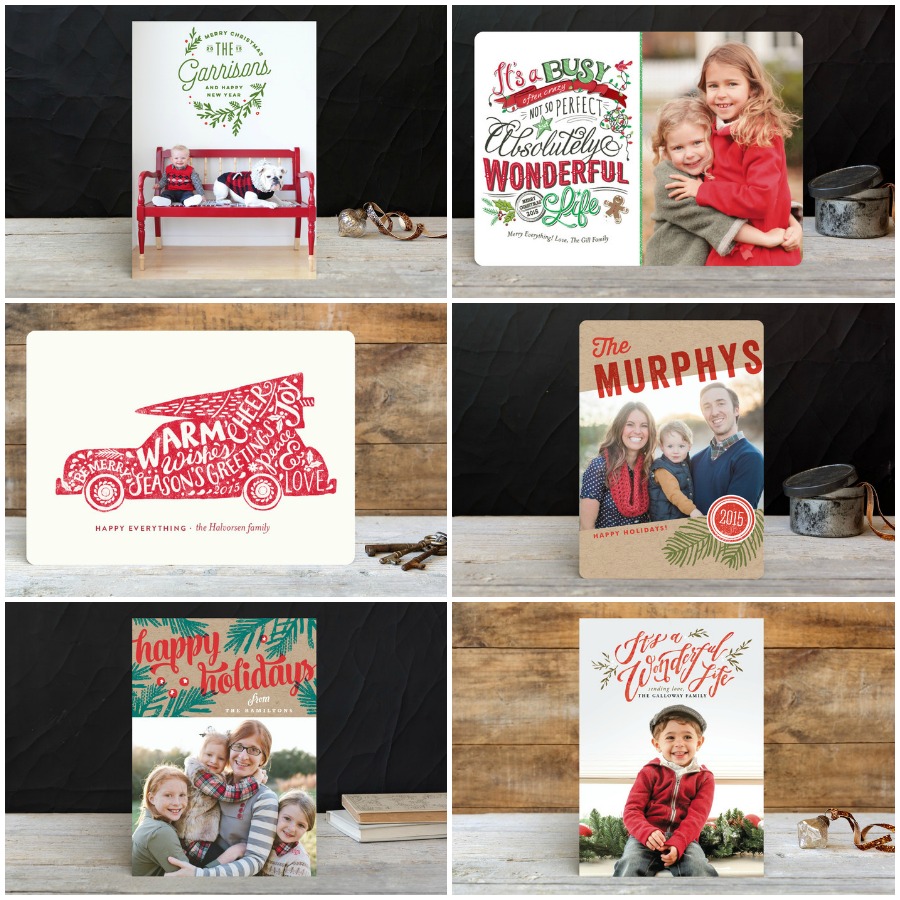 Embellished Christmas Card | Perfectly Wonderful Christmas Card
Woodstock Holiday Card | We Are Family Holiday Card
Happy Retro Script Holiday Card | A Beautiful and Wonderful Life Holiday Card
FUN & PLAYFUL HOLIDAY CARDS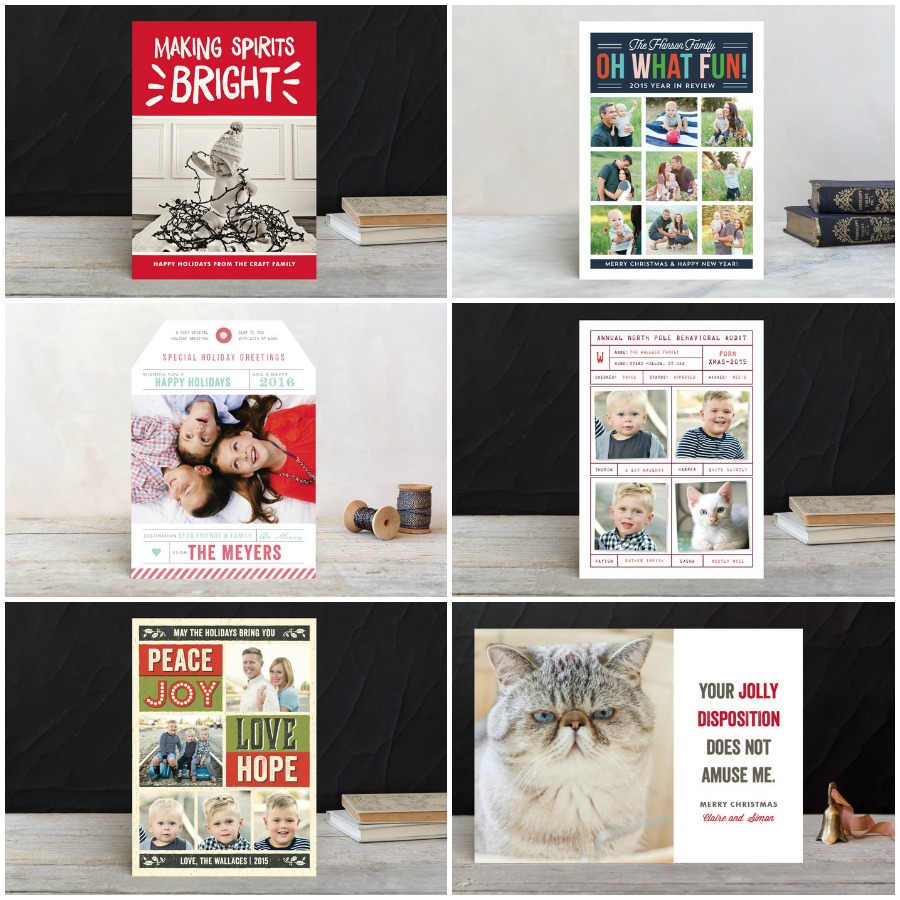 Spirited Holiday Card | Oh What Fun Year in Review Card
Destination Luggage Tag Holiday Card | Behavioral Audit Holiday Card
Wood Type Poster Holiday Card | Jolly Disposition Holiday Card
FLORAL HOLIDAY CARDS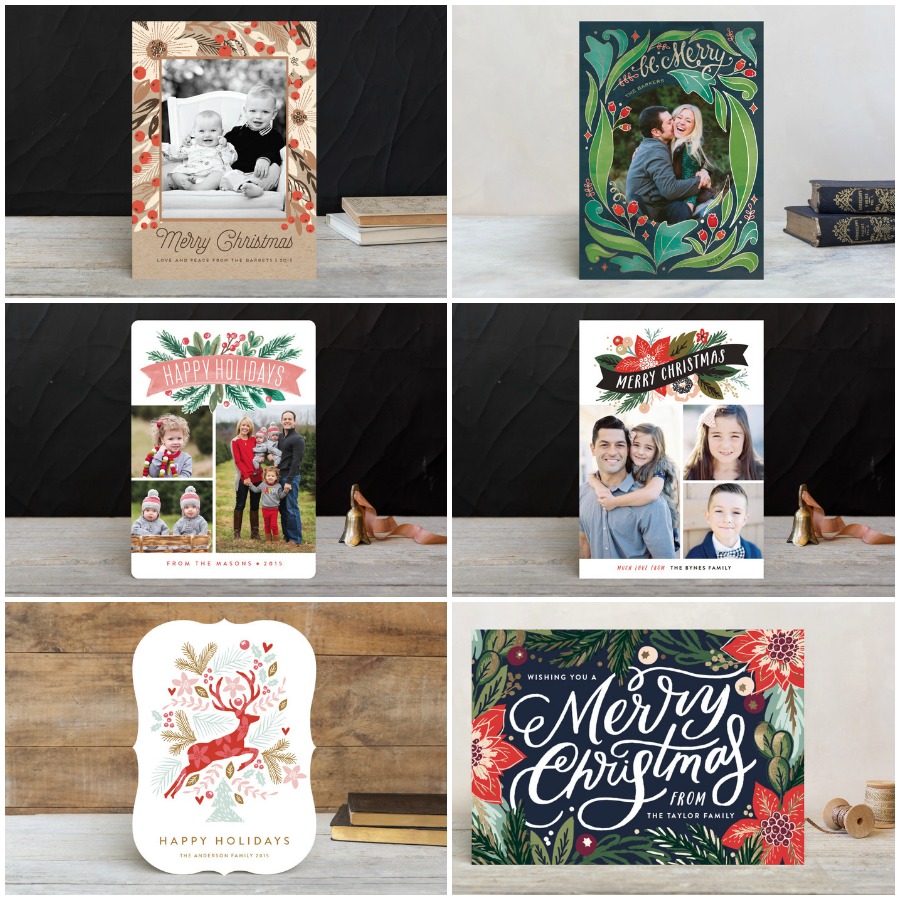 Crafty Floral Holiday Card | Cloisonne Holiday Card
Painted Banner Christmas Card | Poinsettia Banner Christmas Card
Jumping Reindeer Holiday Cards | Botanicals Holiday Postcards
FOIL-PRESSED HOLIDAY CARDS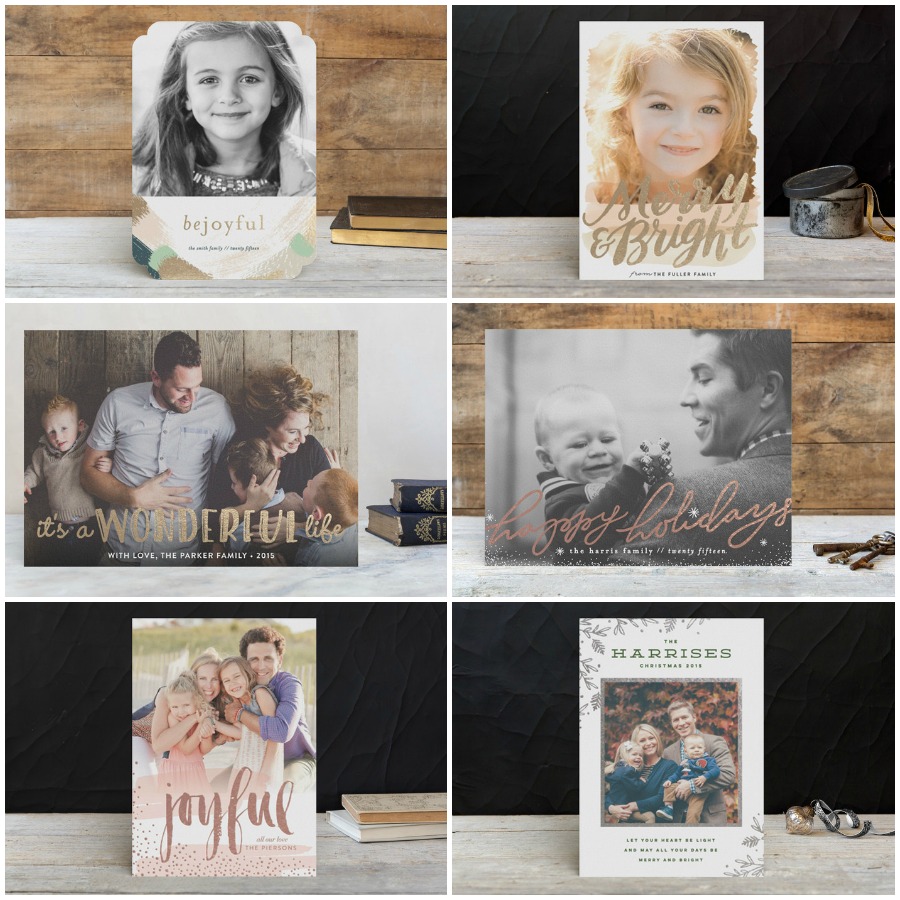 Painterly Foil-Pressed Holiday Card | Color Field Foil-Pressed Holiday Card
Life is Wonderful Foil-Pressed Postcard | Handlettered Charm Foil-Pressed Holiday Card
Very Joyful Foil-Pressed Holiday Card | Heart Be Light Foil-Pressed Card
Minted.com uses Luxury Paper & Print Quality. Their signature paper is thick and luxurious with a creamy cotton texture and has been optimized for photo printing. You can also pick 100% recycled paper, Pearlescent paper which adds a subtle shimmer, DoubleThick paper or even TripleThickTM paper. They offer 9 unique die-cut shapes and a variety of backer options for adding additional photos or text. One of my favorite parts is that this year all holiday cards are available with matching envelope designs, including recipient addressing. You can also upgrade and add a matching return address to each card as well.
Here's a preview of our 2015 cards front and back. When I got our proofs back and saw that my youngest was making a slightly annoyed face, I at first was a little annoyed because had he been smiling his normal smile it would have been perfect. Then the more I looked at the photo I realized it was already perfect, it showed his strong-willed personality and I love it. So it became our main photo for the card.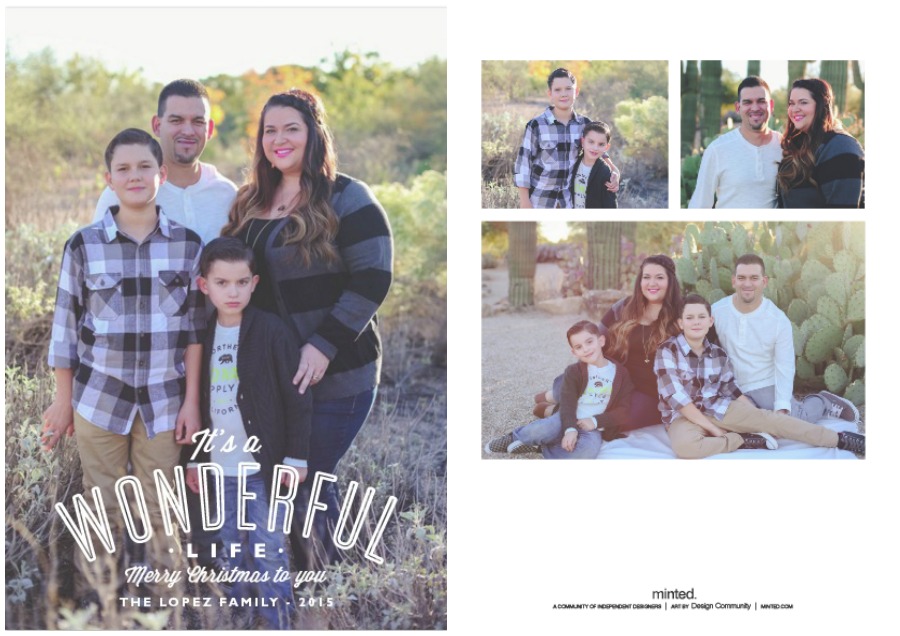 A Wonderful Life Holiday Card
Here's a sneak peek of what the printed matching envelopes will look like. I'm so excited about this part, it's one less thing I will have to do this holiday season. When they arrive I will be able to just put postage on them and send them out to friends and family.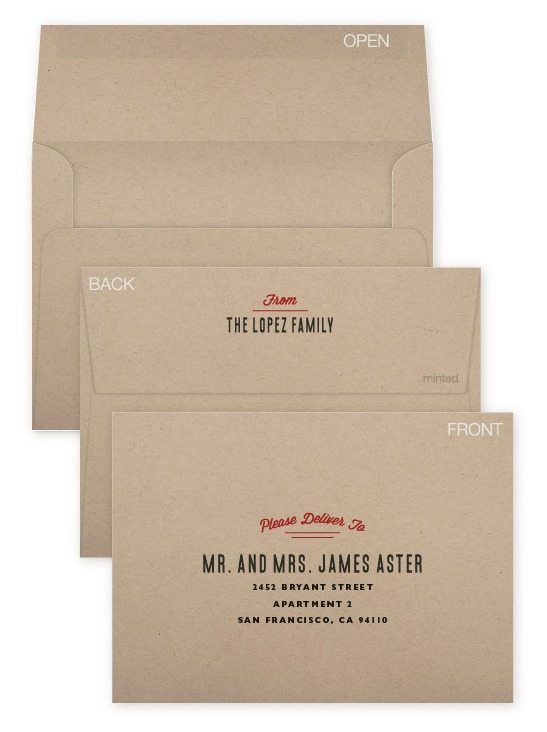 UPDATE: Giveaway now closed!
Now for the awesome giveaway! 3 lucky readers will win a $100 credit to Minted.com! Enter by clicking the link below or go HERE now! Good luck and have fun creating your gorgeous cards!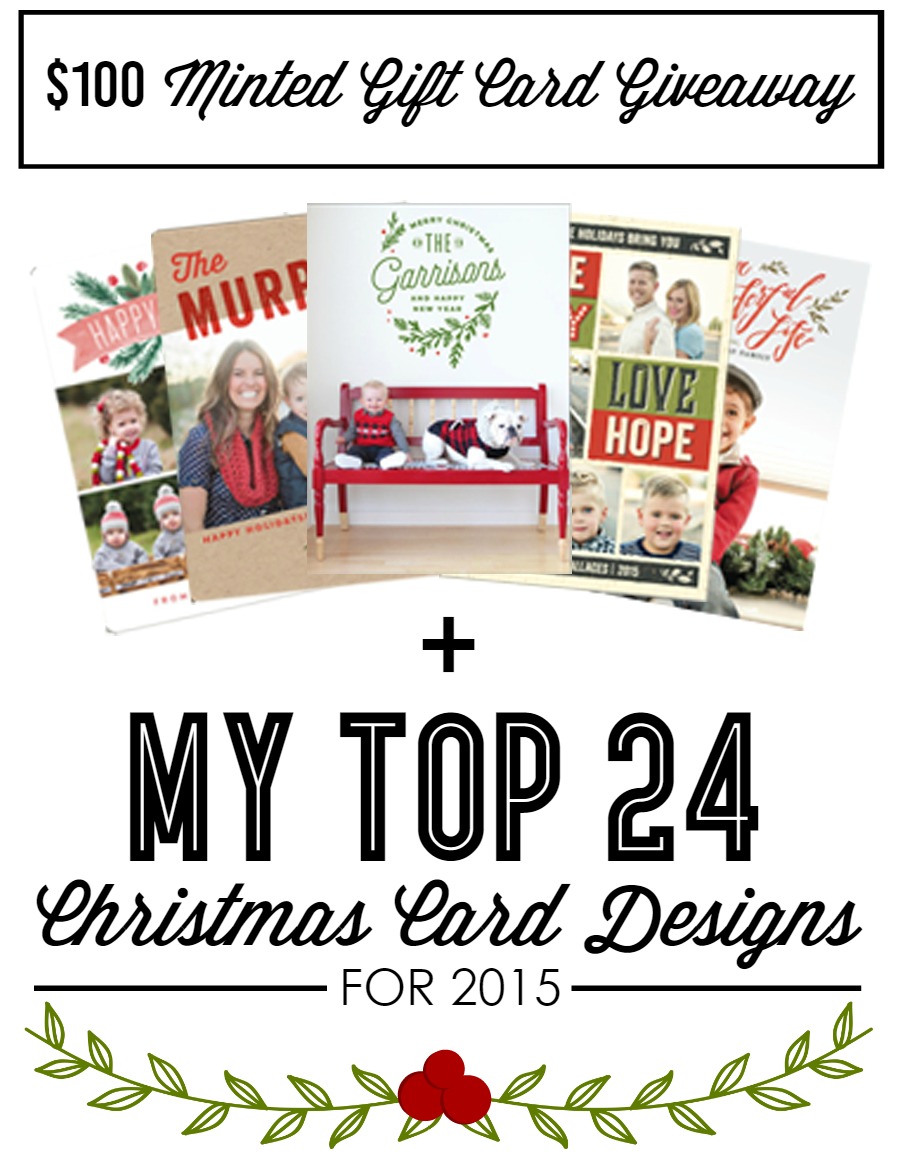 Disclosure | This post has been sponsored by Minted.com. All opinions and ideas are 100% my own. I received product compensation in return for this post, and this post also contains affiliate links.