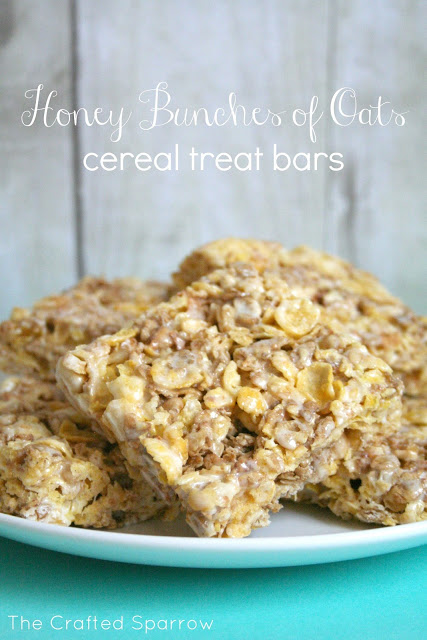 We love rice crispy treats in our house, in fact for my oldest son's birthdays he usually requests a rice crispy treat of some sort instead of traditional cakes. Lately I've been trying to come up with some new cereal treat bars to make instead of the same old rice crispy treats. So I'm sharing the Honey Bunches of Oats Cereal Treat Bars that I made, these are super tasty. So let's get to it…
6 Cups of Honey Bunches of Oats Cereal
1 Bag {10.5oz} Mini Marshmallows
9 x 13″ Baking Dish or Pan
Large Rubber Spatula or Wooden Spoon
You can choose any variety of Honey Bunches of Oats cereal you prefer for this recipe.
Before I do anything I spray my large pan that I will be mixing all the ingredients in with cooking spray, I also spray my large spatula and baking dish.
Start by melting your butter in a large pan over medium heat, once the butter is melted add your bag of marshmallows. Continuously stir your marshmallows on a medium heat until they are completely melted.
Remove the pan from heat and add your cereal. Stir quickly to coat the cereal with the marshmallow mixture.
Once it's all mixed, pour into your 9 x 13″ baking dish or pan. I like to use the back of a large metal soup spoon that I've sprayed with nonstick spray to press the cereal mixture into my baking dish and smooth it out.
Let them cool, then cut and serve.