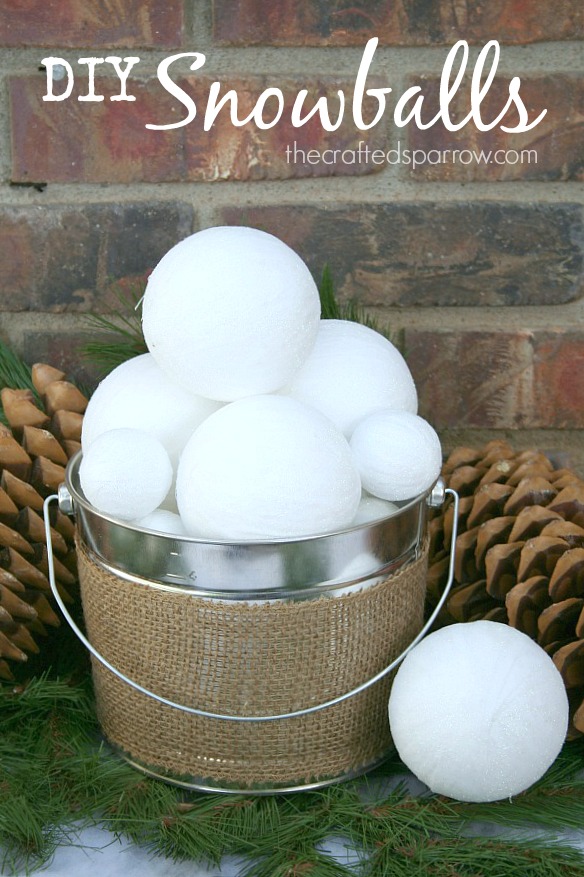 The other day I shared my
Christmas Mantle
, which also had a really cute burlap covered bucket full of DIY Snowballs on the fireplace. When I was planning my holiday decor FloraCraft asked if I'd like to create something. They sent me a bunch of styrofoam balls in all different sizes, and a mystery item. I knew exactly what I wanted to make when I opened the box, today I'm sharing the
DIY Snowballs
I made.Here in Arizona we don't get any of the snow I'd been seeing all over the country in my social media feeds. I was beginning to get a bit jealous of all the cold pictures covered in beautiful glittering white snow. I decided I needed to create my own snow fun.
Supplies:
– Styrofoam balls in any size
– White cotton fabric, cut in to 1/2″-1″ strips, depending on the size of your ball
– Small white or silver push pins
– DecouPage or Modge Podge
– Foam brush
– White glitter
– Metal bucket
– Burlap garland ribbon
This project is really easy, and would even be fun for the kids to help with. Start by taking a styrofoam ball and a strip of white fabric. You will need to pin one end of the fabric to your ball. Wrap your fabric around the entire ball, if you need to strips of fabric to cover it or more that is okay. Just pin a new strip and keep going.
When your entire ball is covered pin the end in place. You can either leave the pins alone or paint them with a spot of white paint so they blend in, I left mine plain.
Once everything is wrapped and ready it's time to give them a glittering snow appearance. I used a foam brush and worked in small areas since the fabric can absorb the Decoupage quickly. Brush on your glue / adhesive and then sprinkle your white glitter until the entire ball is covered. Set aside to dry. You can seal each ball with a quick shot of aerosol hairspray if you'd like the glittered to stay put and not rub off.
In my box from FloraCraft I had a mystery item which was the Burlap Garland Ribbon to use. I didn't like how shiny and new my metal bucket looked, and I wanted it to match my mantle a bit better. So I used the burlap to wrap around my bucket, super easy. You can hot glue it to the bucket. I love burlap!
Then just stack all your snowballs inside your bucket. I added some white tissue paper to the bottom of my bucket to take up some room, and layers the snowballs on top and stacked them all.
Here it is on my fireplace, I love them. In this picture I know it's hard to see the glitter, but it's really pretty when I walk by and catch a glimpse of sparkle.
Disclosure | Thank you to FloraCraft for sponsoring this post.