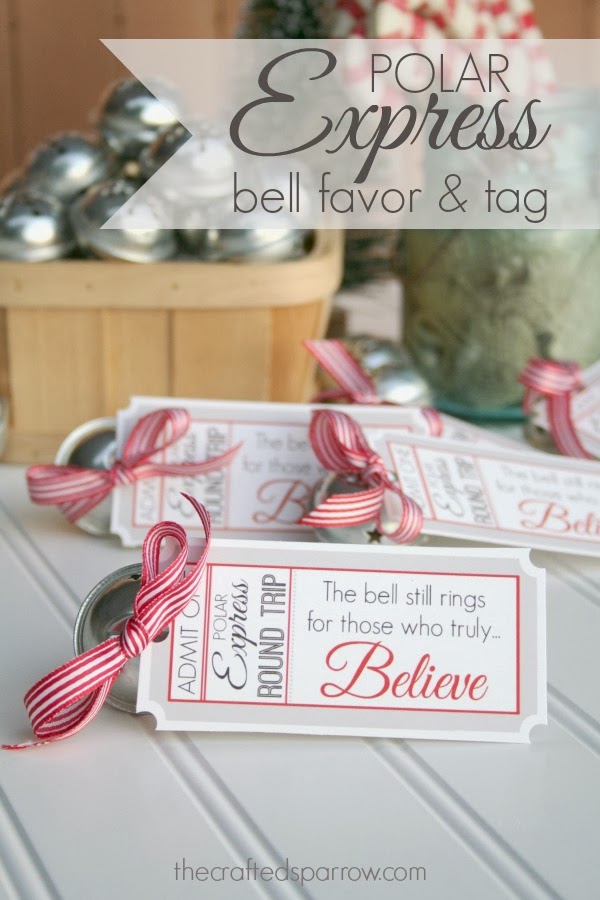 Every year I make my son's class a Christmas gift for him to pass out to the entire class. This year I have two kids in school, so double the work. I needed an easy and quick gift idea, last year we made Snowball Playdoh and it was a huge hit with the kids. Now that he's in 4th grade he had requested a more mature gift. So today I'm sharing the Polar Express Bell Favors & Printable Tags we made.

I thought it would be fun to have him gift each child a silver magical bell with a cute printable tag in the shape of a ticket from the popular movie Polar Express. This gift is actually the perfect gift this year for his class since they are putting on a classroom play of the Polar Express. So each student will now have their own bells.

Supplies:
– Medium or Large sized Silver Bells (these were found at the 99 cents only store)
– Ribbon or Bakers Twine
– Matte Photo Paper or White Card Stock
– Printer
– Scissors or a Paper Cutter
– Hole Punch
– Free Printable Polar Express Tags, found HERE
Start by downloading the free printable tickets HERE, then print. Then print on either a matte photo paper (for best results) or a white card stock.
Then use scissors or a paper cutter to cut your tags. Once cut, hole punch the top where the ribbon or baker's twine will go. I also used my hole punch to give each corner a quick punch following the curve of the ticket shape. Then just tie a tag to each magical bell with your ribbon or twine.
These favors are perfect for class gifts, or for the Elves to leave on Christmas Eve! Another fun idea is to have a themed movie night. Everyone can get into their favorite Christmas pj's, drink hot cocoa, and eat their favorite Christmas treats while watching the Polar Express. At the end of the movie gift each child a bell.
Don't forget to check out these other cute Christmas gift ideas.