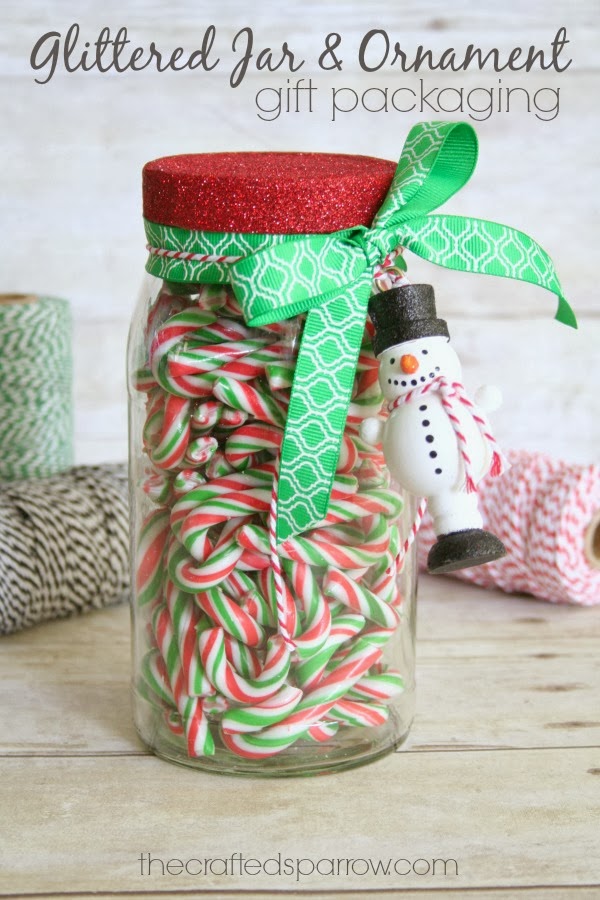 If you are looking for a quick and easy last minute gift idea for a neighbor, teacher or friend this
Glittered Jar & Ornament Gift Packaging
is it. This projects is really easy, and you only need a few supplies.
Supplies:
– Recollections Glitter from Michaels
– Mason Jar or any clean Glass Jar with Lid
– Modge Podge
– Foam Brush
– Unfinished Wood Ornament
– Acrylic Paint for Wood Ornament
This glitter is so pretty, so many colors it makes my heart happy. I love Recollections glitter, you can find it at any Michaels store starting for about $3.99. Or you can be like me and get the whole rainbow in glitter! I love the very fine glitters, and the tinsels are so fun. You can use glitter for so many projects. Who doesn't love glitter?
Helpful Tip: When using glitter use a lint roller to pick up all the glitter from your work surface.
For my jar I used an old sauce jar that needed a pop of something to become the perfect quick gift. I chose to stick with classic Christmas colors, and decided to use the "Cherry" Recollections glitter for my lid. I also used the "Ebony" & "Pumpkin" Recollections glitter for my unfinished snowman ornament I painted.
All you need to do is give your jar lid a good coat of modge podge with your foam brush. I worked in sections to be sure my modge podge didn't dry to quickly before I could apply the glitter. Cover your entire outside portion of the lid with glitter and let dry. I did two coats to be sure a nice sparkly finish. When both coats of glitter are dry you can spray a quick light coat of a gloss or matte spray sealer to be sure the glitter doesn't come off. You can leave it alone, just know that some glitter may come off when touched. I don't recommend sealing it with the modge podge, this causes the sparkly finish to dull. Use either the spray sealer or some aerosol hairspray.
I filled my jar with some super cute mini candy canes to match. I love mini candy canes. I then painted my cute little unfinished wood snowman ornament. I used acrylic paint, then accented the hat, nose, and very bottom of the ornament with black glitter & orange for the carrot nose. I added a quick piece of bakers twine for the snowman's scarf.
Tie your jar with some festive ribbon and bakers twine, add your cute ornament and your done. Feel free to add a tag if you need one. You can fill these jars with anything from baked goods, candy, or any other
handmade gift idea
. Isn't it super cute? I love the little snowman with his sparkly top hat & carrot nose.
Disclosure | Thank you to Michaels for sponsoring this post.