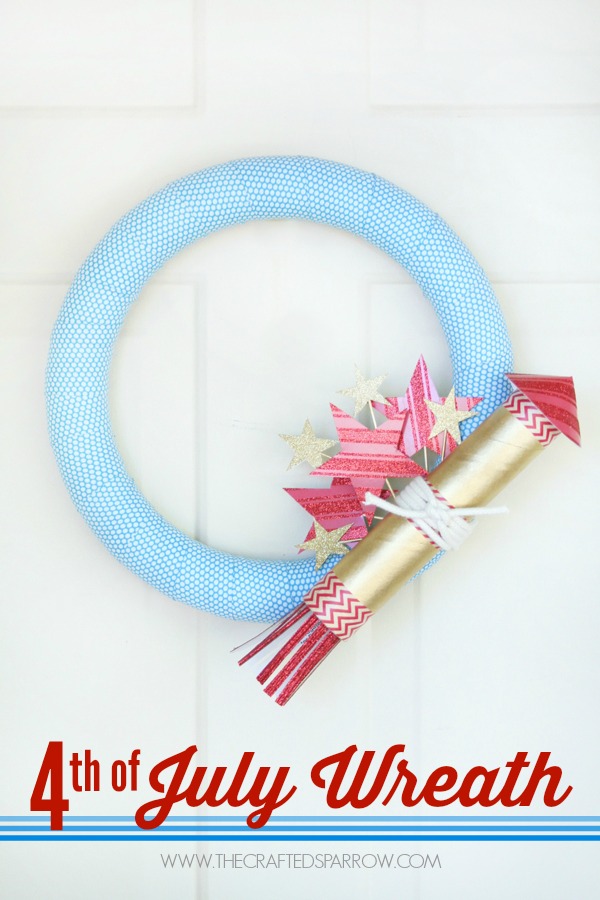 One last project was on my patriotic decor list this past weekend and it was a 4th of July Wreath.  Today I'm going to tell you all about this simple and easy to put together wreath, that cost me $0 to make, and was finished in about 25 minutes.
You know I love to create things for free, and wreaths happen to be something I've gotten pretty good at creating for either free or very little out of pocket cost.  My secret?  Shop my craft stash of course!  My #1 tip is to not glue fabric to my foam wreath forms, I pin it.  This saves the wreath form from becoming damaged, which makes it super easy to switch out from season to season.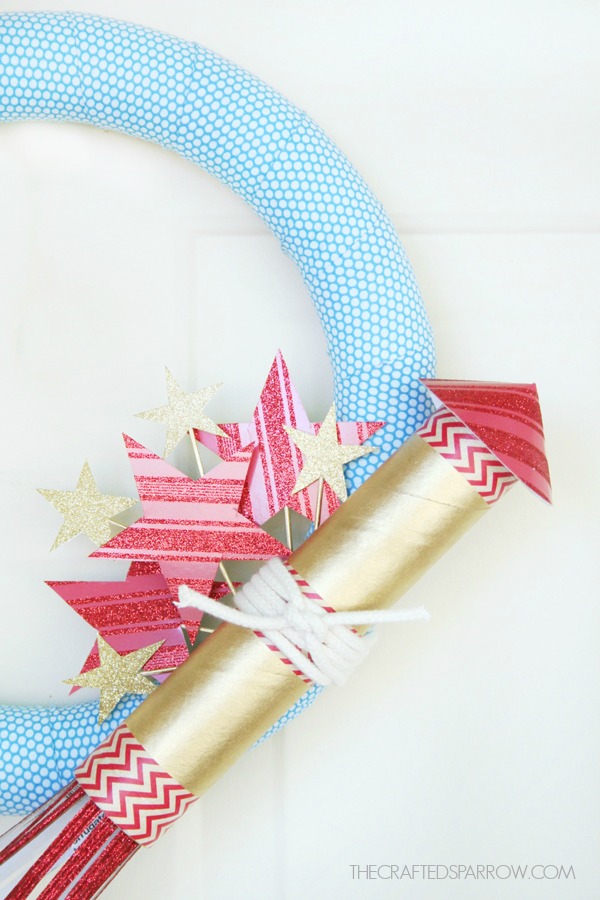 For this wreath I didn't take step by step pictures, but by looking at this simple wreath you can easily see how it's done.
Supplies:
– 14″ round foam wreath form
– 2.5′ wide strips of fabric  (you will need 3 – 4 strips cut at 2.5″ wide x 45″ long)
– straight sewing pins
– cardboard tube (paper towel tube, or empty vinyl roll tube)
– washi tape
– glitter cardstock
– gold spray paint or acrylic paint
– toothpicks or wood skewers
– hot glue
– rope or jute twine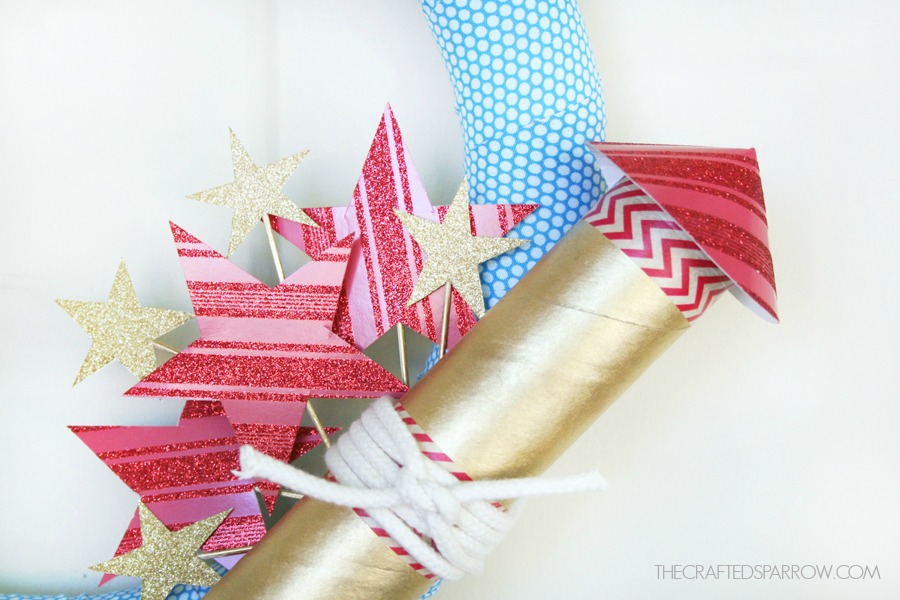 Begin by wrapping your wreath with your fabric strips, you can see my tutorial HERE for how to do this.  I folded my strips over on one edge to create a clean edge when wrapping on this particular wreath.
Next I used an old cardboard tube from a roll of vinyl I finished using.  These tubes are awesome for projects since they are so thick and sturdy.  I simply spray painted my tube gold for my fireworks.  I also spray painted some toothpicks gold for the stars.
Using some glitter cardstock I had in my stash I free handed some stars and cut them out.  You can most definitely use your Cricut Explore  to cut out the stars.  I also used my glitter cardstock to cut out a topper for the firework, do this by cutting a circle about 4″ in diameter.  Then cut a slit through half of the circle.  Now roll it into a cone shape and glue with hot glue in place.
I placed a little washi tape on both ends of my gold tube and in the middle just for decoration.
Glue on cardstock cone topper with hot glue.  I also cut some glittered cardstock fringe for the end of my firework, you can hot glue this as well.
I attached my firework tube with some rope that I had from an old project, I didn't glue this tube to the wreath but you most certainly can.
Lastly I hot glued the gold toothpicks to the back of my cardstock stars.  I then glued them in place behind my firework.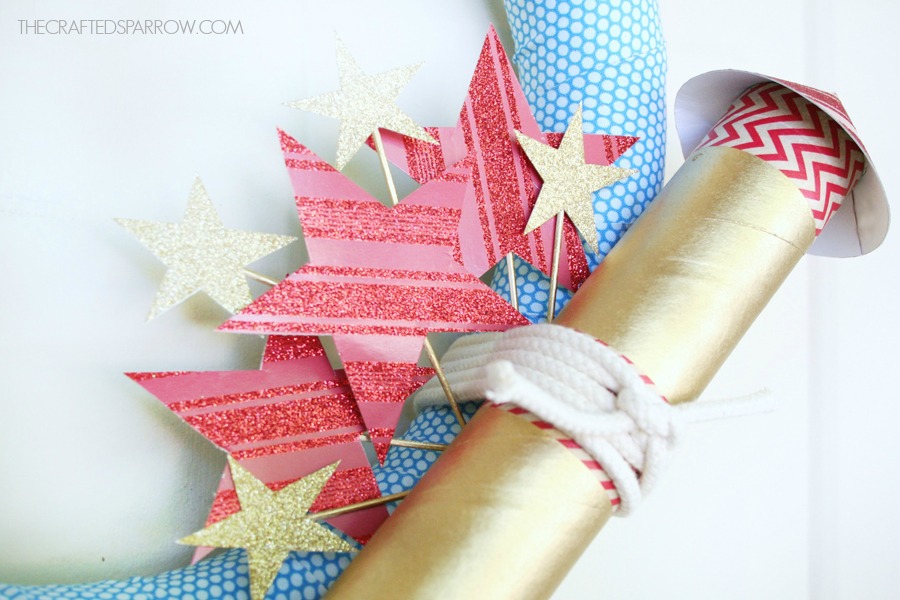 This wreath is simple, but super cute and like I said it was finished in under 25 minutes.  You could definitely add a couple smaller fireworks using toilet paper tubes if you wanted to add a bit more to this wreath.  Either way it's a cute wreath that shows your patriotic spirit for 4th of July.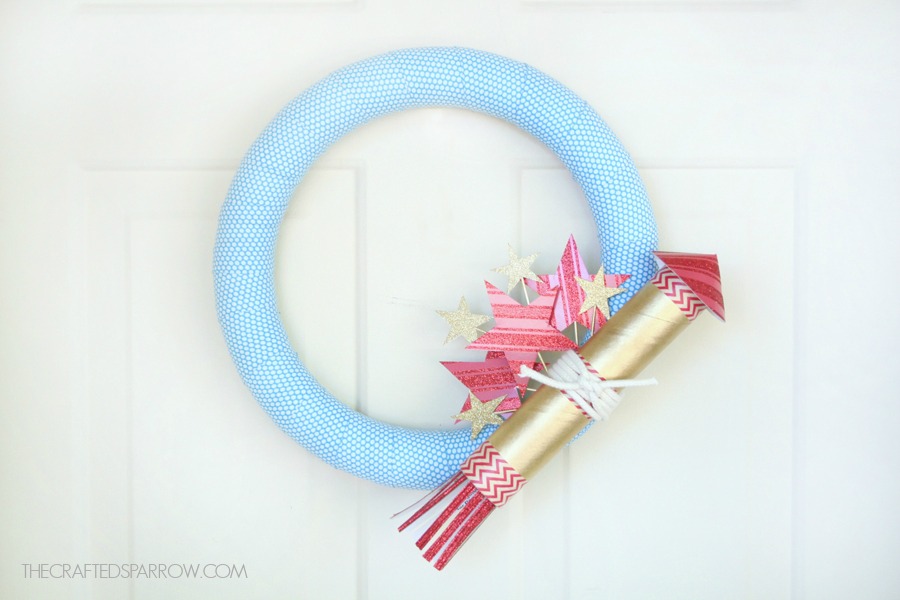 Be sure to check out these other great ideas for even more 4th of July inspiration.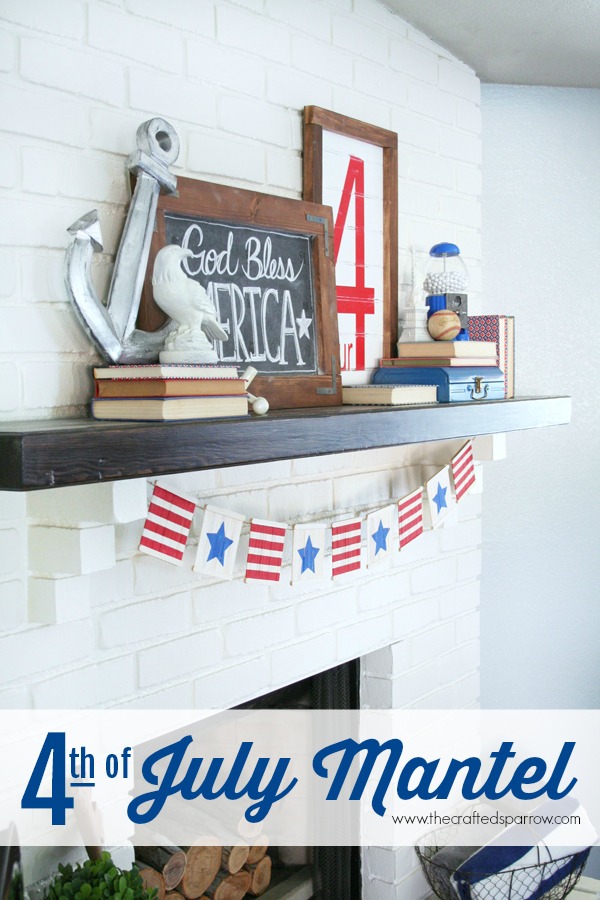 4th of July Mantel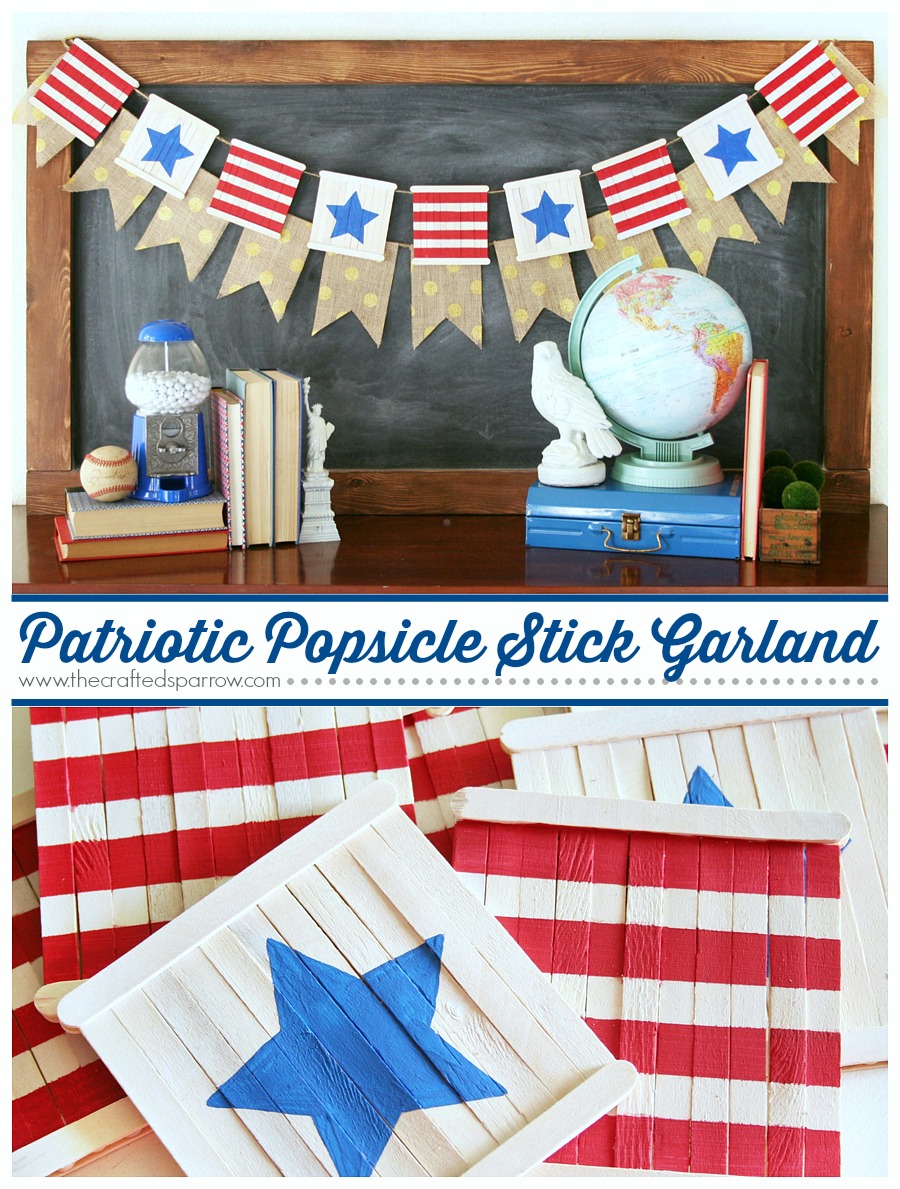 Patriotic Popsicle Stick Garland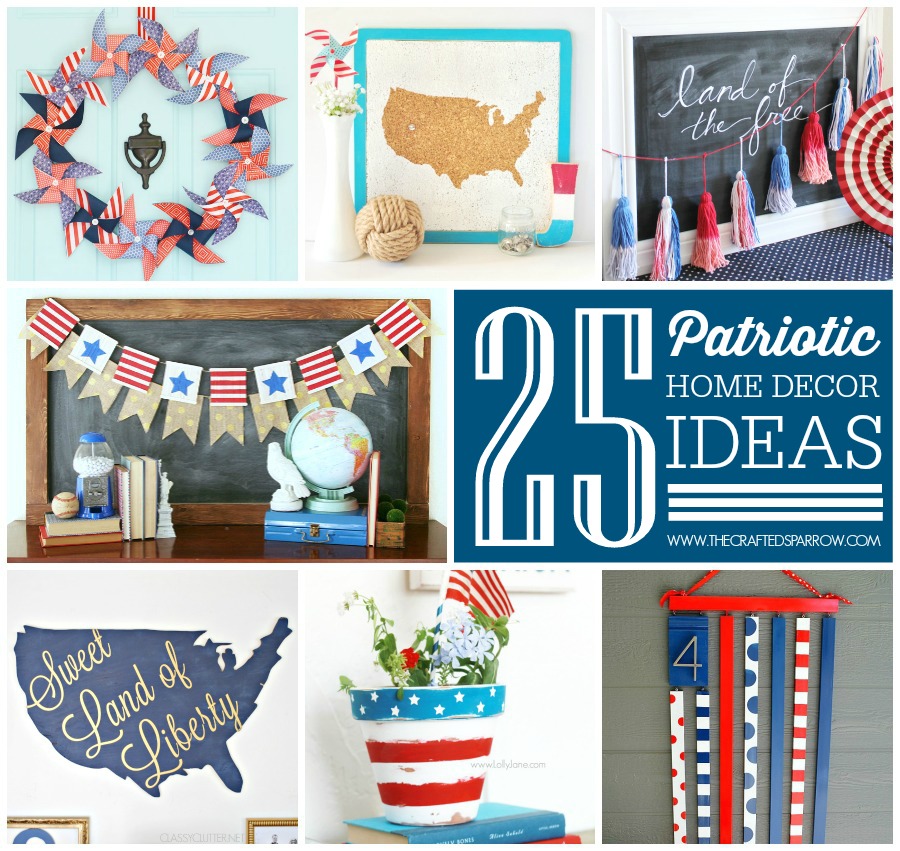 25 Patriotic Home Decor Ideas