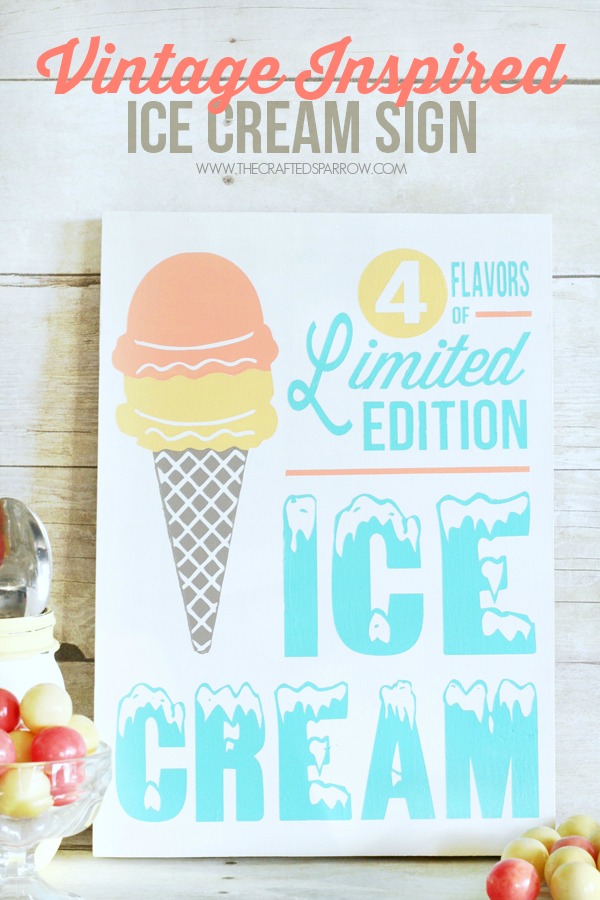 I am so excited about being a part of Cricut Design Space Star, which is a monthly competition between selected bloggers.  Each month we will have a selected theme and create a variety of projects within that theme.  My team chose Ice Cream as our first theme.  Did you know that July is National Ice Cream Month?
There is something magical about Summer.  Staying up past normal bedtime, vacations, bbq's, swimming, and lot's of ice cream sessions.  So in honor of National Ice Cream Month I'm sharing this Vintage Inspired Ice Cream Sign with you.
I have a problem when it comes to ice cream, not that I eat too much.  It's that I can't just have one flavor in the house.  Currently (I'm embarrassed to say) we have 7 flavors in the house.  I just can't eat the same flavor all the time, I like variety.  I will say though I do have a favorite, and that's Rocky Road.
So I thought it would be fun to create a fun Vintage Inspired Ice Cream Sign for my summer decor using my Cricut Explore.  If you haven't had a chance to try the new Cricut Explore you are missing out.  I love my machine so much, it makes projects like this so easy.  So let's get started.
Supplies:
– Wood board
– Vinyl
– Transfer tape
– Cricut Explore cutting machine
– DecoArt Americana multi-surface paints (cottonball, battleship, coastal waters, peach silk, chick)
– Foam brushes
– Sandpaper (optional if you want a distressed sign)
I designed my project in Cricut Design Space.  I love that I can use my own fonts.  The ice cream cone was a png image that I uploaded in to Design Space and turned in to a cuttable image.  I set my canvas size to fit my wood board, I happened to have some scrap wood on hand that was perfect for what I needed.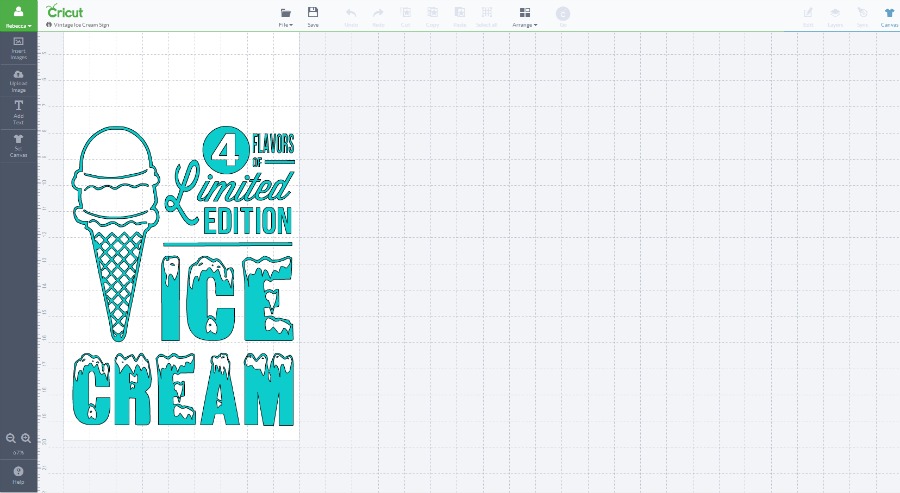 Once my design was completed I needed to cut my vinyl.  With the Explore it's literally just a push of the "GO" button and it tells you what to do next. I set my dial on the machine to vinyl, another amazing feature on this machine.  No guessing…it knows the correct setting for a ton of different mediums and cuts perfect every single time.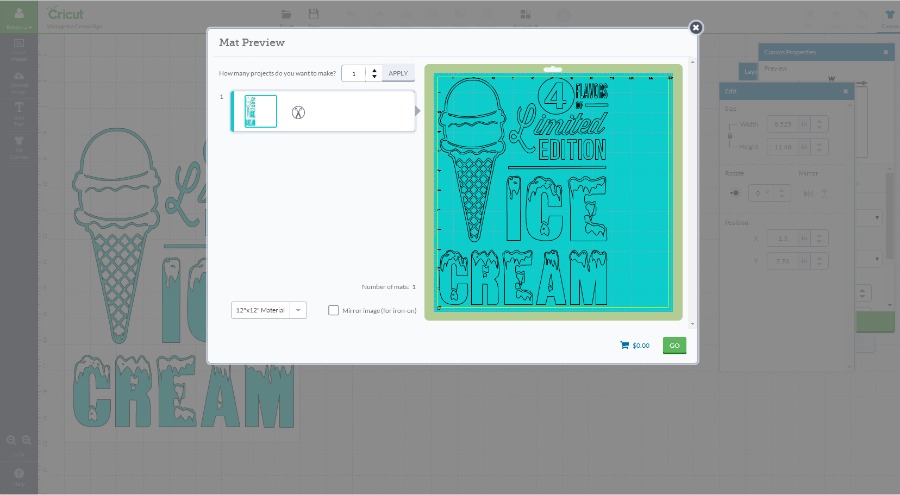 Once I hit "GO" I load the vinyl in to my machine and hit the button.  By the way this machine is so quiet, perfect if you are a night owl crafter!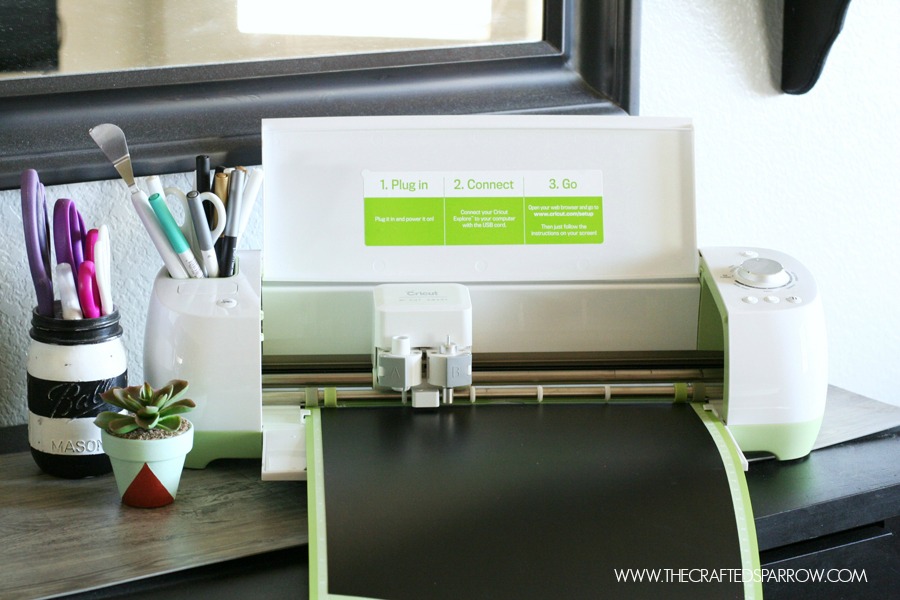 I wanted to stick with a fresh summer color palette, these DecoArt Americana Multi-Surface paints are some of my favorites.  These colors were perfect for this project.  They cover so well.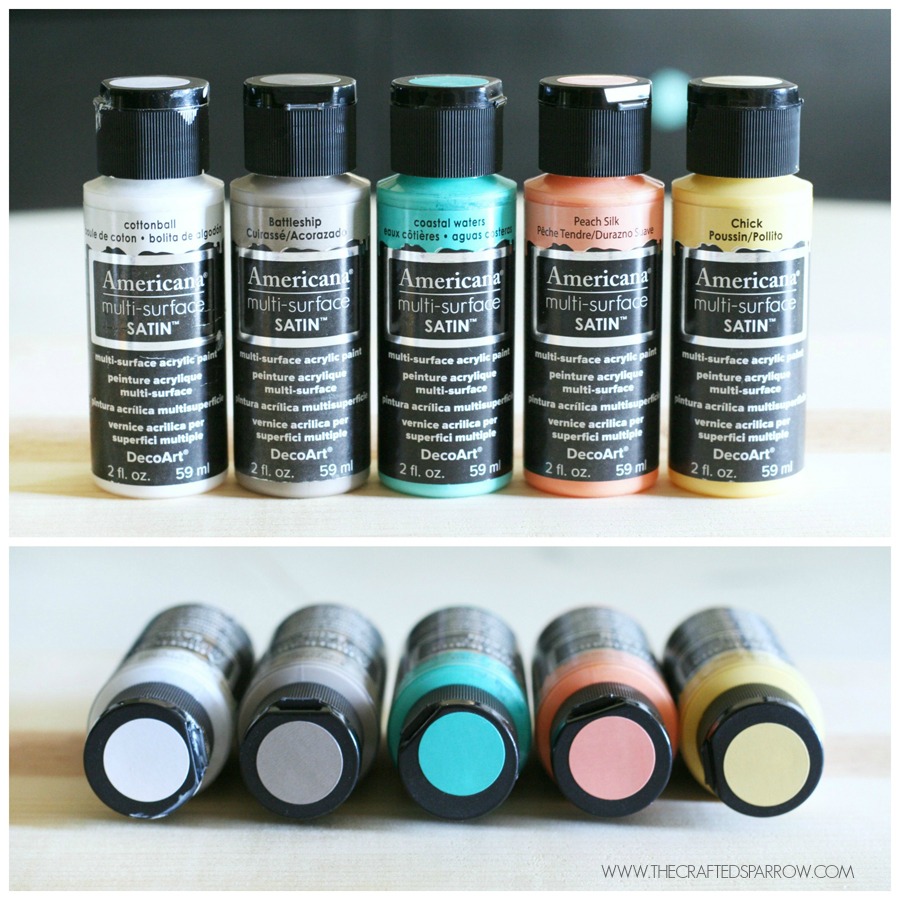 I painted my wood board white (cottonball), it only took about 2 1/2 coats to cover.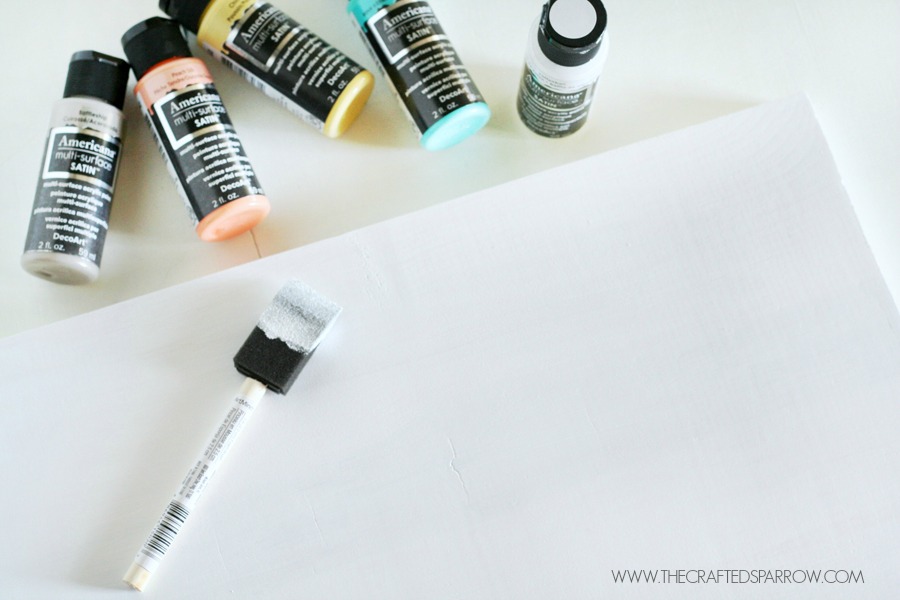 While the wood board was drying I weeded my vinyl stencil.  Leaving only what I wanted to still be white (cottonball) when the sign was finished.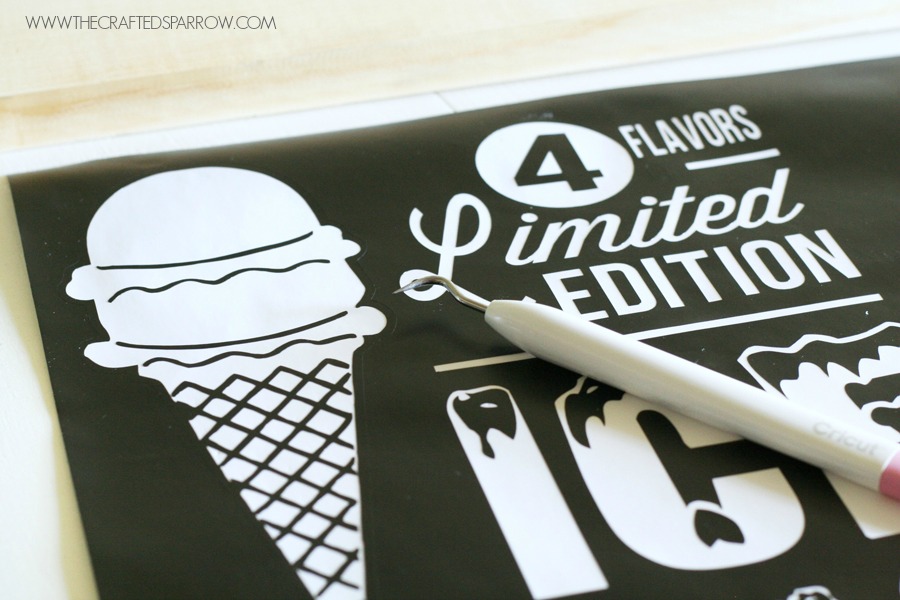 I applied some transfer tape to my vinyl stencil.
Then carefully removed the backing from the stencil and placed it on my wood board.  Then using my Cricut scraper I firmly smoothed out my stencil and transfer tape, being sure to remove any air bubbles.
I then carefully peeled away the transfer tape leaving my vinyl stencil in place.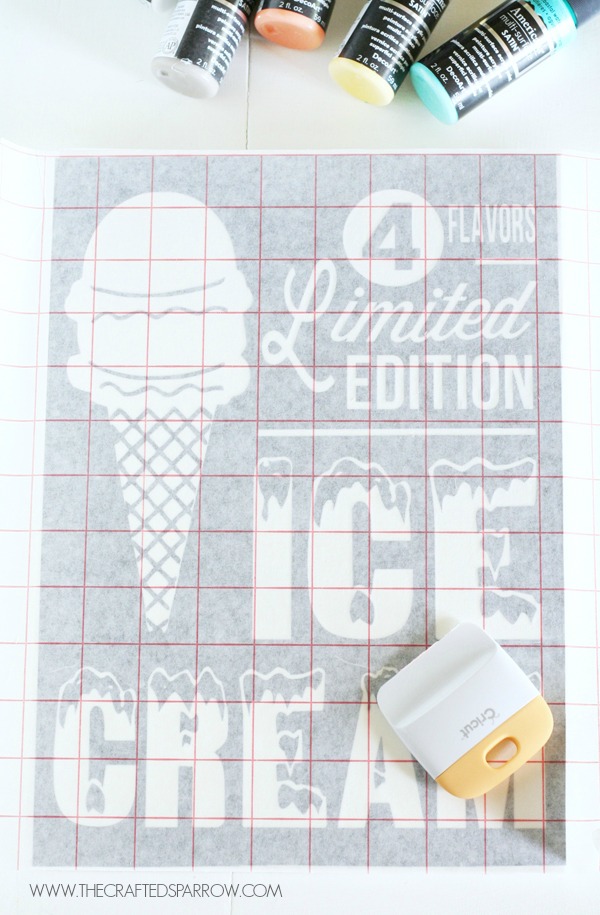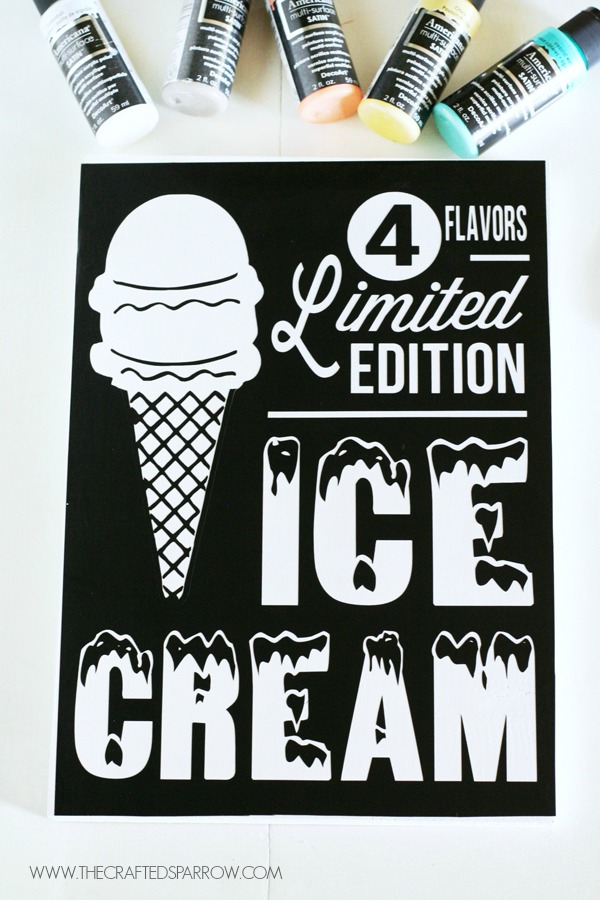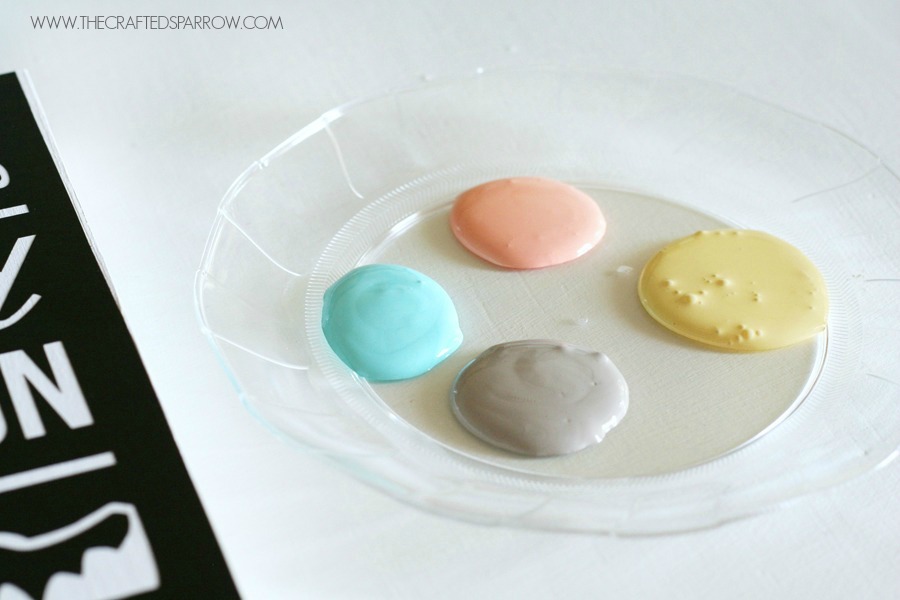 It was time to paint.  Seriously!  These colors together make me happy.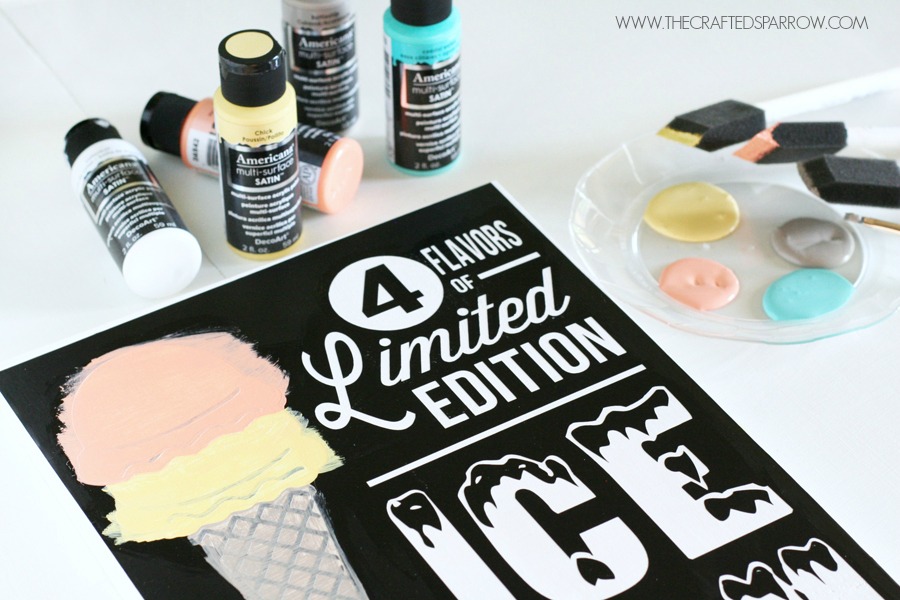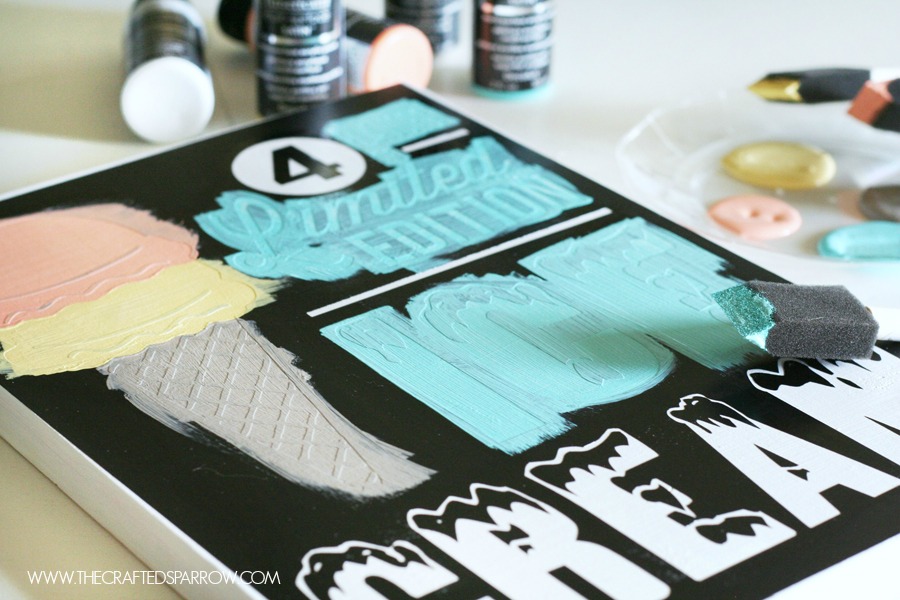 Once you have finished painting you need to remove the vinyl stencil before it dries completely.  If you wait until it's dry then you risk peel paint up and not having clean edges.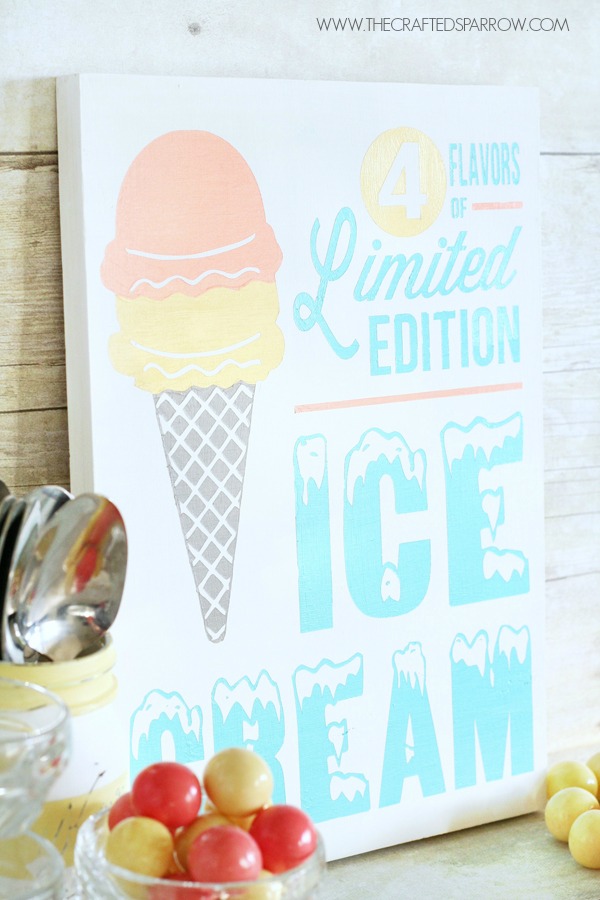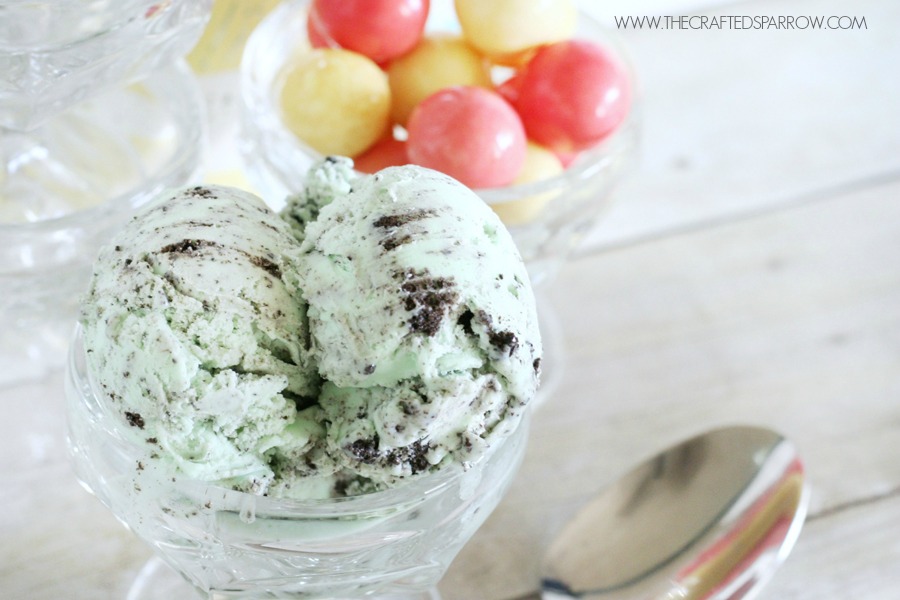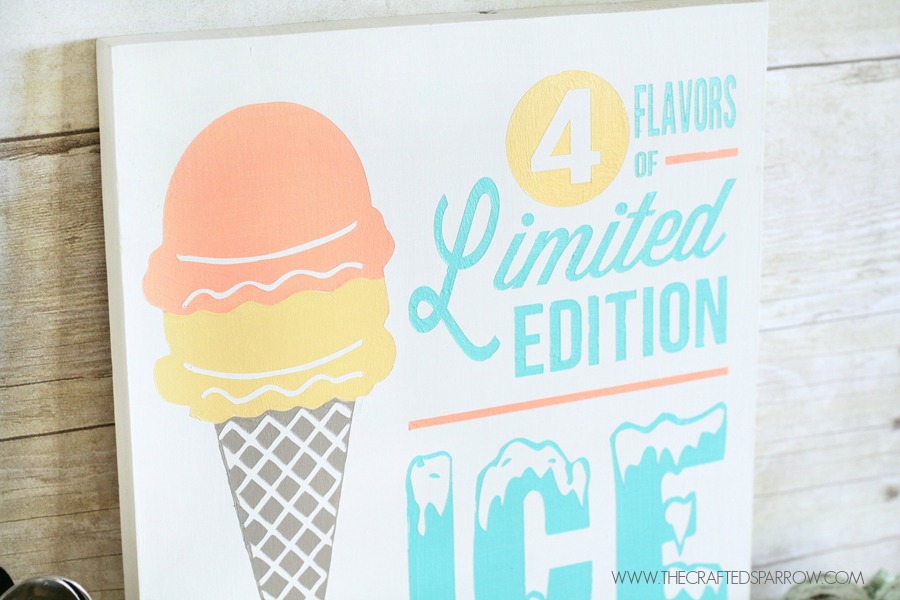 I love how this sign turned out.  By the way…if you are wondering why there are only 4 flavors it represents our family of 4.  We're all limited edition!
You could customize that number to anything you want.  So what do you think?  Cute right?  This would be not only fun decor for the house, but what a fun gift to give an ice cream loving friend, or as decor for an ice cream bar party.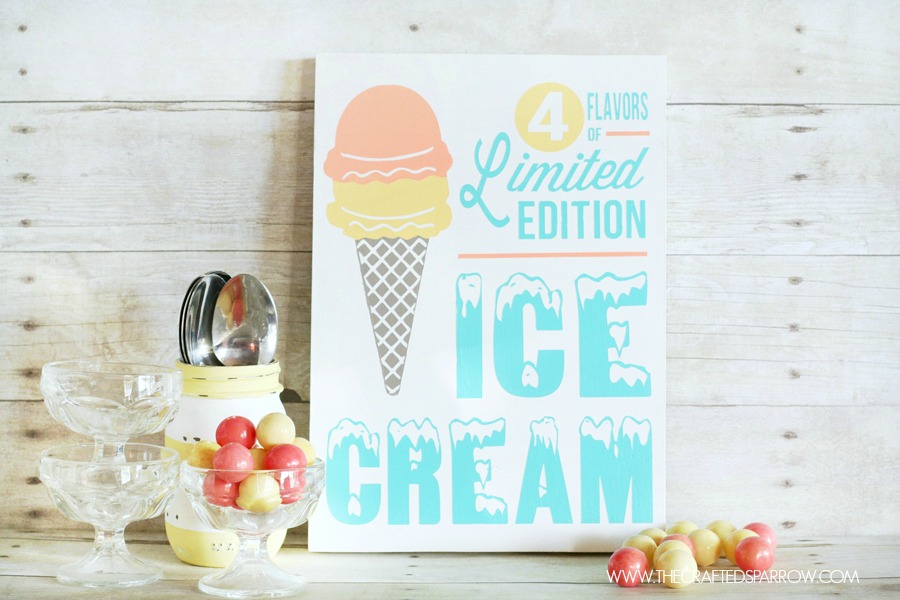 Be sure to check out my other team members (Go Team #7) and their amazing ideas:
Kami from No Biggie created two projects these DIY Ice Cream Cone Wrappers are seriously awesome!  She also made this adorable DIY Ice Cream Cone Art.  Kim from Today's Creative Blog created this Sweets banner & sign in less than 30 minutes, how awesome is that?!  And last Lindi from Love the Day made a whole decor package for an Ice Cream Social, it would be perfect for any occasion – maybe even an end of summer ice cream bash!
Now for the best news!  Want to win a Cricut Explore of your very own?  Here's how:
Cricut is giving away a brand new Cricut Explore each day until the end of July.  All you need to do is upload a photo of any project you have made – (it doesn't have to be made with a Cricut!) – and use the hashtag #cricut and #imadeit on Facebook, Instagram, or Twitter.  Please tag me in your posts as well (@craftedsparrow on Instagram & Twitter, or here on Facebook – Pinterest) so they'll know that you found out about the amazing contest on The Crafted Sparrow.  I hope one of you win!
For more information, see these posts for official rules and FAQ.  Giveaway ends 07/30/14.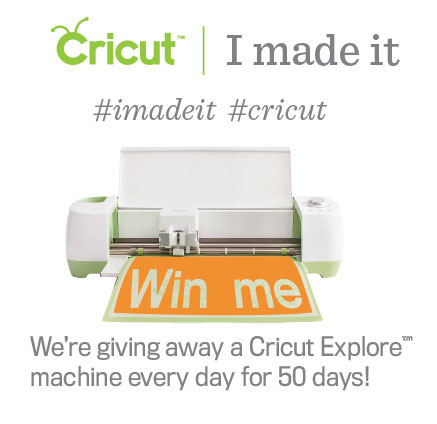 Want to see some other projects I've created with my Cricut Explore?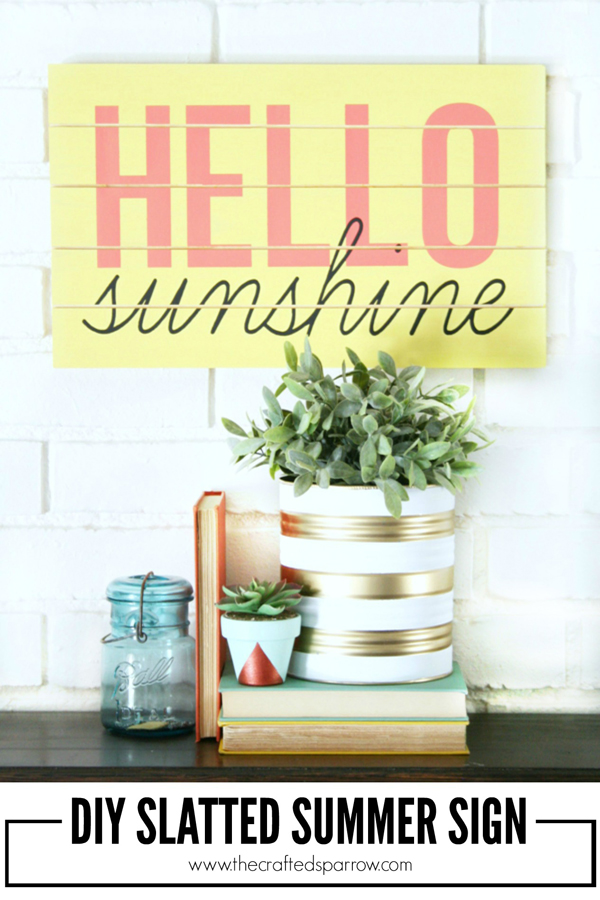 DIY Slatted Summer Sign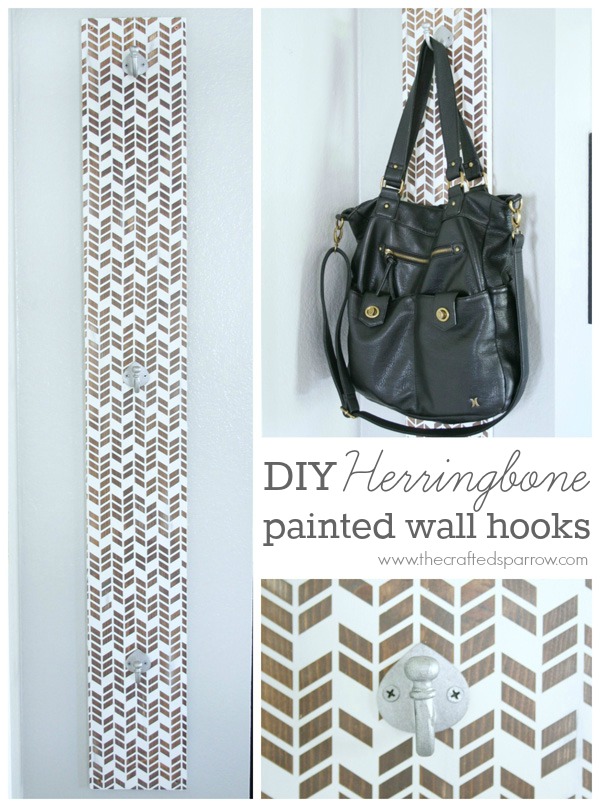 DIY Herringbone Painted Wall Hooks
Disclosure  ||  I am a member of the Cricut Blogger Network.  I received product in exchange for review.  All opinions are 100% my own.  Even though I am not being directly compensated for these posts, I am under consideration for a prize with Cricut Design Space Star.