Disclosure  ||  I am a member of the core blogger program with DecoArt.  I received compensation and product for this post.  All ideas and opinions are 100% my own.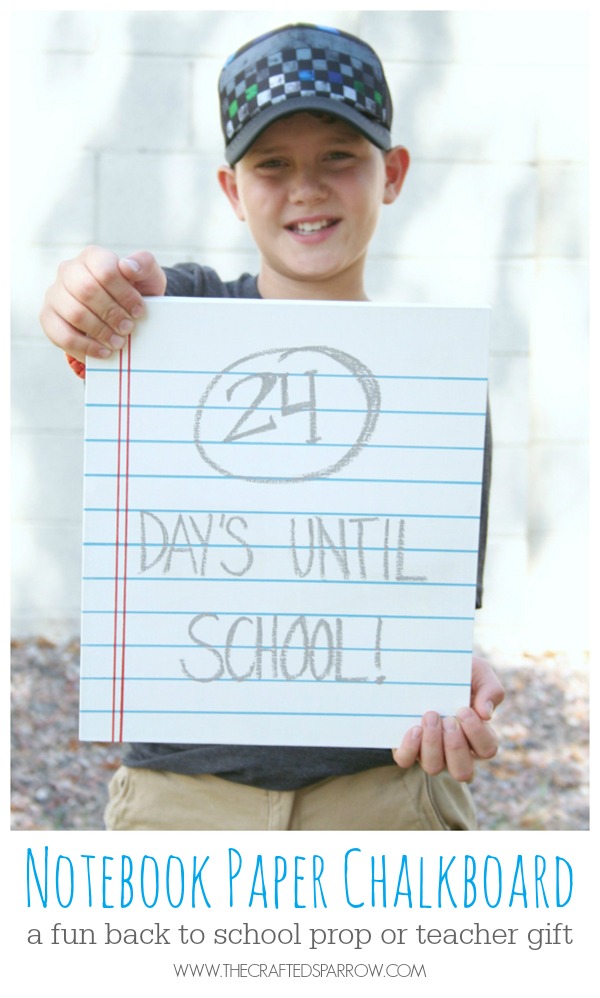 School is just about to start for us.  In all the back to school preparation I love creating fun props or items for my back to school mantel decor.  This Notebook Paper Chalkboard is such a fun photo prop or first day of school gift for the new teacher.
Supplies:
–  DecoArt Americana Clear Chalkboard Coating
–  DecoArt Americana Multi-Surface paints (cottonball, lipstick, blue lagoon)
–  Foam brushes
–  Painters tape
–  Ruler
–  White chalk
–  Black/Gray chalk or chalkboard markers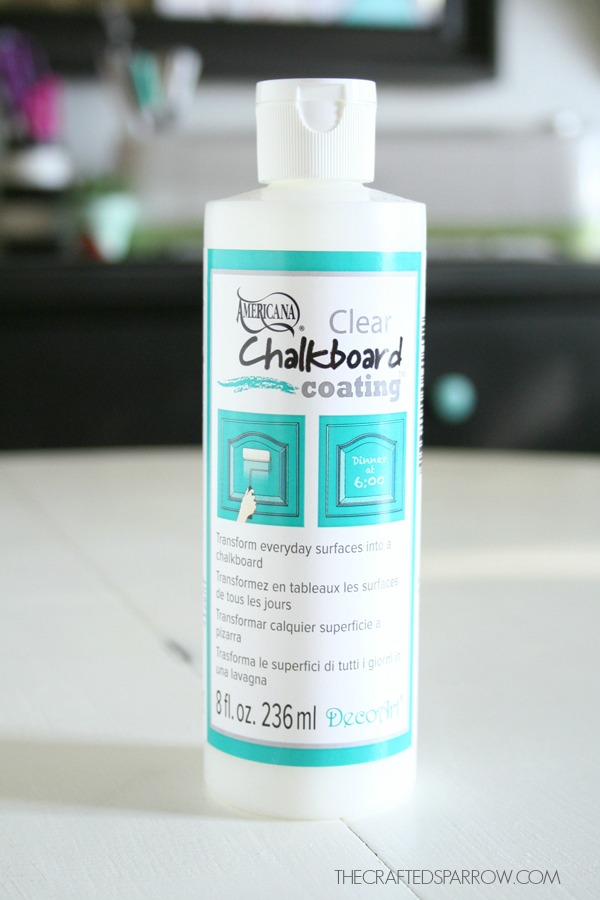 I love this DecoArt Americana clear chalkboard coating.  You can turn any painted surface in to a chalkboard!  So fun.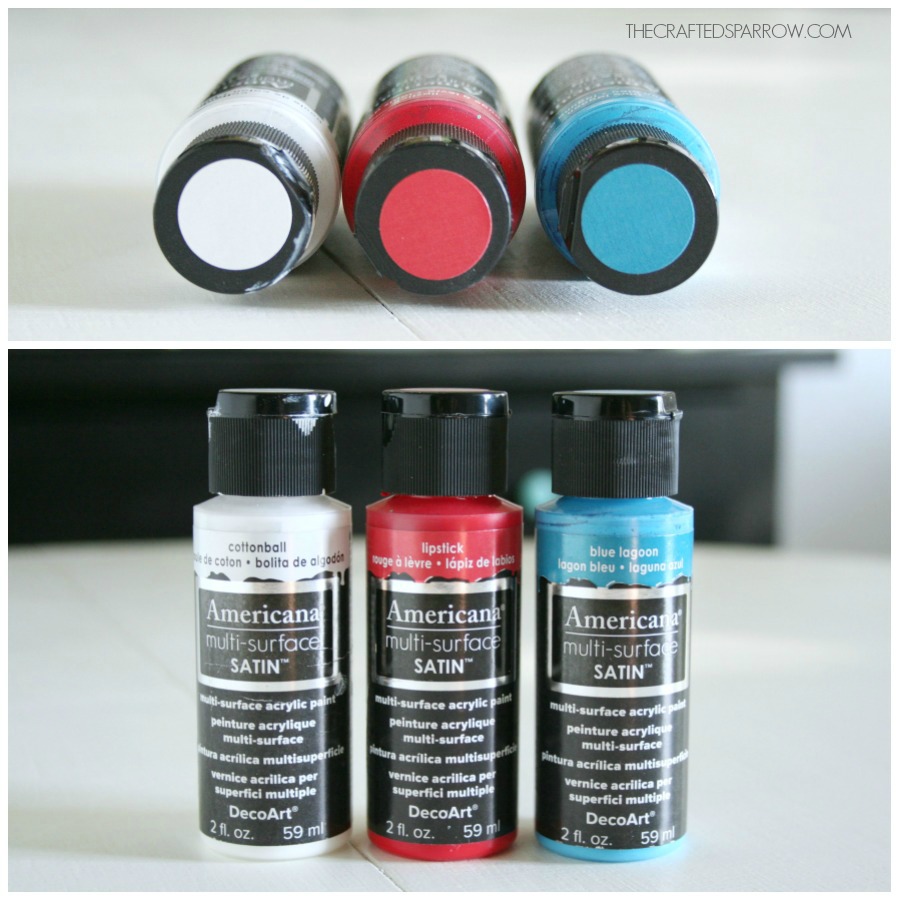 I just happened to have a piece of scrap wood lying around that was a similar shape to a sheet of notebook paper, it was perfect.  If you don't have anything lying around you can use any piece of wood, mine happened to be a piece of mdf.
Begin by painting the entire surface white (cottonball).  About 2-3 coats, this will help to be sure the wood is covered completely.
Using your painters tape and ruler create your lines.  I left a nice margin on top like an actual sheet of notebook paper.  I then just continued taping it off, leaving a small gap between each piece of tape.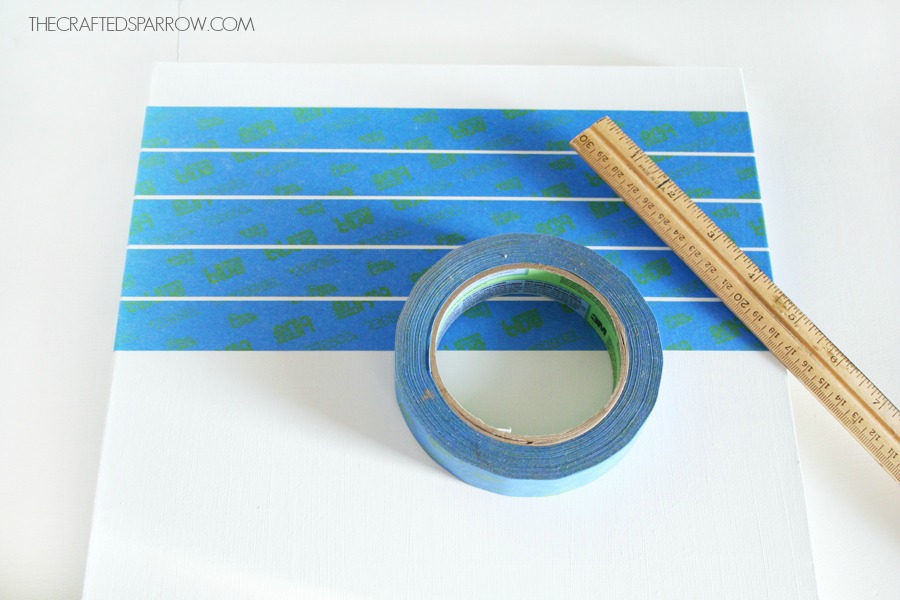 Once you've finished taping it off then using the blue paint (blue lagoon) paint your notebook paper stripes.
Remove the painters tape carefully once your stripes are dry.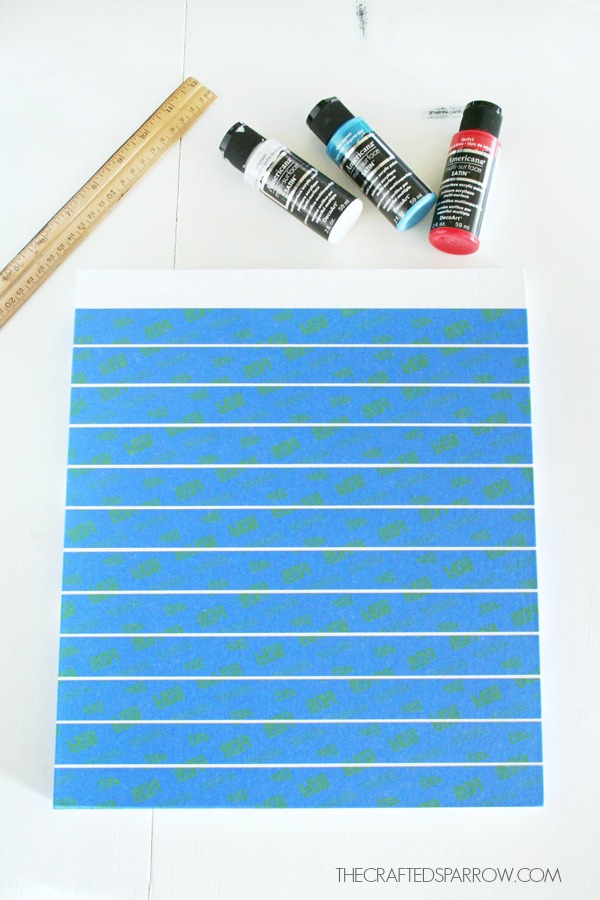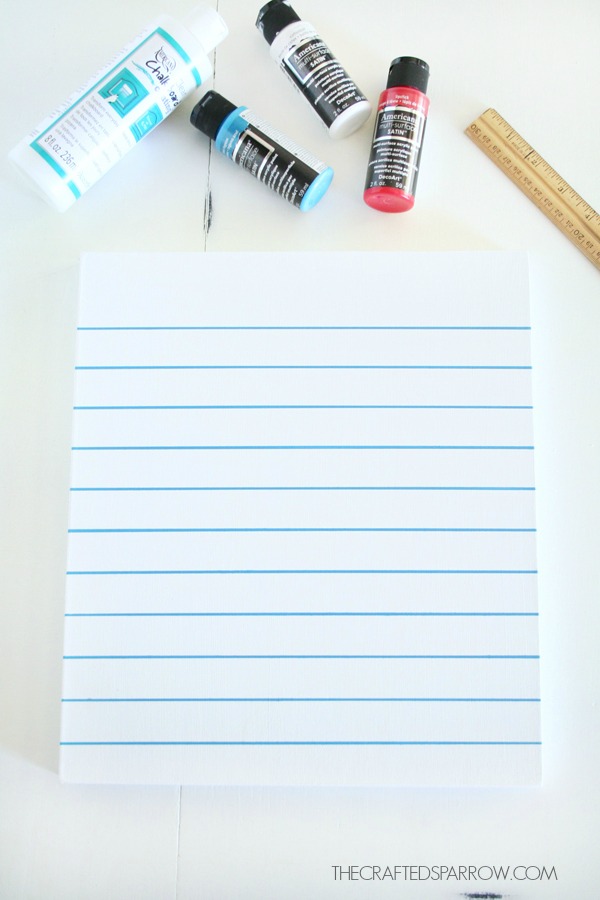 Now tape off the left side for the red lines.  You can either do one or two red lines.  I did two.
I taped off my first line, painted it red (lipstick).  Then once it was dry I removed the tape, and tape a second line next to the one I just painted.  Then repeated that step again.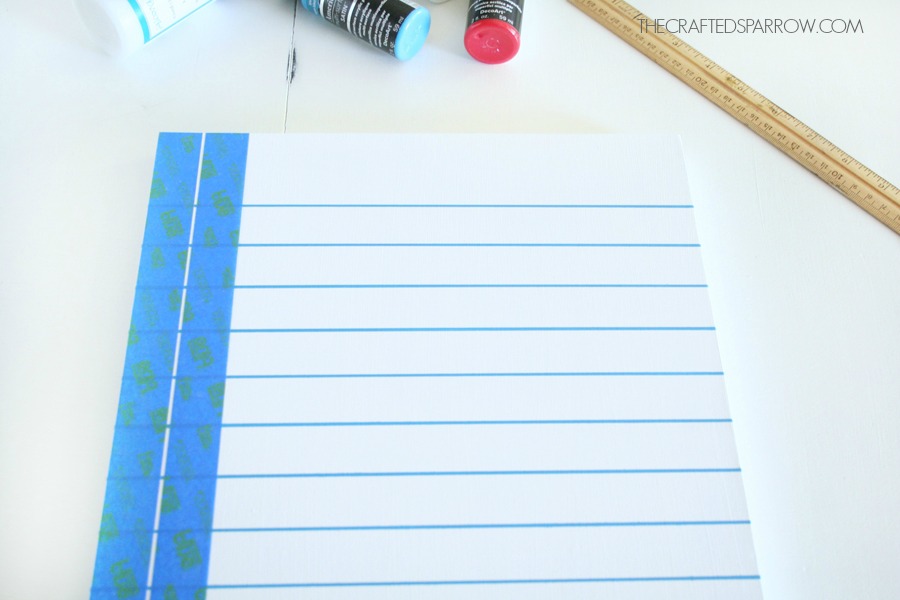 Once all the paint is dry use your clear chalkboard coating.  Brush on, each coat should have 1 hour dry time between and go in opposite directions each time.  Do at least three coats.
Per package directions let the surface cure for 24 hours.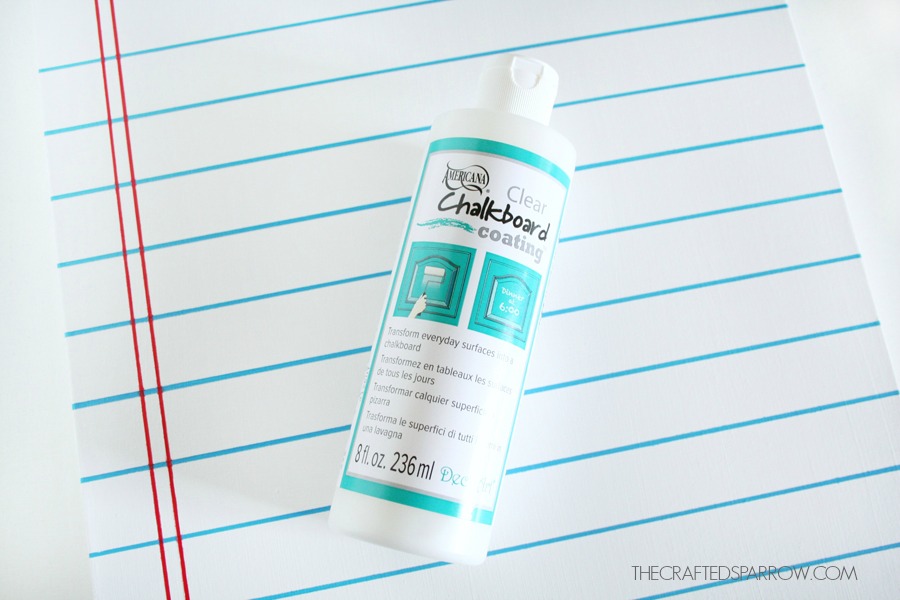 With a piece of white chalk you need to season your chalkboard.  Rubbing the piece of chalk over the entire chalkboard surface, first going horizontal – then vertical.  Repeat a couple of times.
Wipe off excess chalk dust with a soft cloth.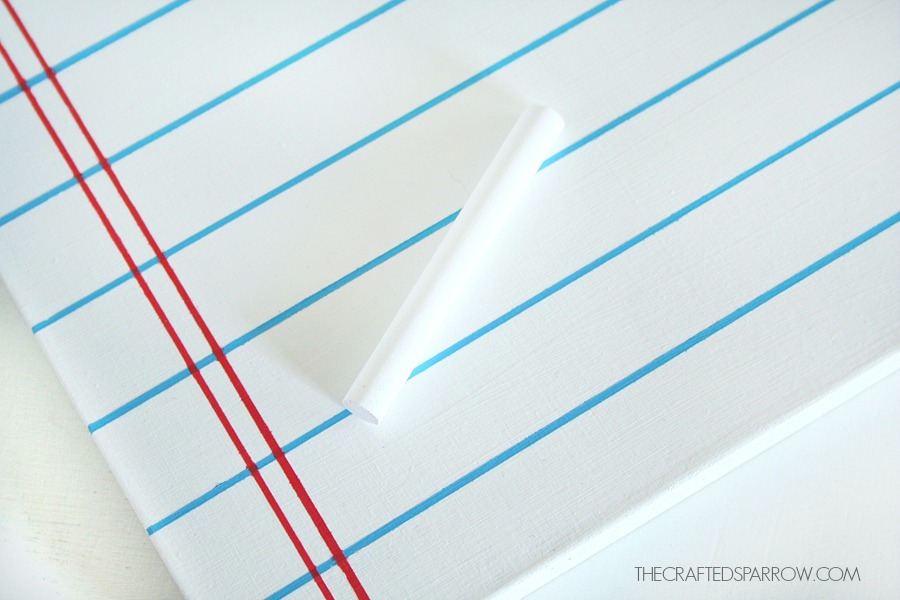 Use a dark chalk or colored chalk for this chalkboard.  I found this box of black/gray chalk at Michaels in the dollar bins.  They had several colors, but I had never seen black so I was quick to grab a box.  It was perfect for this project.  You could certainly use chalkboard markers if you'd like as well.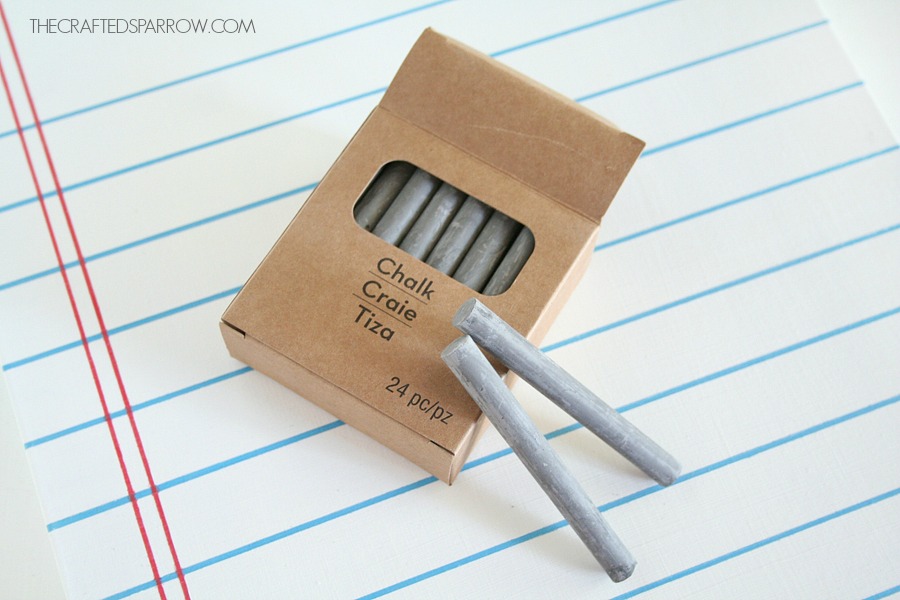 Use this cute chalkboard to mark their special first days of school, or wrap it up with a cute bow and tag and gift it to their new teacher for their classroom.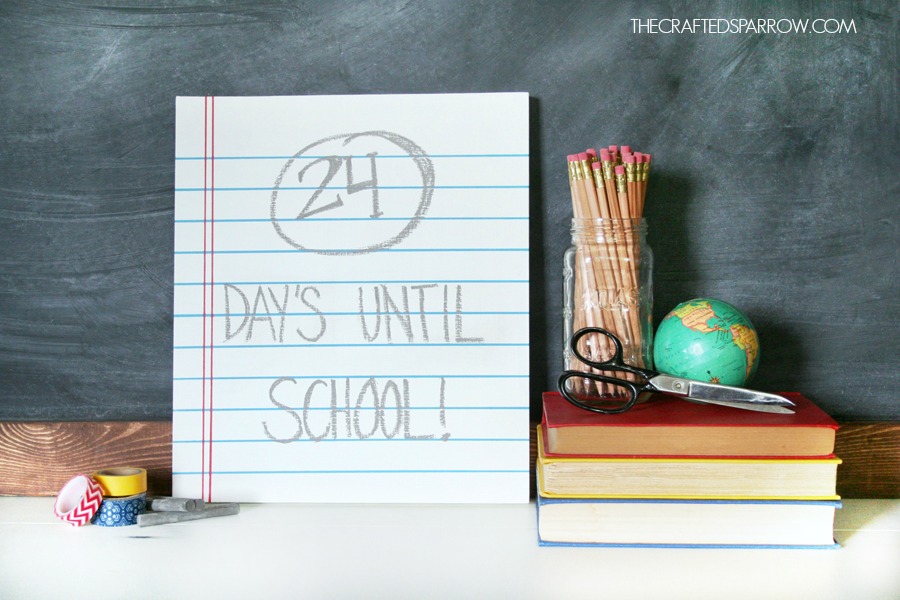 If you're like me you love chalkboards, so here are a few more chalkboard ideas for you.

Back to School Teacher Gift with Free Printable Tags
Fancy Framed Chalkboard Menu

DIY Travel Map Chalkboard