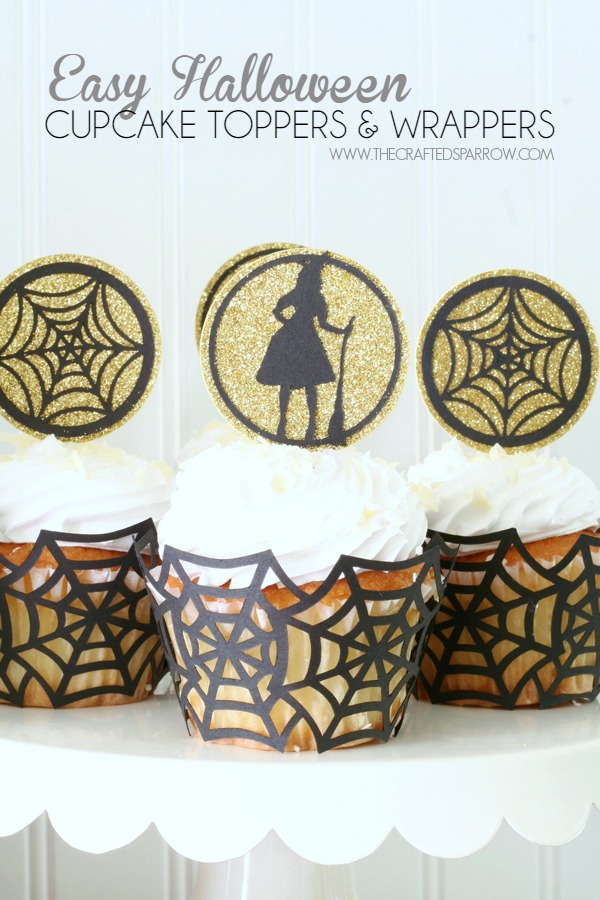 Lately I've heard quite a few people say that Halloween is there absolute favorite holiday. So I figured this week I'd give you a ton of Halloween goodness, be sure to stay tuned over the next couple of days for some cute Halloween party decor ideas. Today I'm starting with these Easy Halloween Cupcake Toppers & Wrappers.
Supplies:
– gold glitter cardstock
– black cardstock
– toothpicks
– glue stick
– glue gun
– Cricut Explore cutting machine
– Cricut cutting mat
This project took about 10 minutes to design, and about 30 minutes to cut (lots of smaller details with those cute webs so it takes a little more time). This is such an easy way to create party decor on a budget and customized to your party theme. I used two graphics from Cricut Design Space. They are actually pumpkin stencils, but I just sized them to what I needed and they cut perfectly with the Explore.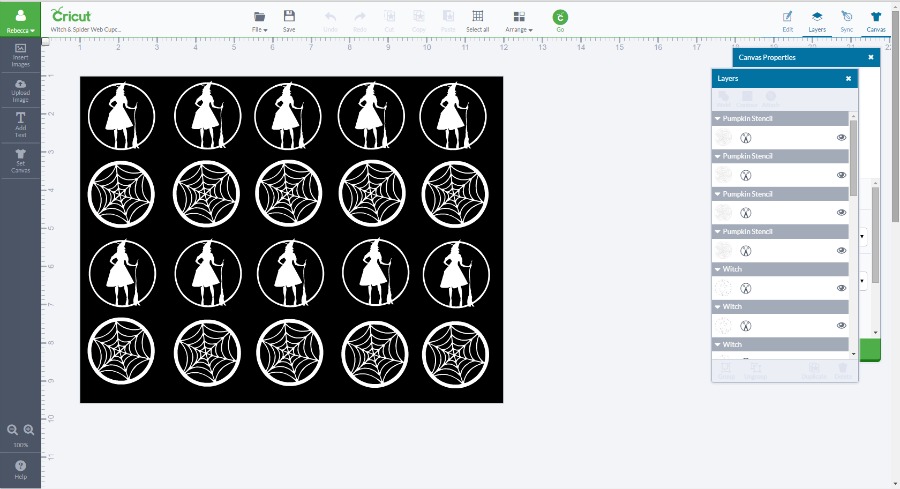 I also used a web cupcake wrapper that is from Cricut Design Space. I re-sized them to 8.5″ wide, it was the perfect size for the cupcakes. Once again they cut perfectly with the Explore.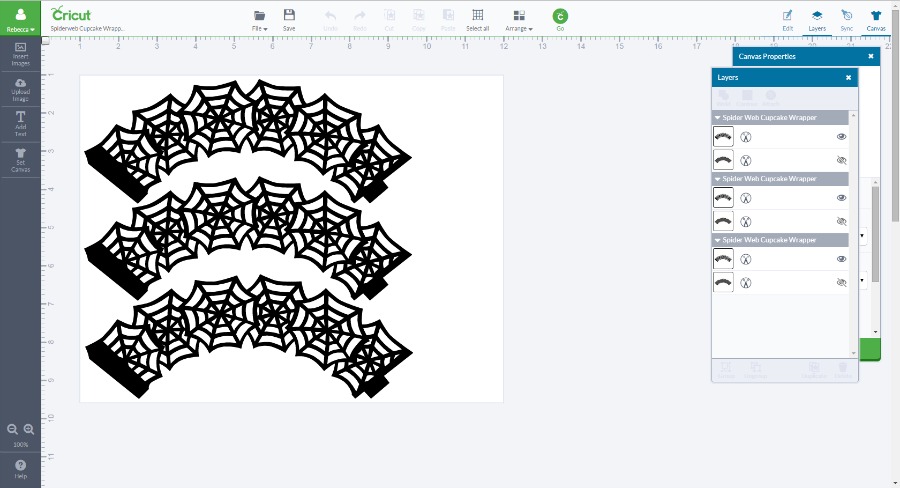 Once I had my detailed pieces cut I used a glue stick to attach them all to some gold glittered circles I also cut with the Explore. I made the gold circles just a little bit larger than my detailed designs.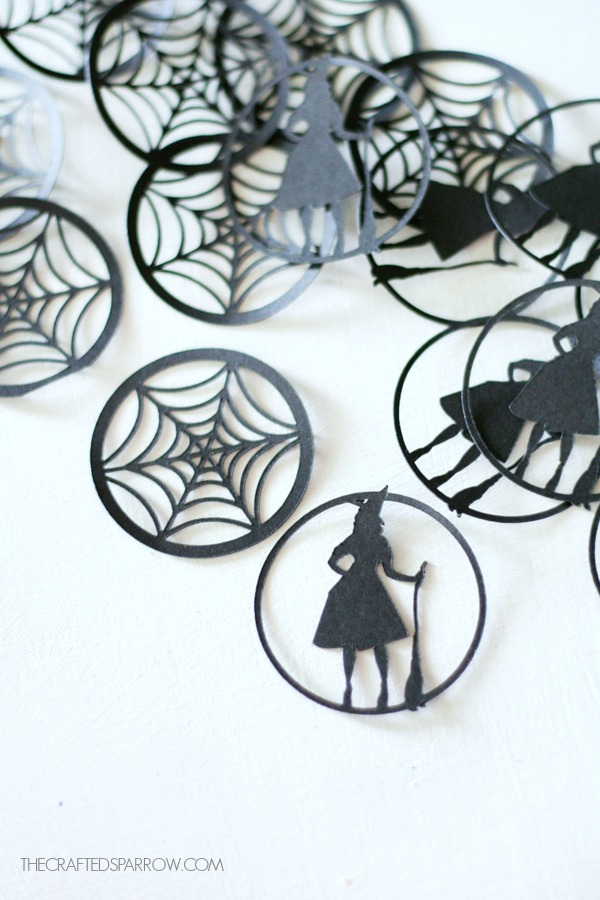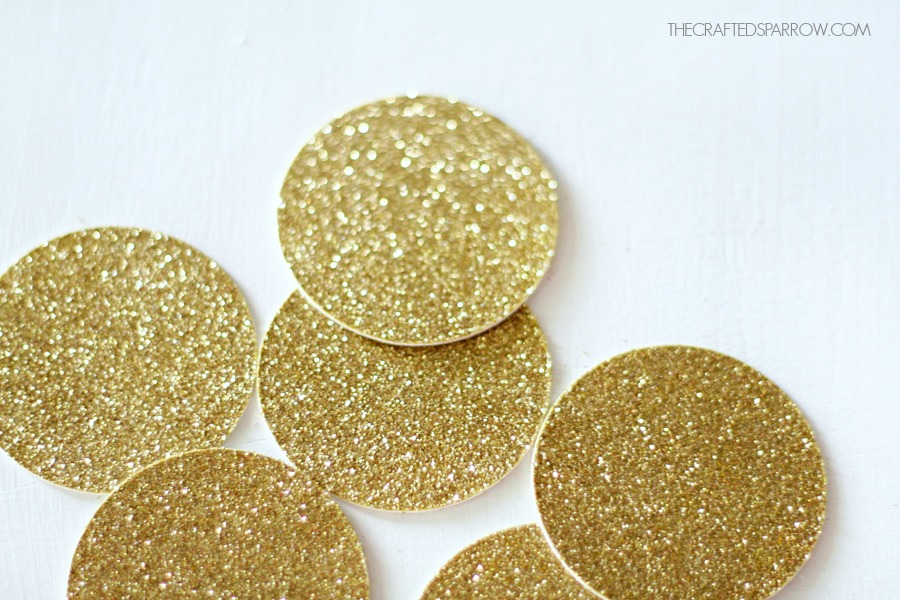 Last step is to hot glue some toothpicks to the back so you can stick them in your cupcakes.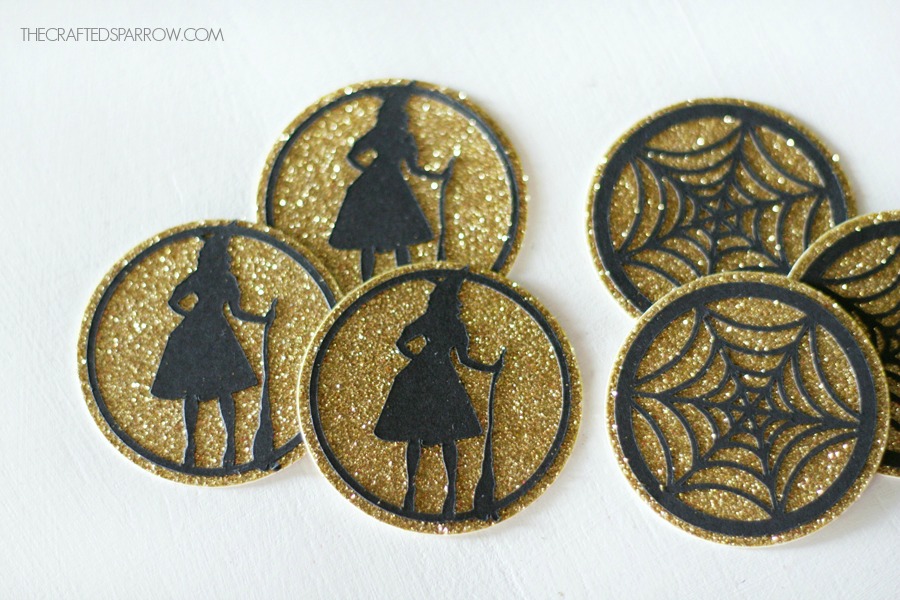 You guys have heard me say how much I love this Cricut Explore machine, and I'm not joking around here…it's hands down my favorite crafting tool.
There are a few more projects to come over the next couple of days. I hope you will keep checking back.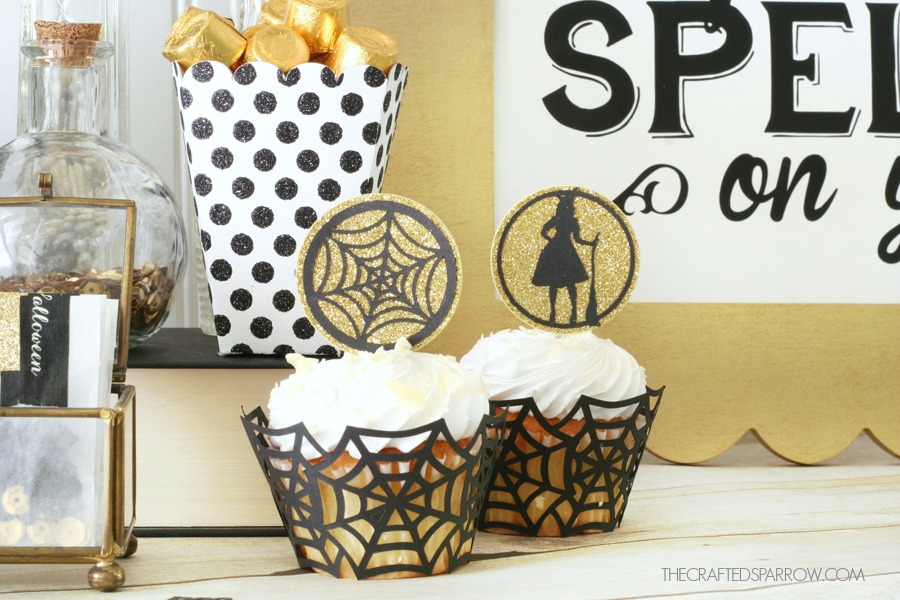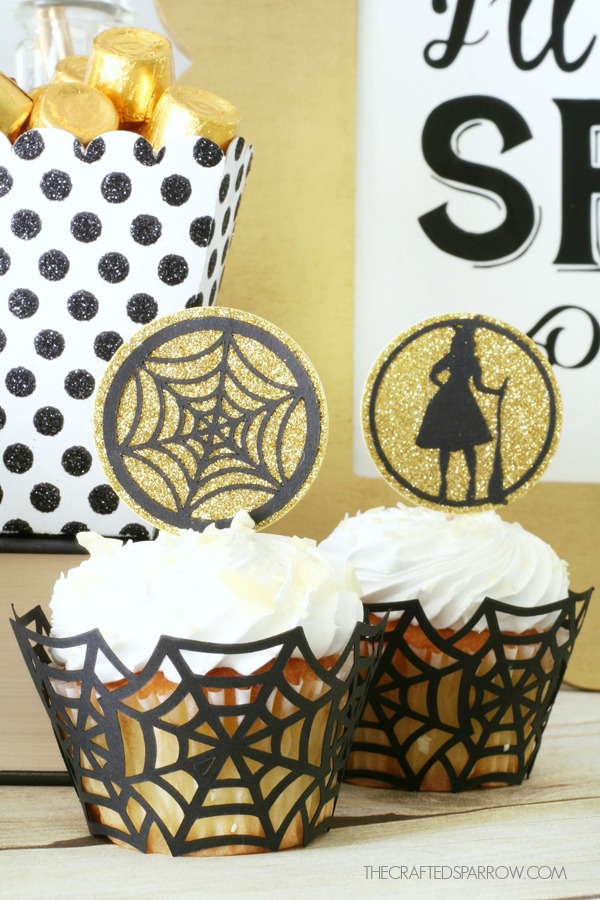 If you have a website and would like to join Cricut's Affiliate Network, sign up HERE.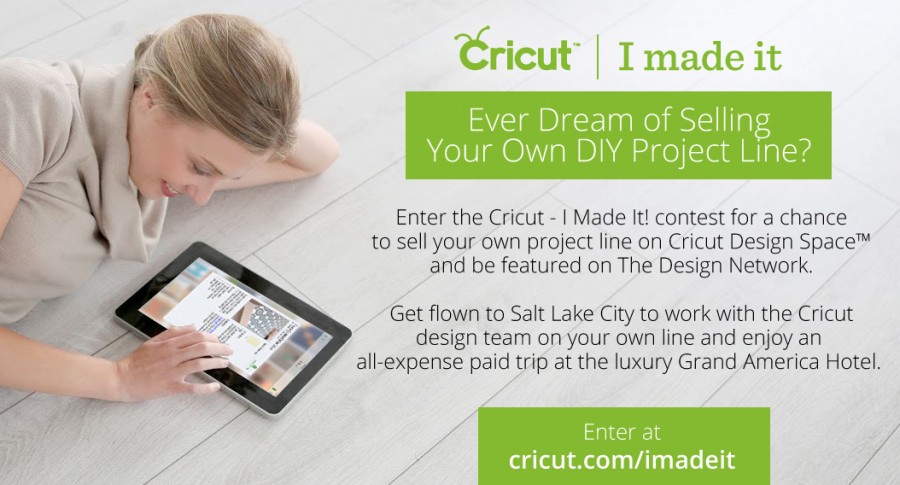 Want a chance to get in on all the fun Cricut action?
Enter the Cricut – I Made It! Contest
Cricut has just announced the second phase of the Cricut – I Made It! contest and this time they're awarding one winner their own Make it Now™ project line to be sold in Cricut Design Space™!
To help create your line, Cricut will fly you to their headquarters in Salt Lake City to work side-by-side with their design team. Then you and a guest will enjoy an all-expense paid stay at the Grand America Hotel – a luxury resort in Salt Lake City, home to the best skiing in the world.
The winner will be featured on Cricut.com and every time a Cricut user purchases your project, you'll earn money. Cricut will even help with your publicity.
Cricut has partnered with the The Design Network – a premier online design channel – to showcase the Cricut- I Made It! winner this fall. You'll get a spotlight feature on a network dedicated to celebrating great designers and their creative star power.
To enter the Cricut – I Made It! contest, all you need is a photo of an original project. You can upload up to five photos (which can be five individual projects or multiple photos of one project).
You have until September 30th to enter. What are you waiting for? It's time you Made It big! Head to cricut.com to enter today.
Disclosure | I am a member of the Cricut Blogger Network. I may receive prizes in exchange for my winning projects. Even though I am not being directly compensated for these posts, I am under consideration for a prize with Cricut Design Space Star. All opinions are 100% my own.