This post is sponsored by Target. All opinions and ideas are 100% my own.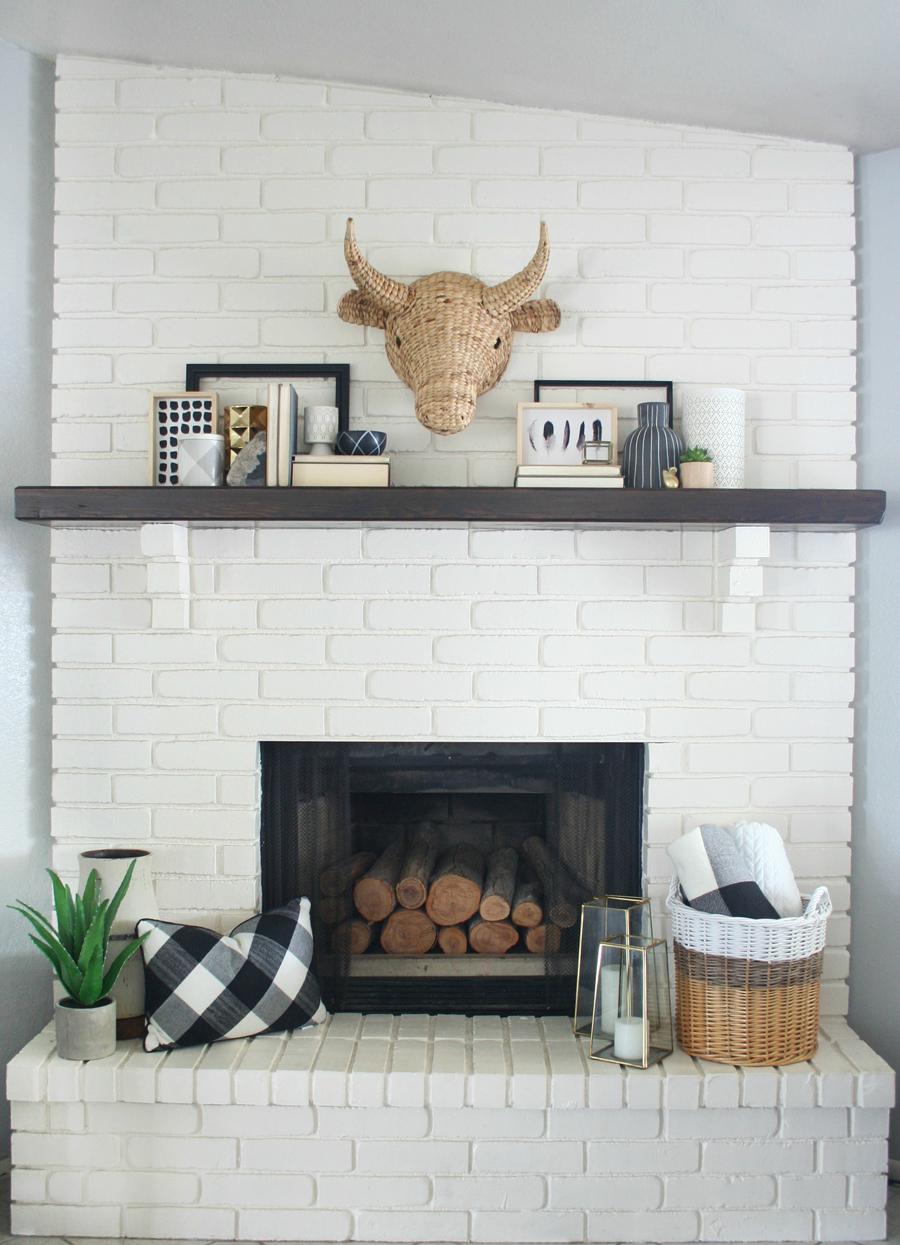 One of my favorite spots in our house is our giant brick fireplace, it offers up so much possibility for decor. It's white painted brick is the perfect backdrop for all types of decor styles. For months, it has been in desperate need of a refresh and with the change of seasons it was the perfect time to bring in some warmth to this space. I'm excited to share all the details of this Black & White Mantel Decor, a look that is perfect for Fall and features my current favorite color palette.
When I think of Fall I think warm color tones, soft plush blankets, lot's of textures, and Plaid flannel shirts. Plaid is such a timeless decor pattern, whether it's in fashion or home decor it has held the test of time. I thought it would be fun to incorporate a few touches of Plaid to my mantel decor, mixing different Plaid patterns with modern home decor pieces. This Adam Lippes for Target Black Plaid Pillow was the inspiration for the entire look.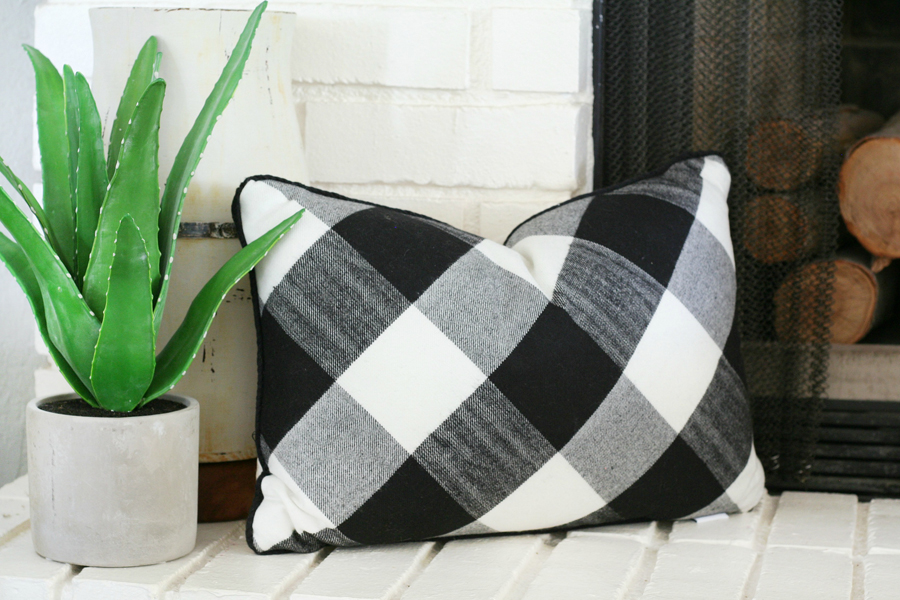 Having such a large space to decorate can be a challenge at times, mostly because the hearth of the fireplace is so large. It's important to fill those spaces with larger items, keeping in mind to have varying heights with your decor.
Having extra pillows and throws on hand for chilly nights are a perfect way to accessorize the fireplace hearth. I used an existing large basket I had and filled it with the coordinating Adam Lippes for Target Black & White Plaid Throw along with another cozy blanket. You can either roll your throws and place them in the basket or drape them over the side for a casual look. The black and white plaid blanket is made from the softest wool, it's going to be perfect for those cold nights cuddled up on the couch.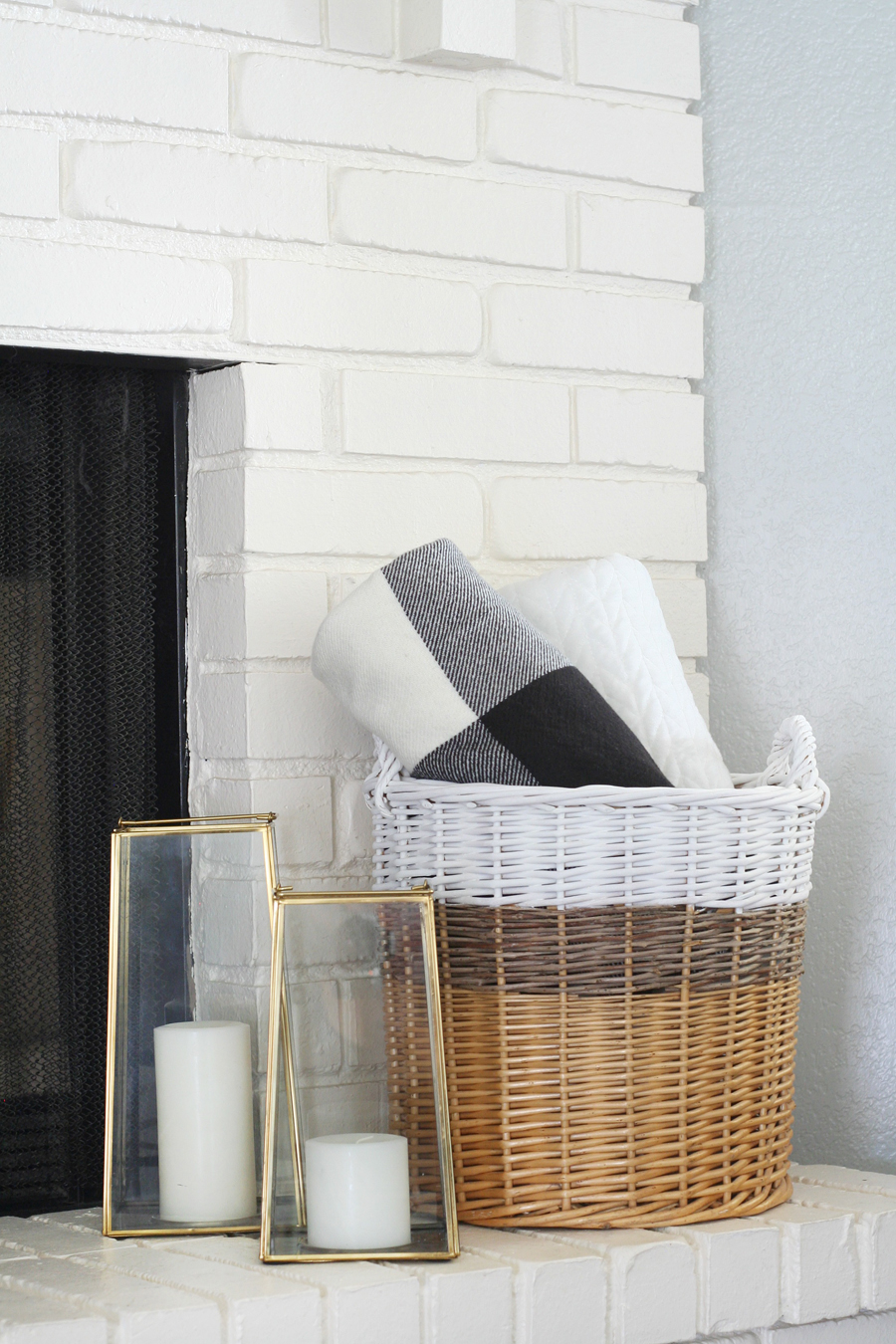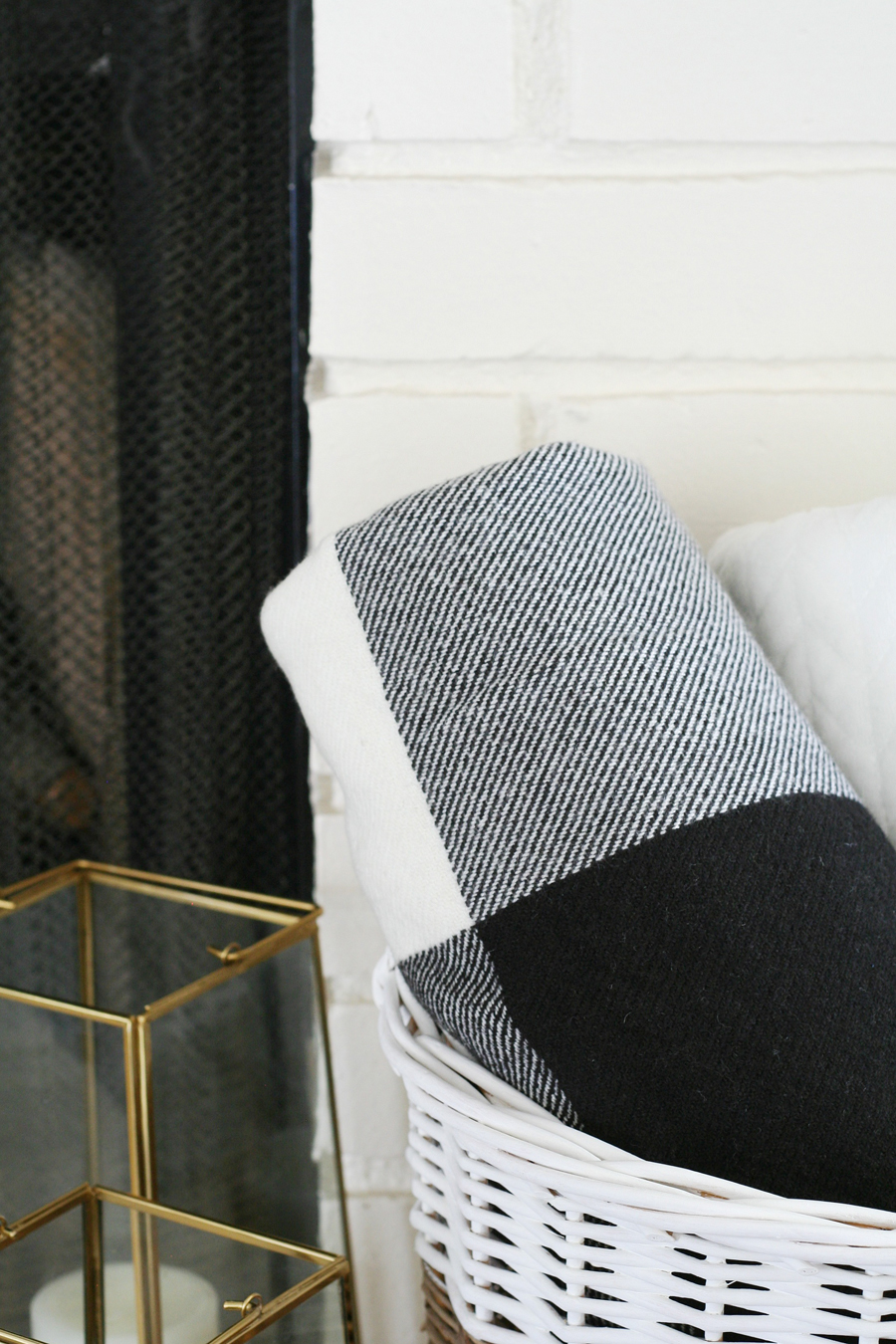 As soon as I saw these Metal / Glass Gold Lanterns I knew they'd be perfect with this look. The modern shape of the lanterns and gold brassy metal are a great mix with the large wicker basket.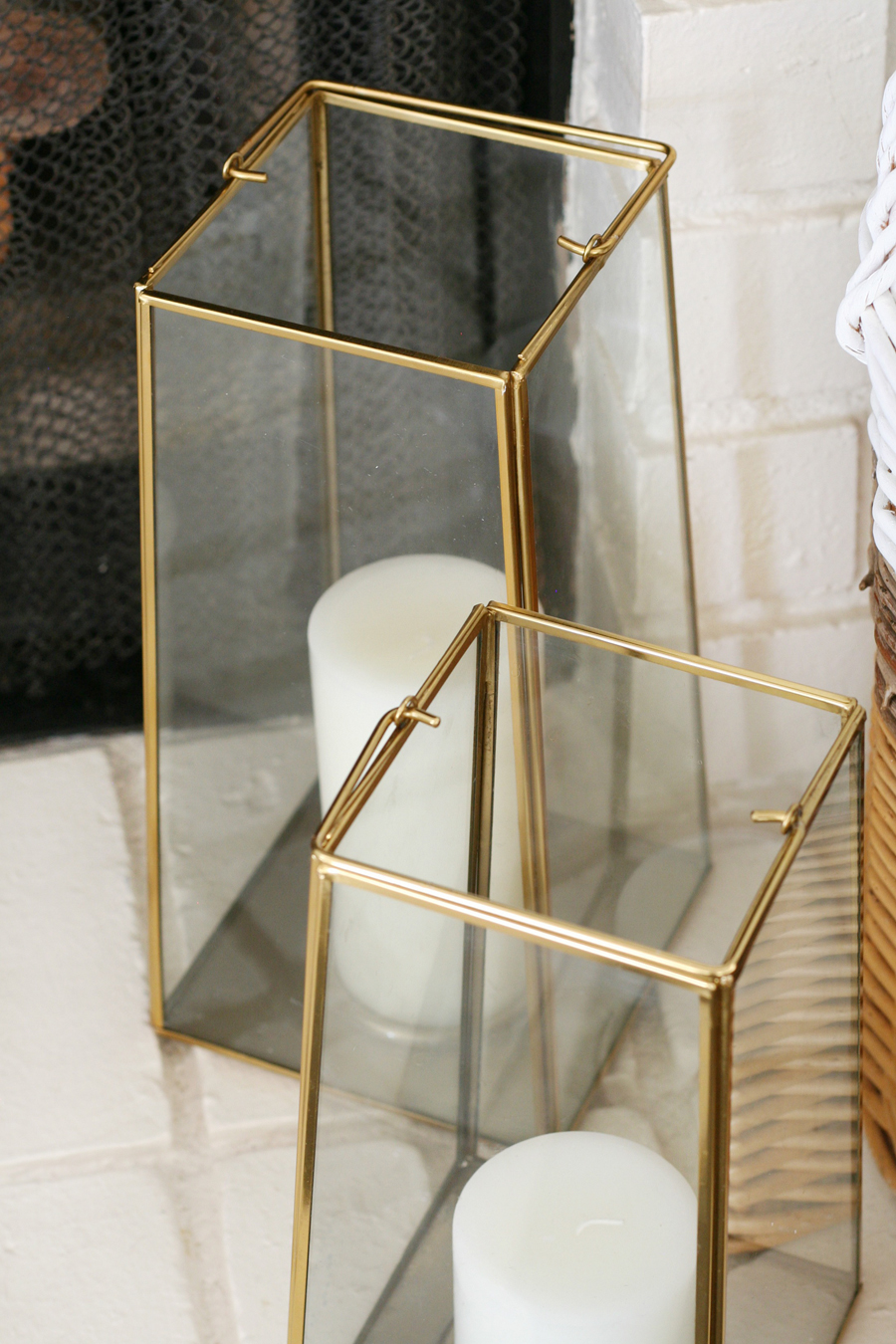 I wanted to do something a little different than I normally do with my mantel, so when I saw the Water Hyacinth Wall Buffalo I knew he was going to look awesome hanging from my white brick fireplace. I wanted to pull in small touches of wood tones and the wall buffalo helped to tie it all together, and his large size helped to create a great focal point. Isn't he amazing?!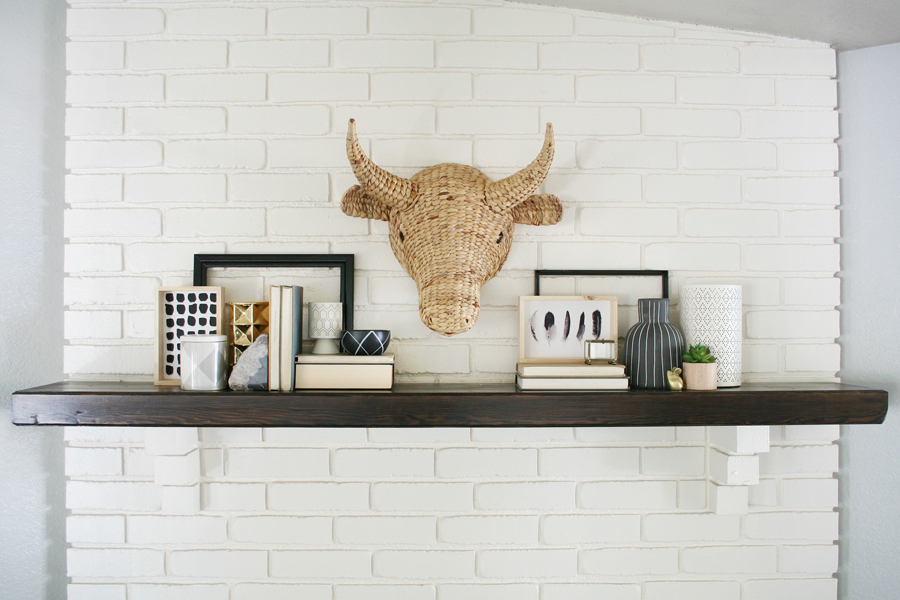 I kept the other decor simple by keeping with the black and white color palette, mixing multiple patterns with various shapes and textures. The Threshold™ Striped Stoneware Vase and Threshold™ Candle Holders added the height I needed and I love when a candle is glowing through the candle holder at night.
Anytime I can work succulents into my decor I do it, so the cute little wood planter with faux succulents I found in the Fall decor at Target definitely found it's way into my cart!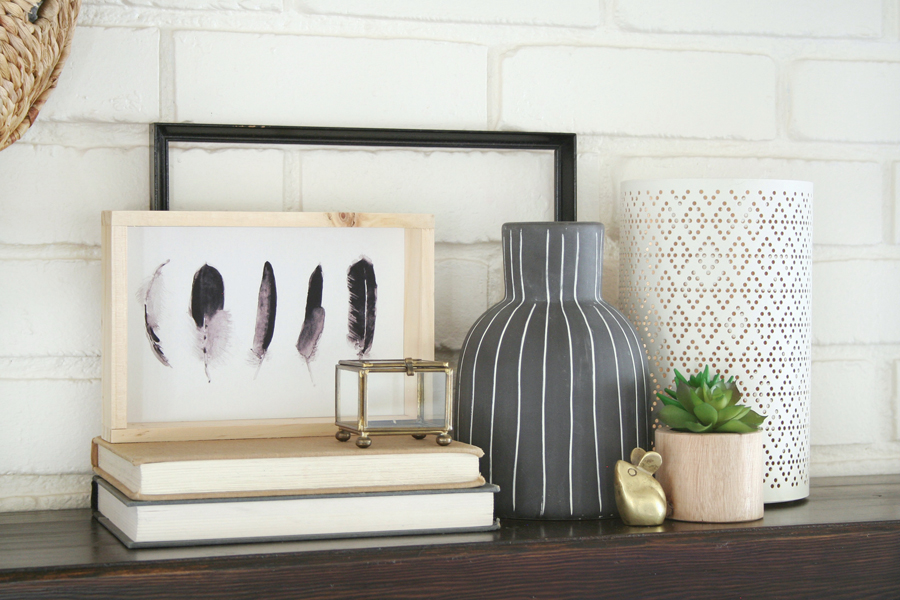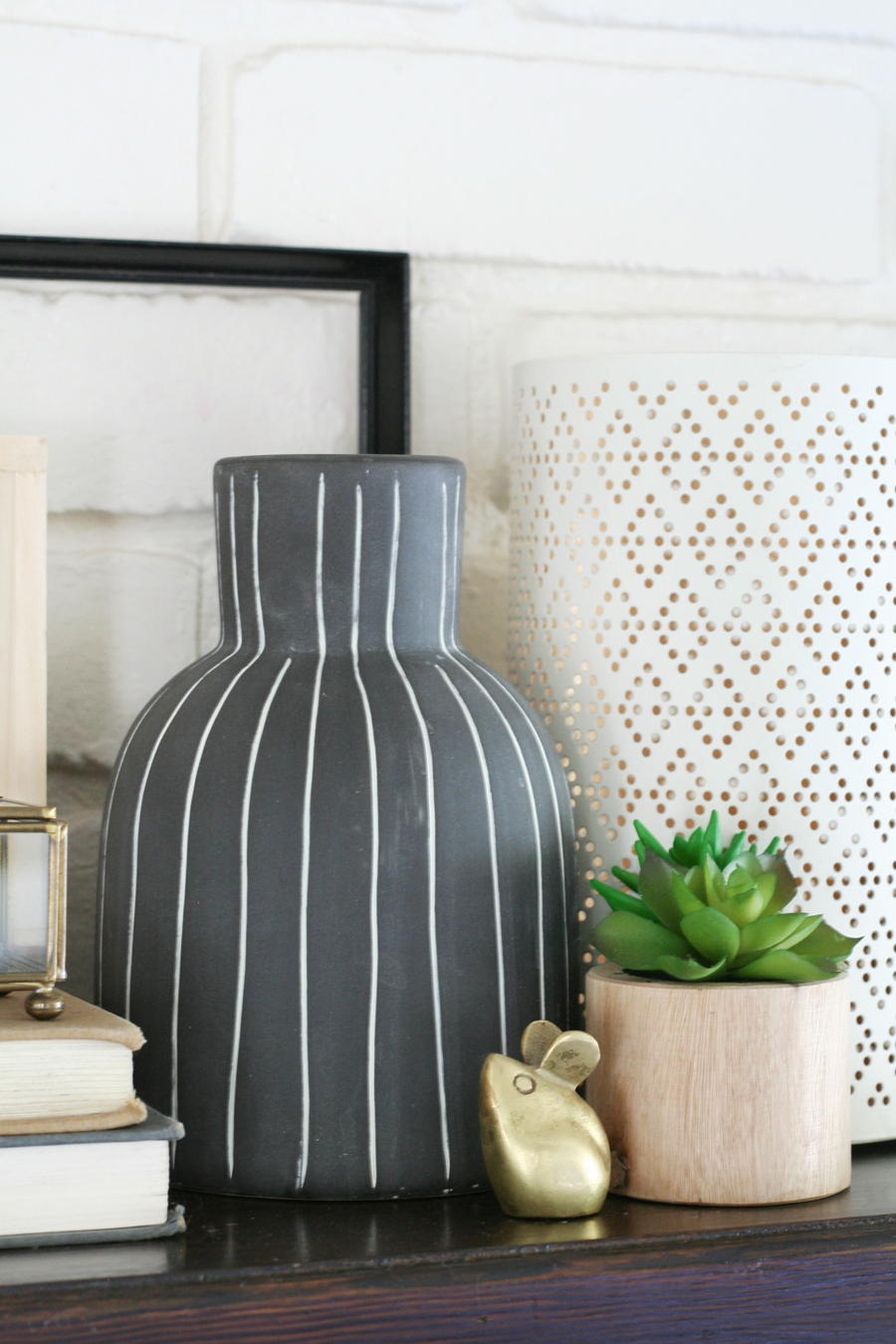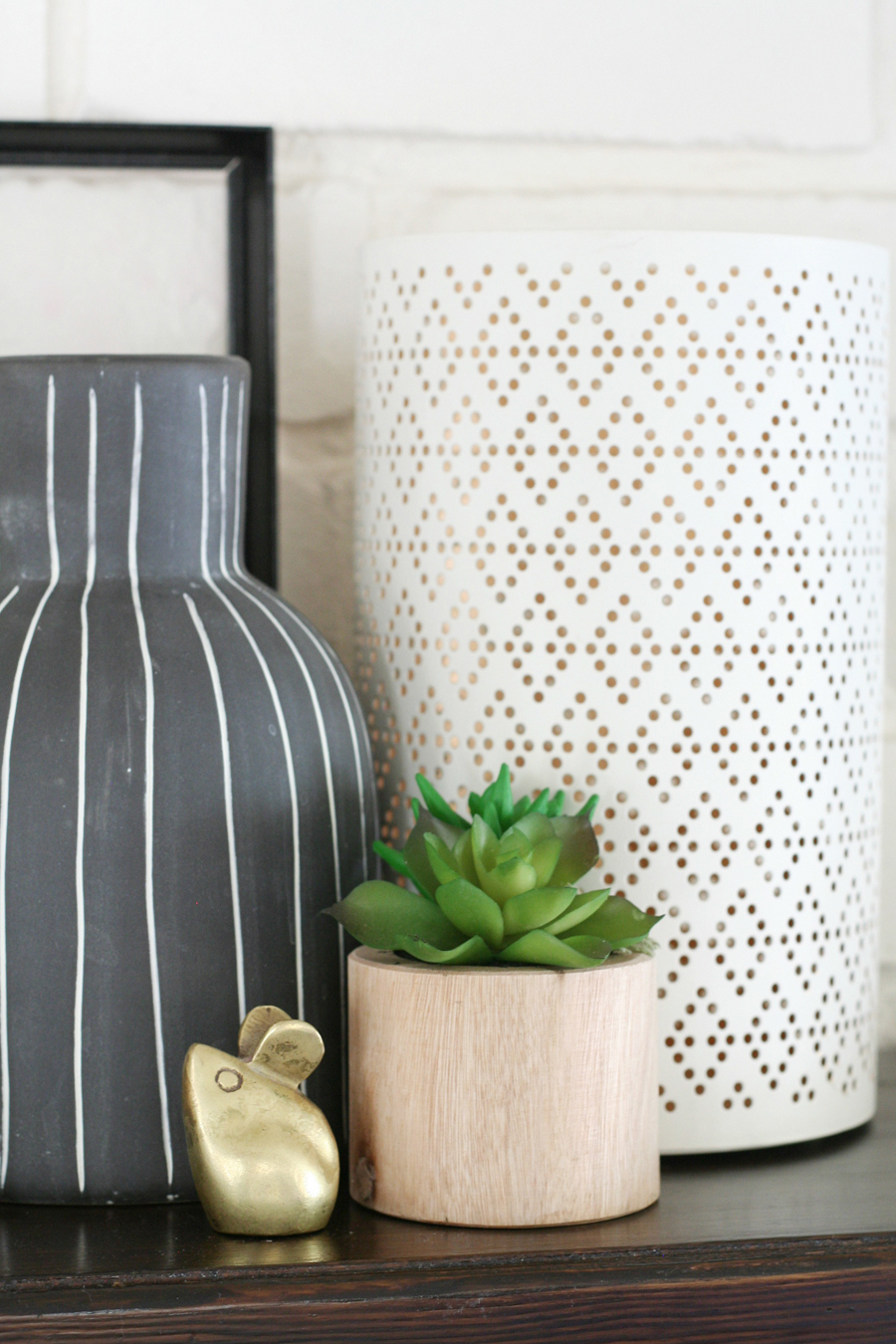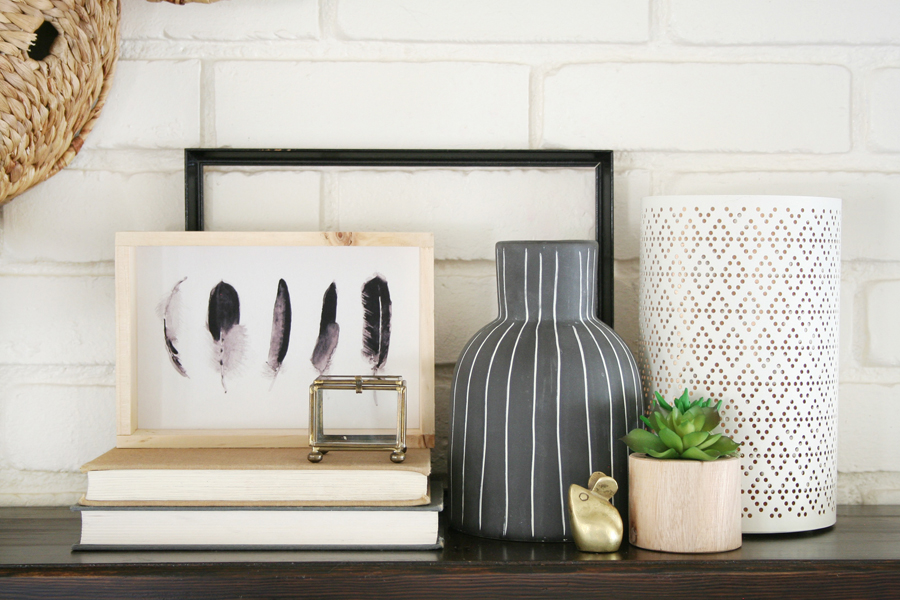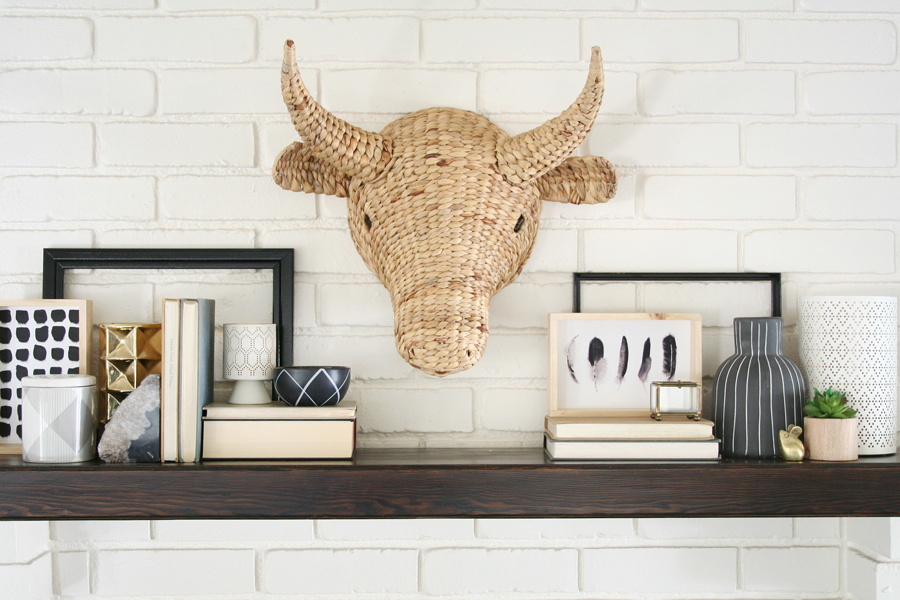 Since my inspiration for this decor was the Plaid pillow I wanted to add a few more Plaid pieces to complete the look. I found this amazing Adam Lippes for Target Ceramic Vase Candle, it smells so good with a firewood fig scent. It's kind of a double duty piece of decor, when the candle is gone you can use the vase for flowers or to stash small trinkets inside.
Again, mixing patterns and textures the Nate Berkus™ Round Geo Gold Vase and Threshold™ Single Candle Holder went perfectly with the plaid candle. The small black Plaid bowl was found in the housewares section.
Don't be afraid to mix a few different Plaid patterns in your design, I played it safe by adding just a few pieces that worked great together but if you love a bolder style try adding more Plaid for a fun and unique look.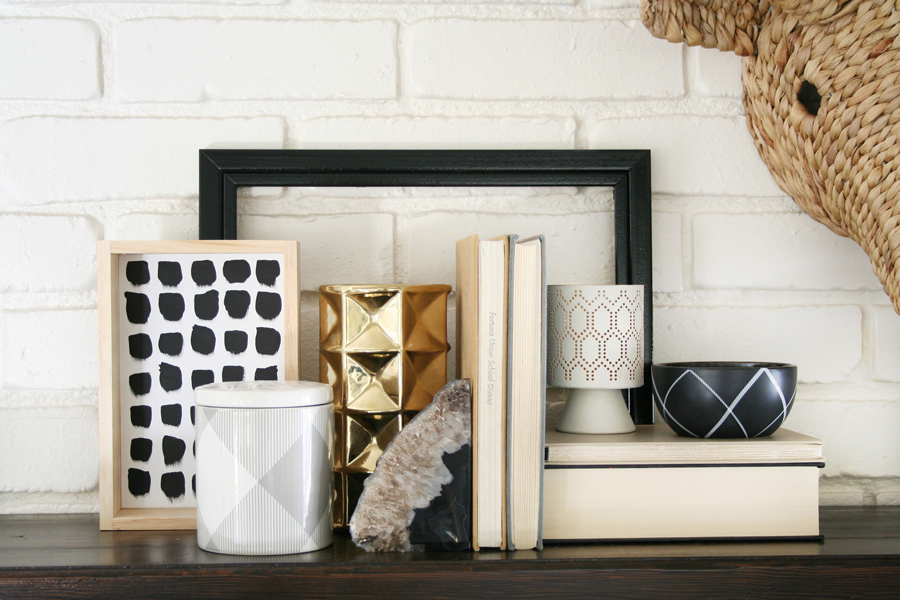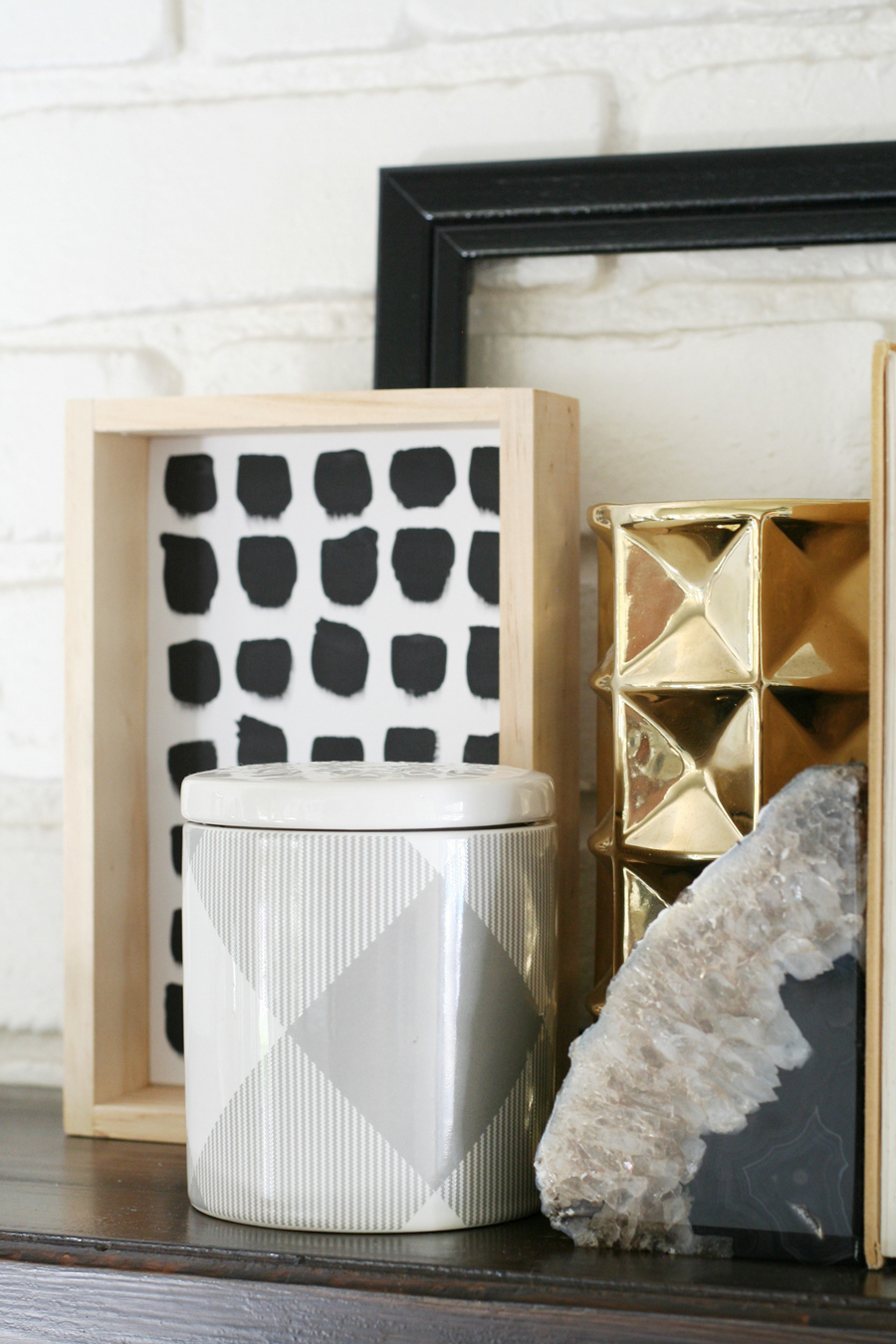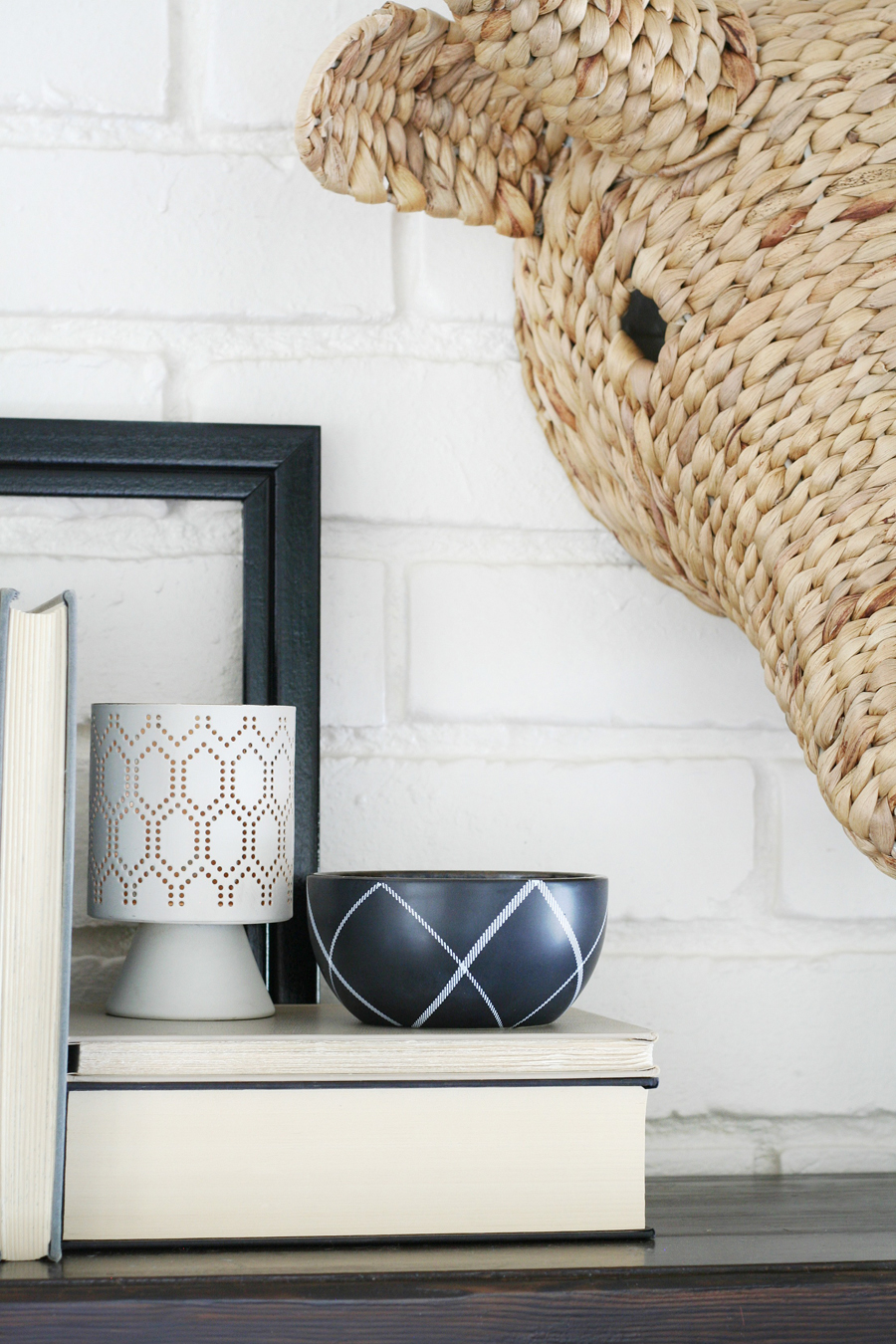 I needed to add just one more Faux Succulent Plant to complete the whole look, the bright green is the perfect pop of color against the black and white decor.
I love how this all came together, it's the change I needed in this space. It's just so pretty! What do you think? Will you be adding some fun Plaid prints to your home decor this Fall?
Will you play by the rules or break the rules with Target plaid? #TargetStyle