DISCLOSURE | This post is sponsored by Target. All opinions and ideas are 100% my own. Find your style @targetstyle.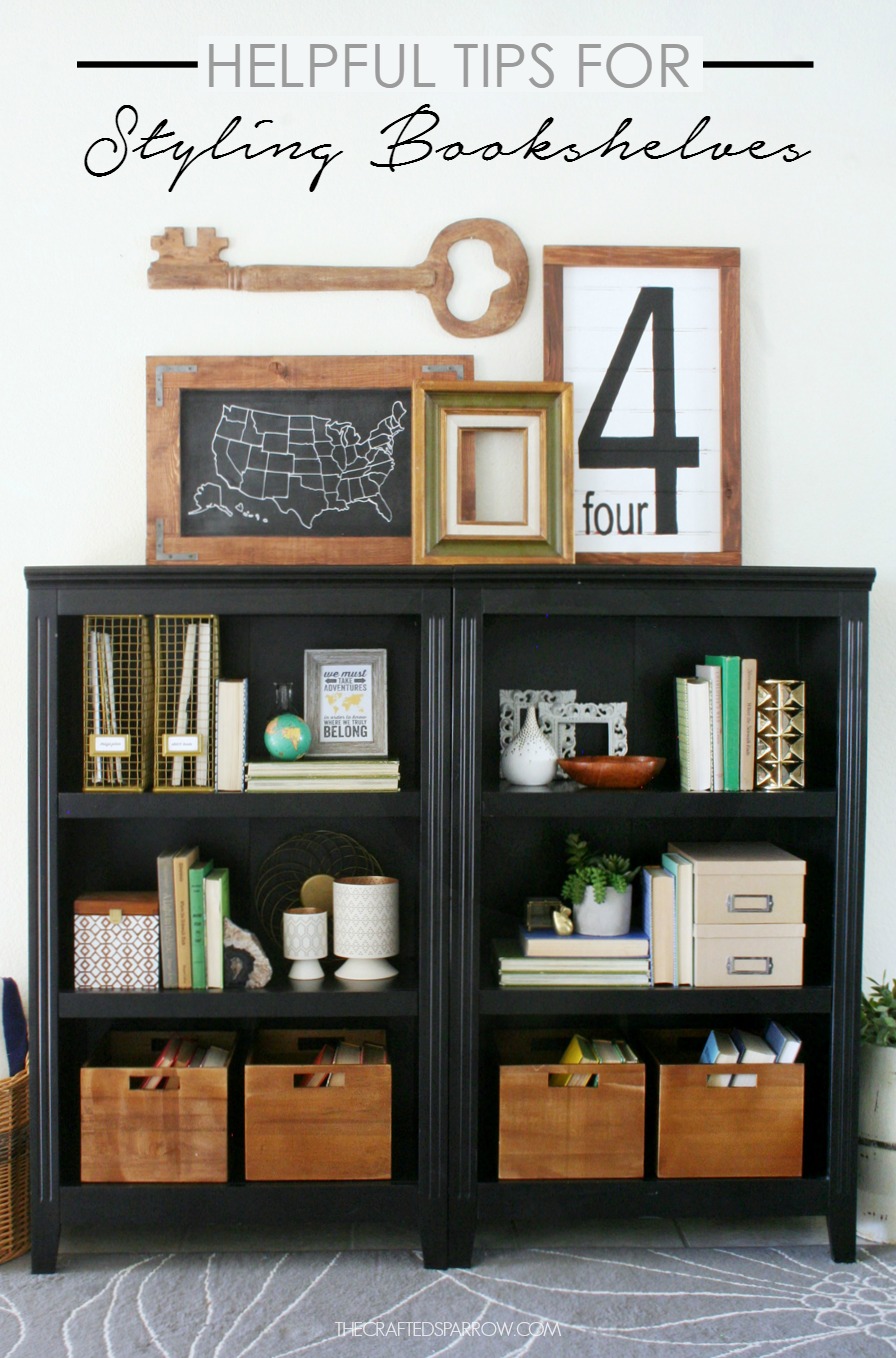 One thing I hear a lot from friends is that they struggle with how to style and stage their home. One area in particular that I think a lot of people struggle with is bookshelves. Bookshelves can be difficult to style, no doubt, but today I thought it would be fun to share some Helpful Tips for Styling Bookshelves.
Whether you have a huge set of bookshelves that goes from wall to wall or you have just one bookshelf, styling them can be easy if you stay true to your decorating style. First things first, you don't need to run out and buy all new decor for them. Start by taking inventory of what you have around your house that you would love to see displayed. It can be special souvenirs from trips, family collectibles, or even fun trendy decor. For me, it's the vintage books I have been collecting over the past couple of years. Bookshelves were made for books, but it doesn't mean they have to look like a library…the design should flow and almost tell a story.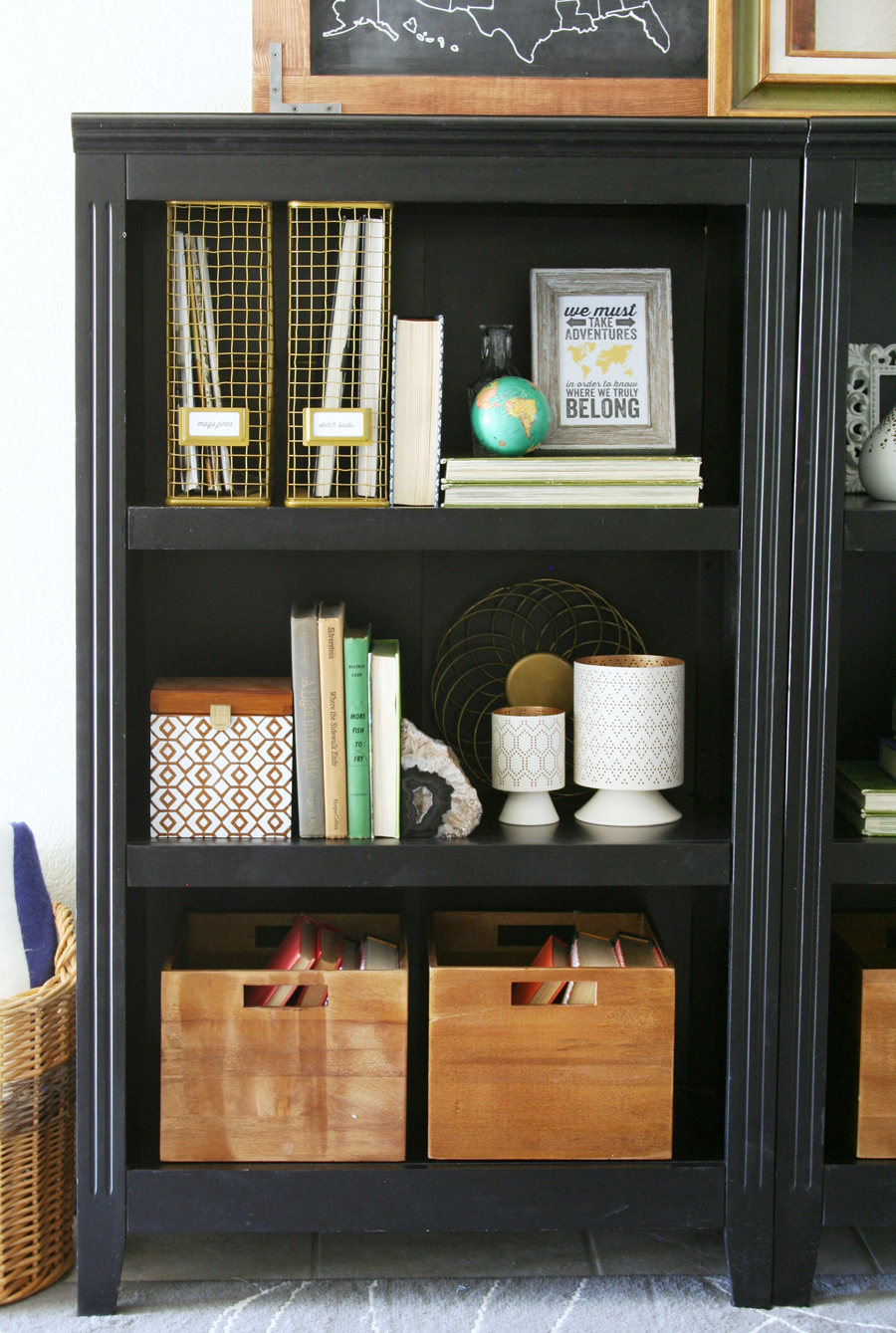 Now that you've established what decor you have on hand that you'd like to display and center your design around, let's start styling.
I have black bookshelves, which meant I needed to stick with items that would be a great contrast against the black. You can find these bookshelves in Target stores now or online. If you have light, bright white bookshelves, you pretty much can't go wrong with your decor choices. Black and darker colors make it a little trickier, you just want to be sure that what decor you choose doesn't get lost in the shelves because it's too dark. I stuck with a neutral color palette for my decor, the pages of the books were my inspiration. So I used whites, honey colored items, green, and mixed it with some pops of gold for a little bit of that fun metallic trend that is still so popular.
Having storage, like boxes and bins, on your bookshelves is always a great idea. It can help to take up a large space and keep things looking tidy. I picked up a few of these Threshold™ Small Poplar Milkcrates, one side of them has a chalkboard front if you want to have them labeled. I placed four of these crates on the bottom shelf of my bookshelves to store some of the books.
Use items that have great patterns, for me some of my books have great patterned covers which is why I collect them. Find other subtle patterned items like these Threshold™ Single Candle Holders in small and large to mix in to your design. Remember, just because it's a candle holder doesn't mean it has to hold a candle either! The shape of these holders is perfect for storing small items like trinkets from trips or even a small artificial succulent plant. The pattern on them is perfect, and the gold insides make them pop against the black shelves.
Mix in some artwork, small framed prints, or framed family photos. Use frames that bring in texture, and coordinate with your design well. If you have frames on hand and they don't match, paint them. You can find lots of inspirational quotes online and print your favorite and frame it.
I love keeping some of my favorite things organized and another great way to do that on bookshelves is with magazine holders. I found these Threshold™ Gold Rustic Wire Magazine Holders and fell in love. They went so well with my other items and I love that they have labels.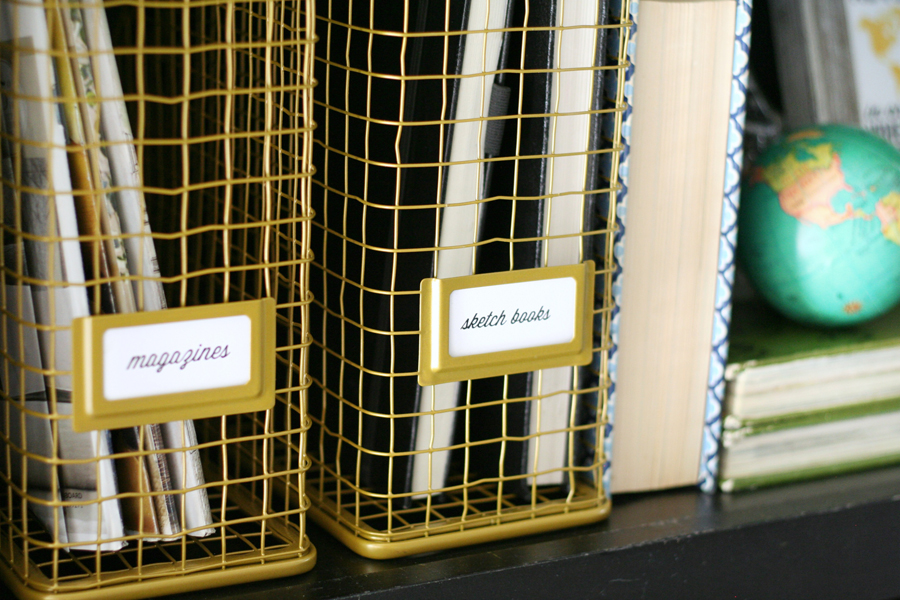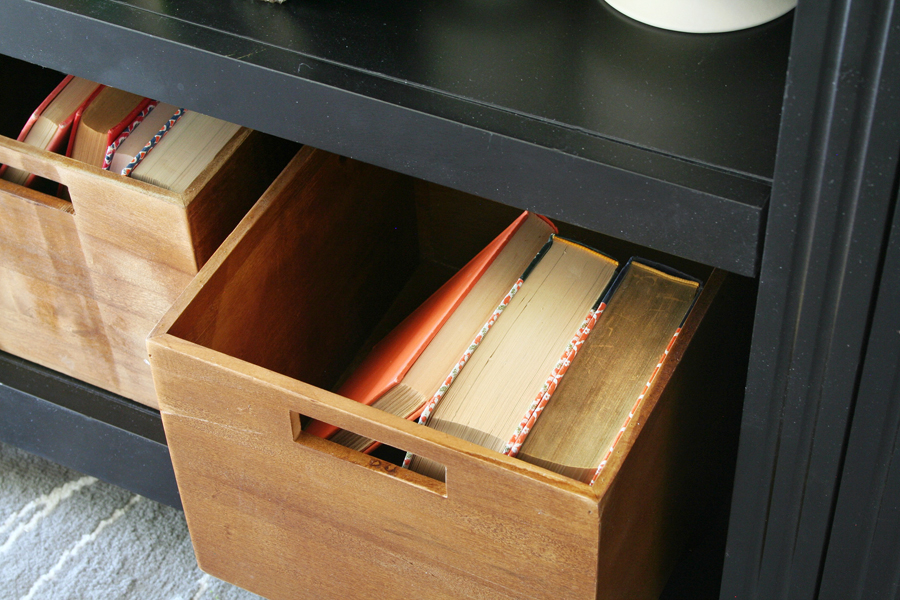 Small plants are always a must for me when I style anything. Whether they are live or artificial, they add a ton of character to the design with their colors. I love succulents since they are extremely hard to kill, I actually found some amazing potted succulent plants at Target. The one pictured below has a cement planter; I love it so much.
Again you see that I added more storage with photo boxes; these are great because they can be stacked to create height on a shelf.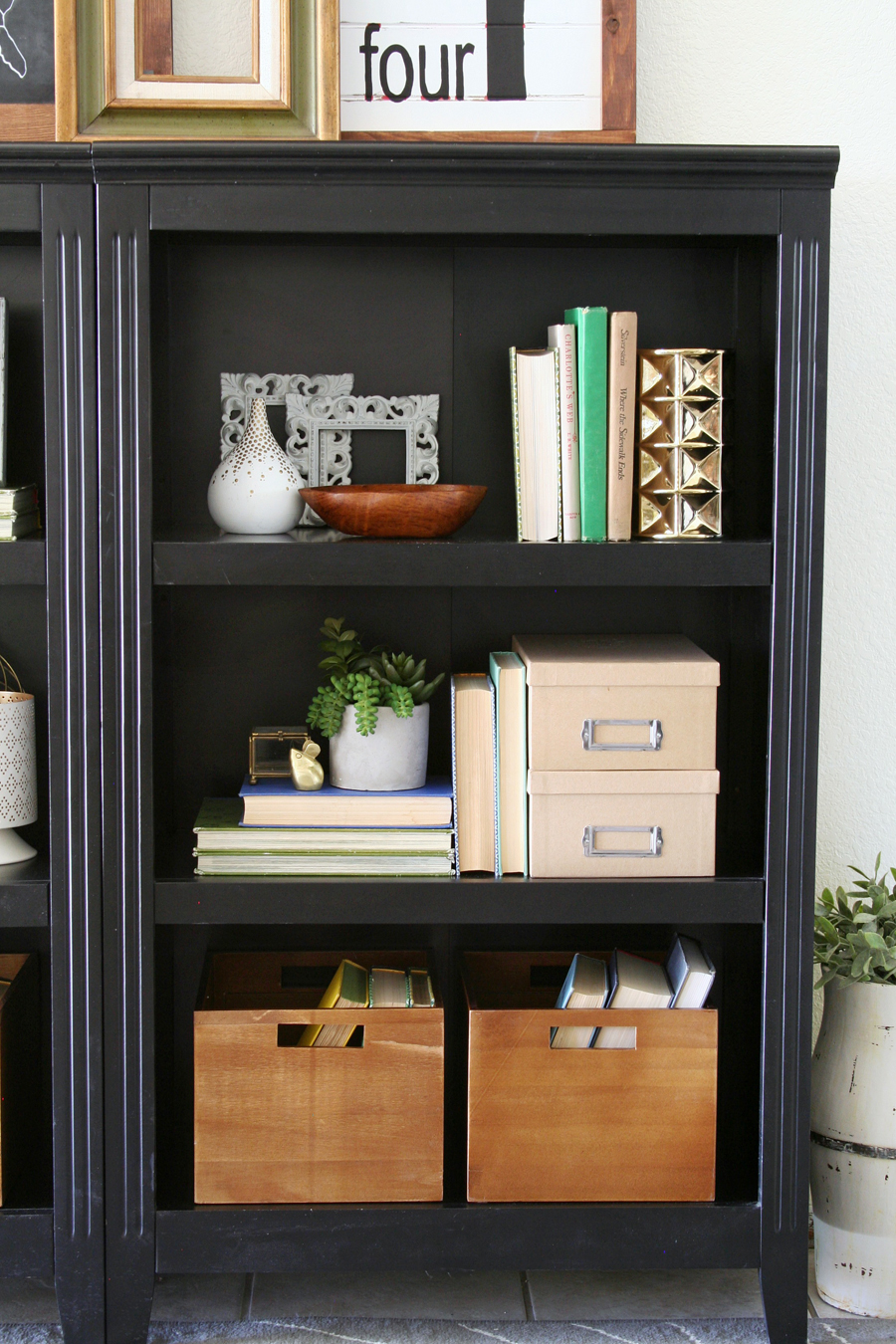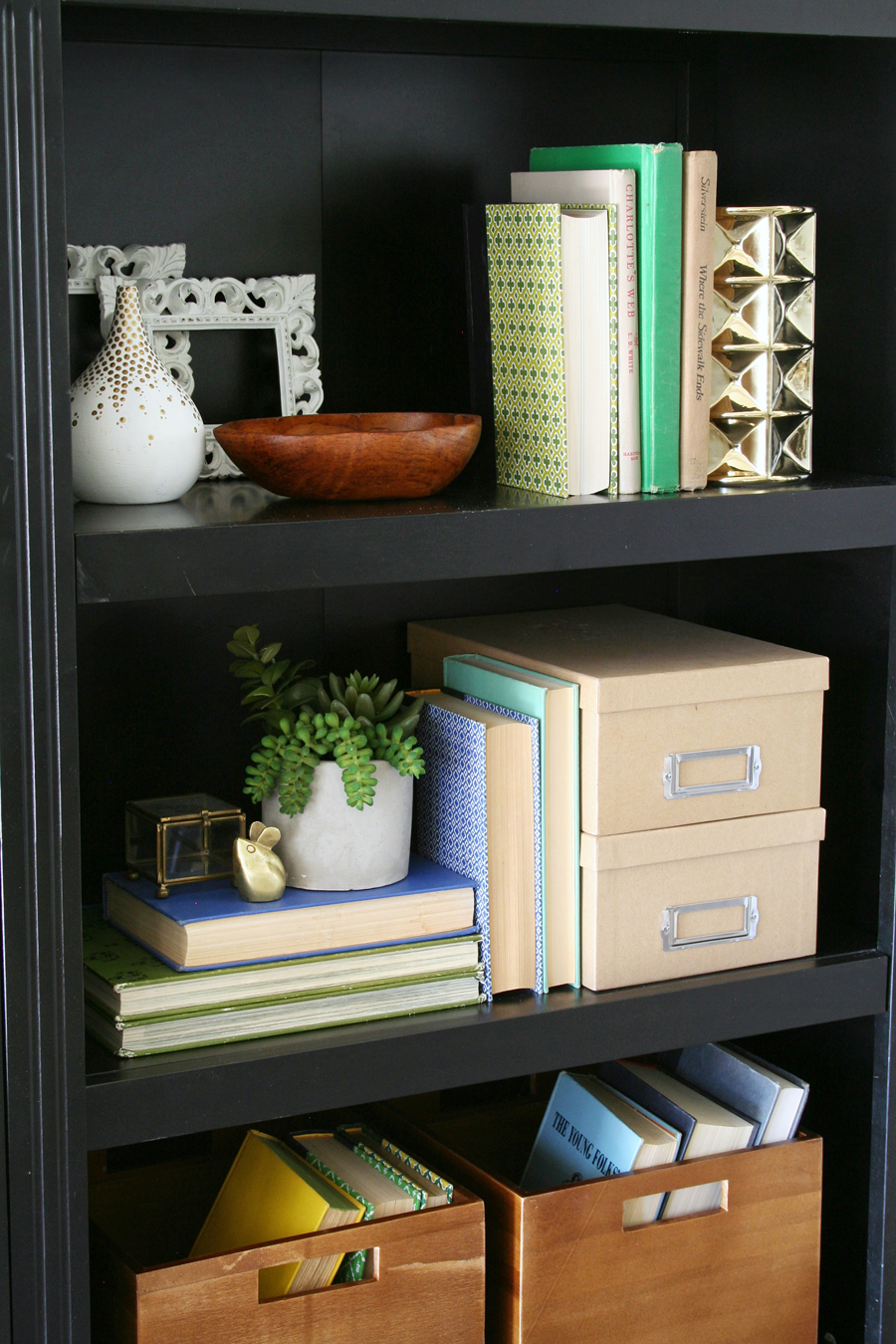 This Nate Berkus™ Round Geo Vase in Gold was pretty much love at first sight. I love anything from the Nate Berkus™ lines at Target; he always has great textures and patterns with his designs. This vase is a great pop of gold while it acts as a bookend on the shelf.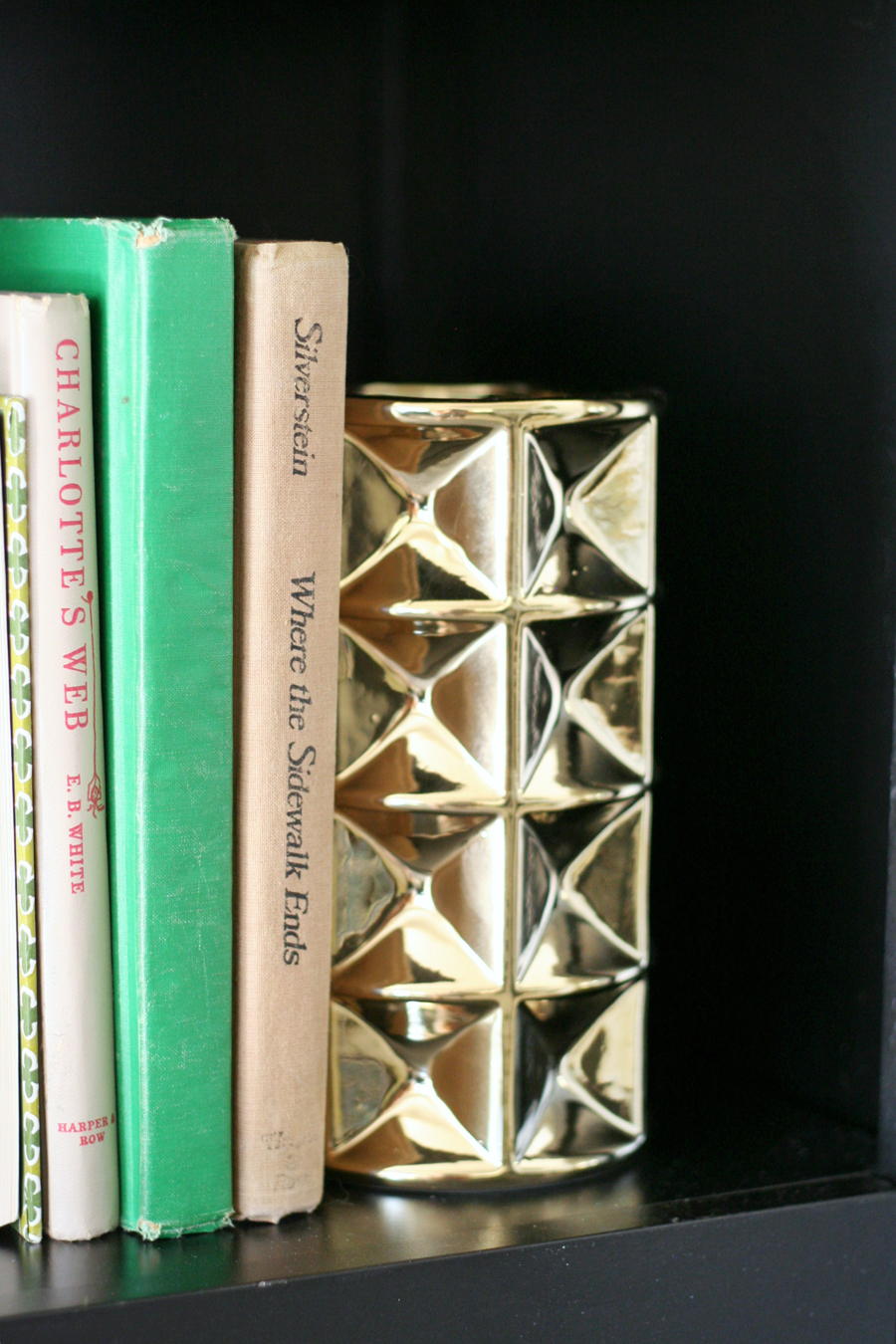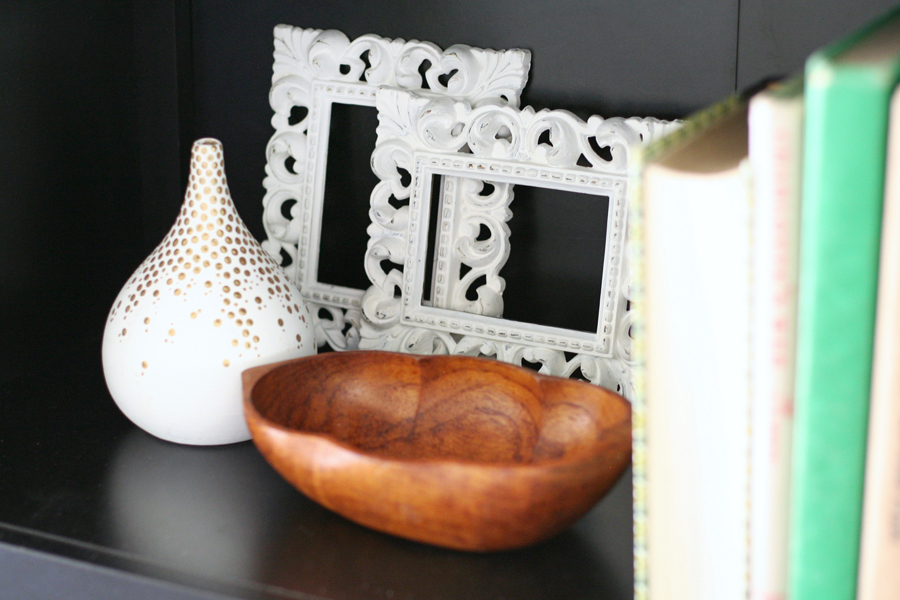 When you go to style your shelves, use the books to create height, consider turning them around so that the pages face out. Stand some up next to some that are lying down, stack them and take the book jackets off if you want more pops of color.
Create small groupings and clusters of decor like I did below. A good rule to remember when styling decor, in my opinion, is odd numbers; I typically stage in small groups of three items or five and all the items need varying heights. If you love symmetry, then stick with that, style your items on some of your shelves with a symmetrical design. For example line up books with a pair of really great geode bookends flanking each side.
You can also place large flat items in the background of your shelf behind smaller decor objects to create some dimension. I placed some frames and a vintage brass decorative piece against the backing of my shelves so I didn't have a big black blank space.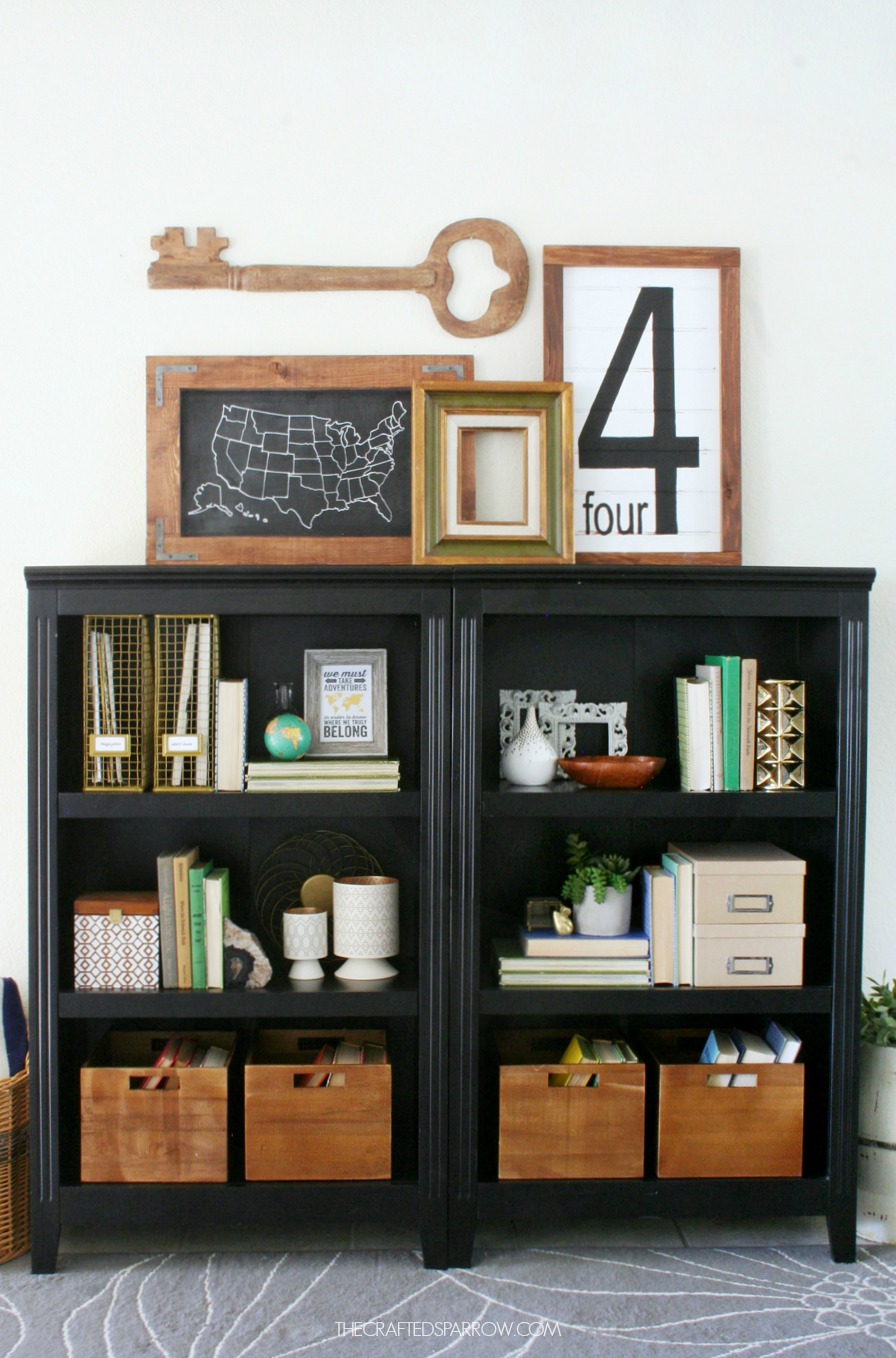 To finish everything, I styled a simple small gallery on top of my bookshelves with some of my favorite items. The giant key is from Target last year and it's one of my favorites.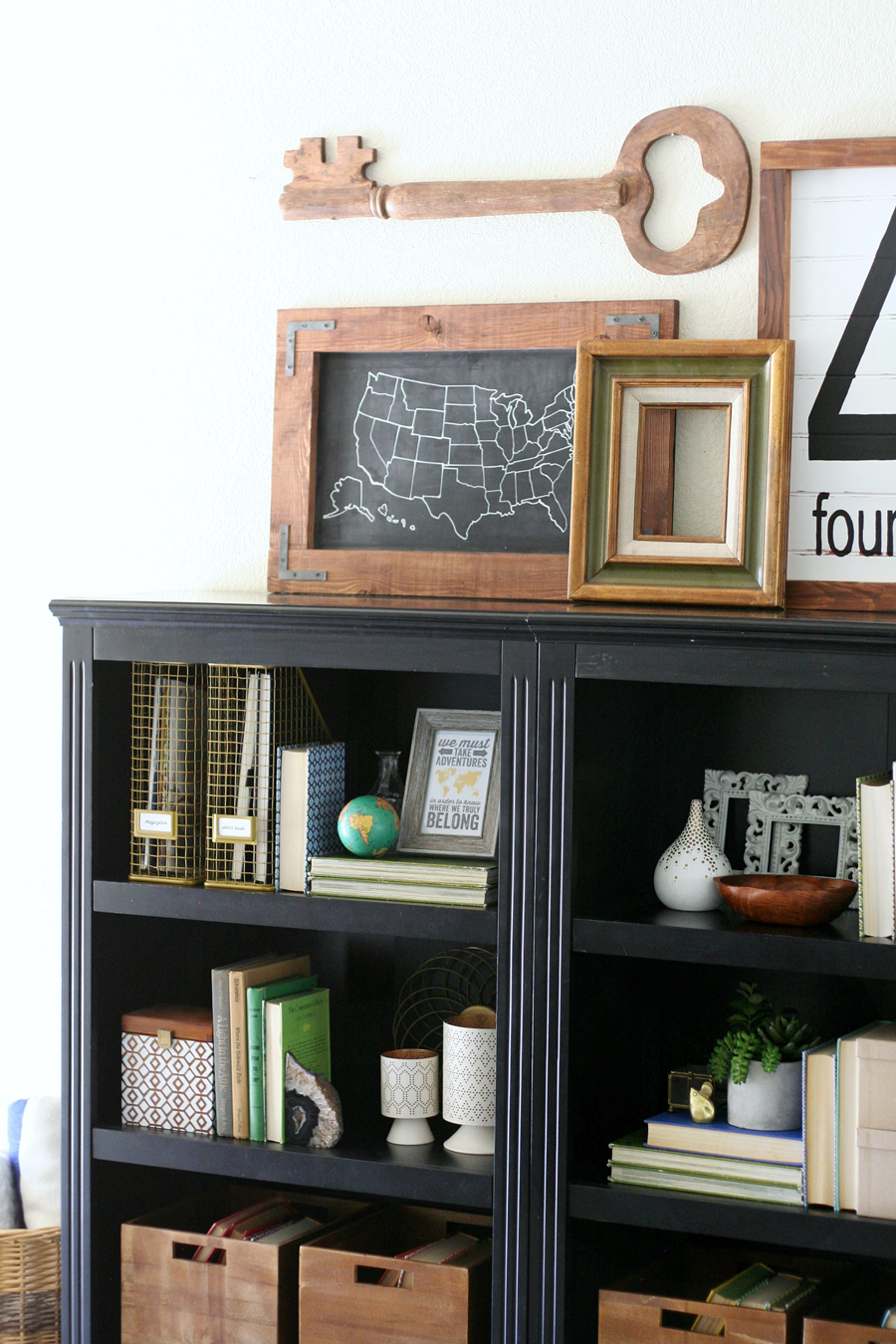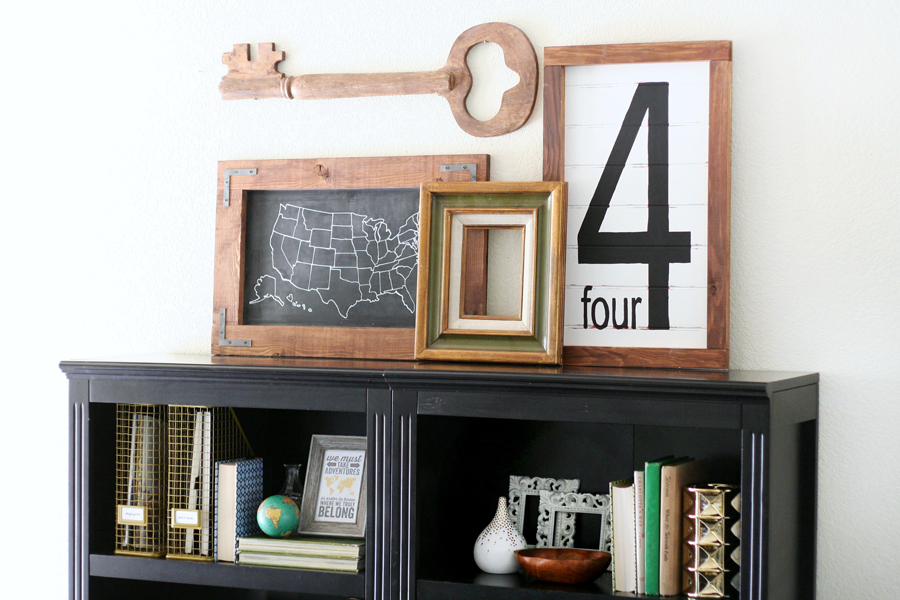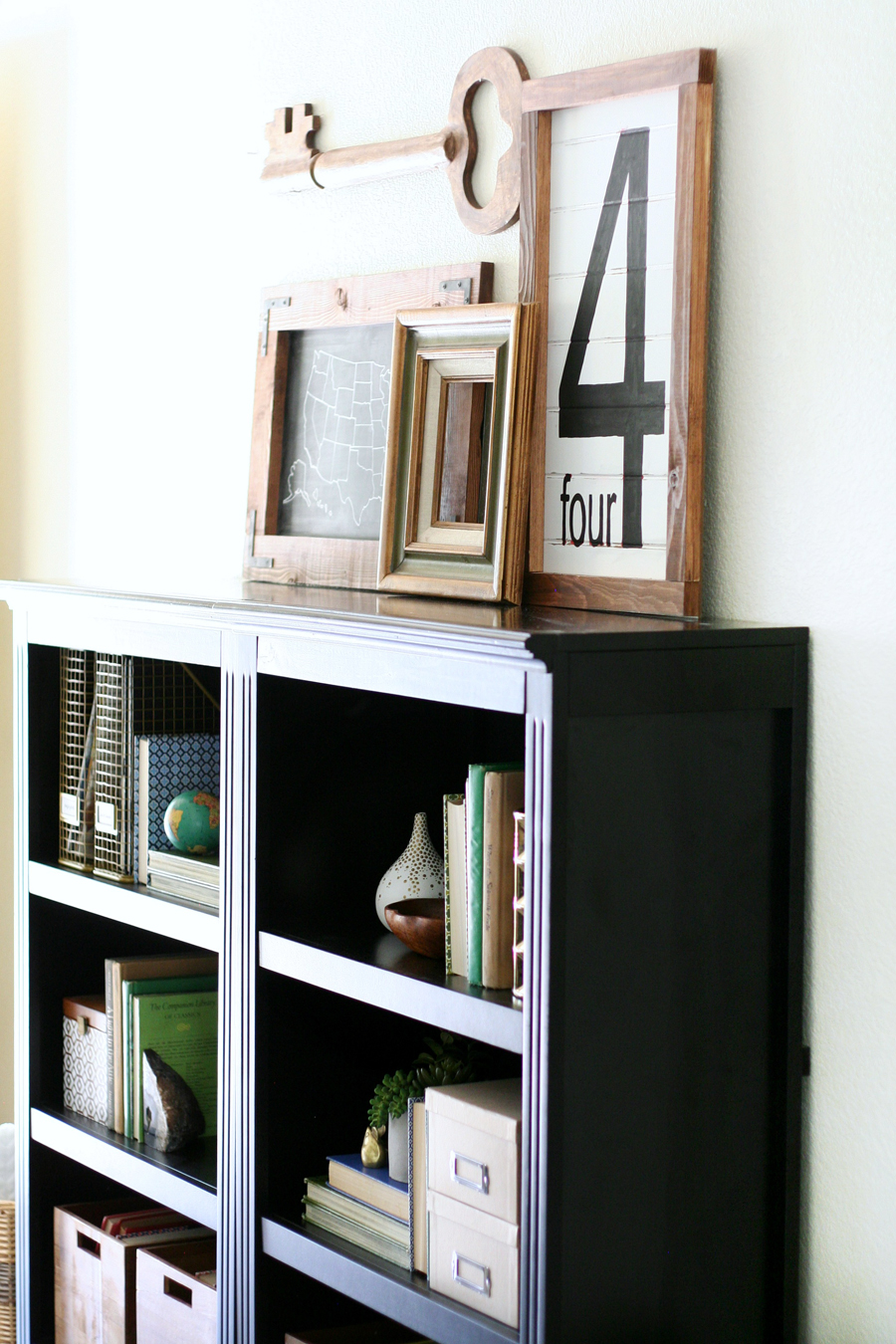 I've gathered some great decor accent pieces currently available at Target to help you get started. The source is listed below in order from left to right, top to bottom.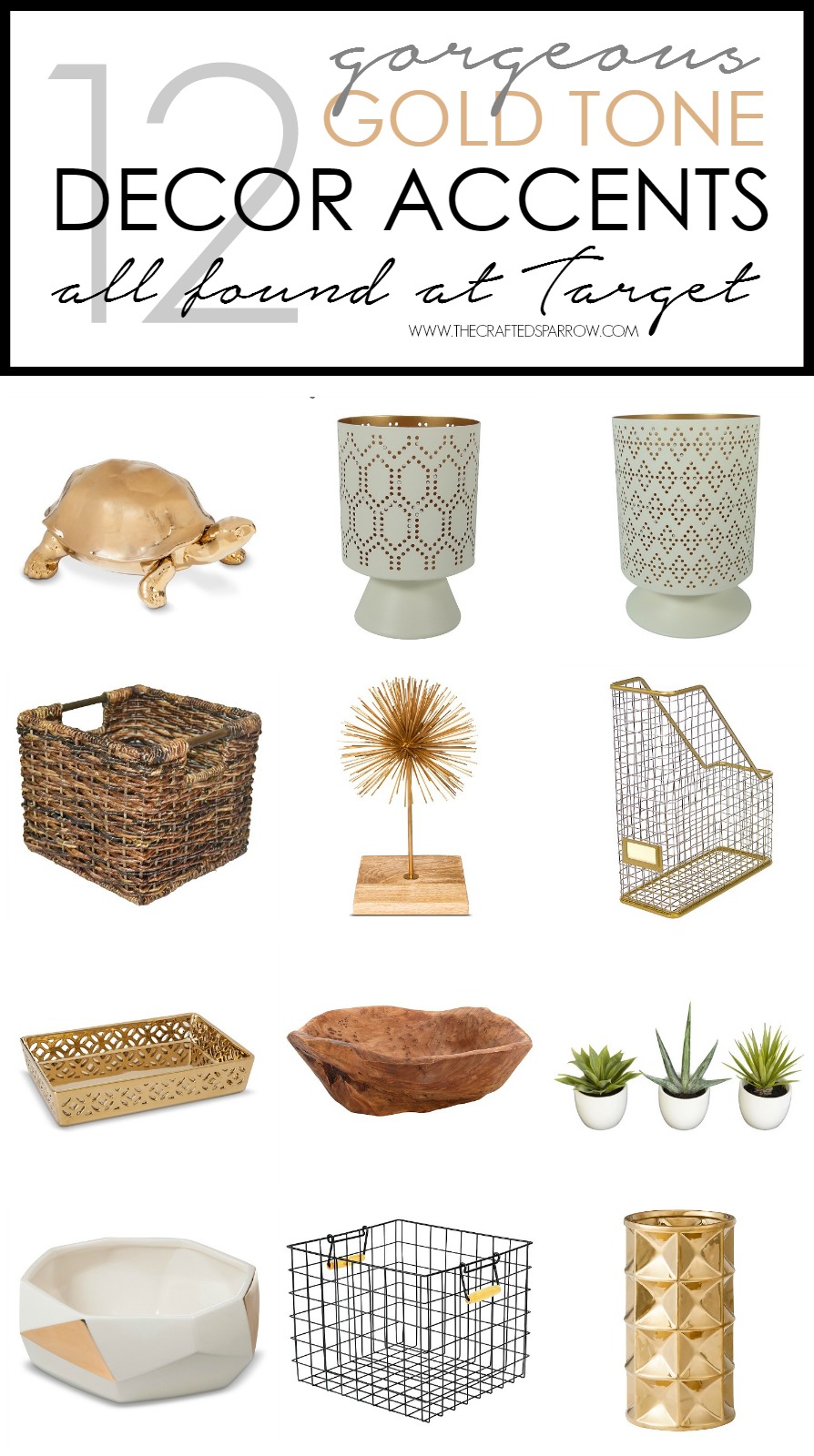 Threshold™ Gold Ceramic Tortoise Decorative Dish
Threshold™ Single Candle Holder
Threshold™ Single Candle Holder Large
Threshold™ Global Milkcrate Decorative Basket Small
Threshold™ Gold Sea Urchin Figurine 11″
Threshold™ Gold Rustic Wire Magazine Holder
Threshold™ Gold Electroplated Ceramic Tray
Torre & Tagus Costa Carved Wood Bowl
Southwest Collection Mixed Succulents, Set of 3
Nate Berkus™ Faceted Gold Bowl
RE Black Metal Milkcrate with wood handles
Nate Berkus™ Gold Round Geo Vase
Be sure to Find Your Style @targetstyle. #TargetStyle