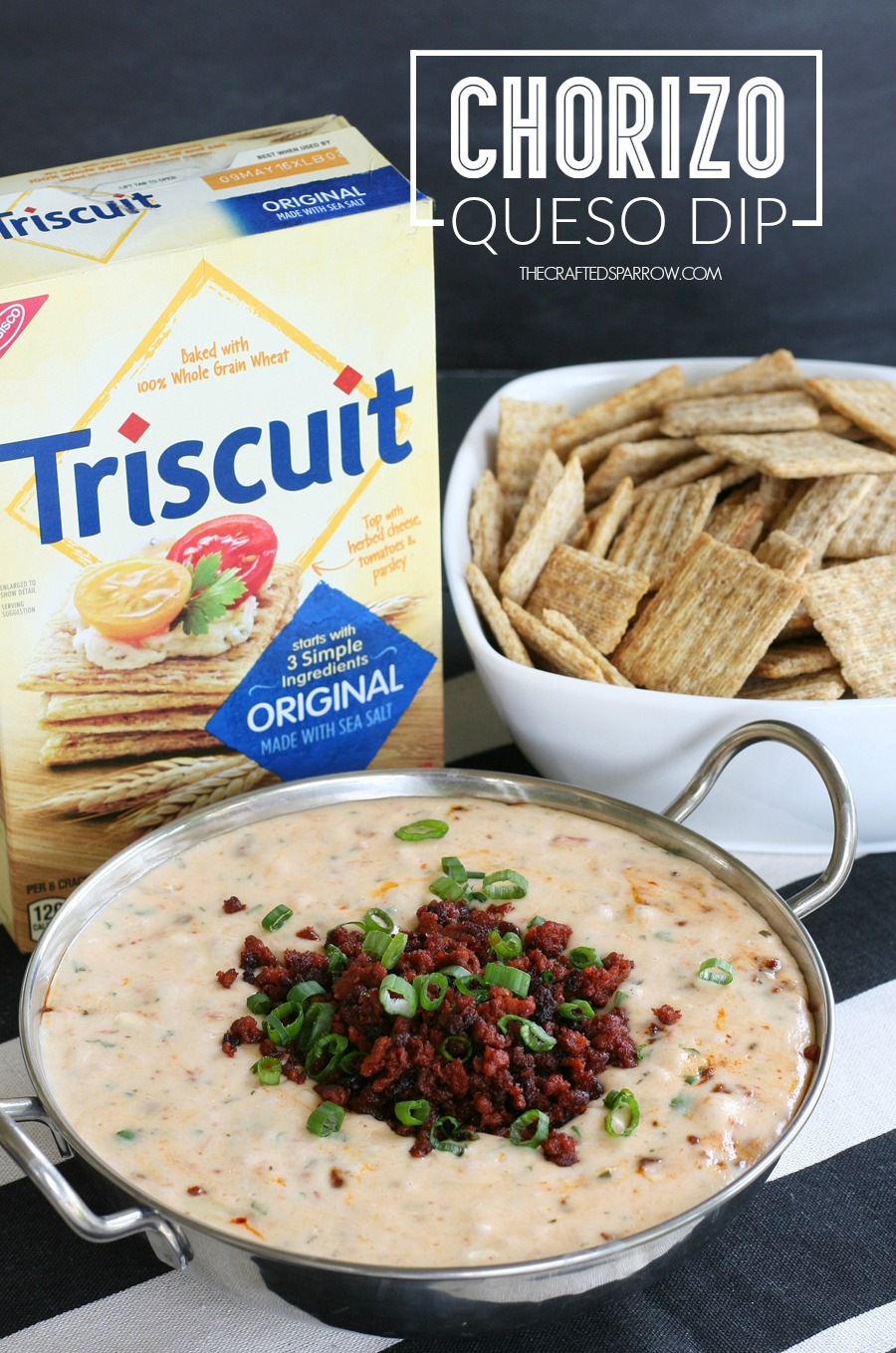 With the most anticipated football game of the year just a little over a week away I wanted to bring you some great last minute party ideas to help make your "Home Bowl" festivities a huge success. Last week I shared my super fun Coca-Cola Soda Bar and Easy Game Day Desserts, today I'm excited to bring you Chorizo Queso Dip and Football Party Ideas.
In two weeks families and friends will gather together all across the country to watch the most exciting game of the year. I can't lie, one of our favorite parts is the snacks. This year I've teamed up with Coca-Cola & NABISCO, we are giving two lucky readers the chance to win a Coca-Cola & NABISCO "Home Bowl" Prize Pack valued at $400 to help you celebrate and put on your own "Home Bowl" party. You can find all the details on how to win below.
Let's chat about this Chorizo Queso Dip I made, it is all kinds of good. No party is complete without a dip of some variety. Even better when they are cheesy with a hint of spice and you have an ice-cold Coca-Cola on hand!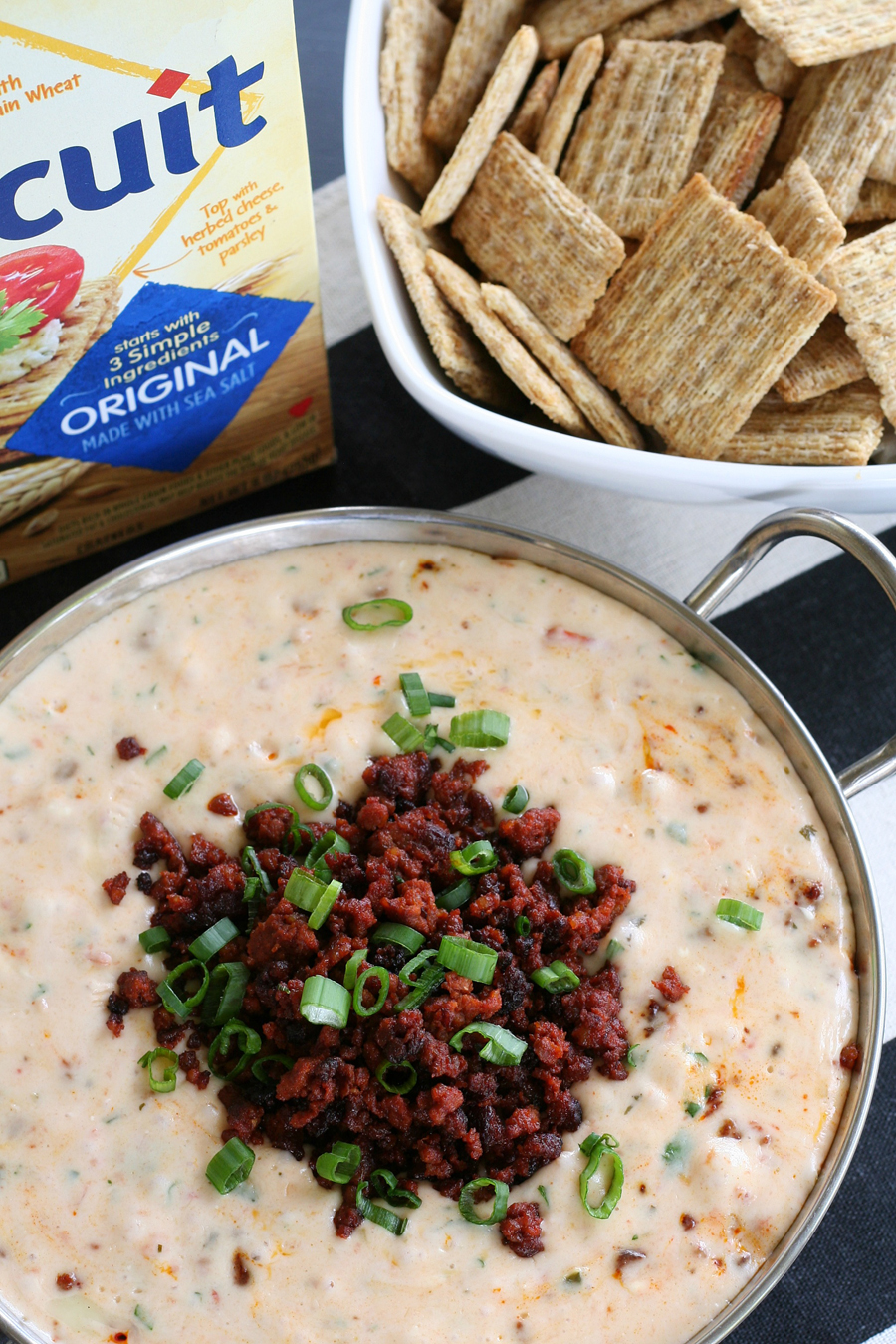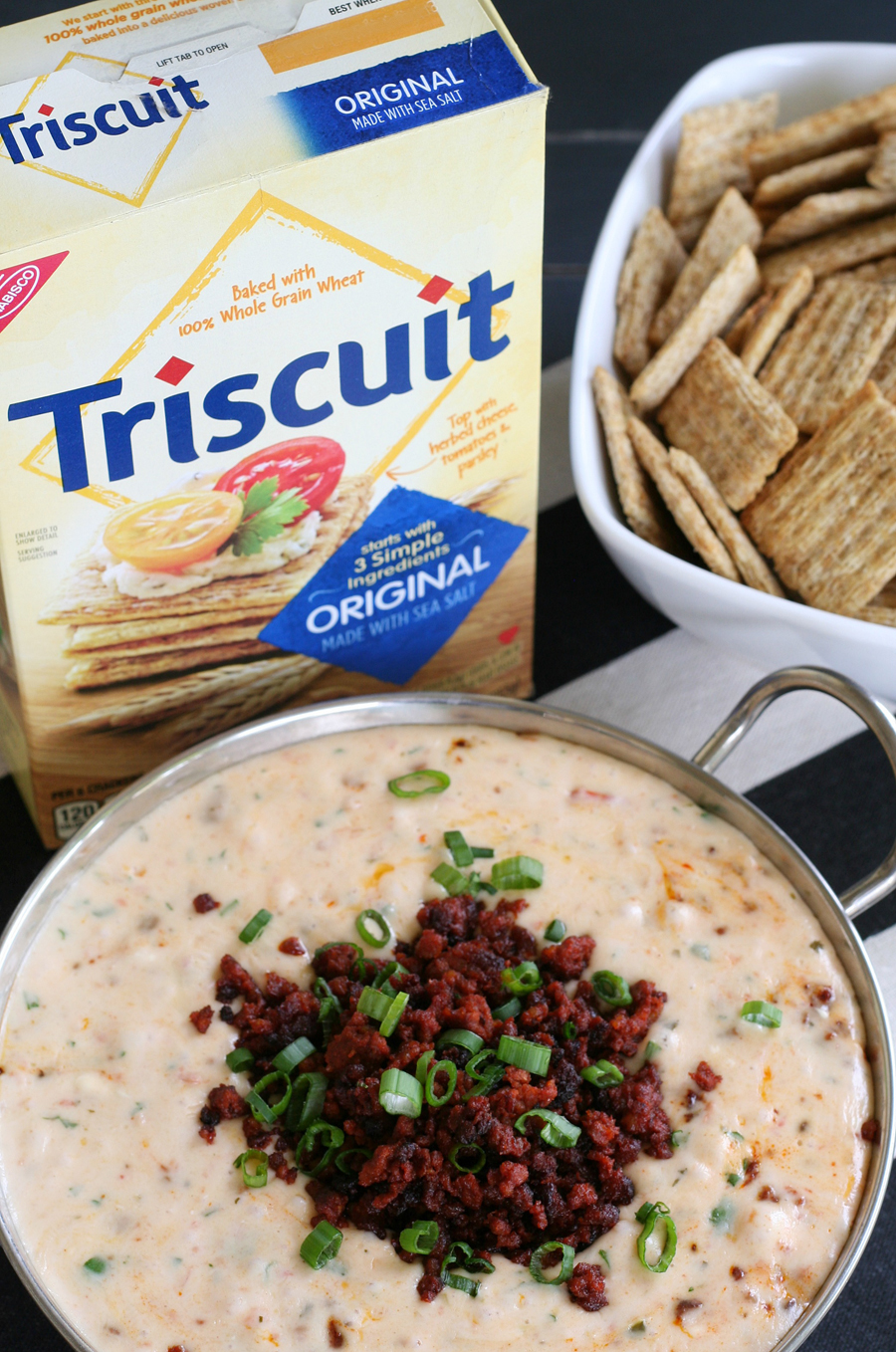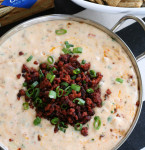 Chorizo Queso Dip
2016-01-13 23:16:50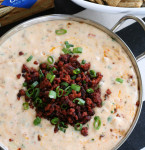 Ingredients
8 oz Chorizo, cooked
8 oz Monterey Jack Cheese, shredded
8 oz Pepper Jack Cheese, shredded
8 oz Cream Cheese, softened
1/2 Cup Milk
1/2 Cup Salsa
1/2 Cup Cilantro, finely diced
Scallions for garnish
Instructions
Cook chorizo in a skillet on medium-high heat, drain and set aside.
Spray a large skillet with non-stick cooking spray.
Add softened cream cheese, milk, and salsa. Stir with a whisk until combined over low to medium heat.
Once combined you can add both shredded cheeses, using a rubber spatula or spoon stir until the cheese is melted.
Toss in cilantro and combine.
At the end add in most of the cooked chorizo and give it a quick stir, reserve about 1/4 cup to put on top with garnish.
Transfer queso dip to a serving dish and top with remaining chorizo and scallions for the garnish.
Notes
You can substitute 1 can of Rotel for the salsa. Be sure to use block cheese and shred it yourself, the pre-shredded kind will not melt well and you will get a lumpy dip. You can leave out the Cilantro if you don't love it. When the queso dip is finished cooking it can be transferred to a crockpot on the "warm" setting.
The Crafted Sparrow https://www.thecraftedsparrow.com/
I paired my
Chorizo Queso Dip
with TRISCUIT Crackers, they hold up so well to all that cheesy goodness. Tortilla chips would also go great with it.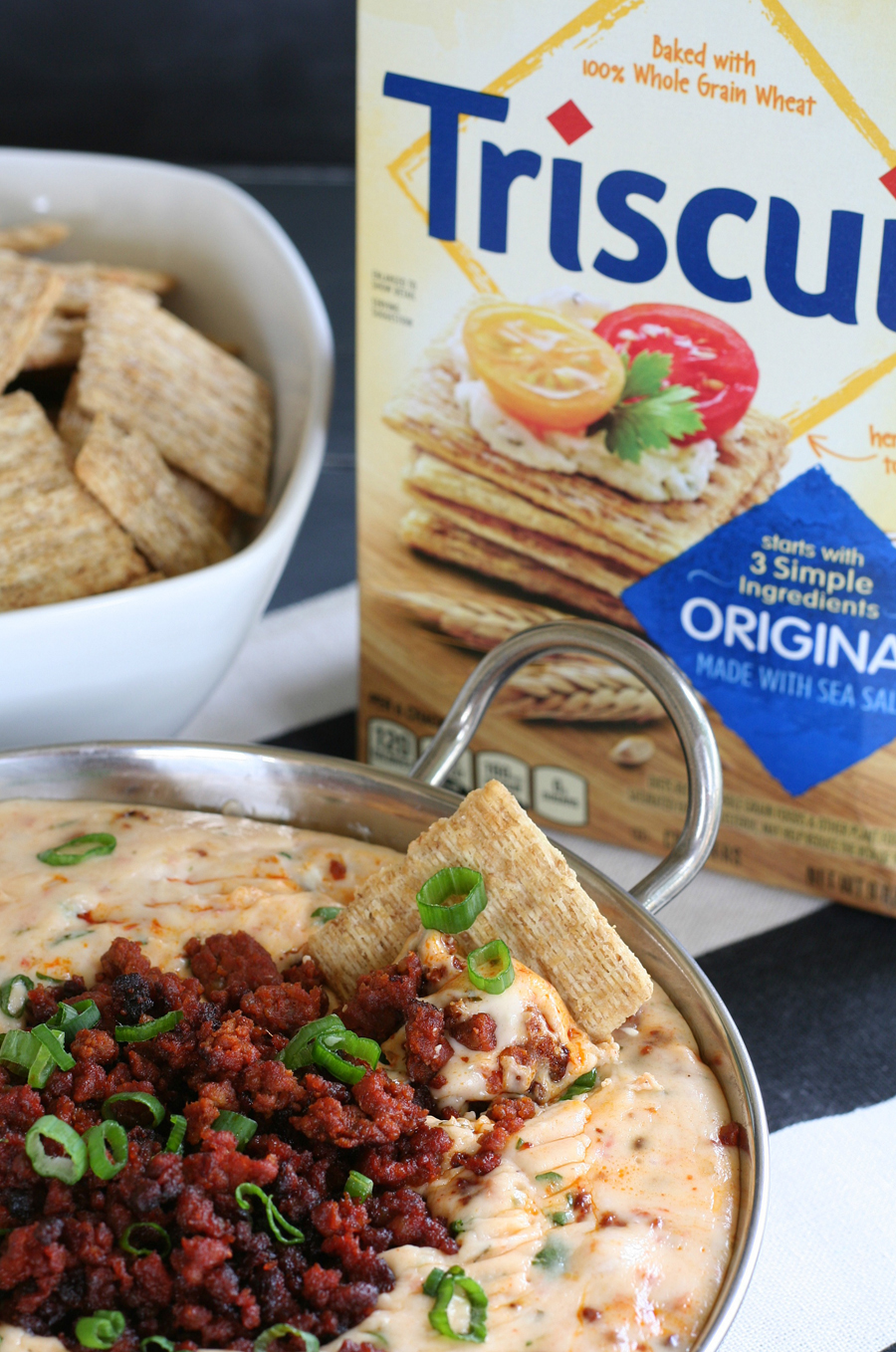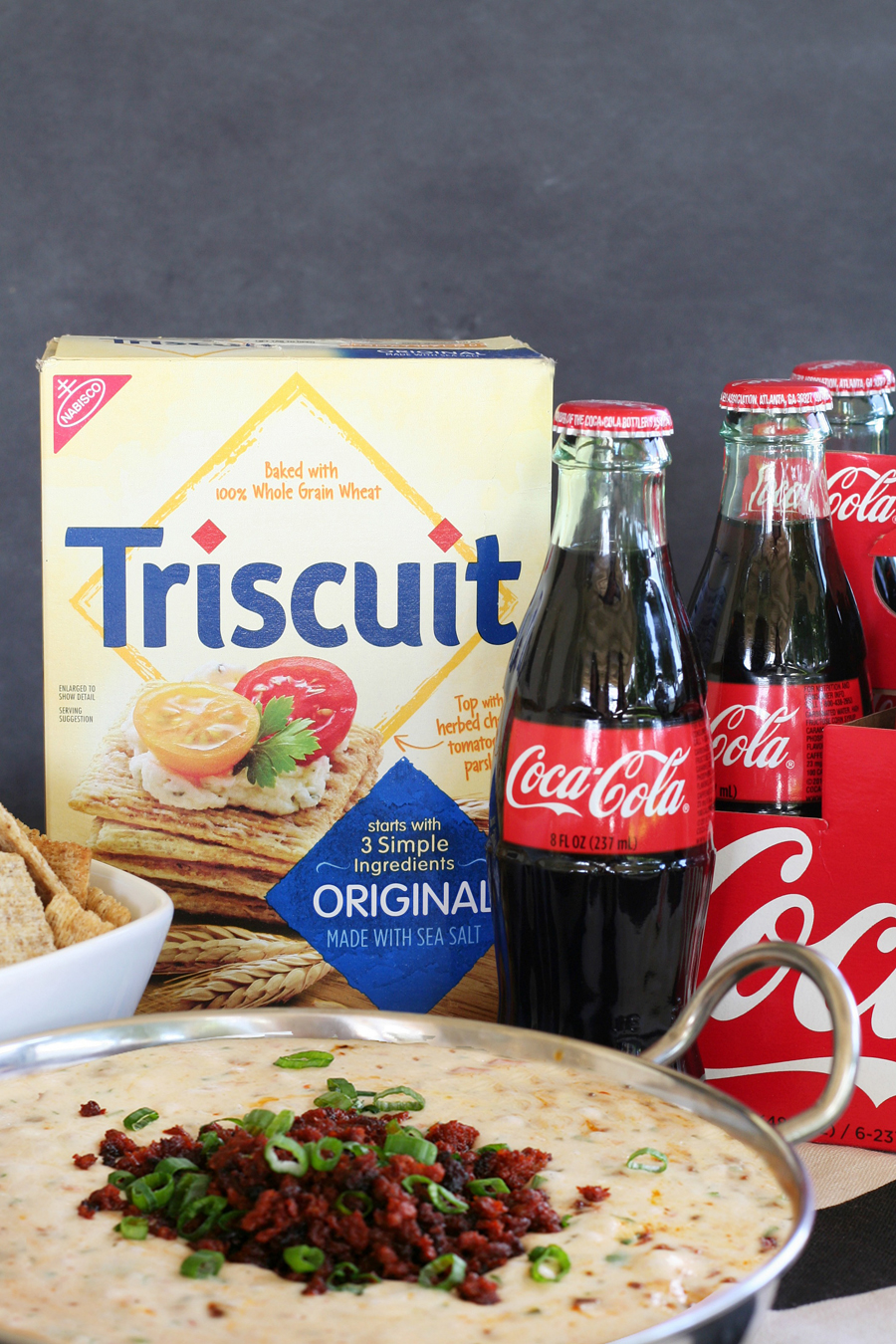 This year's game day menu also includes these easy to make crockpot Coca-Cola BBQ Chicken Sliders. They are so full of flavor, the chicken is so tender and everyone will love them!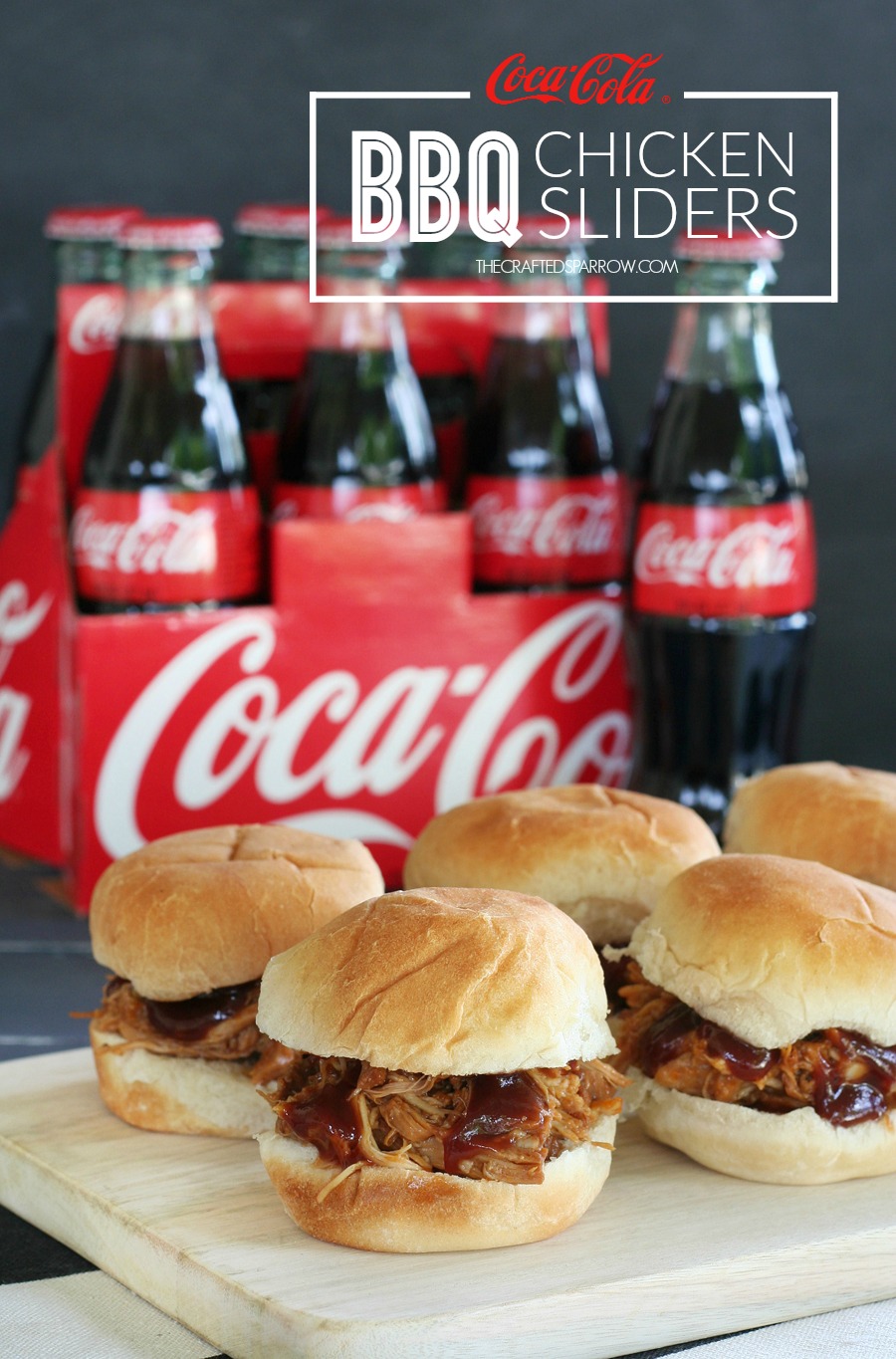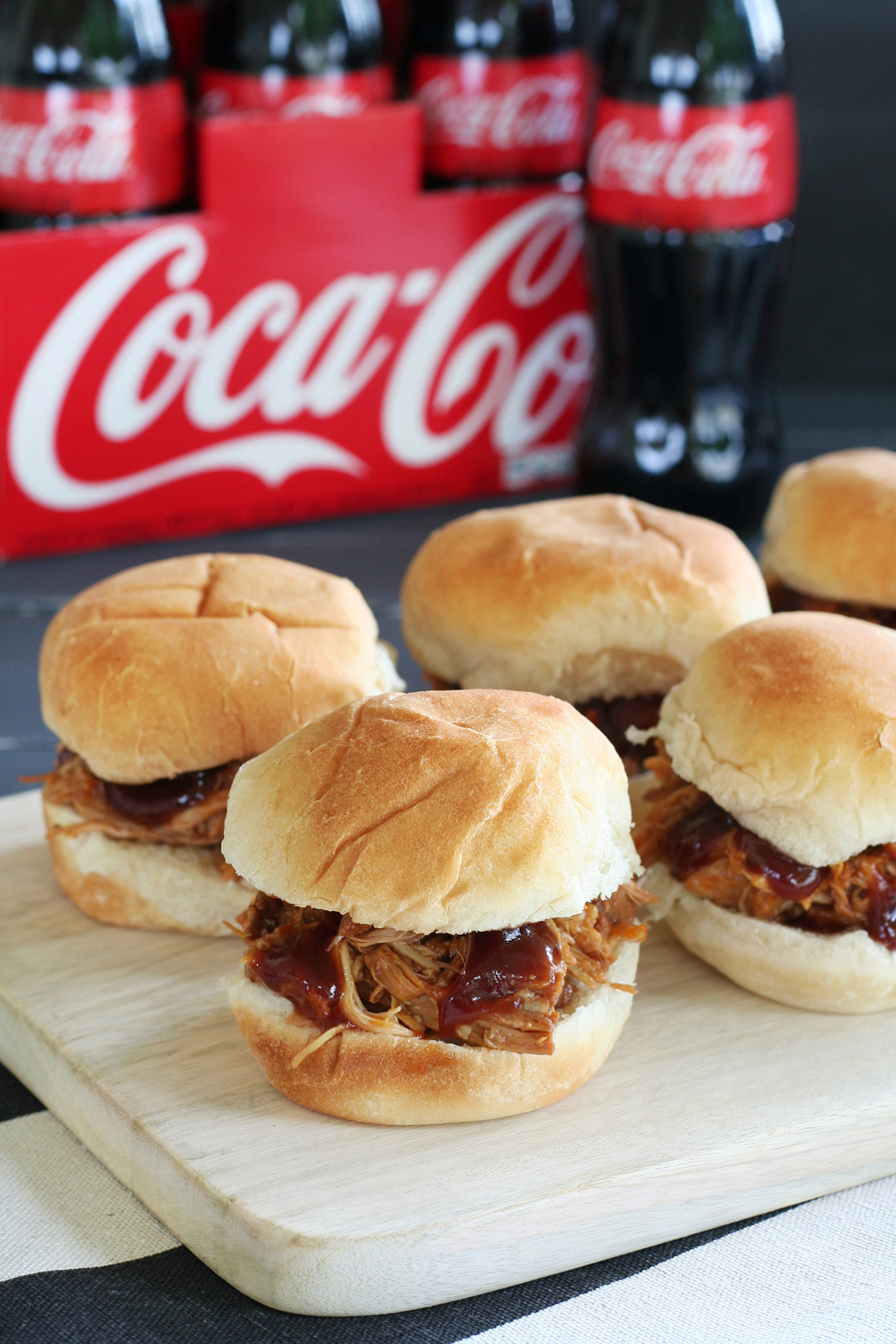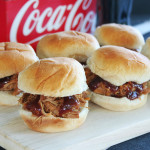 Coca-Cola BBQ Chicken Sliders
2016-01-16 15:09:29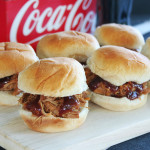 Ingredients
3.5 Lbs Chicken Thighs
1 Can Coca-Cola Soda
2 Cups BBQ sauce
Slider Rolls or Buns
Salt & pepper, season to taste
Instructions
In a crockpot add chicken, then add the rest of the ingredients and give it a quick stir to combine soda and sauce. Season with salt and pepper to your liking.
Set the crockpot on low for 6-7 hours, or on high for 3-4 hours.
To finish use two forks to shred the chicken before serving on slider rolls or buns.
You can top with extra BBQ sauce if desired.
Notes
You can substitute chicken breasts for the thighs, I find that the thighs are more tender. This recipe also works great with pork.
The Crafted Sparrow https://www.thecraftedsparrow.com/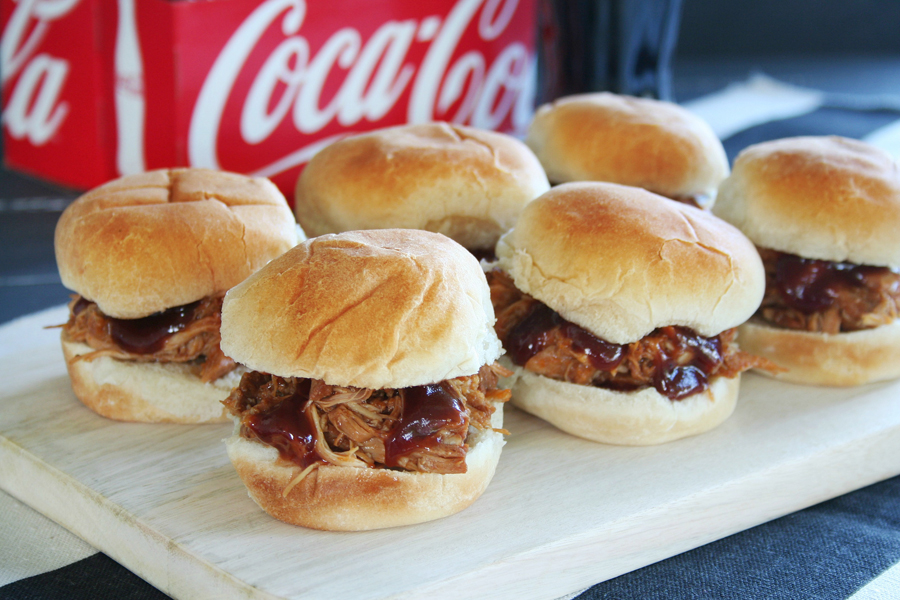 When it comes to celebrating the game day I love to keep things simple, easy to grab and fun. Finding a space to set it all up that won't get too crowded is key, it should be easy to grab snacks and food while watching football and commercials. I love using a large buffet or table to serve from.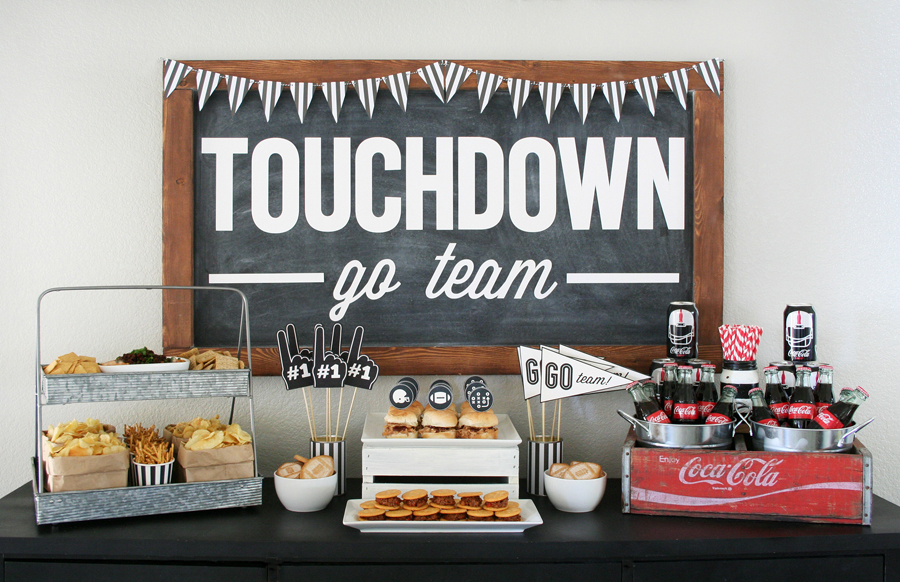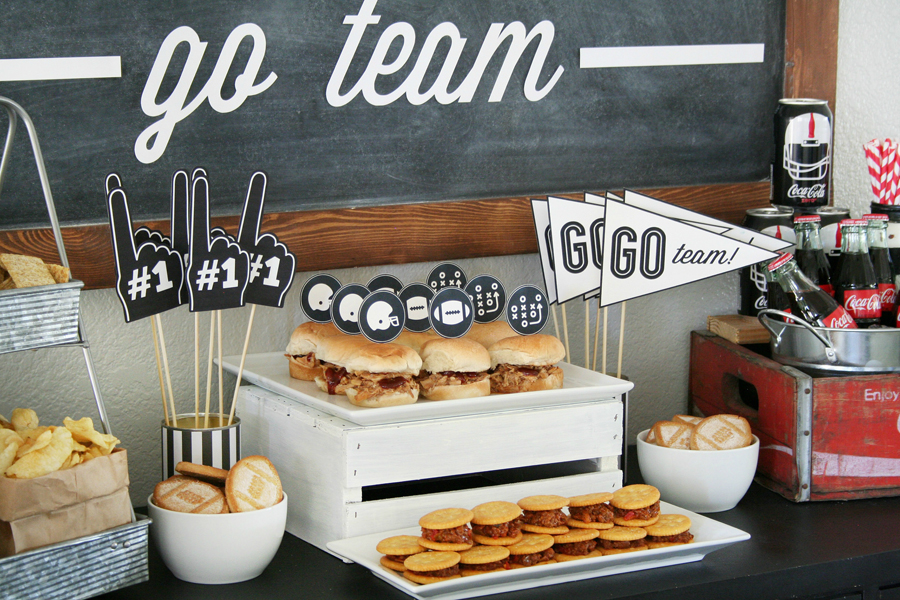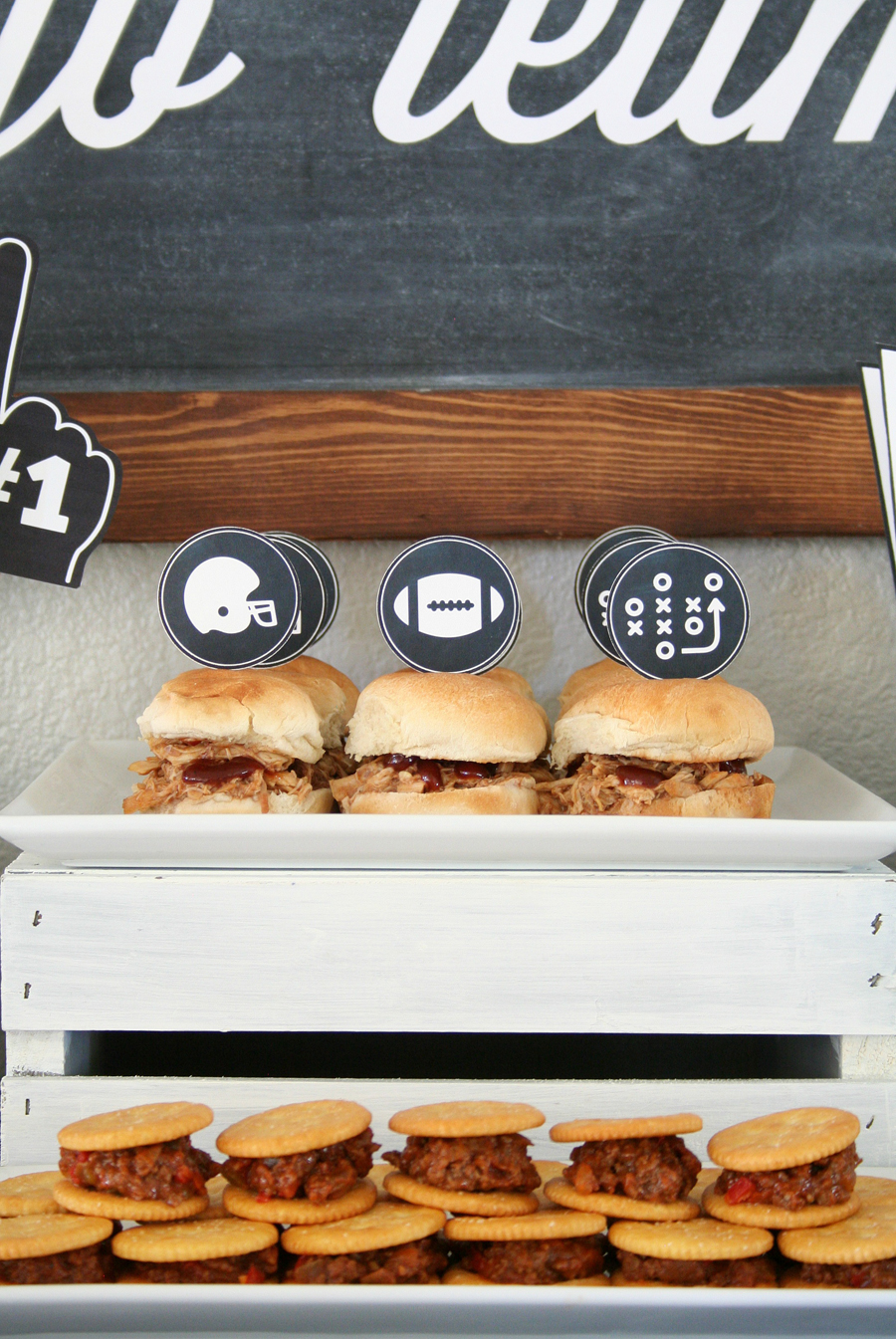 Of course, I'm serving the RITZ Sloppy Joe Sliders I shared a couple weeks ago, they are such a crowd pleaser. Be sure you grab the recipe.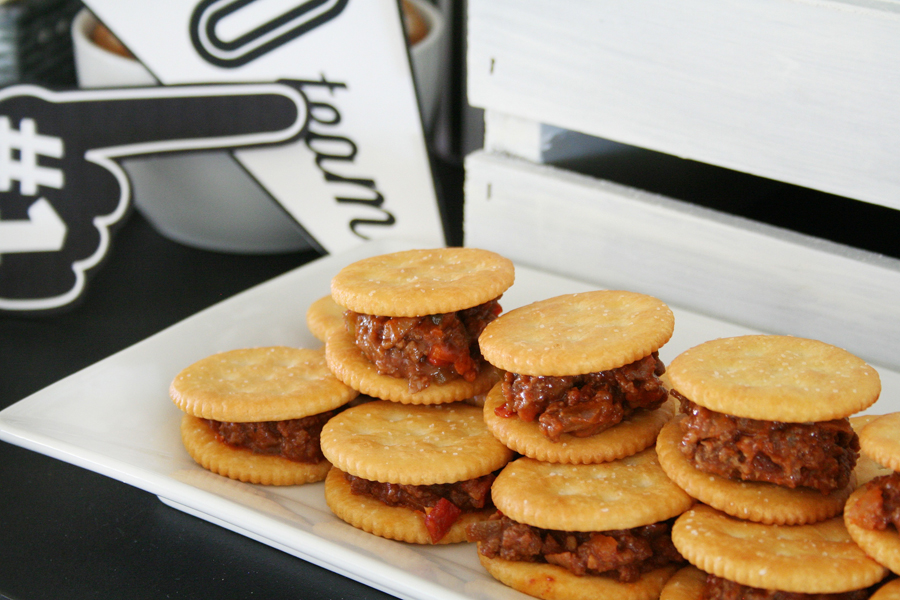 Be sure you have lots of crunchy snacks for guests to nibble on. NABISCO WHEAT THINS Snacks, and TRISCUIT Crackers are the perfect game day munchies and go great with all kinds of dips. Especially that awesome Chorizo Queso Dip I shared earlier.
Don't forget to look for Coca-Cola & NABISCO "Home Bowl" products in stores nationwide right now!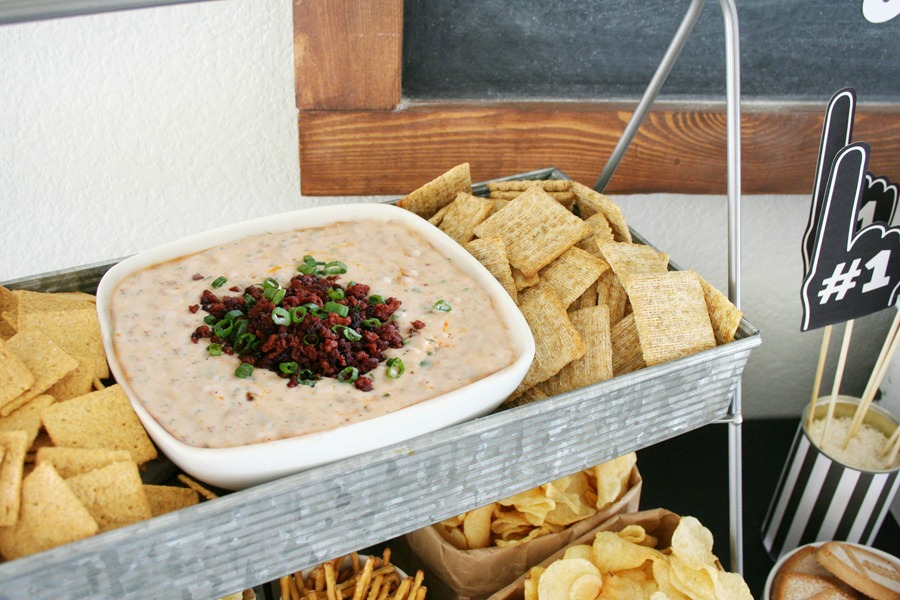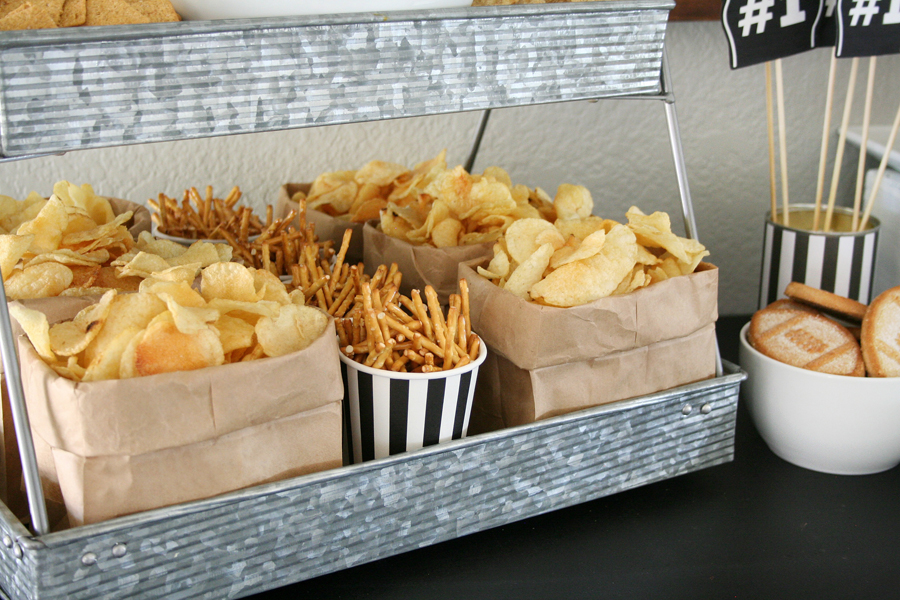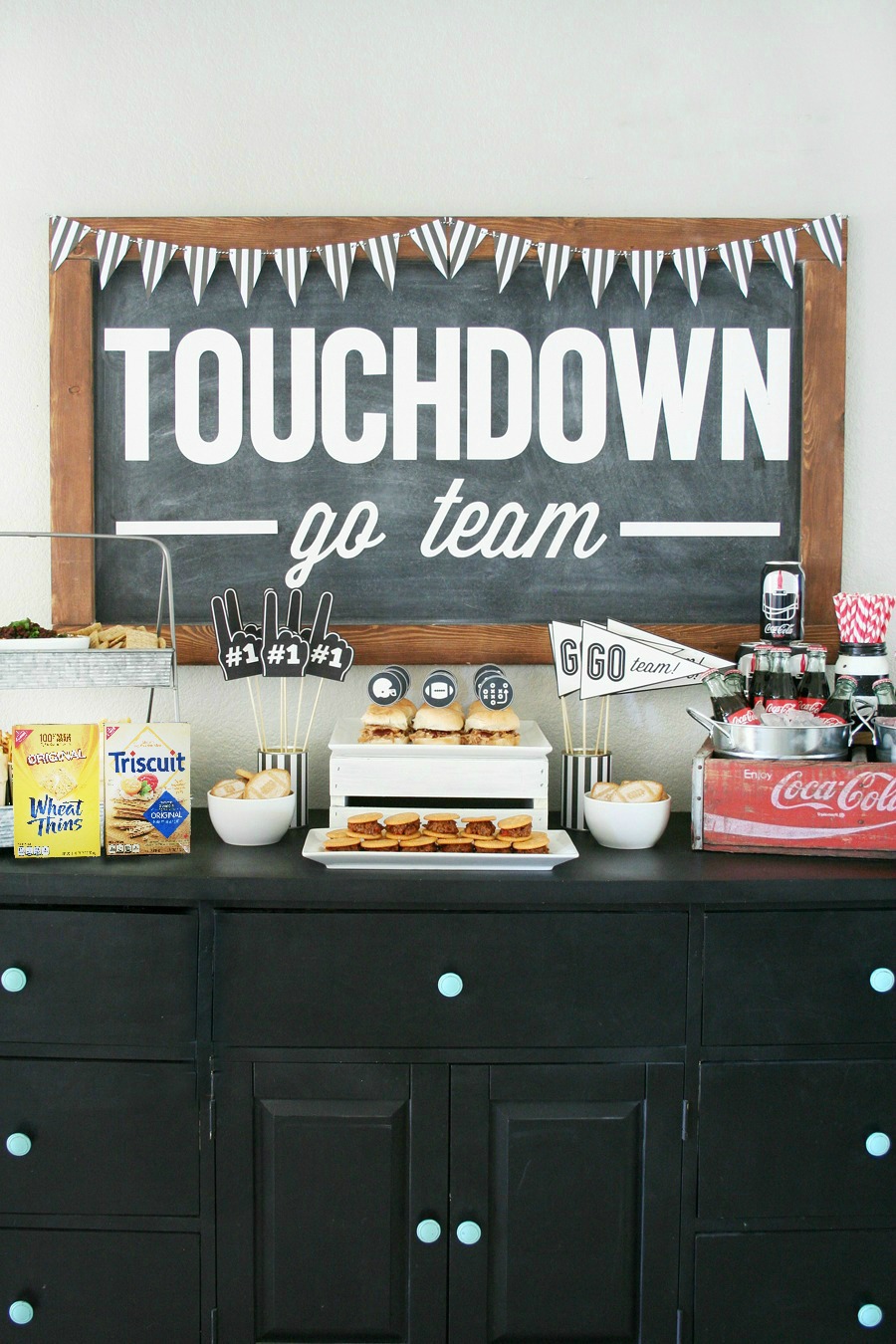 Even though I will have my Coca-Cola Soda Bar set up I wanted to be sure I have plenty of beverages for guest to grab during the game so I put some fun Coca-Cola glass bottles in tin buckets and topped with ice. Everyone loves these! Be sure you have options, we love Coke Zero in our house but lots of our friends love Coca-Cola so I make sure to buy plenty of both.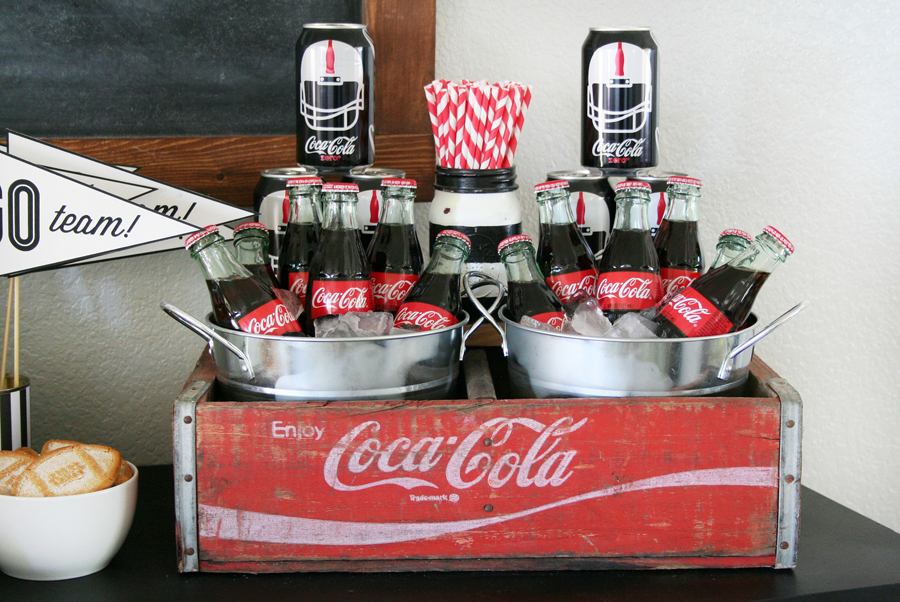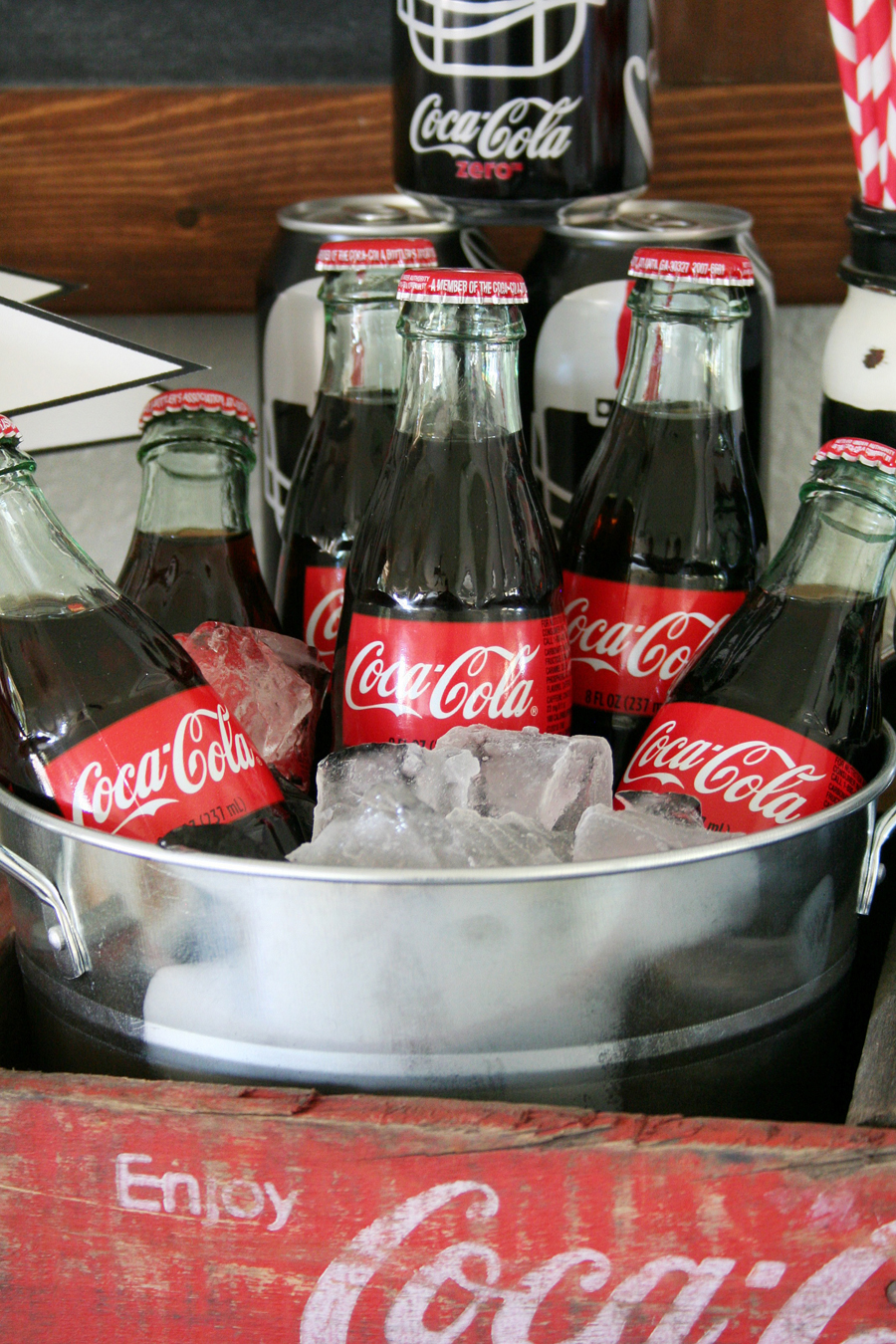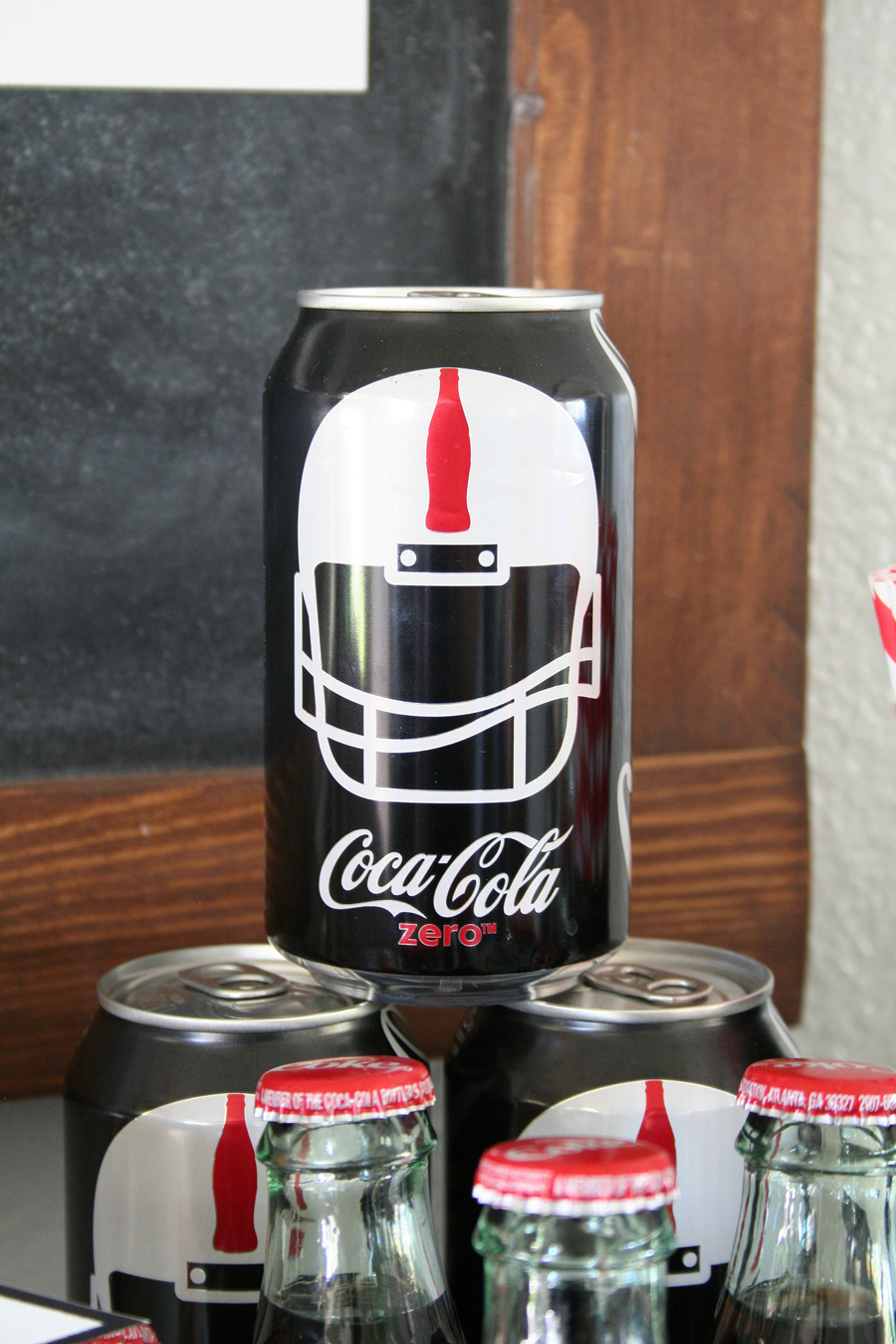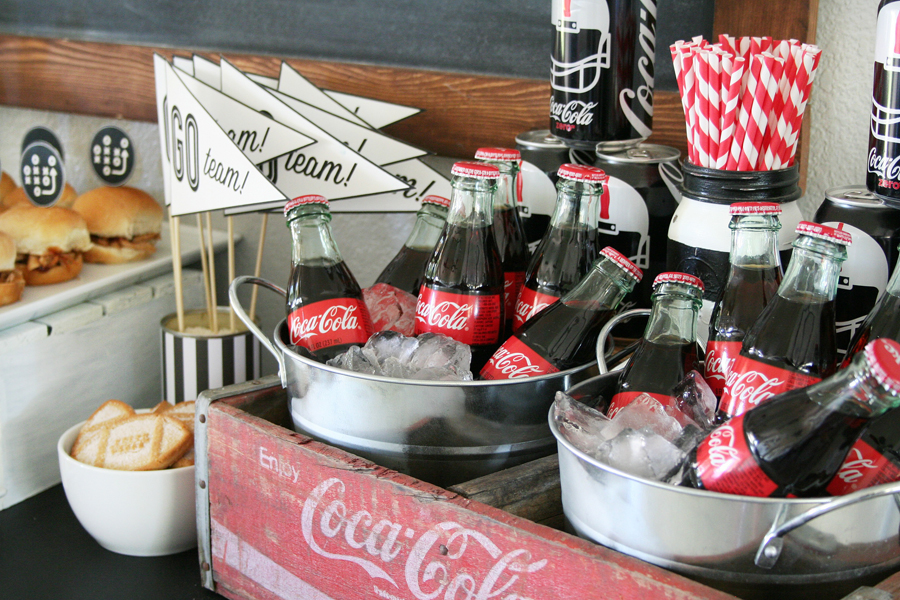 For the game day set up, I kept it easy. I used a huge chalkboard that I made, it measures almost 4′ long so it's the perfect backdrop for my food display.
I used my cutting machine to cut large letters out of white cardstock to spell "touchdown" and "go team". I just taped the letters to the chalkboard and it was done. I added a cute mini striped pennant banner I also cut with my machine.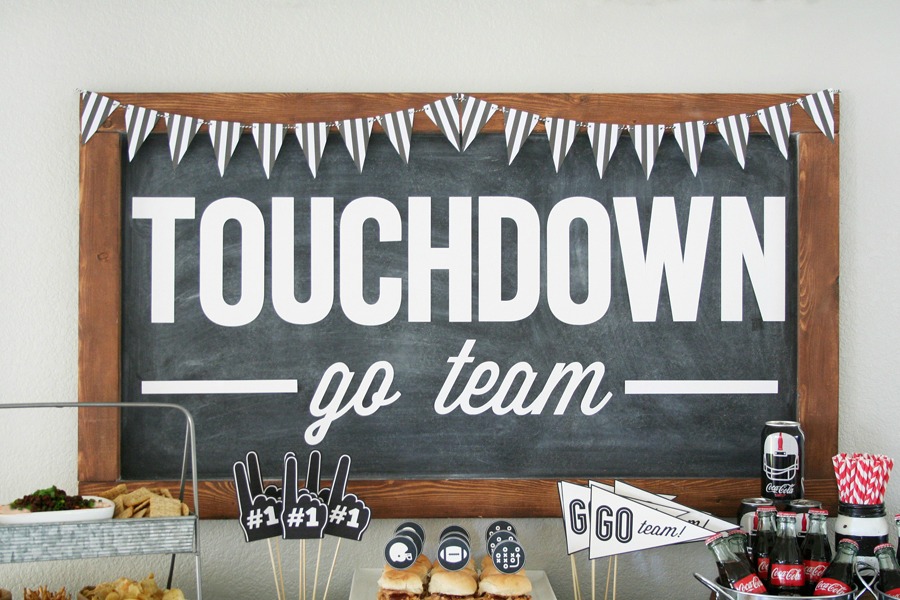 The fun Free Football Printables I made for the Big Game can be found HERE.
How fun are the foam fingers and pennants?! These can also double as photo booth props if you set up a fun backdrop and take pictures during half-time. You can also download the food picks that are pictured below.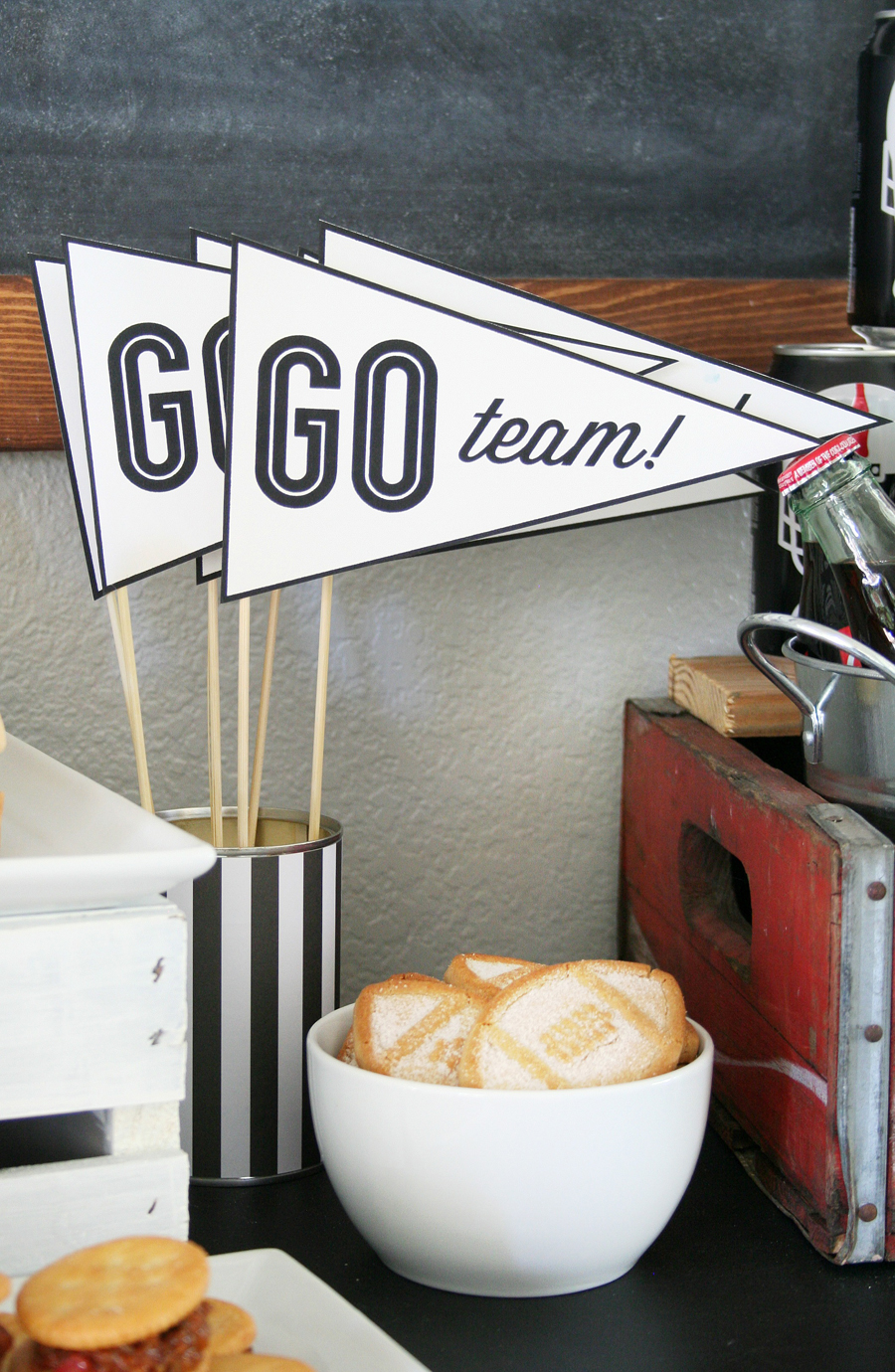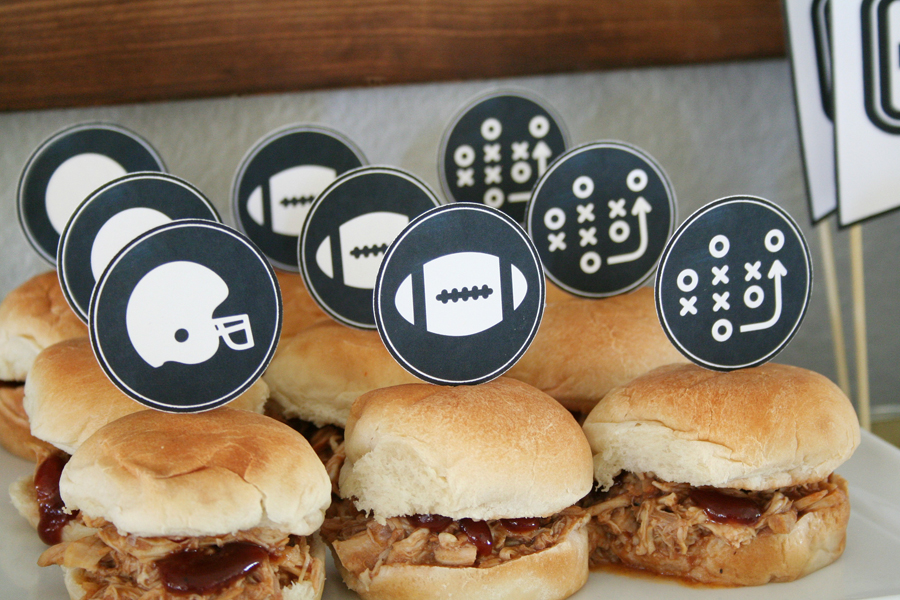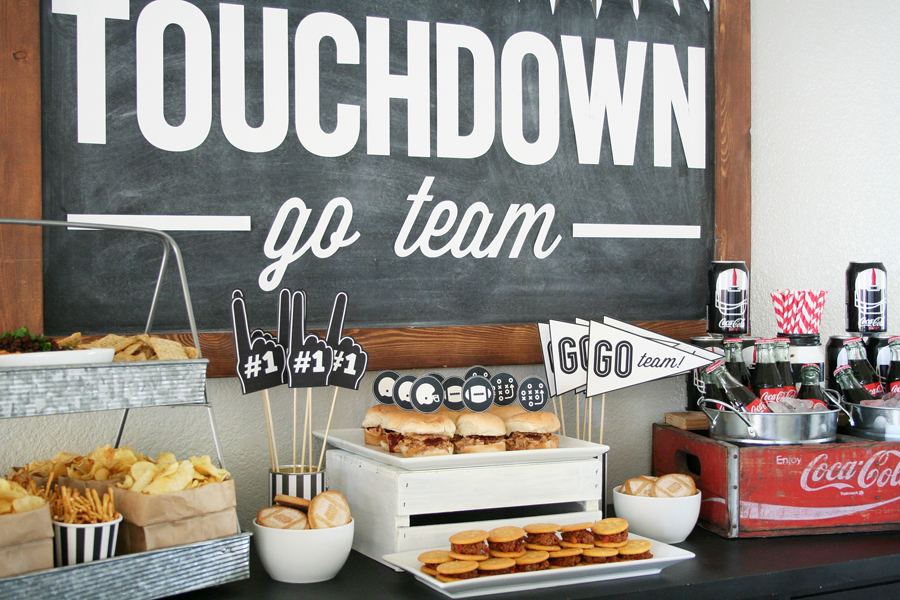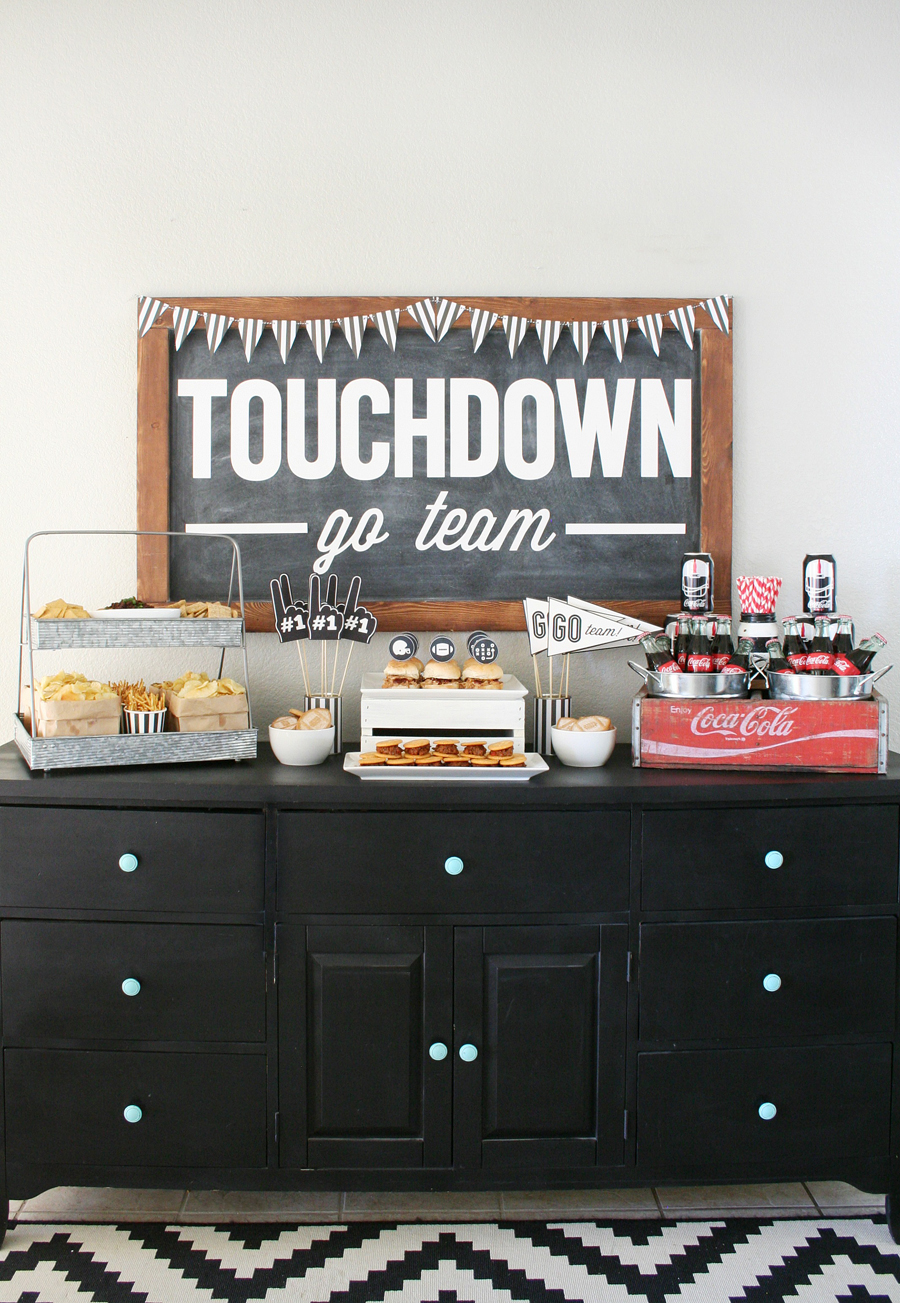 I hope all these tips and recipe ideas help make your "Home Bowl" a game to remember!
UPDATE: THE GIVEAWAY IS NOW CLOSED! Congratulations to our winners Brittany Marie Thompson & Barbara Ryan!
Ready for your chance to win?! Enter the "Home Bowl" Prize Pack Sweepstakes:
1. Create a custom pinboard on Pinterest named: "Coca-Cola & NABISCO #HomeBowlHeroContest"
2. Pin your favorite game day recipes, party tips, and tricks to the board and include #HomeBowlHeroContest in the caption
3. Copy your unique Pinterest pinboard URL and paste the link into a comment on this blog post below with the hashtag #HomeBowlHeroContest and your email address (so I can contact you if you win, I promise to NOT SPAM!)
(Sweepstakes ends on Thursday, January 28th at 11:59 pm MST. The winner will be chosen at random via random.org and will be contacted within 24 hours of being picked. The winner will have 24 hours to respond via the email address provided in the entry to accept the prize pack otherwise, another winner will be chosen. This prize pack was provided by The Coca-Cola Company and Mondelez Global LLC. The Coca-Cola Company and Mondelez Global LLC is not a sponsor, administrator or connected in any other way with this contest. You're not required to promote Coca-Cola or NABISCO for a chance to win, although if you choose to do so please remember to use the #HomeBowlHeroContest hashtag or another disclosure that you are posting the photo or link as part of a contest entry. Must be 18 years or older, and live in the United States. No P.O. Box addresses will be accepted. Prize Packs will be fulfilled via Fast Horse, The Crafted Sparrow is not liable for any lost or stolen packages.)
DISCLOSURE | This post is sponsored and written by me as part of a partnership with The Coca-Cola Company and Mondelez Global LLC. All opinions and ideas are my own. Prizes provided by The Coca-Cola Company and Mondelez Global LLC. The Coca-Cola Company and Mondelez Global LLC is not a sponsor, administrator or connected in any other way with this program.