DISCLOSURE | This post has been sponsored on behalf of Allure Flooring. All opinions and ideas are my own.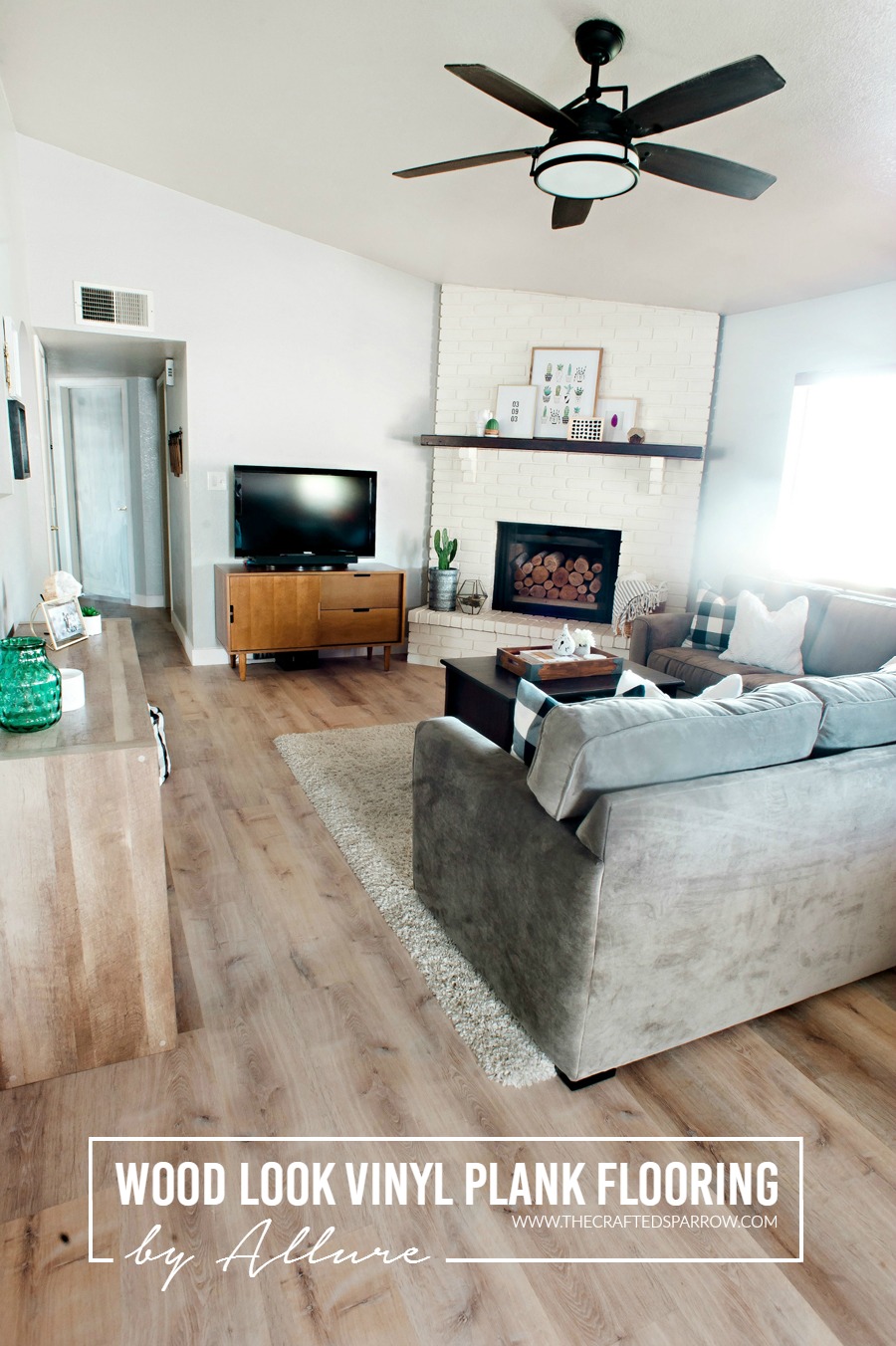 You guys, I've been waiting months to share these amazing floors with you! First, let me give you a little history and preview of the before of what our house and floors looked like. There was a reason I haven't shown a lot of photos of my home here on the blog previously, the floors were awful! Our home was built in 1984 and with all it's 80's goodness it boasted the cheapest tile you can find and disgusting dirty grout throughout all of the house. The bedrooms were carpeted with the cheapest carpet you could buy and it was also trashed. We've owned this home for almost 13 years and it's just not been in our budget until now to make such a large improvement. I knew once I saw and fell in love with the flooring that Petite Party Studio did in their shop makeover that I needed to have Wood Look Vinyl Plank Flooring by Allure in our home!
Here is a peek at the BEFORE photos, pretty bad am I right?! Don't worry, for dramatic effect I was sure that everything was absolutely the dustiest it could be in this room. Not really, it's mostly from flooring we had started ripping up the night before in the hallway…the rest is from the incredibly uneffective weather proofing this house has.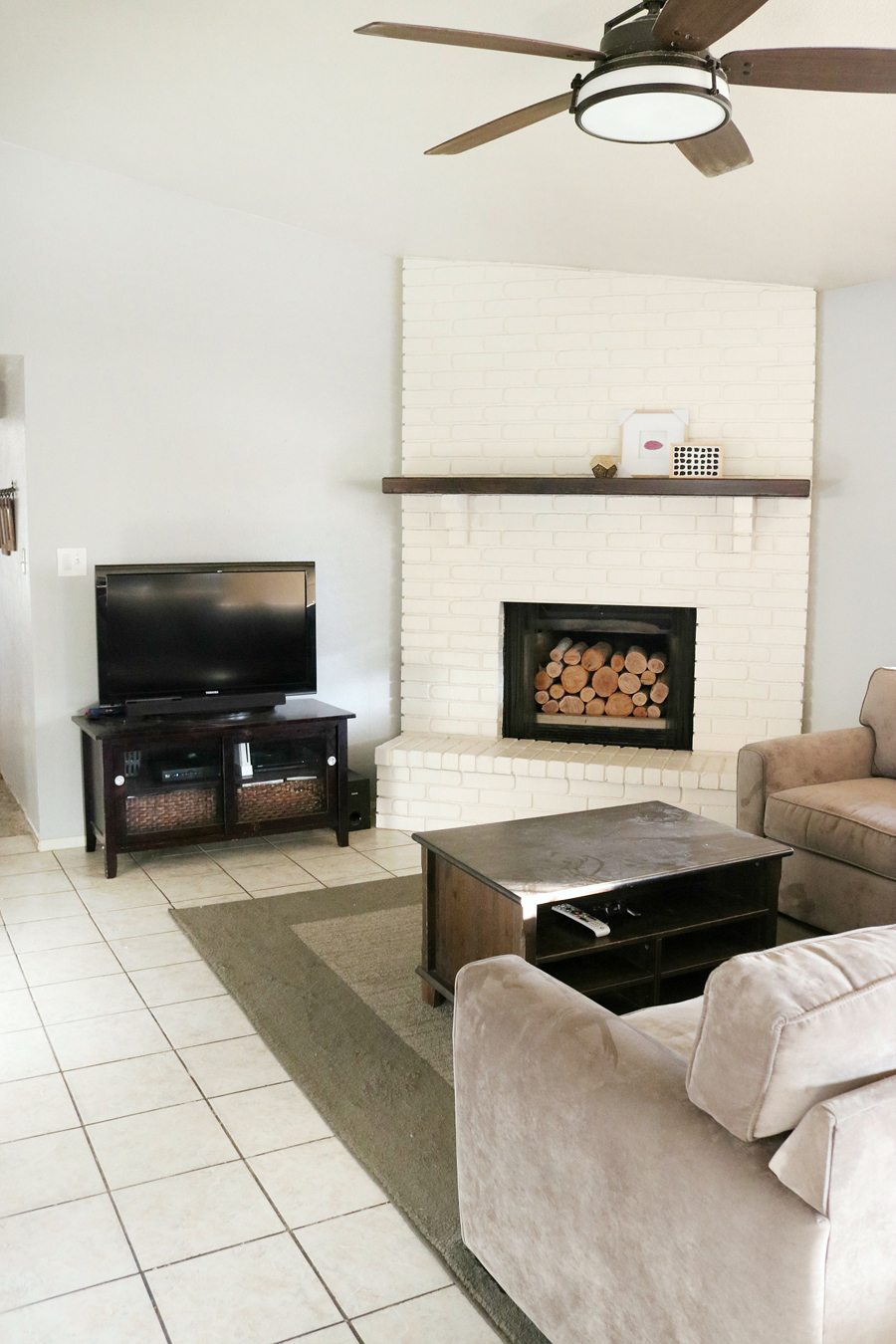 Let's take a closer look shall we? Like I mentioned, the tile was the cheapest tile someone could lay in this house. They never sealed the grout which caused it to turn all shades of brown and black, impossible to clean. The trim in our house was original and in it's glory days was shellacked. When we moved in we tried painting it which was a mistake because it just peels right back off. We also have a huge foundation crack under the flooring which makes putting tile back down not a great option, another bonus for the ISOCORE.
The first thing we needed to do was to remove all the old flooring throughout the whole house. Our house is small, only 1378 sq. feet so it only took us about a day and a half. I'm not going to lie, this was our least favorite step of the whole process. Luckily my brother brought us his hammer drill and it made the job so much easier. I have to give a huge shout out to my awesome hubby for his hard work and willingness to do this, and my boys who thought the hammer drill was awesome and helped every chance they could get.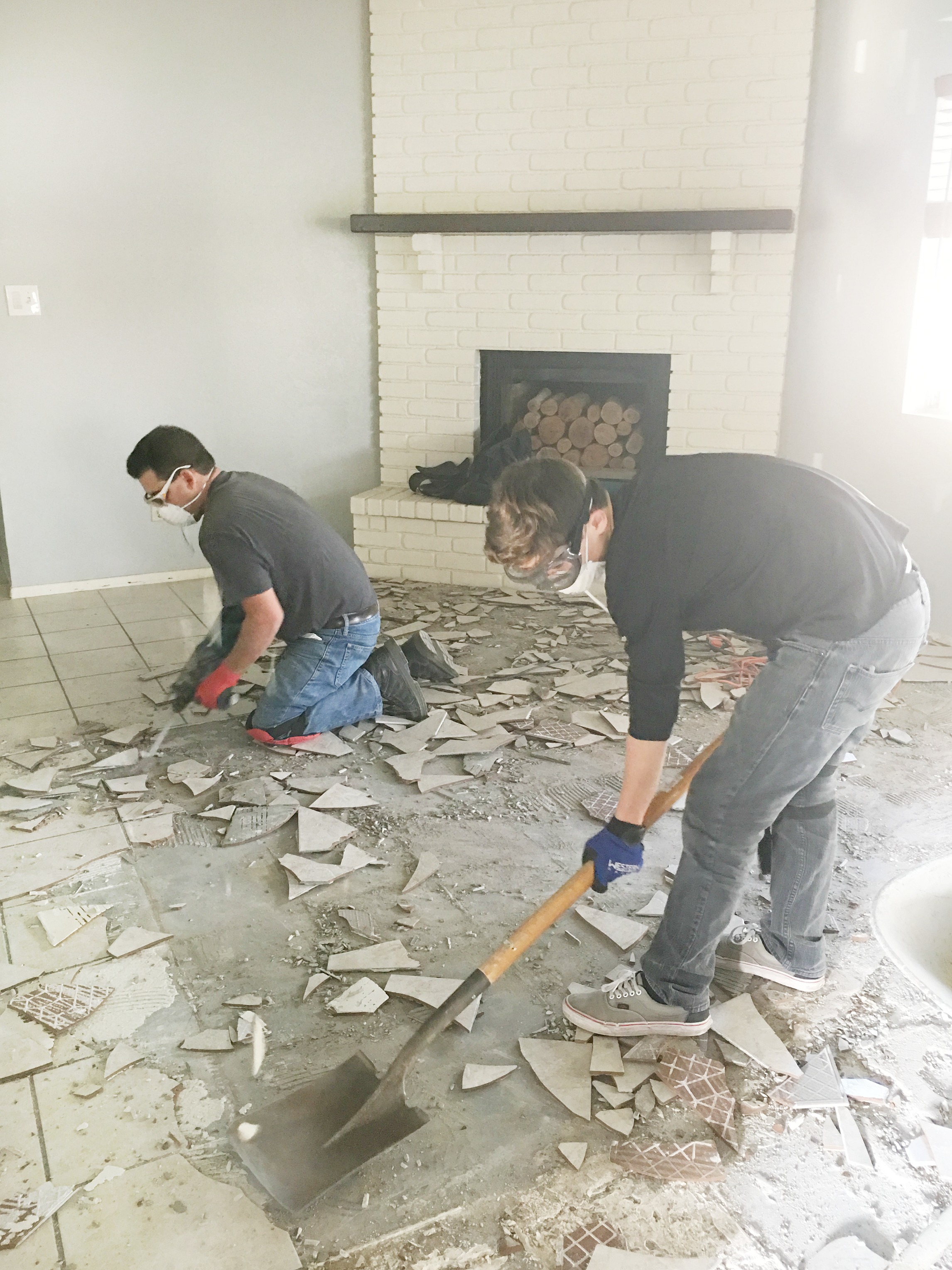 Once all the tile and carpet was removed, the thinset that was used needed to be removed as well. This was NOT the easiest job to do. Whoever layed these floors was NOT a professional nor did they have a clue about what they were doing. We are pretty sure cement was actually used to lay the tile in some areas. We actually had to end up having a crew come and grind the floors out for us.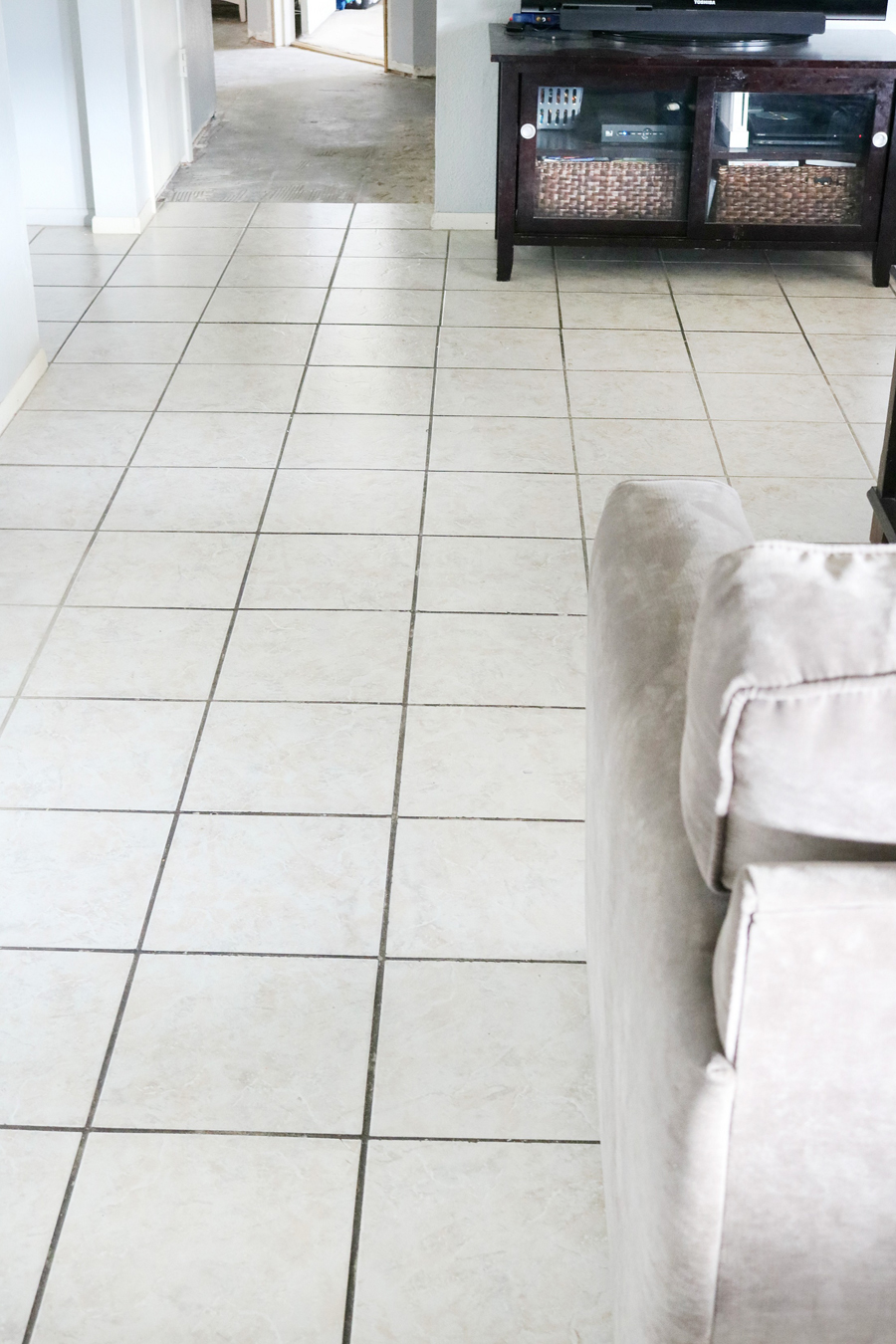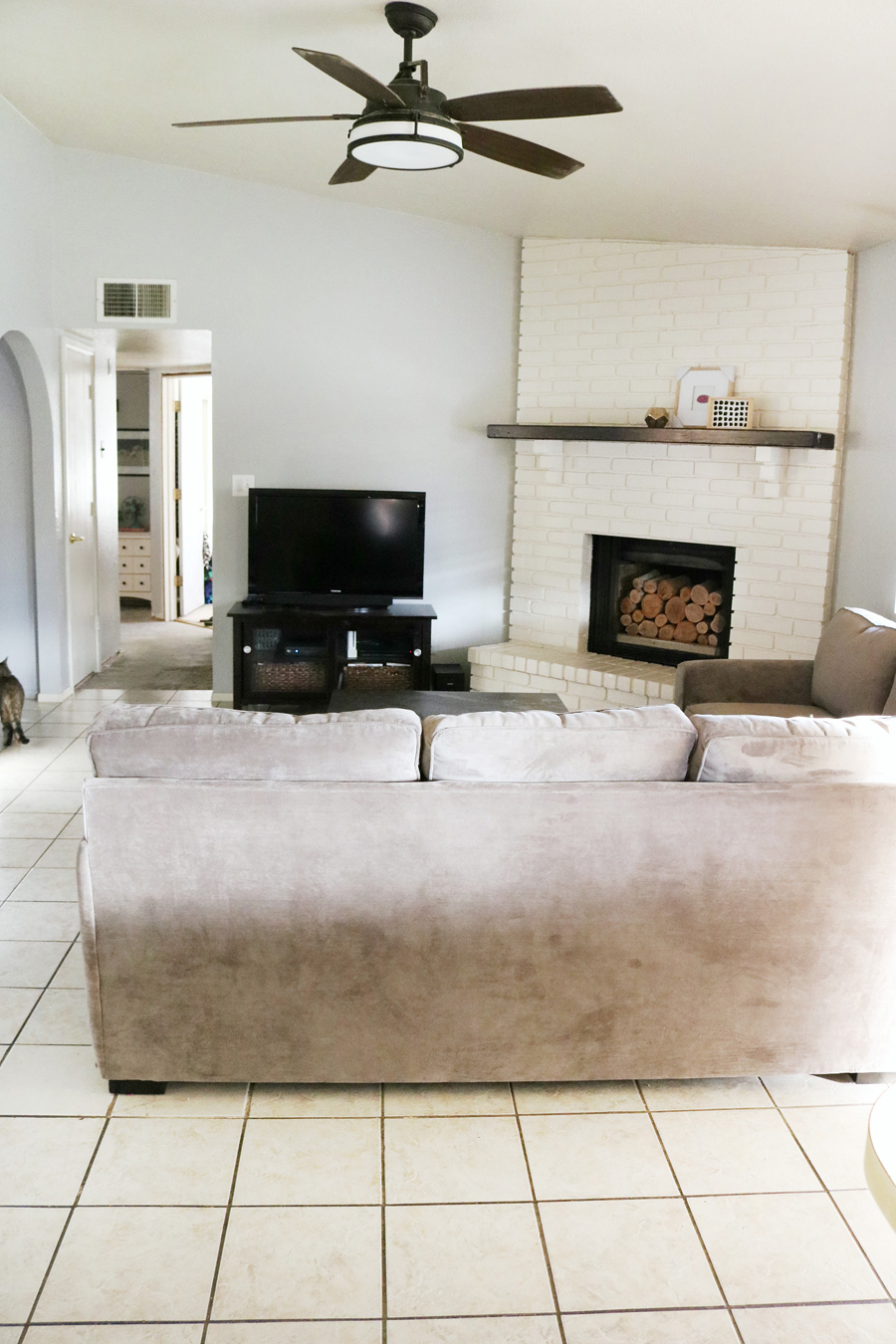 Since our house is on the smaller side we knew that we wanted flooring that was seemless and very easy to clean. The Allure ISOCORE that we put in is all of that and more, my favorite is that it's waterproof too! We went with the Golden Oak White, it's such a pretty color.
Originally we were going to install all of the flooring ourselves, at the last minute we decided to have someone install it for us. We could have for sure normally done it ourselves, it's seriously the easiest product to install but by the time we were done removing the tile and carpet my hubby's hands were so swollen from his carpal tunnel syndrome he could barely open and close them. I also broke my tibia this last year and can't kneel on hard surfaces for very long. The crew we used to install the Allure ISOCORE was amazing, they also couldn't stop raving about this product. They said it was the easiest product they've ever installed, and couldn't believe it's quality.
If you'll be installing this product yourselves this is what you'll need:
Rubber Mallet
Straight Edge Ruler
Gloves
Utility Knife with blades
Tapping Block
Miter Saw, Table Saw, or Tile Cutter (Optional)
Note: You will not need any extra padding or anything for these floors as they come with it already on the planks.
We decided to lay the flooring the length of our house instead of from the front door. Our house is basically a rectangle so it made sense to run the full length of the house to make it appear larger and it created less waste when cutting the flooring.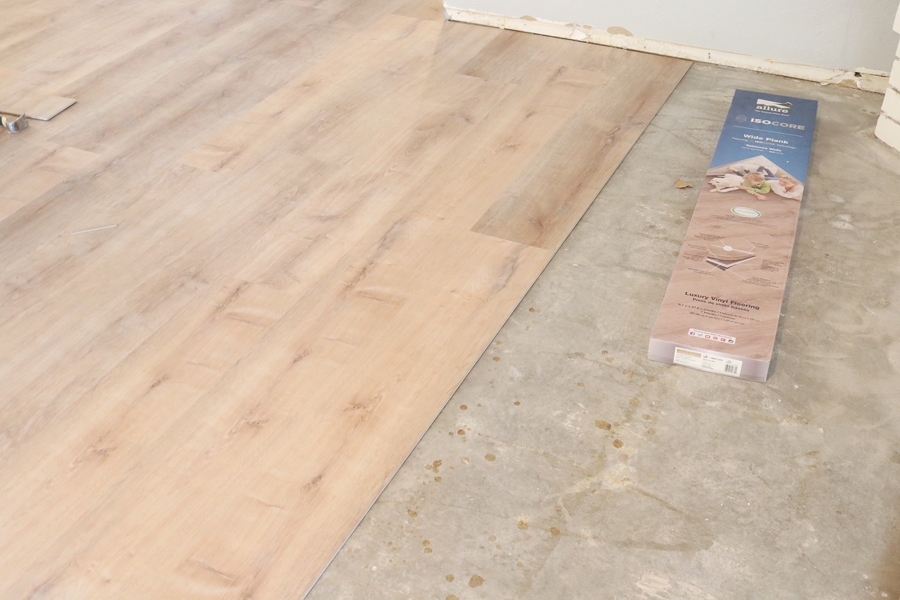 You can see below how the ISOCORE basically snaps together in place.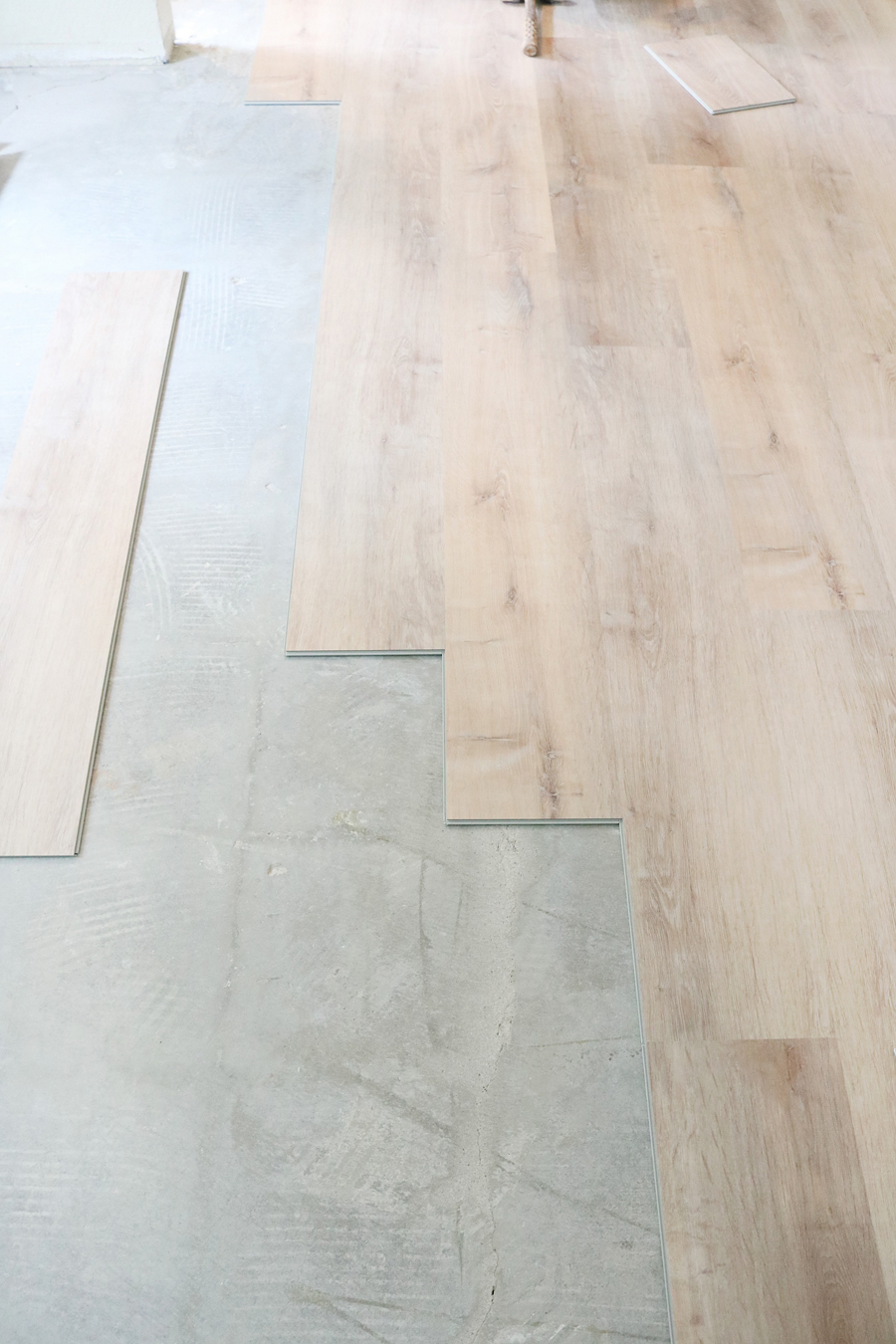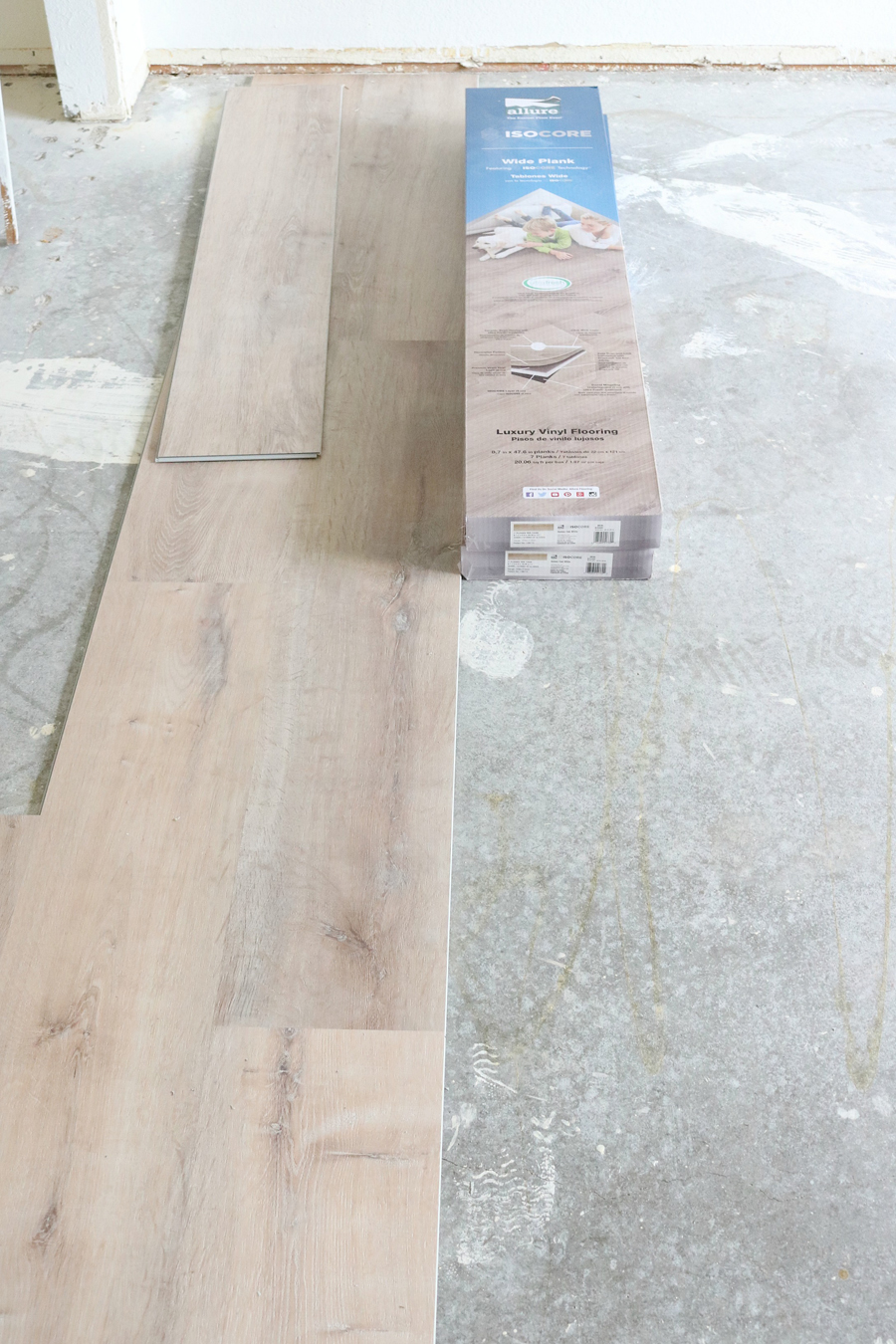 As soon as the flooring was finished and the new trim and baseboards were installed it was like a whole new house. I may have squeeled and not stopped starring at the floors for like a week.
These Allure ISOCORE Golden Oak White Resilient Vinyl Plank floors are amazing! The look and feel is just like real wood. The color is amazing, it looks a little warmer here in the photos than it is in person. It's light enough in color that it will go with everything and not look outdated any time soon.
You might be wondering about how easy it is to clean, it's a dream. So much easier to keep clean than carpet and ugly old tile and if you're like us and have asthmatic kiddo's it's so much better for their health to have flooring that is easy to clean instead of carpet that holds everything in. It also stays warm and isn't noisy at all when you walk on it.
I've started updating things since having the floors finished, the family room got a mini makeover which I will share more about this week and there is a whole list of things we want to accomplish in the house to get it more up to date so stay tuned.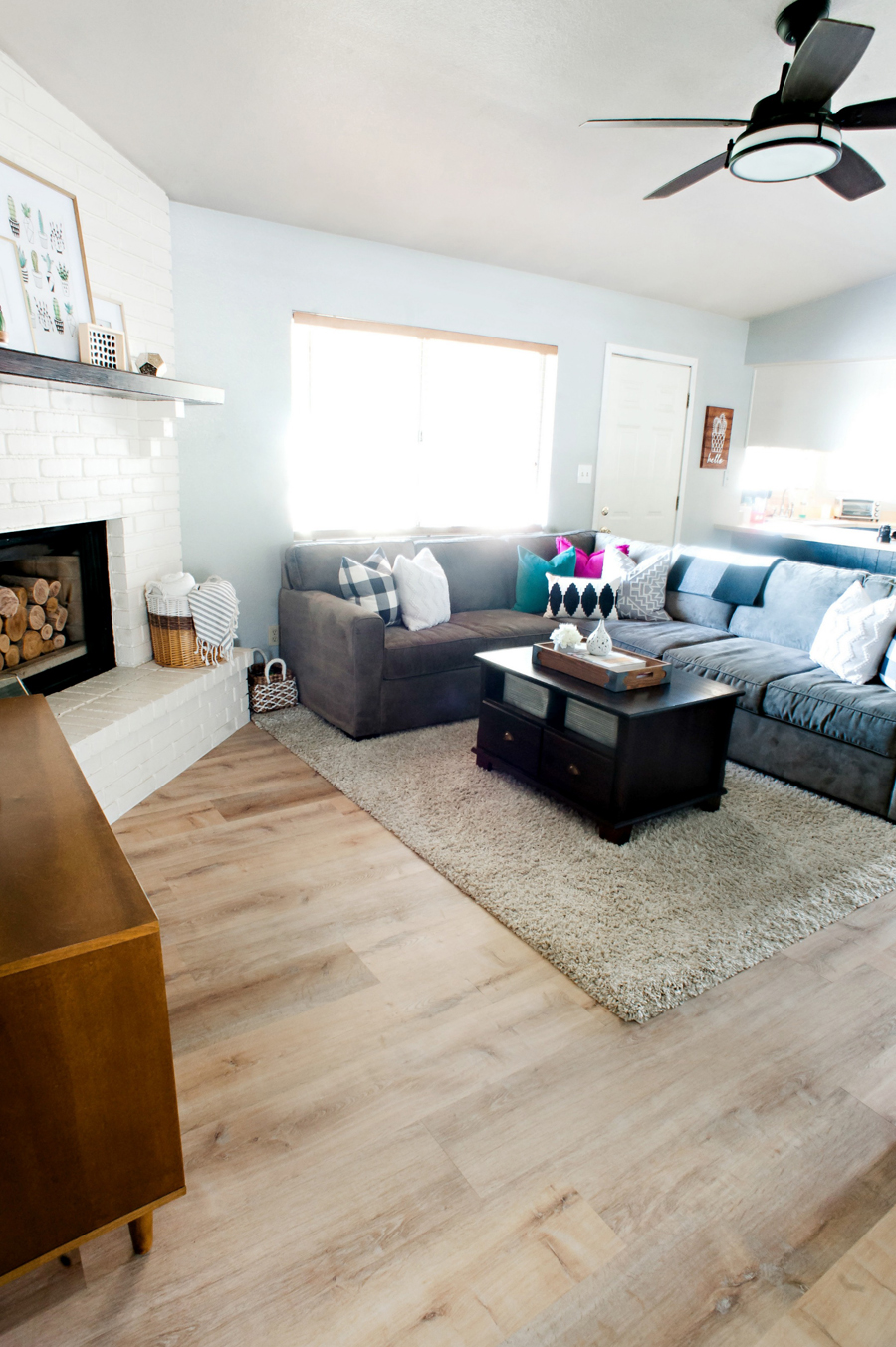 If you're looking for a great flooring option Allure ISOCORE Golden Oak White Resilient Vinyl Plank Flooring is it! I highly recommend it. We've been living with the flooring finished since February and they are the best, truly!