With Christmas about a week away, there is still plenty of time to throw together an end of the year celebration! It's easy to create fun, festive party decor…today I'm showing you how to put together a Black & White New Year's Eve Bart Cart Ideas that will be a hit at your party!
DISCLOSURE | This post is sponsored on behalf of JOANN, all ideas and opinions are my own.
When it comes to party decor I love creating simple pieces of decor to fit my theme. This year I decided to create a fun and festive Black & White New Year's Eve Bar Cart for our end of the year celebrations with friends and family. When I was planning my decorations I knew I had to head to my local Joann Fabric and Craft Store to see what fun things I could find. I found so many cute things and a few DIY's that made this bar cart pop.
I chose to go with my favorite color palette of Black, White, Gold and a pop of leather! I love the unexpected leather details, it's not traditional but it fits my style so well. The whole thing came together after I created the fun DIY New Year's Eve Art for the wall.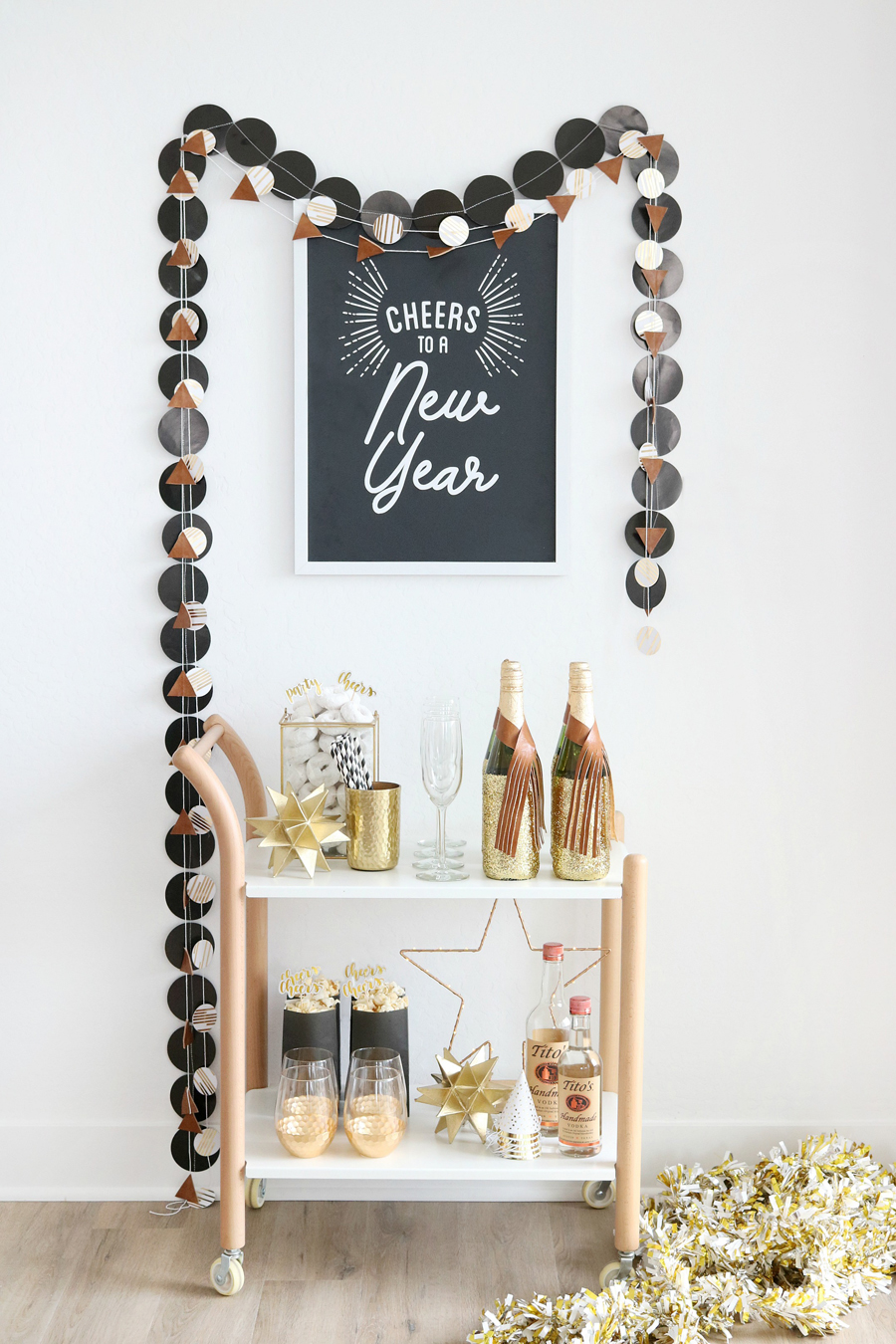 I knew I wanted to create a large piece of art for above the bar cart, I just wasn't sure whether I wanted to have something printed or DIY it. After walking through my local Joann store I saw this large Make It Love It Magnet Board & Chalkboard. It was the perfect blank canvas for a little DIY vinyl art with my Cricut Maker cutting machine.
If you want to make your own DIY New Year's Eve Sign here's what you'll need…
SUPPLIES:
To make this easy DIY New Year's Eve Sign you will need to do the following:
Tape off and spray paint the frame of your chalkboard, I chose white for a modern clean look.
Open Cricut Design Space or your favorite cutting program software.
Upload the free New Year's Eve Print and create a cuttable image in your cutting program.
Cut the design to fit your frame, I cut my image to 11.5″ wide x 16″ long.
Weed your vinyl and remove any parts you don't need using a weeding tool.
Use transfer tape to transfer your vinyl image to the chalkboard surface.
Smooth out the vinyl using a vinyl smoothing tool and then remove the transfer tape.
That's it! Your sign is done and ready for your New Year's Eve Bar Cart!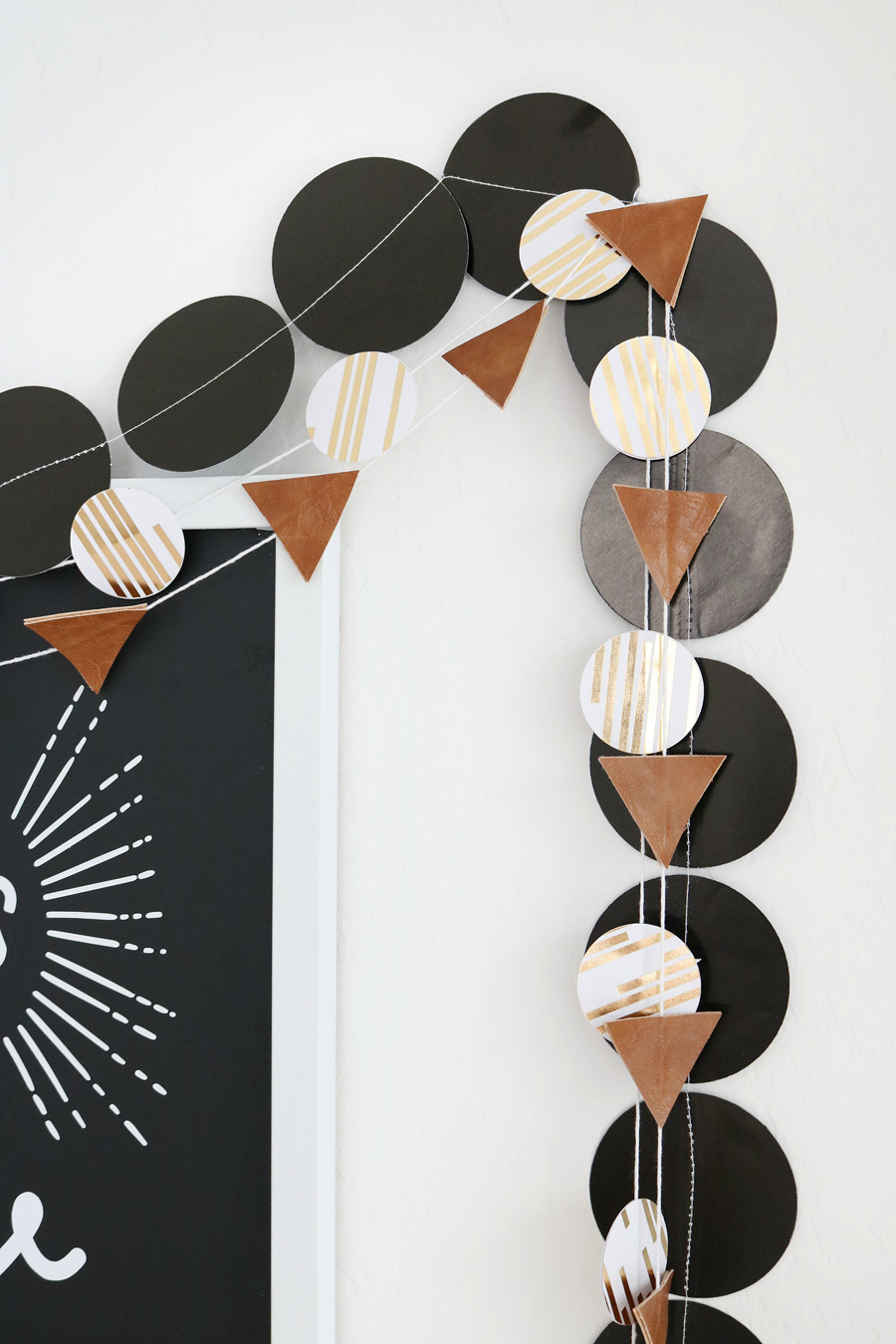 When it came to adding something special around my DIY New Year's Eve Sign I wanted to add some different garlands. I started with this Cheer & Co Party Backdrop, I used the large black circle garland from the package and held on to the other garlands for another time. I then found this Cricut 12 Pack 12×12″ Deluxe Foil Embossed Paper Pack in gold and white, I used my Cricut Maker to cut 2″ round circles. Then I used bakers twine and hot glue to create my garland, you basically glue two circles together with the baker's twine in between.
I did the same thing for my final garland, the faux leather triangle garland. I use this faux leather all the time, and the closest thing I could find online is this real Cricut 12×12″ Camel Leather. I would look in stores at your local Joann in the Home Decor Fabric section for the camel colored faux leather. It is about $30/yard and usually is on sale. When you're ready to make your garland I again used my Cricut Maker to cut 2″ triangles from the faux leather. When you're working with the faux leather cut it shiny side down. Then I made the garland the same way with hot glue and bakers twine as the gold foiled circle one.
Let's talk Easy DIY New Year's Eve Bar Cart Styling!
I kept things on my bar cart simple. I made sure to have a couple small snacks that are easy to grab, glasses for beverages, of course, champagne for the toast at midnight, straws for those that want them, and a couple cute decor items to tie everything together.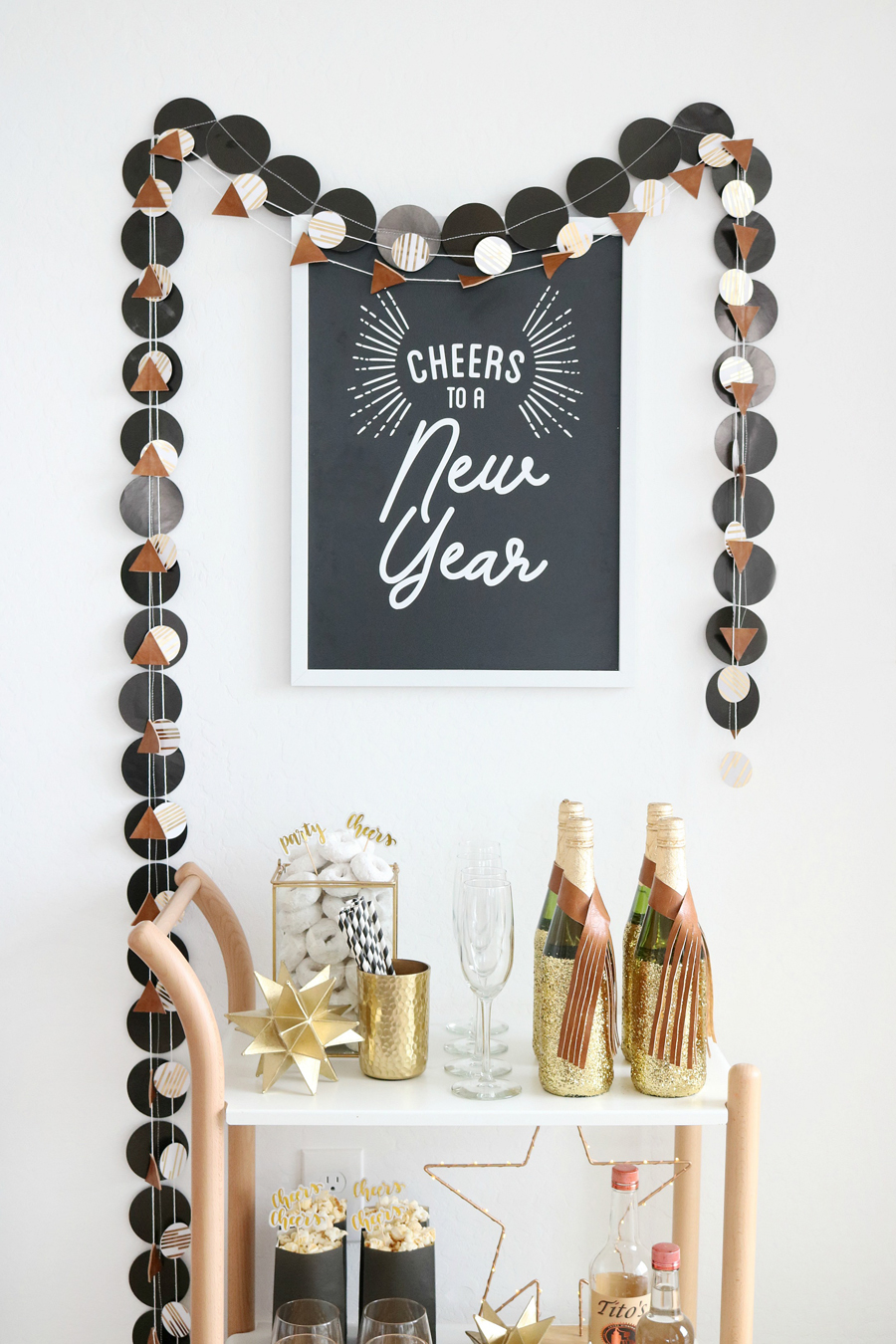 I found this cute Save The Date Clear Gold Edge Lantern in the wedding decor department at Joann and I knew it would be perfect filled with a fun treat. I obviously went with delicious mini powdered donuts because they're fun. I added a couple festive party picks from the Cheer & Co party line found in my local Joann store. That's where I found the popcorn treat bags, striped straws, and the cute gold picks.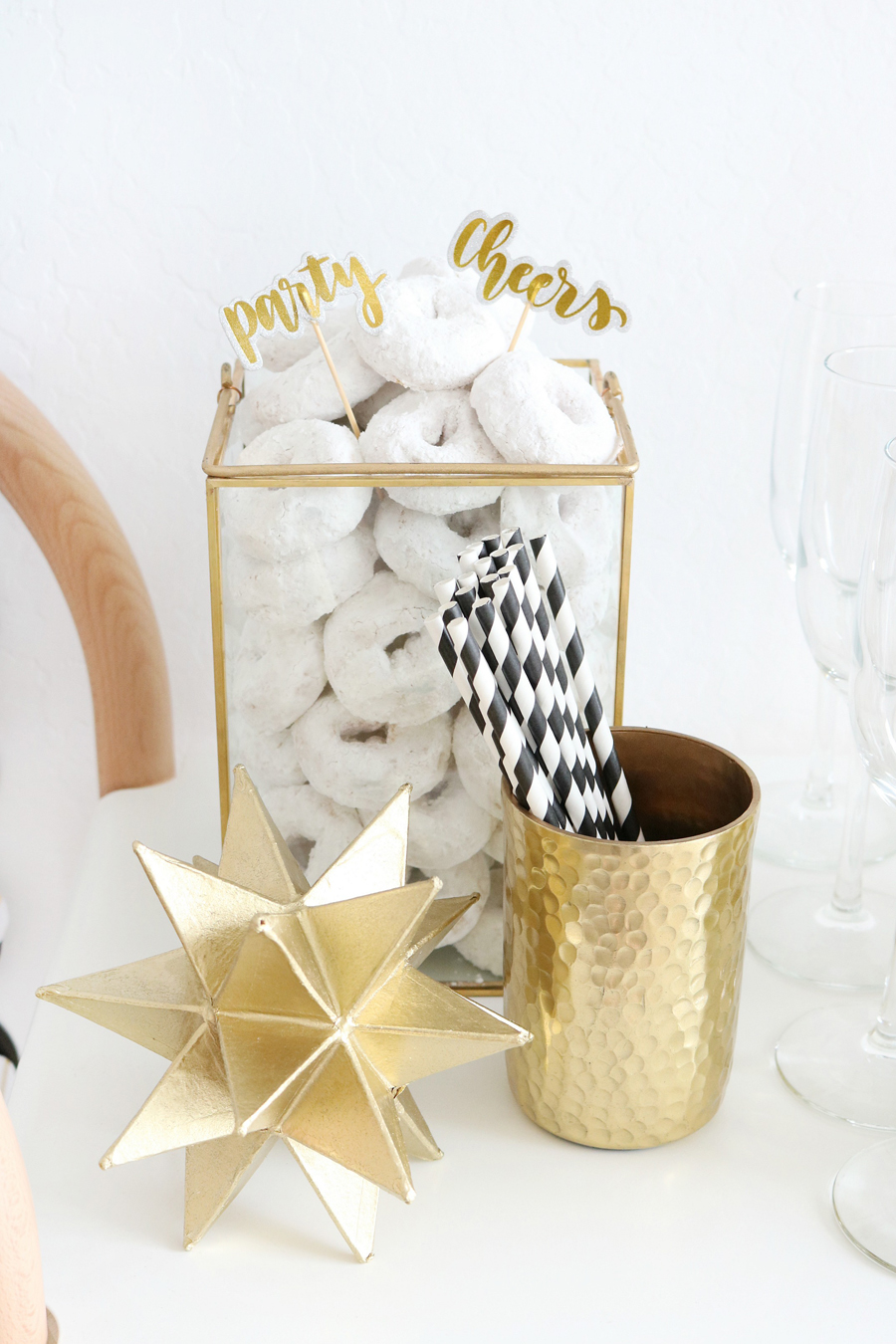 The champagne bottles needed a little something EXTRA so I glittered them! I used Heidi Swapp's Marquee Love Chunky Glitter in gold to cover my bottles. It's the one bit of sparkle I added to my bar cart and it's perfect. I just used Mod Podge with a foam brush and applied it to the bottles, then added glitter. This method is a little messy, glitter will get everywhere for sure. Thinking back I would definitely add the glitter to the Mod Podge itself in a container and apply it that way. Then it's basically sealing the glitter in. No mess that way.
My bottles needed one more thing and that was a pop of camel colored faux leather to tie in the garland. I cut long strips of the faux leather about 12″ long and fringed each end with shears, leaving the middle of each strip whole. Then hot glued them around my bottles. I love the fringe detail!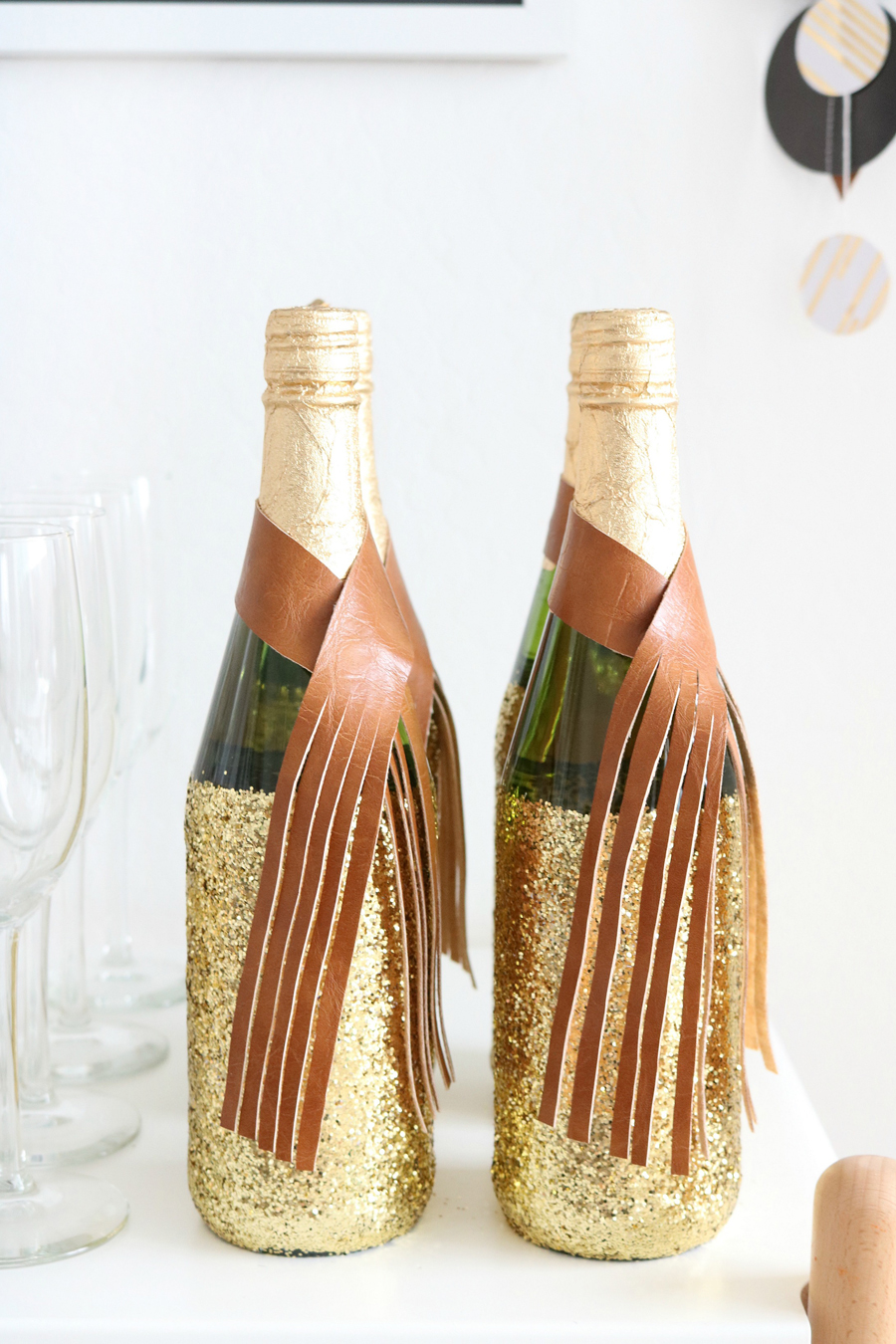 The gold 3D Paper Mache Stars were unfinished Holiday Maker's decor that I found in-store and spray painted gold. I cut the ornament holder string that was attached and just turned them into tabletop decor instead.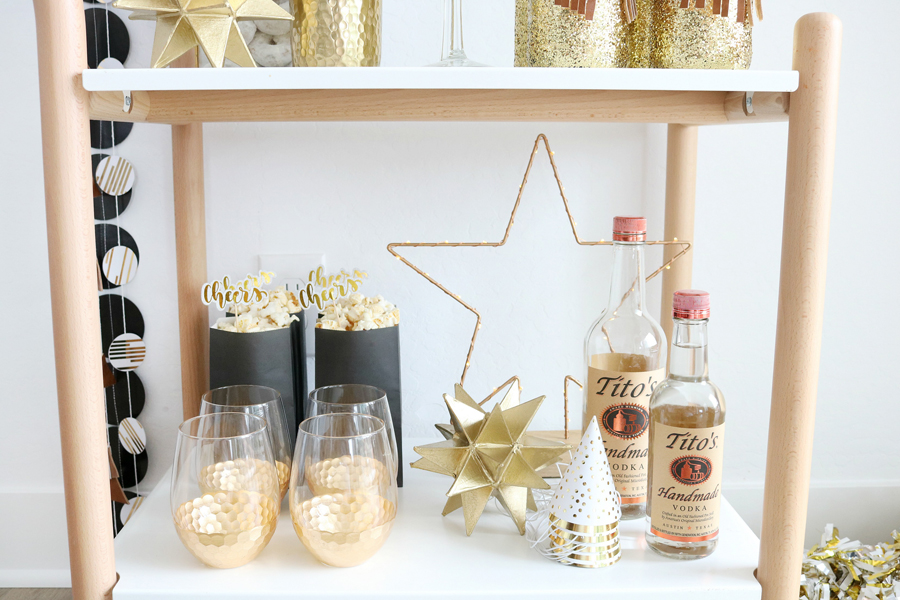 The sweet little party hats were another addition from the Cheer & Co party line at my local Joann. They can be used for just a cute piece of decor added to your bar cart or a little extra fun favor for your guests to wear at the party.
If you're looking for even more New Year's Eve Ideas be sure to check out these great DIY's and Printables…