Tis' the season for my favorite holiday of the year! I absolutely love decorating for Christmas, one of my favorite spaces to decorate in our home is my huge brick fireplace. This year I needed the decor to be easy and simple, and I wanted it to have a casual feel. These Black & White Casual Boho Christmas Mantel Decor Ideas have me so excited for the holidays.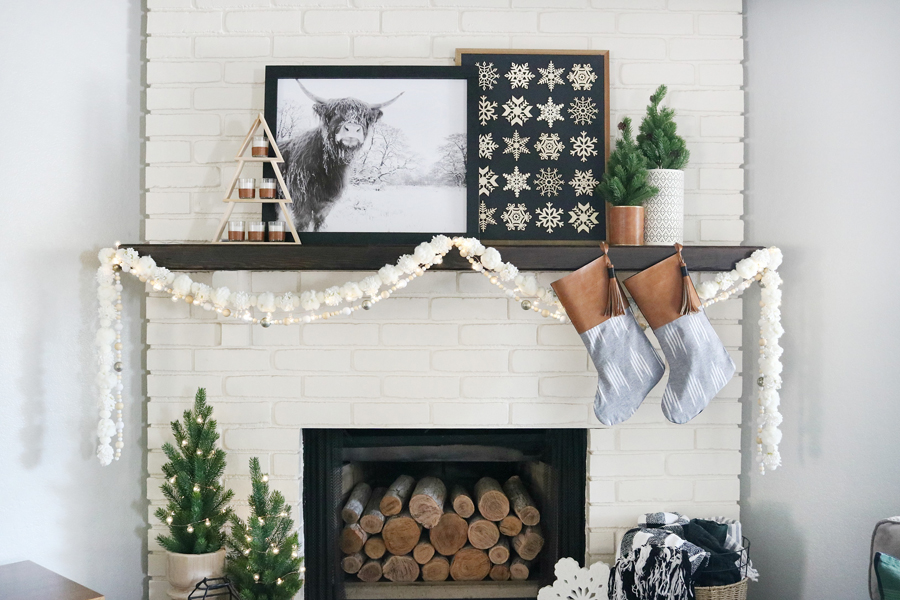 DISCLOSURE | This post is sponsored on behalf of JOANN, all ideas and opinions are my own.
When it comes to decorating my mantel I usually keep things on the simpler side. Mixing everyday home decor with holiday-inspired elements or pieces makes it easy to fit my personal design style. For years I was all about the typical Christmas decor, which I love…but lately I've really been feeling a more simplistic look with less of the fluff. Let me show you how easy it was to pull my Black & White Casual Boho Christmas Mantel Ideas together.

This year's mantel decor was inspired by the DIY Boho Inspired Leather Tassel Christmas Stockings I made a few weeks ago. I wanted black and white decor obviously and pops of camel colored leather accents. I added pops of color with the green from my faux Christmas trees.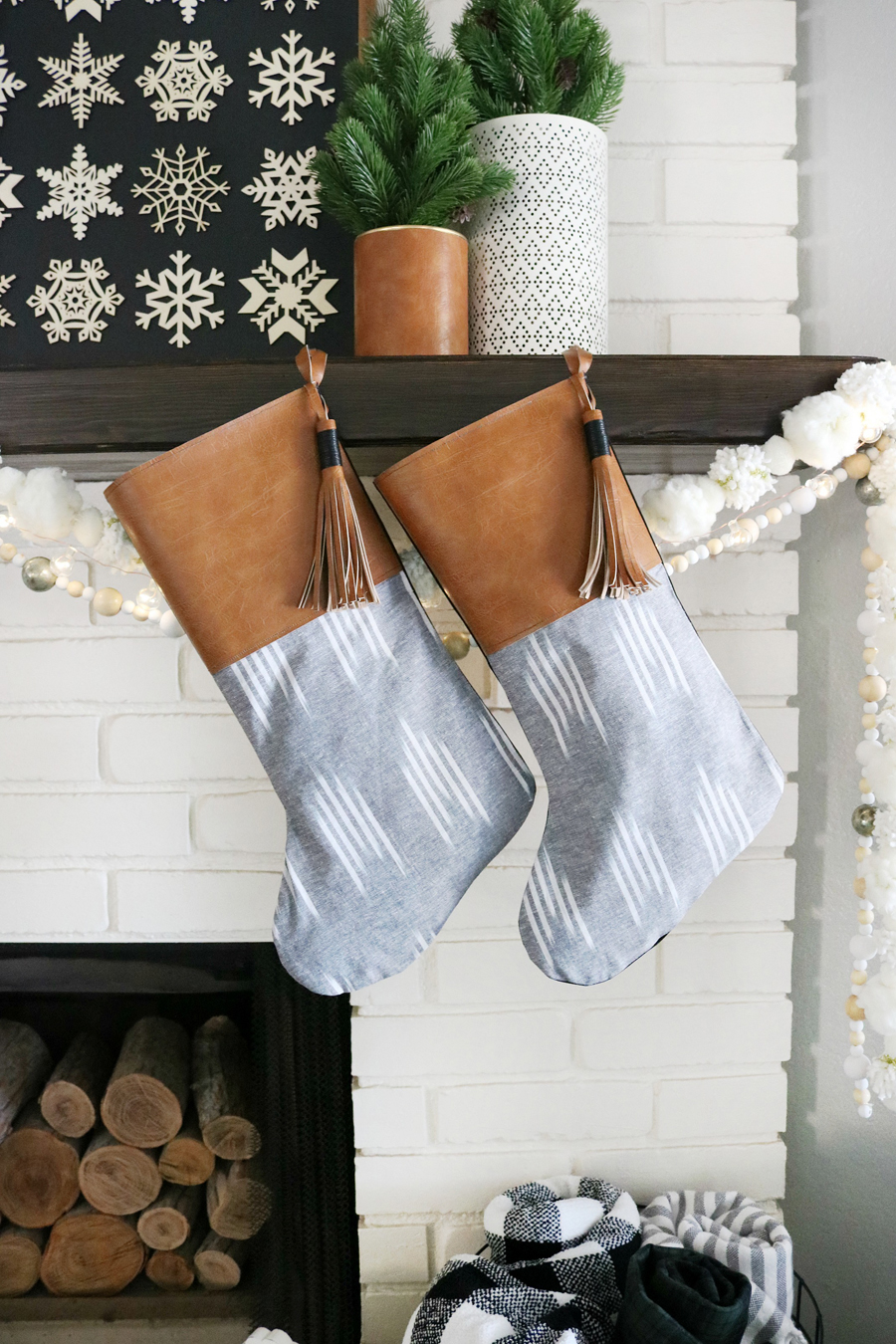 The first thing I had in mind was a larger piece of DIY art for on top of the mantel. I created this DIY Wood Snowflake Specimen Art. I used the same frame I used HERE for the DIY Fall Sign I made for my Simple and Modern Fall Mantel Decor. Here's what you'll need to make your own…
Supplies:
I found my wood snowflakes in the open unfinished holiday decor section at my local Joann Fabric and Craft Store, they had a lot of different snowflakes to choose from. If you can't find them they also sell some in small packages as well.
After I cut my black foam core board to fit inside the frame I arranged the wood snowflakes out and measured them before I hot glued them to my board. I wanted to be sure I didn't have two of the same snowflakes too close to another so I played around with the layout until I felt like it had enough variety. Then using my hot glue gun I carefully glued on each wood snowflake. I left my snowflakes raw but you can paint them white if you prefer.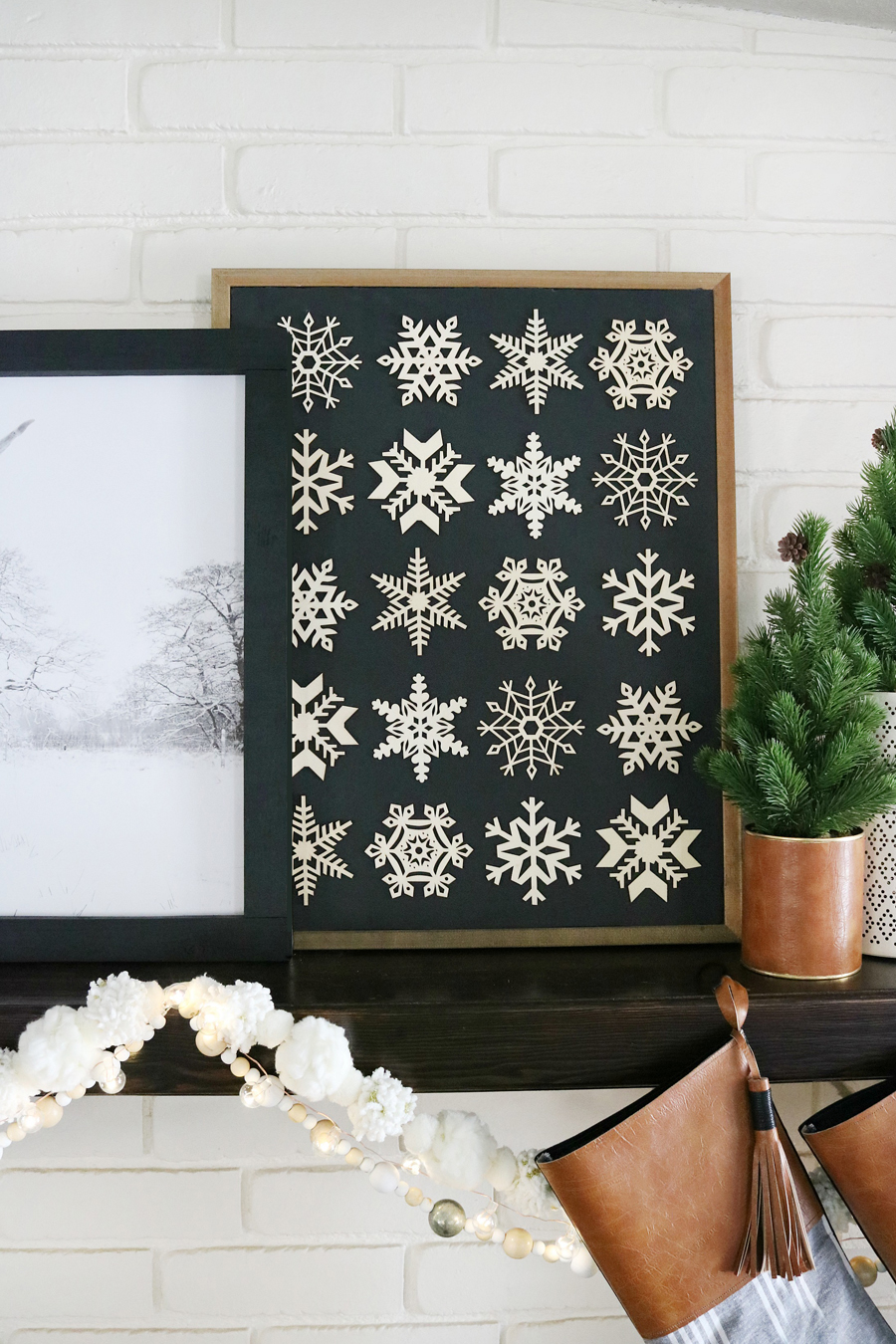 The large snowflake specimen art was just the beginning of my decor. I originally had planned a cute painted sign to go along with it, but I've done painted signs the past couple of years and I wanted to have more photography incorporated this year. I came across a super cute Winter Highland Cow Print and immediately fell in love with it. I had it printed at my local club store and then just framed it out on a piece of birch plywood and some 1×2″ wood trim that I spray painted black. I absolutely love how he looks on my mantel, he's so fluffy and cute.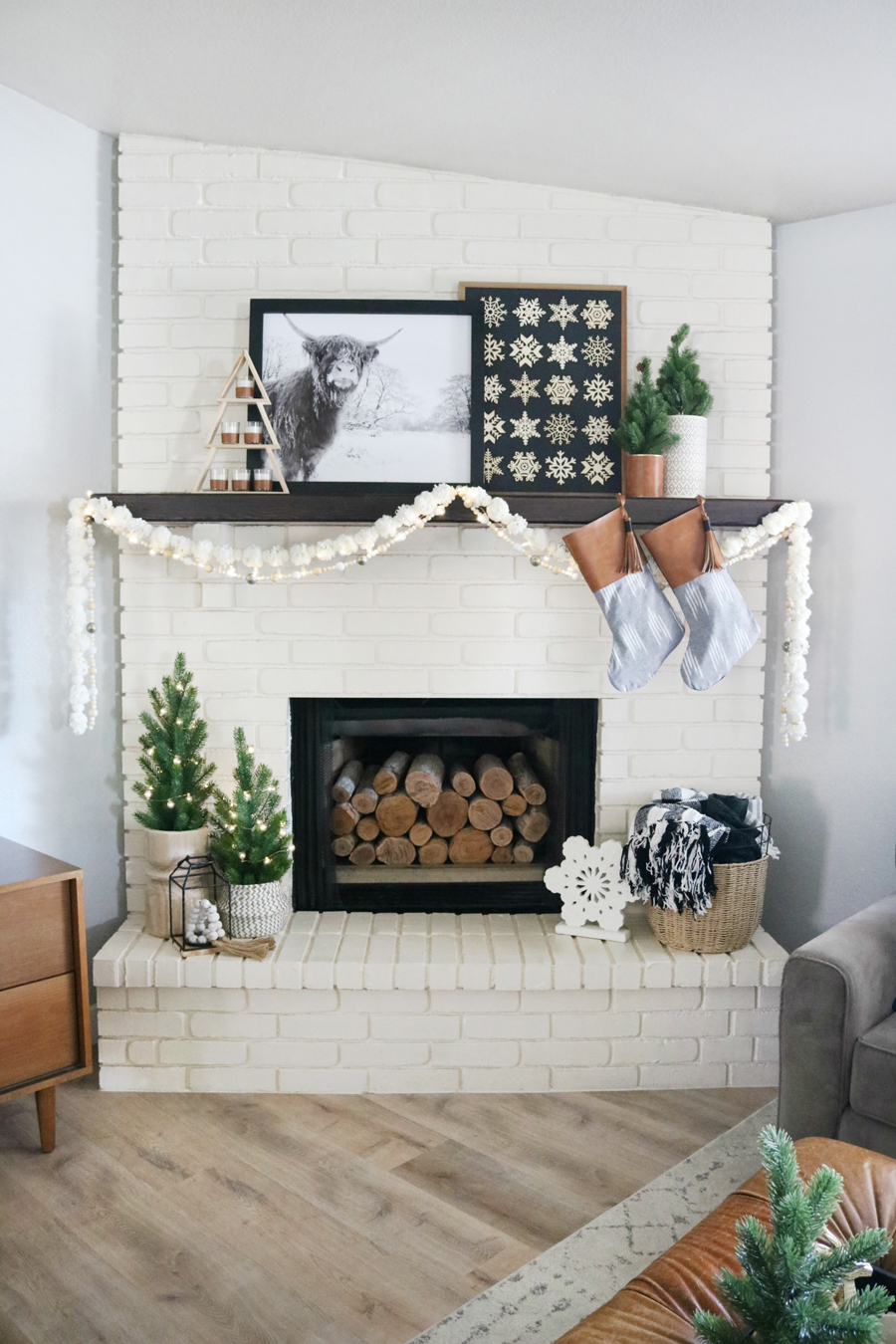 To help add some texture and visual interest I added a yarn pom-pom garland I already had, I mixed it with three of the beautiful Maker's Holiday Christmas Woodland Lodge Beaded Garlands that I strung together. The wood bead garlands have these fantastic large silver metal beads, I always love adding small pops of metallics to my decor.
I couldn't forget the twinkle, I added some mini globe string lights that are battery powered along with the garlands. The glow at night is perfect. You can find similar string lights HERE, HERE, and HERE. Any of those would be so cute strung with a couple garlands on your mantel.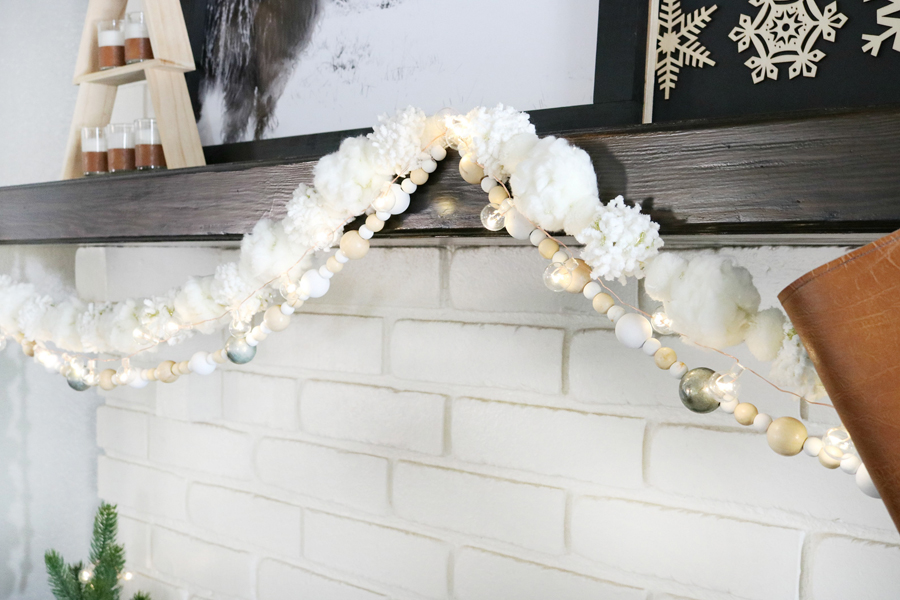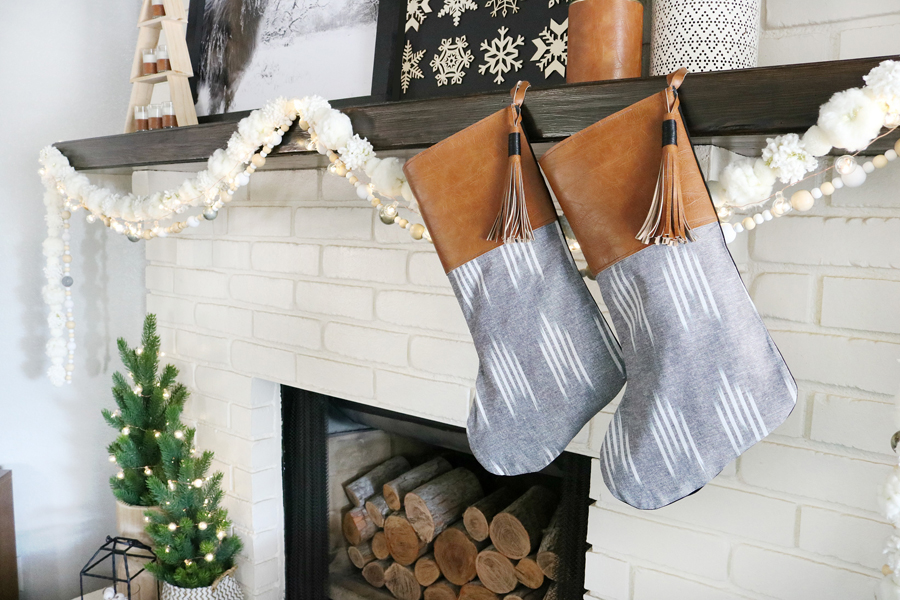 Let's get to the rest of the Black & White Casual Boho Christmas Mantel Decor…
I found these fun Maker's Holiday Craft Wood Decor Stacked Trees in the Maker's Holiday section at my local Joann store, they are great for displaying a variety of things. I decided to stack some votive candle holders that I added some faux leather trim also found at Joann stores to the bottom of each candle holder on my tree. I found these cute Hudson 43 Glass Votive Candles at Joann stores as well. You can fill your tree with ornaments, cute bottle brush trees, small collectibles, you name it!
NOTE: I am using real candles for the purpose of this post, I suggest finding ones that are faux candles for safety reasons if you want them lit.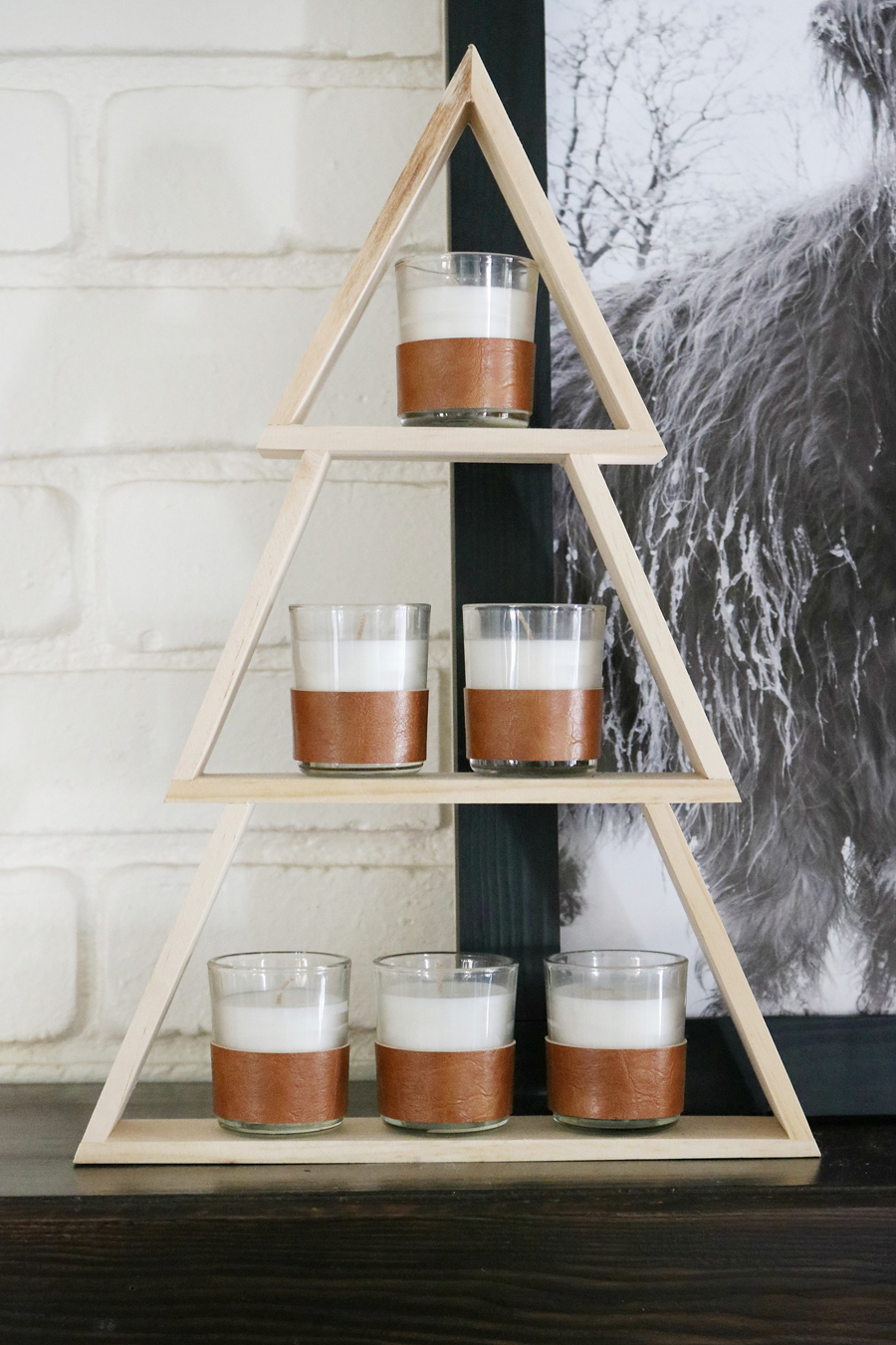 I added some of my existing faux trees to the fireplace hearth, I added one to a raw wood vase to bring some more of the raw wood element and the other tree I added to a boho-inspired basket I had. Again, to add some sparkle to the trees I added the same small globe string lights I used with the garlands. If you're looking for some cute faux trees these Maker's Holiday Christmas Farmhouse Trees in Tins in both a Large and Small sizes would be so cute.
The cute Maker's Holiday Christmas Metal Lantern looked perfect paired with my trees. I finished it with some of my wood casa beads spilling out of the lantern. You can add a candle or even a small snow scene with bottle brush trees inside your lantern.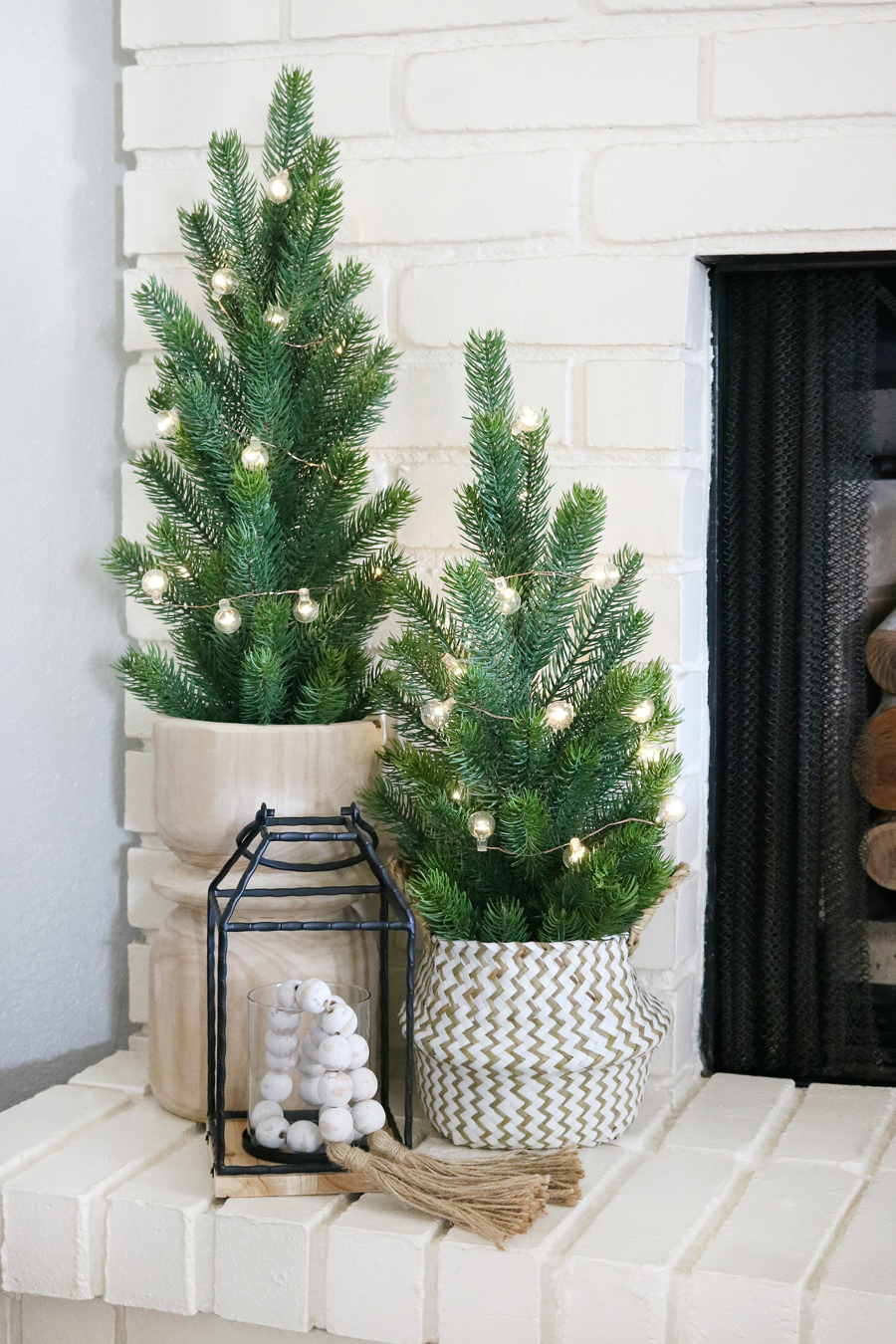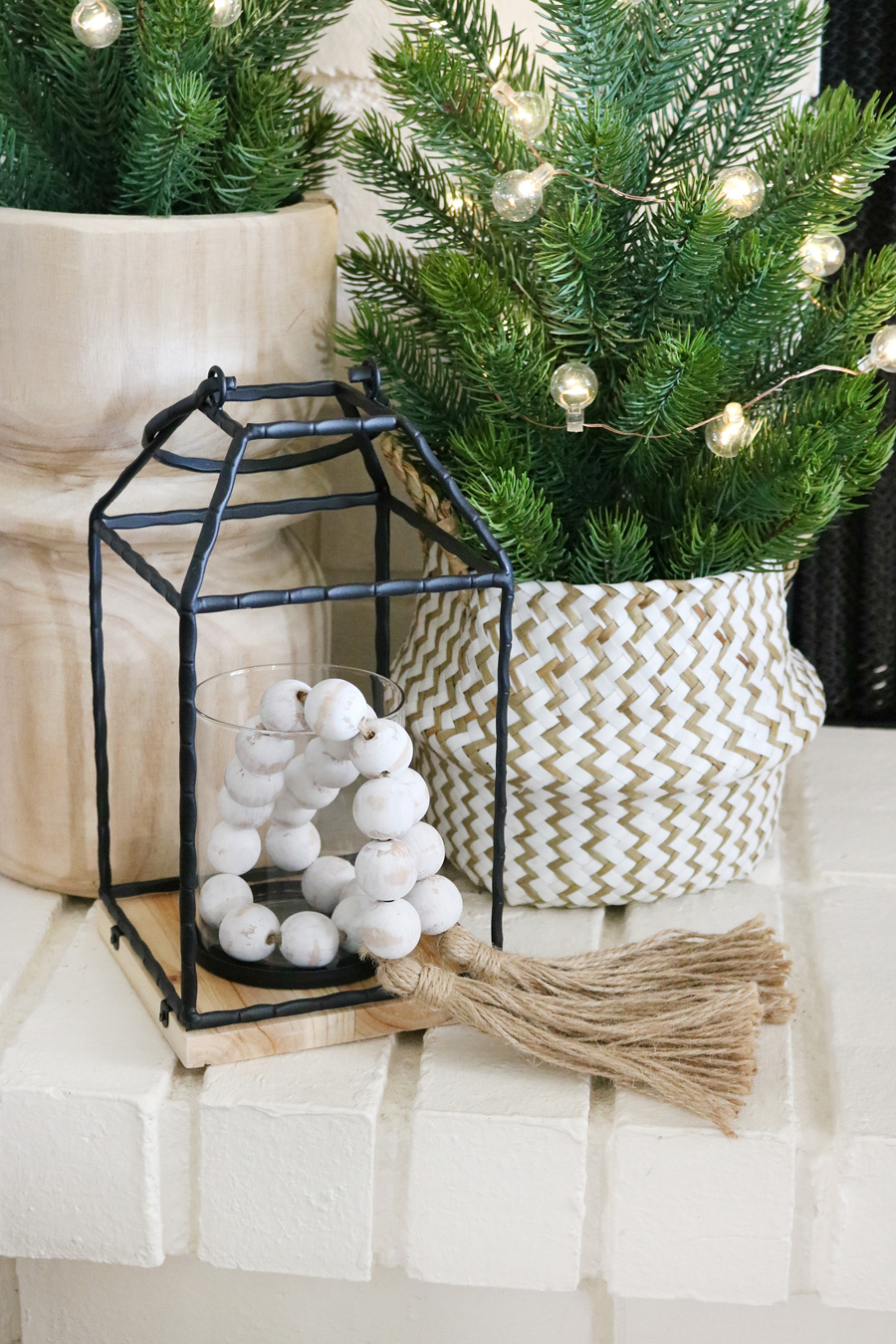 To keep cozy on chilly nights I snagged this cute Maker's Holiday Christmas Buffalo Check Blanket to the new Hudson Rustic Wicker and Metal Basket I found while shopping in the store. While I was shopping I also grabbed a yard and a half of some pretty green and black plaid flannel fabric this Quilter's Flannel Buffalo Check Fabric is similar, I simply just fringed the edges after washing it then add a quick straight stitch down all the sides to keep it from fraying further and it's the perfect super lightweight throw to add to your blanket basket.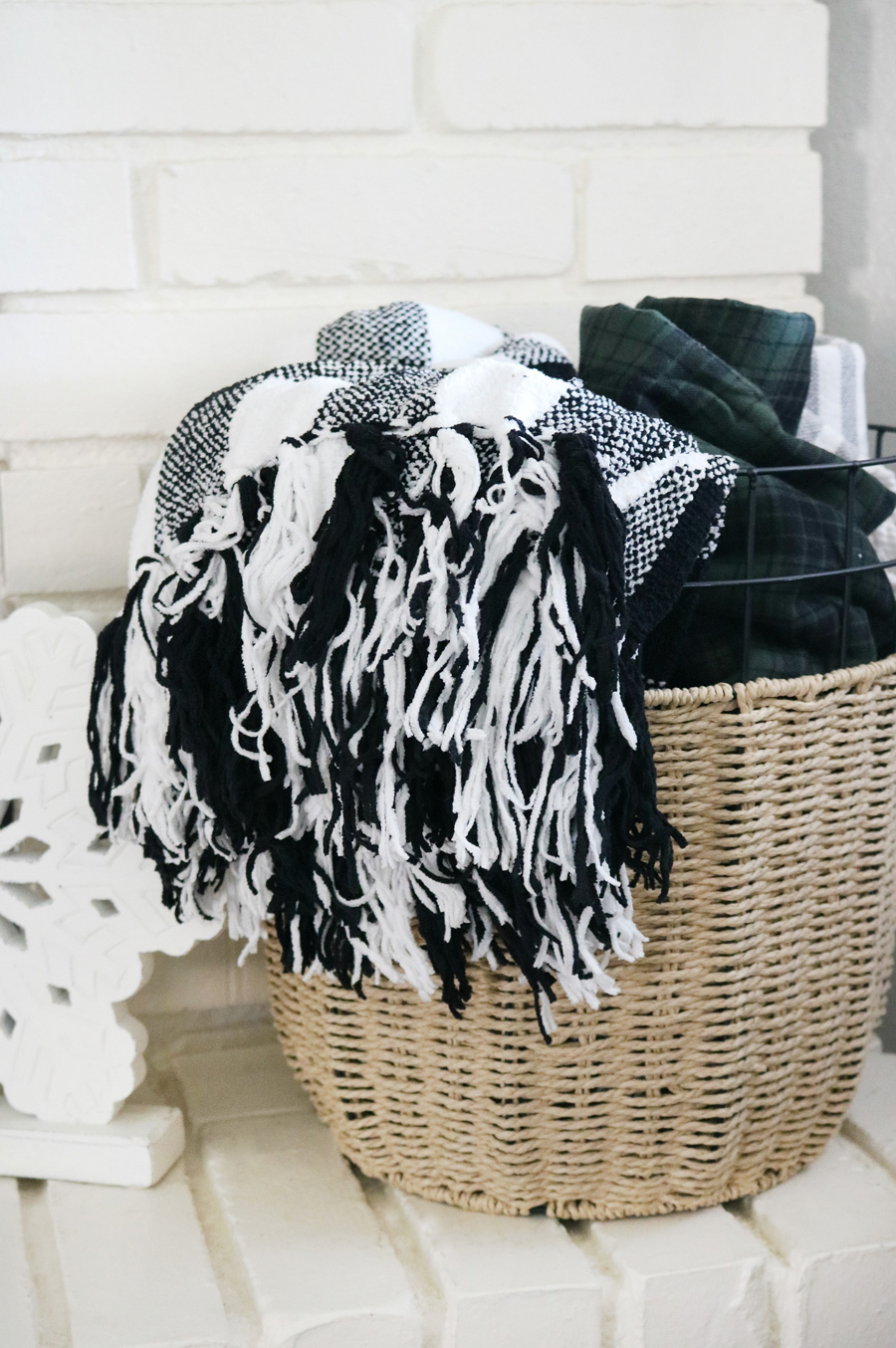 One last thing I found while shopping at my local Joann store was this super soft Maker's Holiday Christmas Sherpa Comfort & Joy Pillow. It was perfect for my family room decor, it's so pretty.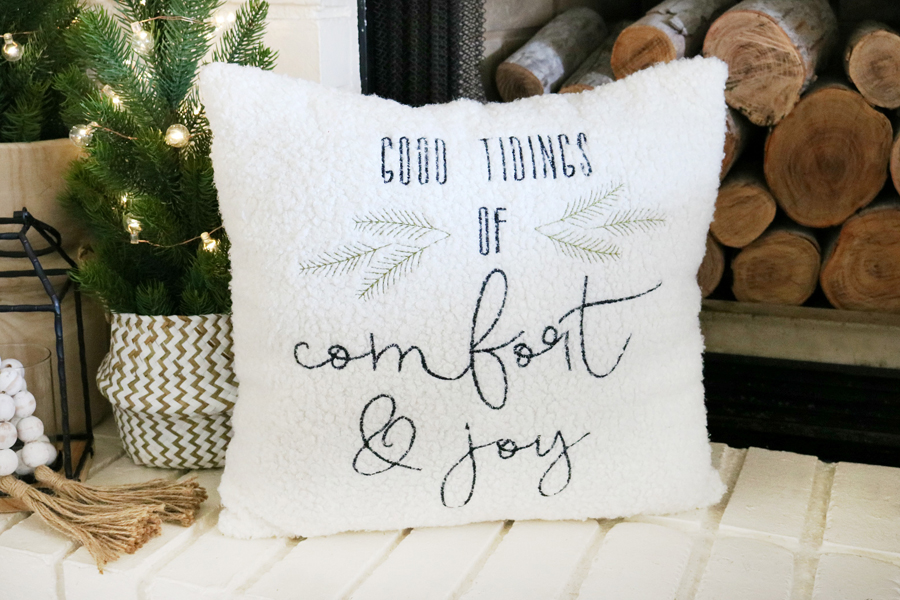 Are you looking for even more Christmas Decor Ideas like this Black & White Casual Boho Christmas Mantel Decor? Be sure to check out these great ideas…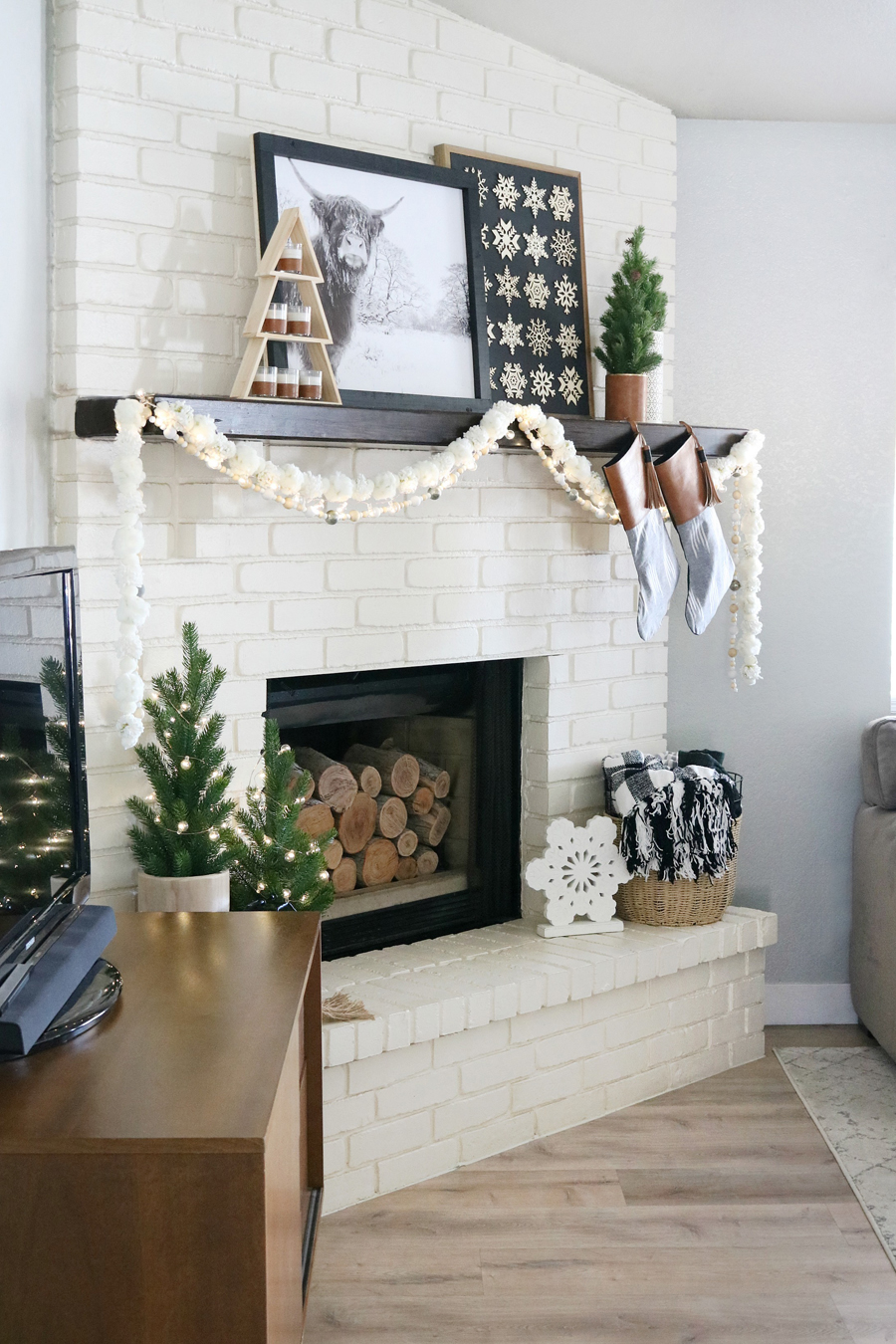 I absolutely love how this Black & White Boho Christmas Mantel turned out. It's the perfect mix of holiday decor and everyday pieces, it's so cozy and it makes me so happy. While it may not be everyone's style it suits me perfectly.