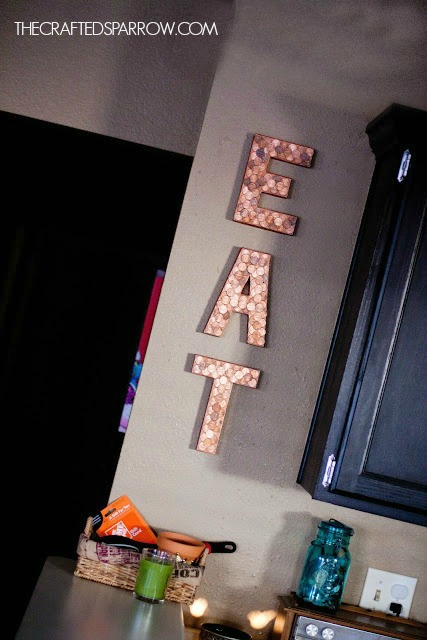 Previously on Pinterest I've seen a few projects people had posted using change like pennies and nickels to tile their floors, or the counter tops. It's a really cool look. I have a friend who was thinking of doing it, but has since decided to go the concrete route. She still wanted the pennies & copper look in her kitchen so as a housewarming present for her I created this Loose Change Eat Sign.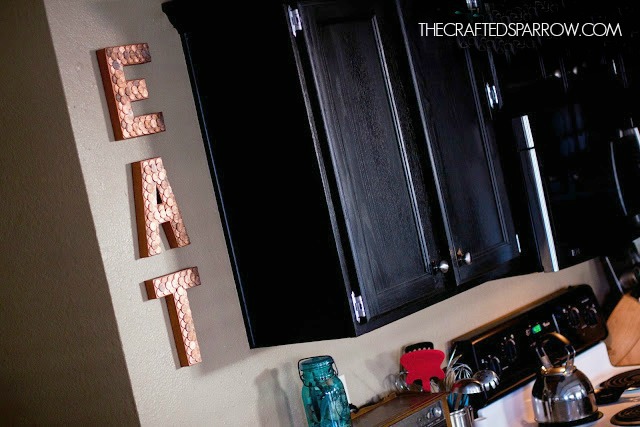 Supplies:
– Paper mache letters
– Pennies
– Weldbond glue or E6000
– Copper acrylic paint
– Foam brush
– Clear spray sealer, found by the spray paint
Start by painting your paper mache letters copper. I did two layers and that was enough to cover the paper mache. After I painted it copper I used a gunmetal silver color with a dry brush technique to give it a bit of a patina.
Then get your glue ready. I think this glue worked pretty well. We'll see how it holds up over time. You'll also want to start picking out your "good" pennies. I picked mostly shiny, but threw a few duller ones into the mix. That creates character.
I then layed out the pennies on each letter ahead of time. That way I new exactly what pattern, and placement they were going to be in. I put most face up, but did some face down too. Then you just glue until your hearts content. When you've got them all glued on and they are all dry (let it sit for at least 24 hrs) you can spray them with a clear satin or glossy spray paint. I did it to protect the pennies and the copper paint on the paper mache.