For our last trip to Disneyland, I wanted to find some Mickey shirts that were fun. I love vintage inspired Disney shirts but I wasn't having a lot of luck at the time finding something. I decided to make my own shirt for our boys to wear while at the parks. This
Freezer Paper Stenciled Mickey Shirt
is easy to make and it was a huge hit with the cast members at the parks.
I have used the freezer paper stencil method for several shirts and they always turn out great. You can some examples
HERE
,
HERE
,
HERE
, and
HERE
. I had seen this "Mouse Stache" design somewhere previously and liked it, and mustaches were super popular when I made this shirt.
I simply found a pattern I liked online for the Mickey Mouse face and printed it out, copied it onto my freezer paper with a pencil or thin black Sharpie. Cut the design out with an Xacto knife or a cutting machine.
When you've got all the pieces cut iron all the pieces onto the shirt. Remove which pieces are going to be black then paint those sections. The white and red parts I did by hand with a small detail paint brush. The letters were more time consuming to outline but not too bad. The outlining step is totally optional.
Let it all dry for 24 hours, wash and wear! For under $6 each I was able to create t-shirts no one else would have at the parks.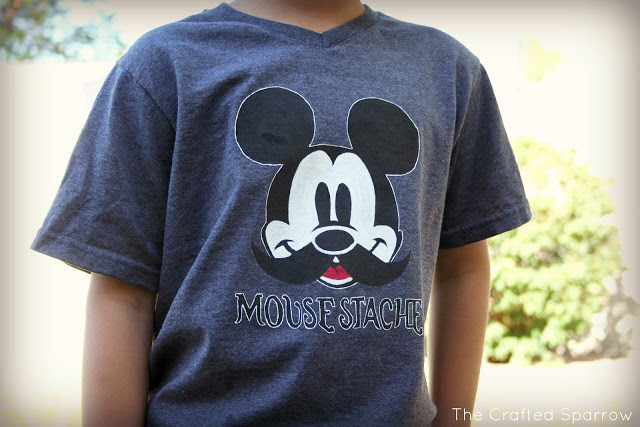 Planning a trip to Disney sometime soon? Be sure to plan your trip with the help of
Get Away Today
, it's our favorite way to plan our family trips. Book now and use the code
SPARROW
at checkout to save $10 on your package!
Be sure to check out these other great Disney ideas!

Washi Tape Disneyland Autograph Books

DISCLOSURE | This post and ideas are 100% my own. This post may contain affiliate links, but it is not sponsored by Get Away Today
.