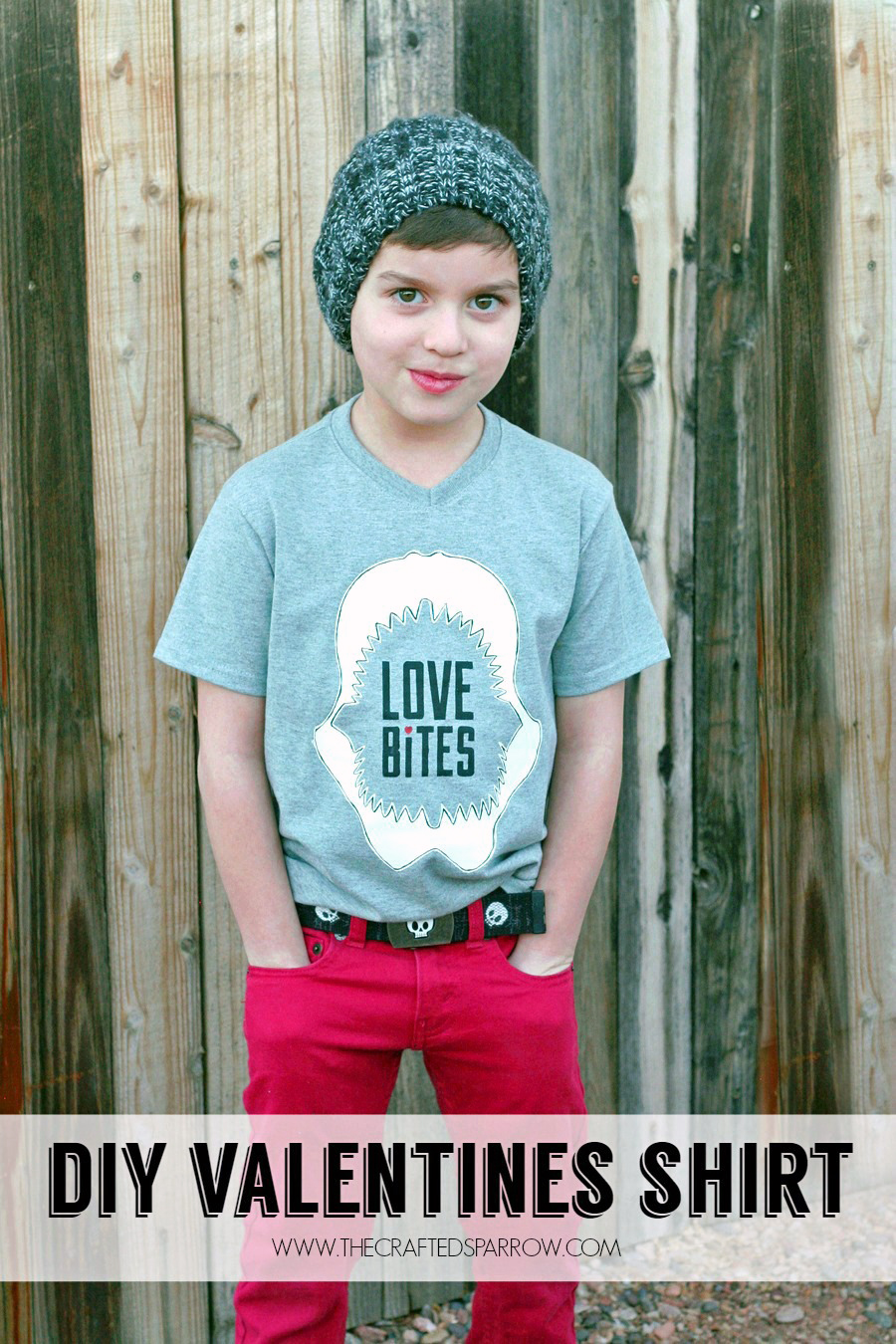 I love making custom tee's for my boys, usually for holidays or if I need something specific and can't find one I like in stores. My favorite method for making custom t-shirts is with freezer paper stencils. If you haven't tried them yet be sure to add it to your crafting to-do list. This DIY Boys Valentine's Shirt is pretty easy to make, so let's get started.
Supplies:
T-shirt, Walmart – Target – and American Apparel all have great prices
Fabric paint, DecoArt SoSoft brand is my fave
Freezer paper
Cutting machine or Xacto knife
Cutting mat if using the cutting machine
Round foam pouncer paint brush, medium and small
Small detail paint brush, optional
Note: If you don't have fabric paint you can use acrylic paint with fabric medium mixed with a 2:1 ratio per package instructions.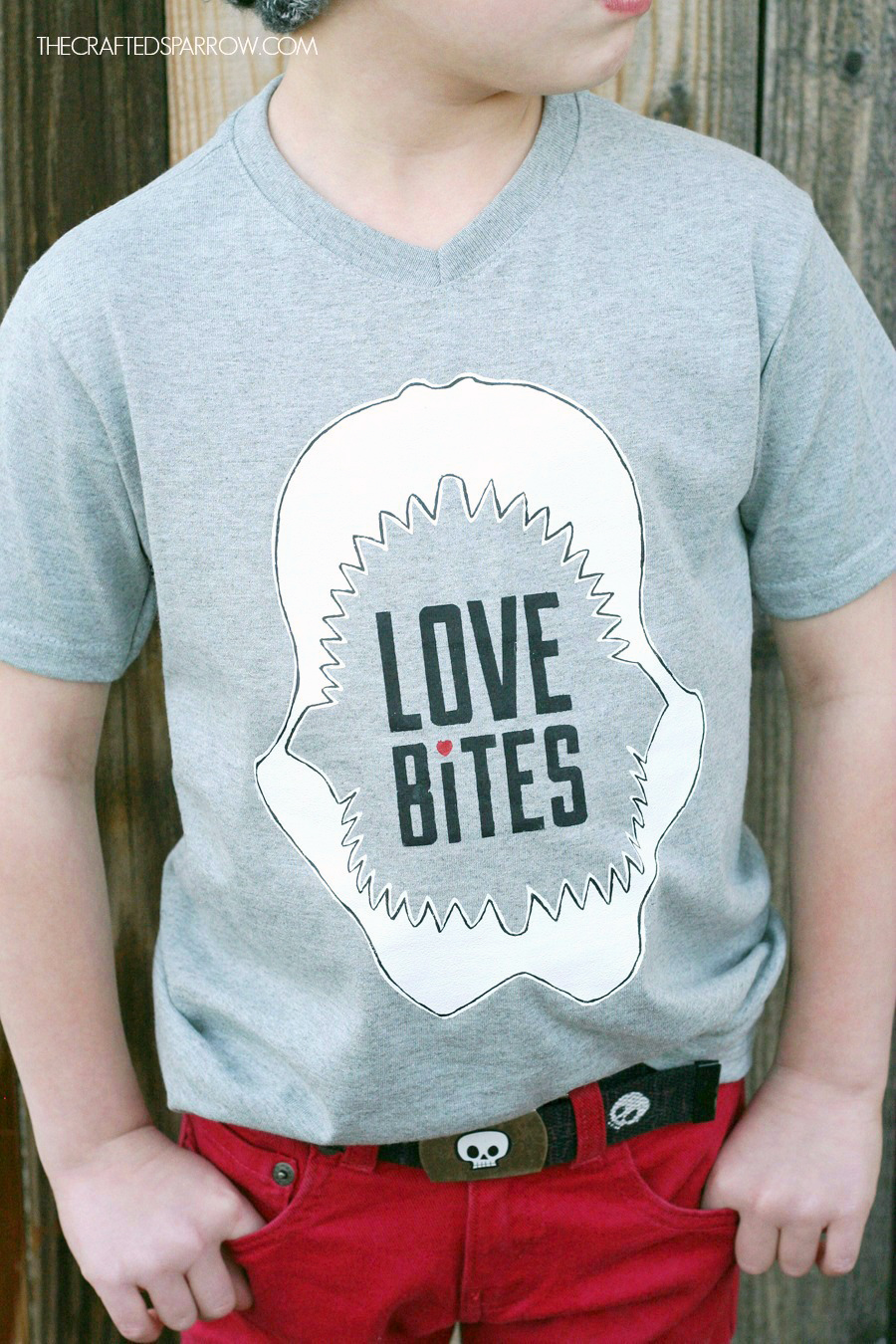 When creating t-shirts I try to come up with clever or cute designs that I haven't seen in stores. I then use a program like photoshop, or picmonkey to create my images.
I own a Cricut Explore cutting machine, and love it. It allows me to take my own custom images and upload them into their Design Space software and create a cuttable image easily. After creating my cuttable file and sizing it to fit my t-shirt I just hit GO on the machine. When using freezer paper to cut a stencil with a machine be sure you place it shiny side down on your mat.
Once the image is cut you can weed out the pieces and set them aside for a second because you'll need them again.
Note: If for some reason you don't have a cutting machine you can cut the image by hand. Simply print our your design on a piece of paper, lay the freezer paper over the image and using a fine tip marker or pencil trace your image. Then cut carefully on a cutting mat with your Xacto knife.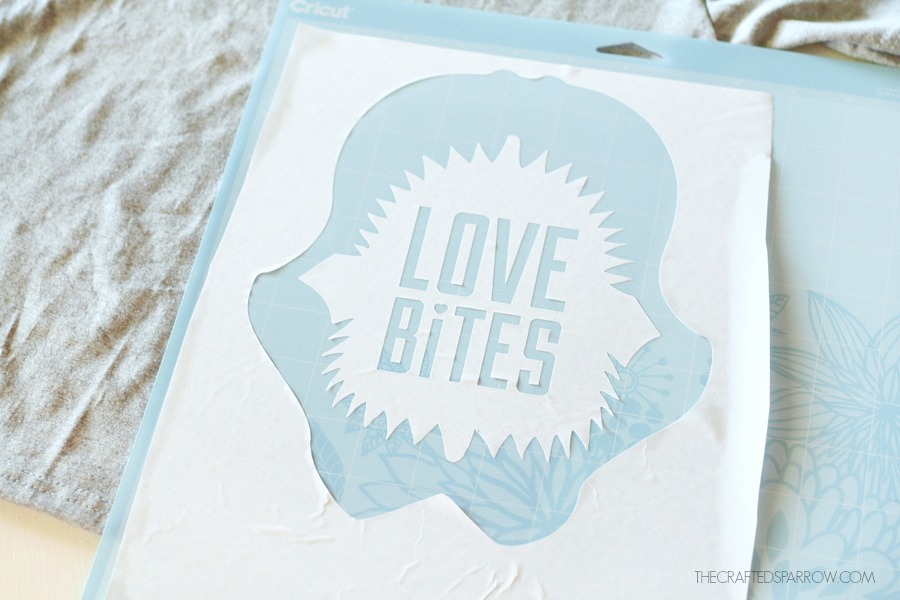 Pre-heat your iron to a no steam setting.
Using a ruler be sure your design is centered shiny side down on your t-shirt, you can use a small piece of masking tape to hold the freezer paper in place on the shirt until your ready to iron. Just be sure to remove the tape before you actually iron anything.
Once you have the large outline piece centered hold in place and carefully press it with the iron. Do not move iron around in circular motions, it's best to lift and move it. Iron for a few seconds until it's mostly adhered.
This is where your negative pieces that you weeded will come back, you can use them to fill in the whole design to be sure everything is aligned. Ironing each piece back in place for a few seconds until the image is whole again.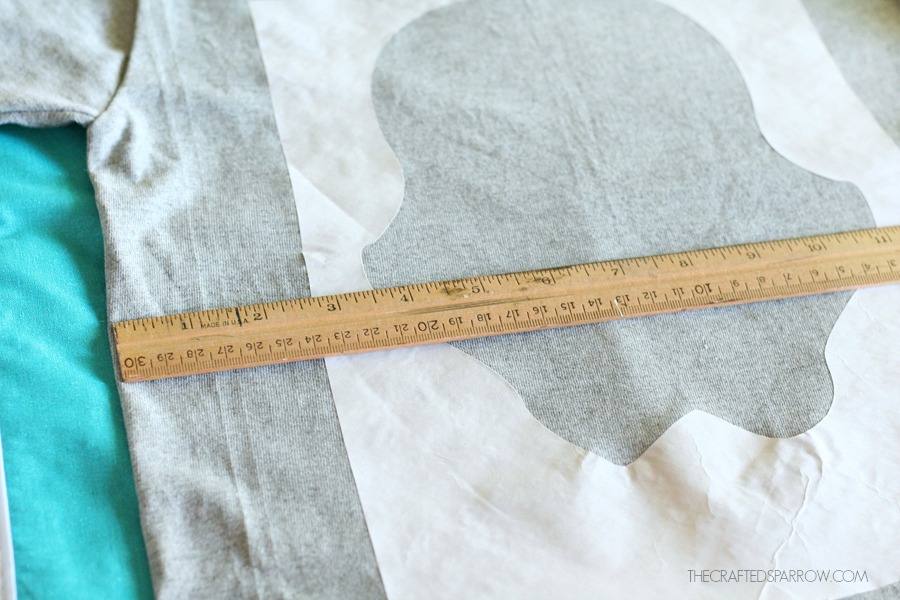 Now, once again weed out the pieces you don't need and you're left with the design centered and exactly where it's supposed to be. Be sure to put back any small letter details too.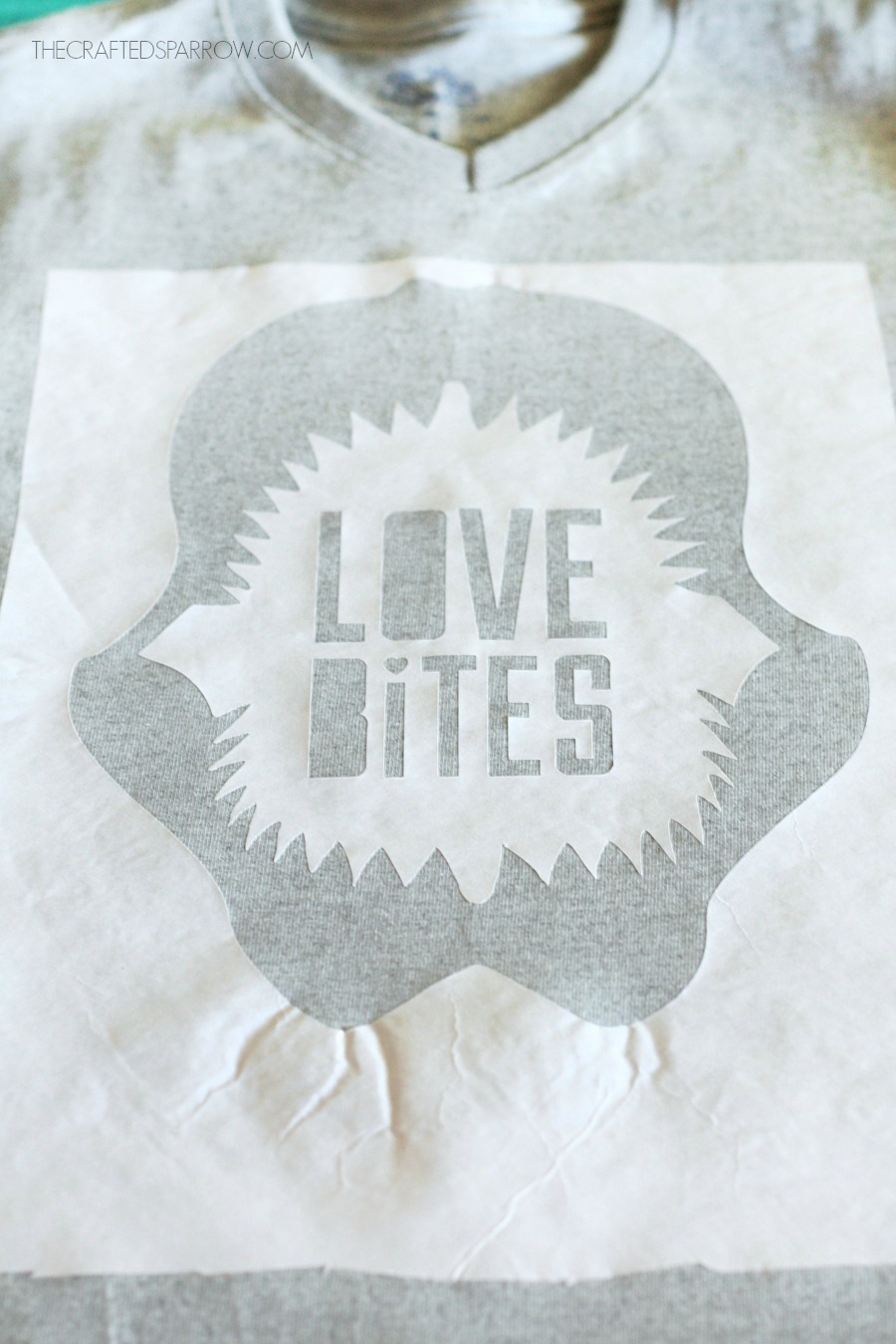 Pressing firmly in 20 second intervals go over the entire design until you feel the edges are sealed down to the t-shirt. Let it cool for about 5 minutes before painting.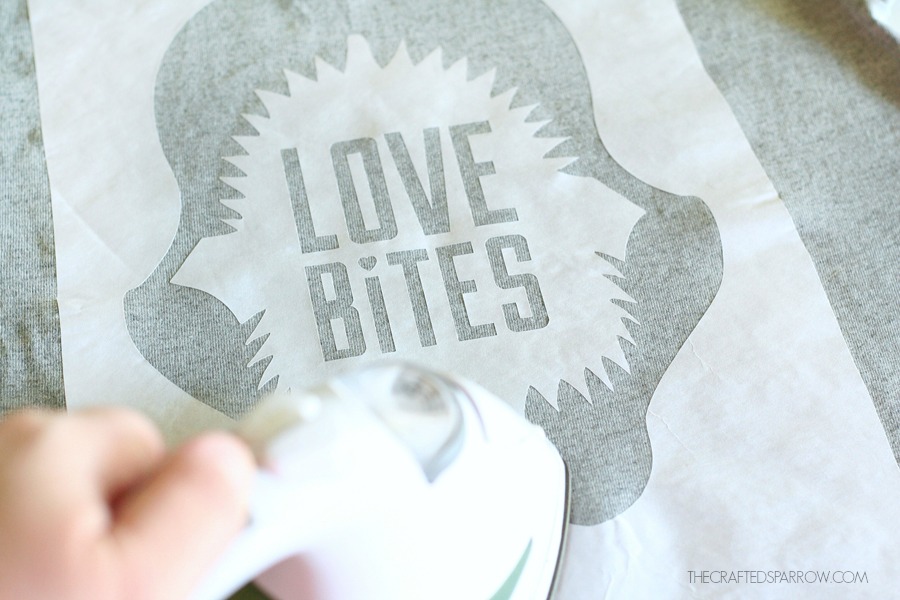 Use small round foam pouncer brushes to gently tap / pounce paint on to your t-shirt design. Do not press too hard or you will cause excess paint to seep under the stencil possibly.
For the white on the jaws I needed 3 coats of paint, the black lettering only needed about 2 coats. I used red on the small heart and just used a small paintbrush to apply it.
Let your design dry 5-10 minutes between each coat, and let it dry for 24 hours before washing or wearing.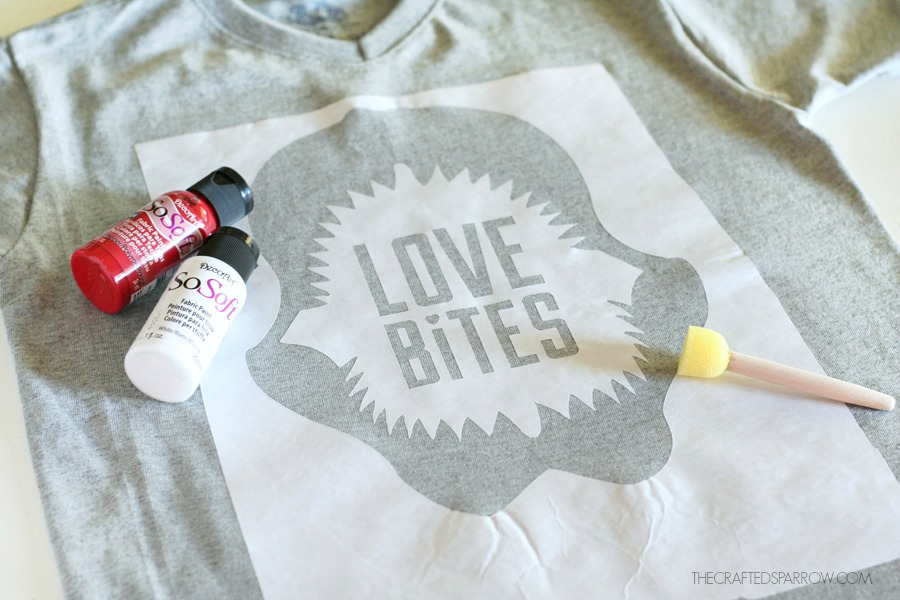 Once everything is dry you can peel up your freezer paper stencil.
At this point you can leave the design alone and be done. Or you can be like me and grab a small detail brush and some more of the black fabric paint and add a finishing detail to the edges of the shark jaw.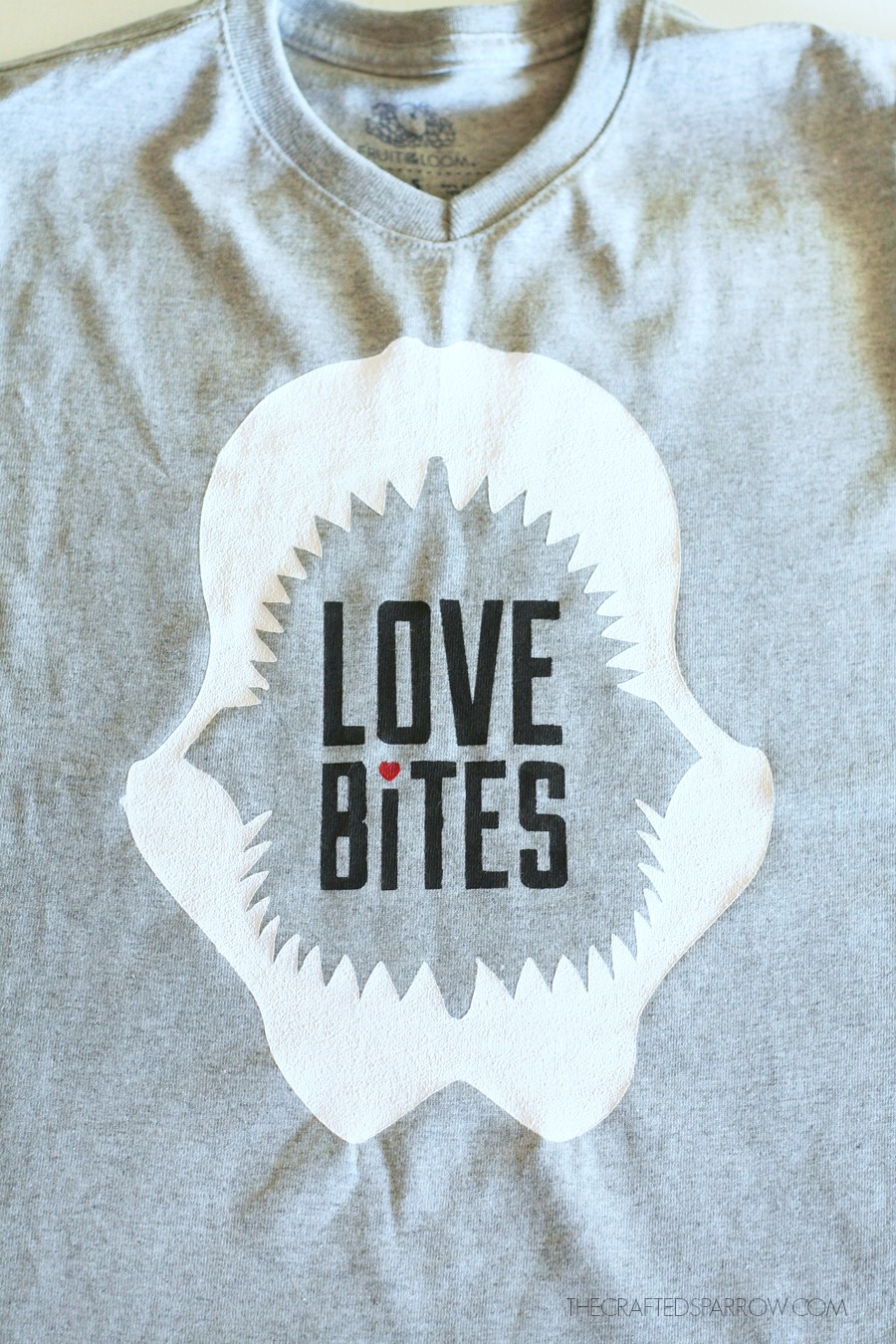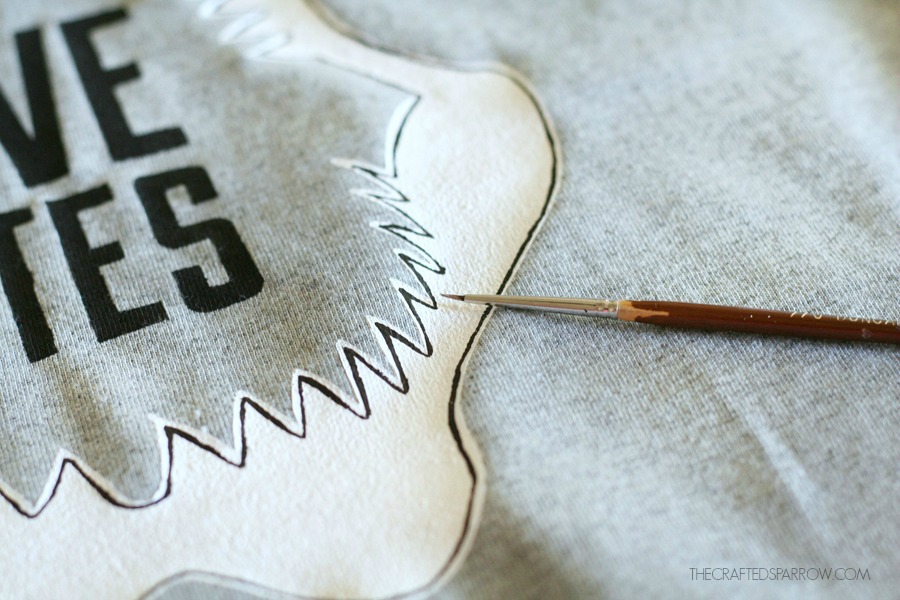 There you have it…a custom and fun DIY Boys Valentine's Shirt! These shirts can be washed in cold water, turned inside out and dried on normal heat in the dryer. Over time they will get a worn look to them which makes them even better.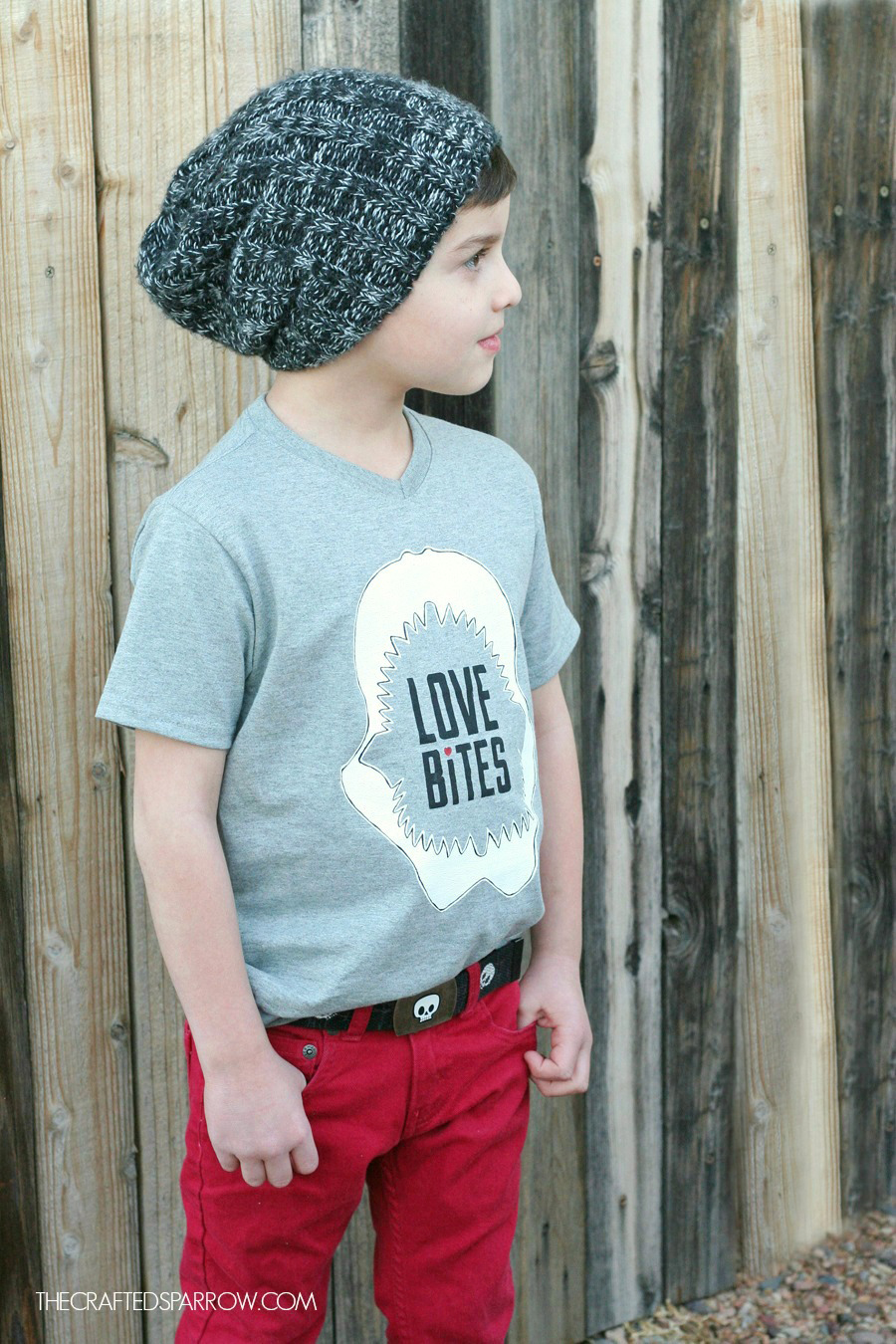 I just adore this kiddo! You see this look below? That's the look I get all the time…not because he wants something, but that's how he tells me he loves me from across the room or at school. It melts me every single time.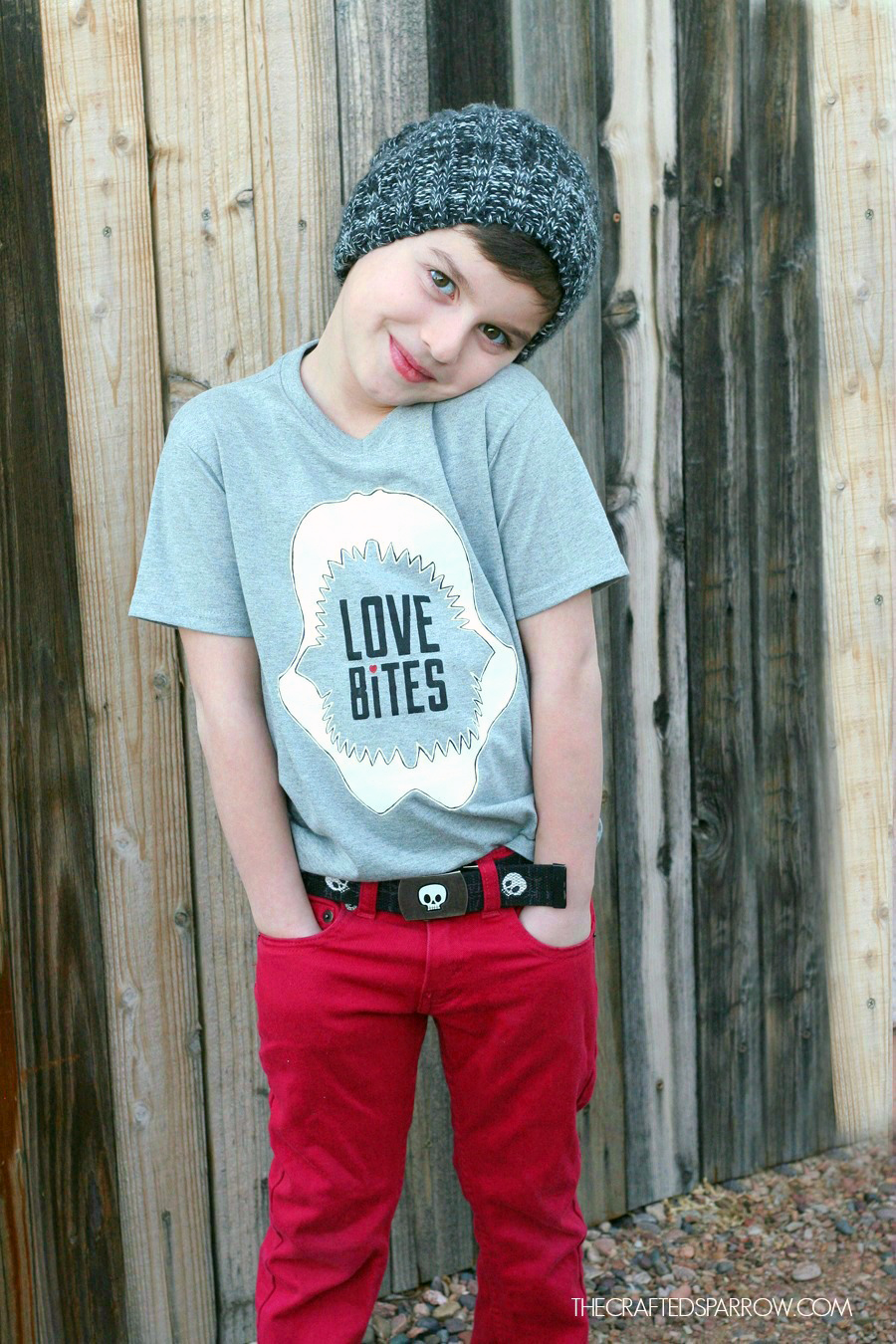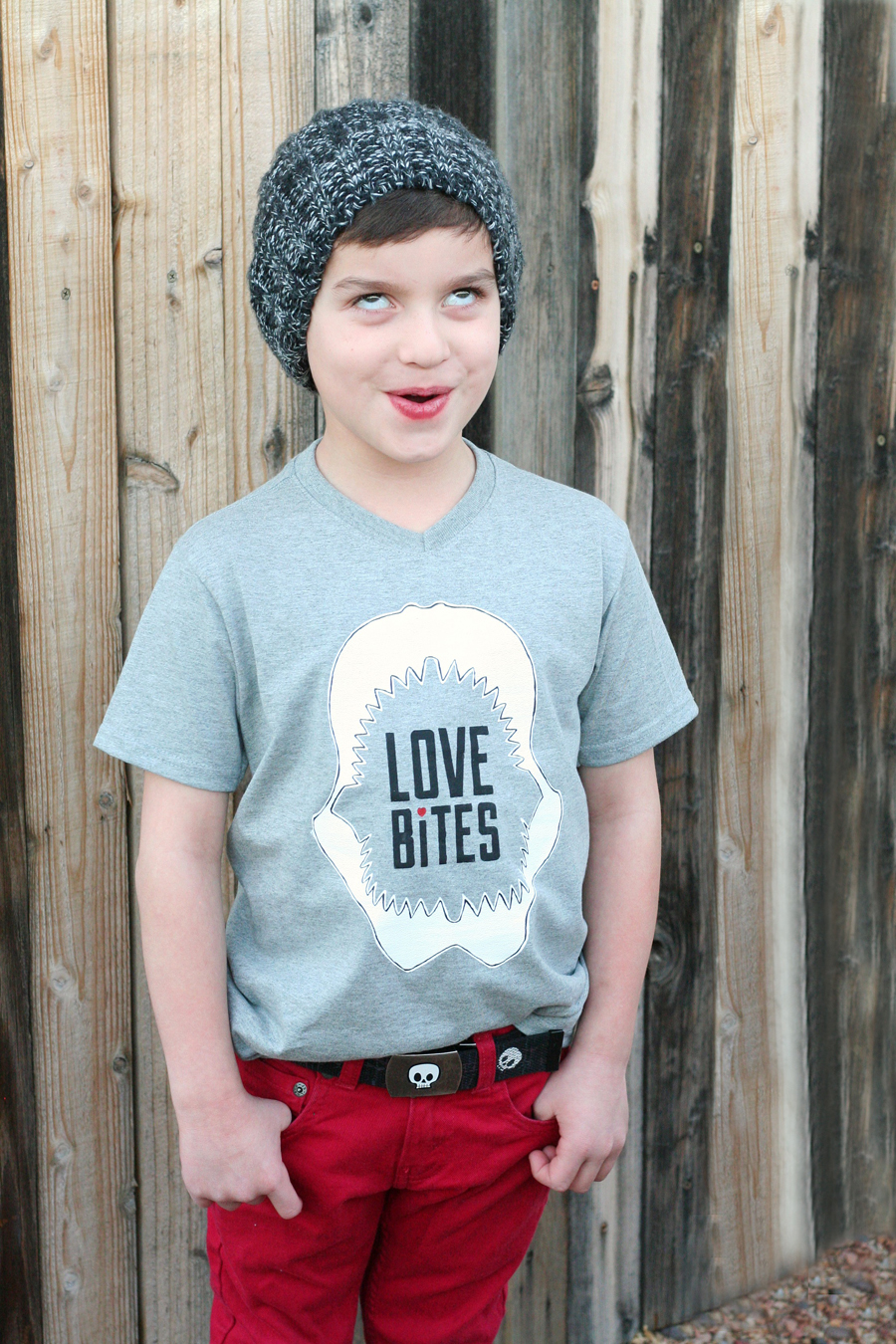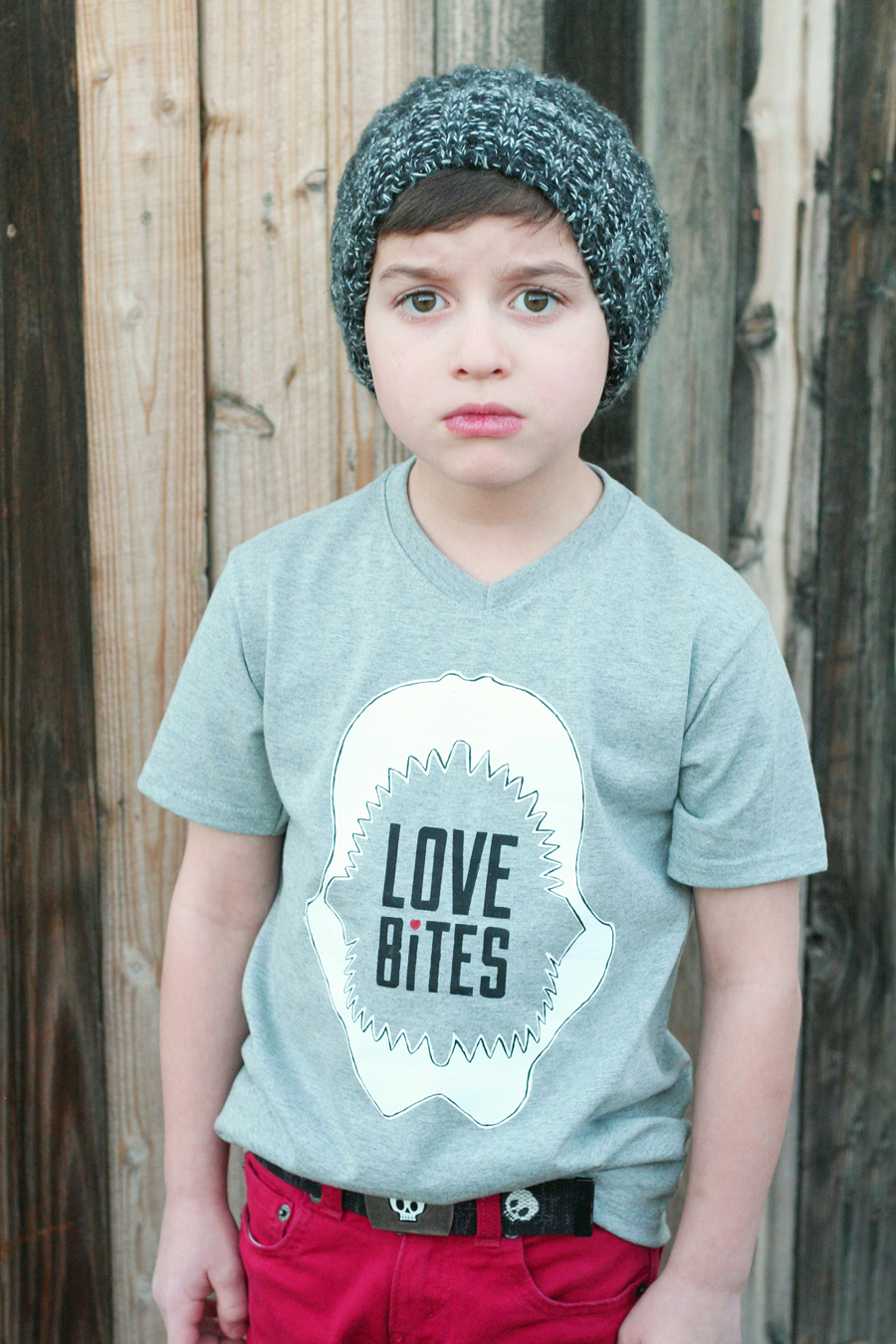 Want to check out some of my other custom t-shirt designs?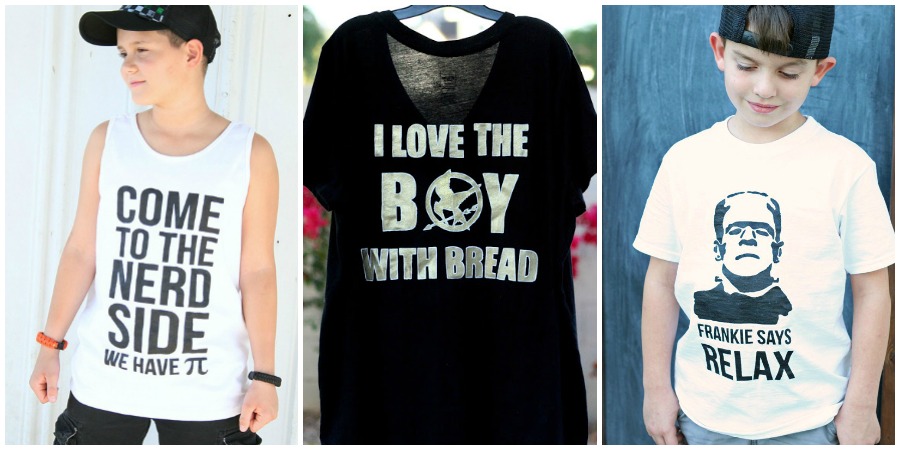 DIY Geek Inspired Shirt | DIY Hunger Games Shirt | DIY Halloween Shirt
Looking for an fun wreath idea? Check out my Easy Felt Feather Valentine's Wreath.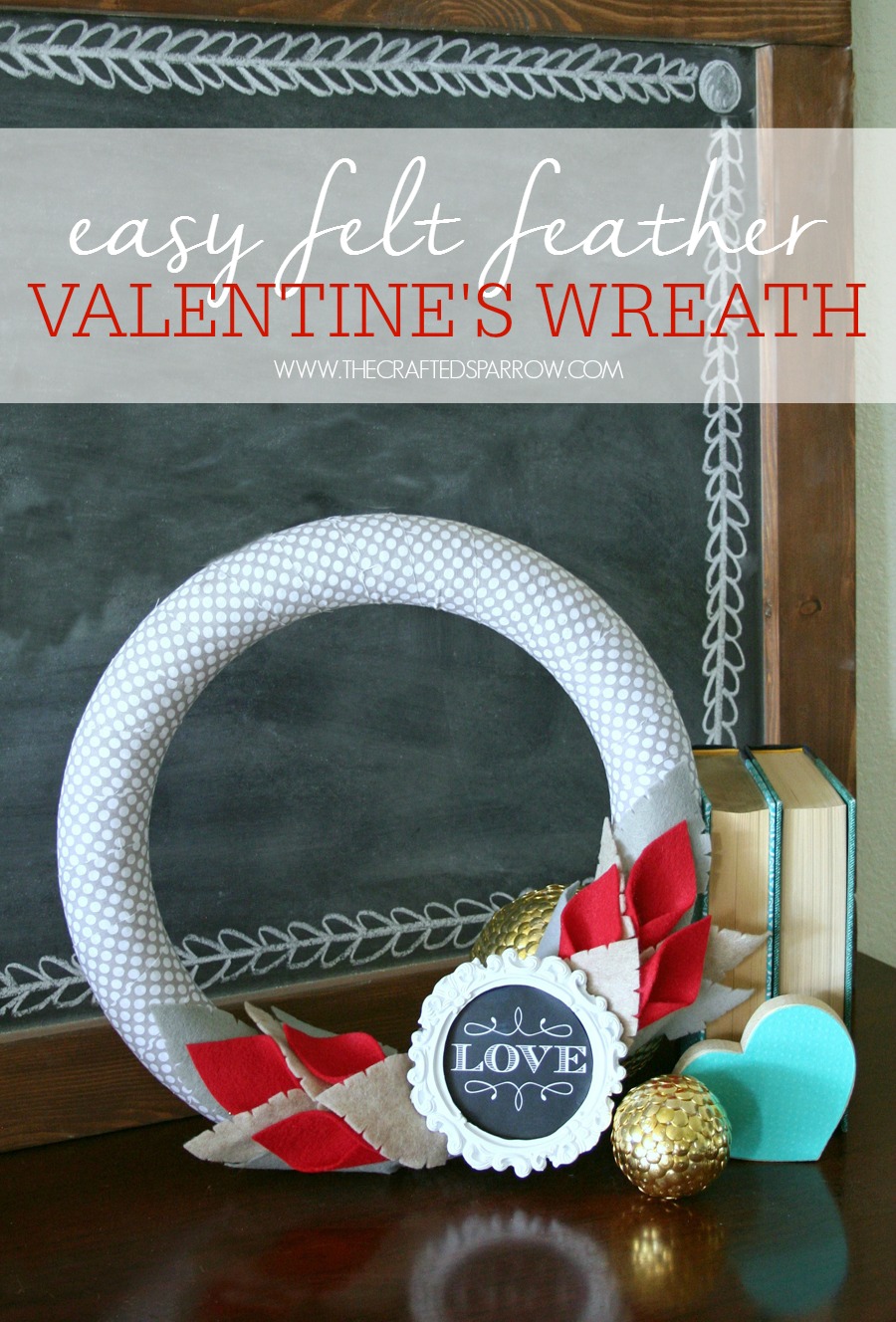 Easy Felt Feather Valentine's Wreath