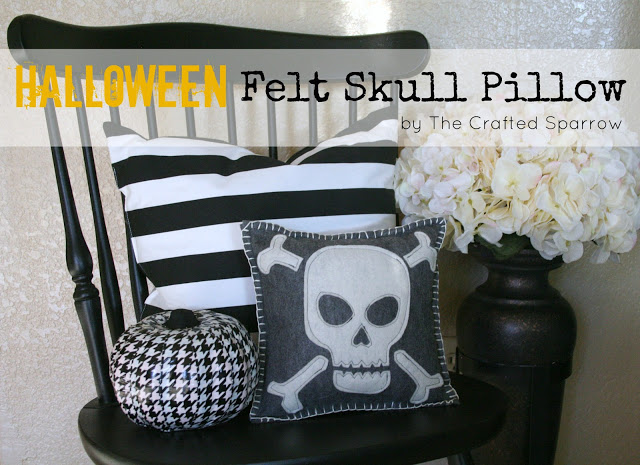 Two days ago I was strolling through Target, which is a bi-weekly occurrence…I know I may have a problem! While on my journey through the store I noticed they were starting to unpack the Halloween merchandise, woo hoo! Besides the endless rows of candy which I do not need, was one sad half stocked isle full of decor items. I spotted this super cute mini felt pillow…
Then I looked at the price tag! What!?! $10 for felt? No thank you, especially when I can do it myself. So I quickly snapped a photo and went on my way. Headed over to Michaels for some felt, and embroidery floss. Went home and got busy.
First I drew my own skull pattern based off the Target pillow version and cut it out of card stock to use as my template for the felt.

I chose to use a charcoal gray felt since my couch pillows will be gray & cream chevron soon. I used a cream felt for the skull, and cream embroidery floss for the edges.

I cut the gray felt in to a square approx. 9.5″ x 9″. I pinned my skull and crossbones that I had cut out of the cream felt to my gray piece.

Then I sewed it all around the edges with a contrasting thread color (gray). Once the skull was sewn on I placed the two pieces of felt together and sewed them together with about a 1/2″ seem allowance. I left enough room to stuff it with some left over batting that I had in the garage.

Once it was stuffed to my liking I sewed the rest of it closed and then got to work on the edges. I didn't know how to do a blanket stitch so what did I do? Looked it up on Pinterest of course! This tutorial found HERE was super easy to follow and I had it down in just a minute. I did the blanket stitch around all the edges, and I was done.

I know my corners are probably not right, but I kind of liked it. I am even sharing my skull template with you, you can find it HERE and print it out, it's not the greatest of qualities but it does the trick.
I love how cute these pillows turned out, they are small and petite and perfect for simple Halloween decorations. When I posted the mine vs. Target pic on Instagram yesterday I got a great response saying that they actually preferred mine over Targets version. Woo Hoo! I love being inspired by something I see in a store, and going home and recreating it at a much more budget friendly price!
My total cost for this pillow: $1 for felt + $0.39 for embroidery floss, I spent a whopping $1.39 instead of $20!
Tip: Buy inexpensive bed pillows from Walmart and use the batting from inside of them.