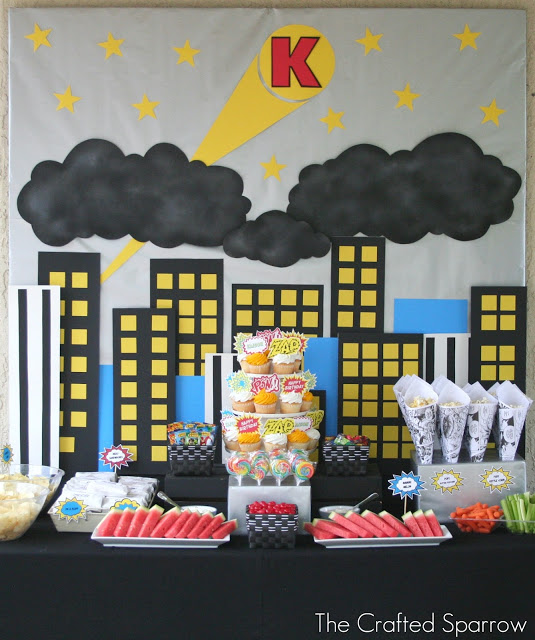 Over the weekend we celebrated our youngest sons 4th birthday with a vintage inspired Superhero Birthday Party. This is the first year in a while I was actually done with making decorations a day early. It was so nice not being a crazy party mom this go round. I loved how it all turned out and he had such a great time at his party!
I created this backdrop for the food table to look like a cityscape at night. I used 6 pieces of foam core board from the Dollar Tree, taped them together using clear packing tape to create a huge solid board. I then covered it with silver wrapping paper.
I created the skyline out of poster board from the Dollar Tree as well. I used my square punch for all the windows. Some of the buildings I used extra foam core pieces to create a bit of dimension, I just hot glued a few squares stacked on top of each other then glued it to the buildings.
I created the clouds to help hide the line from where the wrapping paper overlapped. And then cut some stars and a giant "Super K" search light. This cost me all of $12 to make.
We chose to do sandwiches for this party, usually we've done hot dogs or pizza…but I thought I'd try to do something easy, inexpensive and different than what we'd done before. We had ham n' cheese for the adults, and peanut butter and marshmallow fluff for the kiddo's. I just printed out some quick labels and stuck them to all the sandwiches which I had pre-wrapped with wax paper.
I made these popcorn cones by just printing out black and white comic book pages on regular paper. I used a box I had on hand and covered it in the same wrapping paper from the backdrop and just made holes large enough for the cones to fit in. I loved the popcorn cones. So cute.
Cupcakes are a must have on the birthday boys list. This kid is a cupcake freak! He'd eat them morning – noon – and night if he could. I printed out these cupcake toppers and cut them out.
These suckers are one of my favorites because they are so pretty to look at, all those bright colors. I was able to snag a bag of 30 suckers for $3.
The cherry sour candy's were gone crazy fast. You can find a ton of superhero themed candy at the Dollar Tree.
We had Ka-Boom Punch which was really just blue Hawaiian Punch. And Invisible Water.
When the kids arrived they each got their own superhero cape and mask which I handmade.
Kaison had his very own cape that was a bit different.
I printed out vintage comic book covers for the front and backs of these super awesome picture frames I grabbed at Ikea a while ago for $0.99 each. These were just on the tables for people to look at.
For games we had made this quick bean bag toss game out of an empty Ikea box we had on hand.

We also did water balloons, and the kids played in the sprinklers to cool off. I forgot to take pictures (bah!) but I also had black balloons that I put a piece of double bubble inside of each balloon and blew up to look like small black bombs. The kids were allowed to pop two balloons each.

I also bought a couple rolls of tin foil and made a ton of tin foil balls, then spray painted them lightly with some old green paint I had on hand to create Kriptonite! They raced to see who could throw more Kriptonite in to the bucket in the time allowed. They ended up just throwing this at each other afterwards which kept them busy for a while.
I had fabric bunting all over the patio and the yard, this is actually the same bunting from his Circus party from last year. This saved me so much money in decorations and time since it was already made.
We also played "pin the logo on the superhero". I had the character blown up at Office Max for a couple bucks and made each kid their own "Super K" symbol to pin to the superhero. Obviously they were blindfolded. The prizes for the winners for all the games were Avenger band aids which I found at Dollar Tree (FYI – the most amazing band aids!).
Lastly the kids had fun playing on our new and recently re-built tree house that Mr. Lopez just finished specially for this party. He tore the whole thing down and rebuilt it with all new wood, made it a little bigger since our oldest has grown since he first built it. We also added a slide, this was courtesy of my mom's neighbor who was throwing it away. That saved us a ton of money and is a huge hit with our youngest son. The whole tree house was built out of wood from the clearance section of $0.51 wood at Home Depot, with the exception of the roof which is off the older tree house. We still have to paint everything, but I wanted to show off his handy work since he worked so STINKIN hard on it!
When each child left they were given a goodie bag filled with Avenger fruit snacks, the candy from the food table, a "guess the superhero logo" printable, spinning tops, a mask of their own to decorate at home with items to decorate it with, and a bunch of superhero stickers.
I made his t-shirt using a shirt from the Dollar Tree (a great source for name brand t's) and felt.