Have you pulled out all your fun, spooky, creepy & crawly Halloween decorations yet. I will admit this year I was lacking some enthusiasm about Halloween. Then I saw all this pretty, glittery goodness and I knew it was just what I needed to help me get in the mood this year. Today I'm showing you all this awesome Halloween Decor with American Crafts & Target.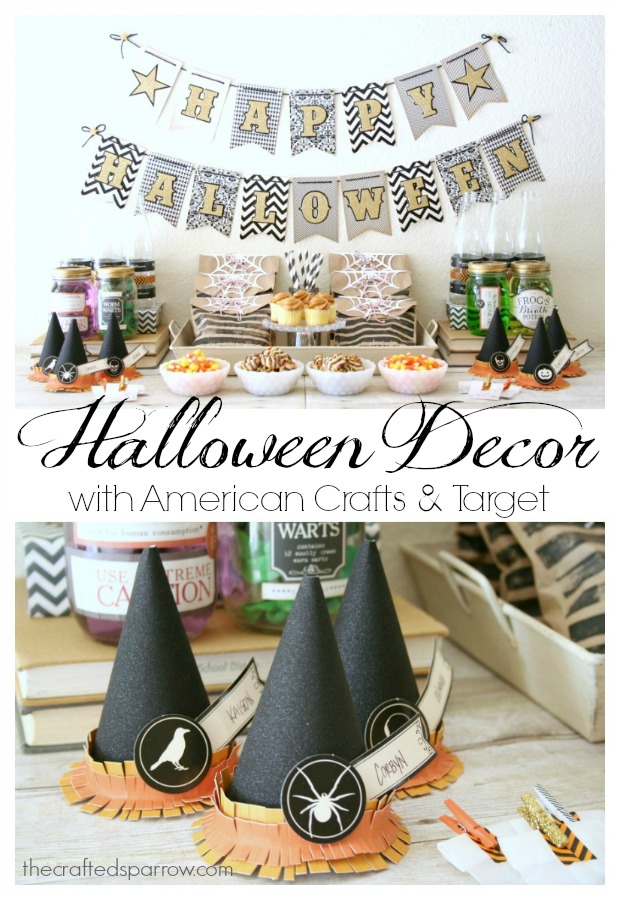 When I heard that American Crafts had this new line available at
Target
this Halloween for
DIY
Halloween Decor I knew it would be good, and it really is. The colors are perfect and on trend this year with the gold glitter, neutrals & blacks, and that bright pop of orange. Check out all this fun stuff that is available. Paper wreaths, banners, embellishments,
washi
tape, and much more. Each full kit comes with everything you need to create that project.
First thing I made was this super fun glittery gold Banner. I seriously love this, the black & creams with that pop of gold makes me happy! It was so easy to make. It was the perfect backdrop for a quick family impromptu Halloween party this week.
Next I created these Witch Hat place cards. The boys loved them. I thought it would be fun to fill them with treats or a surprise spooky toy that they'd get a kick out of and just place a circle of card stock over the bottom opening to seal it shut. Then let each guest open after dessert.
I also grabbed some mason jars and lids that I had around the house. I painted and distressed the lids gold to match my glittery gold banner. Then I grabbed these cute Halloween themed labels and added them to the jars. Filled a few of the jars with colored water and one with strips of felt for the worm warts. I also added the washi tape to our beverage bottles for a festive look.
Each guest got a small bag full of fun confetti that was embellished with the washi tape and these super sweet little clothespins, check out that gold glittered one! Love!!! The boys loved throwing this around – outside of course after dessert.
I also made this paper cone wreath kit for our front door, it ended up being the perfect touch to welcome Fall. It matches the new black & white pillows I found at Target for our Fall porch. It was meant to be!
You can find all of these fun American Crafts products, plus more at your local Target store. I'd go quick though, these things are too cute and will be gone quick!