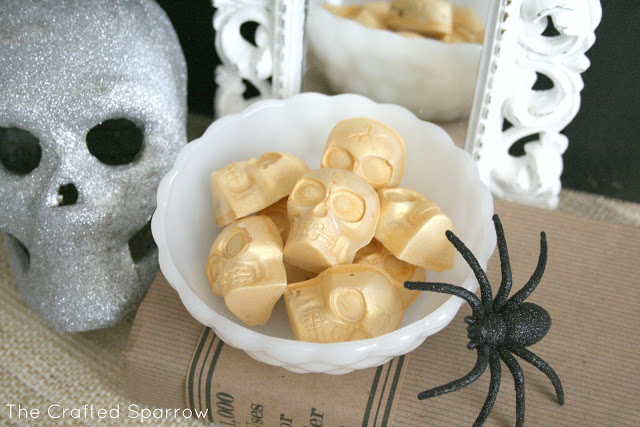 A couple days ago while looking in my pantry I found this awesome little ice cube tray I picked up at my local Dollar Tree store a little over a month or so ago.
These trays aren't quite as hard as a normal ice cube tray, they have a little flexibility to them. Perfect for candy making! The other day I shared my Mummy Pretzels with you
HERE
. I had some left over white vanilla melting bark from that project, so I figured I would use that. I also thought who just wants plain old vanilla candy, not me…I love the salty sweet treats! So I decided to add pretzels to this little sugary skulls.
I had bought some gold food spray several months ago for a project I never did, so I figured why not make my skulls gold and all glammed up!
Supplies:

– Dollar Tree Halloween Ice Cube Tray
– Vanilla Melting Bark from Walmart
– Gold Food Spray found in the baking section at Michaels or Walmart
– Pretzels Pieces

Start by melting your vanilla bark according to the package, if your doing a smaller portion of the vanilla bark start with heating it in 30 second intervals so it doesn't burn.
Spoon a small amount of vanilla bark in to each of the skulls on the tray so it fills them almost half way.
Add some small pieces of broken pretzels, not too many cause you don't want the front of the skull's face to have jagged pretzels sticking out of it!
Now add the remaining vanilla bark and fill each skull so it's full. Let them dry completely in the fridge for about 20 – 30 minutes.
Once dry, pop them out and place them on a piece of wax paper or paper towels.
Using your gold food spray (food spray paint) give them a light spray, and just spray light coats until you cover them completely and are satisfied. Let the candies dry. When they are dry you can package them up for a sweet treat for someone, or put them in a pretty bowl for your Halloween get together.