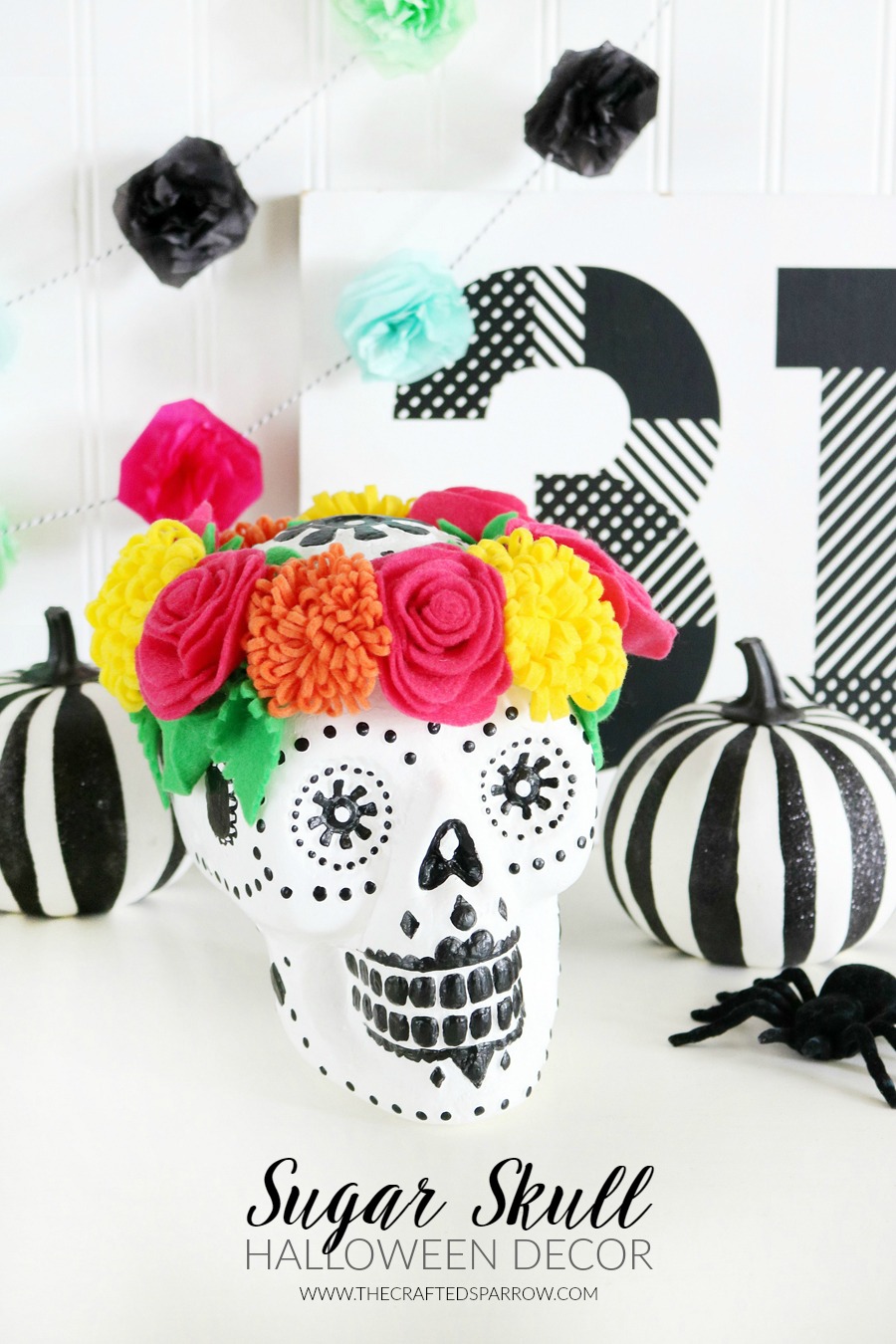 Who's already started their Halloween decorating? When it comes to decorating for this holiday I'm all about black and white, are you shocked?! By now, you must realize it's my favorite combo. This month's Make It: Fun Crafts® challenge was to use something from their Halloween line, and I as soon as I saw the foam sugar skull I knew it would be perfect. This easy and fun Sugar Skull Halloween Decor was inspired by the DIY Sugar Skull Wreath I created last year for Halloween.
Supplies:
FloraCraft® EPS Foam: Day of the Dead Sugar Skull, available at JoAnn Fabric & Craft Stores
DecoArt Multi-Surface Acrylic Paints (black tie, cotton ball)
Paint Brushes
Felt, your choice of colors
Scissors
Glue Gun
Small Pins, optional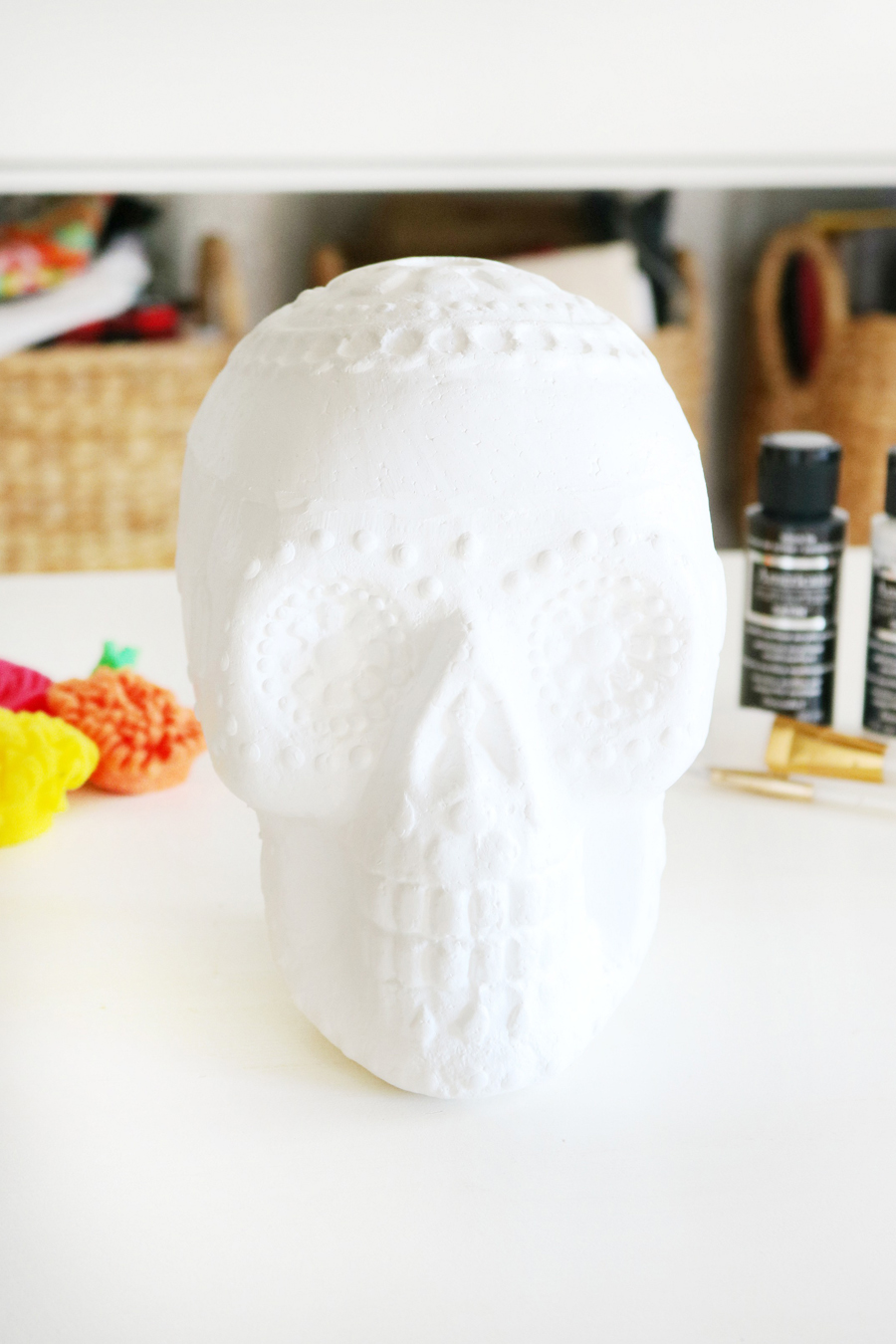 Start by painting the entire sugar skull with the white acrylic paint. You will need two coats. I used a foam brush for this, it went on the foam so smoothly.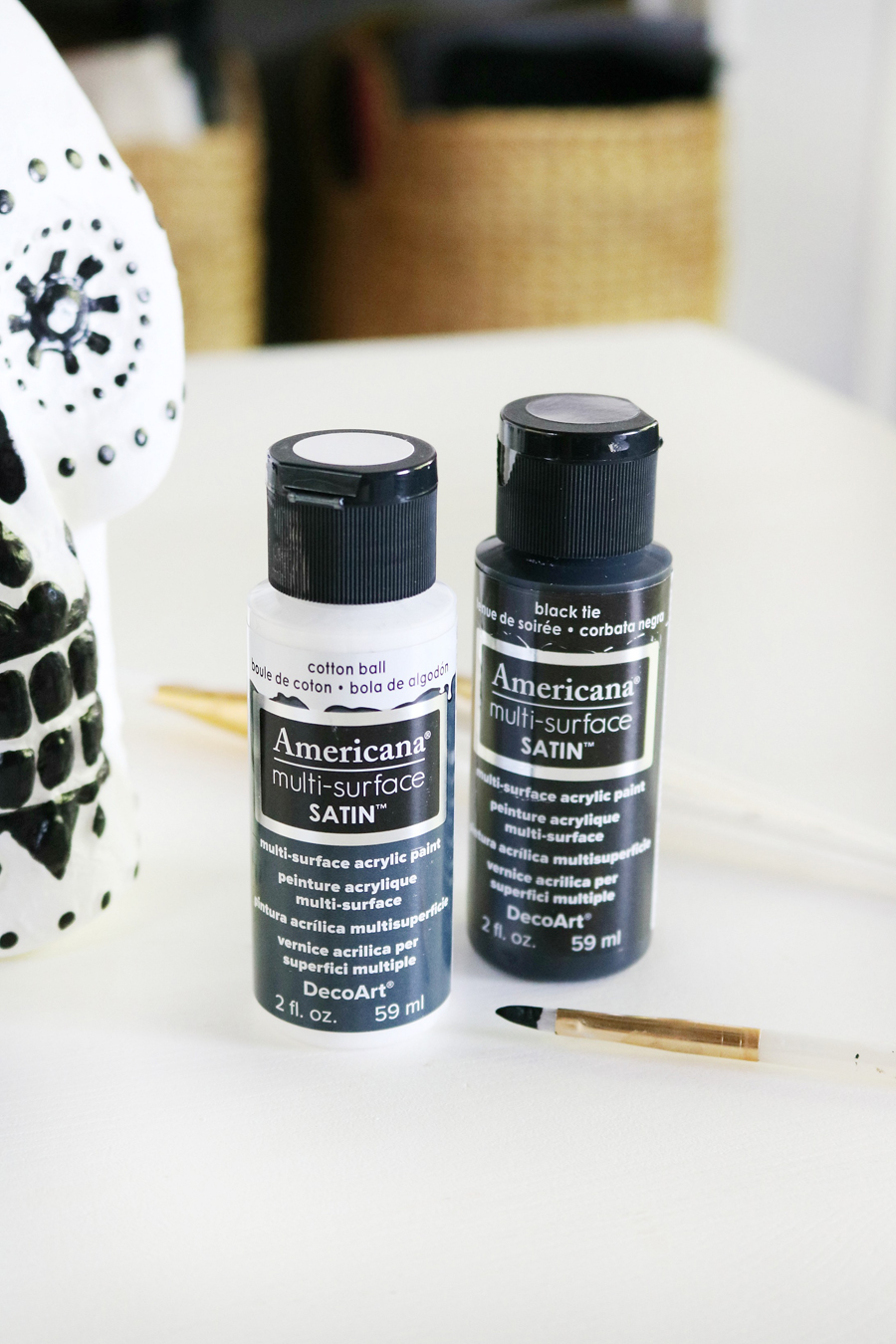 Once the base coat is dry you can get to work painting the details. I chose to stick with a simple black and white sugar skull, but you can choose to paint your details any colors you want.
The best part of this project is that the details are already on the foam, so you basically just have to follow the pattern and lines with a smaller detailing paint brush. Again, I did two coats of black paint for all the detailing.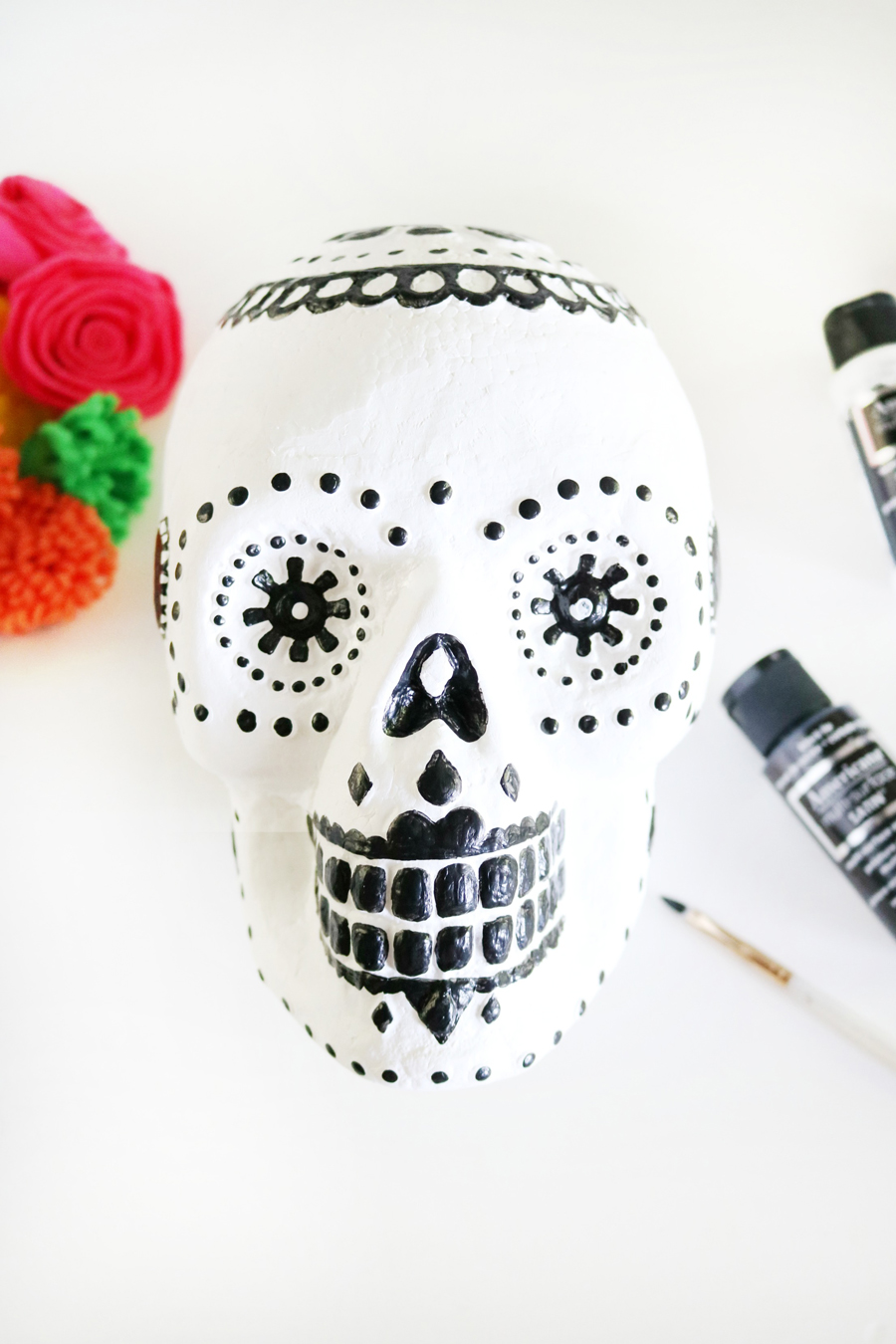 When your sugar skull is dry you can start making the felt flowers for the flower crown. You can find easy to follow tutorials on how to make them HERE and HERE.
You will need enough to go around the crown of the skull, and you can cut extra leaves for filling it small empty spots if you need them.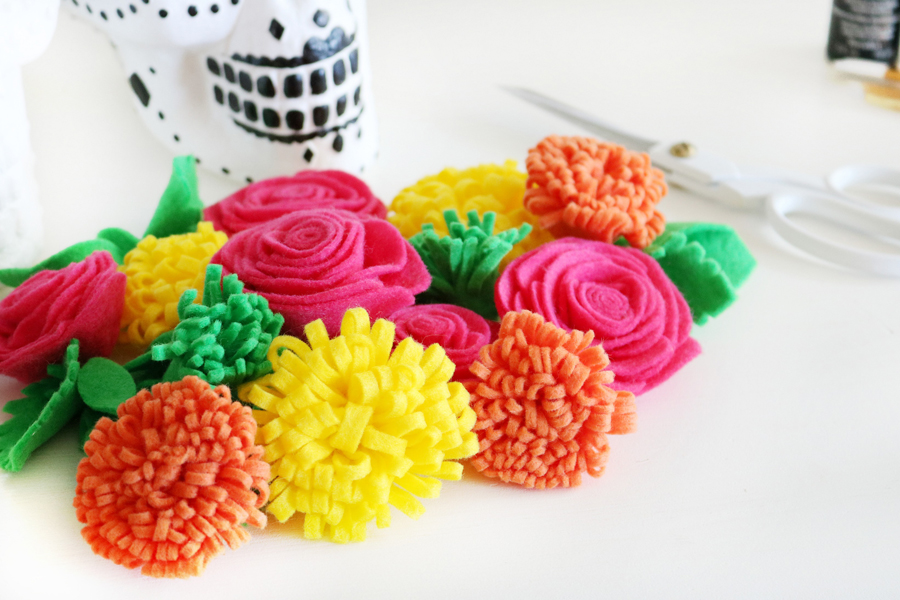 Attach your felt flowers with either a glue gun or small head pins if you'd like to reuse them for other projects.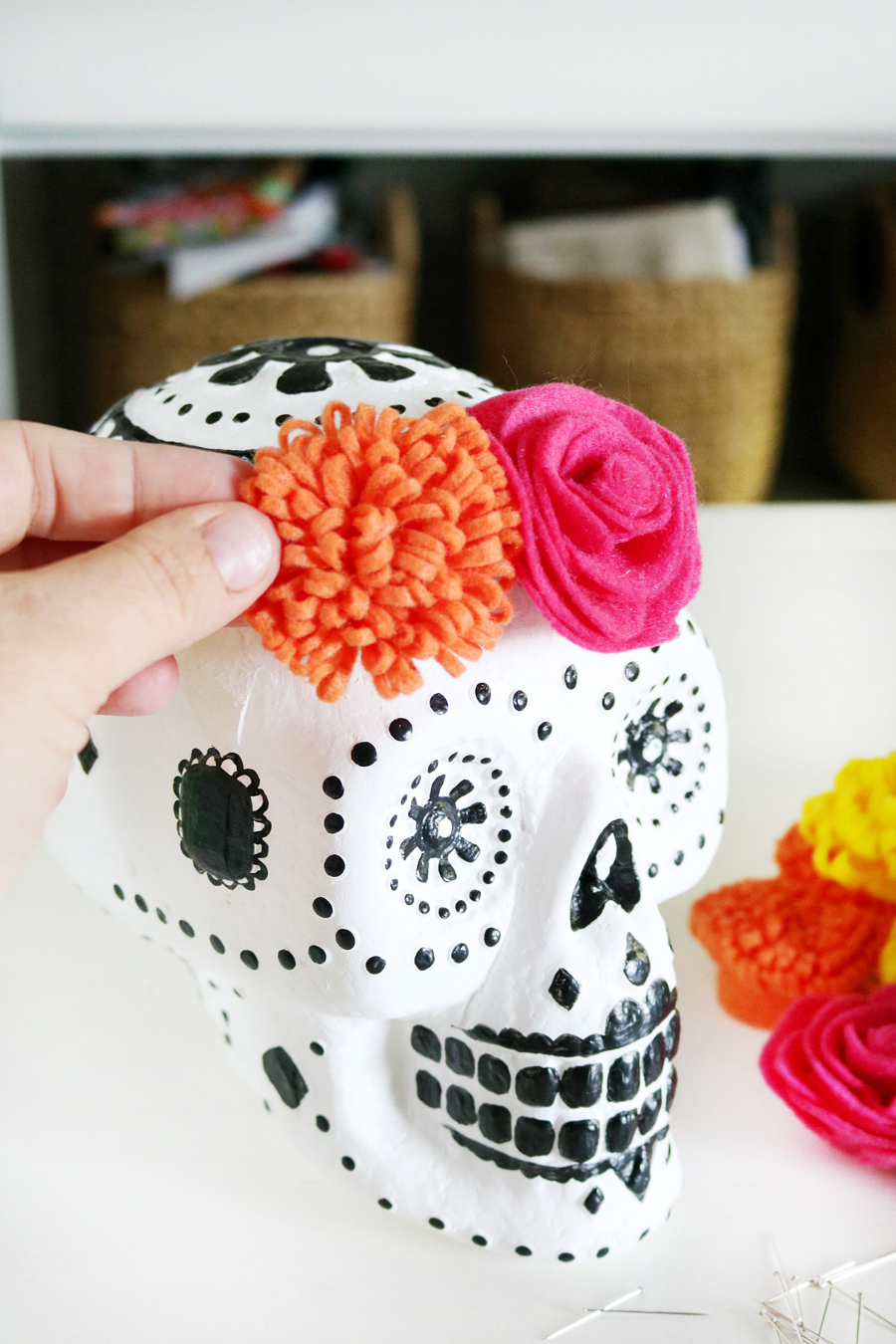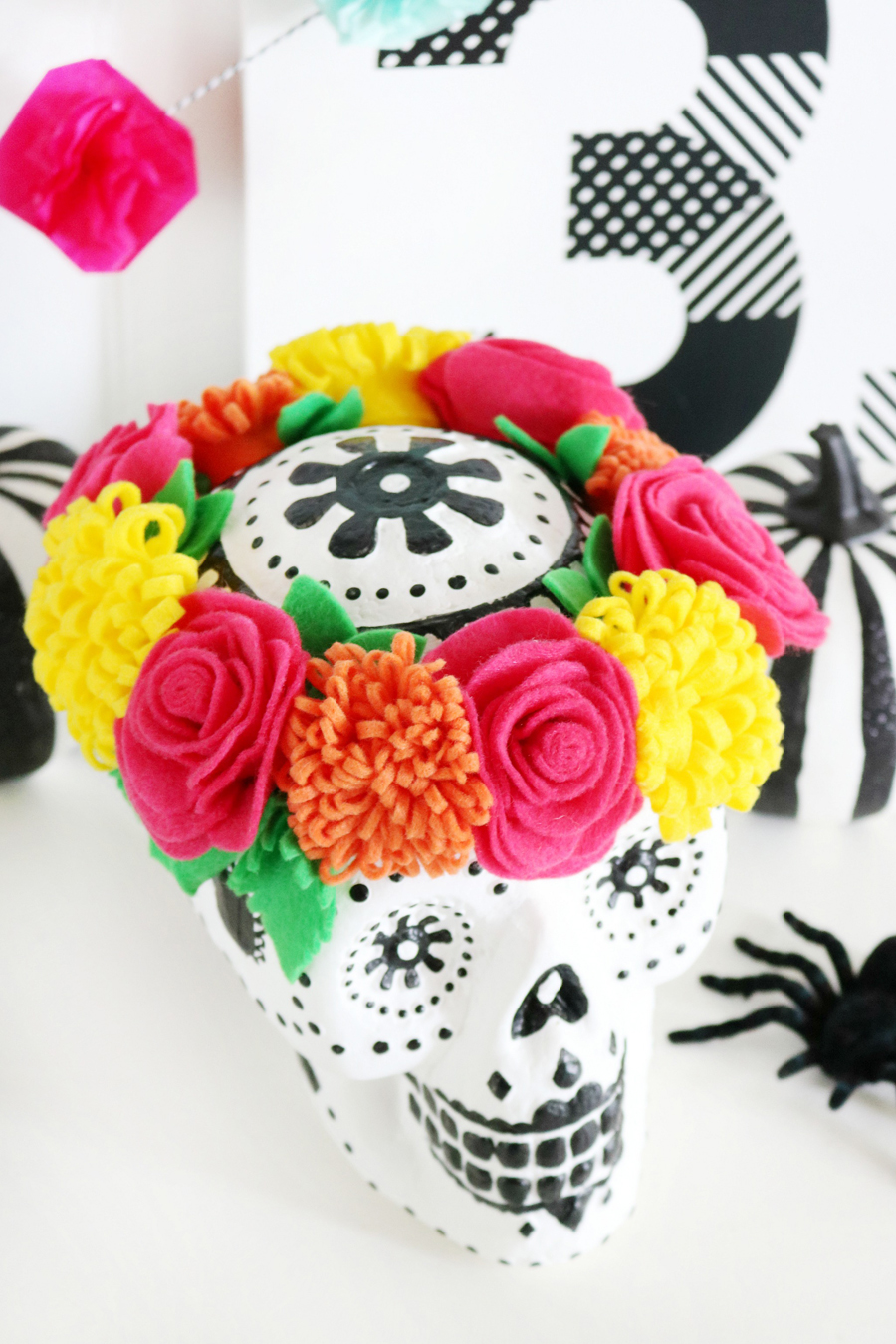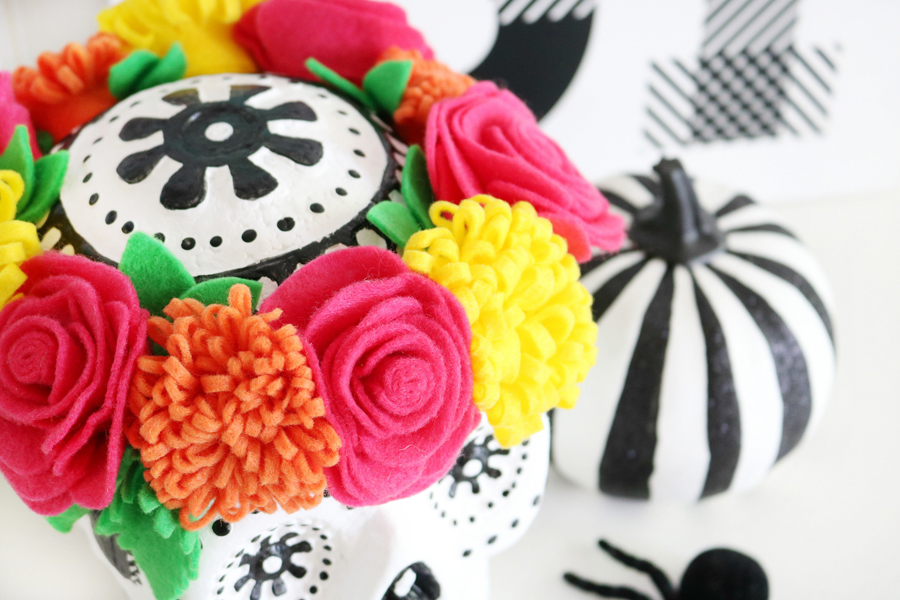 I love how this sugar skull Halloween decor turned out, it's perfect for my black and white decor. The pop of color is so fun, and I love that they aren't the traditional Halloween colors.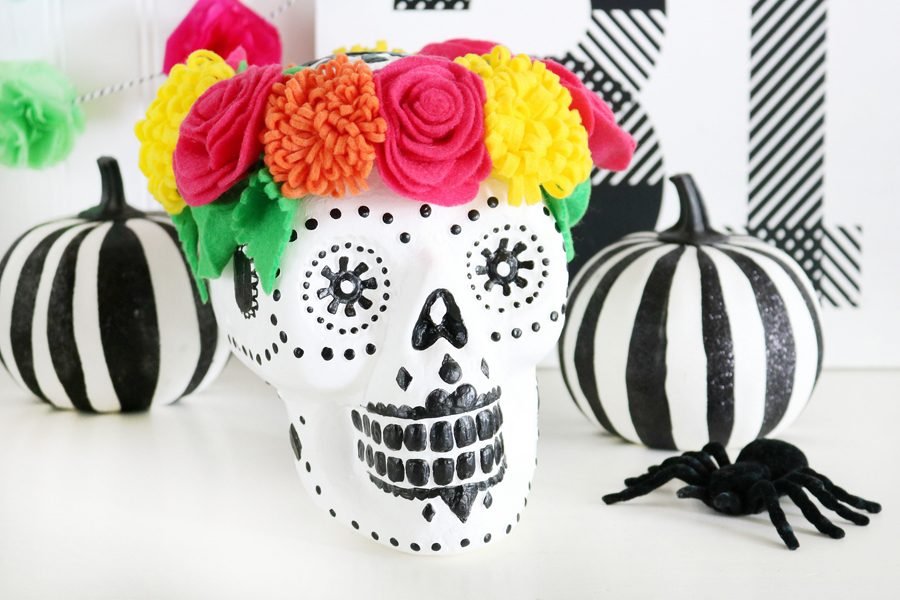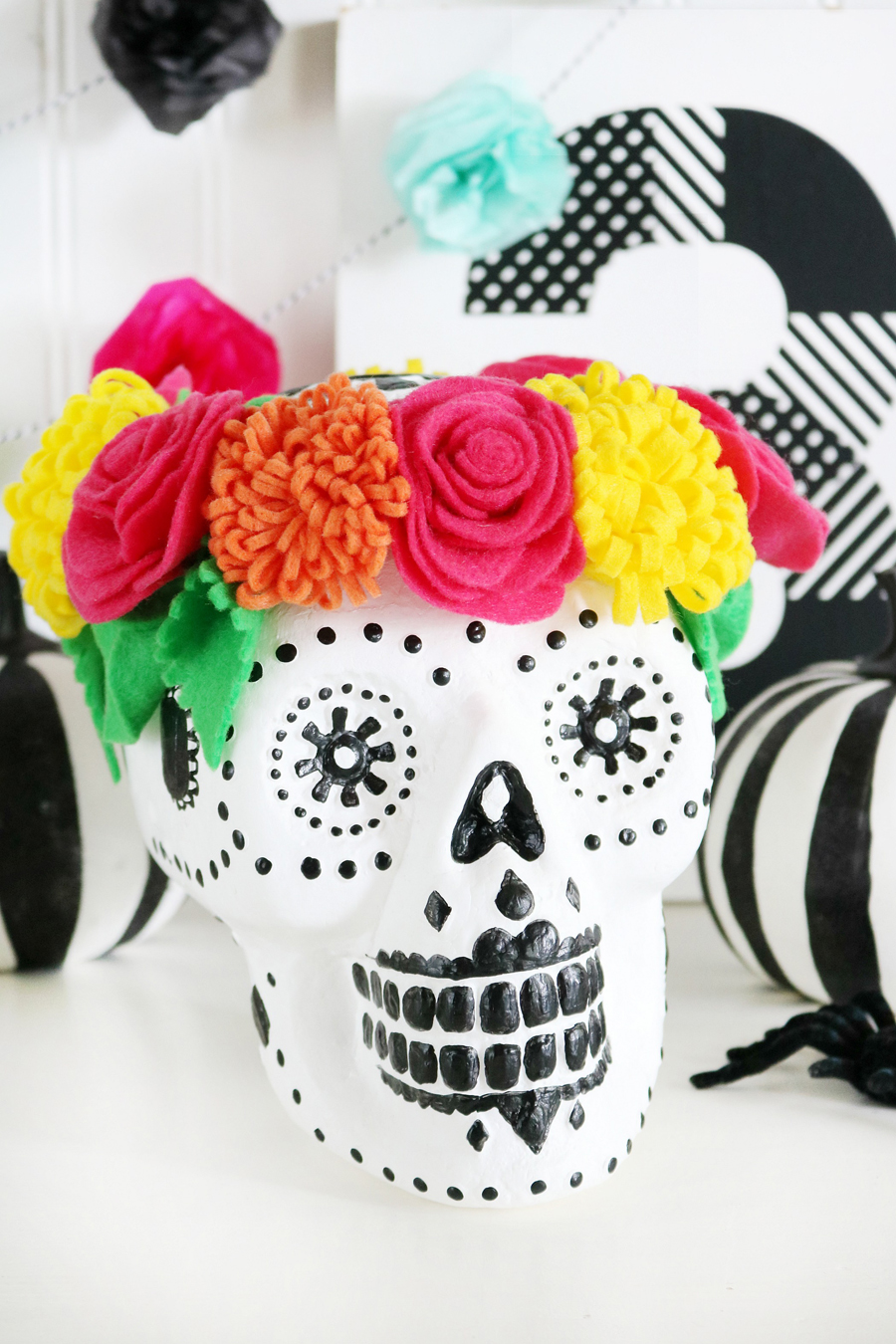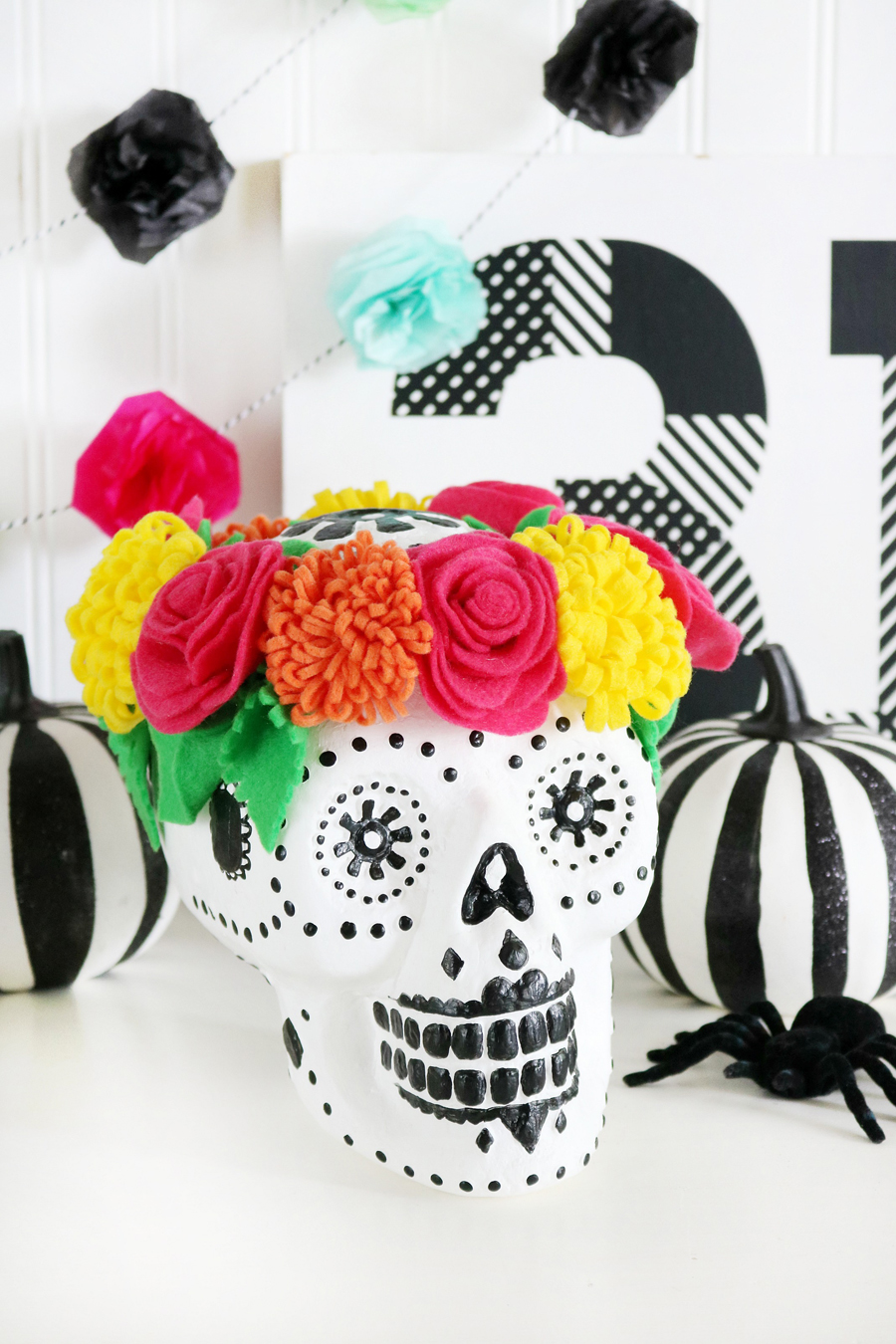 Be sure to check out the fun DIY Sugar Skull Wreath that inspired this project…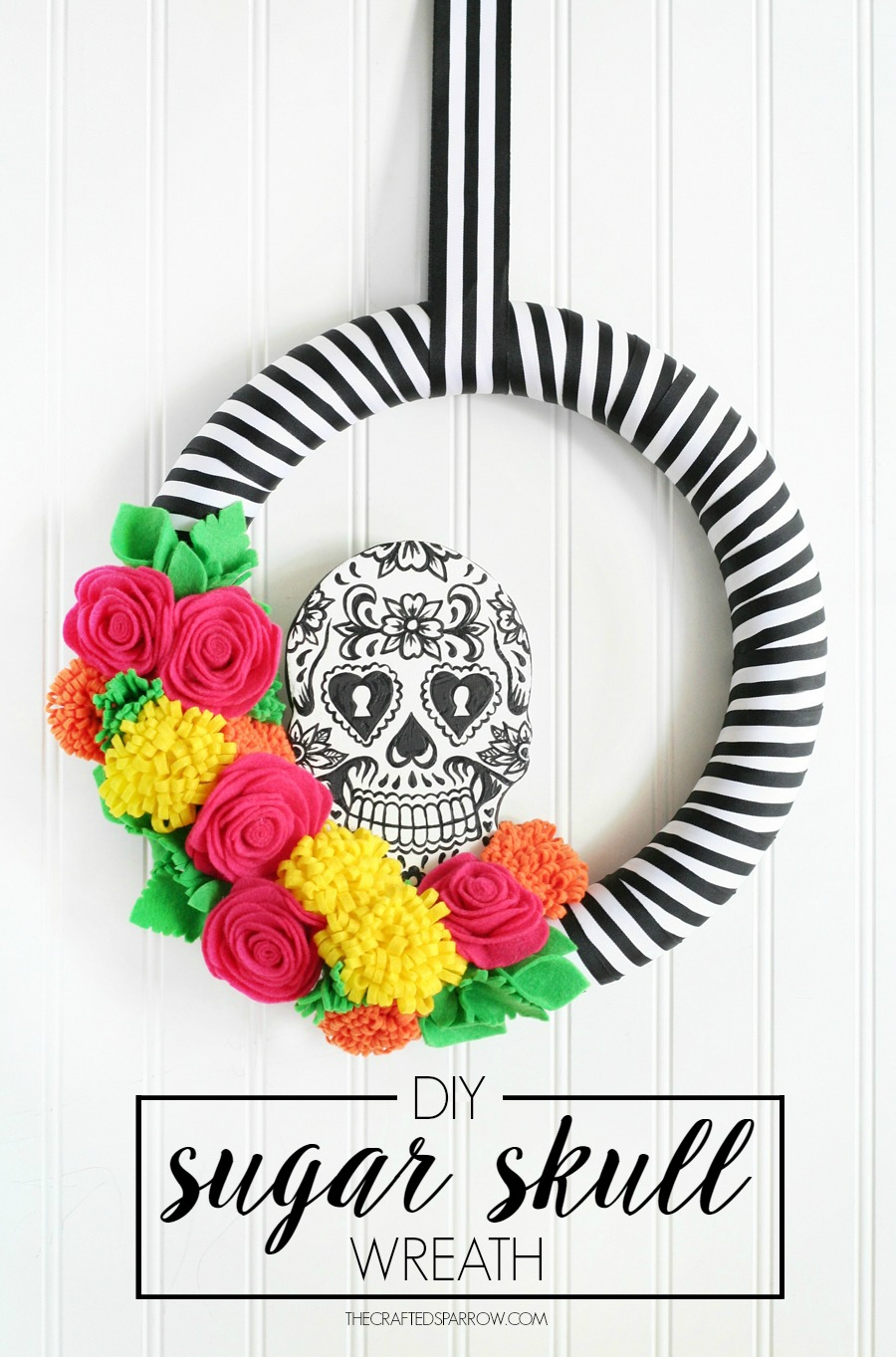 DIY Sugar Skull Wreath
DISCLOSURE | This post is sponsored on behalf of Floracraft® Make It: Fun Crafts®. All opinions and ideas are 100% my own. This post may also contain affiliate links.