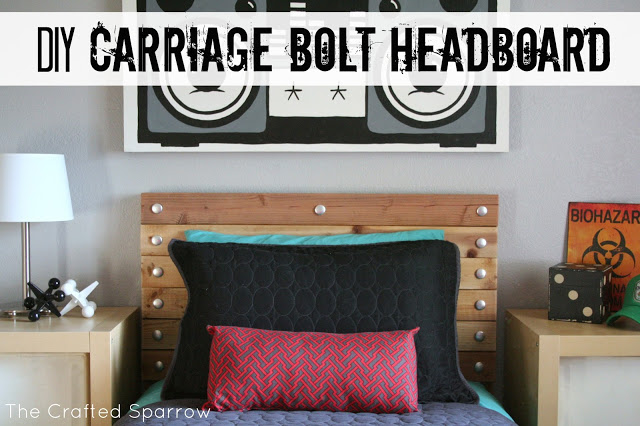 Well I think I originally did a post about a year ago saying I was going to redo my son's room. Here I am today to tell you, that it's still not quite done…almost but not quite. It's not like it has been anything super hard to do or super expensive, I just procrastinate things. Today I'm sharing with you the first sneak peak – the DIY Carriage Bolt Headboard we made.
I love carriage bolts and how industrial they look on shipping crates and other things, so I knew I wanted to do something a tad different than the popular palette pieces you have seen around pinterest.
We took a few of the 2 x 4's we had laying around in our backyard and I had the hubby cut them all to the same length.
He attached them all to 3 – 1 x 4's. The 1 x 4's are what we used to attach the headboard to the bed frame.
I decided not to stain or paint the headboard once the hubby was done with it, I kind of like the raw wood next to the light wood storage he has on each side of the bed.
To get the carriage bolt look without all the drilling and effort I used aluminum buttons from Hobby Lobby, you know the kind you tuft a couch with? They came in packages of 3, and they are 1 1/8″ in diameter.
I simply removed the small metal loop piece of the backing of each one with pliers. I then used some of the kids craft foam cut in to small circles to stack inside the aluminum button with hot glue, then glued the backing on.

Then I busted out the hot glue gun and my ruler and glued all the aluminum buttons on to my headboard. Viola! They look like carriage bolts!
Like his painting? It's coming tomorrow! Wait until you see the before on that one!
I love how this headboard turned out and was pretty much free for us to make since we had most of the materials on hand. I love all the wood colors and the flaws in the wood. What do you think?