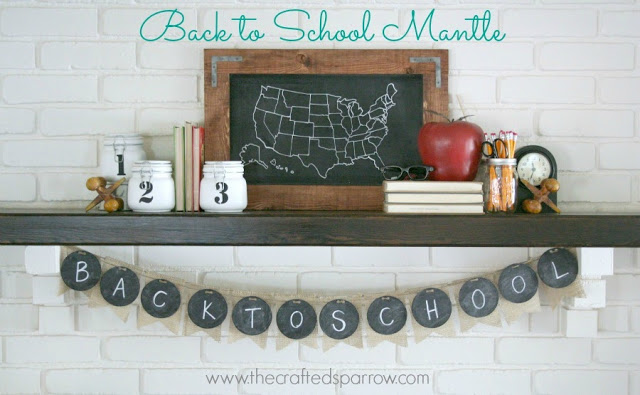 Can you believe it's August already?!  Yesterday was our first day back to school, my youngest started Kindergarten and my oldest started 4th grade.  Have you all started school shopping yet or already started school?
Today I'm happy to be teaming up with my fun blogging friends again to bring you some great Back to School ideas.  I'm sharing my Back to School Mantle,  I originally wasn't going to do a themed mantle until the holidays rolled around again but now that my fireplace is such a great backdrop for everything since painting it how could I not do one!  I love how it turned out.
There are actually a couple of recent projects that I was able to incorporate in to the mantle. Like these
Numbered Mason Jars
and the
DIY Travel Map Chalkboard
that I made this week. They fit in to this design perfectly!
I also grabbed some books from my son's room and a few of our favorite vintage books (Where the Sidewalk Ends, and A light in the Attic) love those books! I grabbed a few other small things like a clock and the black glasses (used to be 3D glasses). The big apple is seriously one of my favorite things in my house.  It's from my youngest son's room, we bought it when he was a baby and now he's in Kindergarten this year.  I also added a jar with some vintage scissors and bright yellow pencils.  The two yellow jax have been in my stash closet for a year waiting for a home in my new master bedroom re-do (whenever that happens) so for now they have a happy place to sit.
I think the thing I love most about this mantle is that it's pretty casual and simple.  It definitely gets the point across and gets us all pumped up for school to start!  Do you decorate for the first week or day of school?