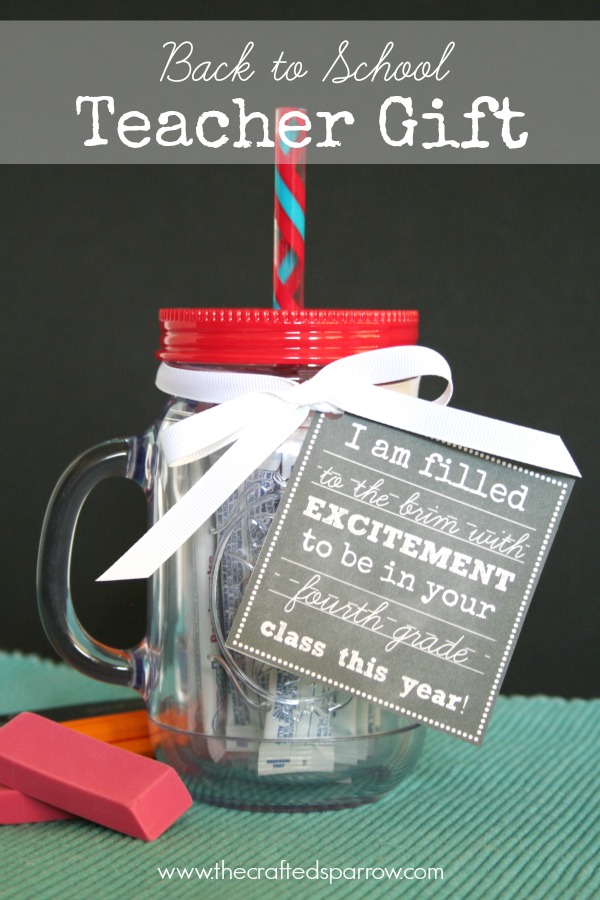 We have exactly one week until my boys both start school!  This year my baby is going to Kindergarten, and my oldest is in fourth grade.  I know I'm excited about this, like super excited…but I know that is going to be such a tough day with no one in the house with me.  I thought I'd do something a little different this year.  I wanted to make a gift for each boy to give their new teachers on the first day of school.  We usually do gifts for other days like Teacher Appreciation, Christmas, and End of the Year.  So why not add one more to let them know we are excited to have them this year!  Today I'm sharing these super cute
Back to School Teacher Gift {Mason Jar Cups} with Printable Chalkboard Tags
.Supplies:
– Reusable Mason Jar Cup or Any Reusable Cup with Straw
– Crystal Light Individual Drink Packets
– Free Printable Chalkboard Tags
– Twine or Ribbon
I have created a Free Printable Chalkboard Tag for each grade level and one extra that would apply to any grade.  Simply right click on the tag you want and save to your computer.  Then open in a program like Microsoft Word or Publisher and resize it to the size you want, and print.  I just added a hole in the upper left corner for the ribbon and tied it to the cup.  I filled the cup with about 20 Crystal Light individual drink packets for their teachers.
I hope their teachers like them!