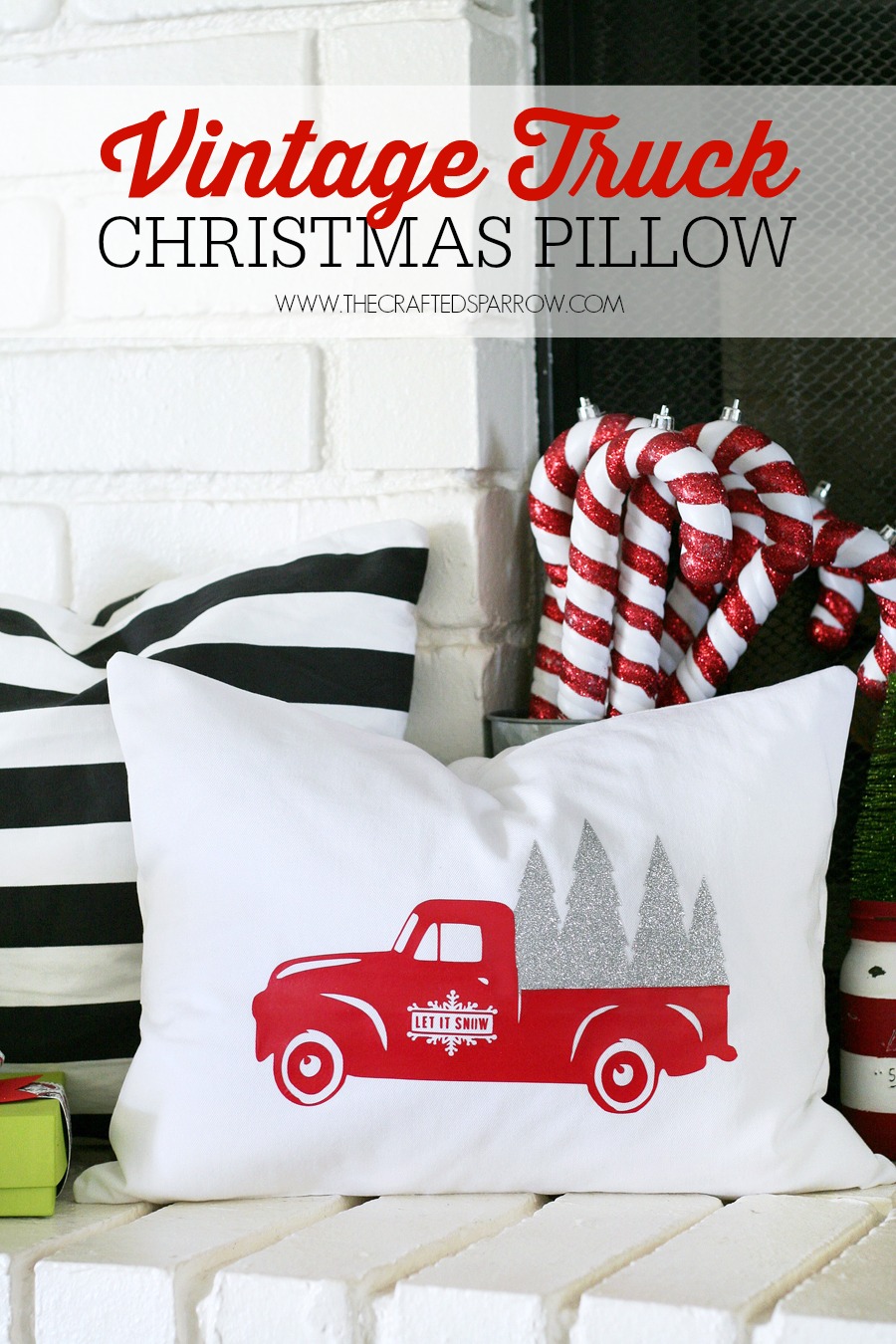 I've had such a hard time deciding on a theme this year for Christmas, usually I know the day I'm packing up Christmas decor what the next year holds. After a ton of consideration I've finally decided, touches of a vintage Christmas will be playing a part in my decor. This Vintage Truck Christmas Pillow fits in perfectly with what I have in mind.
Want to make your own? It's pretty easy to do I promise!
Supplies:
– Cricut Explore cutting machine
– Cricut cutting mat
– Cricut iron-on vinyl, silver glitter
– Cricut iron-on vinyl, red
– Cricut weeder tool
– white fabric, 2 – 8.5 x 17 pieces & 1 – 13 x 17 piece
– 12 x 16 pillow form, I found mine HERE
– sewing machine & basic sewing supplies
– iron & ironing surface
First I designed my images in Cricut Design Space, combining a vintage truck graphic I uploaded and turned into a cuttable image and a couple Cricut Design Space images. I attached the truck image and cute "let it snow" saying together. I then welded some geometric Christmas trees together. Then it was time to cut my iron-on vinyl.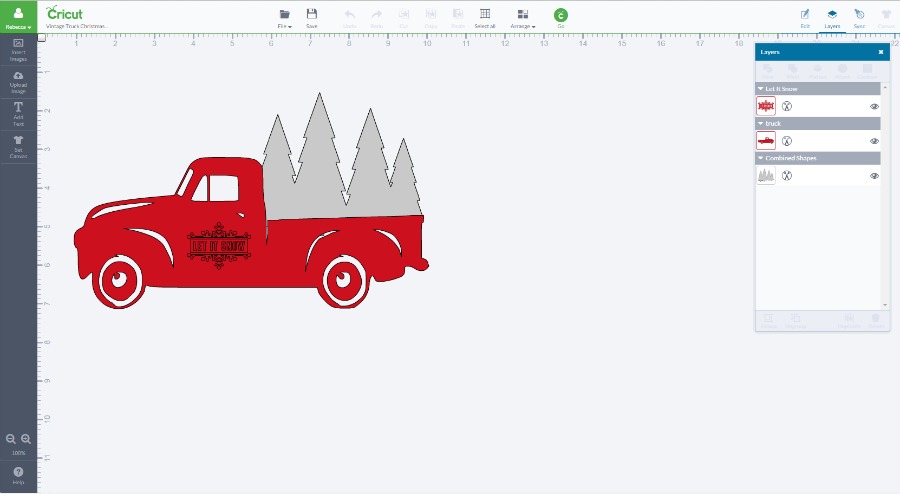 Be sure to select the "mirror image (for iron-on)" box so that the images cut properly. Then hit GO.
Place your iron-on vinyl liner side down to cut. Be sure to adjust settings for the glitter iron-on vinyl in the custom setting on the dial. The solid color iron-on can use the regular iron-on setting.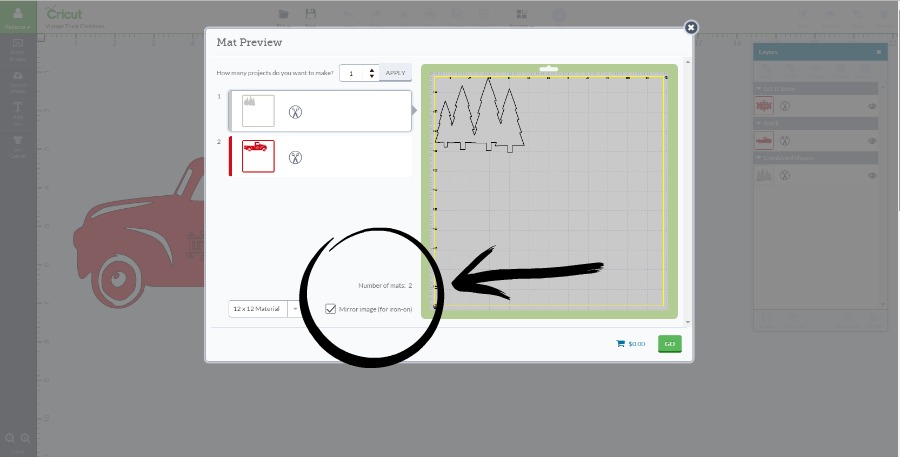 Once the images are cut, use your Cricut weeder tool to weed out the parts you don't want to keep. Set your vinyl pieces aside while you make your pillow cover.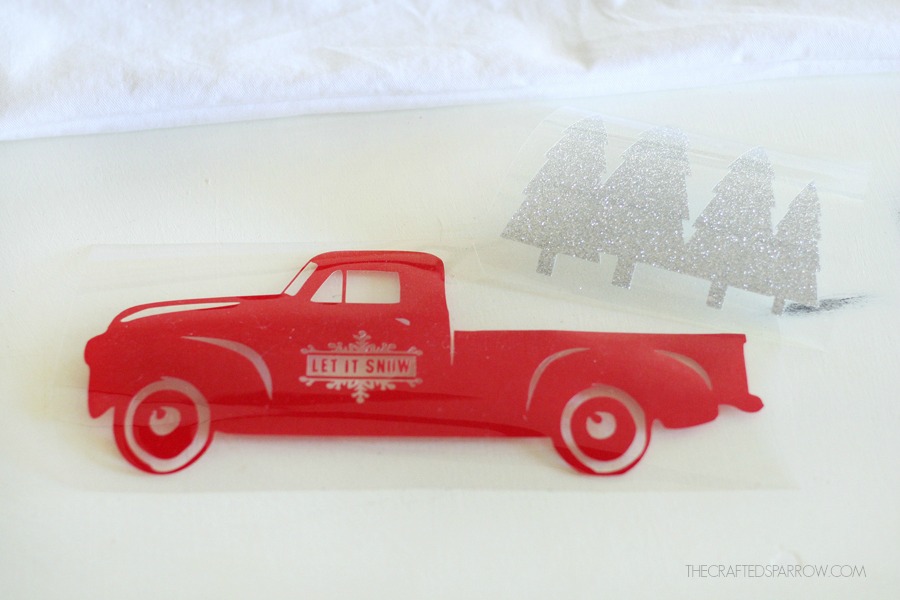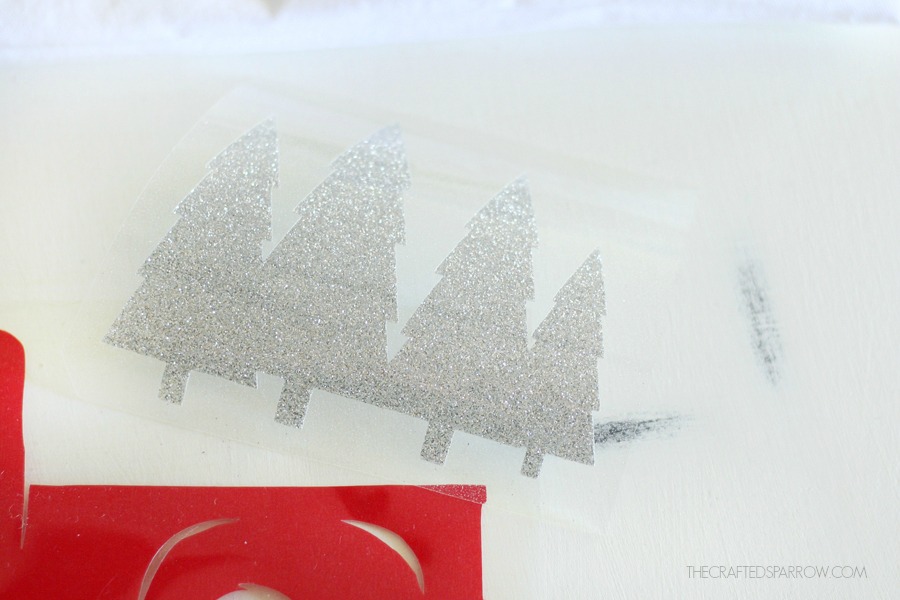 How to create a simple envelope pillow cover:
cut your 3 white fabric pieces, 2 – 8.5 x 17″ pieces and 1 – 13 x 17″ piece
iron fabric to remove any wrinkles
fold over the long edge of the two 8.5 x 17″ pieces of fabric twice, you will create a 1/2″ clean edge
use an iron to press the clean edges
sew a 1/4″ seam allowance along the clean edge on both 8.5 x 17″ pieces
place the 13 x 17″ piece of fabric on a flat work surface
place both 8.5 x 17″ pieces face down on top of the large piece
pin all the sides
sew around all edges with a 1/2″ seam allowance
trim all corners, and extra threads
turn right side out
This tutorial can be adapted for any size pillow.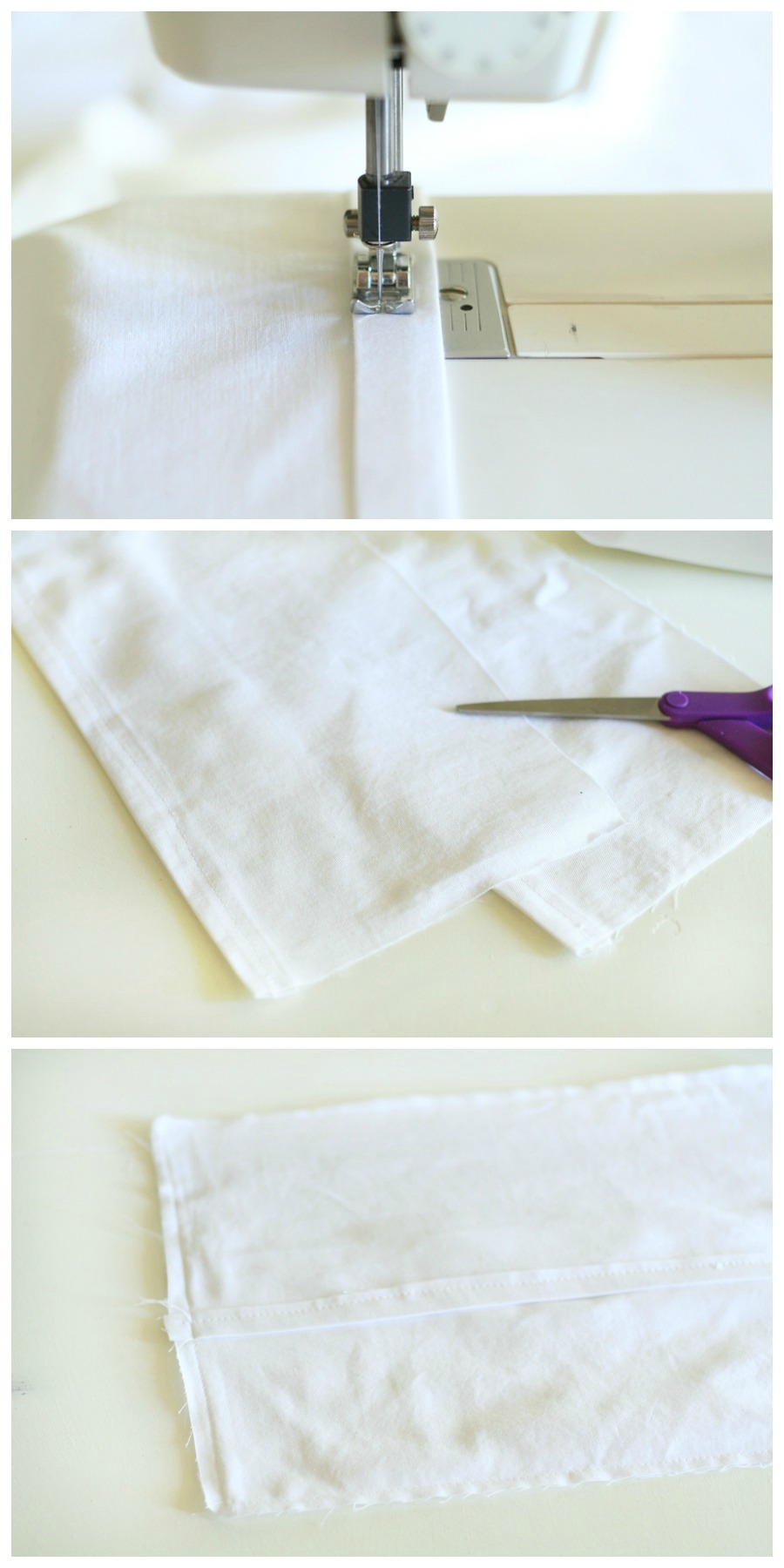 Align your iron-on vinyl pieces on your pillow, using a ruler to center them. Don't iron yet, just get the position right. I had to place my trees behind the truck piece first so they look like they are in the truck bed. Once I had the position right I removed the truck and following package instructions I ironed the vinyl trees on to my pillow cover.
Then I aligned the vintage truck and ironed it on over the glittering trees.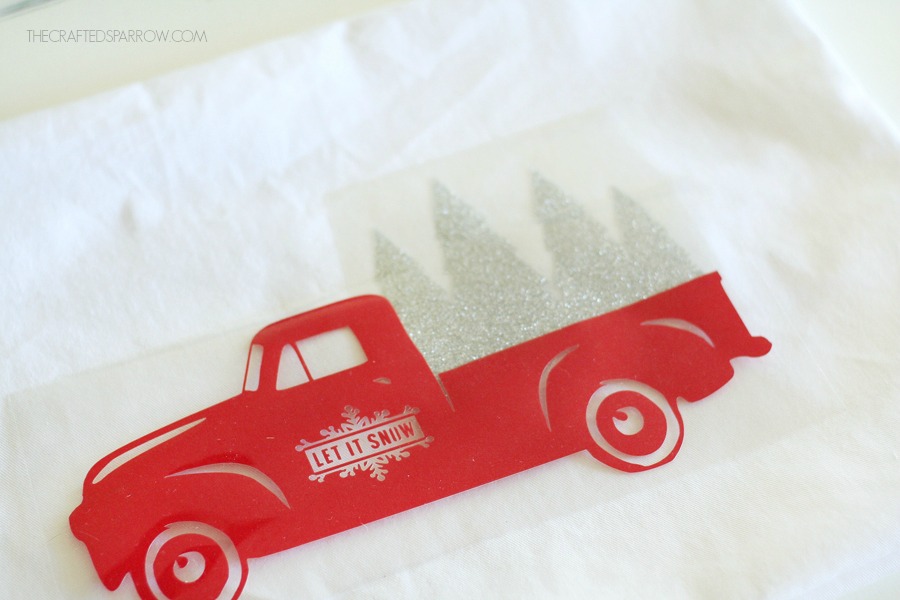 I am so in love with this pillow, it turned out perfect! I love that it was so easy to make with the iron-on vinyl.
In case you hadn't guessed it yet, this is my latest project for Cricut Design Space Star. This is the last round, our team went with a White Christmas theme this month. The glittering trees and stark white pillow definitely reminds me a white Christmas.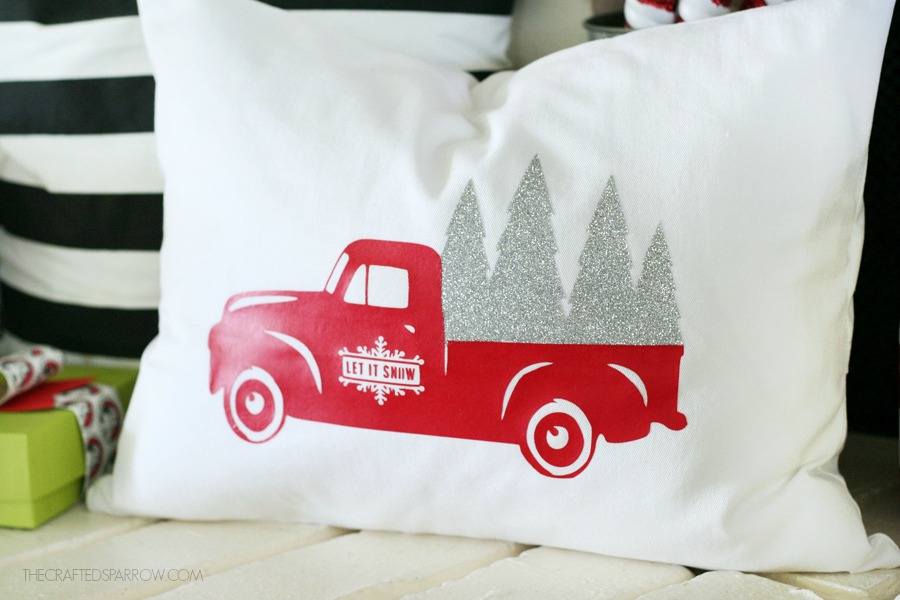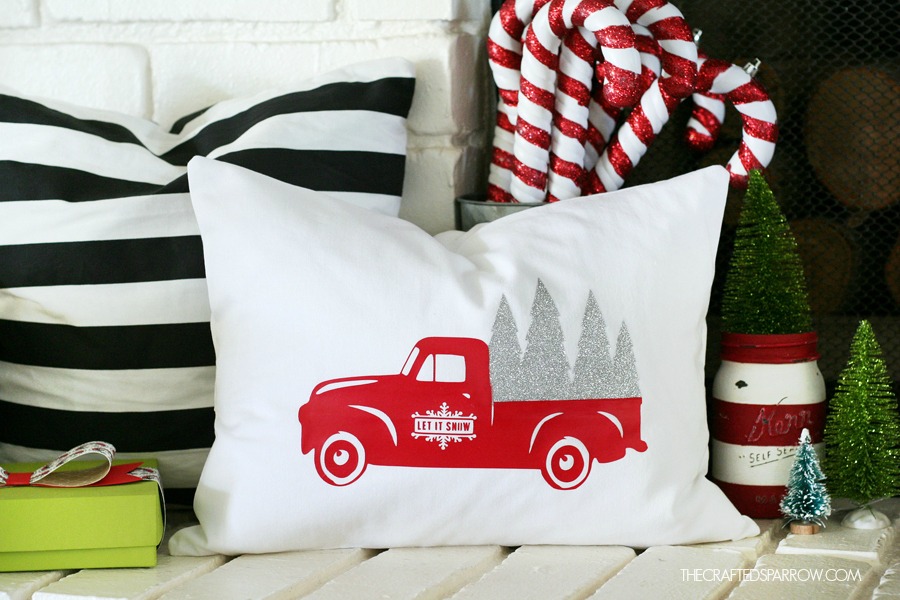 These Easy Christmas Gift Wrapping Ideas I made with my Cricut Explore last week will go perfectly with my decor this year, don't you think?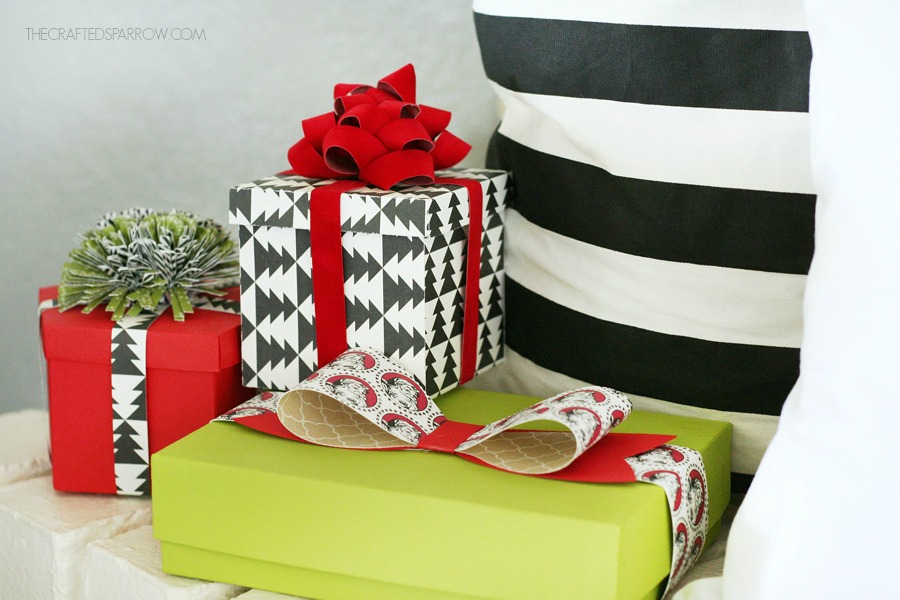 Last month I shared these DIY Christmas Tea Towels, they are another great holiday project to bring Christmas cheer in to the home and would look so cute with this fun pillow.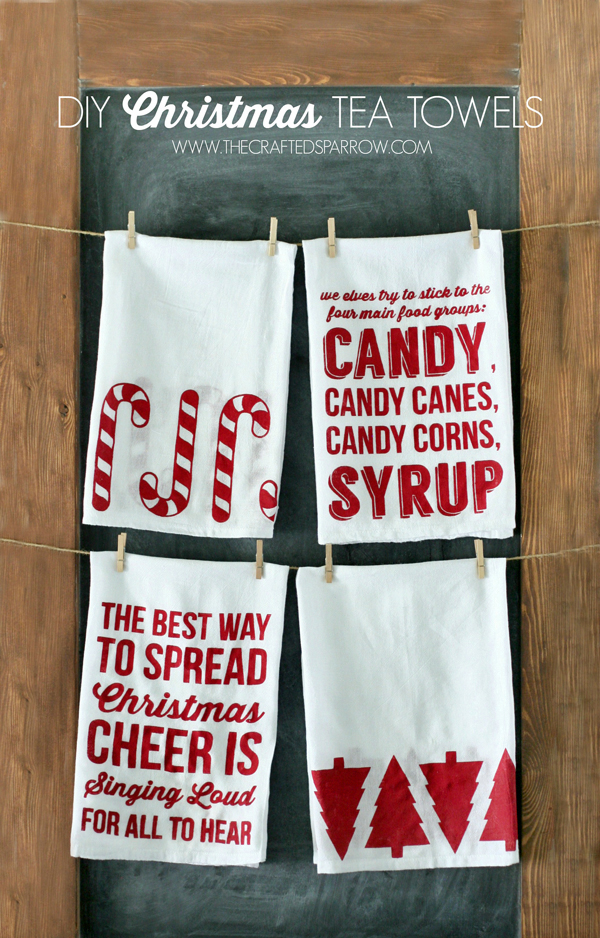 Be sure to check out the other great ideas from my team – team #7.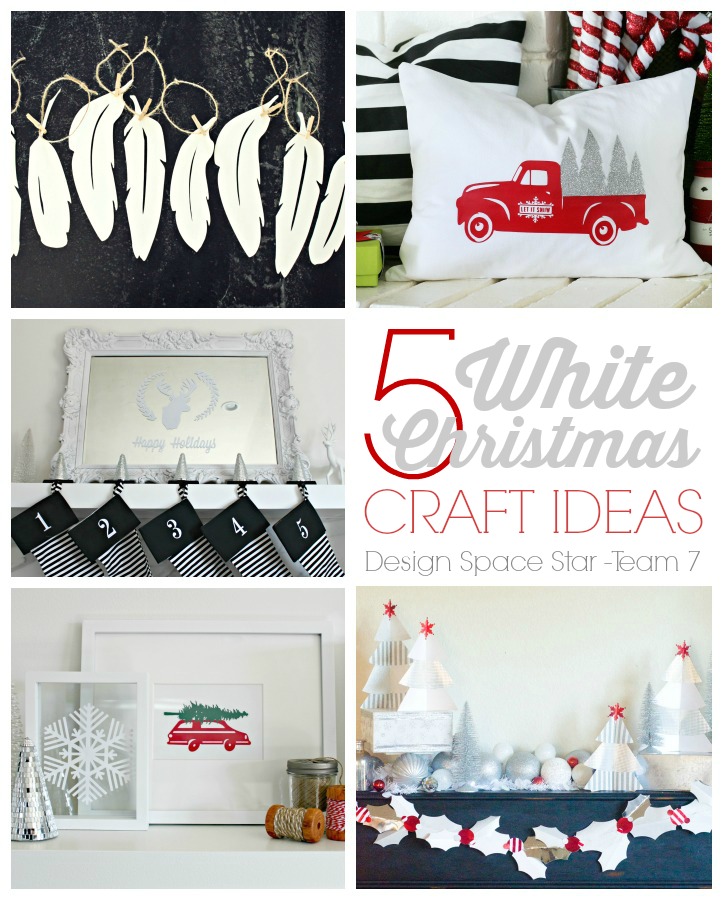 Feather Ornaments, Mirror Art, Holiday Art | 4 Men 1 Lady
Vintage Truck Christmas Pillow | The Crafted Sparrow
White Christmas Decor | Love the Day
If you have a website and would like to join Cricut's Affiliate Network, sign up HERE. And you should know that you can get FREE shipping on your orders from Cricut's this month when you use the code FREESHIPNOV at checkout (valid through 11/30/2014)
Disclosure | I am a member of the Cricut Blogger Network. I may receive prizes in exchange for my winning projects. Even though I am not being directly compensated for these posts, I am under consideration for a prize with Cricut Design Space Star. All opinions are 100% my own.