I'm so excited to be teaming up with Michaels and the Make It with Michaels Pinterest Party! You are invited to head in to local Michaels stores across the nation this Saturday, November 15th from 1pm-4pm. You will have the opportunity to recreate some of the top projects from Pinterest in your local store. So grab your friends for a fun afternoon with Michaels.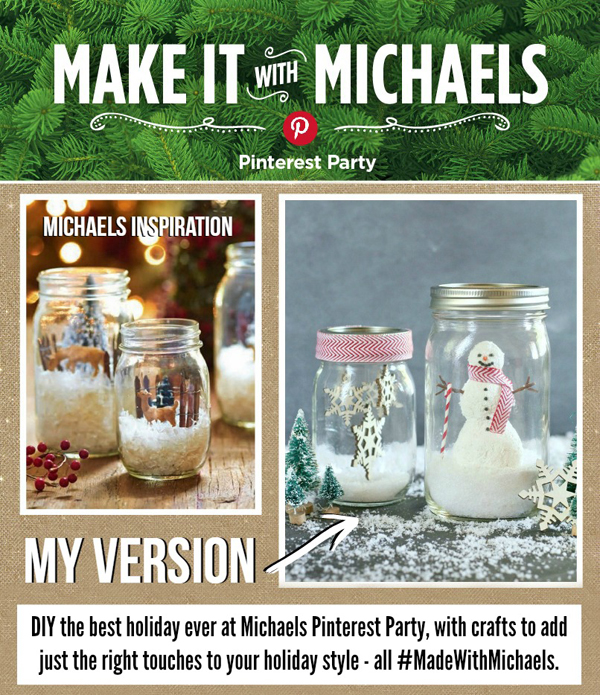 I was inspired to create these fun, whimsical DIY Mason Jar Snowglobes. My original inspiration was the Lemax Mason Jar Scene, it's so pretty. Since I have young boys I though it would be fun to mix things up a bit and bring a snowman in to the mix.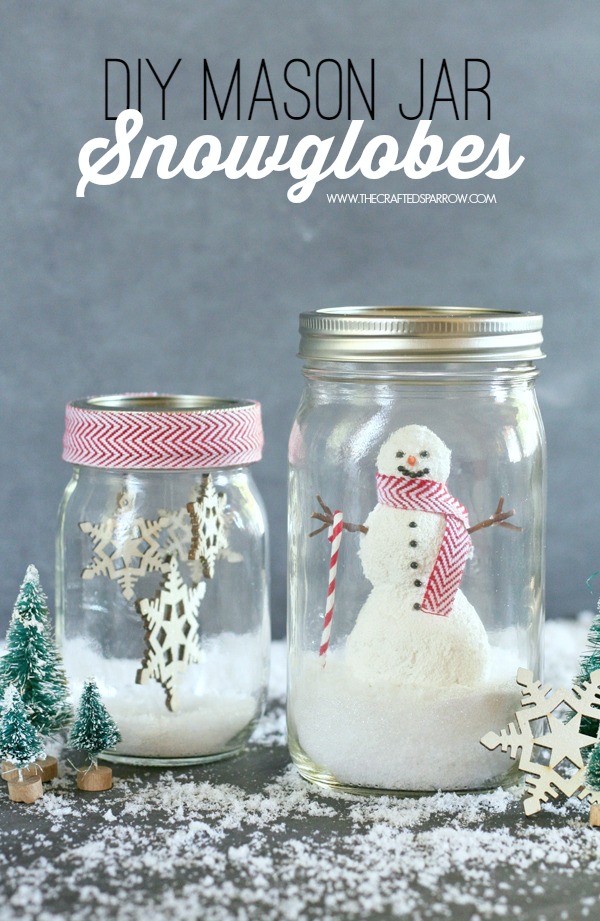 Supplies:
– mason jars, wide mouth quart and pint size
– styrofoam balls, 3 graduating sizes
– DecoArt Snow-Tex
– fake snow, seasonal section
– white glitter
– wood snowflakes, seasonal section
– invisible thread or fishing line
– 2 bamboo skewers
– black sewing pins
– mini candy canes, seasonal section
– glue gun
– ribbon for scarf and lid (optional)
Here is the original tutorial from Michaels for the Lemax Mason Jar Scenes and supply list.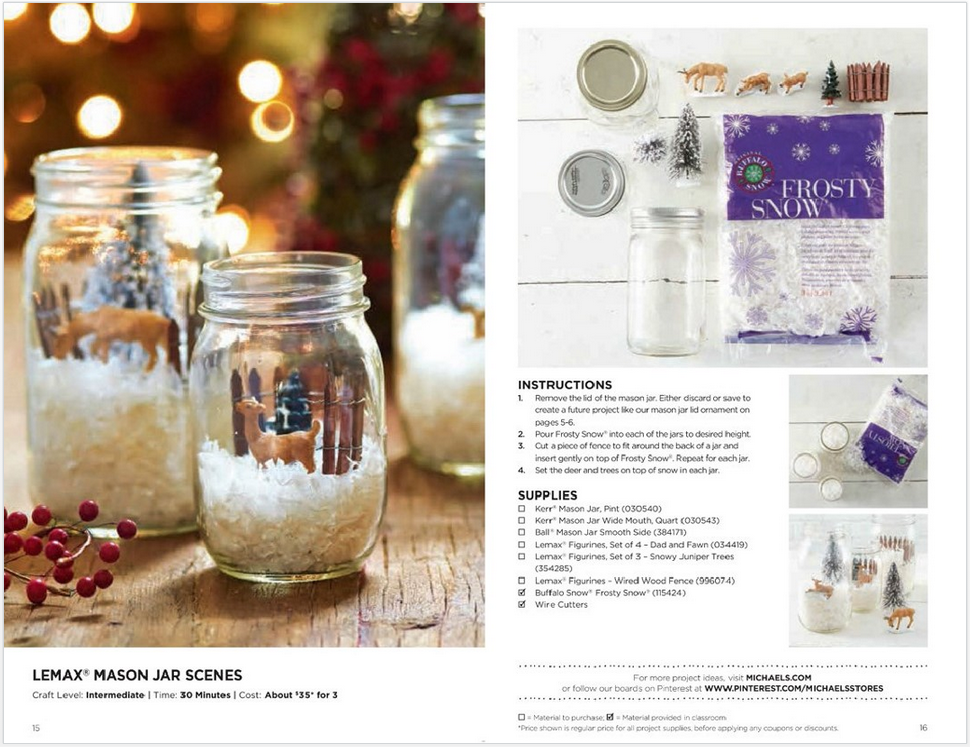 The first thing I did to switch things up was to create a snowman.
I used 3 different sized styrofoam balls that I put on to a bamboo skewer, then covered them using Snow-Tex. You will need to use a popsicle stick, or plastic knife to spread it. Leave the remaining skewer sticking out of the snowman, you can set it inside a mason jar upside down until the snowman is dry. Once dry cut the remaining skewer off with wire cutters or scissors.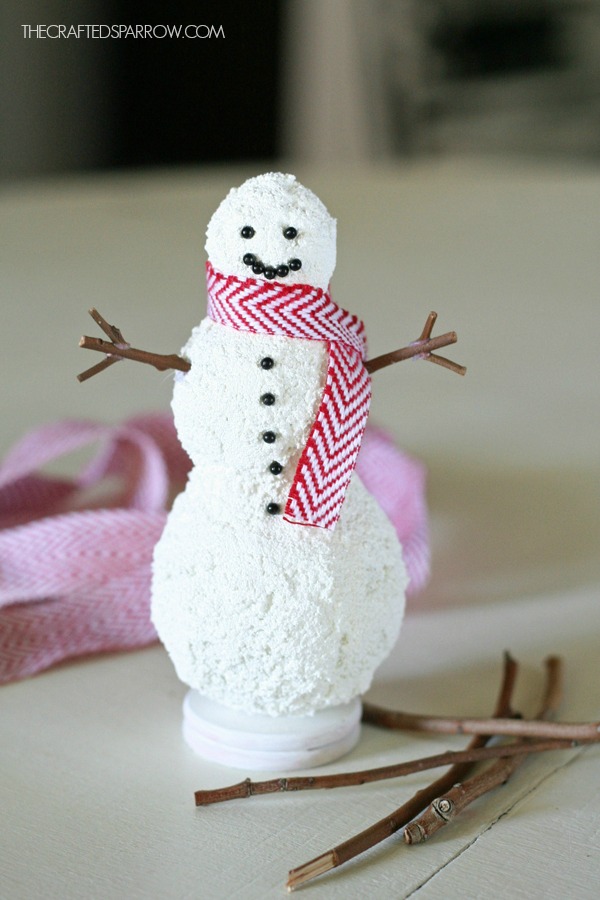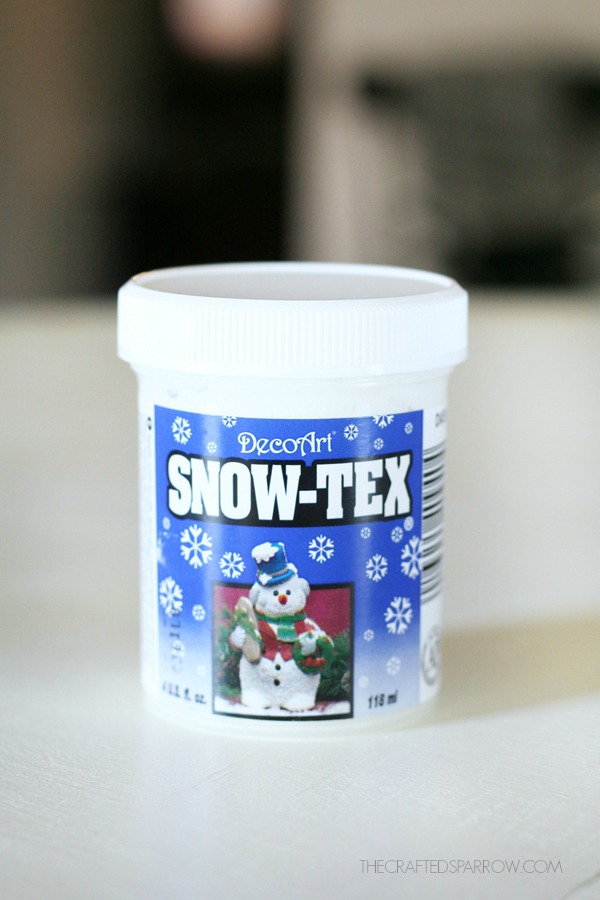 Create arms with hot glue and small twigs, then glue into each side of the snowman.
Use black sewing pins for the buttons, eyes, and mouth. I just trimmed each pin a little with wire cutters and pushed it in.
I added a small piece of ribbon for the scarf, and the pointed tip (painted orange) of the bamboo skewer for a nose. Just hot glue to secure in place.
I glued my snowman to a couple of wood discs painted white to give him a little height, then hot glued the whole thing to the inside of the jar bottom.
Use a spoon to carefully place the fake snow and white glitter in the bottom. I also added a cute mini candy cane for fun.
Screw on the lid, and he's done.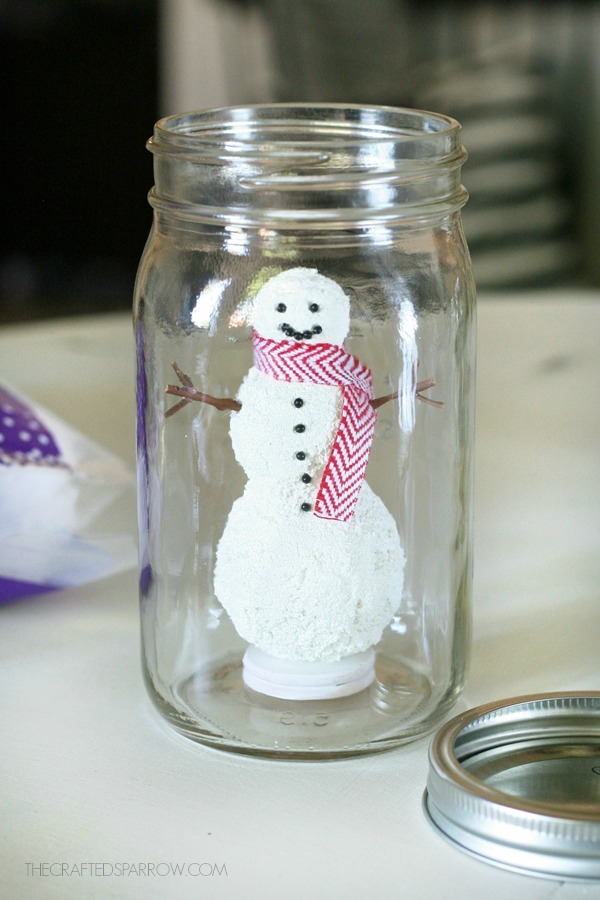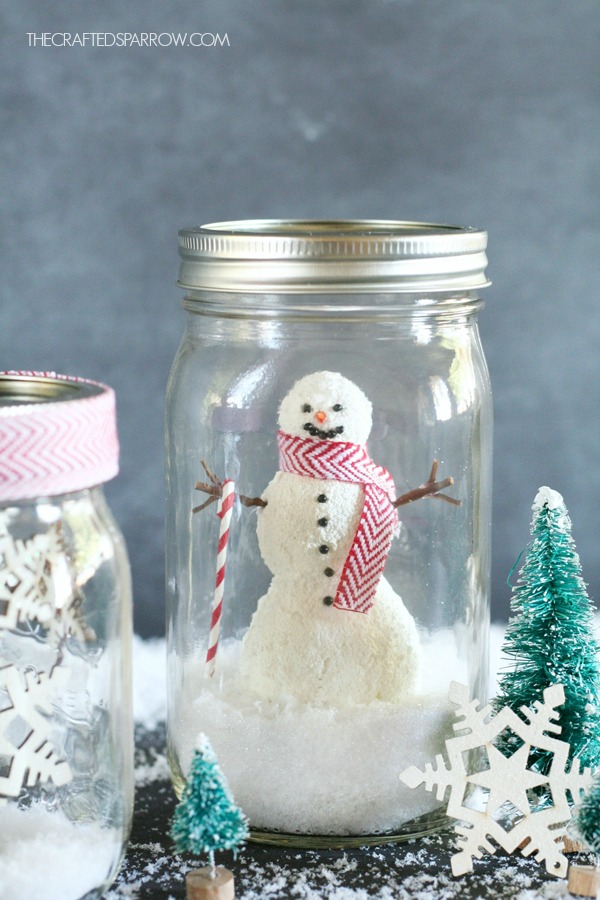 To complement my snowman I made a Snowflake Snowglobe. I wanted to keep the design simple so these wood snowflakes were perfect.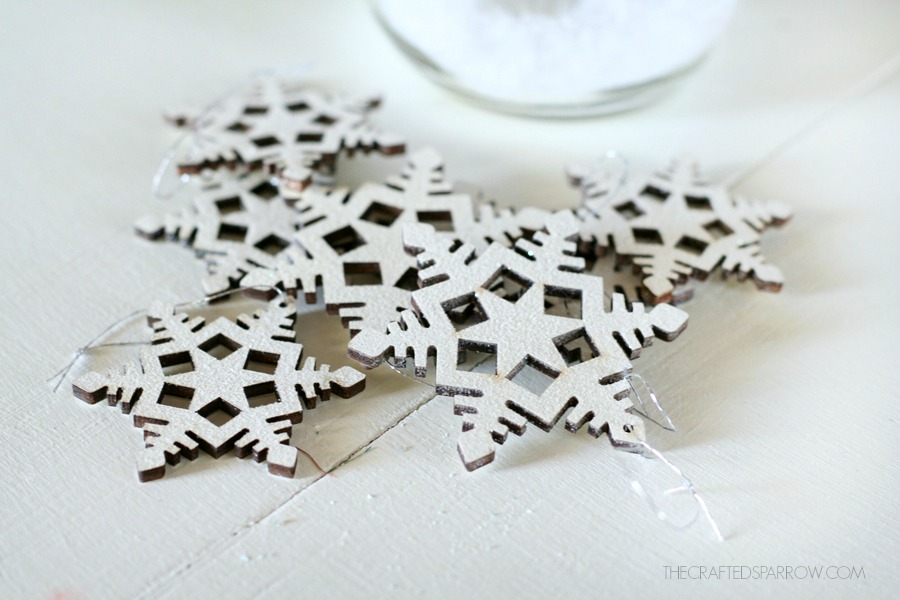 Fill the bottom of the jar with fake snow and glitter using a spoon.
String wood snowflakes on invisible thread or fishing line to create a floating illusion.
Hot glue the snowflakes to the top inside of the lid, hot gluing a piece of white cardstock to the lid insert first might help the glue hold better.
Add lid to jar and it's done.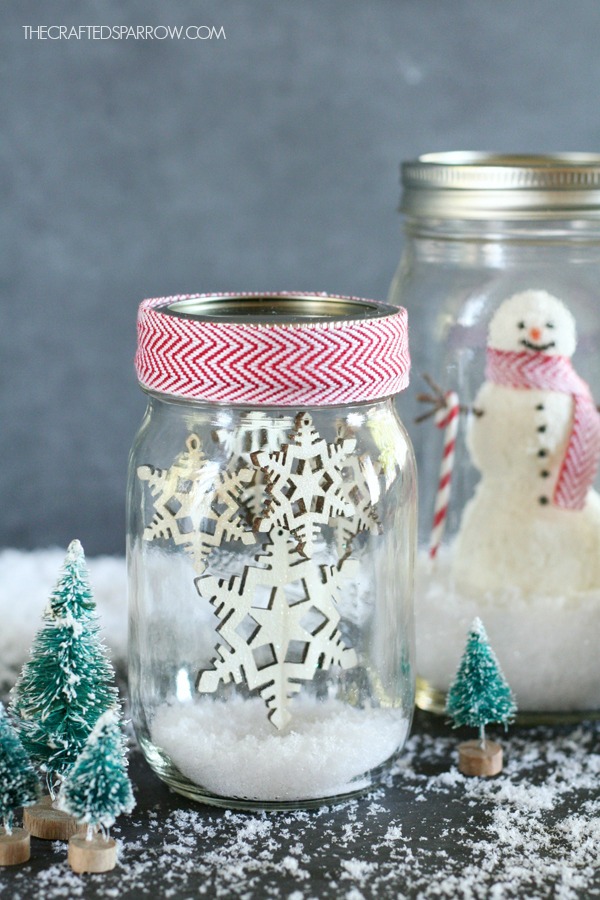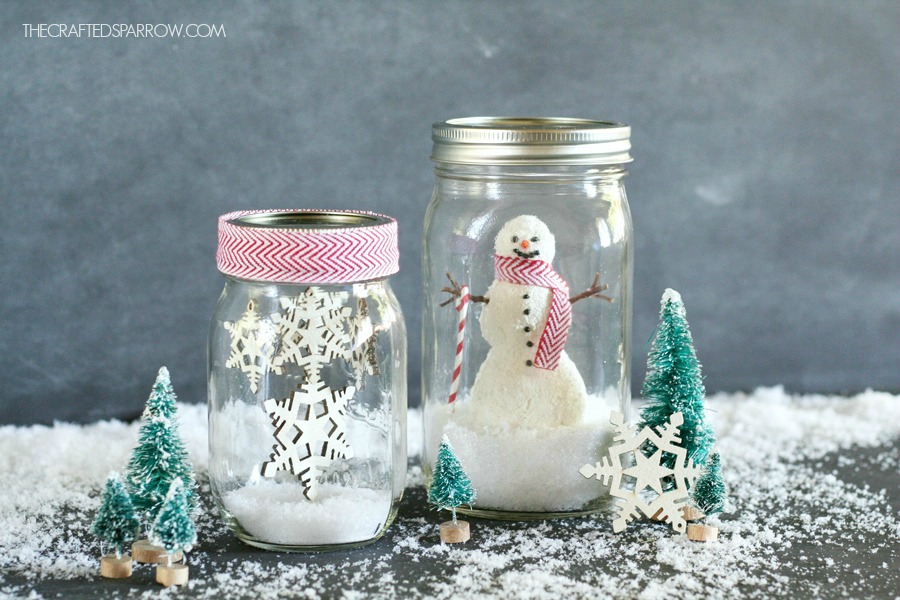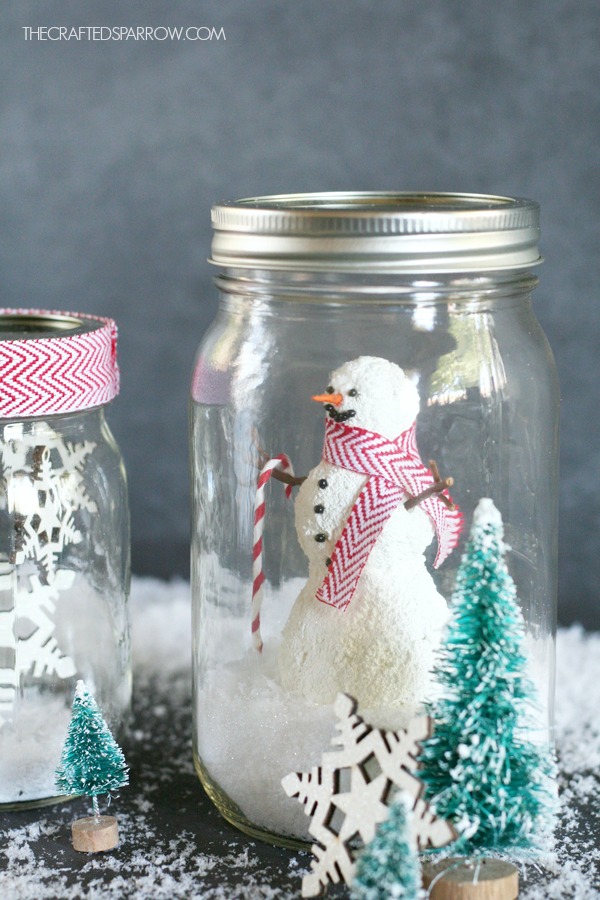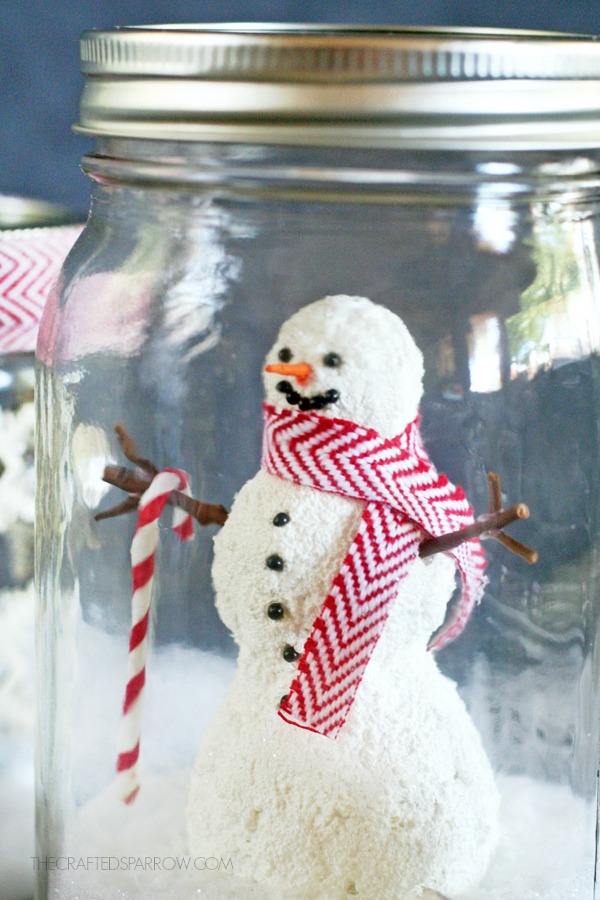 I hope that you and your friends head over to a local Michaels store this Saturday, November 15th from 1pm-4pm to join in on the fun! If you go, be sure to use the hashtag #MadeWithMichaels! That way I can check out all your awesome projects! Be sure to follow Michaels on Pinterest so you don't miss out on any of the Pinterest Party fun and inspiration.
Disclosure | This post is brought to you on behalf of Michaels. I received compensation to purchase product for this post, but all ideas are my own.