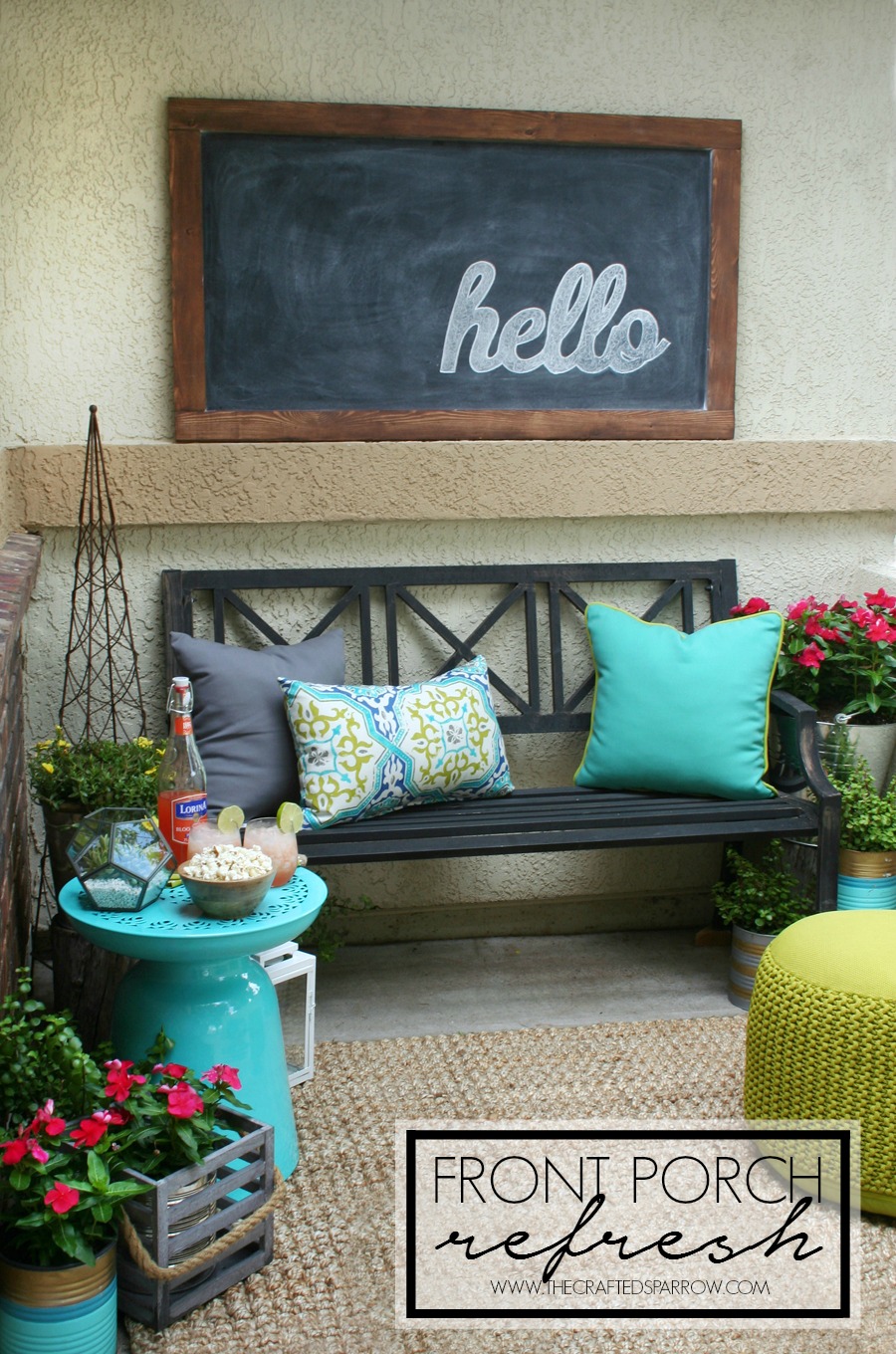 For months our front porch has been in major need of some love, it's been neglected for far too long now. With the summer months here I thought it was the perfect time to do a Front Porch Refresh so we can enjoy sitting outside and relax while watching our boys play with the neighborhood kids each day.
I thought I'd give you a peek at the before photo, it was just well…plain and boring. I love the bench so I wanted to utilize that in the refresh, I also love the Painted Tin Can Planters I made and wanted to keep them. It needed color and texture, so I headed to one of my favorite home decor stores – World Market!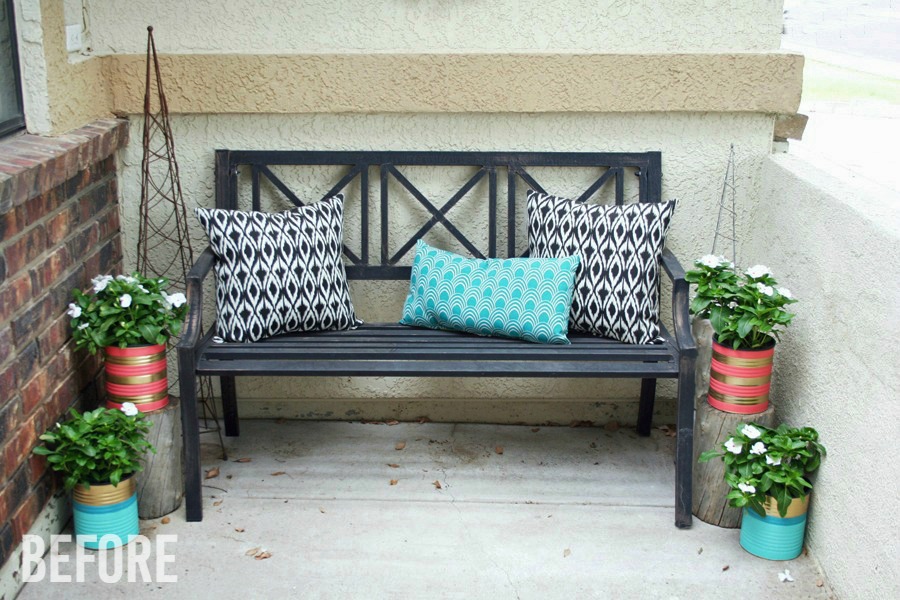 When you're thinking about giving your outdoor space a refresh you should start by thinking about how you want your space to function. We needed something that was inviting to guests as they walk up to our front door and was casual enough for our boys to use the space with friends while playing basketball. I wanted a place we could set a drink while sitting, and someplace to put our feet up.
I've had my eye on this Lagoon Metal Dimitri Outdoor Stool for about a month or so, it makes the perfect side table for our space. The color is exactly what I was looking for when I thought about accent colors. Our simple beige and tan house needed color desperately, I still wanted to keep some neutrals to the space so I stuck with a turquoise, lime green, and gray color palette.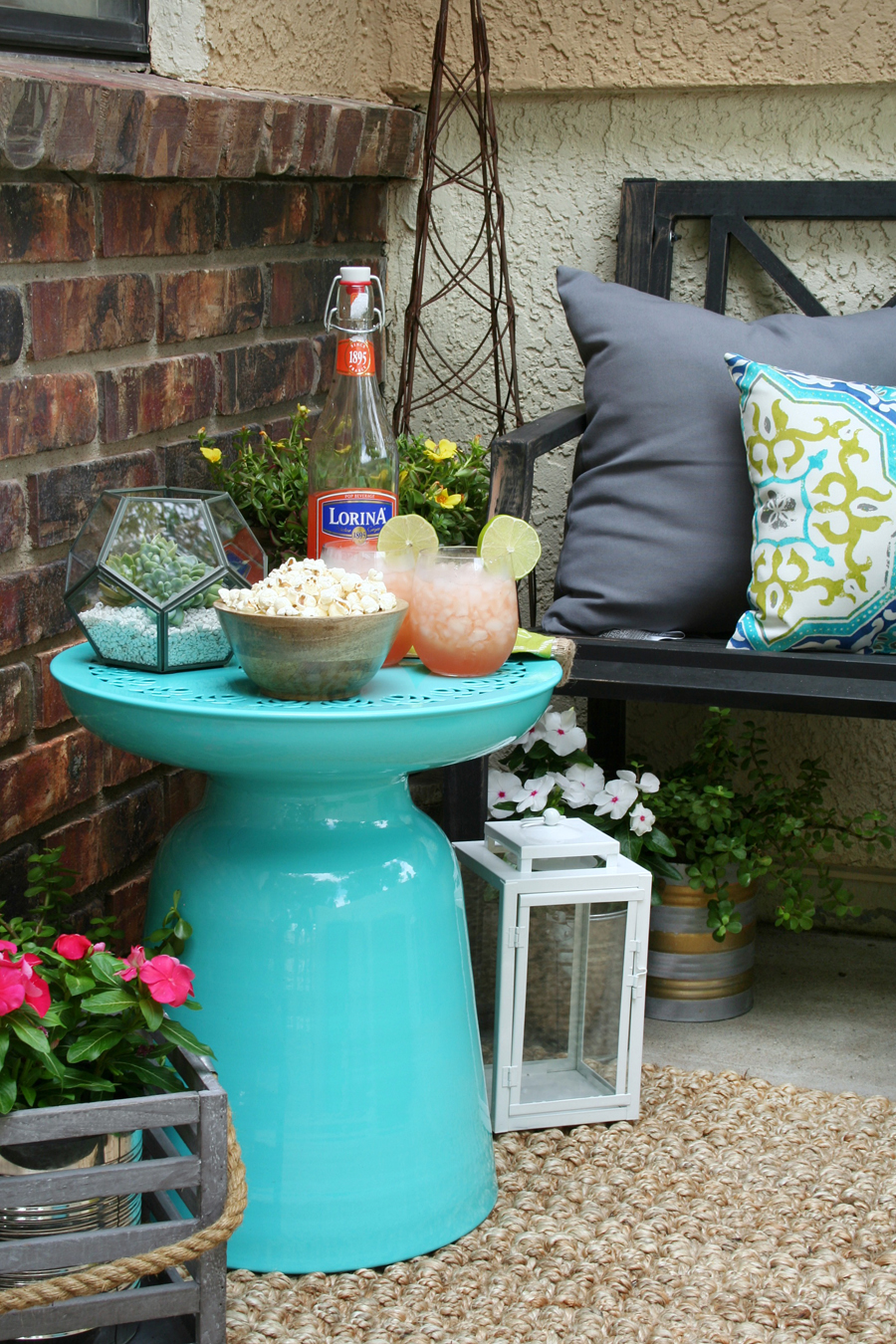 I found these fun small Apple Green Wood Salad Bowls which were perfect for afternoon snacks. Acrylic Stemless Wine Glasses are a must with kids around, they are perfect for the amazing drinks you can find at World Market like the Blood Orange Sparkling Soda – it's so good! I also picked up the Green Lattice Ethel Napkins, they are the perfect bright colored napkin for summer.
As soon as I saw this Geo Terrarium I had to have it for the stool. It was the perfect place for some succulents. I want to buy more for inside the house, they are so pretty to look at.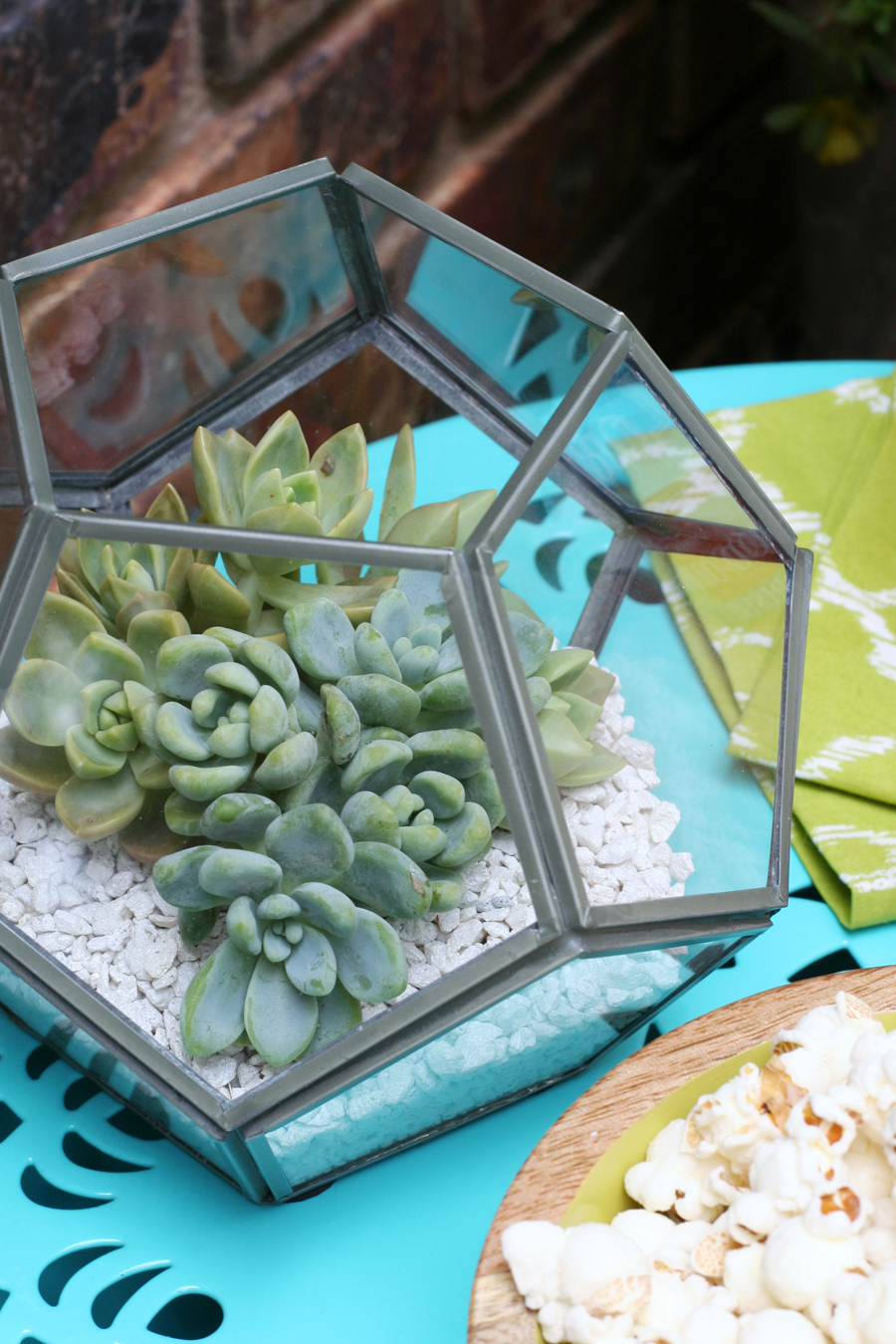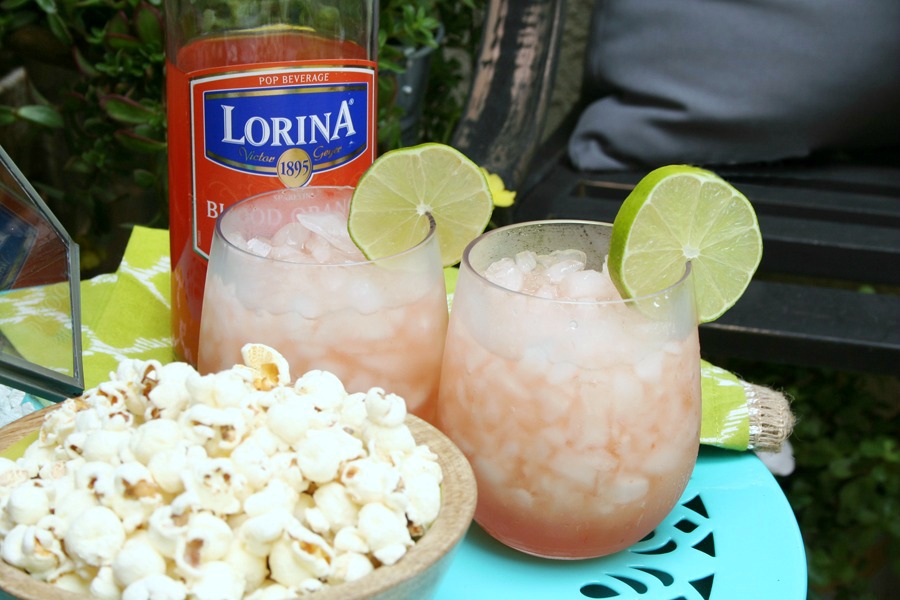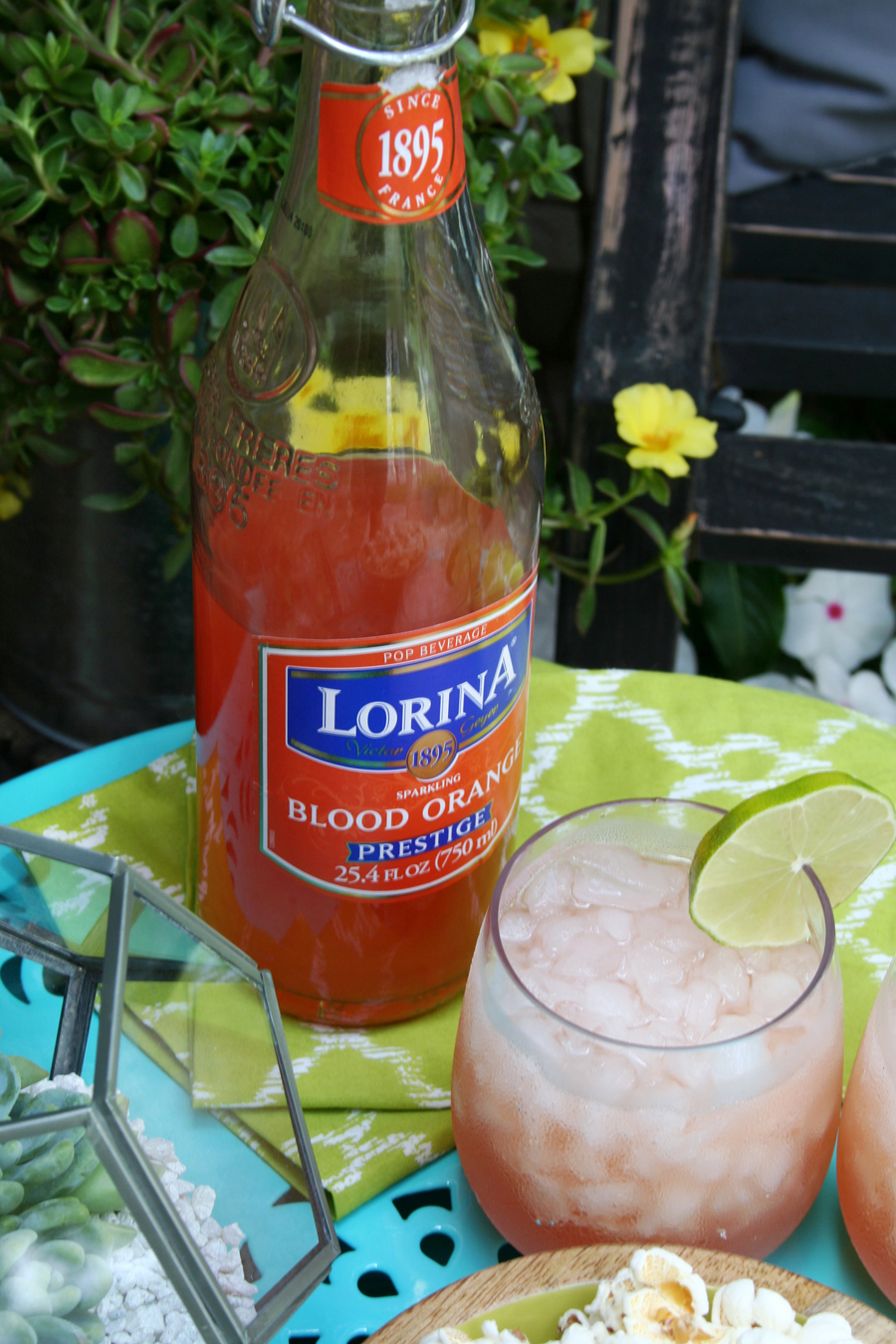 To bring some extra texture to this outdoor living space I added a jute rug I had on hand which covered up that boring concrete.
The huge chalkboard was a DIY project I made last year, you can see a smaller version of it HERE. The wall needed something big above the bench, this was the perfect solution.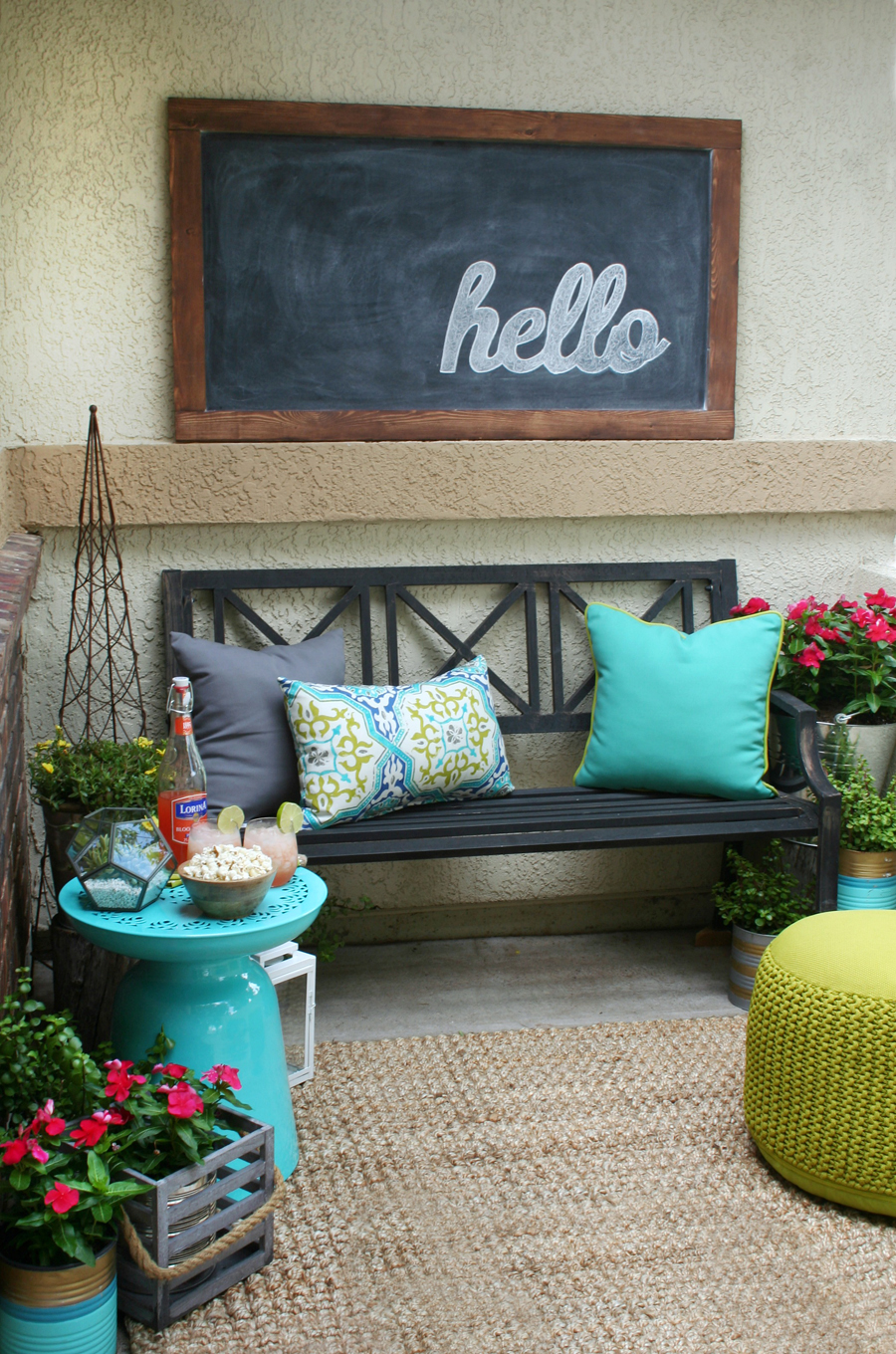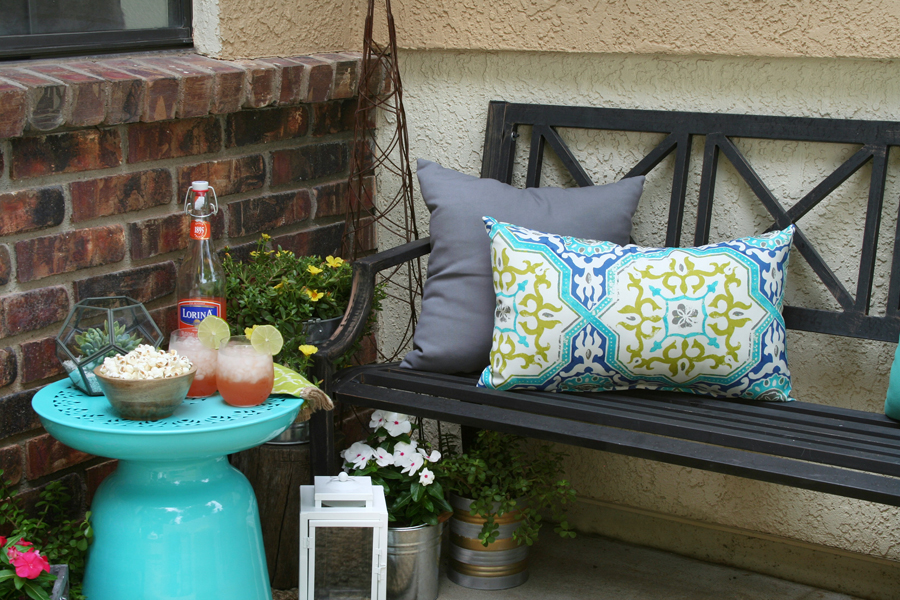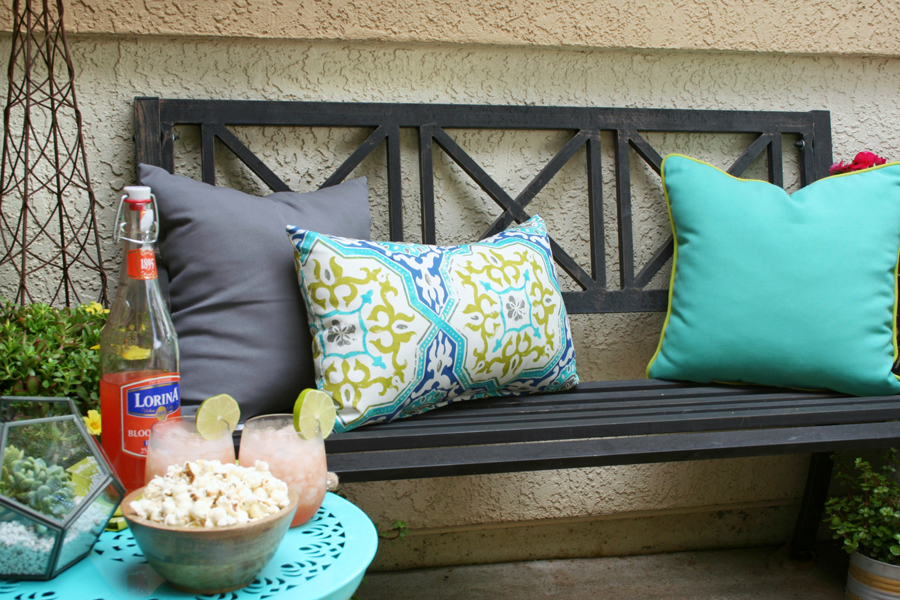 I also added tons of plants, more succulents and flowers to brighten up the space. I added some Galvanized Metal Pails I found in the store and mixed them with my Painted Tin Can Planters, and some other decor I had on hand.
If you're turning the metal pails into planters be sure to drill drainage holes in the bottom first.
How awesome is that big Green Indoor – Outdoor Pouf?! Not only does it offer another seating option, but it's perfect for kicking our feet up while relaxing.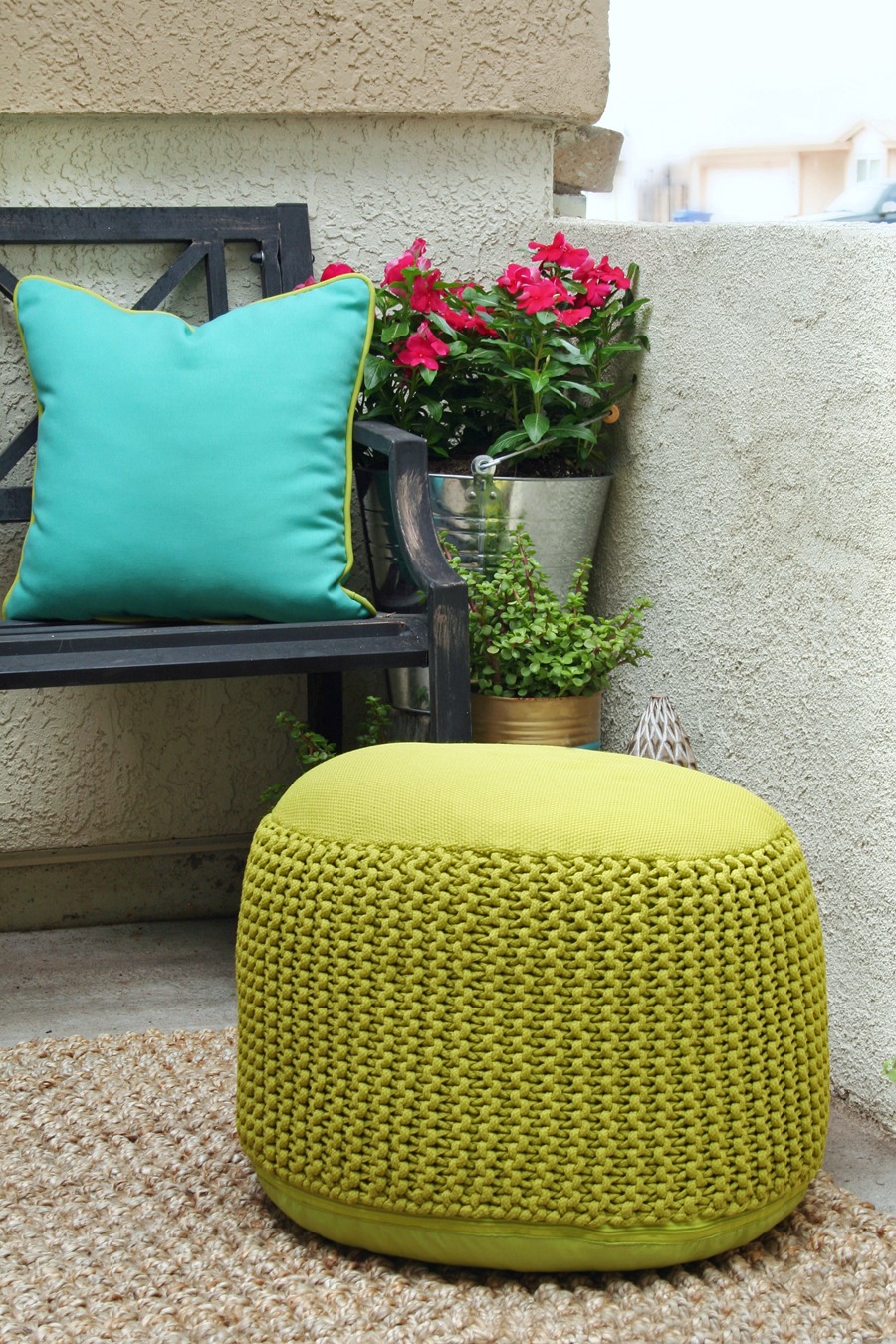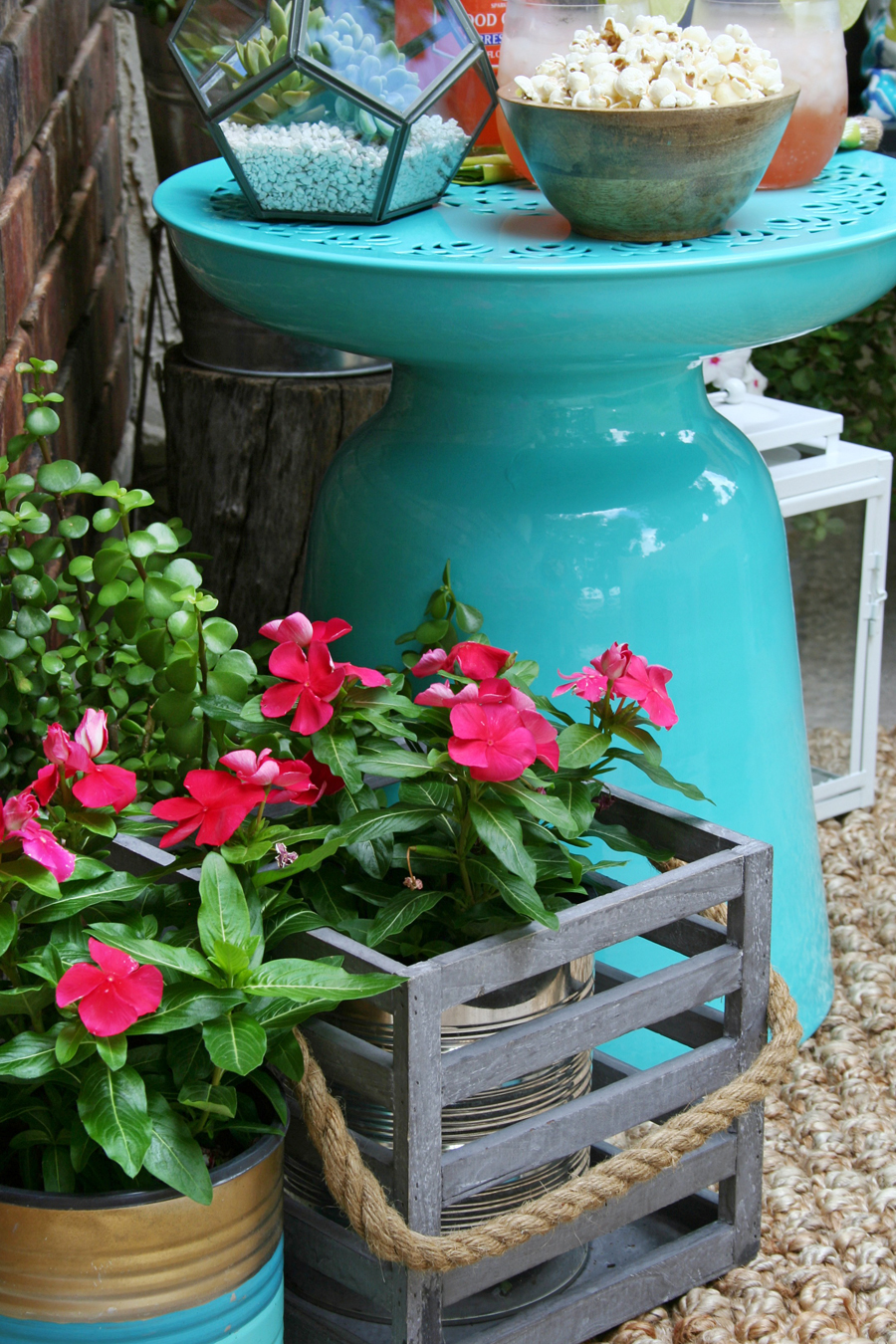 World Market has so much amazing Outdoor Decor, like these amazing Sufi Tiles Outdoor Lumbar Pillow – Gray Outdoor Throw Pillow – and the turquoise and lime green piping pillow.
I love how this space turned out, it's exactly what I wanted and it's going to make enjoying these hot summer months even better.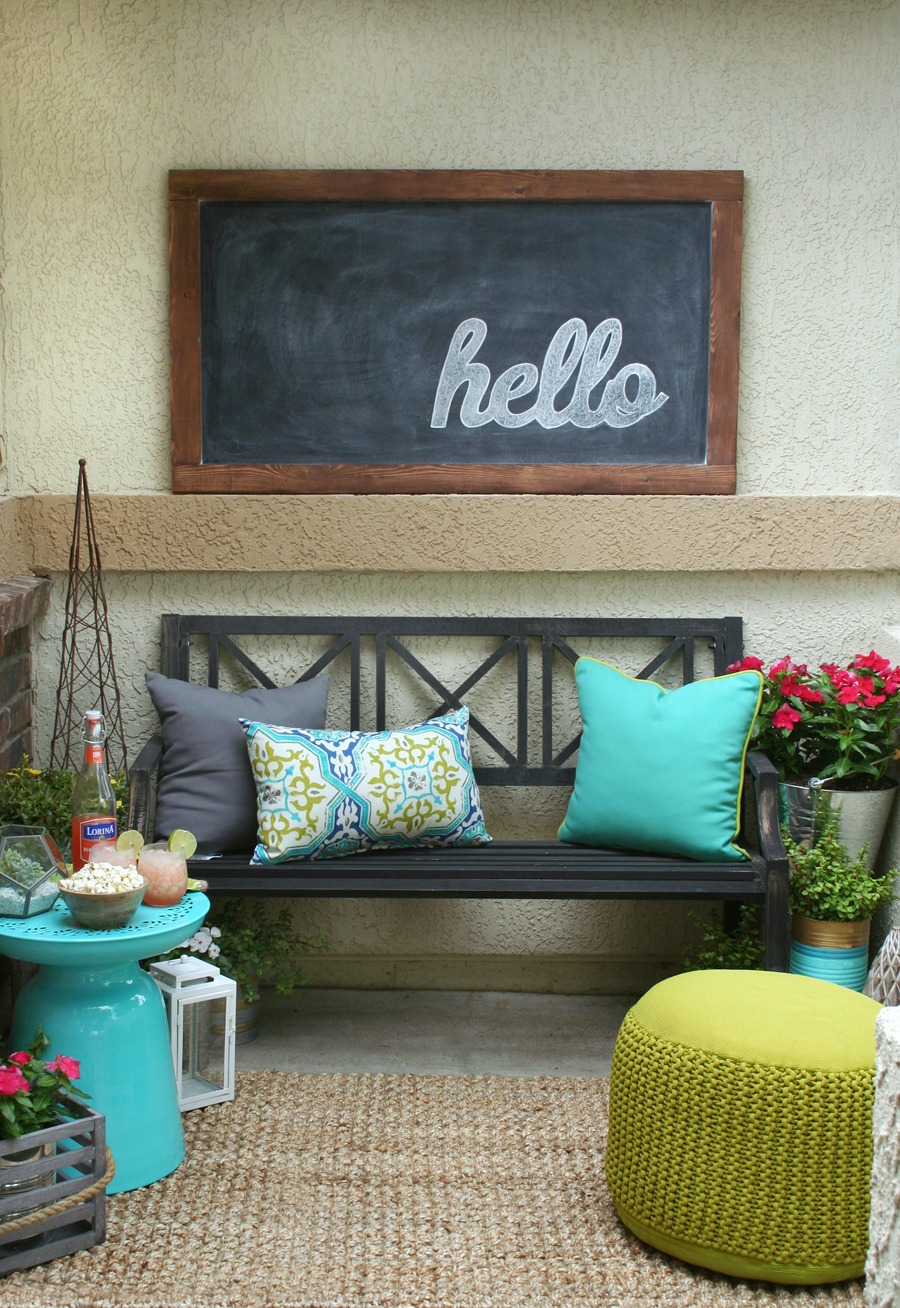 Ever wish you could have an awesome team of design experts transform your boring and tired yard into an outdoor oasis? If your answer is yes then be sure to submit a photo of your yard and enter for a chance to win $3000 worth of landscaping services from Porch.com and $2000 worth of outdoor furnishings from World Market. Even better, World Market will have it professionally styled by a Porch Blogger and your fab renovation could be featured in Everyday with Rachael Ray Magazine! Be sure to enter HERE! Contest ends June 30th, 2015. Good luck!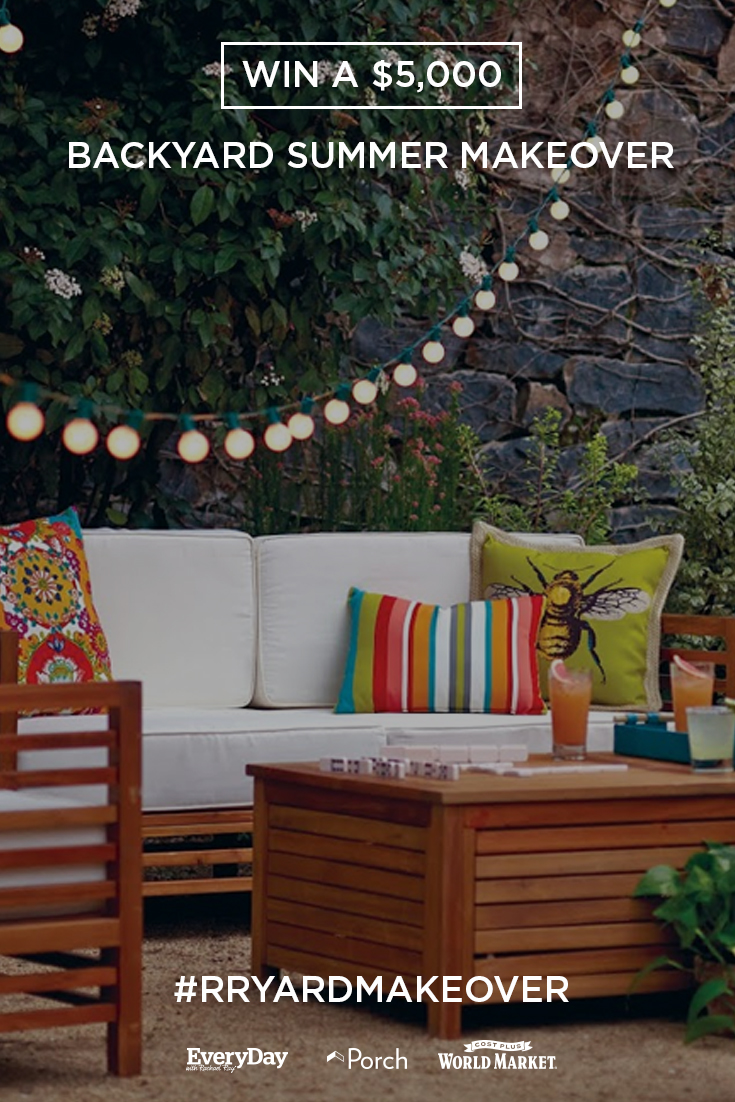 ENTER HERE
Disclosure | This post has been sponsored by World Market. All opinions and ideas are my own.