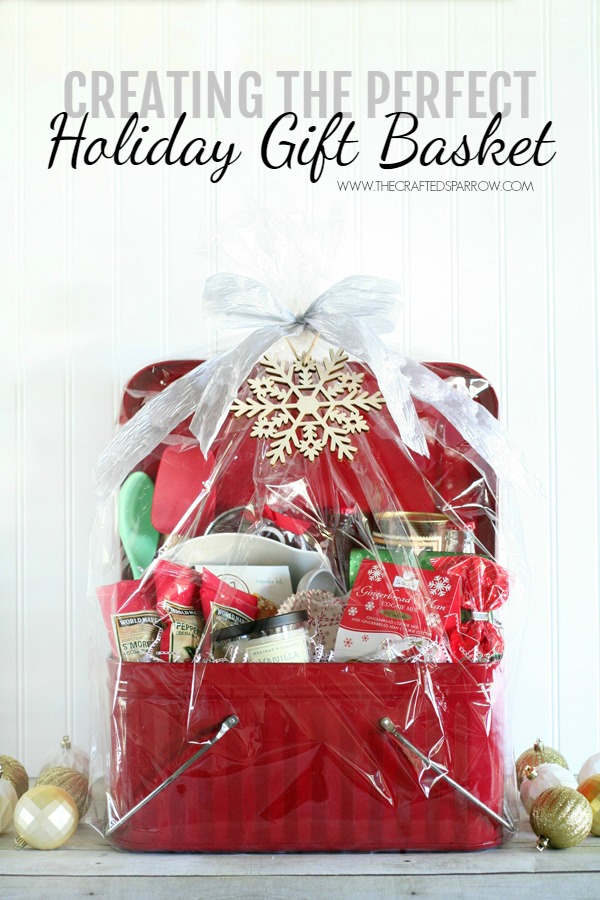 I look forward to Christmas each year for various reasons, but one of my favorites is being able to bless others that help and serve our community in positive ways. I love preparing a gift that I can surprise them with, and a gift basket is my favorite way to do that. Some people might feel overwhelmed at the thought of putting together a gift basket, so today I'm sharing some helpful tips. Today is all about Creating the Perfect Holiday Gift Basket!
One of my favorite stores to shop when creating a gift basket is World Market, they have so many unique gifts to offer that it makes creating the gift basket so easy.
Here are some helpful tips when creating your basket:
Pick a theme or an item to center the gift around. Christmas, Favorite Things, Vintage, Beers of the World, Cooking, International Foods, etc… Whatever the theme keep in mind who the gift is for and find out some of their favorites before you shop.
Once a theme is established look for the perfect container or basket to place your gift in. It doesn't always have to be a basket, a large cooking bowl – pot – picnic basket – decorative box – etc…will work.
With your theme in mind begin looking for items that coordinate, keeping in mind colors of products / packaging helps to keep a cohesive look for the gift basket.
While shopping use the basket / container and fill with the items as you shop, this will keep you from buying too much or not buying enough items to give your basket a full look.
Look for items that are both big and small, you need to create height in your gift basket.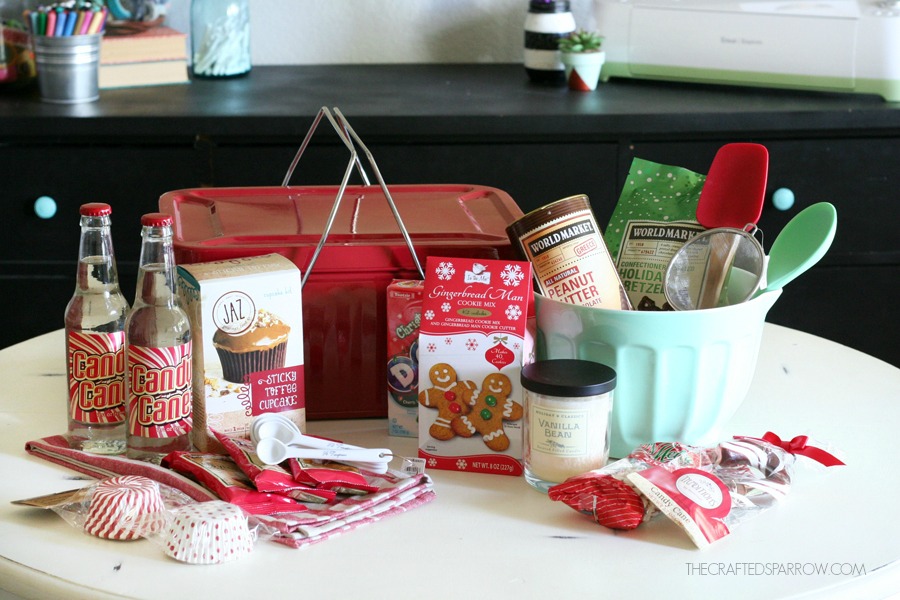 If you haven't shopped World Market during the holidays you are missing out! They always carry the funnest and most whimsical items. When I'm Creating the Perfect Holiday Gift Basket I love including some of my favorite World Market items. I buy these things often because I use them and love them so much. Here is what I filled my gift basket with:
Red Retro Metal Basket | Mint Mini Mesh Strainer | Mint Melamine Batter Bowl
Red Silicone Spoonula | Mint Silicone Spoon | Peppermint Cupcake Liners
Red Ombre Striped Kitchen Towel | Porcelain Measuring Spoons Set
Vanilla Bean Filled Jar Candle | Sticky Toffee Cupcake Mix | Christmas Tree Pretzels
Smooth and Melty Petite Christmas Mints | Gingerbread Cookie Mix
Peppermint Hot Cocoa | S'mores Hot Cocoa | Red Velvet Cocoa
Candy Cane Soda | Hot Chocolate Candy Cane
Milk Chocolate Peanut Butter Rolled Wafers | Christmas Dots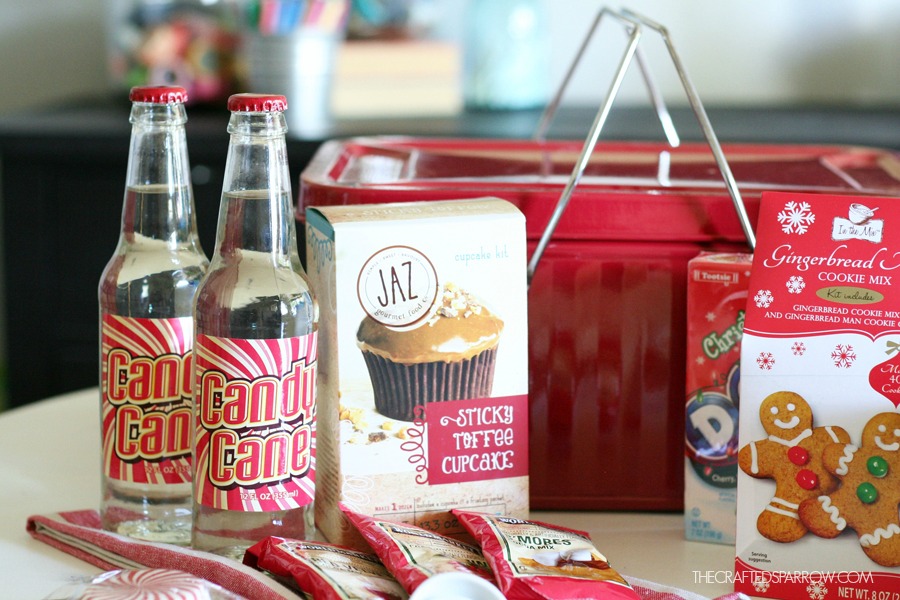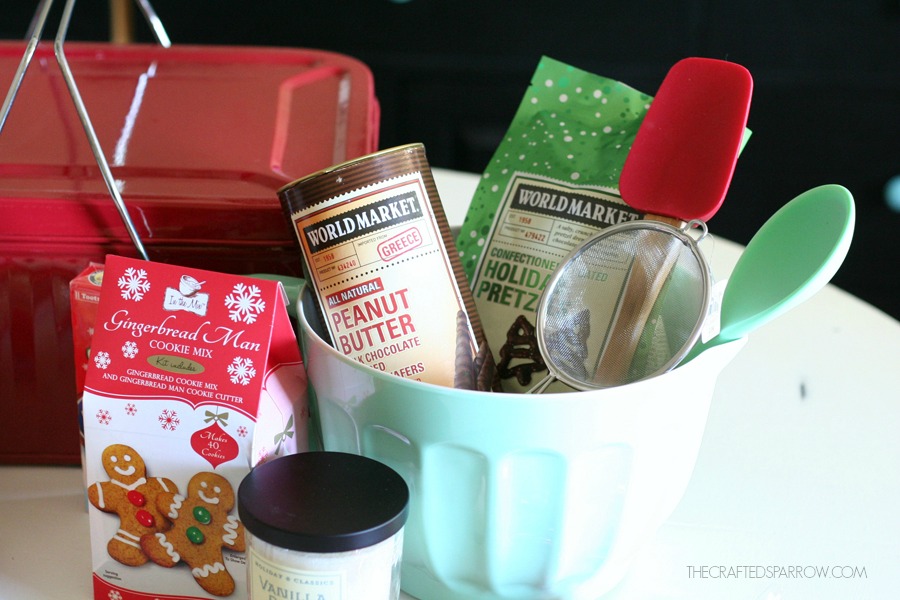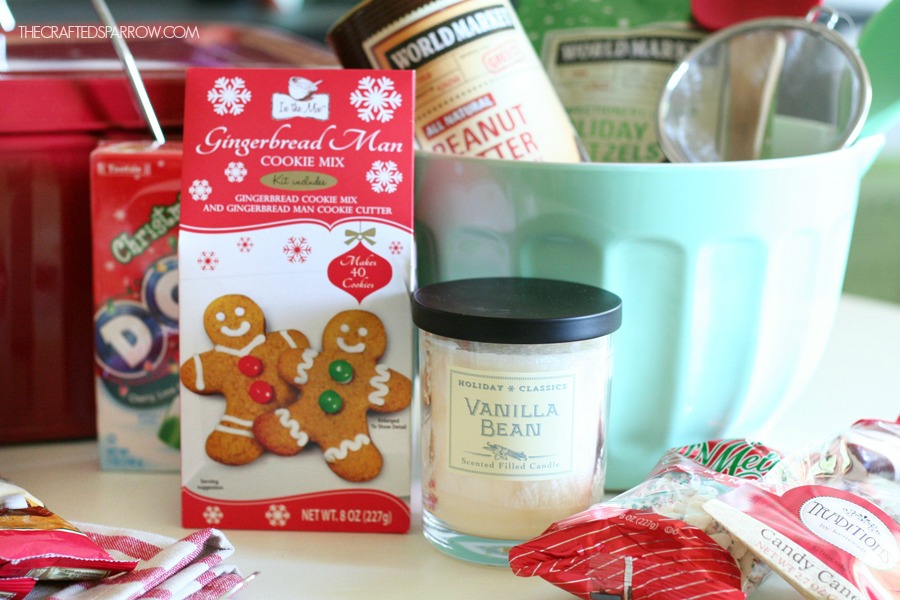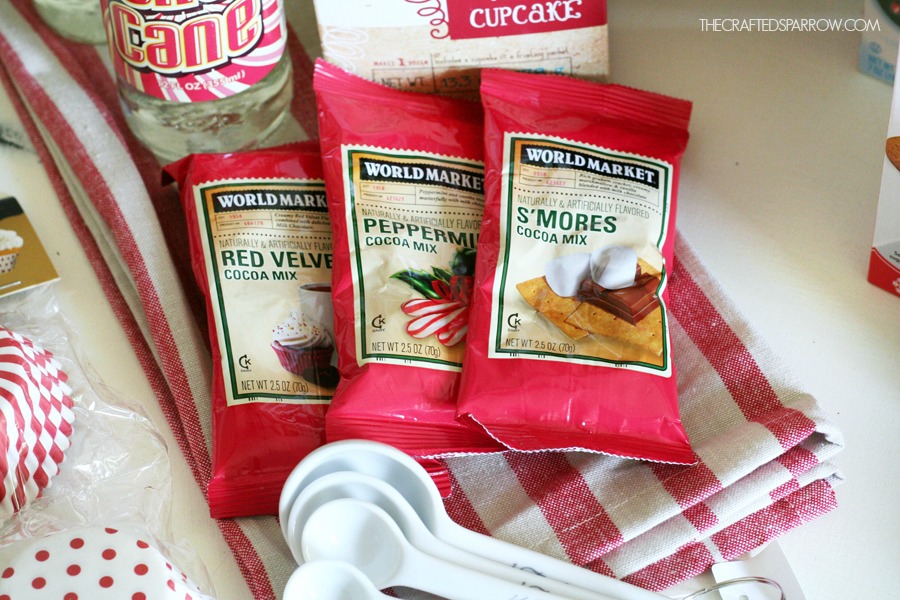 Step 1 – Fill the bottom of your basket / container with filler. Tissue paper is a great filler and usually what I place on the bottom first since it costs less than shred. I use the shred on top of the tissue paper if I want to have the look of shred. This cute polka dot shred was also from World Market.
Step 2 – Place your largest item in the basket / container first. For me it was my favorite mixing bowl. I turned it on it's side so I could still see the mint color and fill it with goodies.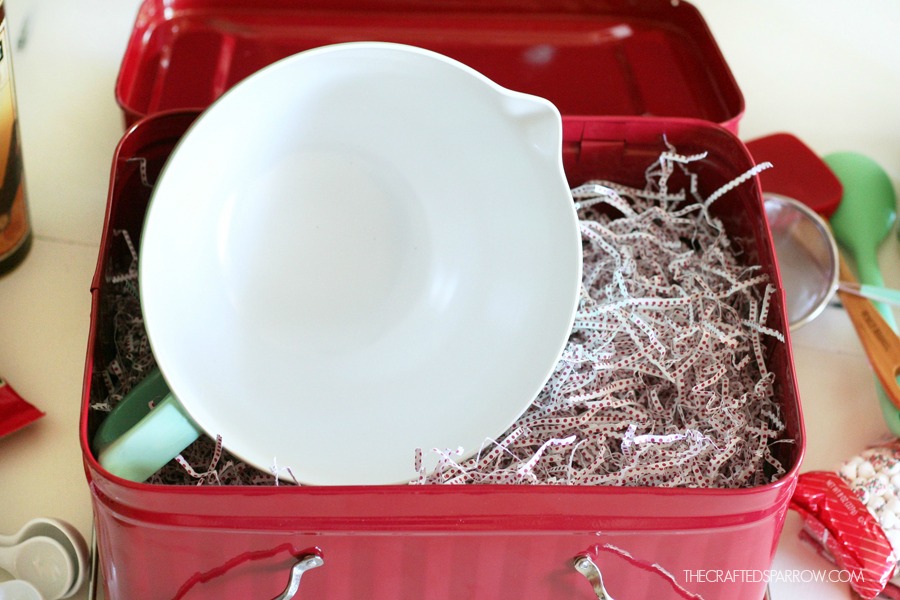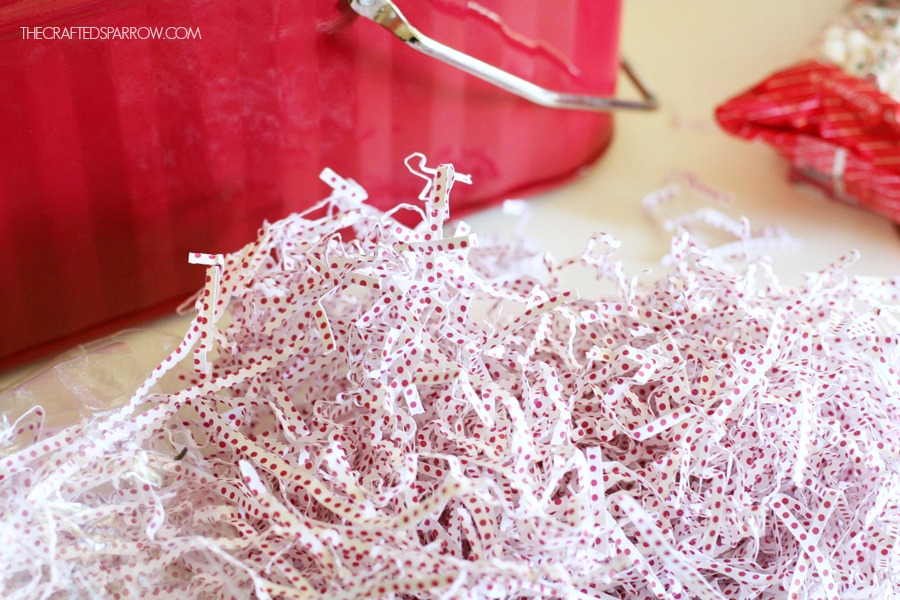 Step 3 – Continue to filling in with large sized items, the tallest items need to be in the back to create height. For me it was the mixing spoons, large bag of holiday pretzels, and peanut butter rolled wafers.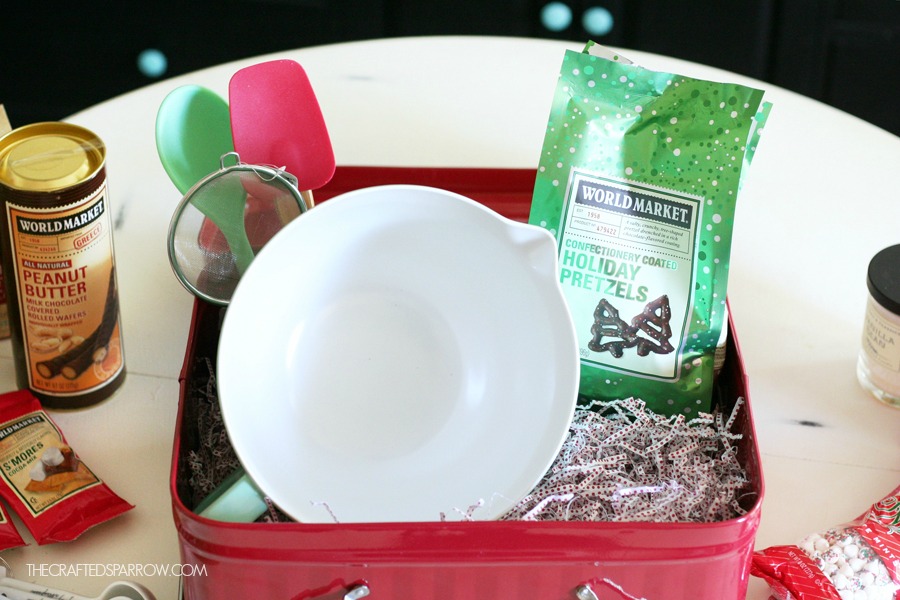 Step 4 – Continue filling in with items. Stacking them according to size from the back to the front works best. Fill empty spots with smaller items or filler.
Step 5 – If you have a container like I did that has an attached lid that doesn't stay up on it's own you can grab a cellophane gift basket bag. For this particular gift basket I needed a jumbo size bag. This helped to keep my lid propped up. Most times I don't use a bag unless it needs to have one, it's totally up to you. Once I put my bag around the gift basket I tied it using some of my favorite silver paper ribbon, I love this stuff. I also attached a cute snowflake ornament from the holiday section in stores.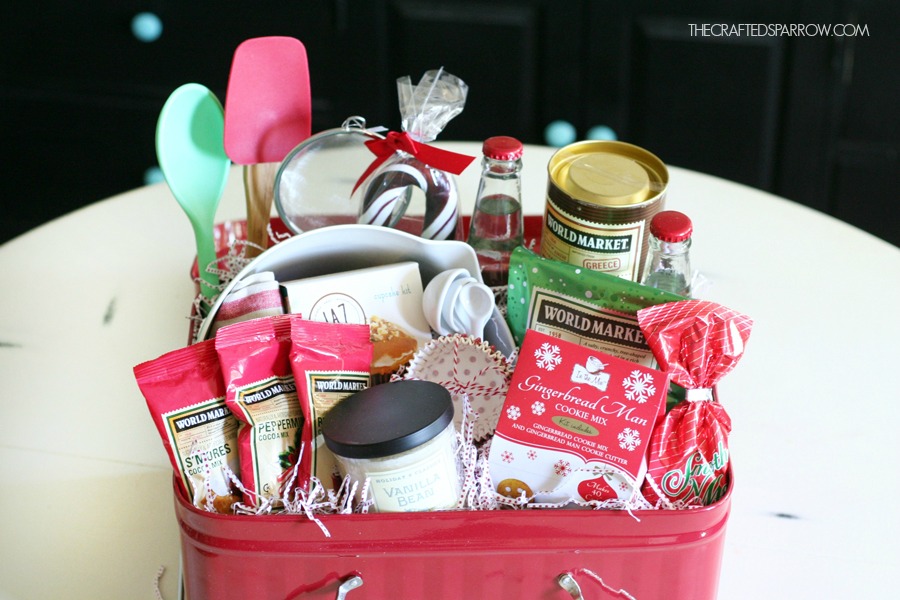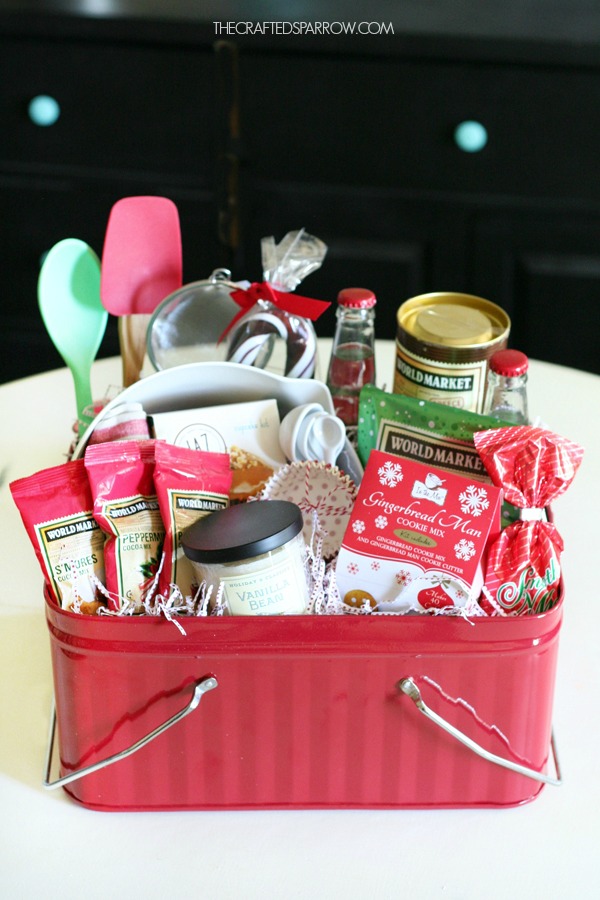 This year I chose to give back to a couple who is making an impact in the life of our son. Meet Mary Ellen & Josiah, they are youth pastors at our church. Mary Ellen is also a math teacher. Serving the youth of our community is so important to me, it has always had a huge place in my heart. The influence these two are making in the lives of our kids will forever impact them, mentoring and taking the time to invest in each child.
They love to cook and eat sweet treats, so I kept that in mind when creating this Holiday Gift Basket. They can have fun making all those holiday treats and creating special moments in their family.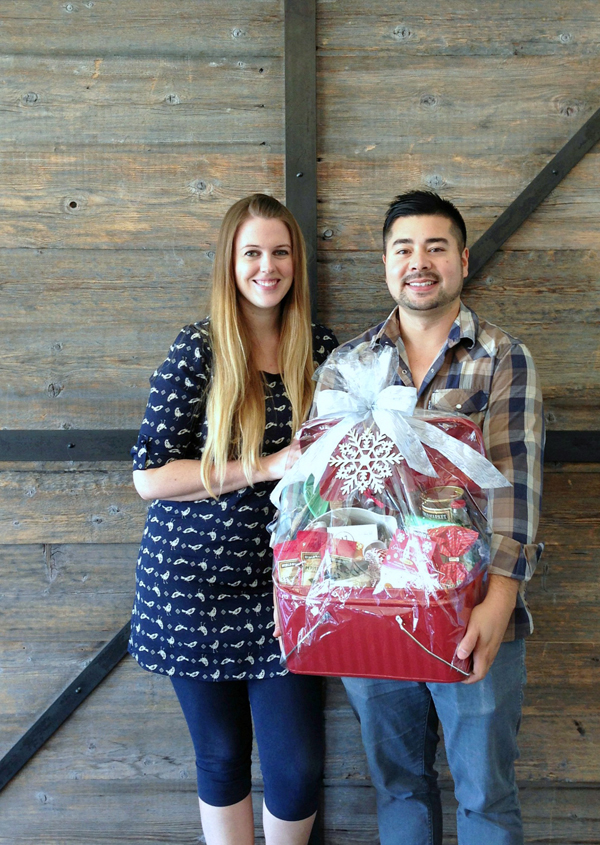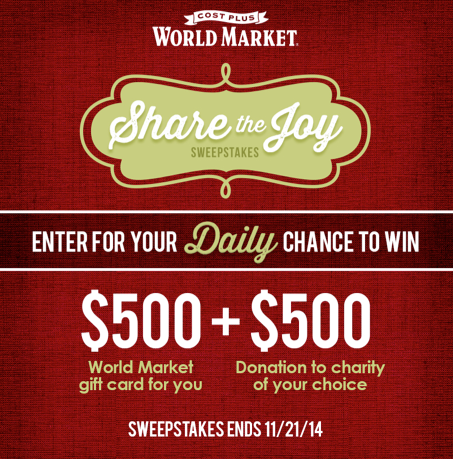 World Market wants to know how you Share the Joy this holiday season! From now until November 21st, 2014 World Market is hosting the Share the Joy Sweepstakes! Enter daily for a chance to win a $500 World Market gift card for you + a $500 for the charity of your choice. There will be 19 winners total. You can receive bonus entries for following World Market on their social media channels, go here and follow them now:
Twitter | Instagram | Facebook | Pinterest | Google+
You can also earn entries by sharing an Instagram picture with the hashtag #ShareTheJoy_WM & #WorldMarketSweepsEntry with a photo of you Sharing The Joy with someone in your community this holiday season, they want to hear all about it. Throughout the sweepstakes World Market will be sharing the joy with their Instagram followers by giving away a $50 World Market gift card each day through 11/21/14. Photos must be tagged #ShareTheJoy_WM & #WorldMarketSweepsEntry for giveaway consideration.
Disclosure | I am an ambassador for World Market. All opinions and ideas are 100% my own.