Disclosure | This post is sponsored on behalf of Better Homes and Gardens and Walmart. I'm a member of the BHG Live Better Blogger Network. All opinions and ideas are my own. This post may contain affiliate links.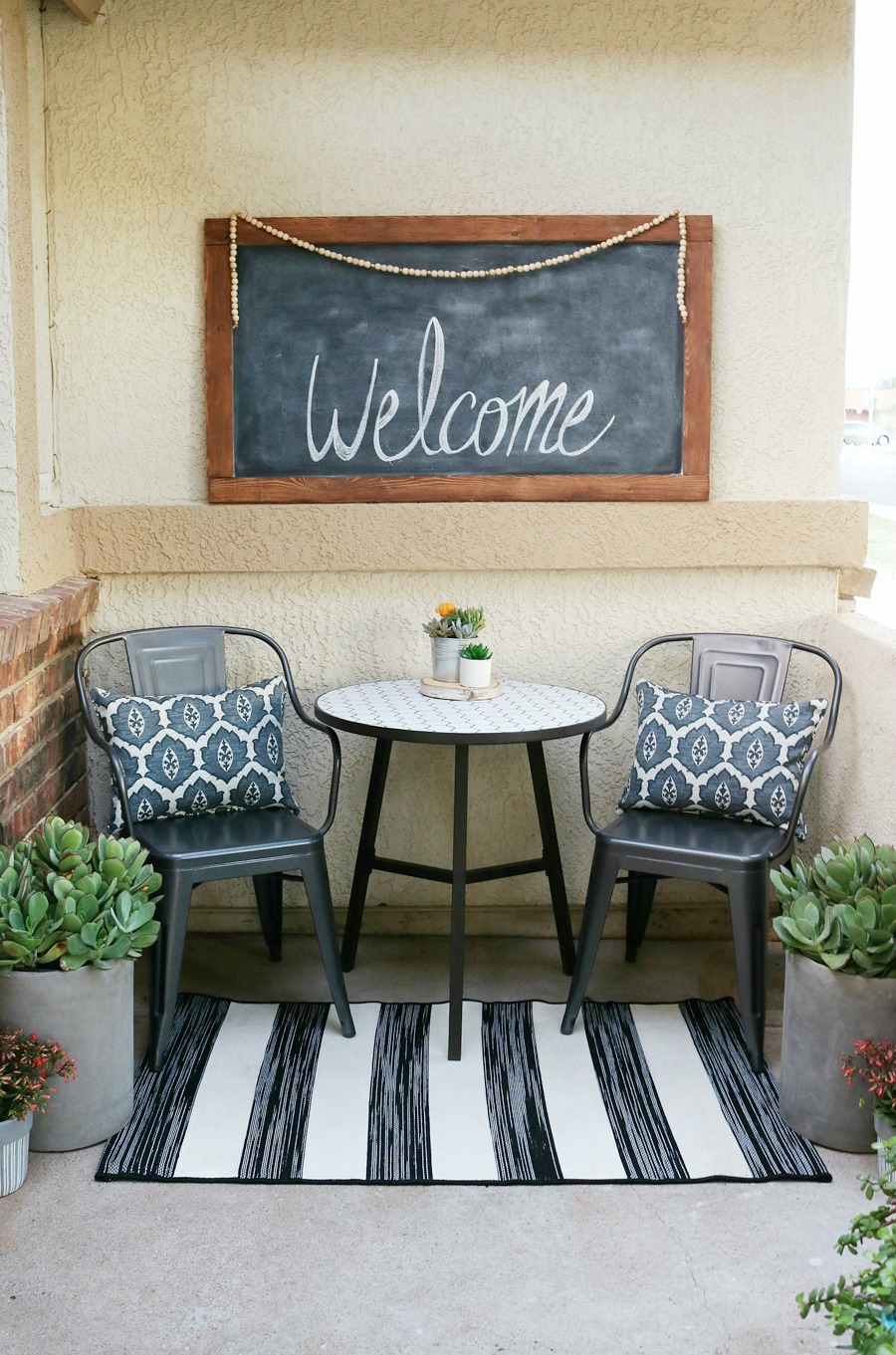 Spring is pretty much in full swing here in Arizona with temps already bordering the 90's. While the weather here is still relatively nice I thought it was the perfect time to give our front porch a mini makeover. My hubby has been asking me for a place he can sit after the kids go to school and drink his morning coffee outside. Our front porch is the perfect spot for sipping coffee and it's a small enough space that a budget friendly refresh is totally doable. This Black & White Front Porch Refresh is just what this spot needed.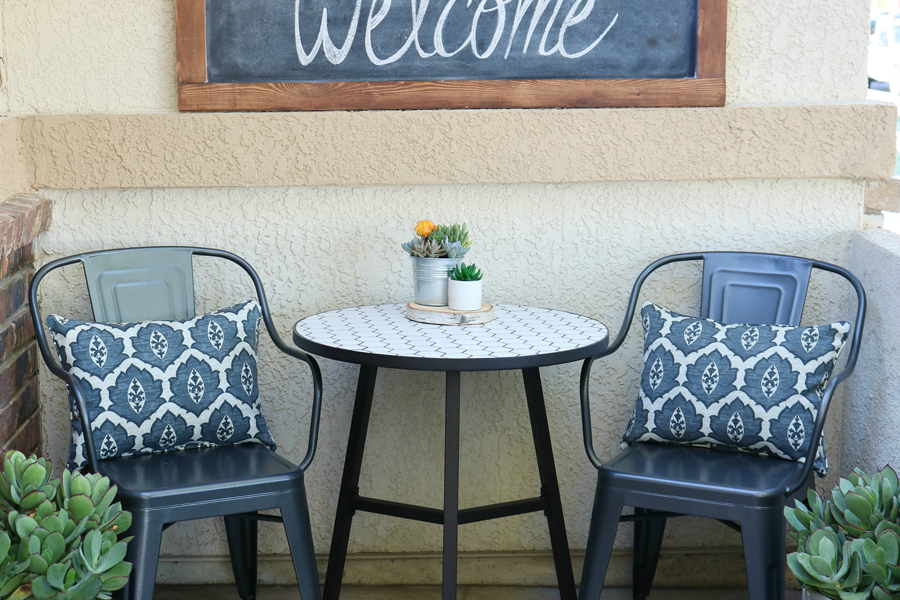 A couple years ago I gave this space a bright summer inspired refresh (you can see it HERE), while we really loved it…it was just too much stuff in this space and the bench wasn't super functional for sitting and enjoying watching our boys play outside.
On my trip to Better Homes and Gardens headquarters last summer I saw this Farmhouse Mosaic Tile Top Table and the Farmhouse Industrial Chairs and immediately knew that I needed to have them. They were the perfect size for our front porch and I loved that they fit my style so well.
These chairs are awesome, they come in four different colors…red, teal, white, and gray. Plus, they are an amazing price! I will probably end up getting a couple more for the back porch where we plan on building a farm style wood table.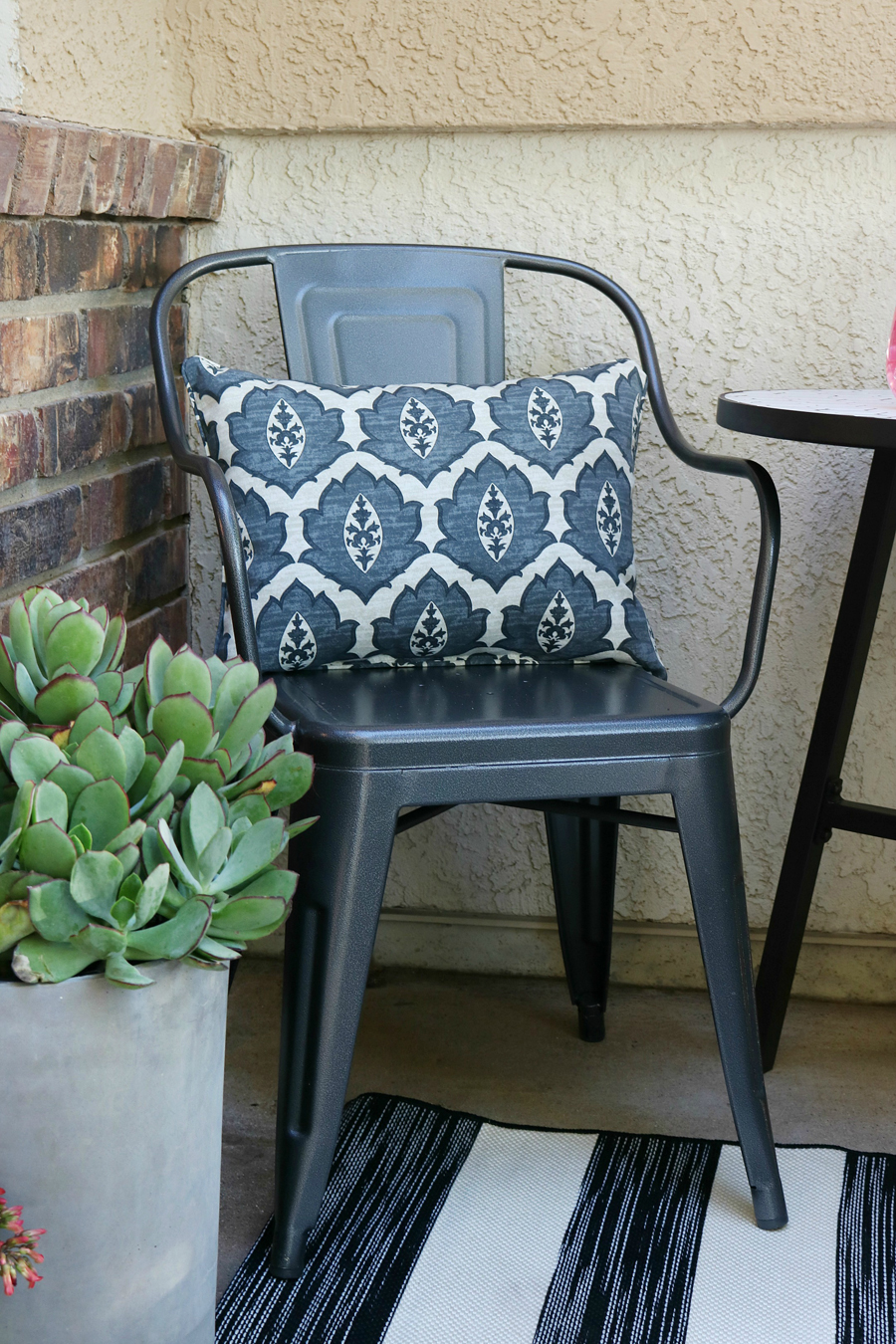 Now let's chat about this super cute table, shall we?! I am obsessed with the hexagon tile top, it sold me right away. This table style also comes in a couple other styles so if the hexagon tile isn't your thing then be sure to check out the subway tile top or blue mosaic top tables they have.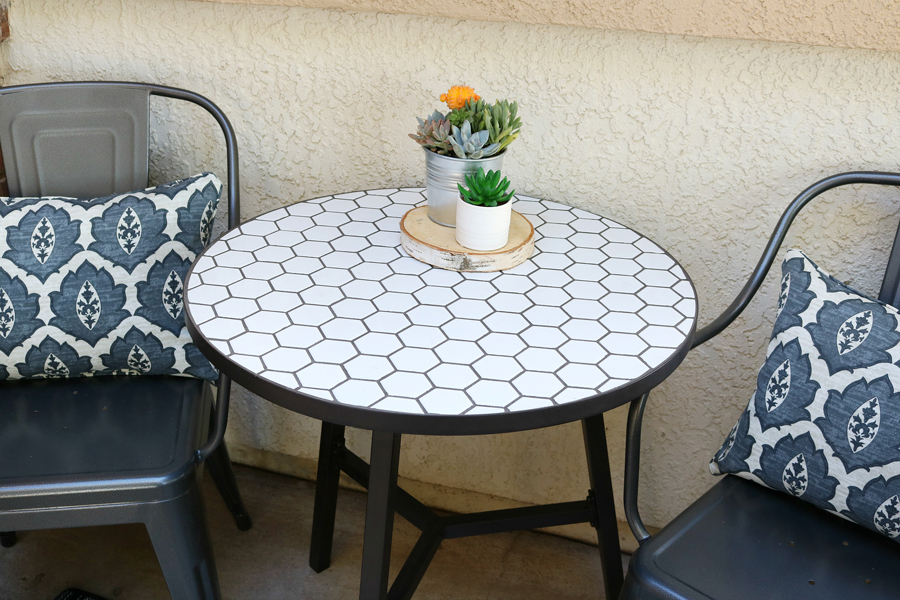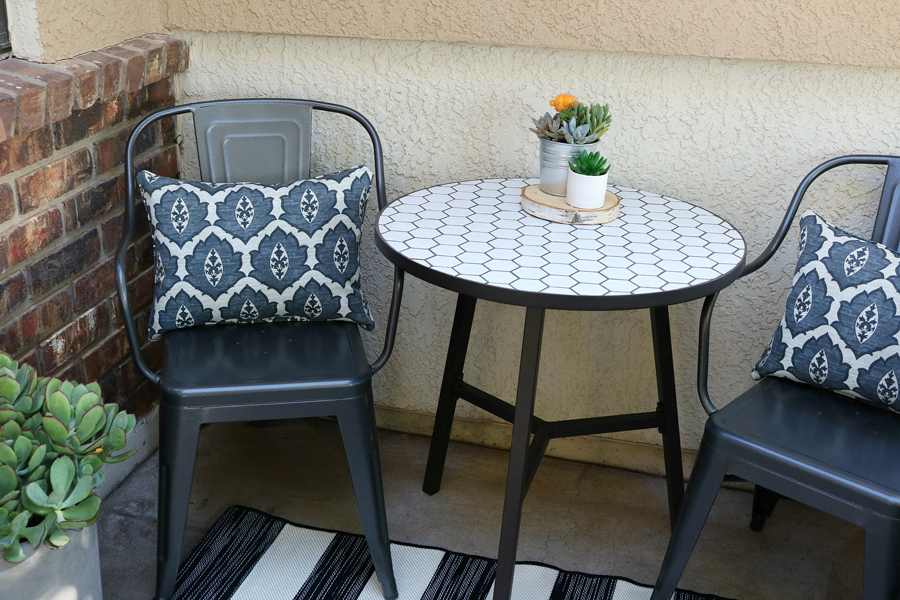 I found these cute lumbar Better Homes and Gardens Leaf Outdoor Toss Pillows, they are the perfect size for these chairs and went so great with my black & white decor.
You might be saying why go with black & white decor for spring? Well, if you follow this site at all you know how much I love black & white decor and our house is typical Arizona tan stucco with red brick accent. The neutral colors of black & white go so well with the brick.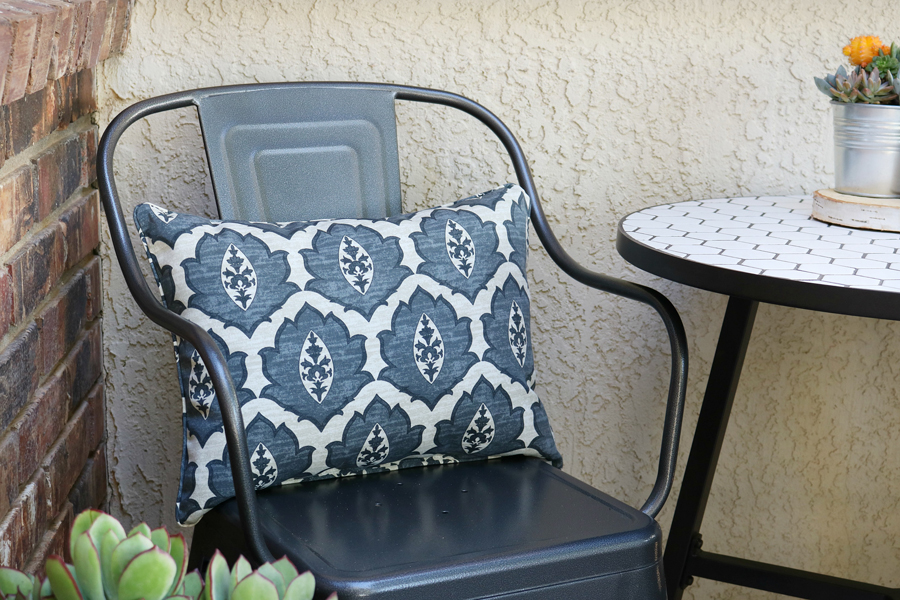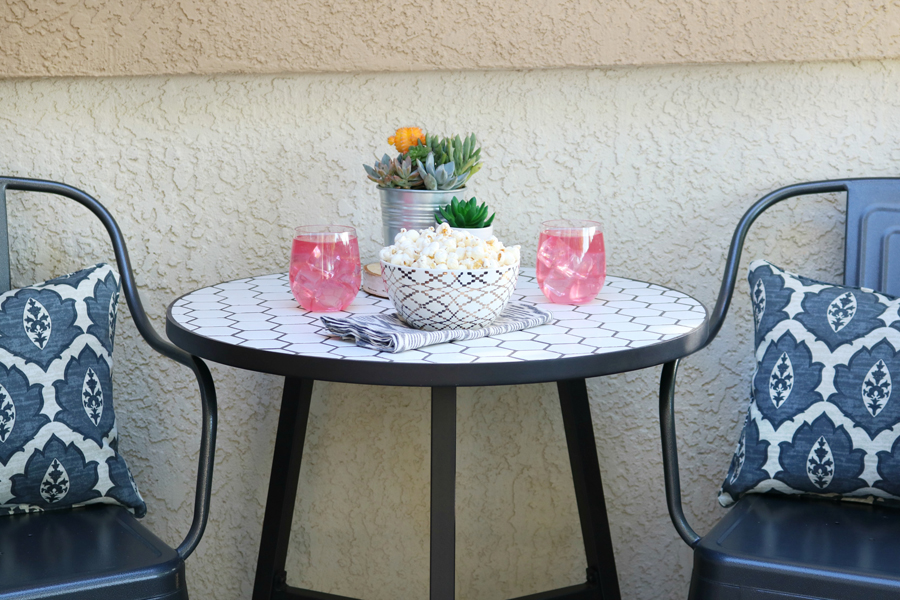 I accented the porch with cement planters and filled them with giant amazing succulent plants. While I love flowers and would have loved to plant them in these pots, I just can't keep flowers alive to save my life. So succulents win every time. The green is a great accent to the black & white with the brick background.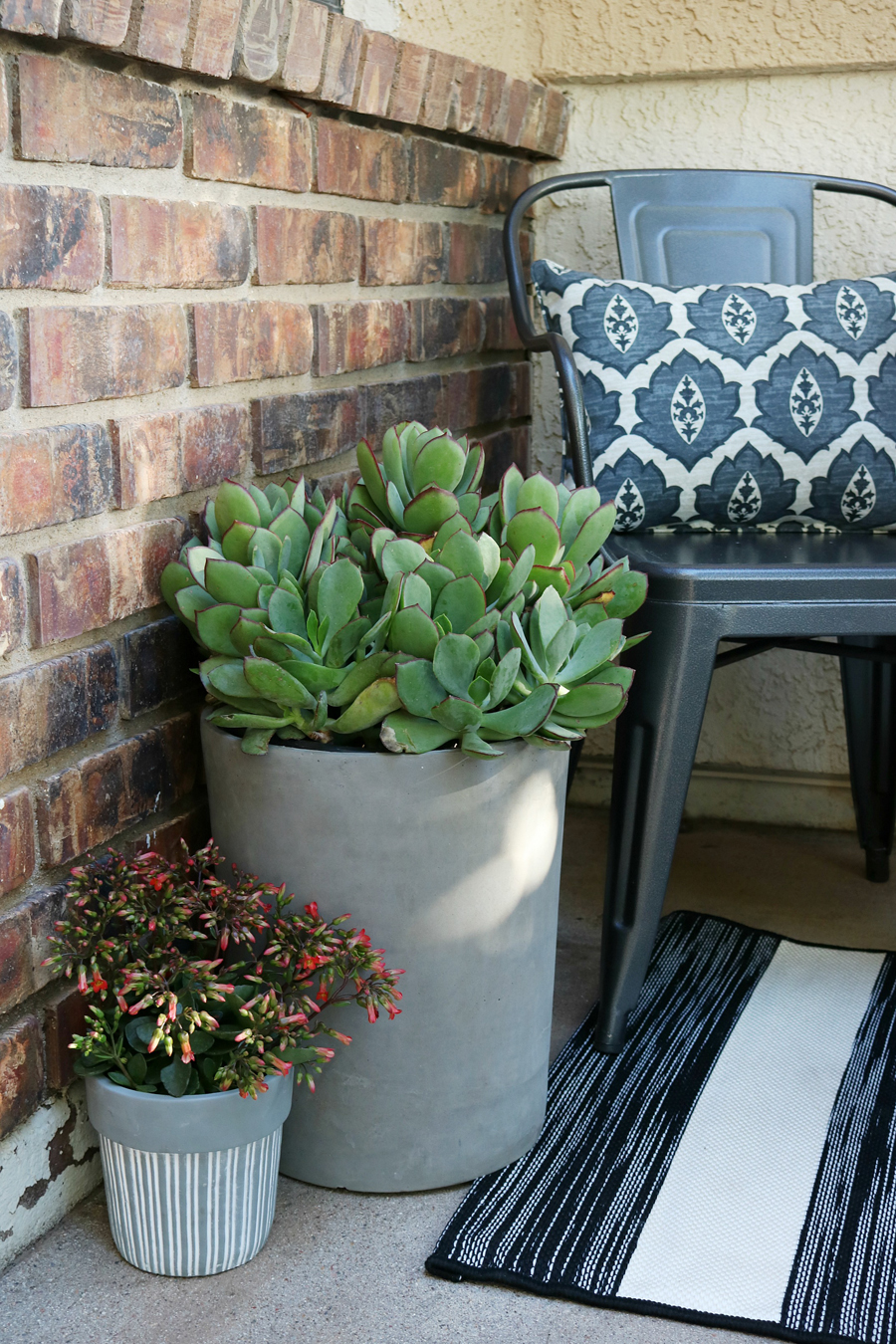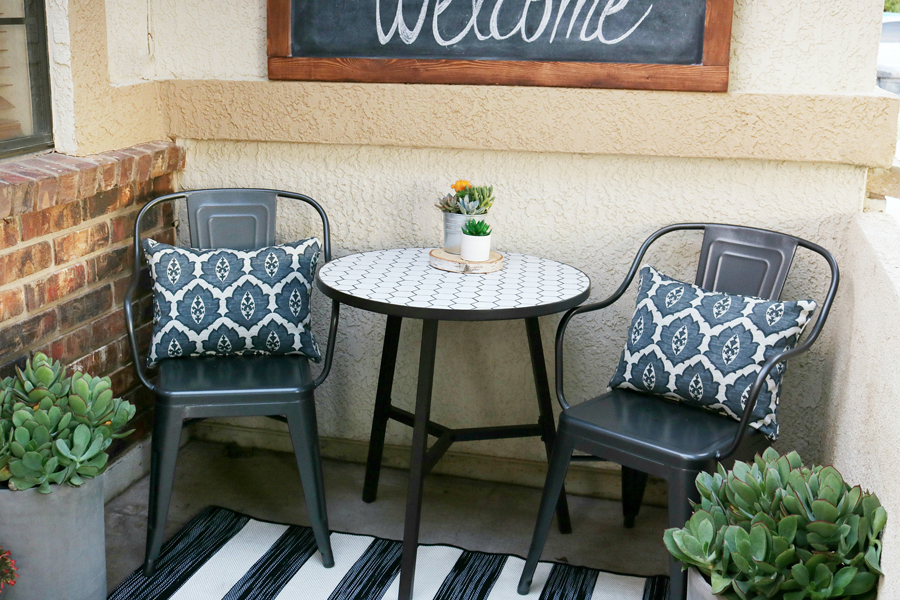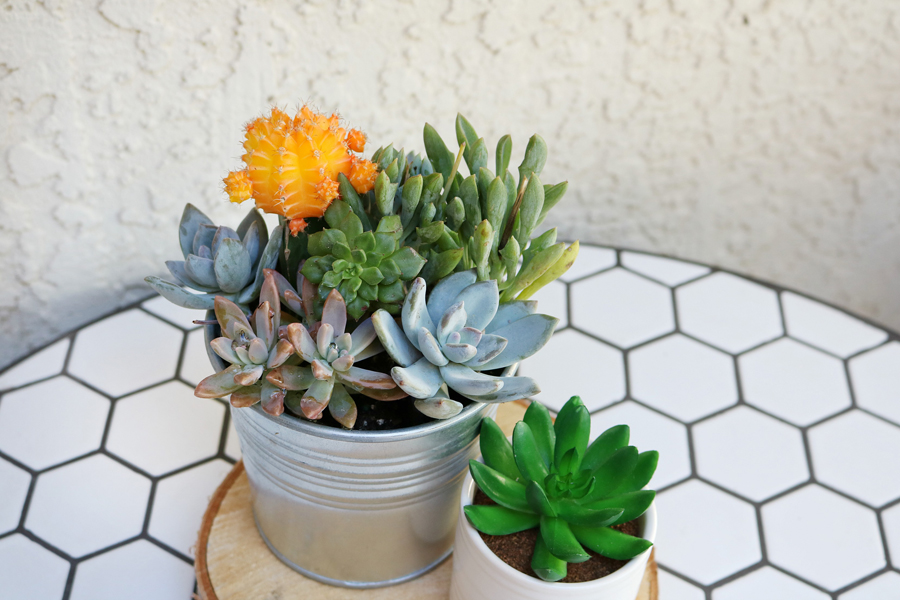 This Black & White Spring Porch Refresh is simple but now it fit's the hubby's request and he loves it which is a bonus. I love how easy it was to freshen up and that it's neutral enough that if I want to add pops of color I totally can.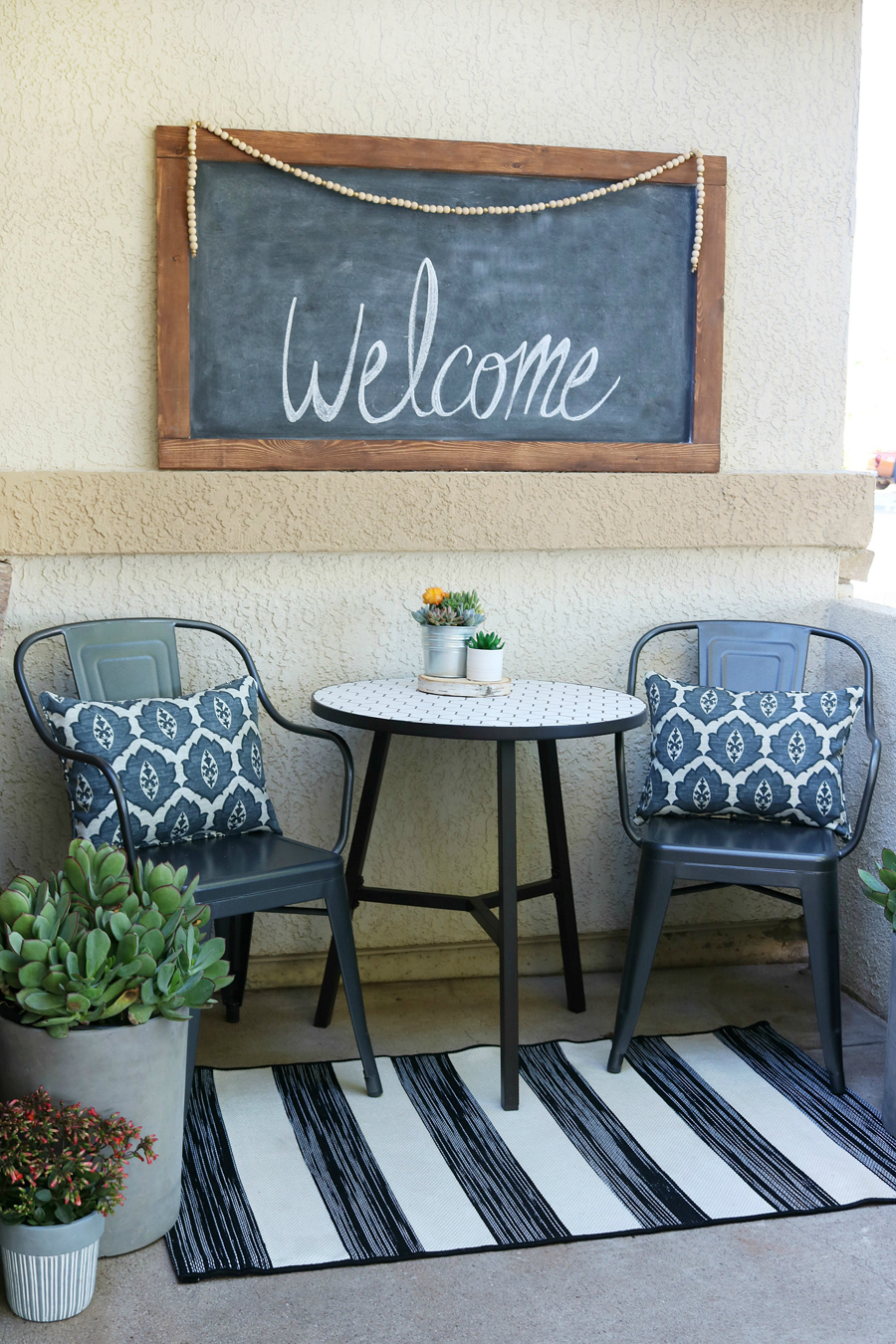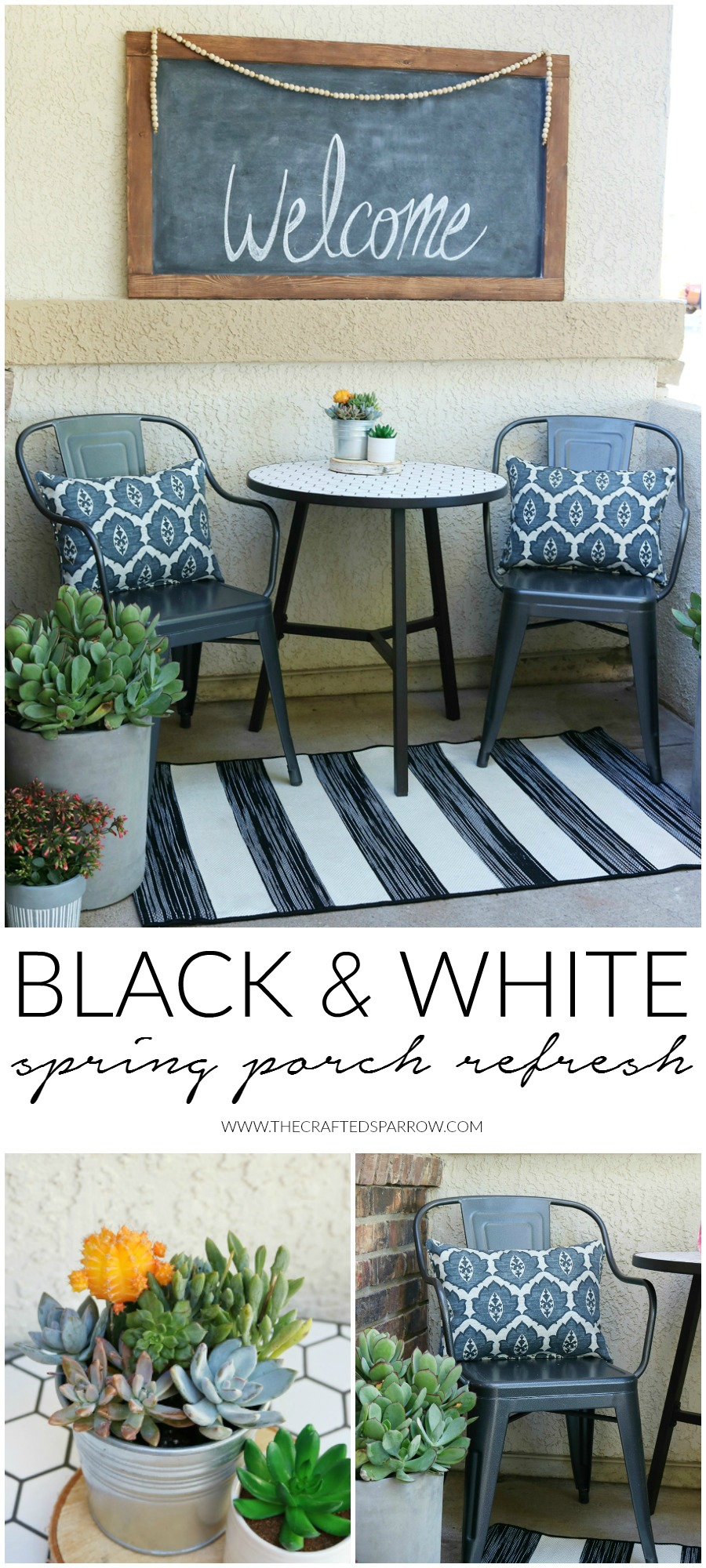 Be sure to check out the Simple & Stylish Craft Studio Organization I also did with the help of awesome products from Better Homes and Gardens for Walmart.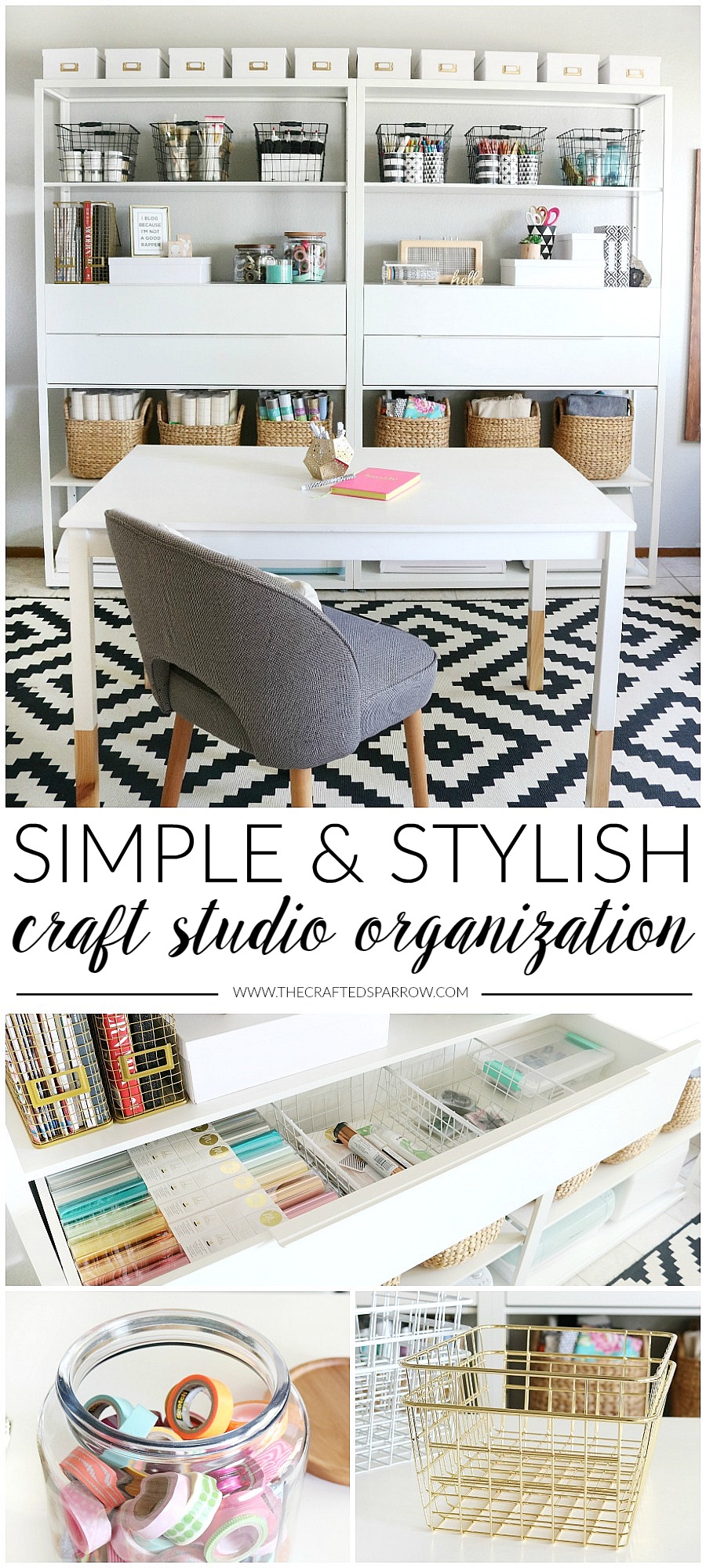 Simple & Stylish Craft Studio Organization
If you loved this Black & White Spring Porch Refresh, be sure you also check out this other Front Porch Refresh I did.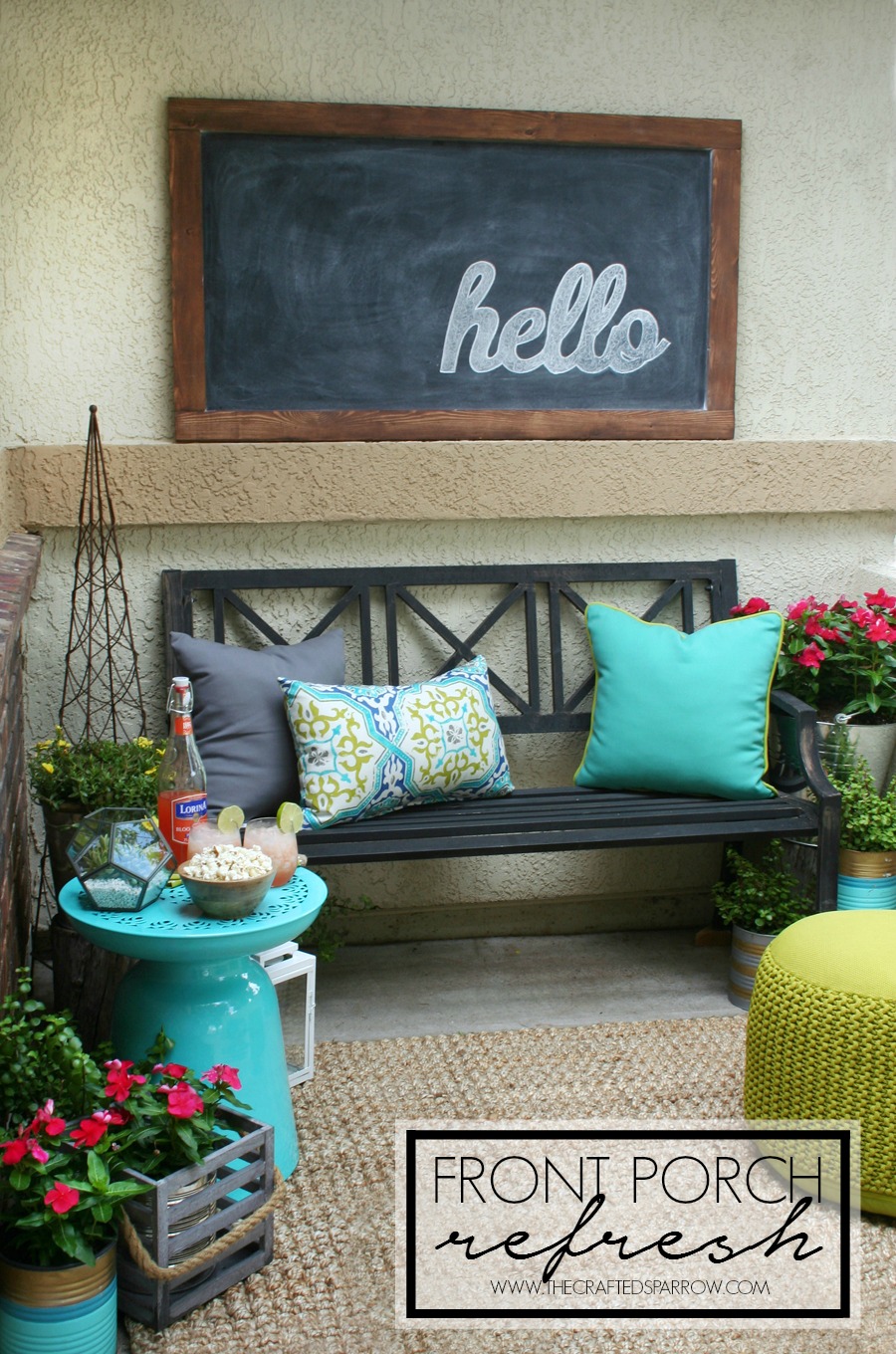 Front Porch Refresh
Be sure you follow Better Homes and Gardens for Walmart:
Facebook | Twitter | Pinterest | Instagram