DISCLOSURE | This post is sponsored on behalf of Better Homes & Gardens. As always, all opinions and ideas are 100% my own. This post may also contain affiliate links.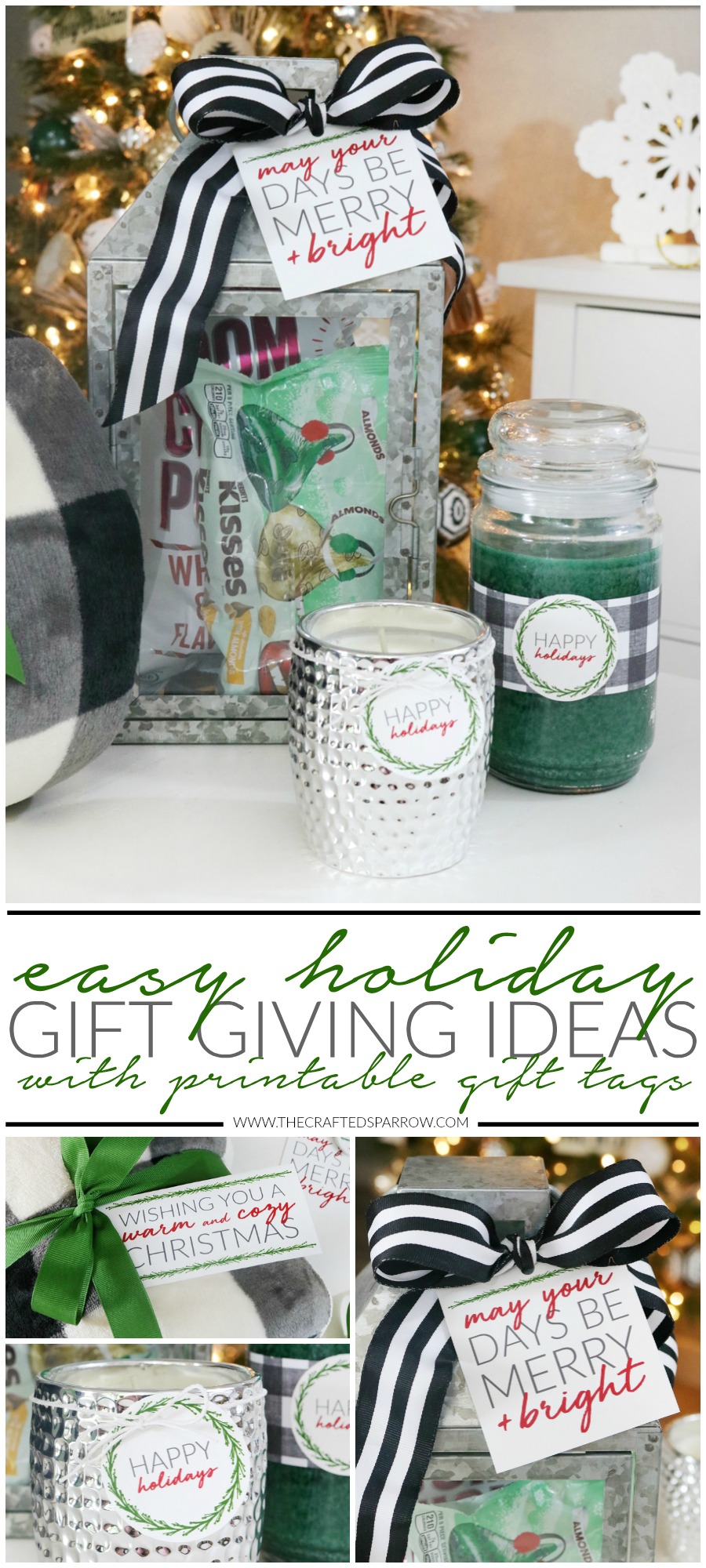 Tis the season of gift giving and I love giving gifts! This time of the year there are so many options and gift ideas, some of my favorite gifts to give are either personalized and handpicked specifically for the recipient or home decor gifts. I'm sharing these Easy Holiday Gift Giving Ideas with Printable Tags that will make your holiday gift giving a huge hit.
When I was thinking about items to gift I thought of my girlfriends, we have an annual favorite things party each year and have a set amount we can spend on each other. We try to keep gifts at $15 and under, last year my favorite things gift to everyone was my favorite gold cutting shears and hand lotion. This year I've been obsessed with a few things so I thought I would share them with you just in case you have a favorite things party too and need ideas.
While shopping at Walmart recently for my Simple & Modern Christmas Dining Table Ideas I came across the most amazing Better Homes & Gardens Black Plaid Velvet Plush and Sherpa Throw. I quickly snatched it up and came home to cozy up on the couch with it that night. Oh my gosh, you guys…it's the softest blanket ever and so warm. These throws come in a variety of patterns and colors, but you know I had to have the black and white buffalo check! At $14.93 it's a great price too. This was at the very top of my favorite things party gift idea list. It's my favorite find this year.
I took the original packaging off the throw and rolled it up tightly. I then added some ribbon and the cute tag I created to go with it. You can download these printables tags below. You honestly don't even need to unpackage the throw since it already comes tied up with a cute ribbon, I just wanted a contrasting colored ribbon.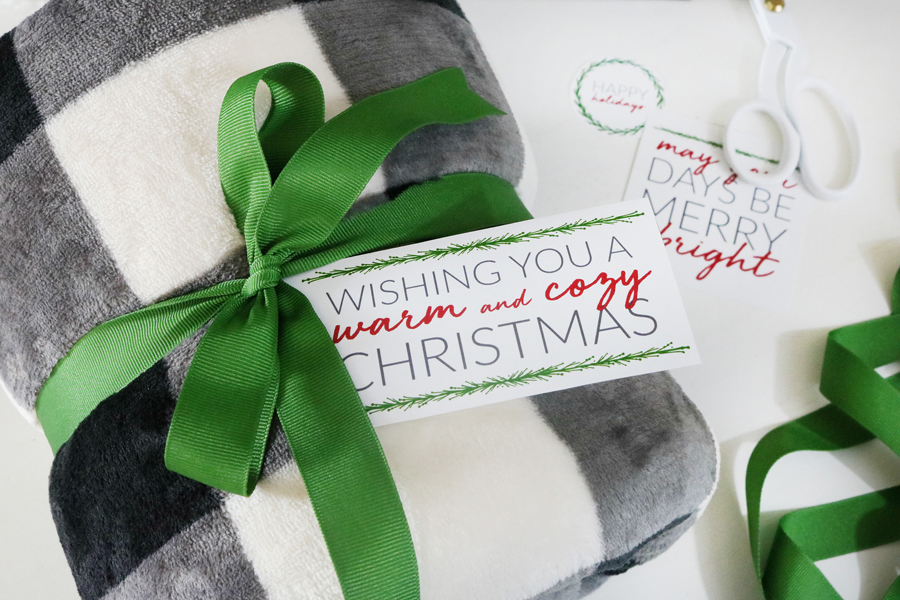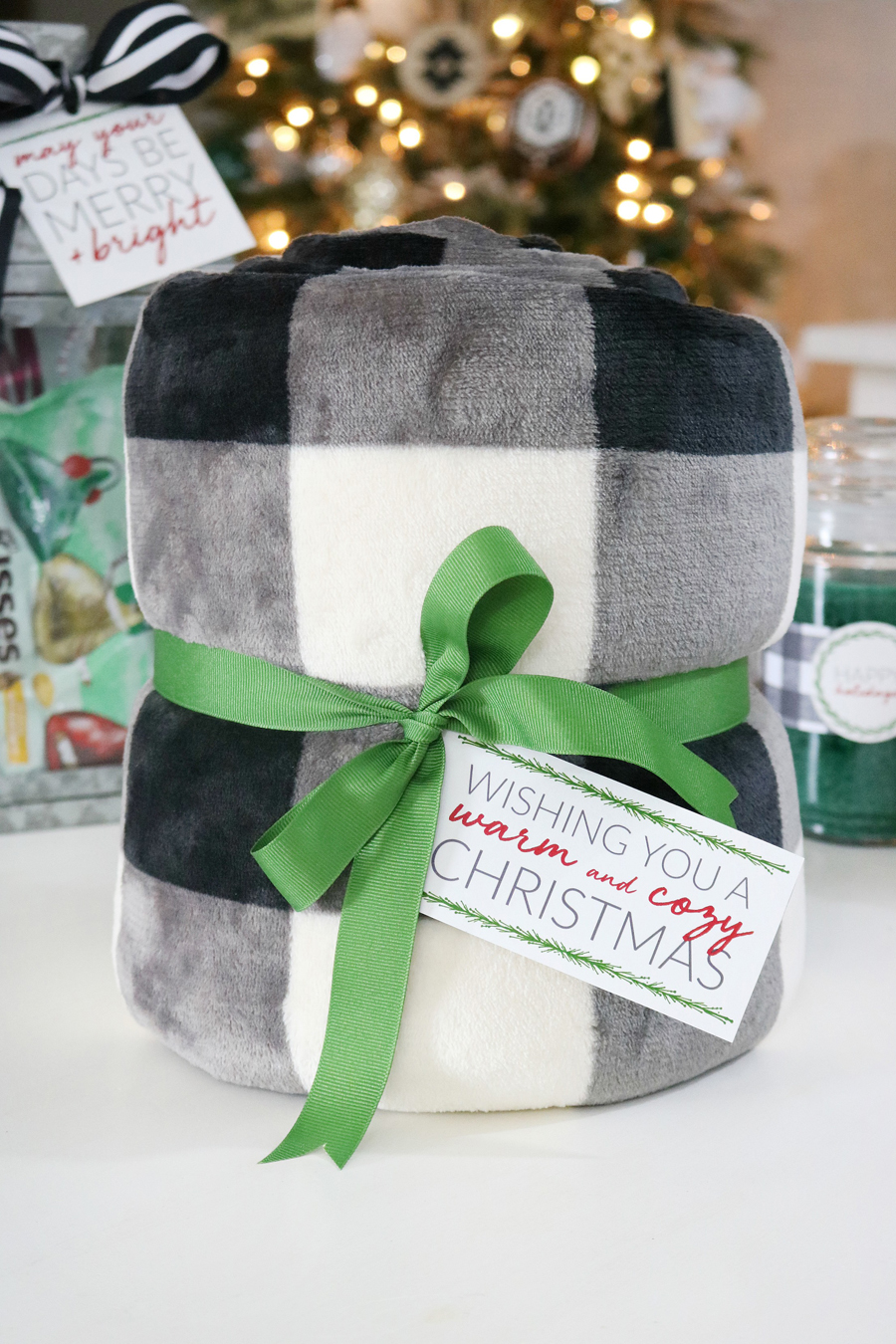 This next gift idea is seriously so easy. It's kind of a double duty gift idea. I've been eyeing this gorgeous Better Homes & Gardens Galvanized Lanter Candle Holder for a couple months. They have so many cute lanterns to choose from, but I love this one. I thought it would be so fun to fill it with some of my favorite holiday treats. So not only do they have the cute lantern, they also get a snack.
Just tuck the snacks or treats inside the lantern and finish with a ribbon and printable tag. Don't want to add snack inside? Better Homes & Gardens has amazing Flameless LED Candles. or you can also put a jar candle inside.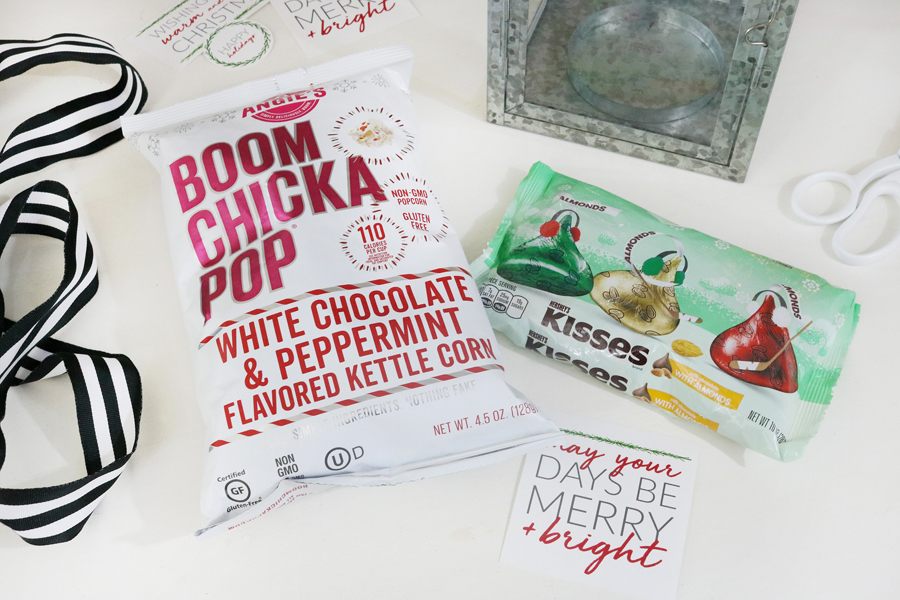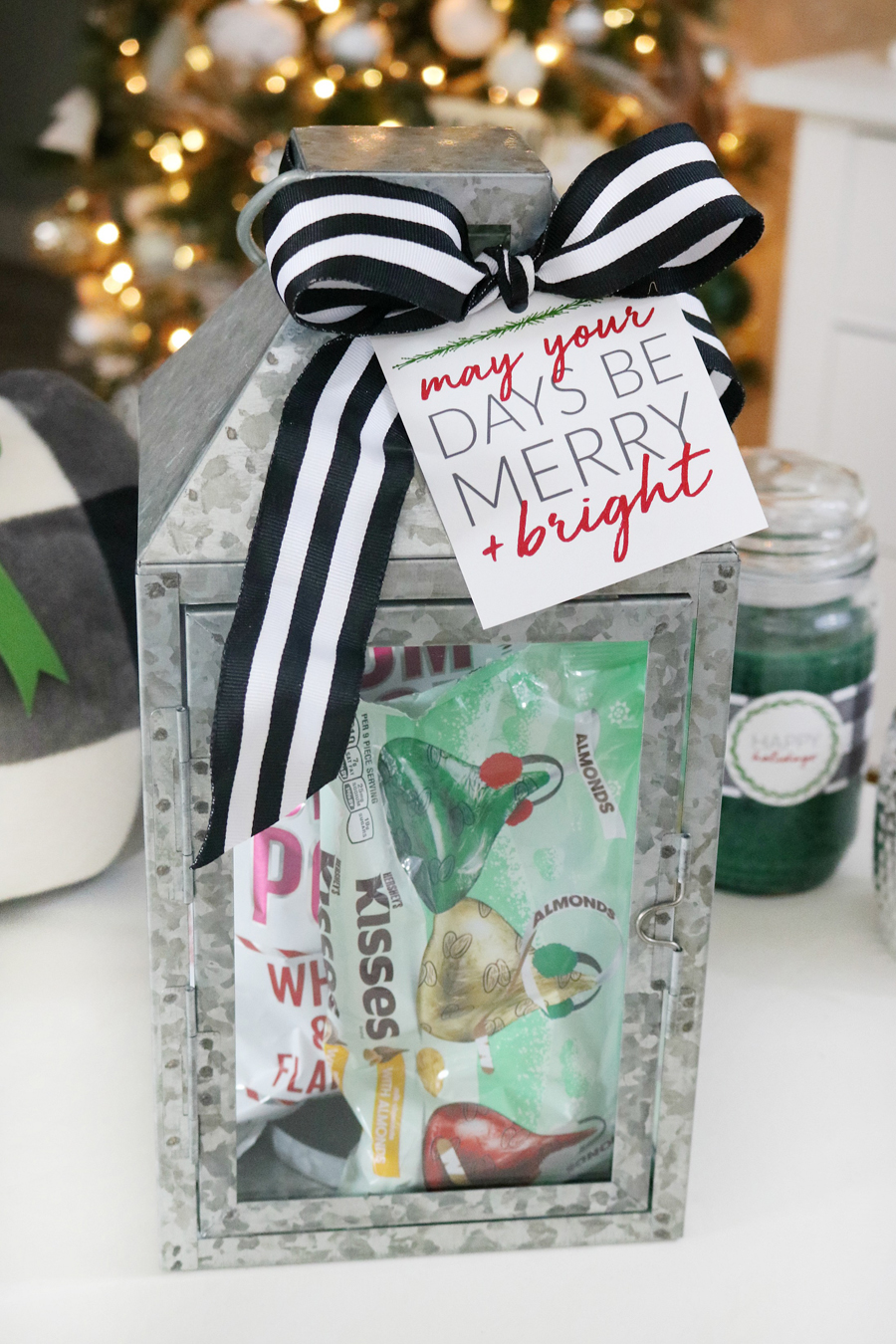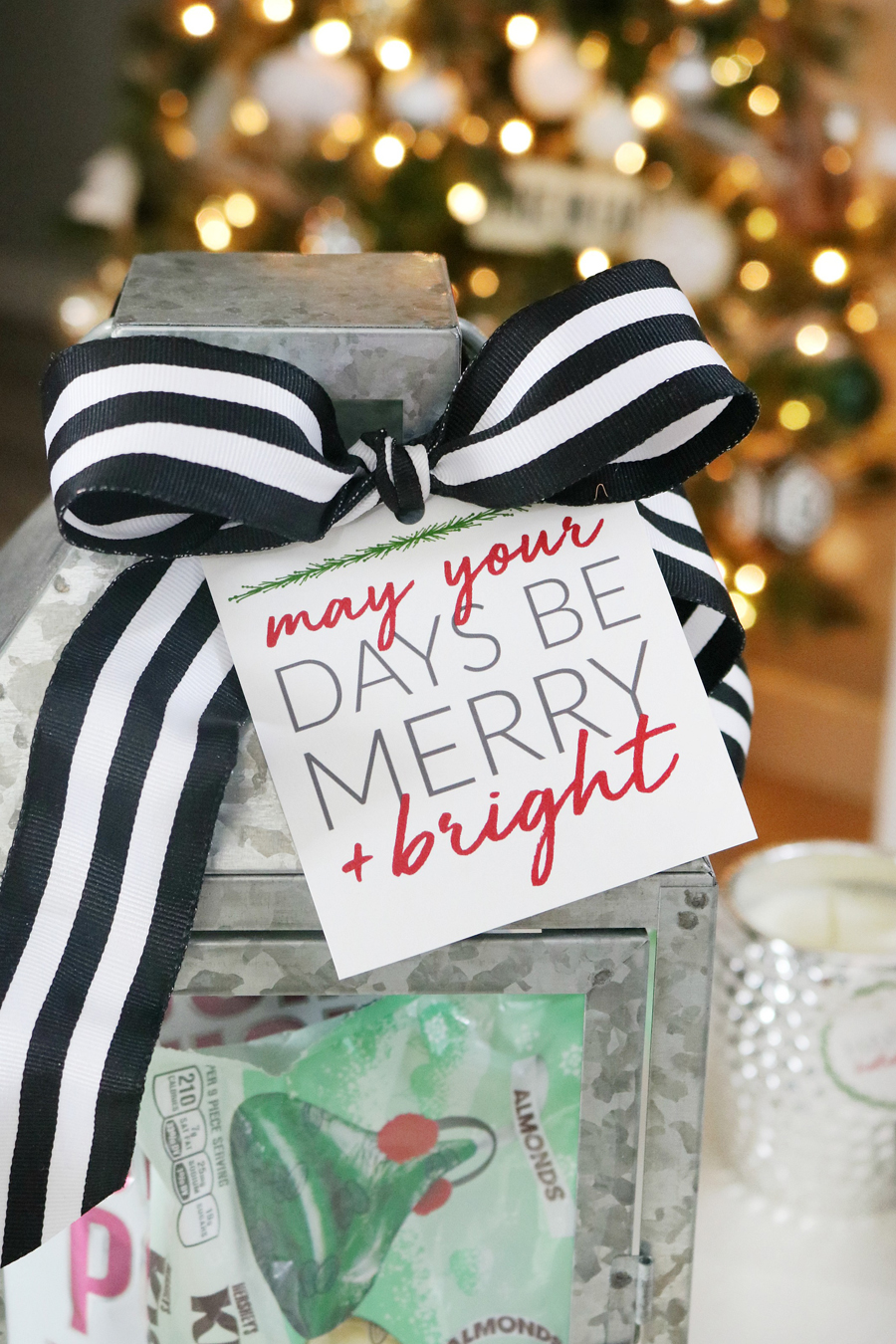 The last gift idea I had was candles. I'm obsessed with candles and the BHG Live Better line at Walmart always has some great candles and scents to choose from. With so many styles to choose from I had a hard time picking, I ended up going with this cute Better Homes & Gardens Hammered 10 oz Candle and Better Homes & Gardens 18 oz Vermont White Spruce Jar Candle. They smell so good. I love having a candle burning during this time of the year that smells like fresh Christmas trees.
I attached the cute round tags with some twine and paper ribbon and they were done.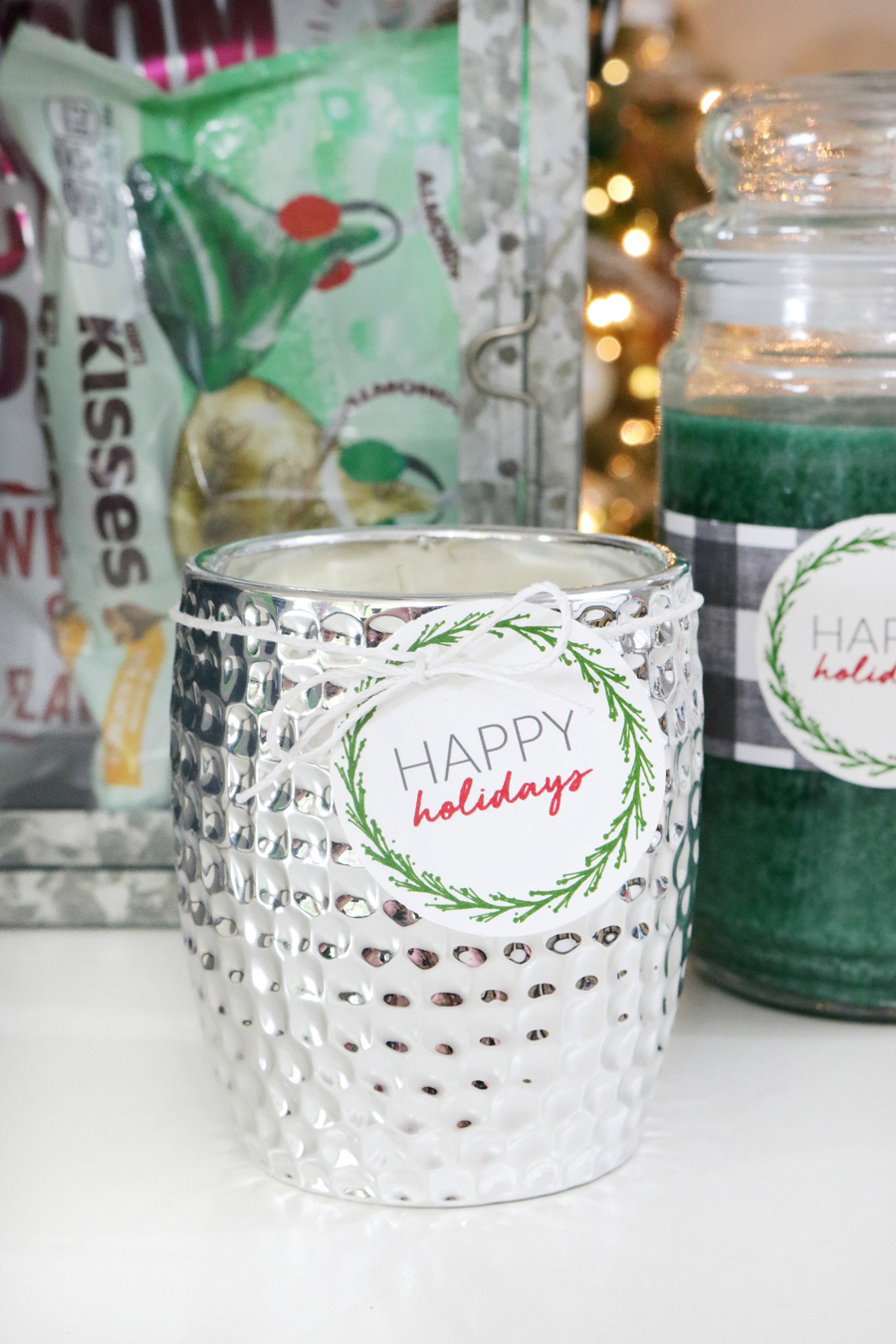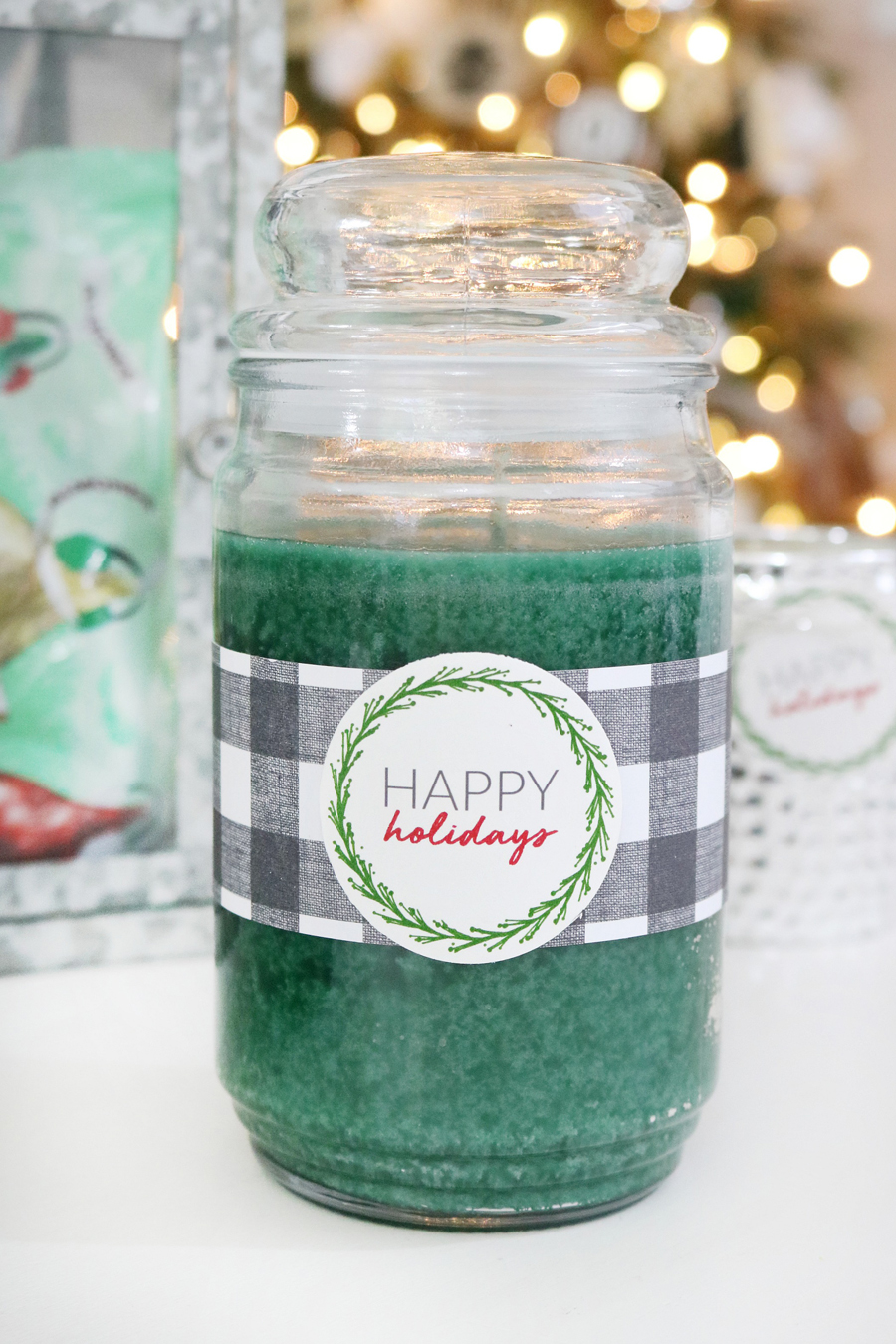 Download all these tags by clicking the link below. Each tag comes in 3 colors to choose from Red & Green, Green & Gray, and Black & Gray…I figured you needed choices. Once you've downloaded the tags open the file in a program like Photoshop, Word, or Publisher. Resize the image to your liking and print on white cardstock or matte photo paper for best quality.
Please Note: These printables and downloads designed by The Crafted Sparrow are for personal use only. Please do not alter the file or image and claim it as your own. This file is not intended for resale, nor are the printed versions of this file!

While these gift items are all great on their own you could definitely fill a really cute basket with them all and give it as one big gift. Who wouldn't love getting all of these warm and cozy goodies?!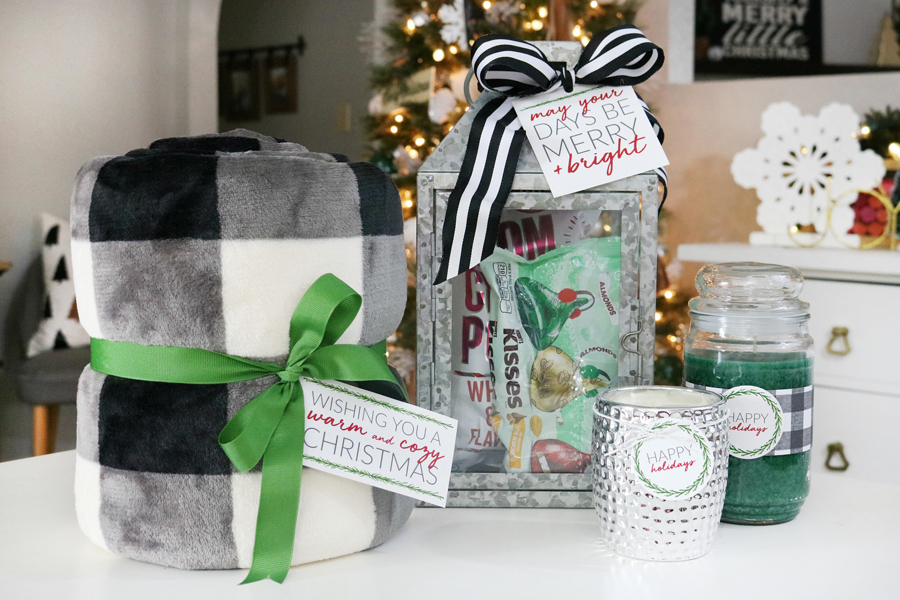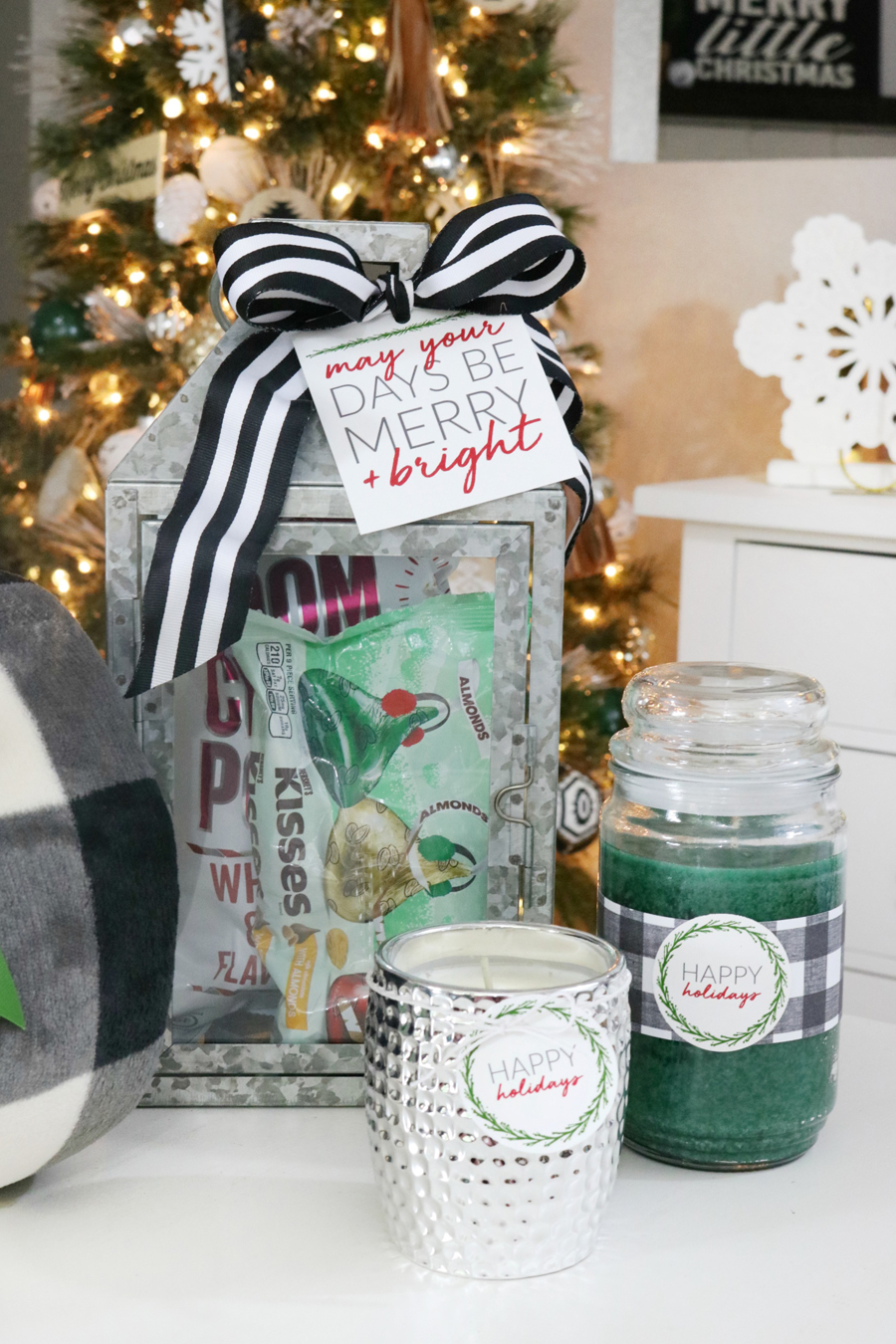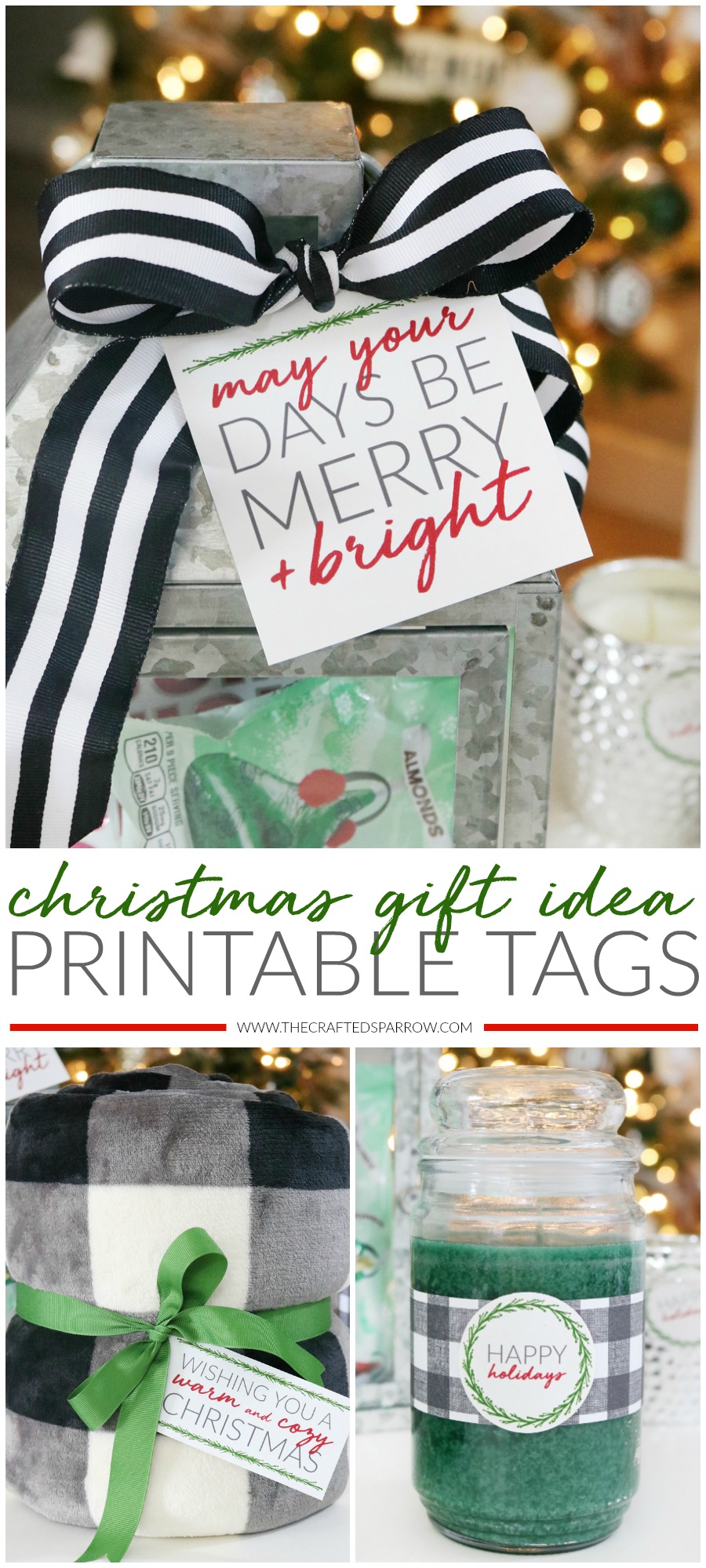 Be sure to check out these other great holiday ideas…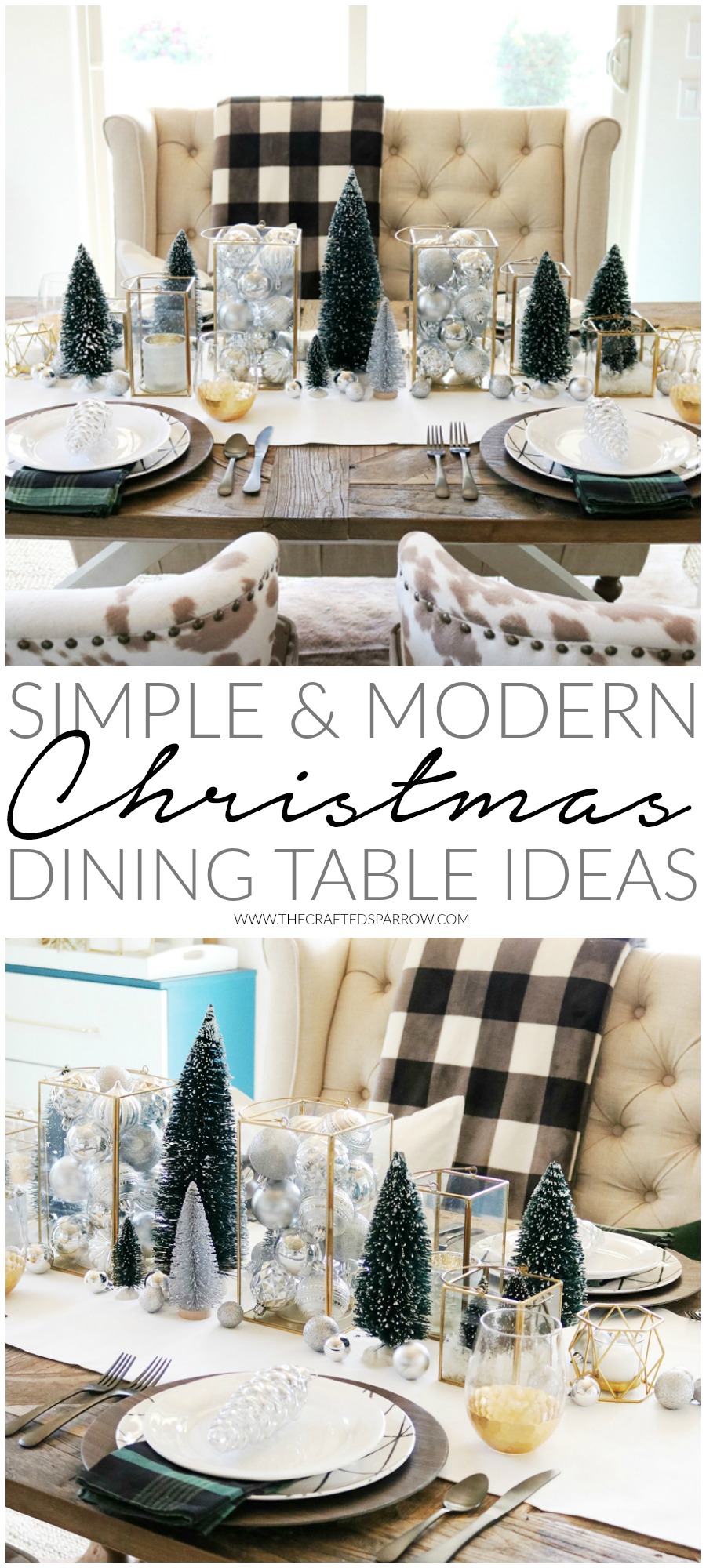 Simple & Modern Christmas Dining Table Ideas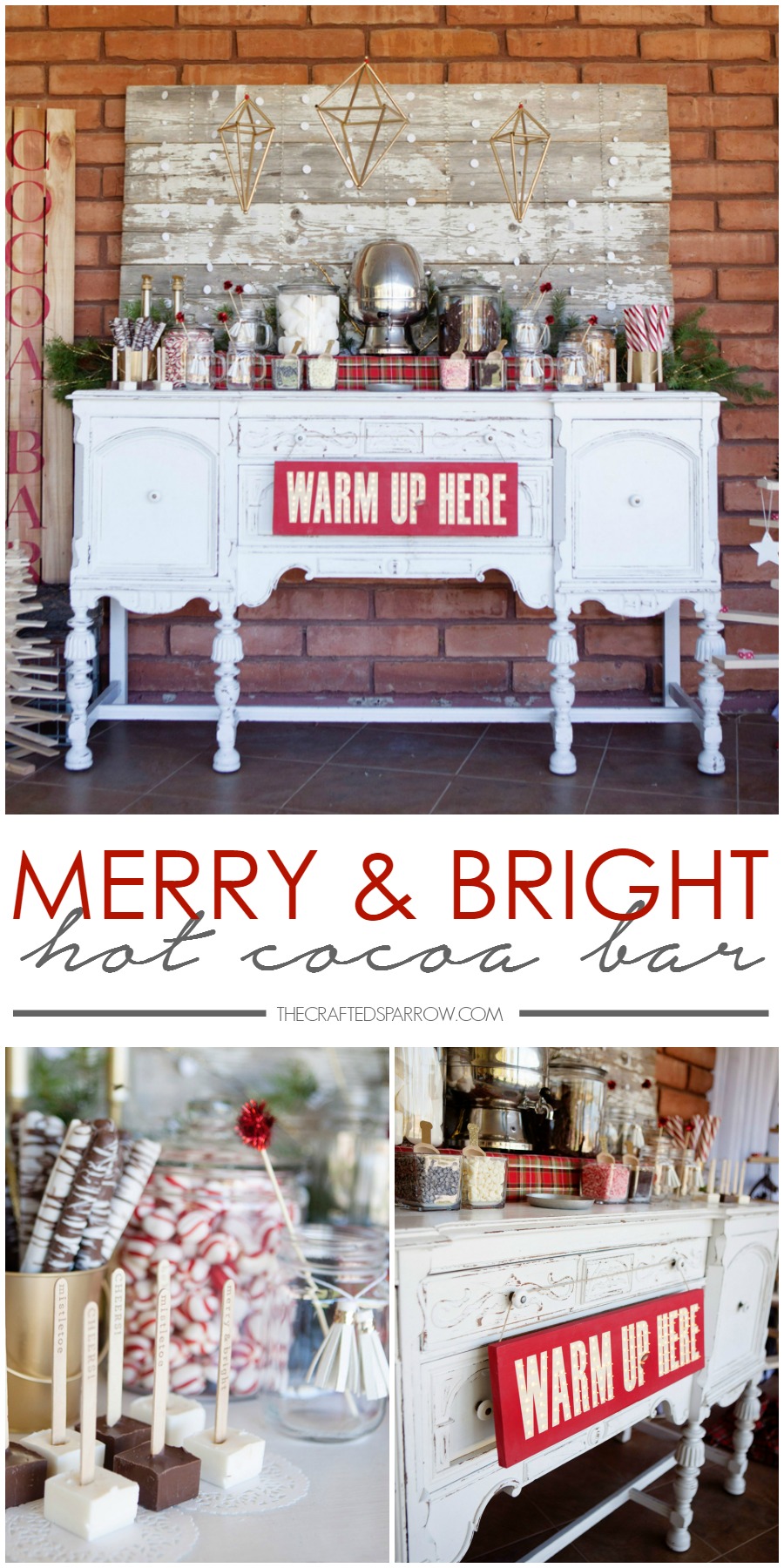 Merry & Bright Hot Cocoa Bar
Be sure you follow Better Homes & Gardens for Walmart:
Facebook | Twitter | Pinterest | Instagram