DISCLOSURE | This post is sponsored on behalf of Better Homes & Gardens. As always, all opinions and ideas are 100% my own. This post may also contain affiliate links.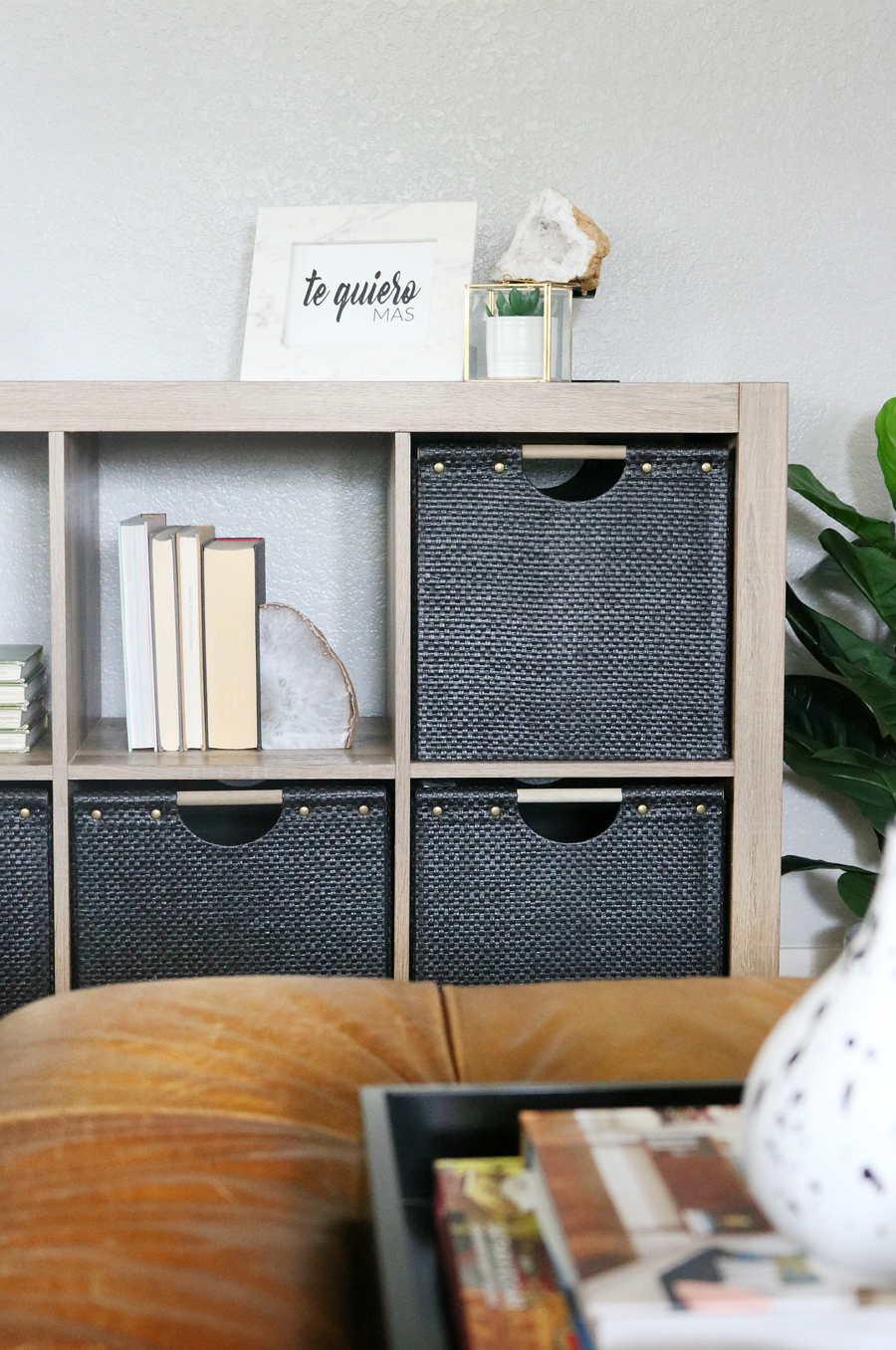 When you live in a small house getting organized is a must, finding storage solutions to help you get and stay organized is huge. An added benefit is when the storage solutions are not just functional but pretty too. Today I'm sharing one of my favorite easy Small Space Storage Solutions.
Like I mentioned our home is small, every room is on the small side. Our kid's rooms are only 10 x 10′ and have limited space which doesn't allow for a ton of their toys to be in their rooms. Since they were smaller we've had toys in the family room. I've always hated being able to see toys in my main living areas. I don't mind them playing with something, but when it's time to put it away I don't want to see it. So I've had to be creative over the years with hiding them. My oldest is past the point of kid toys to play with, but my youngest is still in the toy zone. Luckily right before Christmas, I convinced him to clean out and purge some so I can start to inch what toys he does have slowly to his room at some point. Until then I still have to use some space in our family room for them.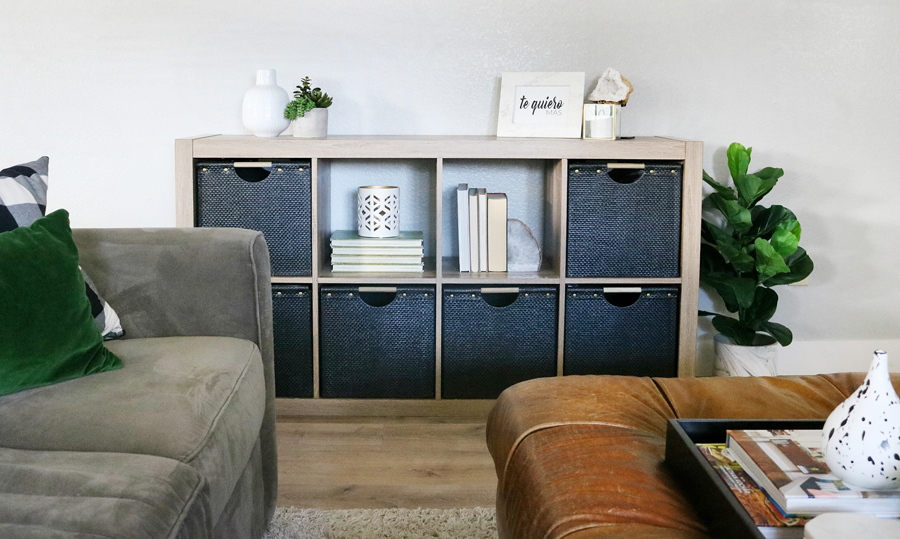 To maximize space and storage I have the Better Homes & Gardens 8-Cube Storage Organizer in the weathered wood finish. It's the perfect size to go alongside the narrow walkway we have between the kitchen and the other half of our house that has all the bedrooms, our house is a big rectangle of space if that makes sense.
If you haven't seen this particular shelving unit yet in stores you've got to check it out, the texture is even like real wood. It really is so pretty. I love that this storage system comes in so many colors, I used the smaller white version in my son's room a few months back. You can see those Boys room Easy Closet Organization Ideas HERE.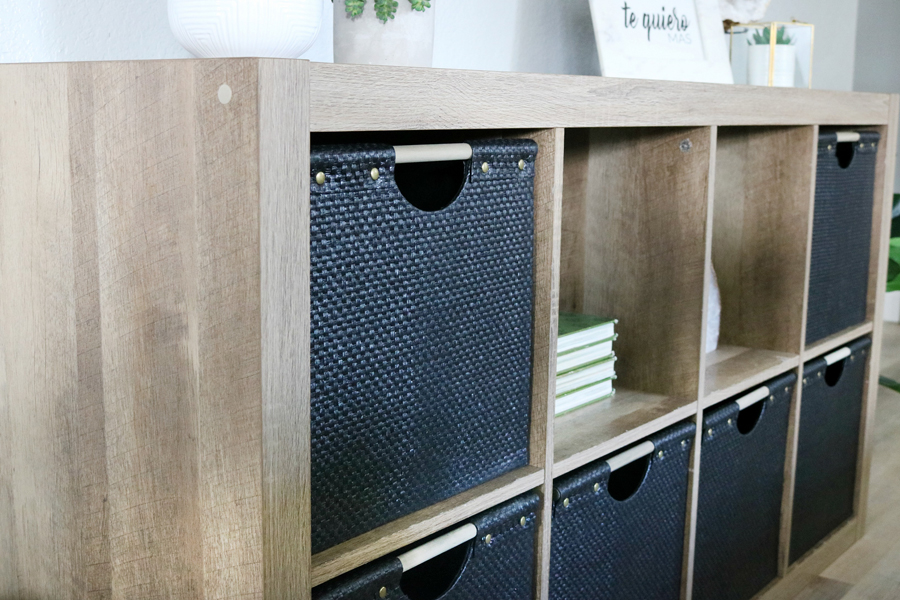 I previously had these super cute Better Homes & Gardens Wire Baskets with Chalkboard Labels on the shelves, I really love them…but I didn't love that I could still see all the toys and kid stuff since the baskets didn't go to the top of each cube. If they were being used for anything besides toys I'd probably be okay with them and it's most likely that I'm super picky, but I'm ready to not see toys all the time.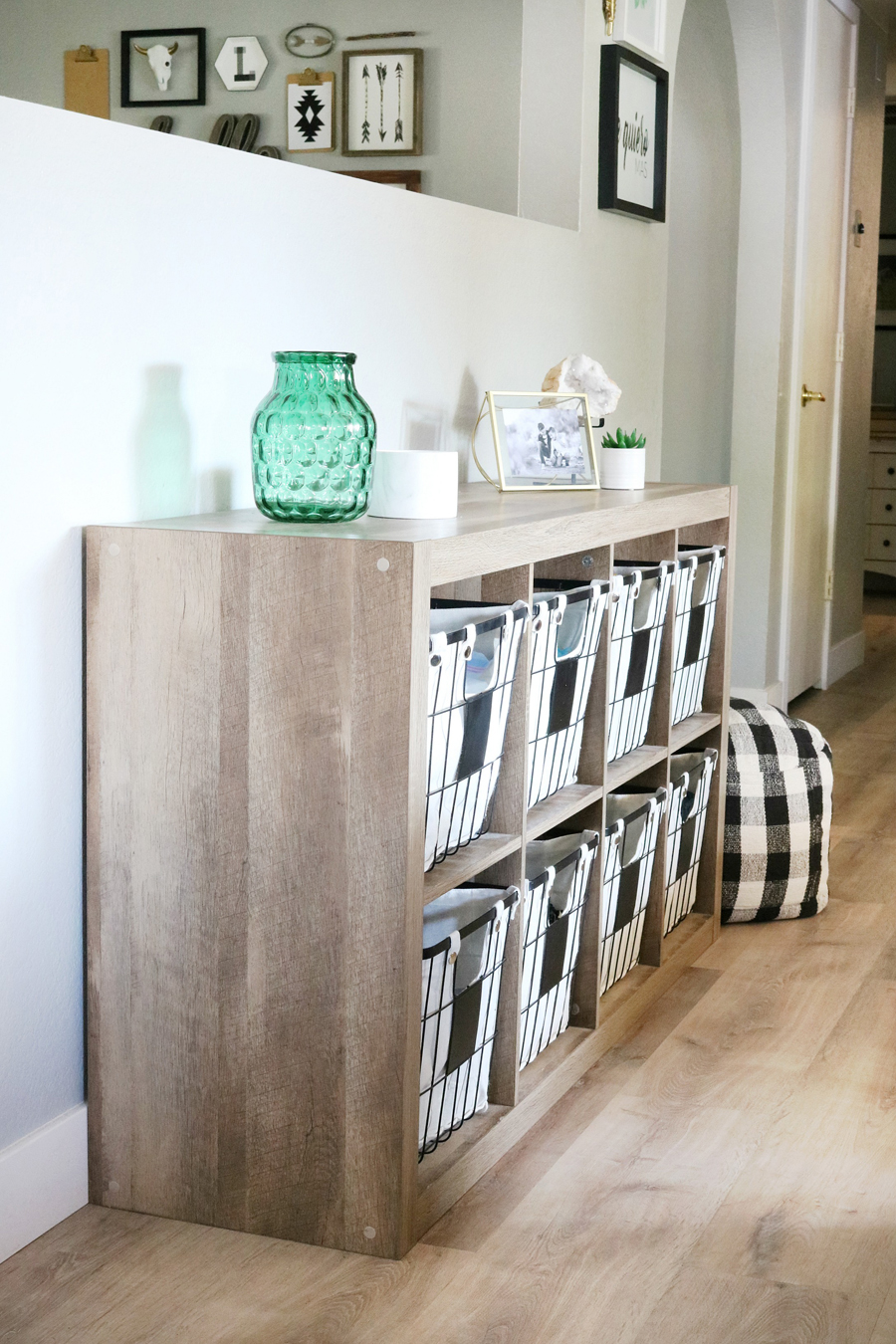 I found these Better Homes & Gardens Weave Baskets in Black and I loved that they filled the entire shelf. I love the accent wood handle they have! They also come in brown, besides being cute I thought they would be great for use in the pantry too.
Since my youngest cleaned out and purged some of his stash of toys I was able to free up two shelves. That's a huge step in the right direction to getting all the toys out of this room completely. Instead of filling the entire shelving unit with boxes I left two shelves open for simple and easy decor.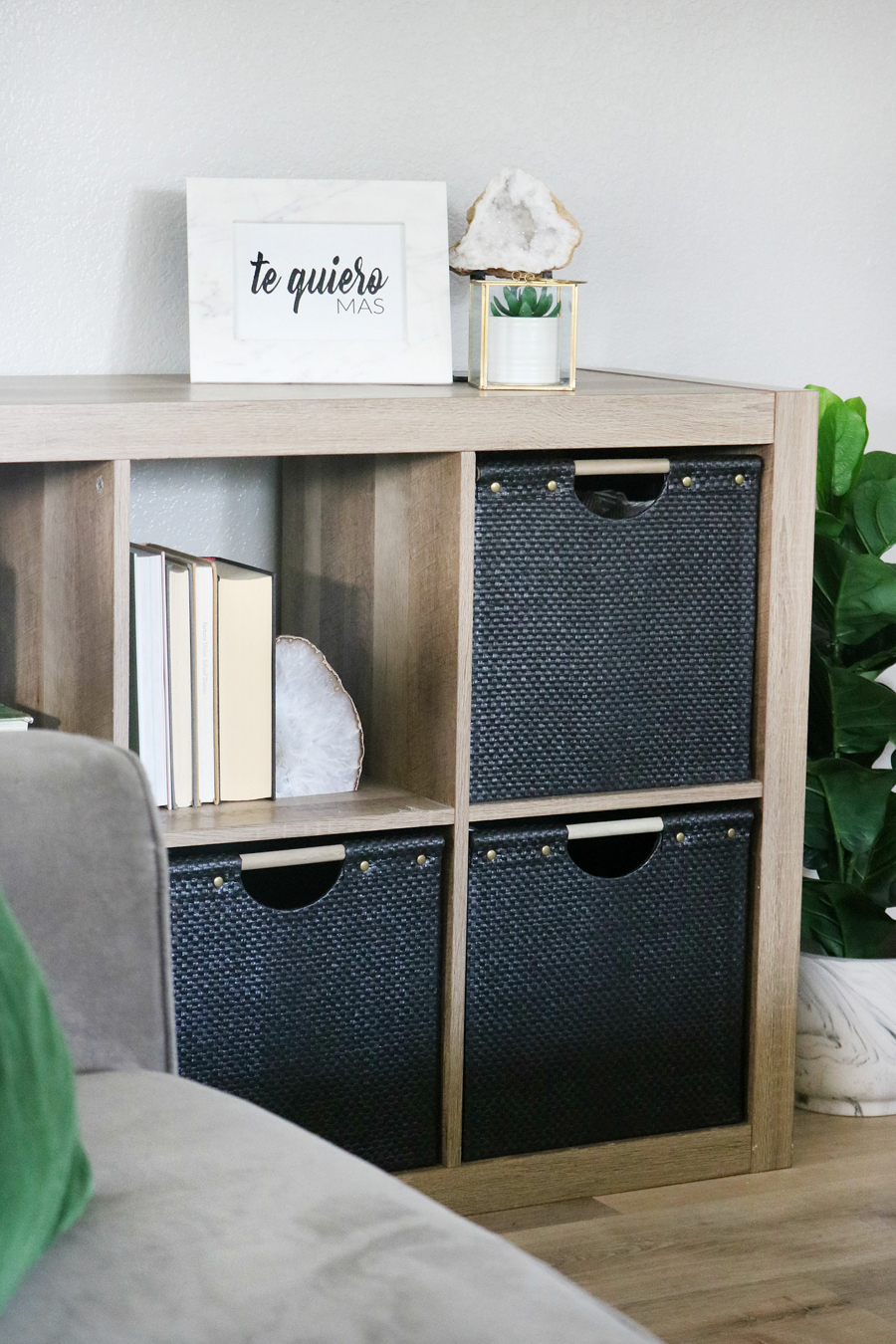 A few of the boxes still have toys, but I was able to store extra throws like my Better Homes & Gardens Velvet Plush Throw and Better Homes & Gardens Woven Fringe Throw in one. In another, I have some extra pillow covers that I switch out for holidays and throughout the year.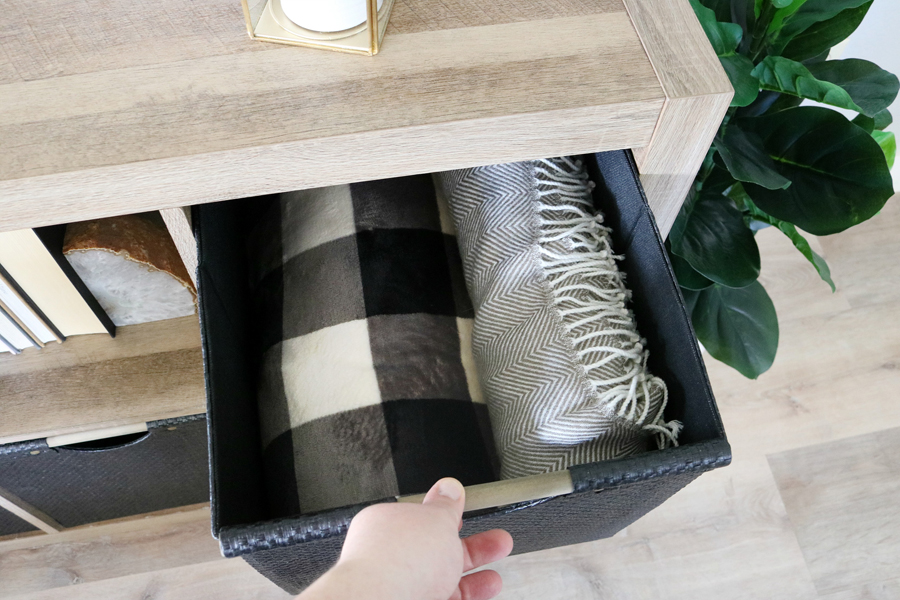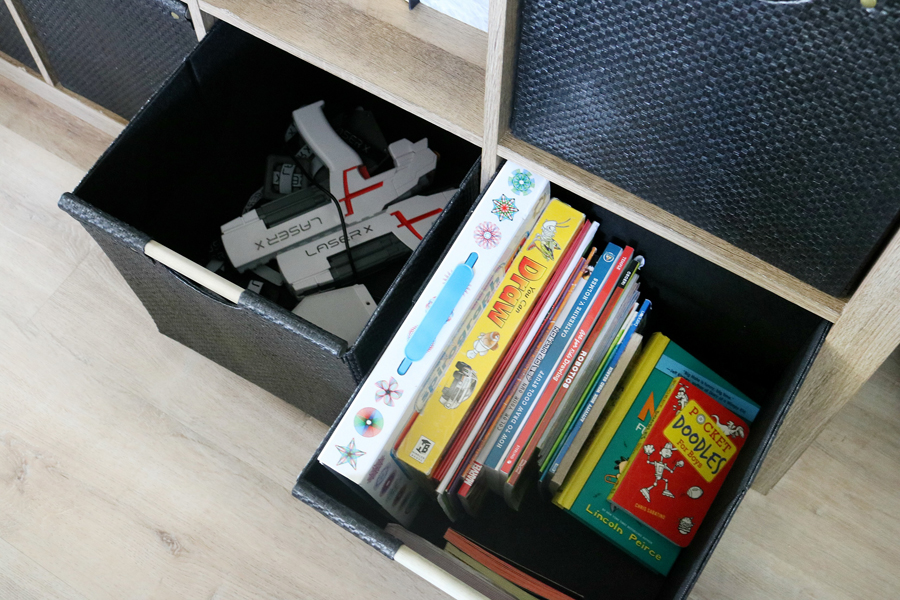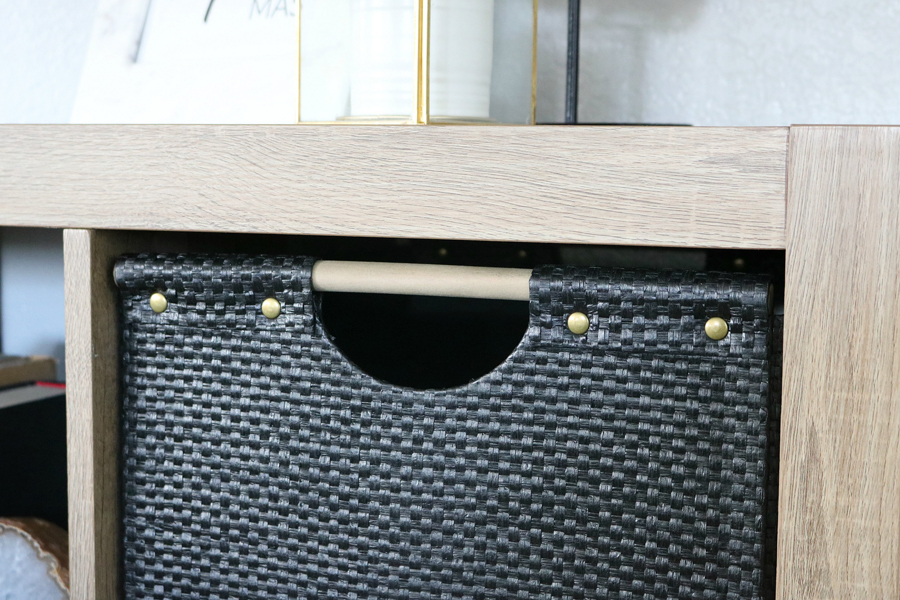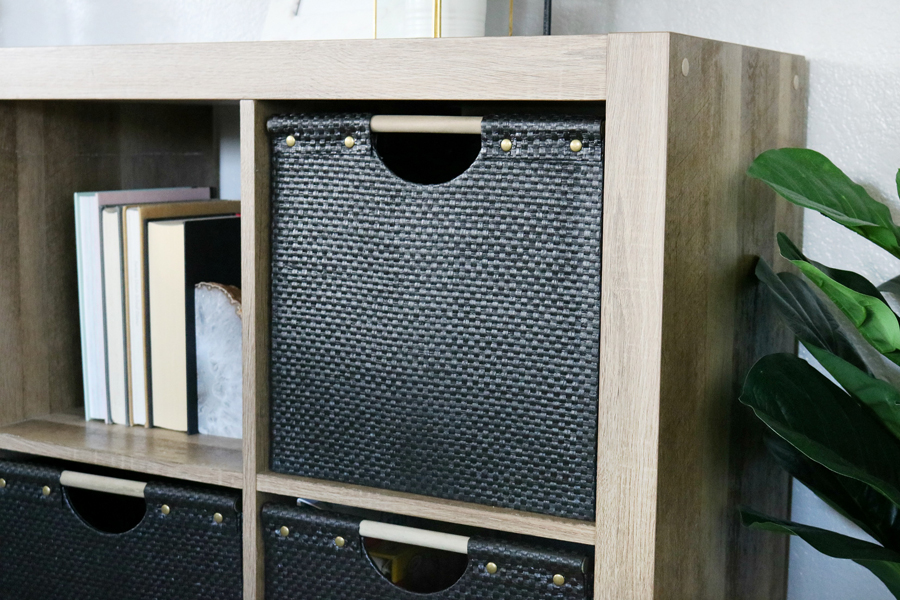 In case you were wondering where the cute Better Homes & Gardens White and Golden Hurricane on the shelf is from…it's also from Walmart! It would be so cute with flowers in a small clear vase inside, don't you think? I also got the gold Better Homes & Gardens Metal and Glass Lantern from Walmart. I added a cute potted faux succulent inside. You may recognize this little lantern from my Simple & Modern Christmas Dining Table Decor from a couple months ago. I have a few of these scattered through the house, they are so pretty and simple.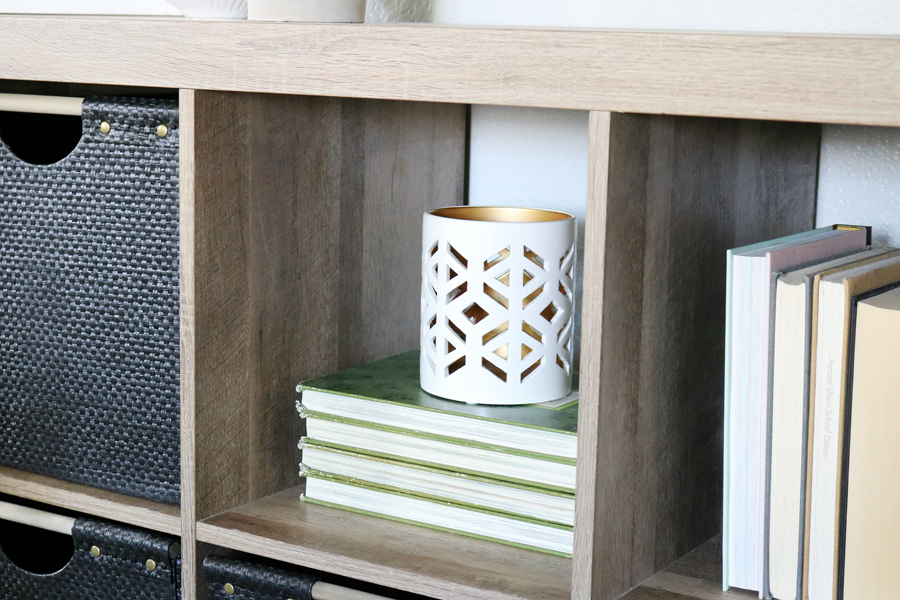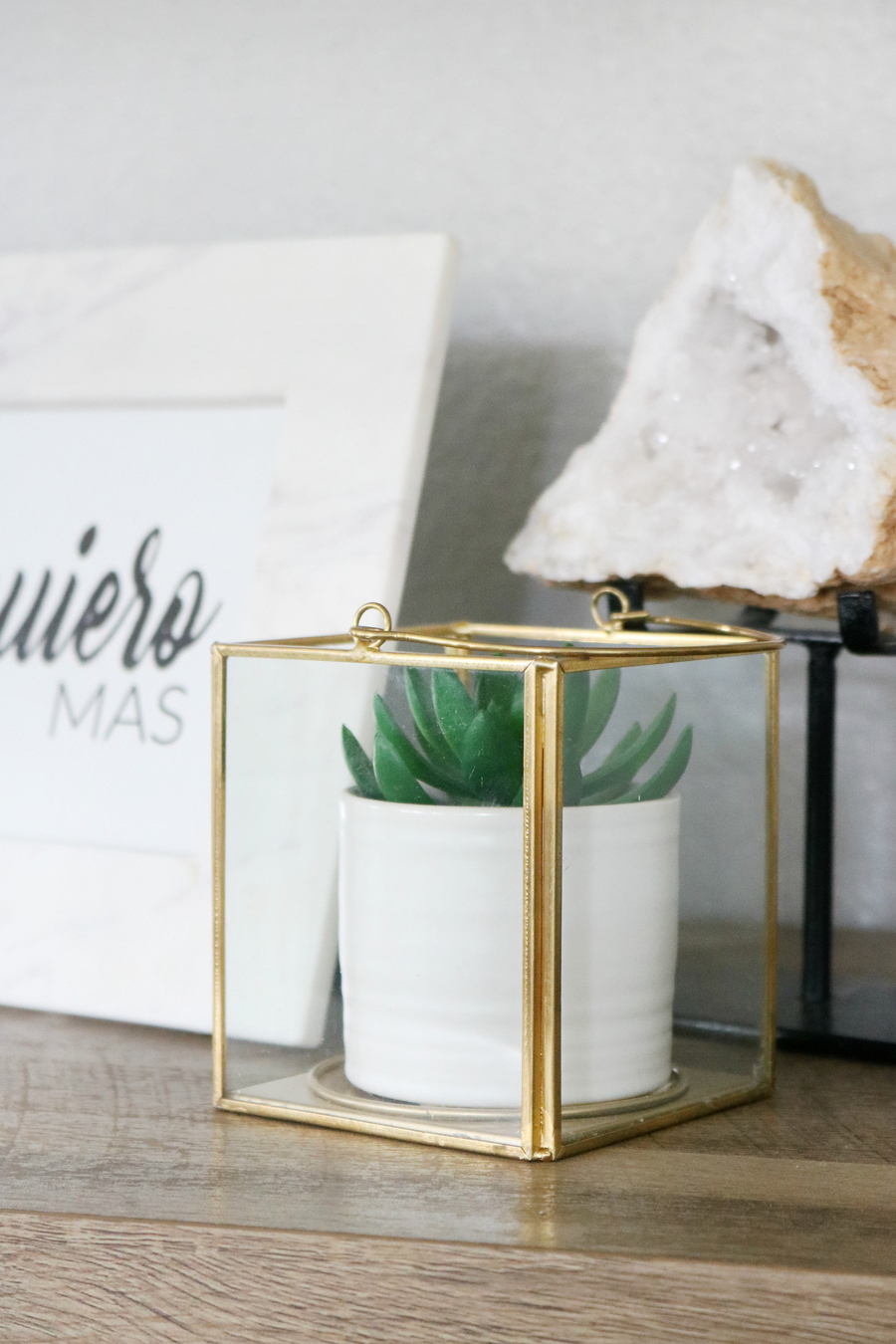 Last but not least while I was shopping in the store I spotted this Better Homes & Gardens White Marble Planter and it was perfect for my new faux fiddle fig plant. This was the 8″ size and it was under $9. They are only sold in stores, they also come in a 6″ size. They are really pretty.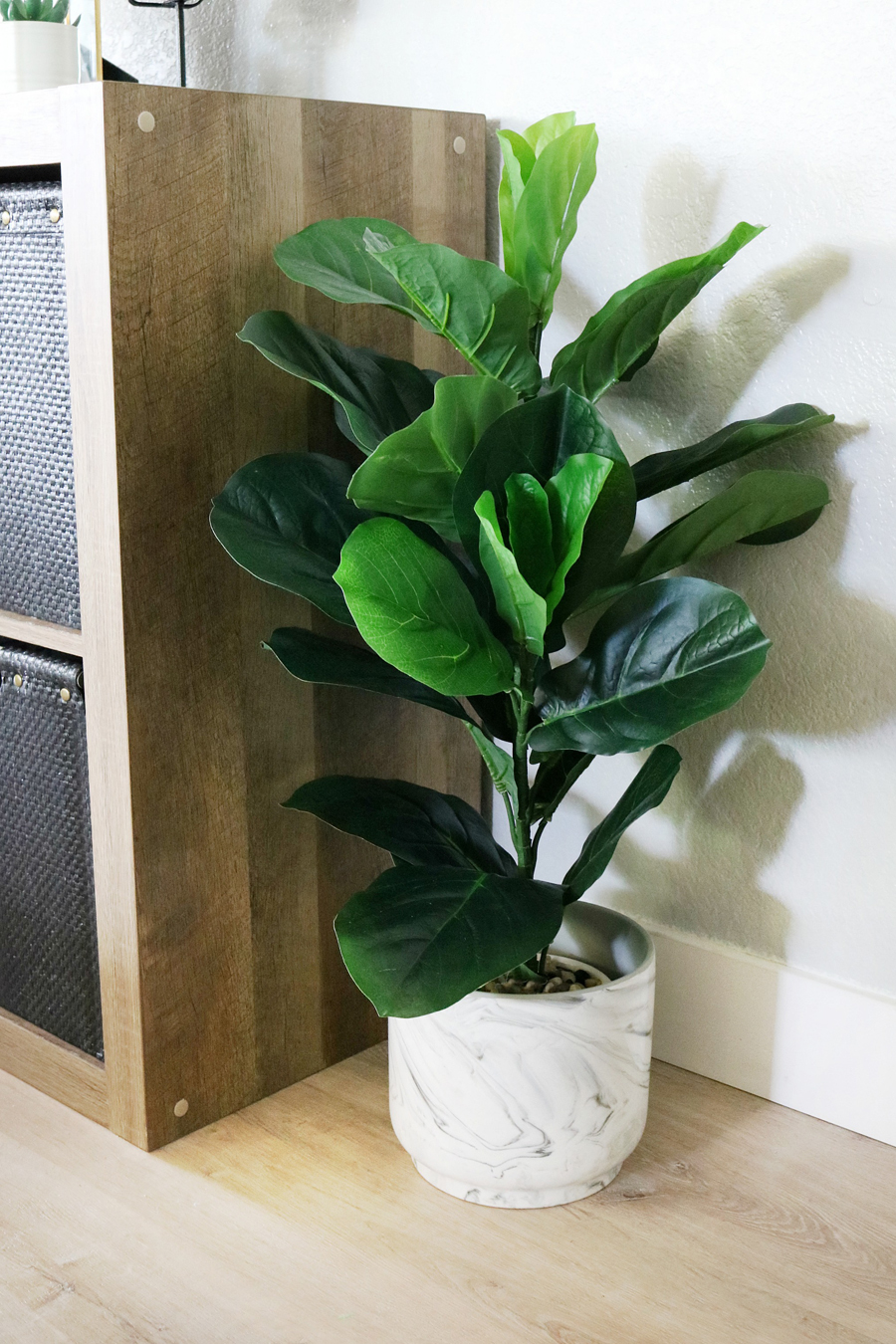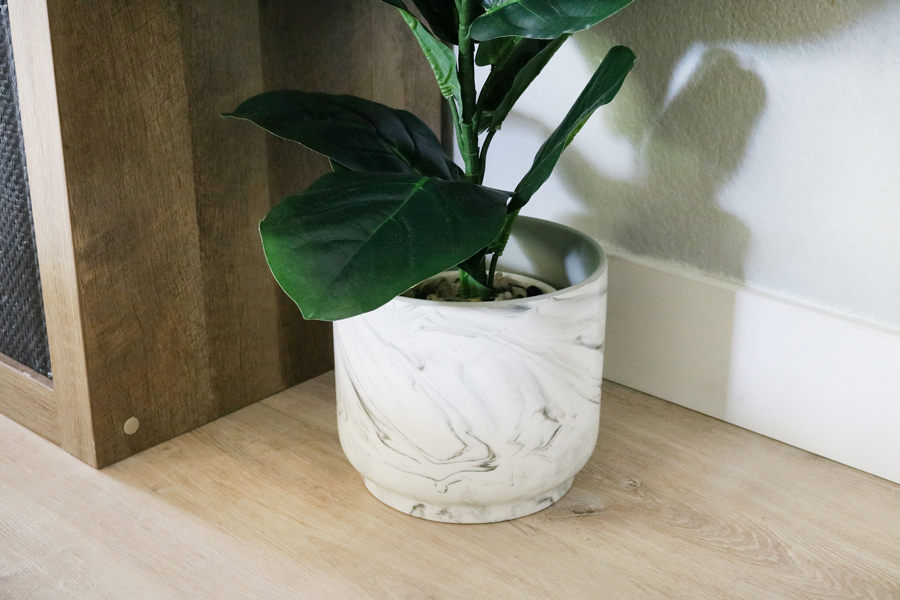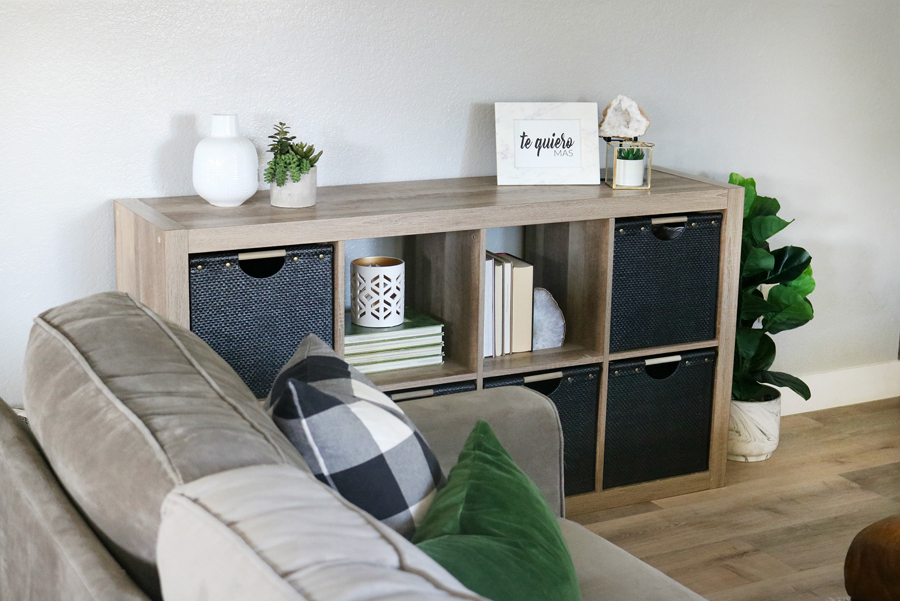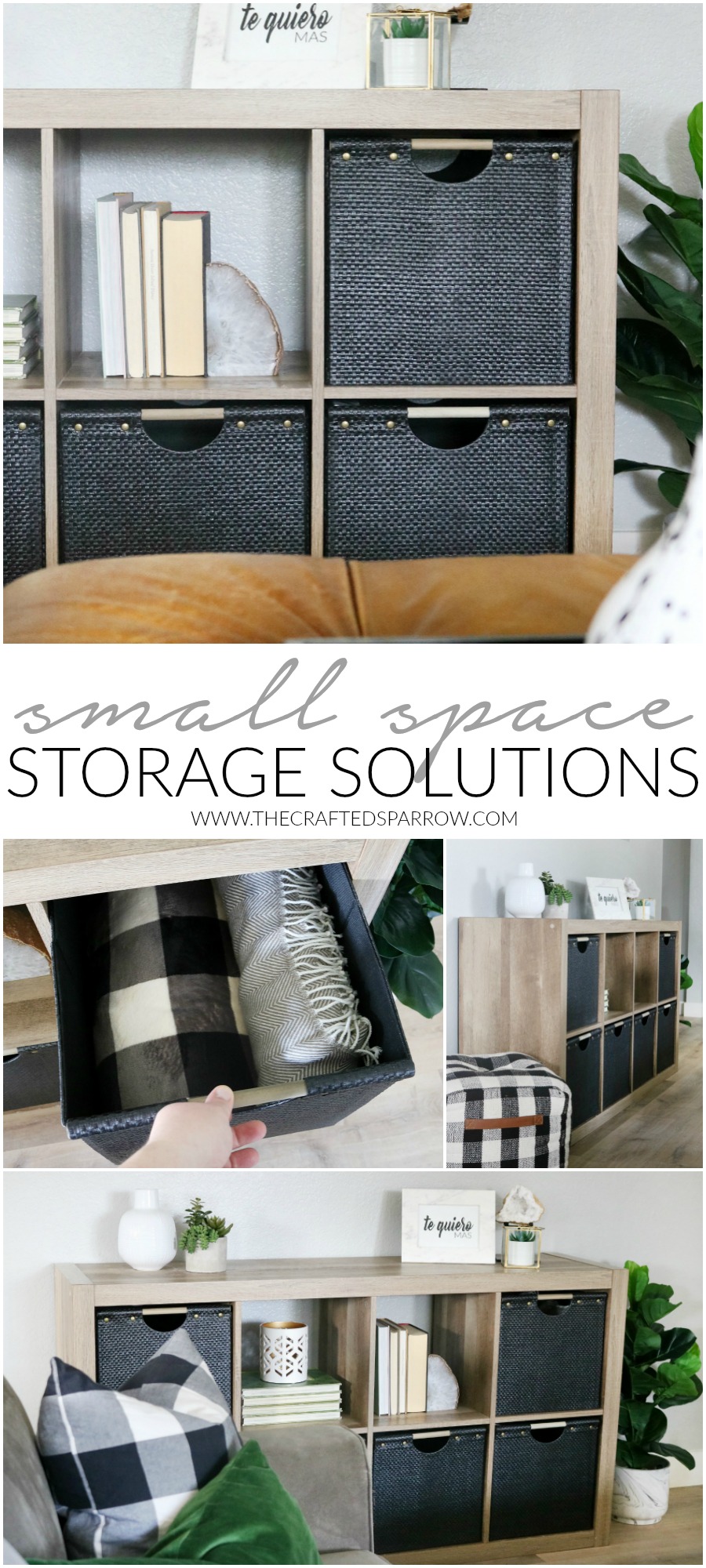 If you loved this be sure you check out these other great organization ideas.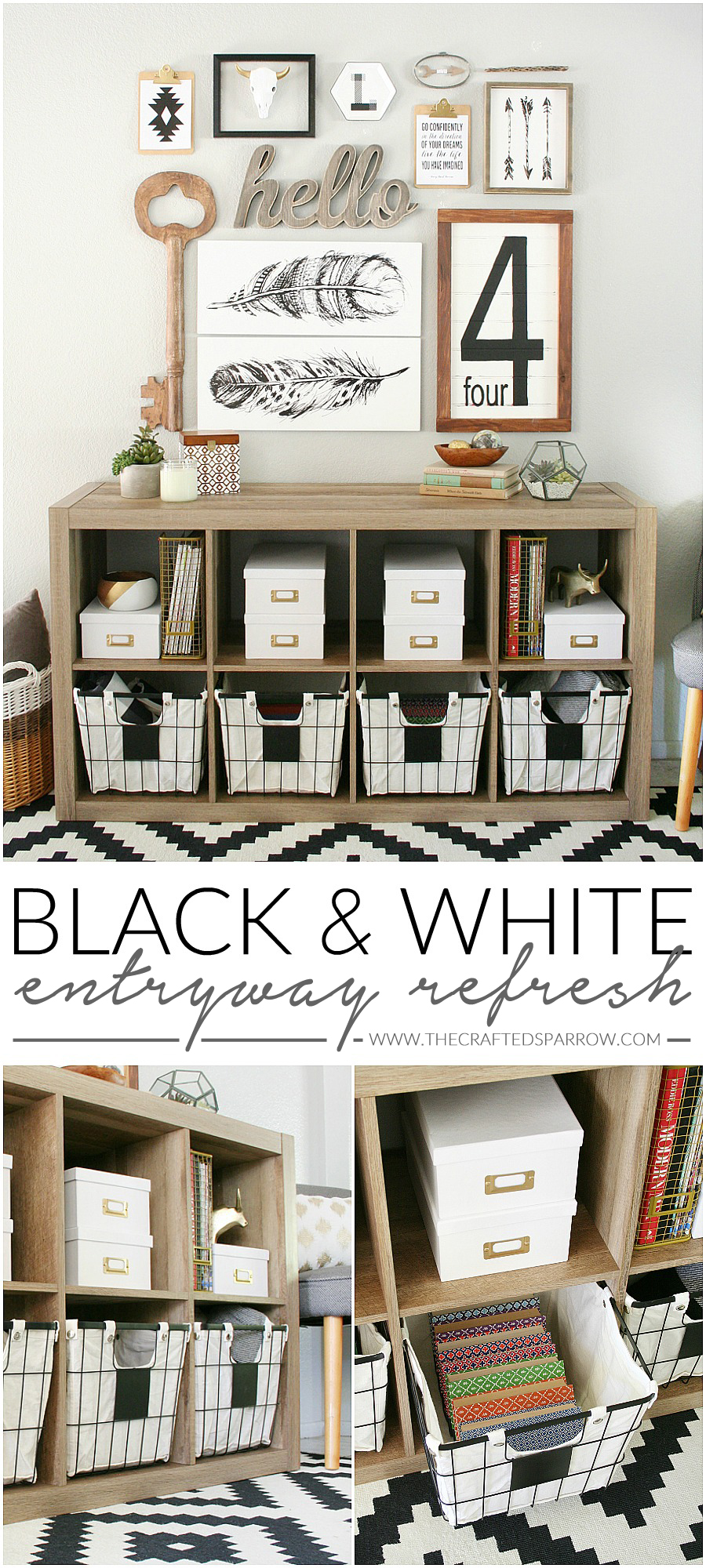 Black & White Entryway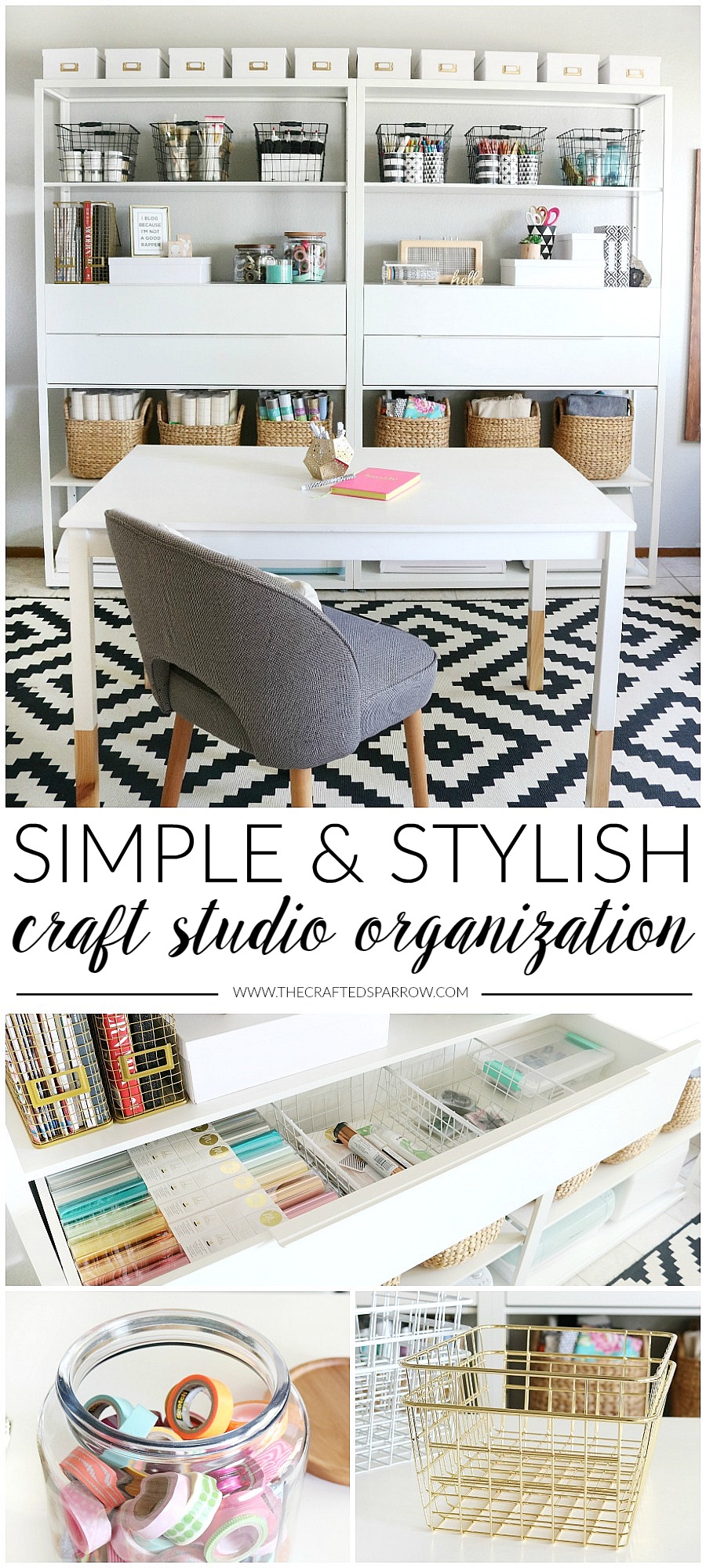 Simple & Stylish Craft Studio Organization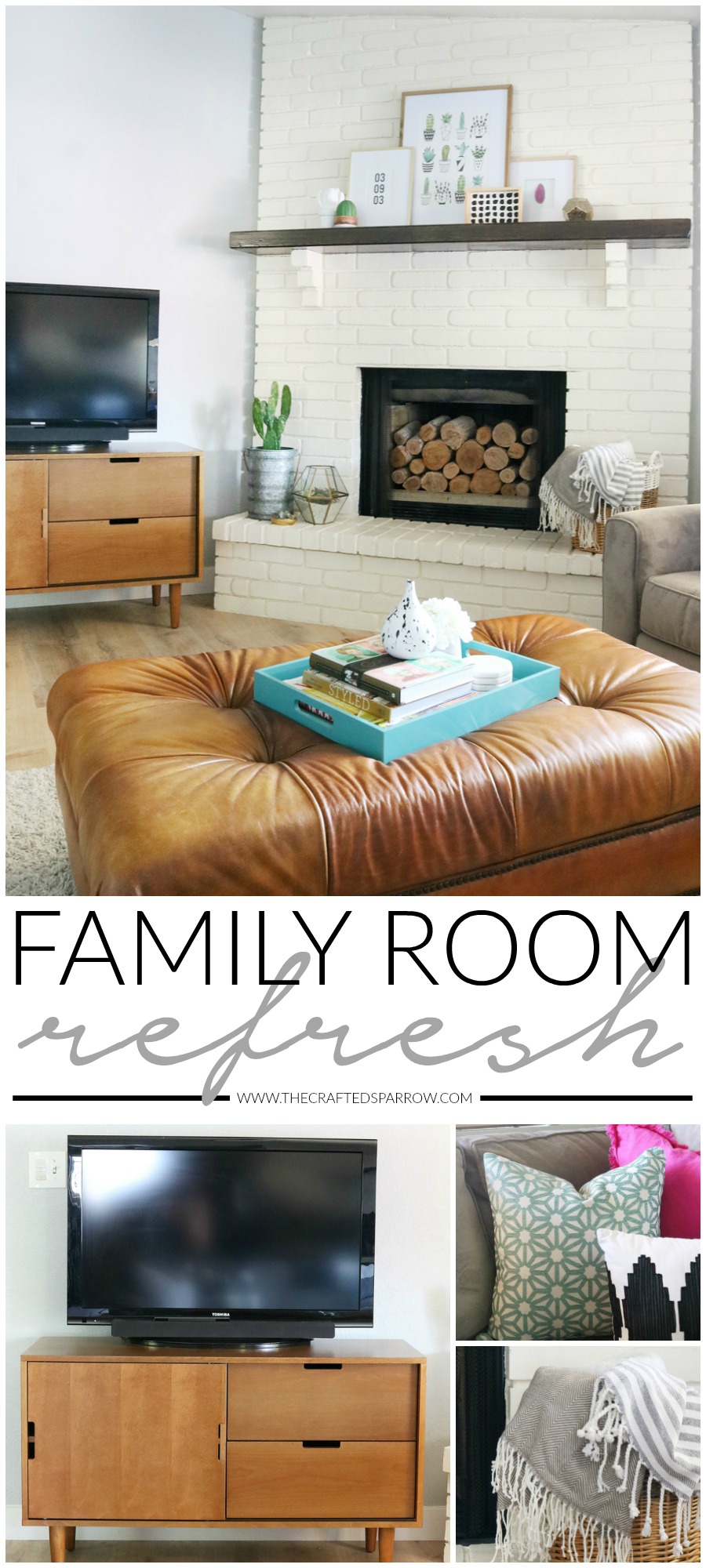 Family Room Refresh
Be sure you follow Better Homes & Gardens for Walmart:
Facebook | Twitter | Pinterest | Instagram