When it comes to having small spaces functional storage can be a challenge. My oldest son's room was long overdue for a makeover, but more importantly, this teen boy's room needed storage that looked good and helped to keep his room organized.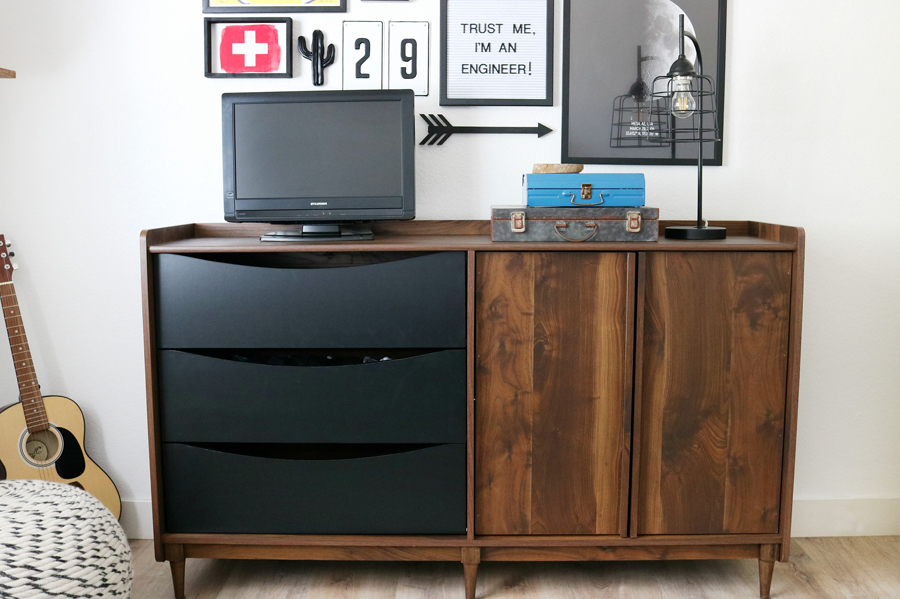 For months and months, my oldest has been begging me to pay some attention to his room. It has been years since I touched his decor and really even gave it a second thought, it was super outdated and in bad shape. You can get a peek at this wall in his room before HERE, the only difference now is that he had a bigger desk the past couple years. I have no words, it was kind of a let me just slap some stuff on the walls kind of situation. While this whole room is getting a makeover, I really wanted to start on this wall where his desk was and focus on more mature teen boy's room storage & decor ideas for this space.
When thinking of teen boy's room decor I wanted a Mid-Century Industrial vibe, I also knew I wanted storage that not only looked good but was able to organize a ton of stuff.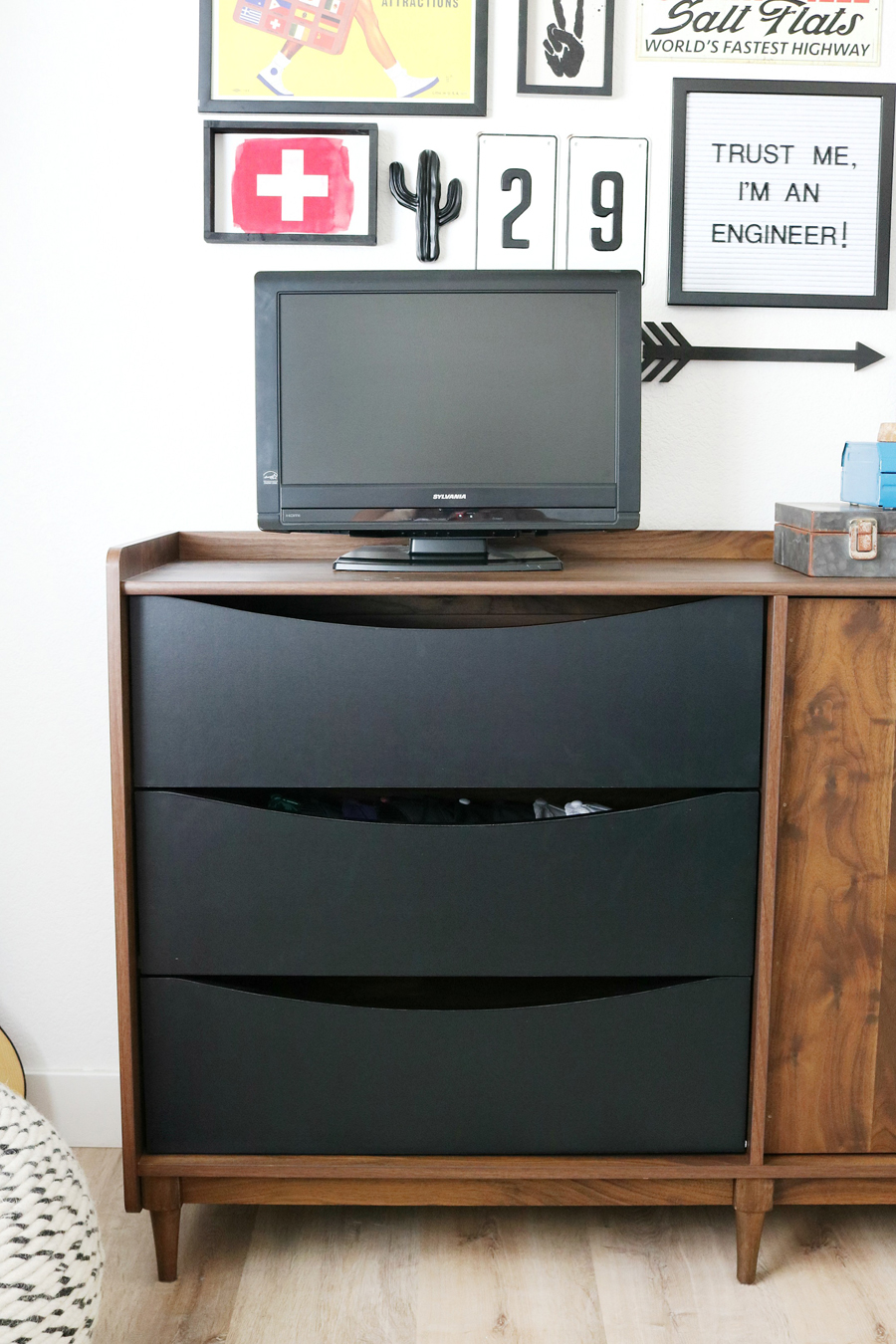 The first order of business in this room was fresh paint! I wanted all white walls to create a clean open space. My favorite white paint color is Behr Polar Bear.

While shopping online at Walmart.com I found this Better Homes & Gardens Montclair Tv Stand in a vintage walnut finish. It offered the storage we needed and I loved the look of it, bonus – so did my son. We ordered it and had a fun family day assembling it, my amazing momma came over to help…putting together furniture is totally her jam.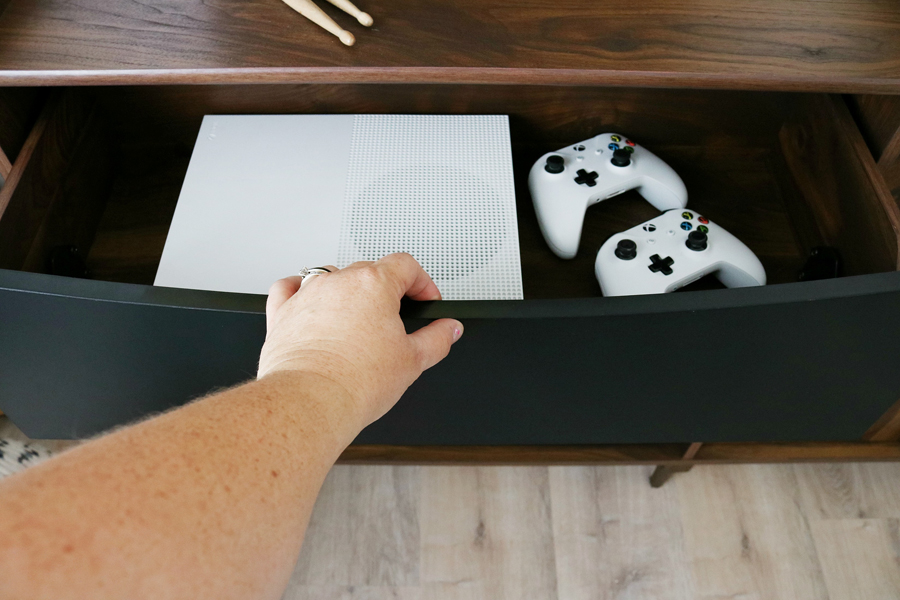 One of my favorite features on this piece was the pull out electronics shelf. This was the perfect solution to his gaming system being hidden but still totally functional. The drawer pulls out and the black front lifts back to reveal your electronics or gaming systems. This drawer doesn't have to be used this way, you could totally just use it as a regular drawer too. Besides this pull-out shelf/drawer, it has two other drawers on this side of the console.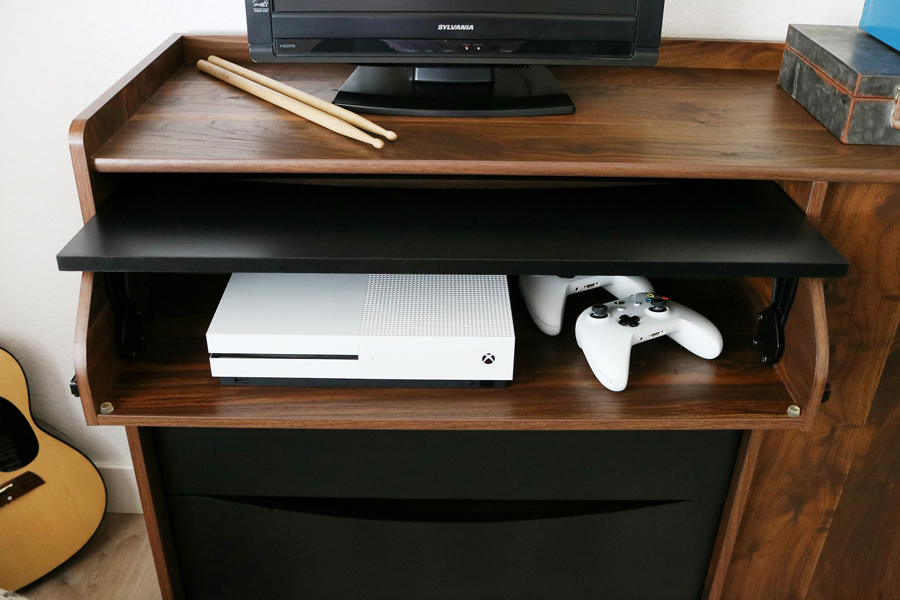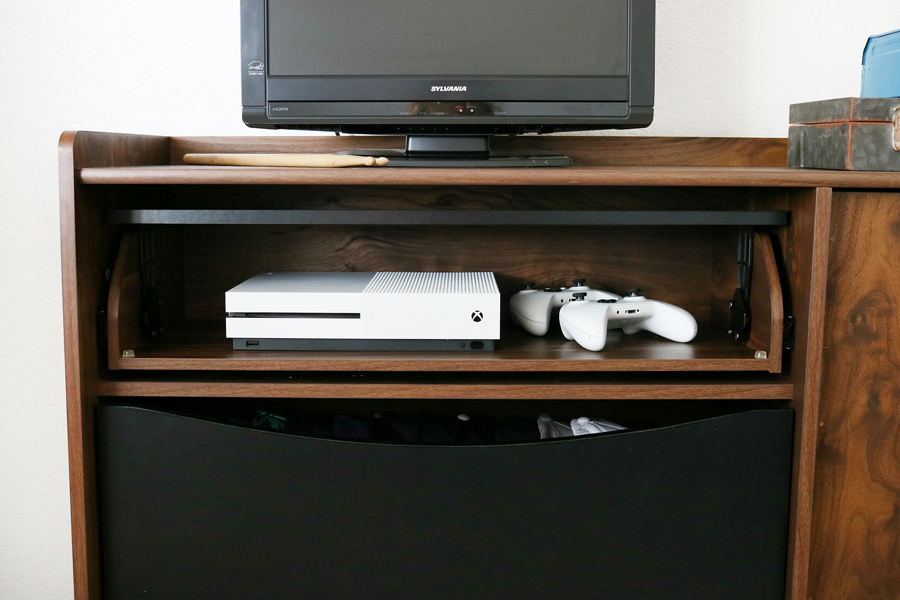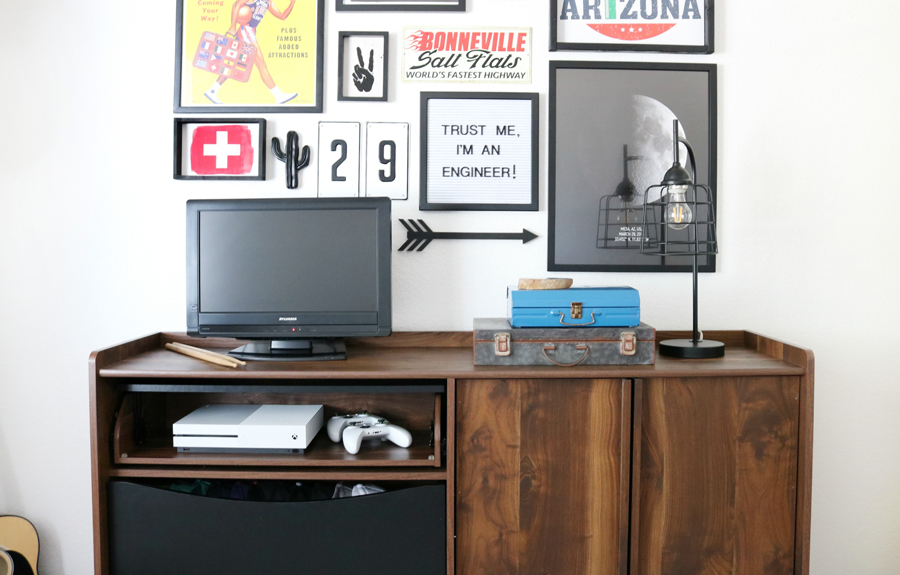 The other two drawers were an awesome place to store his hats and gaming stuff.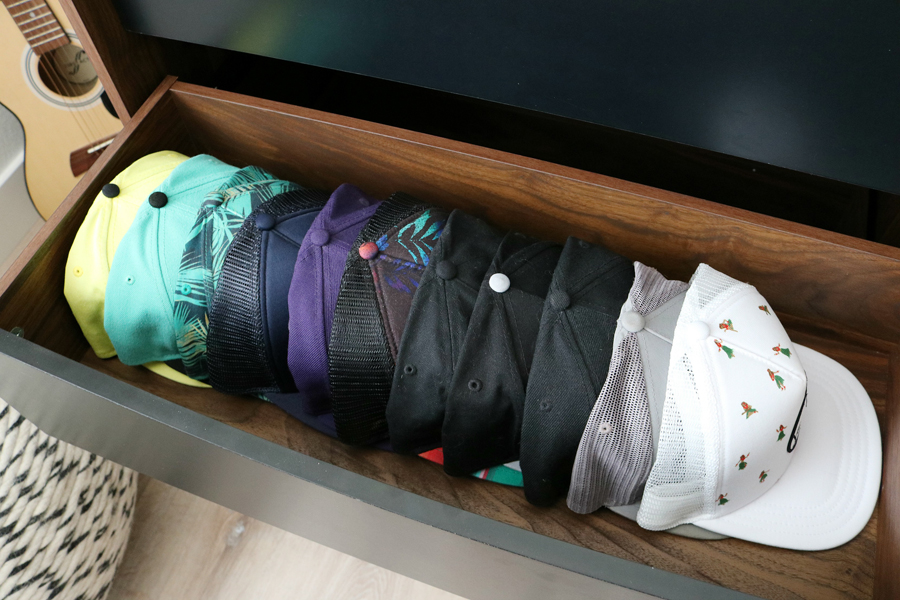 The other side of the console has two doors. There was enough room to add some storage bins to help keep things organized and clean looking. In these bins I've organized all his boy "stuff", this kid has no shortage of hobbies or interests which creates an abundance of "stuff".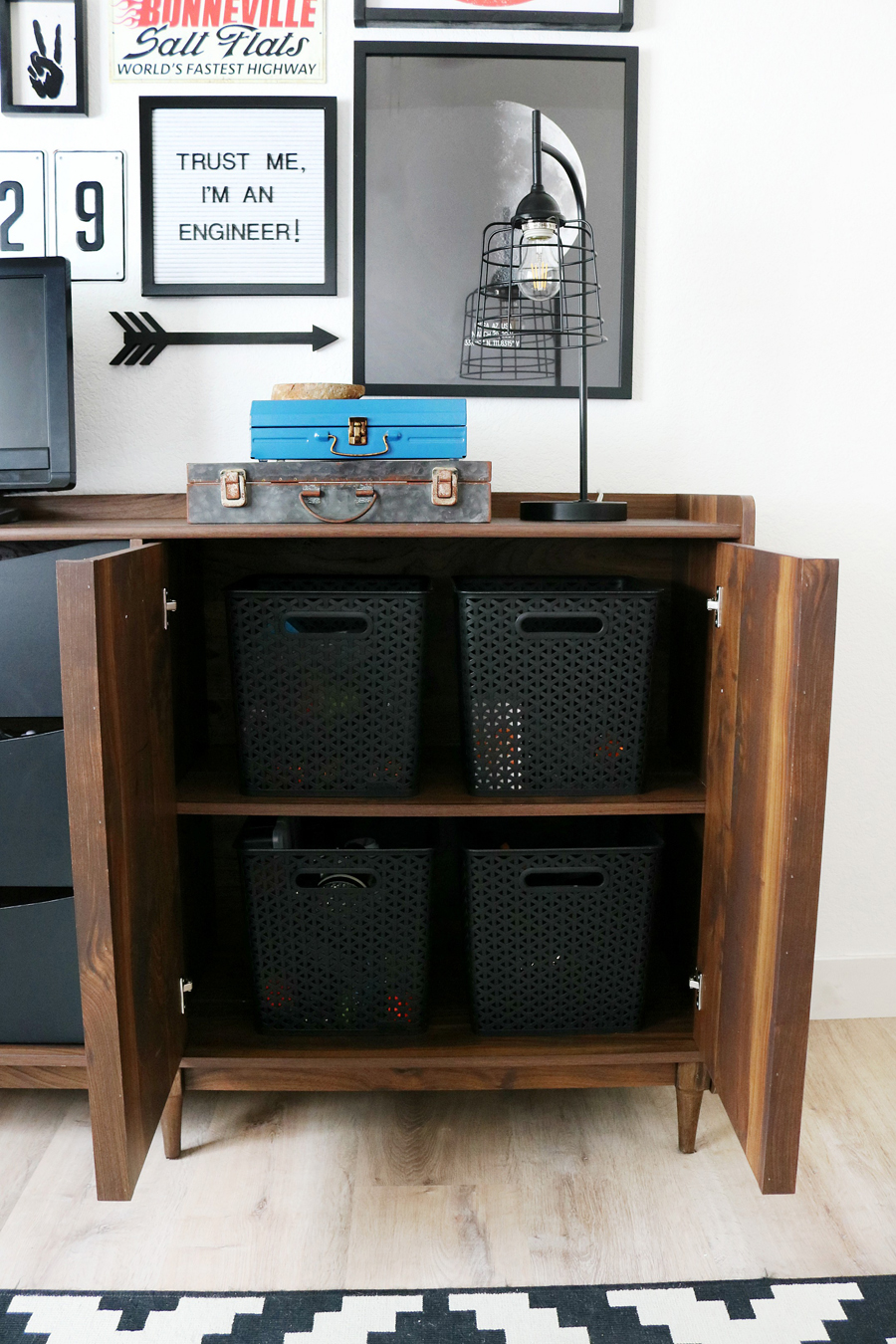 Another need in his room was lighting. We have ceiling fans with lighting kits attached, a must have here in AZ…but we needed some additional lighting since my son is constantly working on inventions and building projects. I love this Better Homes & Gardens Cage Lamp, it brings some of the industrial look I wanted and I love that it's an open shade (less dusting)!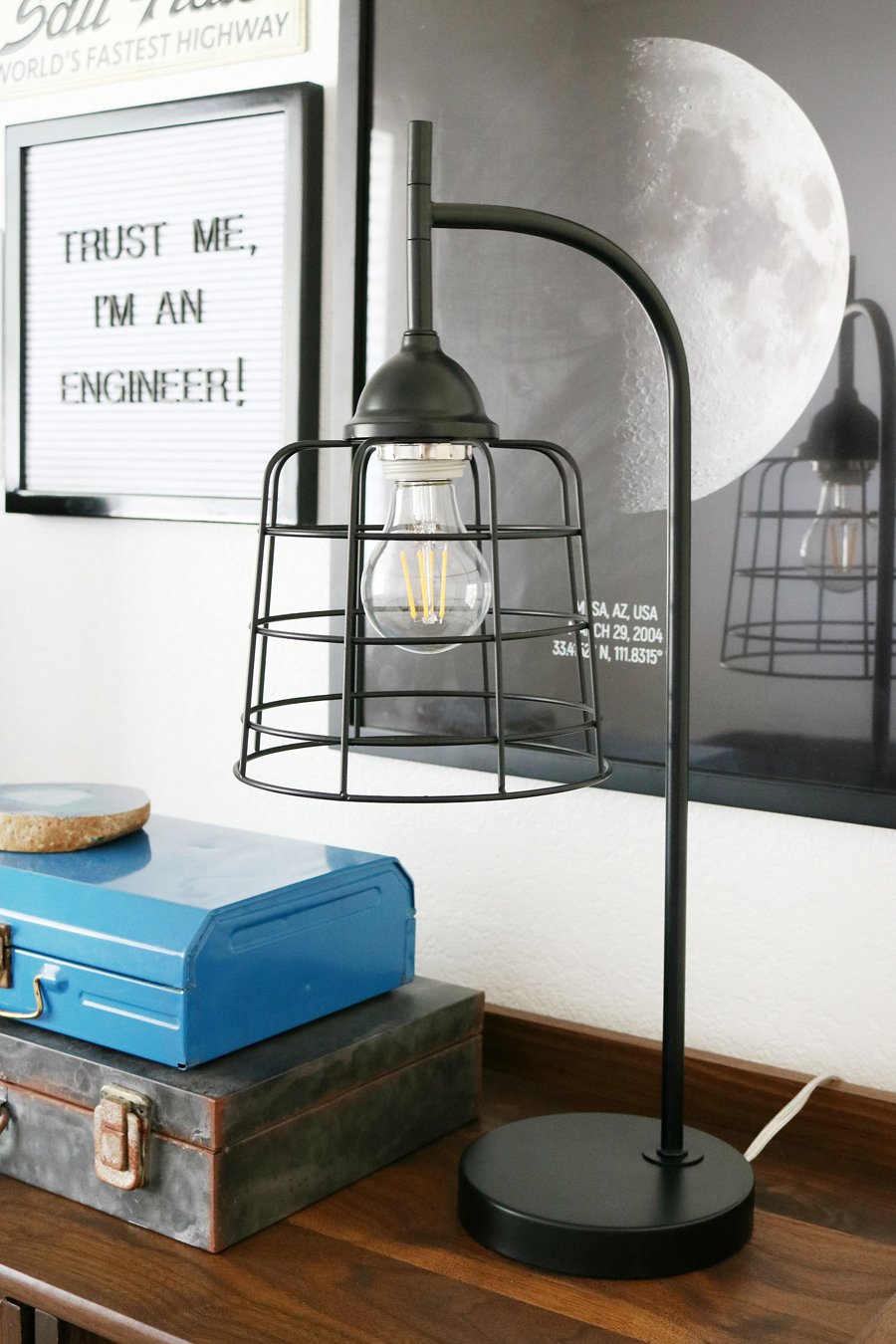 The wall immediately next to this one previously had my popular DIY Skateboard Shelves. My son really loved having the shelves so I wanted to update them with something different. There's a quick and easy post coming on those soon.
This is the view as I walk into his room and I just love it. It's so clean and I'm obsessed with the vintage walnut color of the tv stand.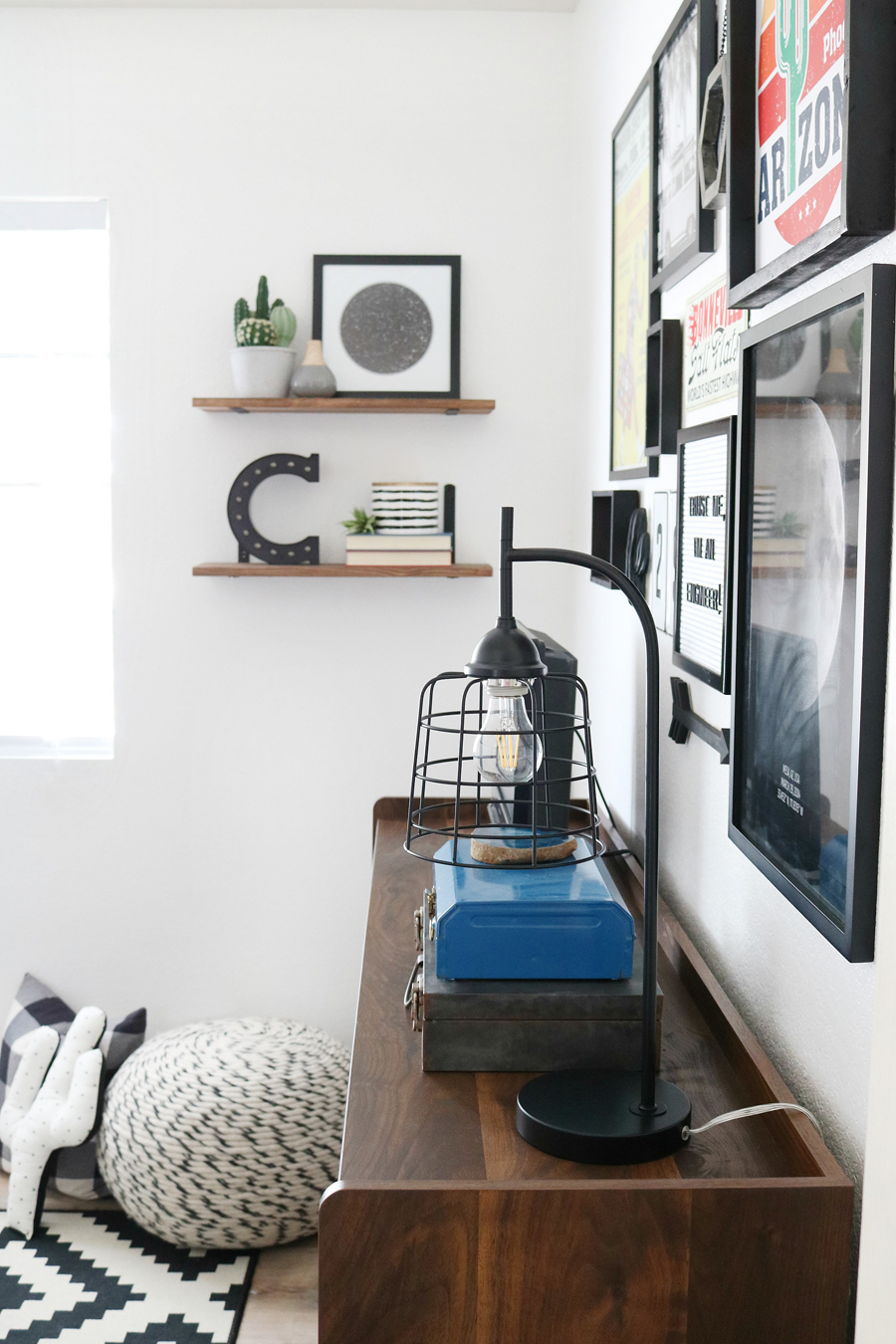 I have had this vintage blue metal box for a couple years and it was perfect for on top of this console. While the majority of his room is, of course, black and white it has pops of goldenrod yellow – blue – red – and green. I stacked it on top of another vintage looking metal box to create some height next to his lamp.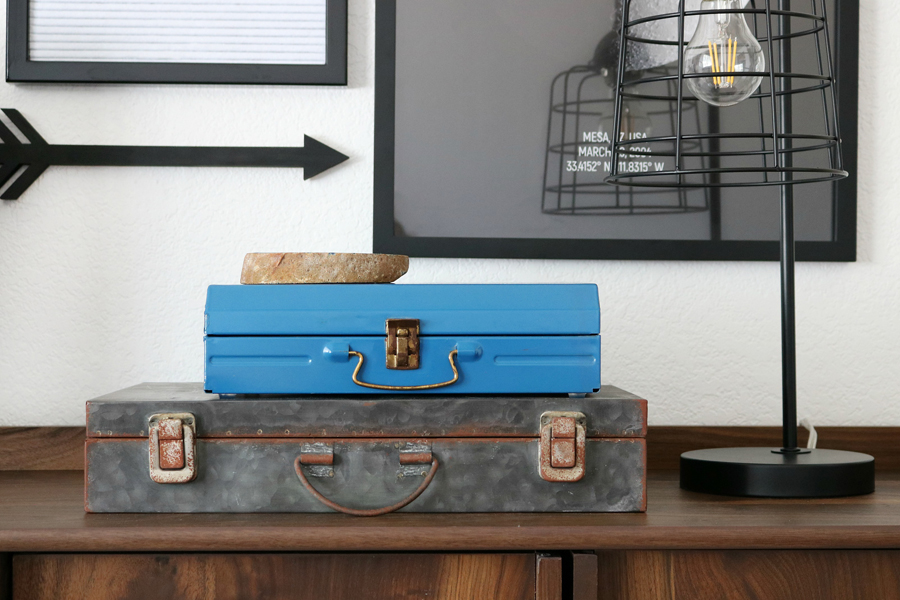 My son really loves sitting on our poof in the living room, he'd rather sit on the floor than a couch or chair anytime he can so I thought he definitely needed a poof in his room. This Better Homes & Gardens Wool Swirl Poof was simple enough for a teen boy's room and it's so soft. It will be perfect for him to sit on while he plays video games or does his homework.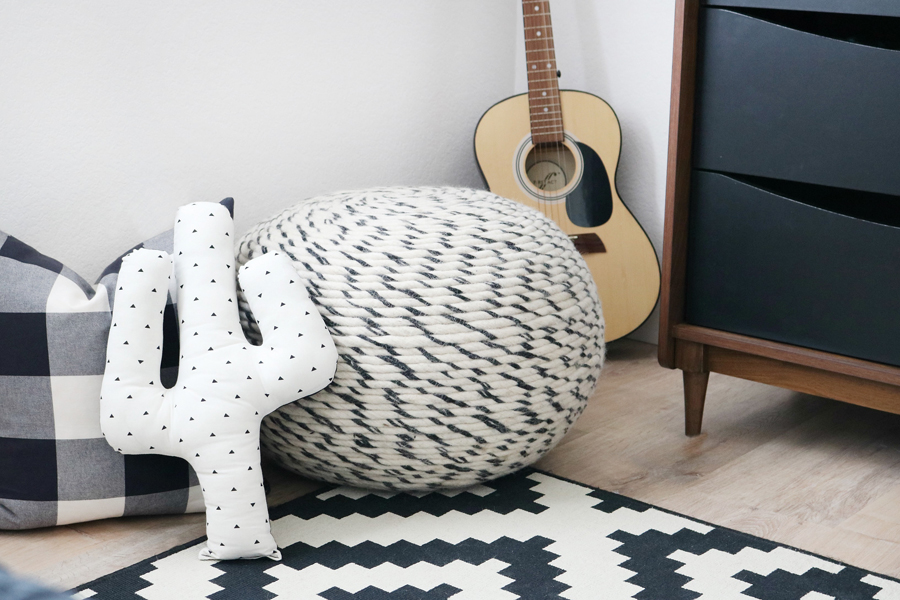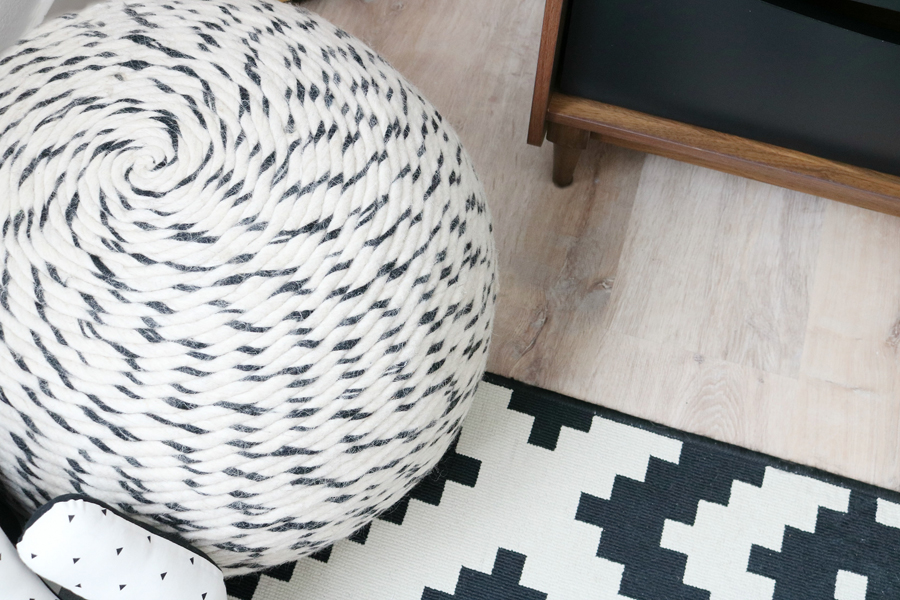 Something I was really looking forward to doing in this space was a new gallery wall. I wanted collected pieces, this is something I have done with every gallery wall I've ever done. A mix of framed items, different shapes, and random collected finds. I wanted this gallery wall to reflect my son's personality so I carefully picked out each piece. Stay tuned for a post on this gallery wall and sources.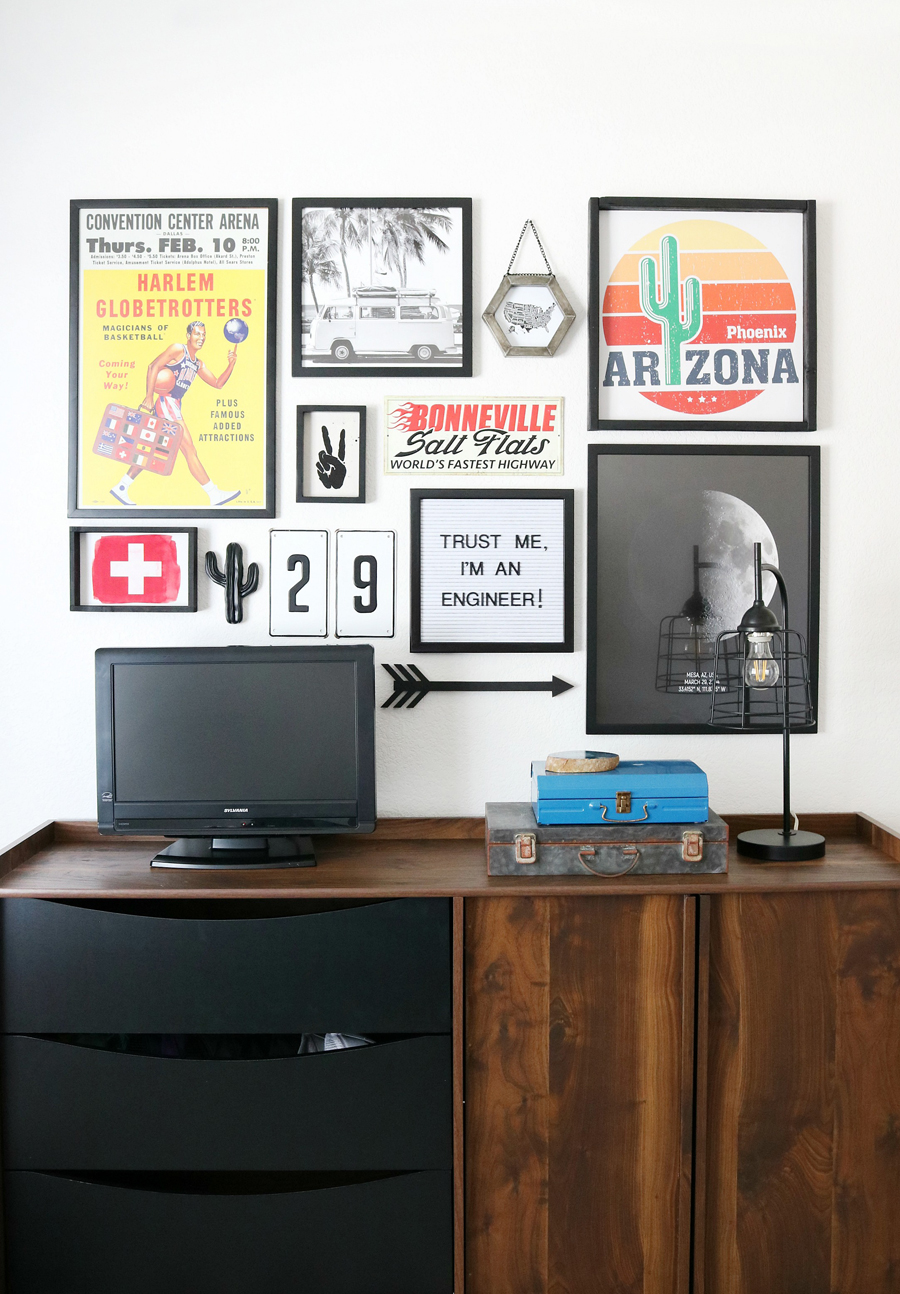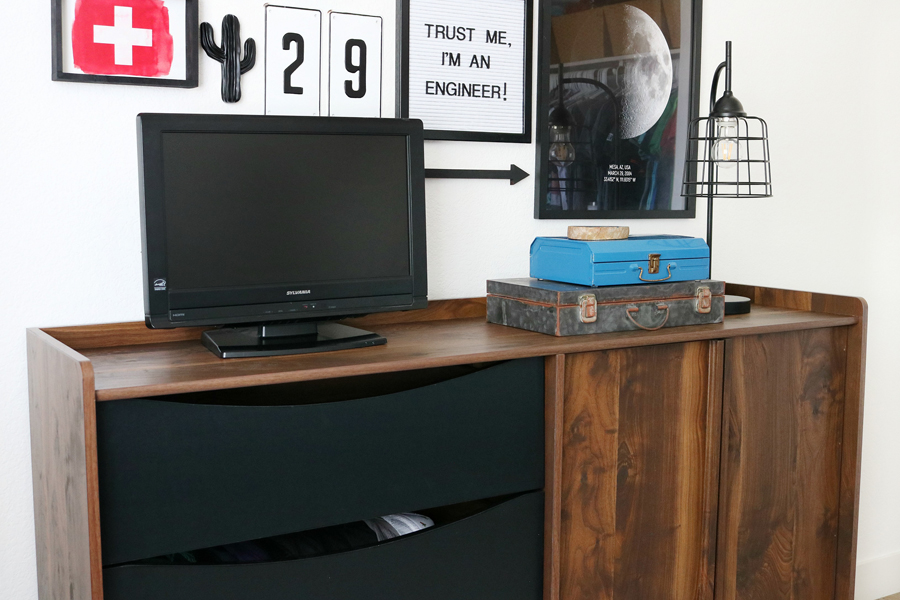 Looking for even more boy's room organization or decor ideas? Be sure to check out these great posts.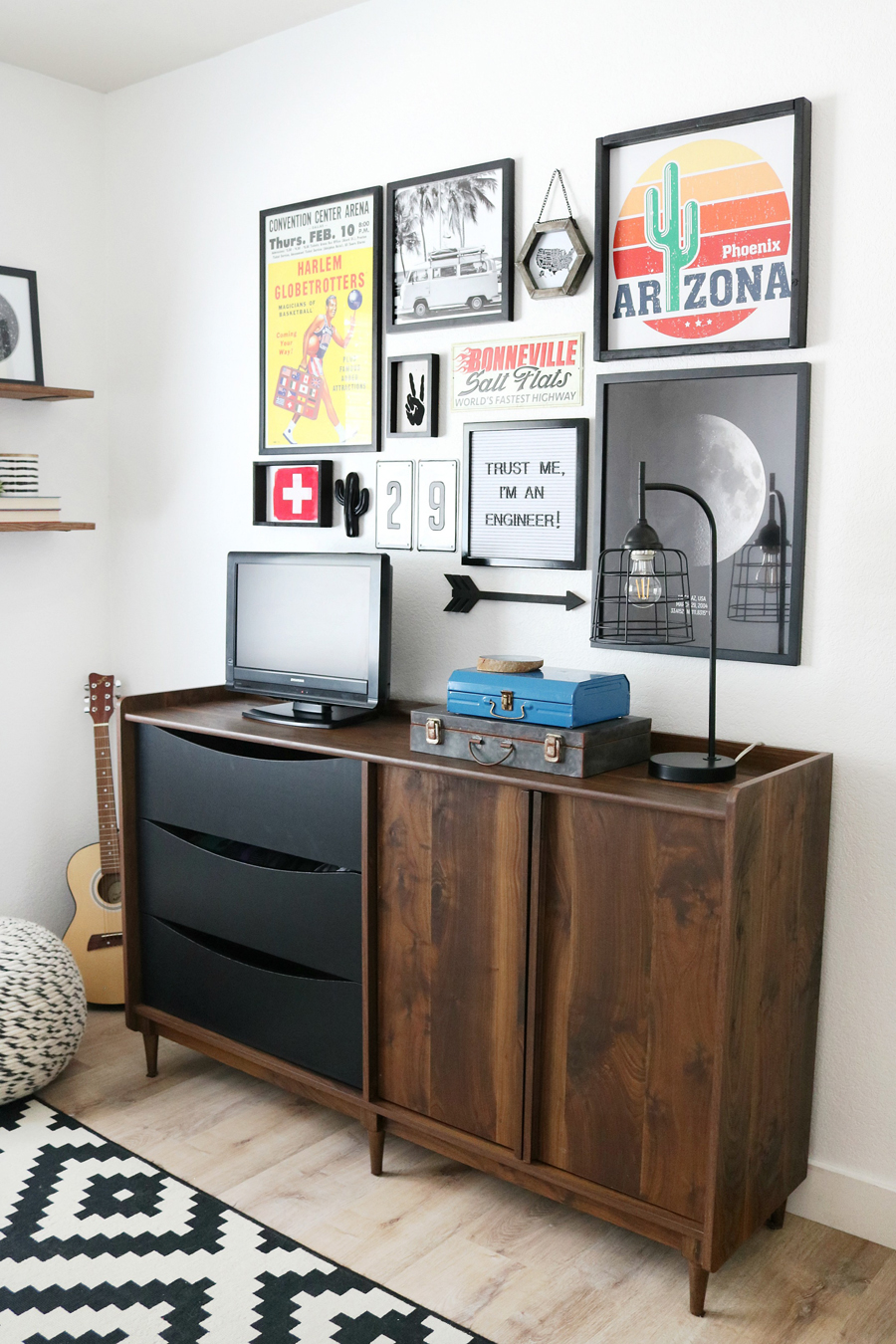 I really really love how this space turned out, I still have to finish the other side of the room but I love how clean and organized this space is now. The contrasting black and white with small pops of bright colors are totally making me happy.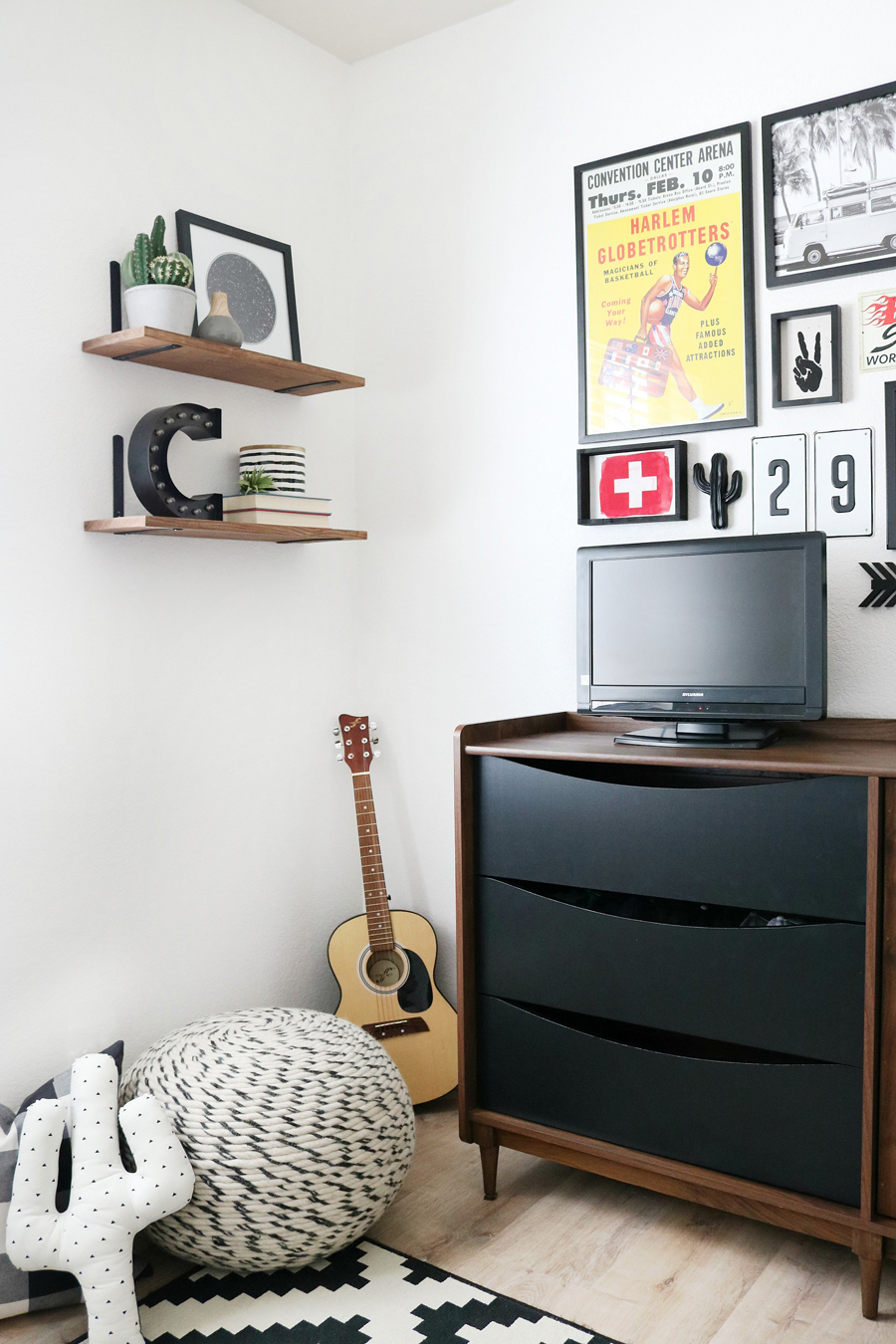 Be sure you follow Better Homes & Gardens for Walmart:
Facebook | Twitter | Pinterest | Instagram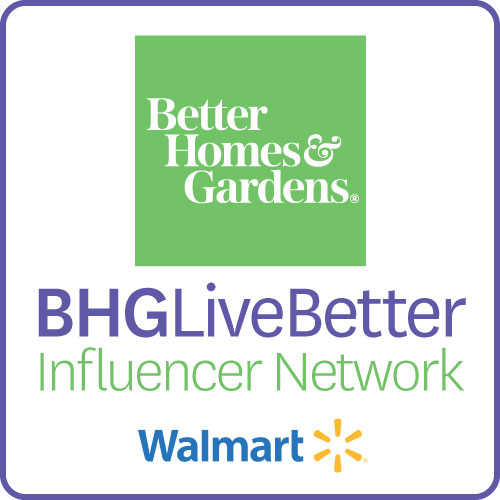 DISCLOSURE | This post is sponsored on behalf of Better Homes & Gardens. As always, all opinions and ideas are 100% my own. This post may also contain affiliate links.