One of the biggest challenges I face when it comes to living in a smaller home is storage and closet space. It seems that there is never quite enough space am I right?! I've found some easy ways to organize my very small closet without breaking the bank or doing a complete demo.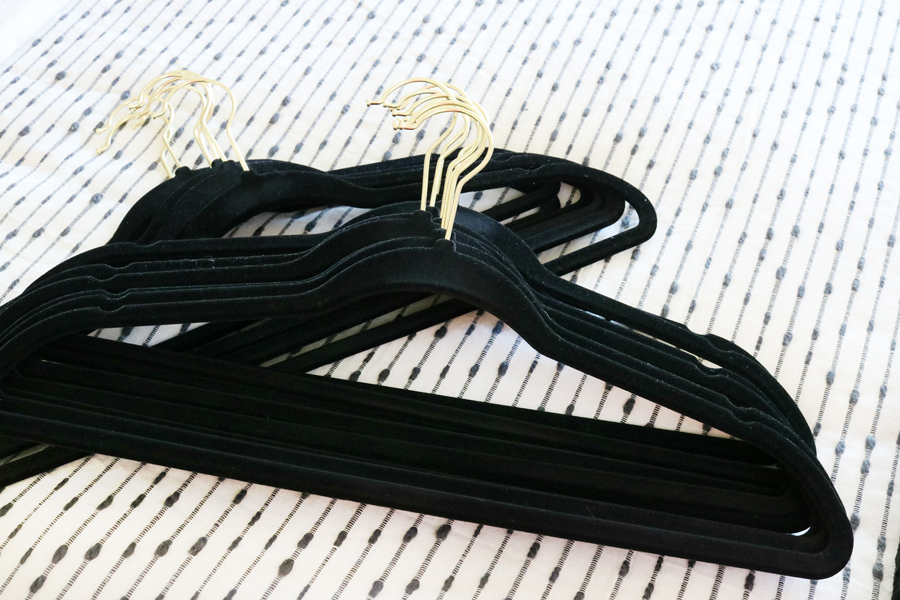 DISCLOSURE | This post is sponsored on behalf of Better Homes & Gardens at Walmart. As always, all opinions and ideas are 100% my own. This post may also contain affiliate links.
A few weeks back I shared my Black & White Boho Inspired Bedroom Makeover, everything in this space was finished except the closet. It was in dire need of a makeover itself. The problem? Our closet is tiny and I love clothes! So I needed some Easy Closet Organization Ideas for Small Space Closets that would make this closet functional and updated.
Take a look at this photo below, we have mirrored closet doors with an 80's gold finish. We don't mind the mirrored doors, in this space we actually prefer them. They help to distribute a ton of natural light through the room since the window is on the opposite wall. It helps to give this small 13 x 13′ room a bigger feel. The gold finish though, I was over it. Normally I'd love gold, but this was just a weird funky finish.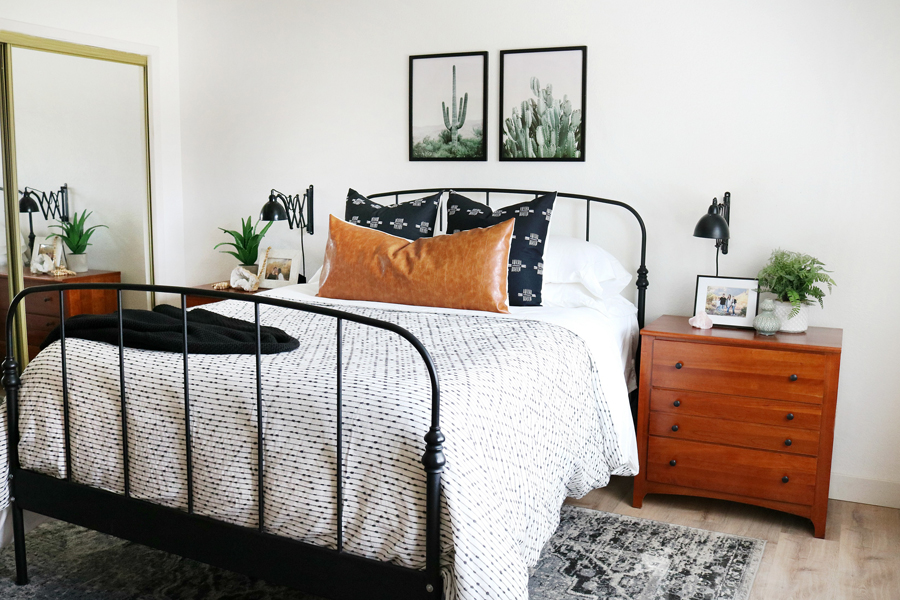 I wanted to give you a peek at the "before" of the closet. While our clothes were pretty organized, there was a ton of other useless junk shoved in the closet. Stuff that has been there for years and not given a second thought. It was time to declutter and organize it. The other issue was the amount of clothing, typical plastic hangers tend to take up a little more room…especially when you have over 330 of them in one small space. The closet was also never painted when we painted the room bright white so it needed a fresh coat of paint and updated clothing rods.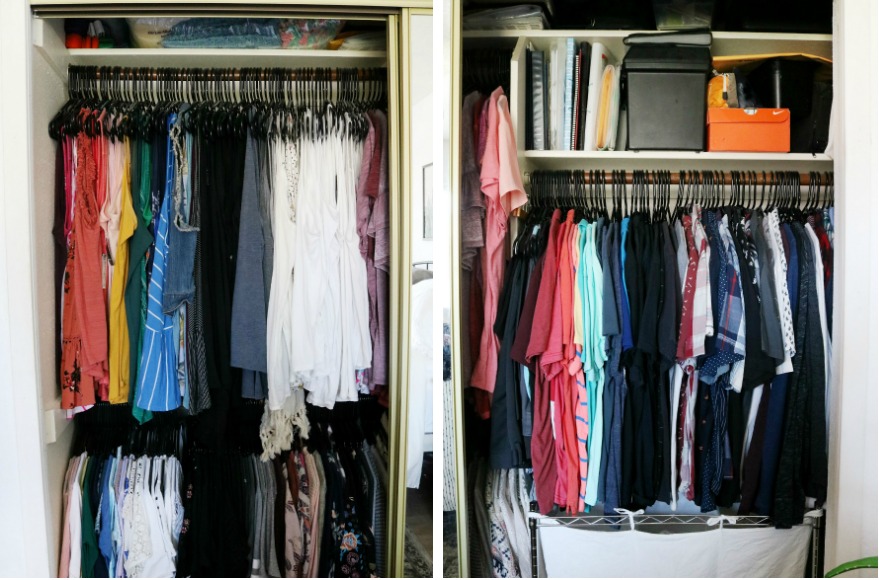 The first thing on my agenda to organize this closet and update it a little was to repaint the closet doors. I removed all the tracks and doors, then I primed them and spray painted them an oil rubbed bronze to match the other finishes in our house. Next up I cleaned out the entire closet and painted it Polar Bear White from Behr paint. Painting it made such a huge difference and lightened it up so much.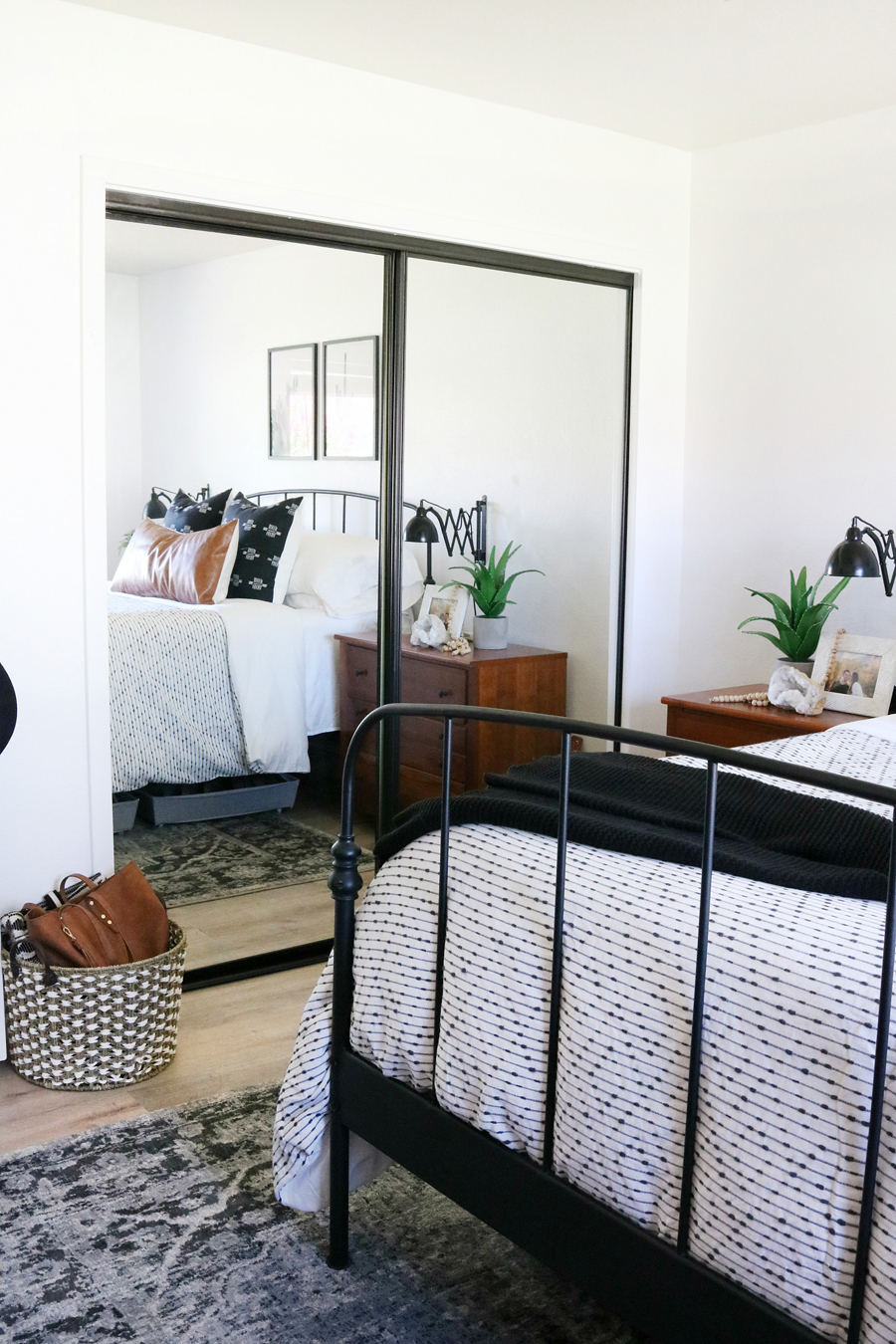 While my closet was completely empty I took the opportunity to clean through our clothing and get rid of things we hadn't worn in the past year. I usually go through everything every six months, it helps to keep things organized. Next up was switching out the cheap plastic hangers for something that would actually keep the clothing on the hanger. I found these Better Homes & Gardens Nonslip Ultra Slim Flocked Hangers. I have wanted to try these for a little while now, I've heard great things about them and how they can help to save space too. They come in several colors and can be found in stores. I did have to hunt them down at quite a few stores here in the valley since I wanted black, I'm pretty sure it's a popular color. I also needed 330+ hangers to replace what I had, so I needed to find about 12 boxes.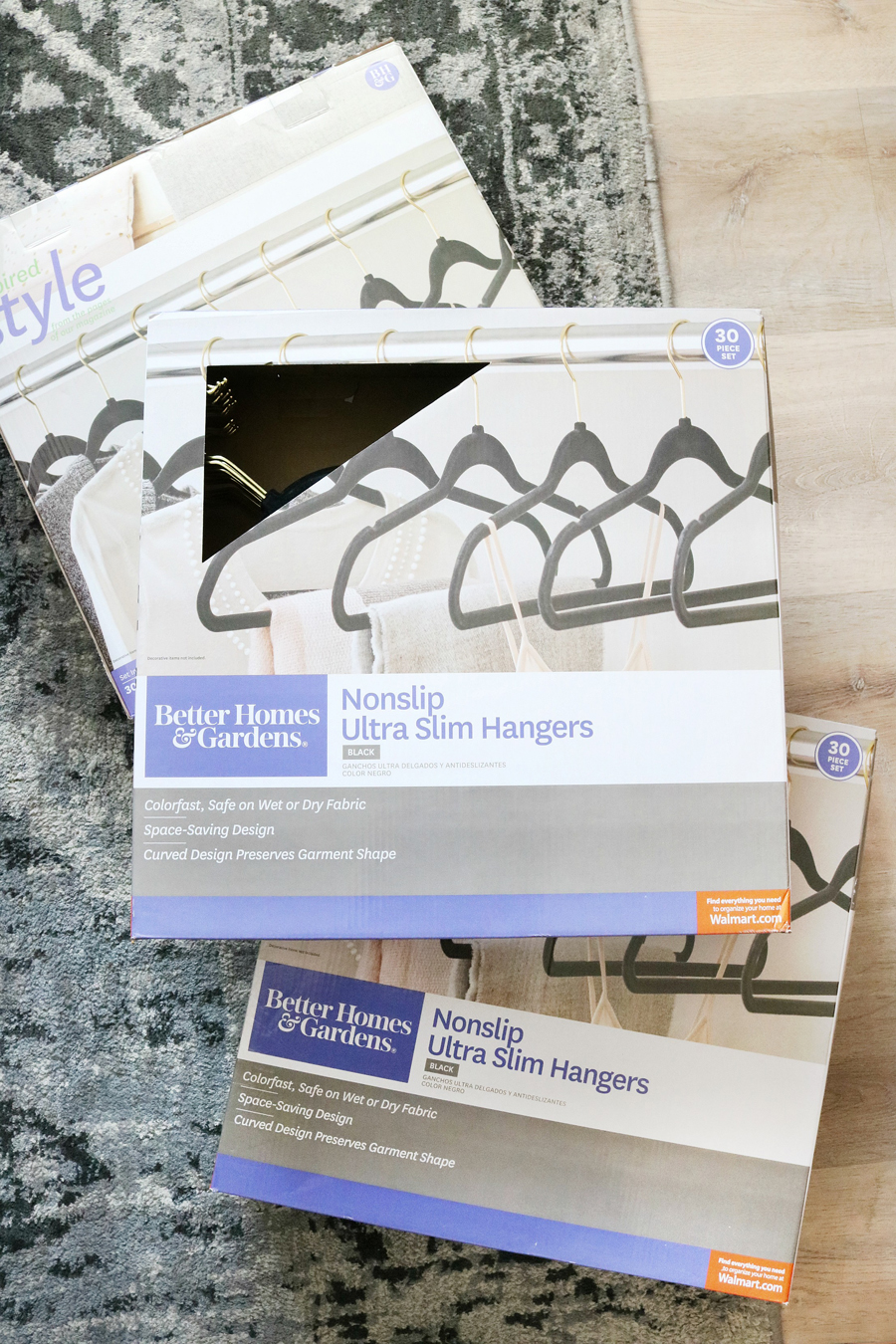 Once I had everything hung on the hangers it was time to start filling the closet again. This is the part I love the most, organizing things makes me so happy.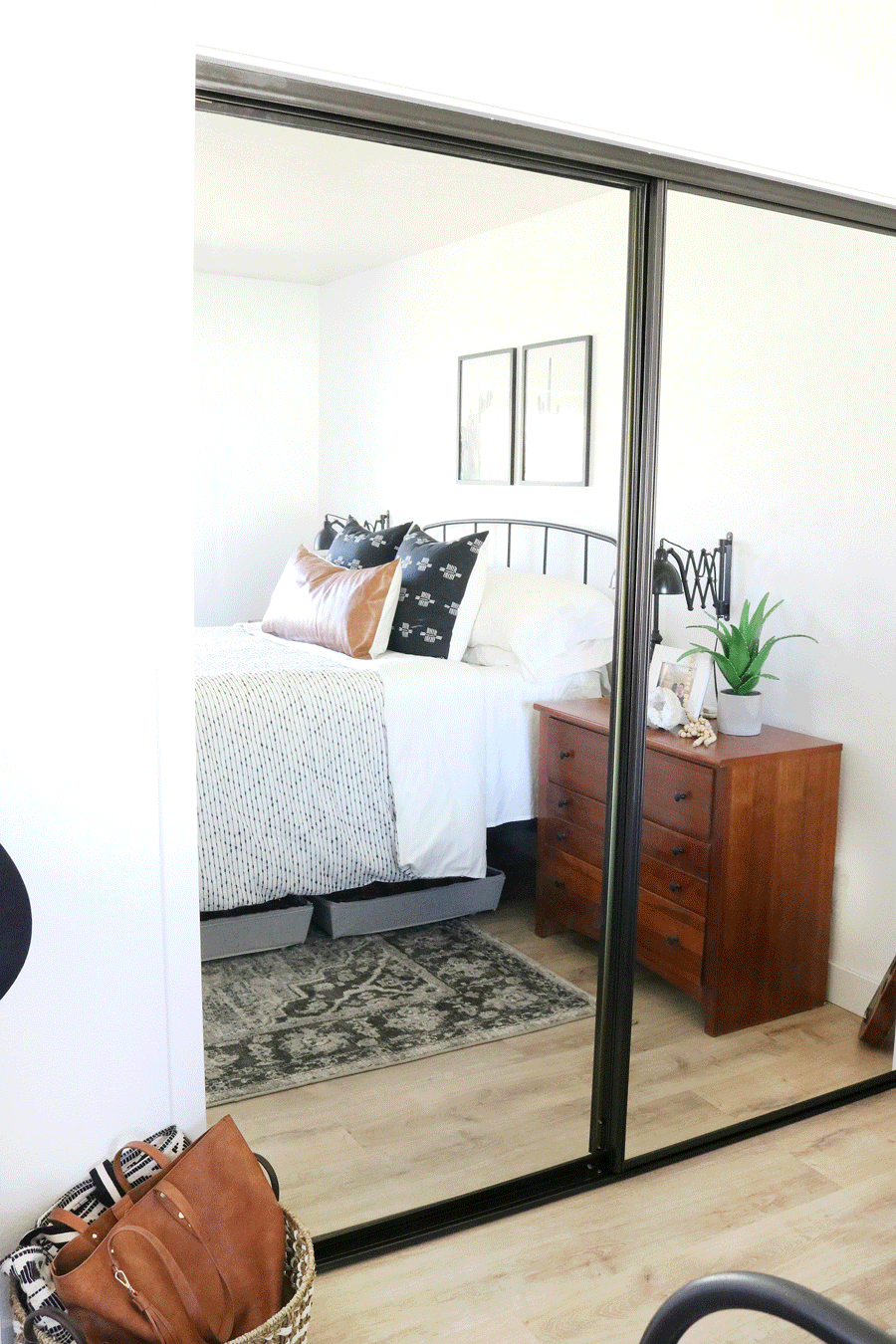 These hangers you guys! They are so good, and those gold tops make them even better. I'm serious when I say no clothing will be falling off these hangers.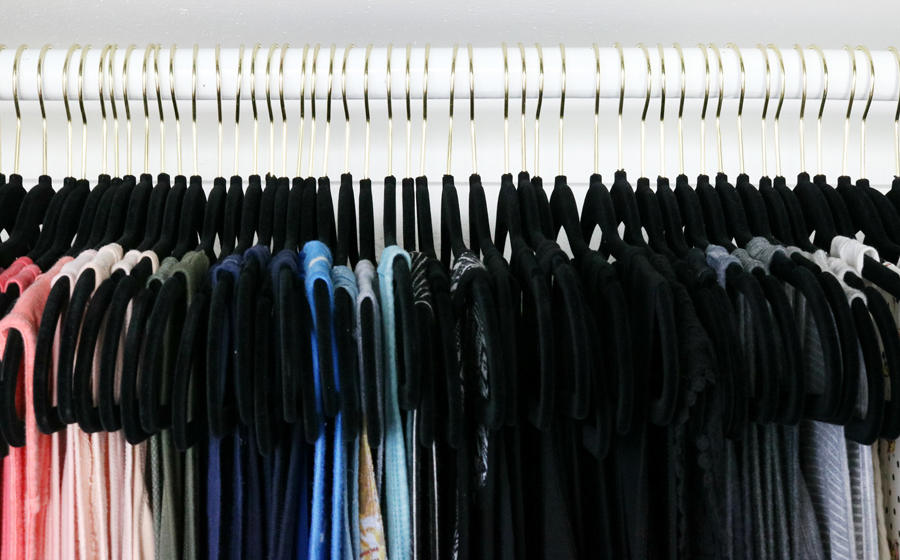 One thing that's a must when you are organizing your closet is organizing the clothing by color and type.
Every closet including our kid's closets is like this. If you're not doing it like this I strongly encourage you to do so, it's so much easier to find things and I feel like it's happier to look at.
Here's how you should do it. All sleeveless and tank top style tops go first, then short sleeved tops, followed by long sleeved tops and sweaters. If you want to take it a step further you can separate things like short sleeve cotton tees from short sleeve tops, etc… Everything should always be in ROYGBIV (Red, Yellow, Orange, Green, Blue, Indigo, Violet) order. Black, gray, and white go after all colors.
Now for the purpose of this post, I could have cleaned out half of my clothing to make this space look picture perfect, but I think you need to see the honest truth. I have a ton of clothing in a very small space so I wanted to show you that.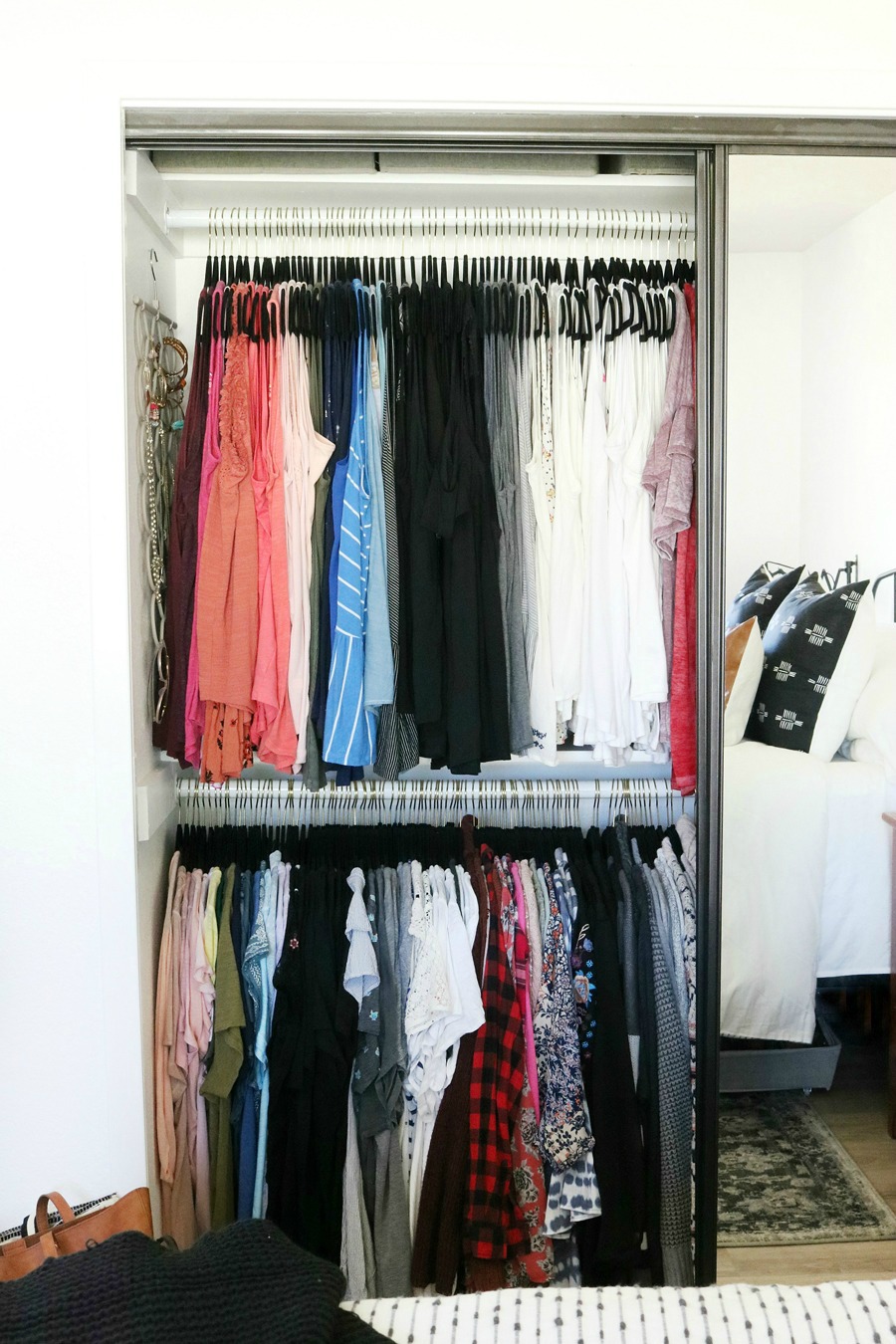 When it came to my hubby's side of the closet I cleaned out the miscellaneous junk that was on the shelf above his clothes. Random things like paperwork, taxes, junk he'd collected. Instead, I needed to be able to use the shelf for his work clothes. You guys! For the past 15 years, his work clothes have been in our laundry room on a shelf there, this was partly due to the smell of his chef clothes. Since his new position is less time in the kitchen his clothes are different and don't smell like garlic anymore. So it was time to free up space in my laundry room.
I found these super cute Better Homes & Gardens Rectangle Wire Baskets with copper handles. They fit perfect and allow his clothes to be nice and clean looking. I am able to fold and put his jeans, shirts, socks and more in these baskets.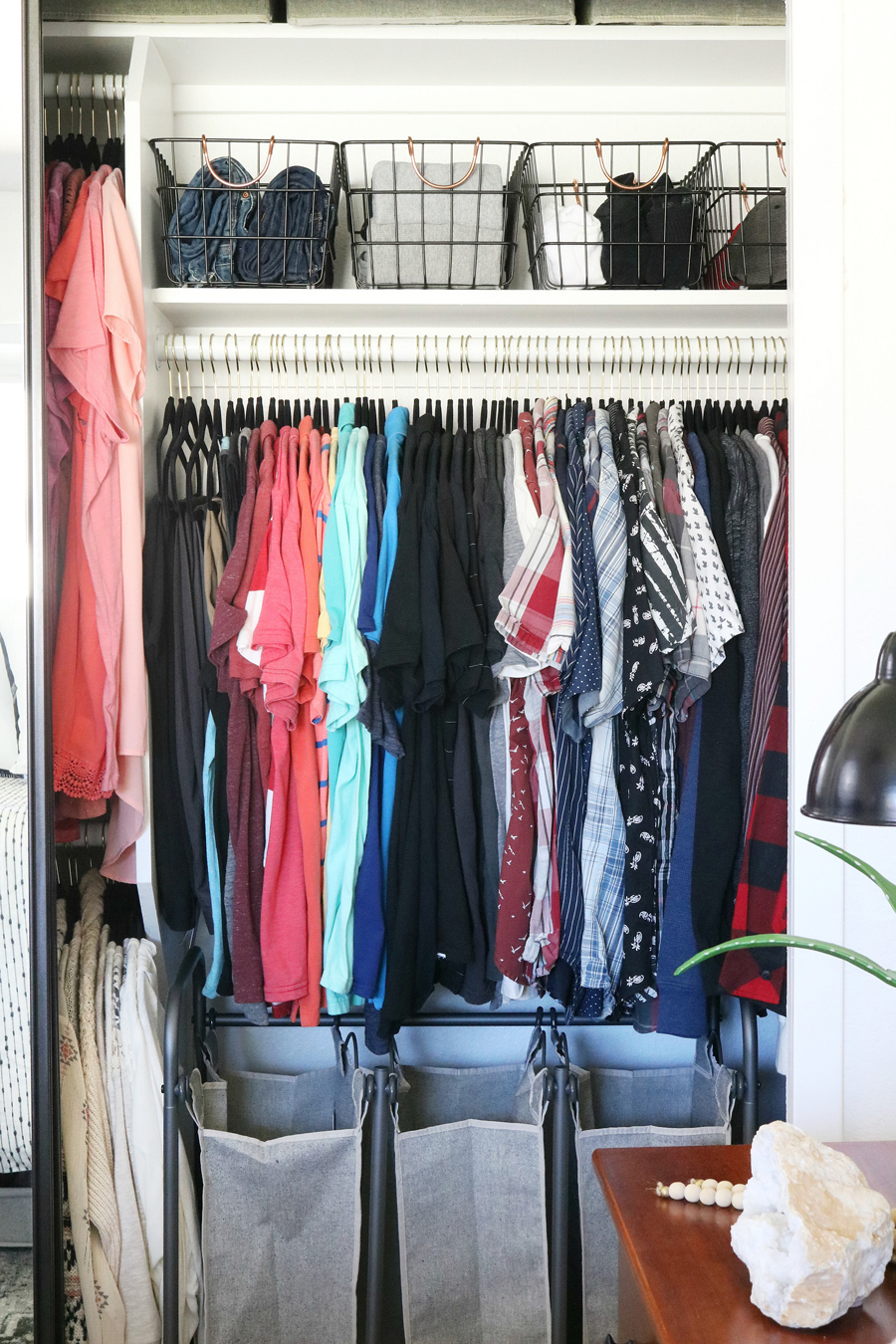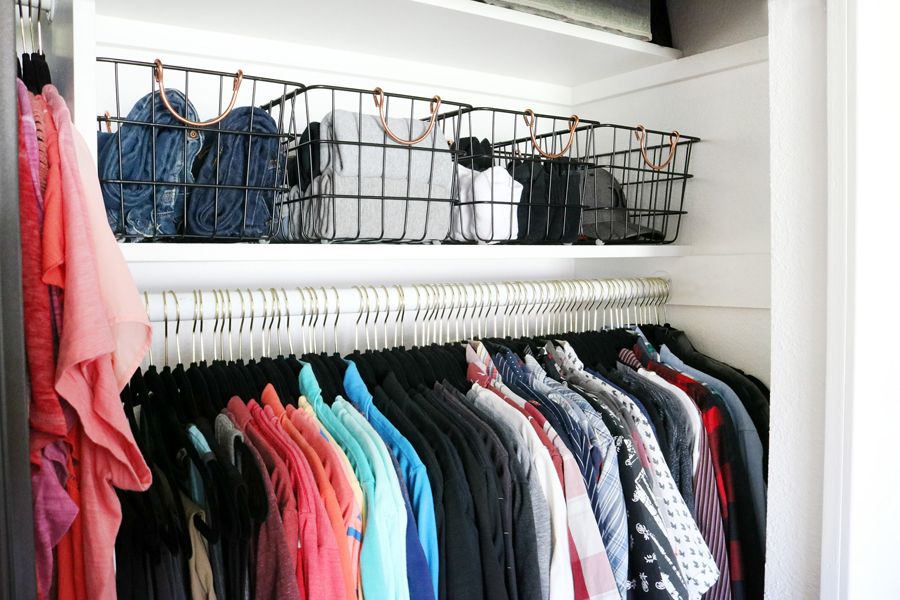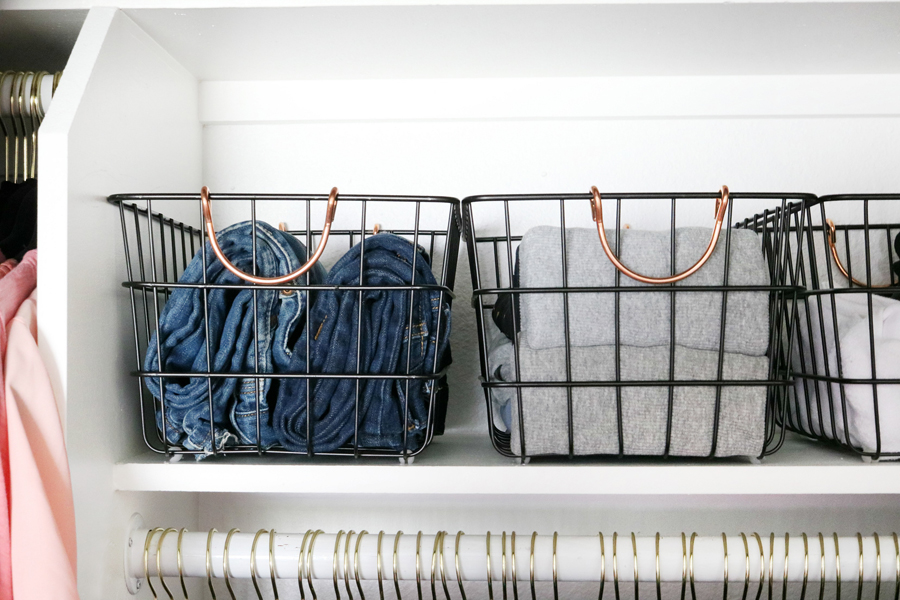 You probably already noticed that on my hubby's side of the closet we also have a laundry sorter. This is something we have to have in the closet. We literally have no other space in our room or the rest of the house for it. So if it's in the closet it's hidden and out of sight.
The previous laundry sorter we had was old and needed to be replaced, I found this Better Homes & Gardens Gunmetal Gray Rolling Laundry Sorter at my local Walmart store. I kept the wheels off for now since it's inside the closet, but can add them later if we move. This laundry sorter is awesome, the three compartment bags all lift out so you can take them to the washer. How's that for convenience?!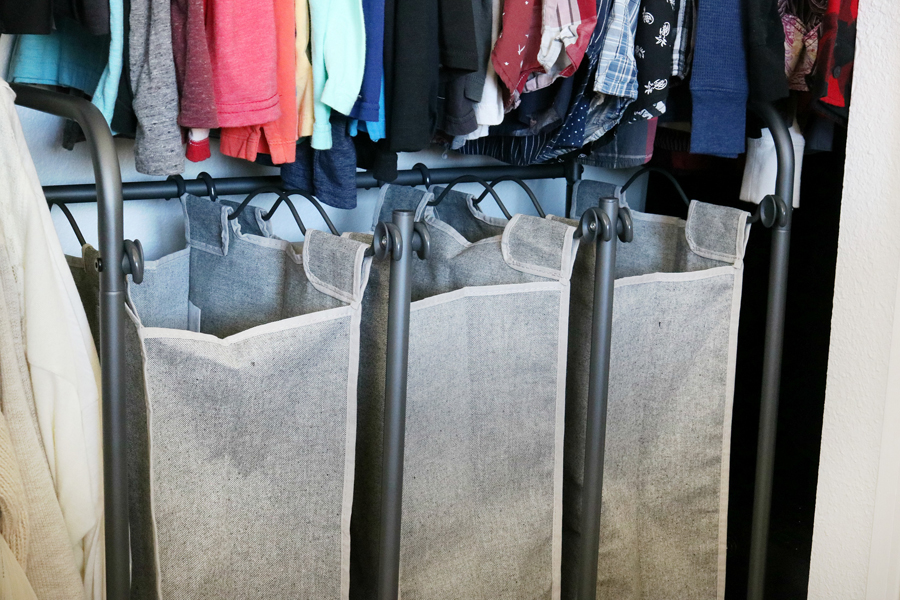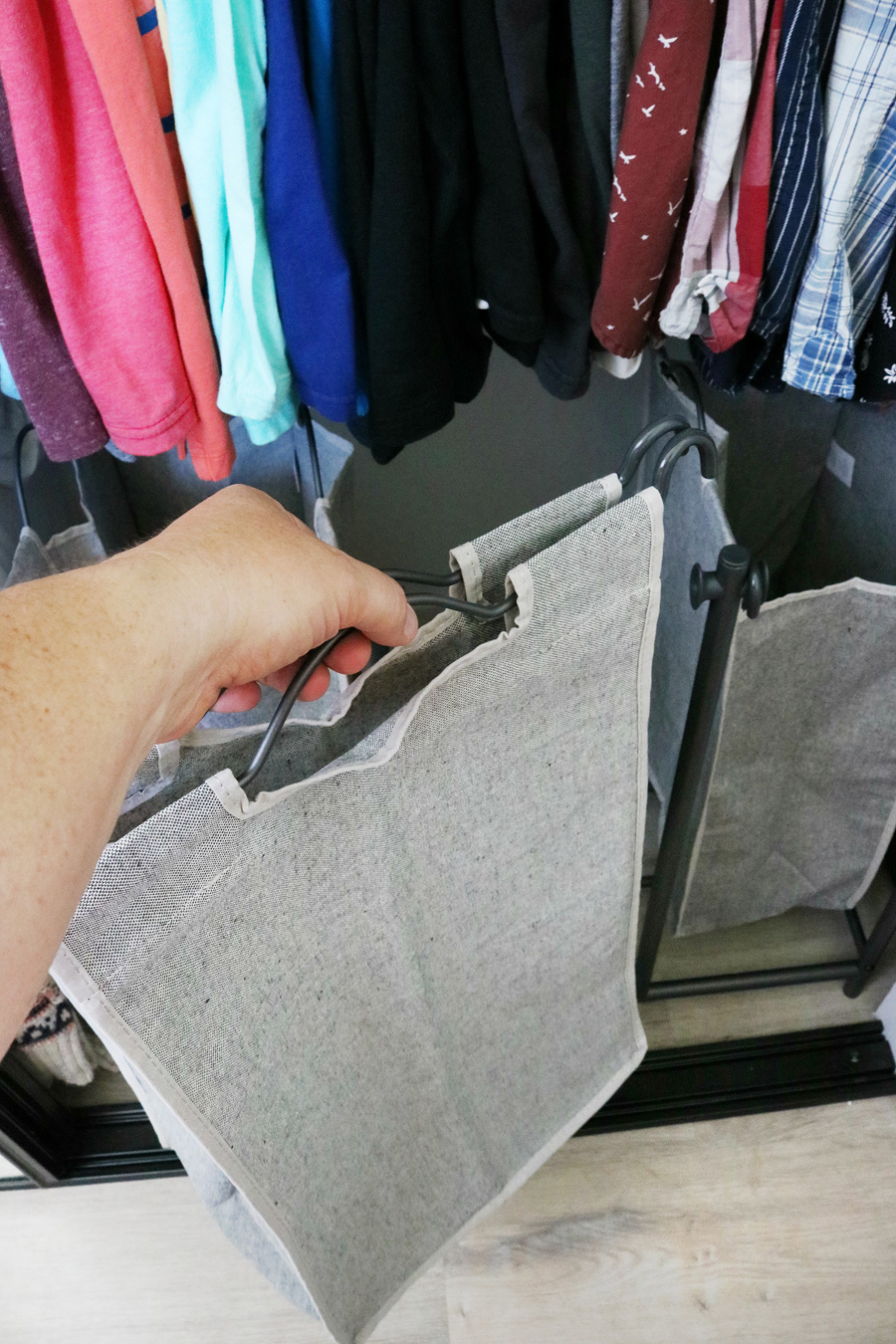 The entire top shelf of the closet was previously just random things, old sentimental stuff from the kids and things like luggage. All that was cleared out and I added six of these Better Homes & Gardens Collapsible Bins across the whole shelf. I had to turn them sideways to fit on the shelf, but they add a ton of storage that is contained and looks so much better.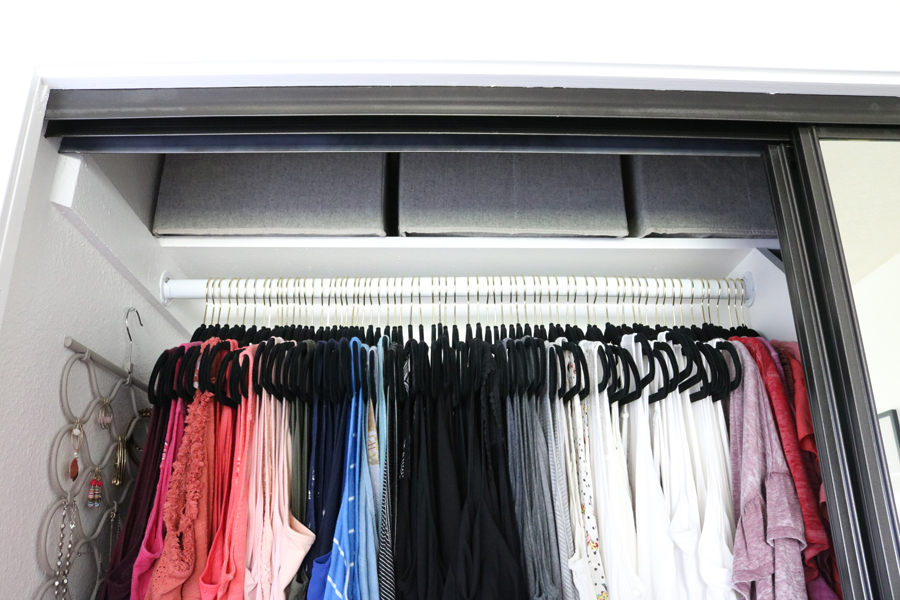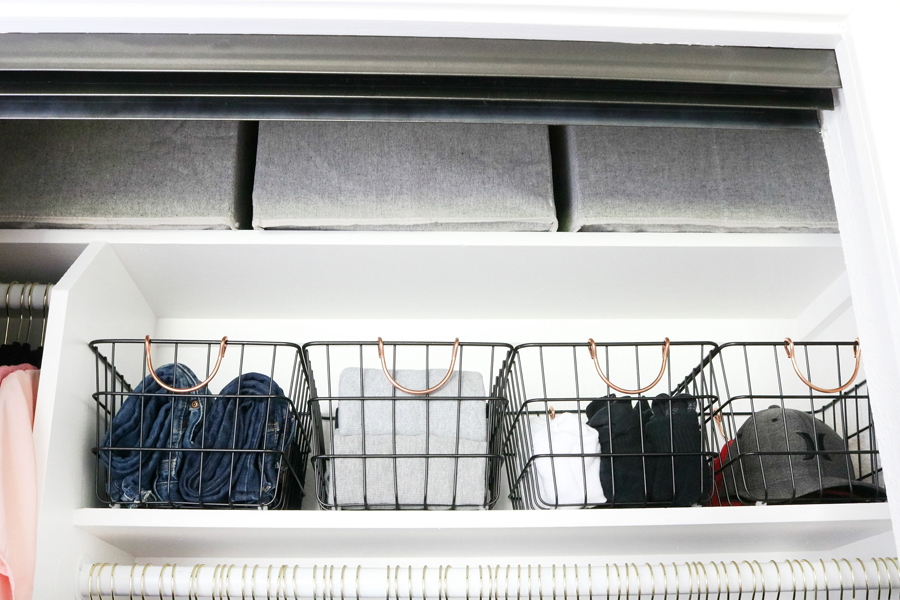 To organize my extra handbags and totes I snagged this Better Homes & Gardens White Large Seagrass Basket. It's the perfect size to sit on the floor and hold my totes. It could also hold extra pillows from the bed, shoes, or extra throw blankets. I have this same basket in black on my back porch HERE.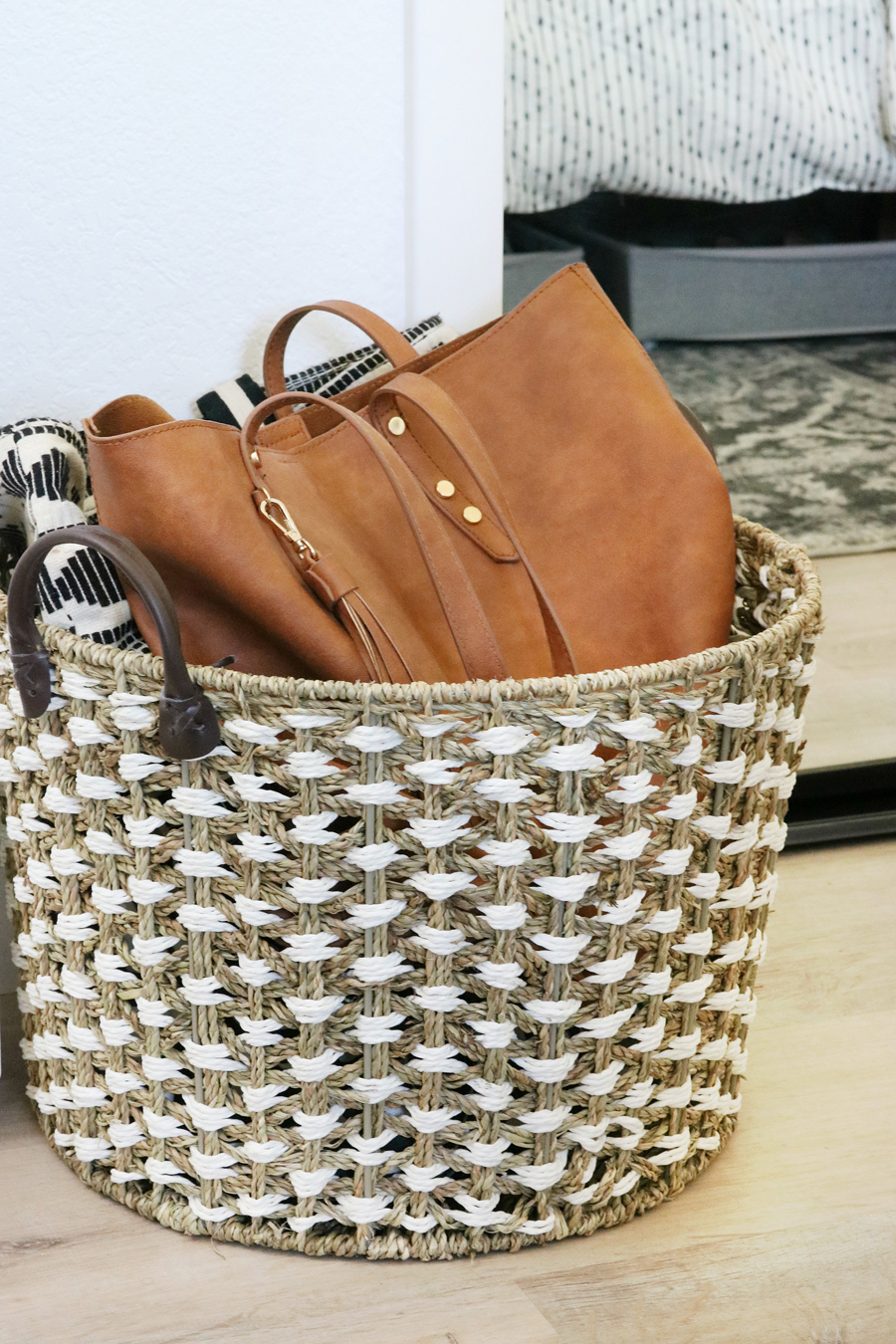 Don't worry I've got you covered if you're looking for even more organization ideas, be sure you check out these great posts.
Since I don't have a lot of space to put my accessories I needed something that would allow me to hang them. This Better Homes & Gardens Nonslip Accessory Hanger is great for so many things. I used it for my jewelry and sunglasses, but you could hang scarves or ties on it too.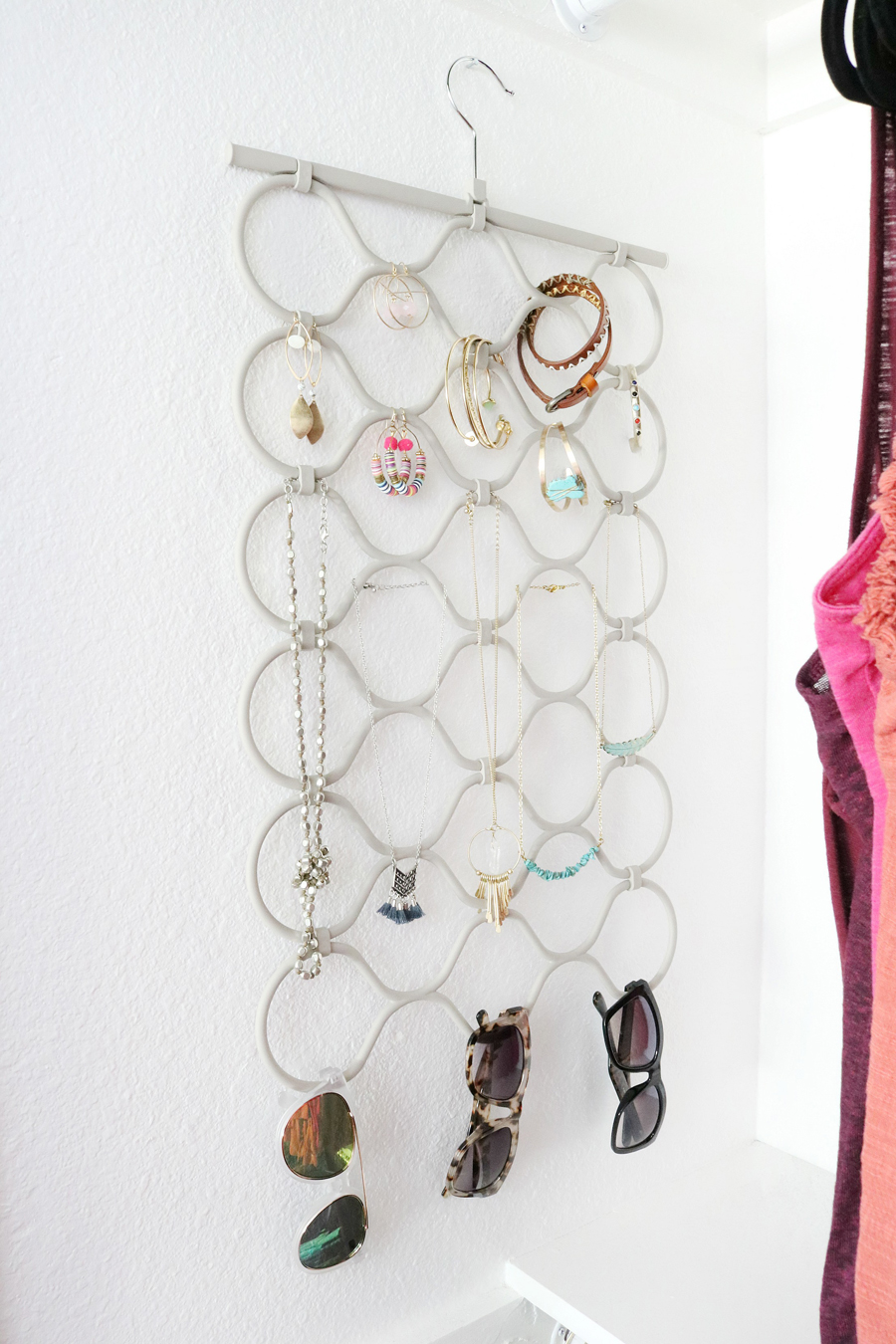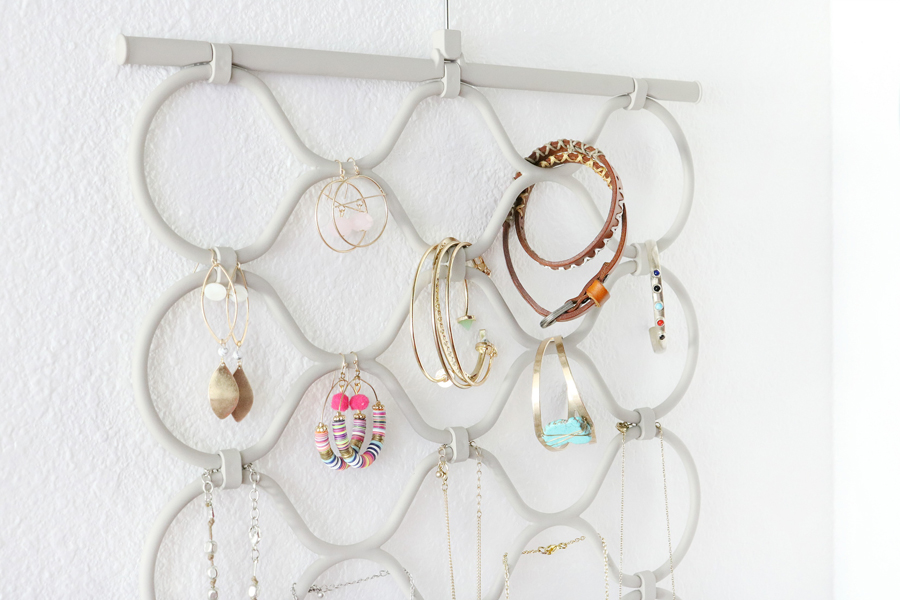 The last spot I wanted to organize was under the bed. While I know this isn't actually in the closet it was a space that we could store things, I was looking for a solution that would be easy to use and would look good.
I found these Better Homes & Gardens Rolling Underbed Storage Organizers, they are a perfect size and I love that they easily roll under the bed. I have four of these, two on each side of the bed. They store shoes that I don't use all the time, out of season clothing like jeans, and some extra bedding.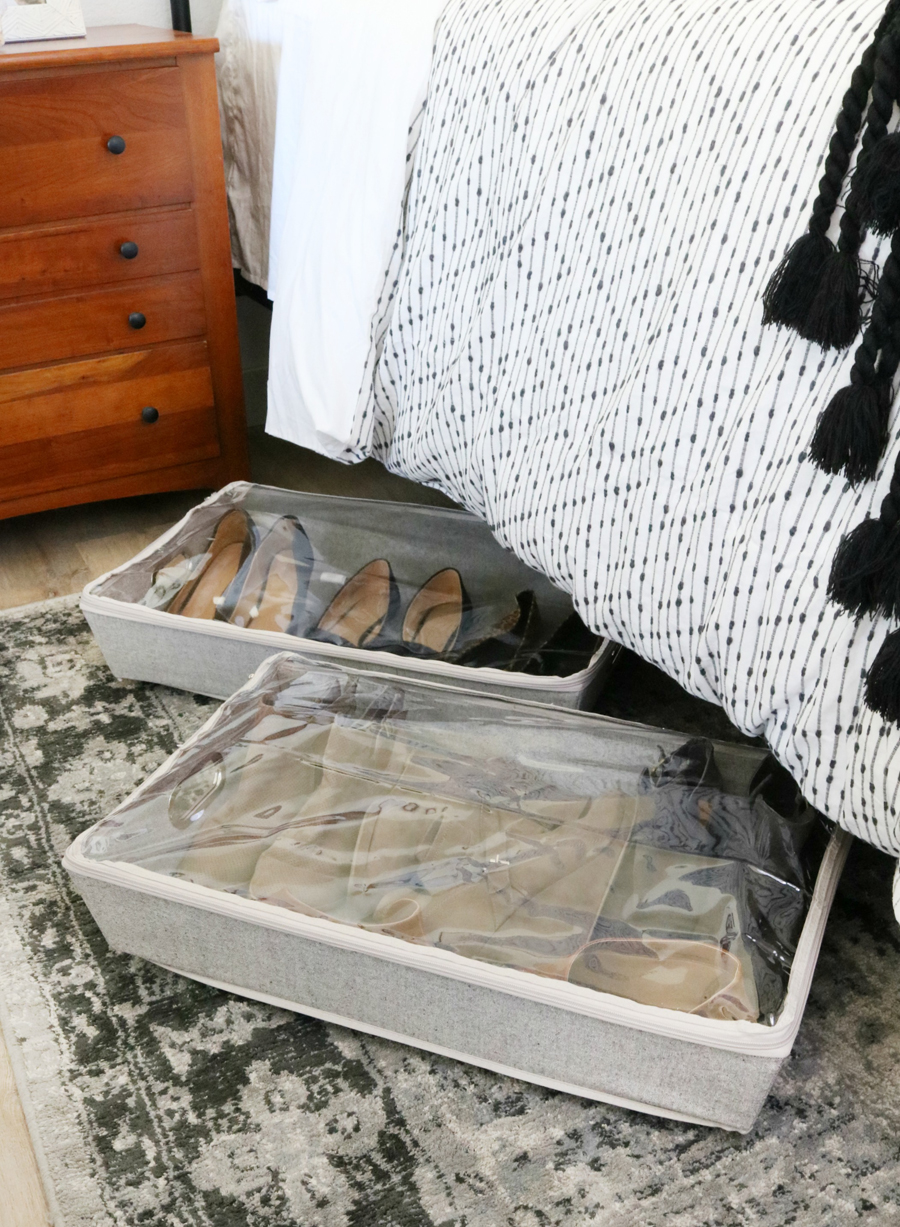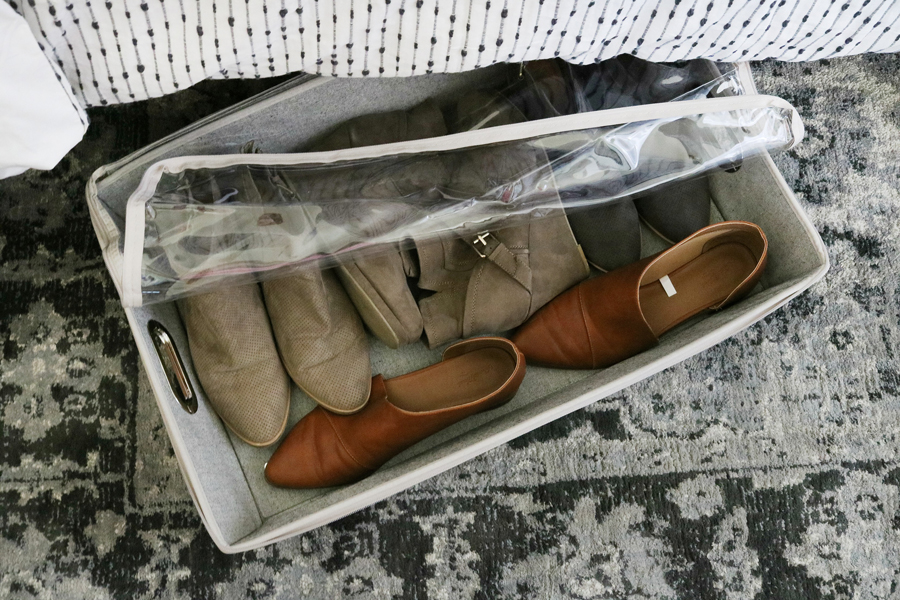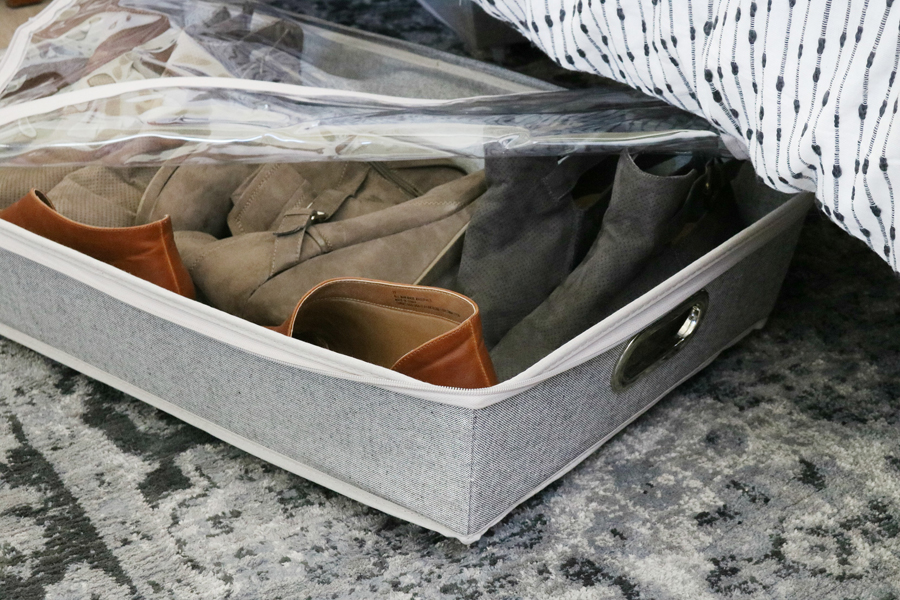 I also use these Better Homes & Gardens Large Wire Baskets, they fit perfectly under the bed at the end. I use three of these to hold the shoes I wear the most, mostly sandals.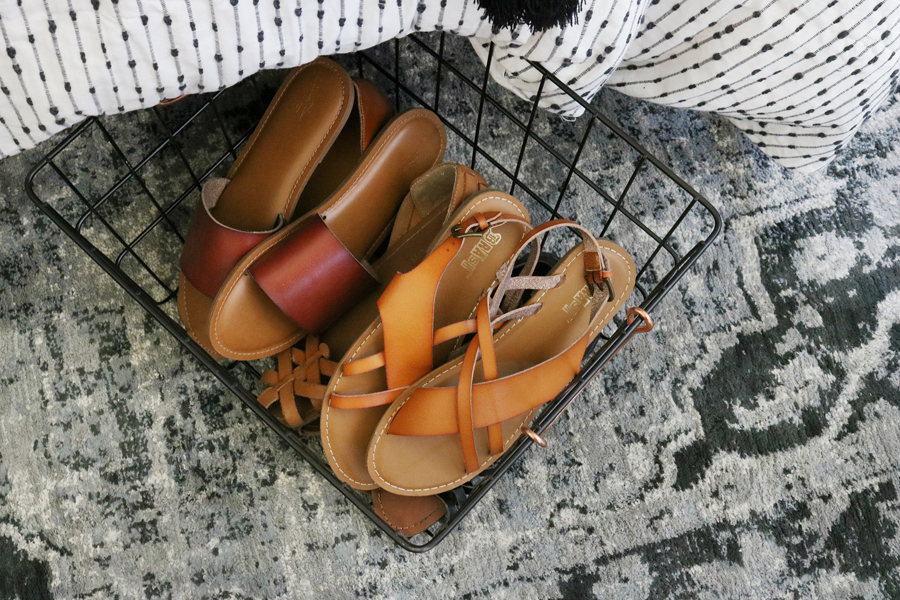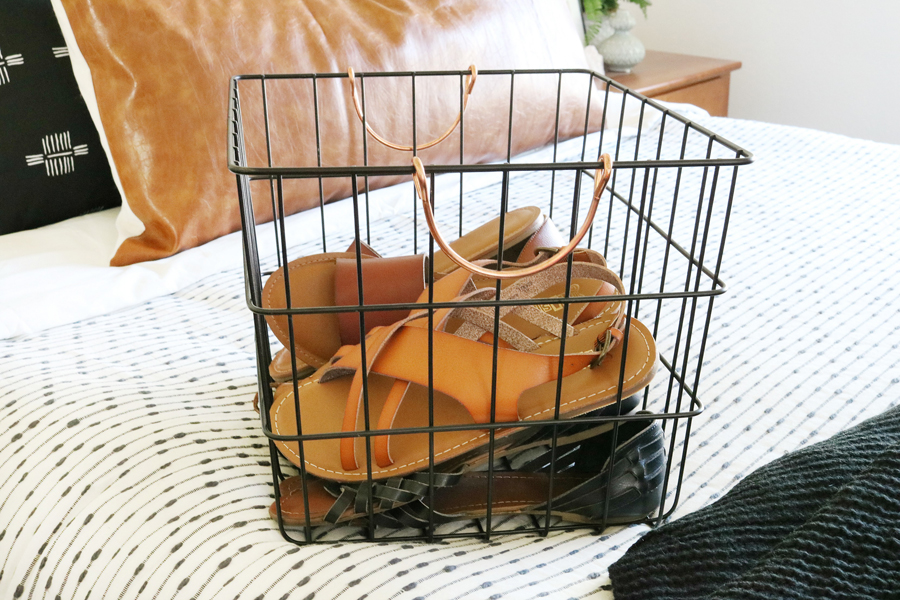 Last but not least, hat storage. I love hats and I needed a place that they could hang and be easy to grab. A simple metal bar put on the back of our bedroom door that I spray painted gold and that was it.
I love that everything is all clean and tidy and has a place.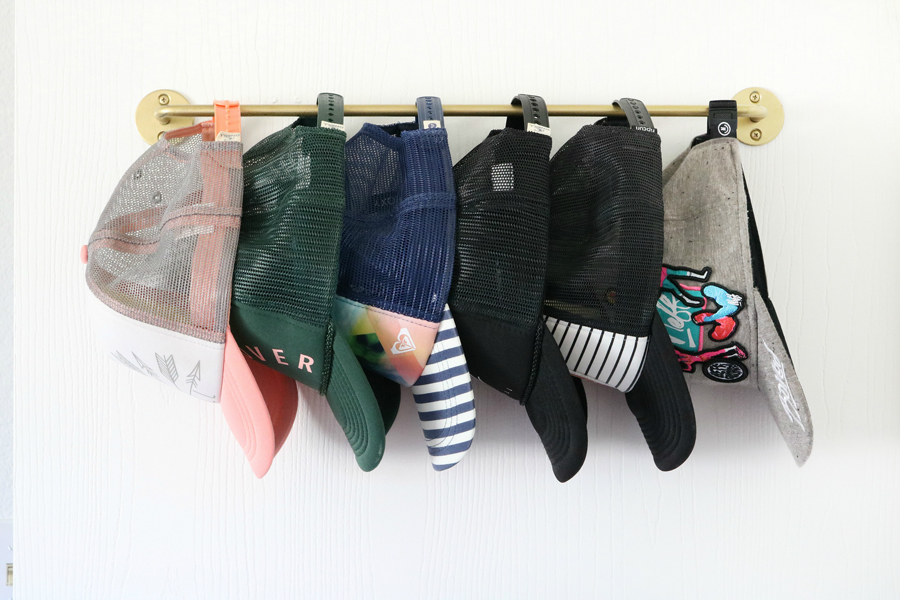 Be sure you follow Better Homes & Gardens at Walmart:
Facebook | Twitter | Pinterest | Instagram