I'm so excited to share my Black & White Boho Inspired Bedroom Makeover with you! My master bedroom decor has been neglected for so long and it has never felt like me. With a few new decor pieces, this space finally feels like my style.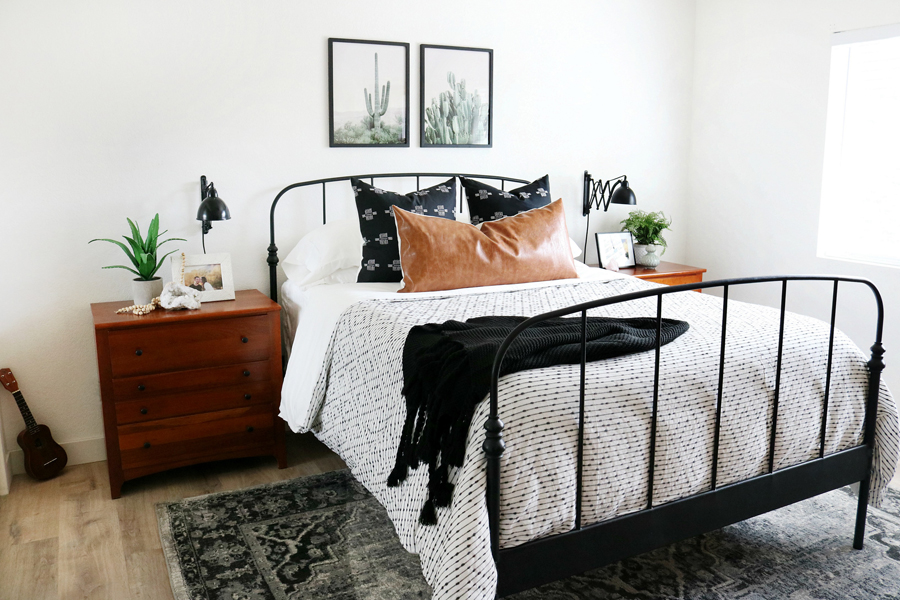 DISCLOSURE | This post is sponsored on behalf of Better Homes & Gardens at Walmart. As always, all opinions and ideas are 100% my own. This post may also contain affiliate links.
You guys! This has needed to happen for so long, I've put off giving my master bedroom the refresh it really needed. Sure I've done a couple mini refreshes, but I've never loved them. The colors were blah, and I didn't put a whole lot of thought into the decor…they were just to tide me over and there were other things around the house that took priority. This Boho Inspired Master Bedroom decor was inspired by the new duvet cover I found online. It was definitely not what I'd normally pick, but when I saw it I fell in love with it.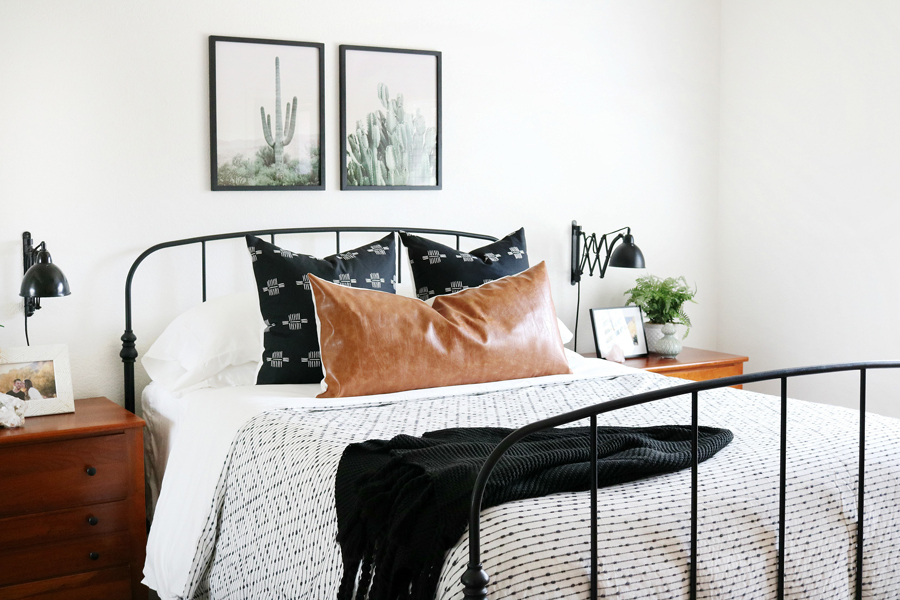 Over the past several years my go-to bedding was a gray quilt, it was lightweight and easy to pair with whatever decor I had at the time. I absolutely love the way white or light colored bedding looked but I was terrified of actually having it on my bed. As a mom of boys, I was afraid it would get ruined with dirty feet and hands. Lately, I've been really wanting something different, lighter colored bedding that would lighten up our space. So I did it, I bought light colored bedding. The light cream colored duvet with a charcoal textured weave was the perfect solution and inspired this whole room.
Besides bedding, finding a great area rug for this Boho Inspired Bedroom was at the top of my list.
Over the past year and a half since having our new luxury vinyl floors put in, I have yet to find a rug I loved. So once I had my new bedding picked out I needed to find something that coordinated with the print on the bedding. I came across this Better Homes & Gardens Distressed Medallion Area Rug on walmart.com and it was exactly what I wanted. Oh my goodness you guys, this rug is so soft. The colors are perfect and I love the mix of the distressed floral medallions with the geometric print on the bedding.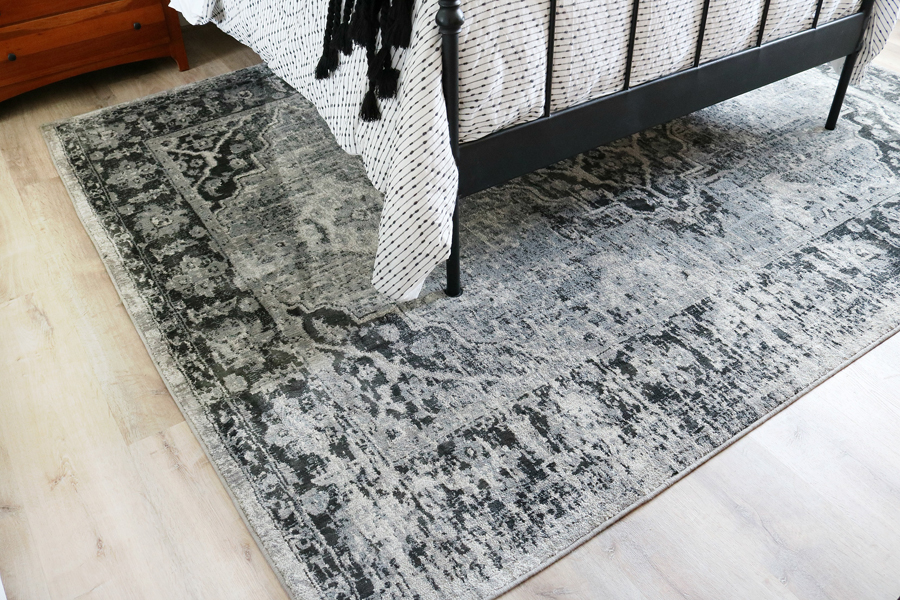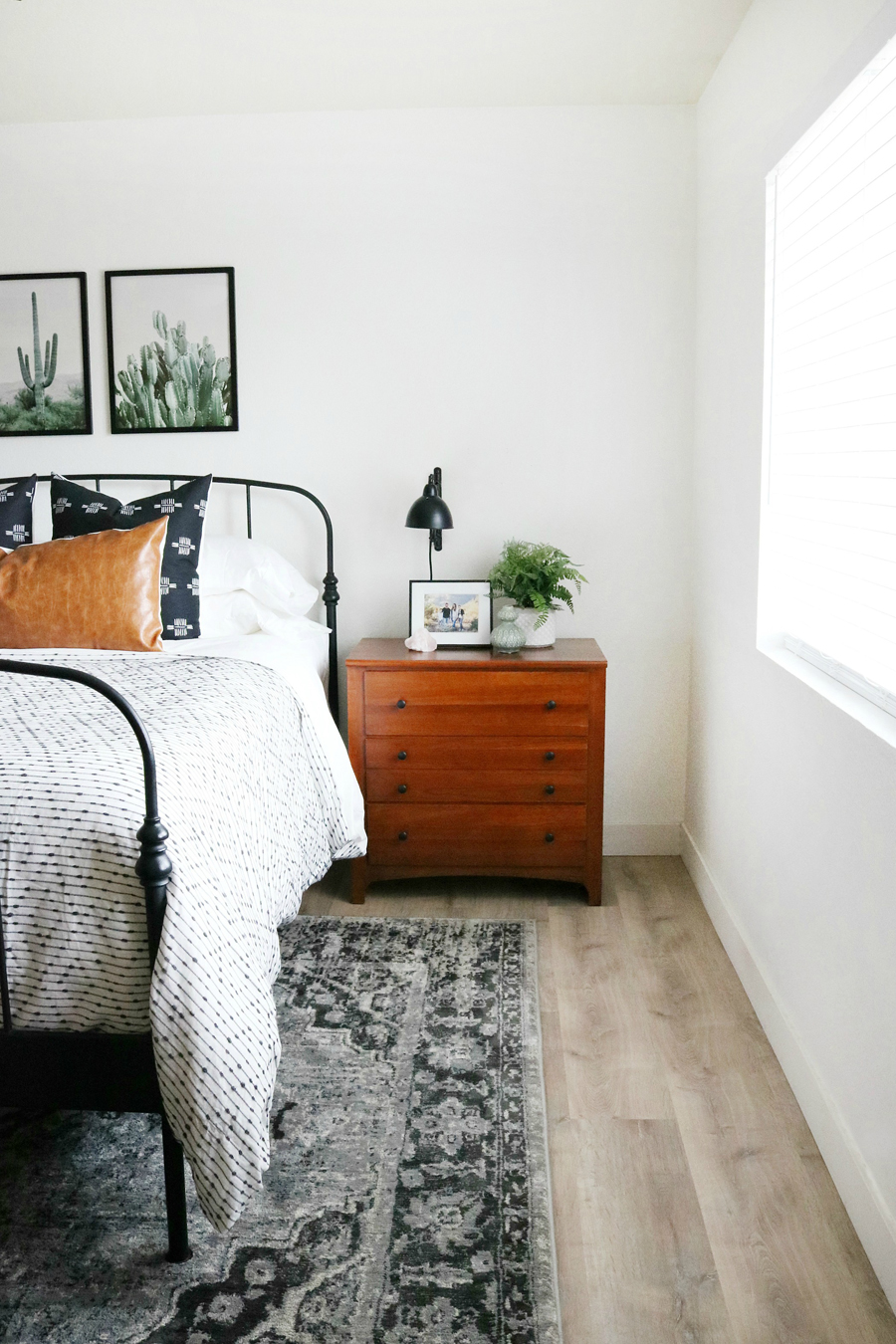 New decor meant new sheets! There is nothing better than getting some new sheets and slipping into bed with fresh clean sheets, am I right?! Better Homes & Gardens has so many great choices for bedding and sheets. I found these Better Homes & Gardens 400-Thread Count Solid Performance Sheets, I went with classic white to help keep the bedding light and airy. As soon as I put these sheets on our bed I could instantly feel how soft they were. They have a great weight to them and I think they are going to hold up really well.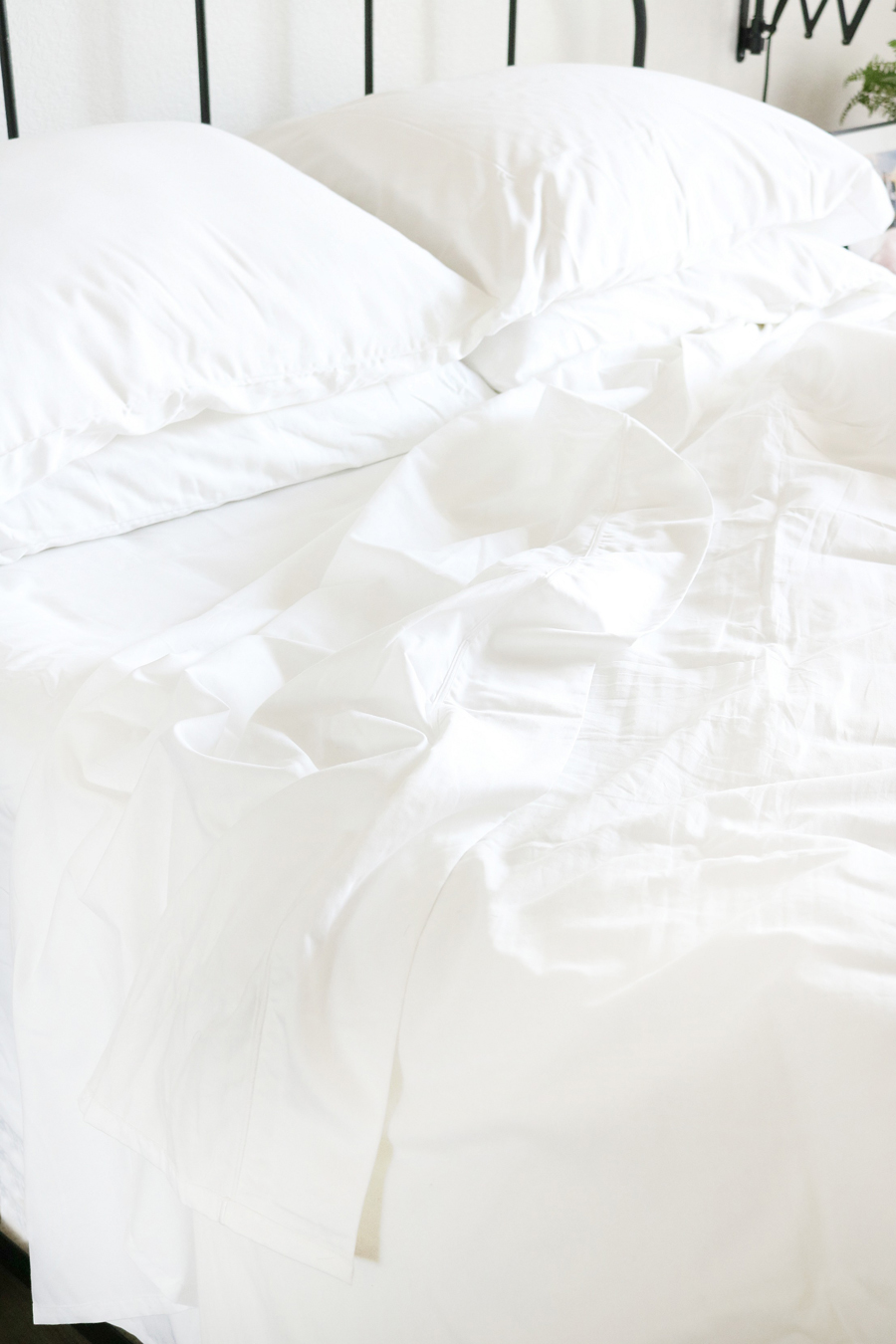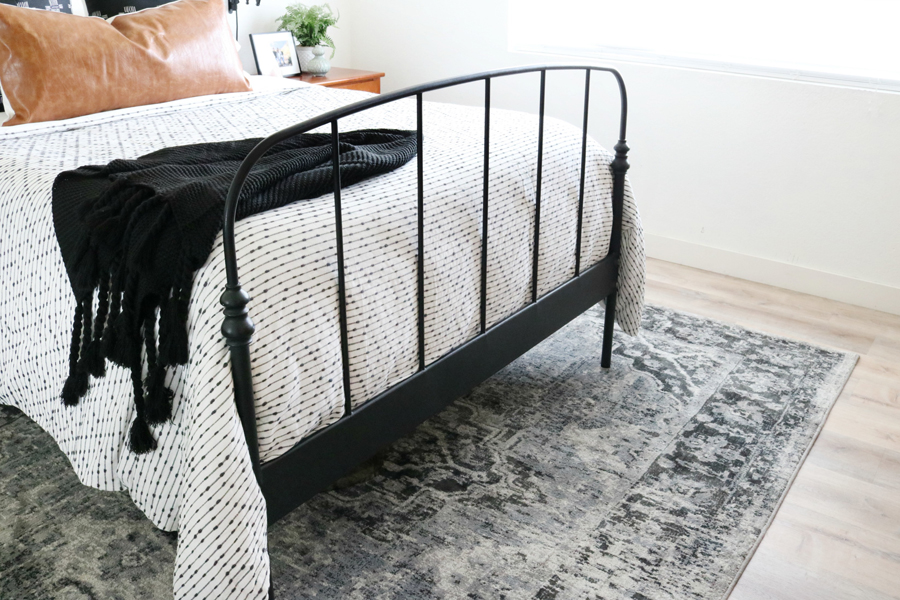 I knew I needed some new artwork, I wanted something simple with muted colors. I found these Better Homes & Gardens Black Gallery Wall Frames and added the two desert botanical prints, the soft green in the cacti is the perfect touch of color with all the neutrals in the room. This time I decided to put the artwork above the bed to mix things up, previously the artwork I had hung over the nightstands next to the wall sconces.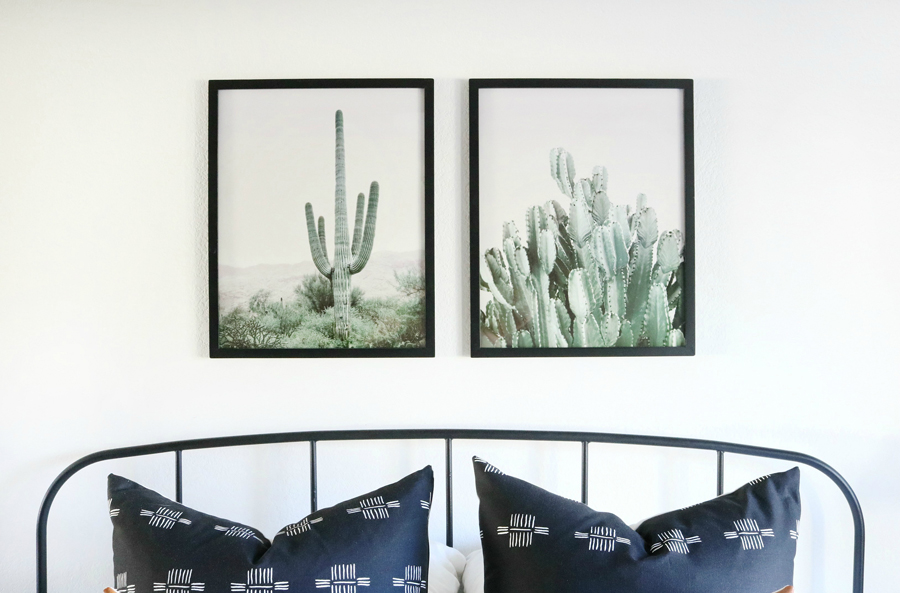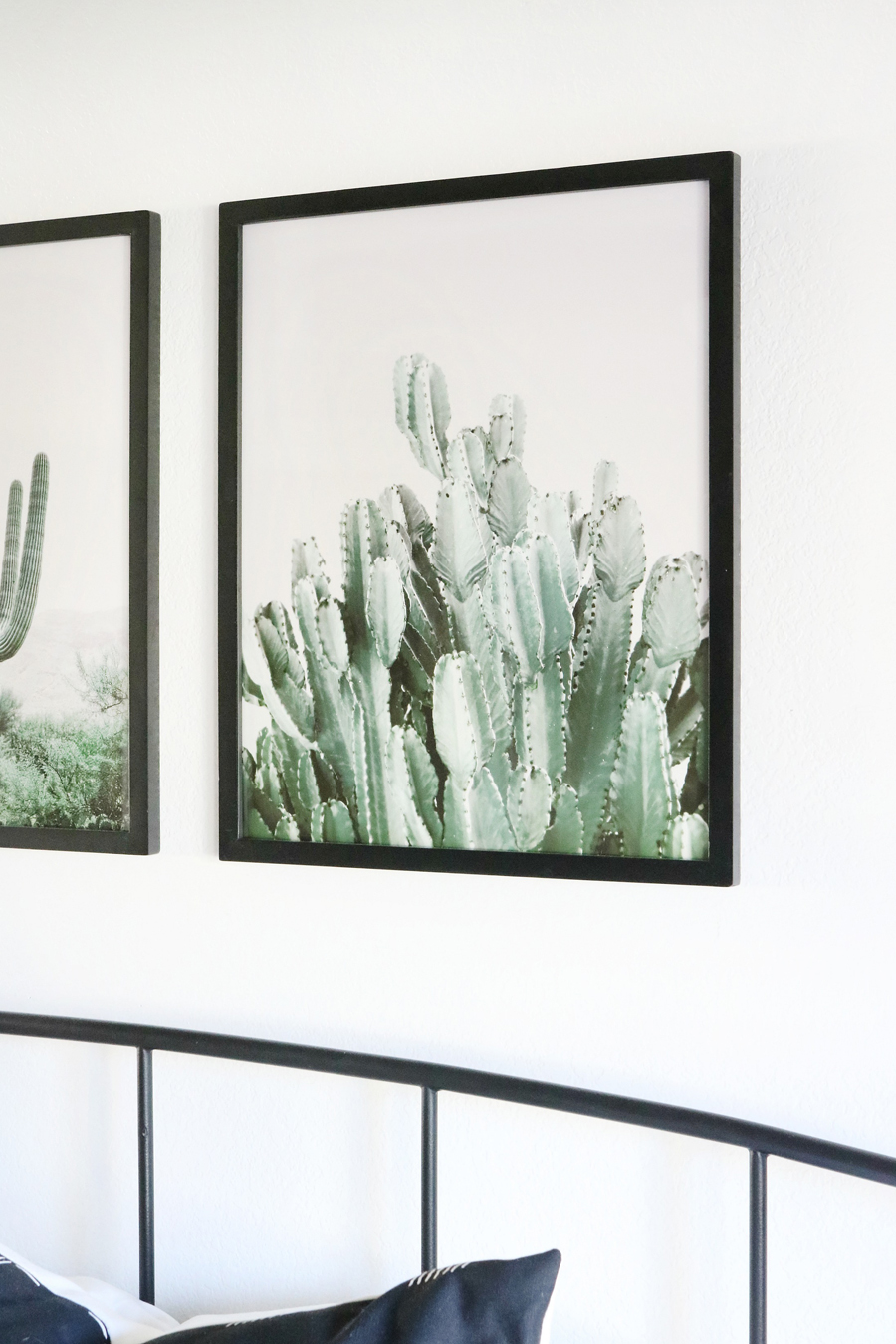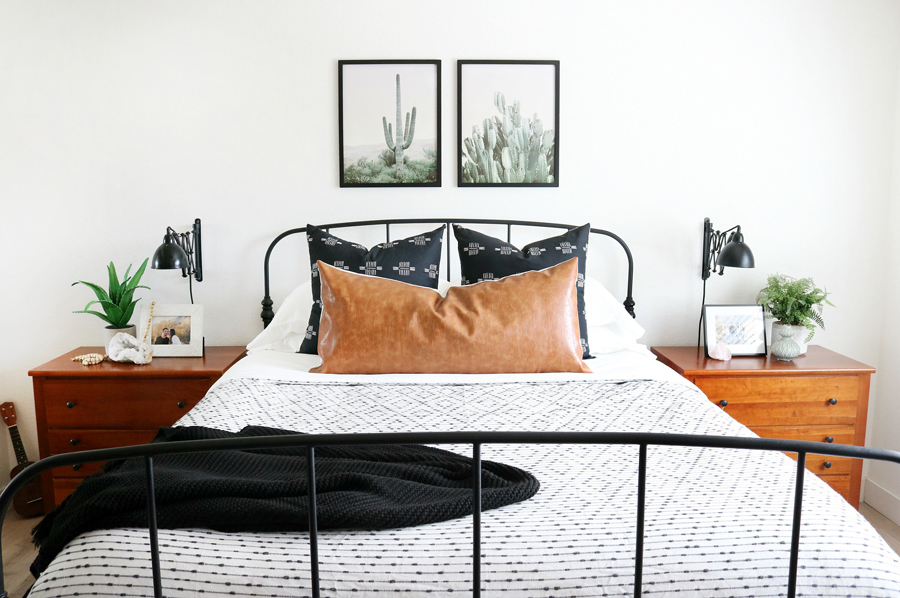 To complete the bedding I sewed a few new pillows, two mudcloth inspired euro shams and an extra long faux leather lumbar pillow. I'm so in love with the overall finished look of the bedding. I also added a knitted tassel throw to the end of the bed for some extra texture. The style of everything is casual like me, but it looks put together and so clean.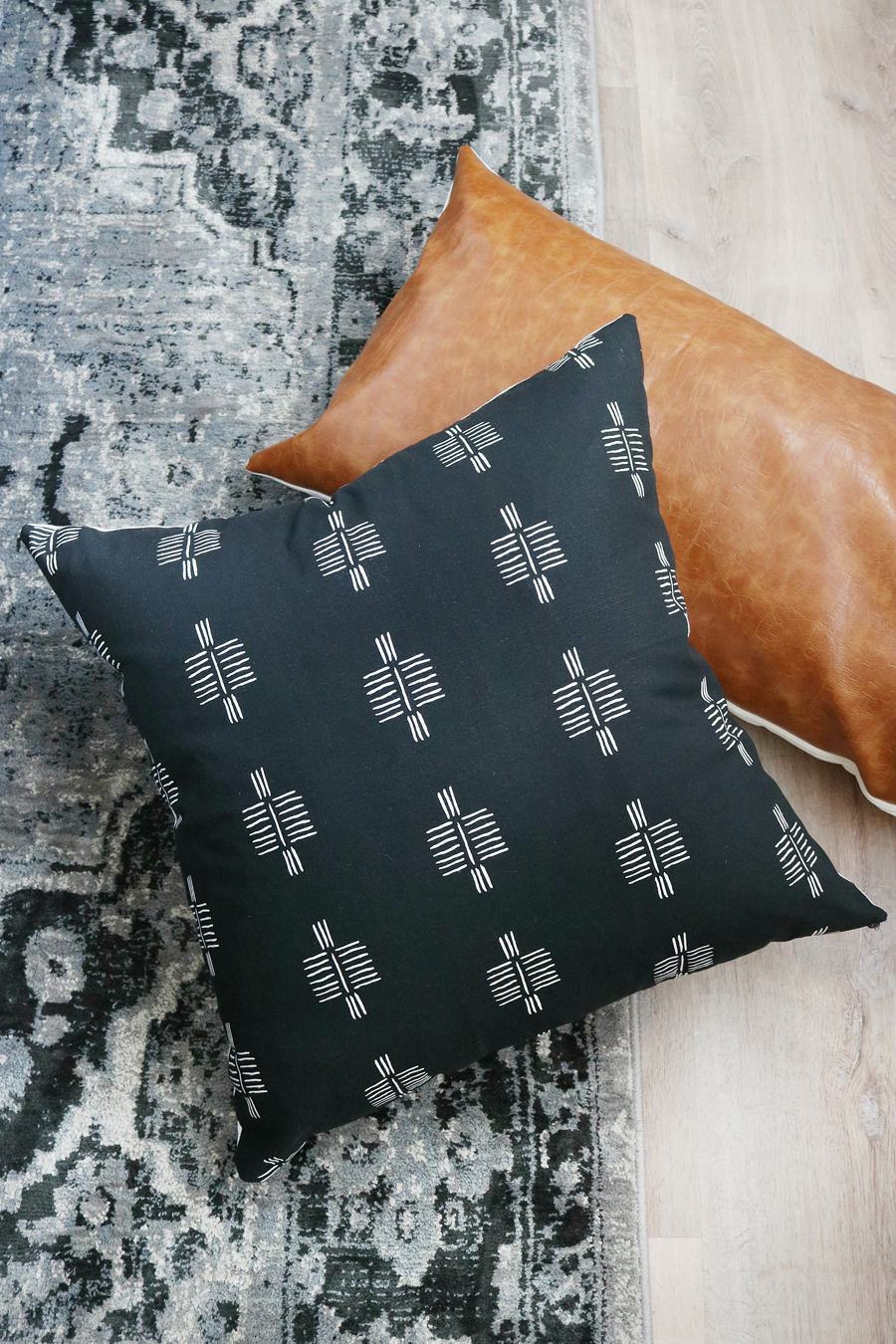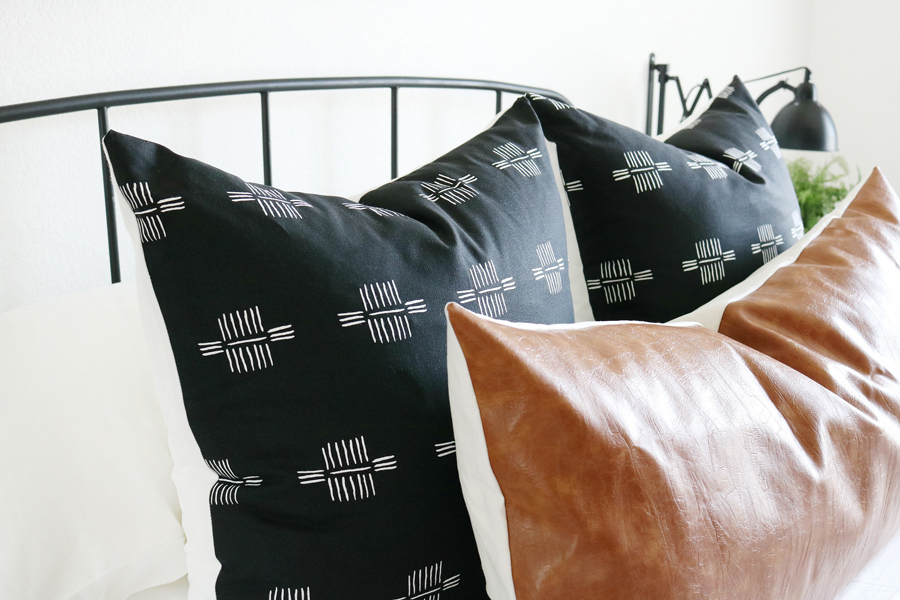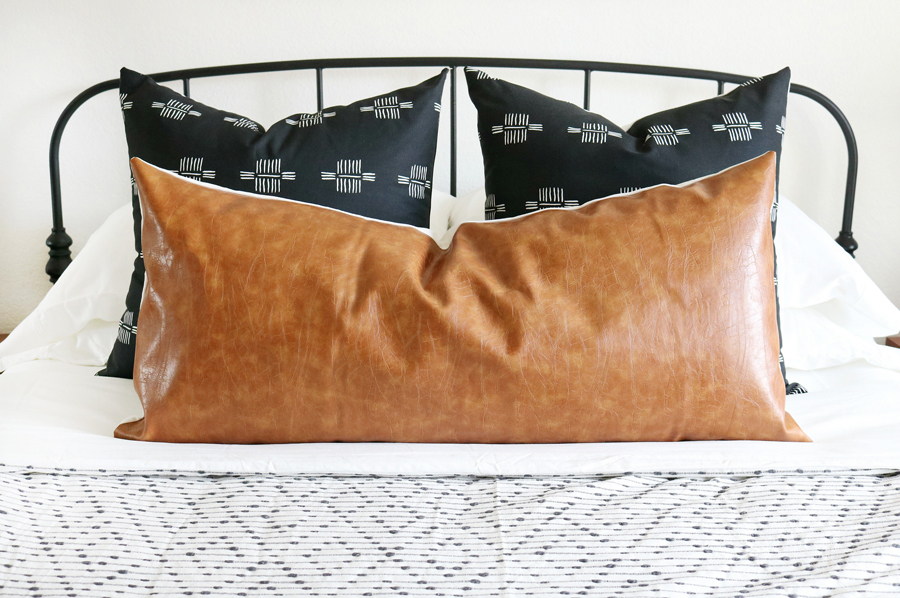 If you're looking for more decor ideas and room refreshes be sure to check out these posts.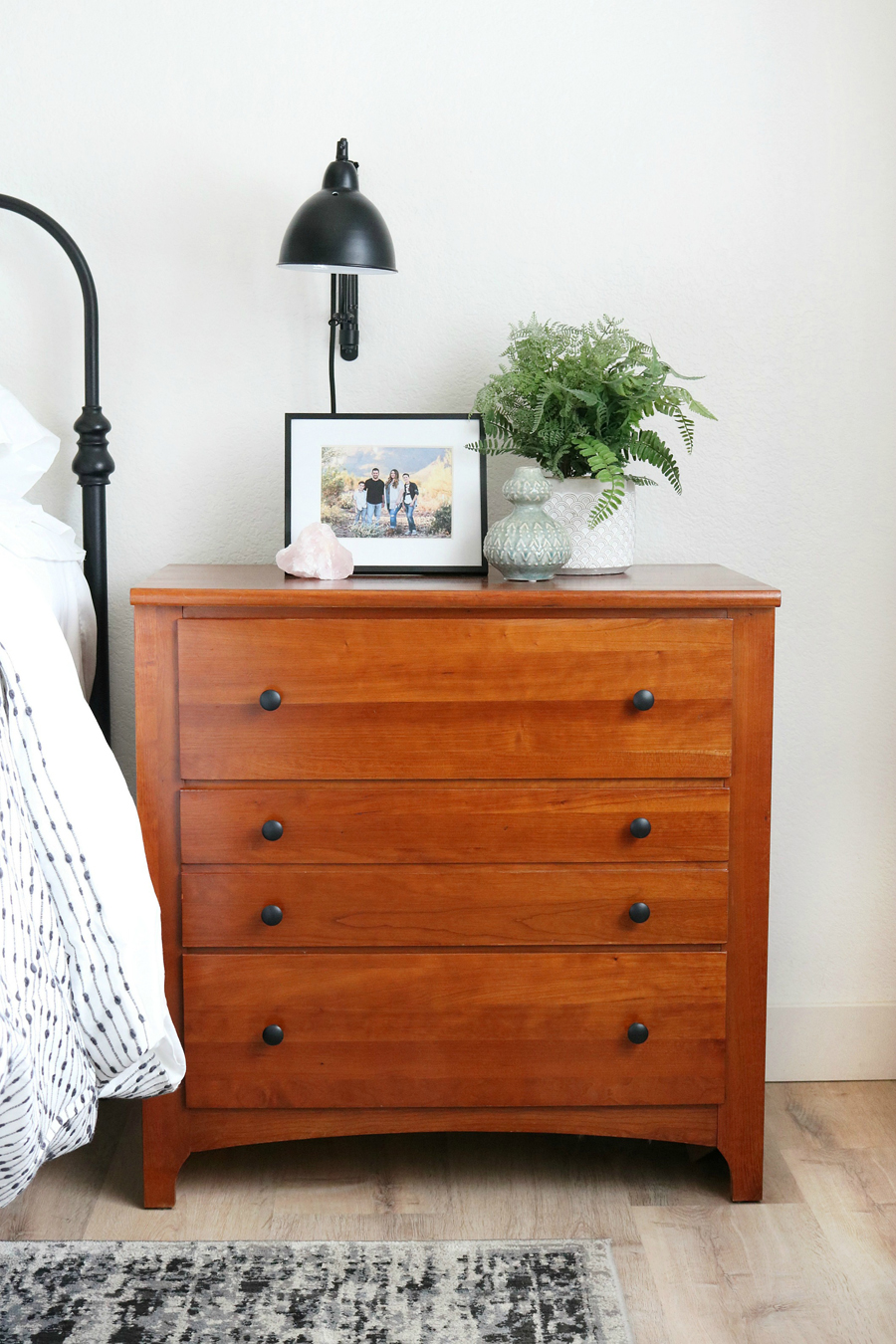 When it came to the nightstand decor I gathered things I loved, picture frames with our family photos – geodes and minerals – and some greenery. The greenery is faux because I was not blessed with a green thumb, but when I have guests coming over I love to add fresh flowers to the nightstands. It gives me an excuse to buy myself flowers and switches things up a little bit. I love using the Better Homes & Gardens White and gold Ceramic Hurricane Candle Holders. Since they aren't meant to be a vase I have a little trick, I add the Better Homes & Gardens Glass Apothecary Medium Jar inside the hurricane. They fit perfect and you can add water and flowers and it creates a unique vase for your live florals.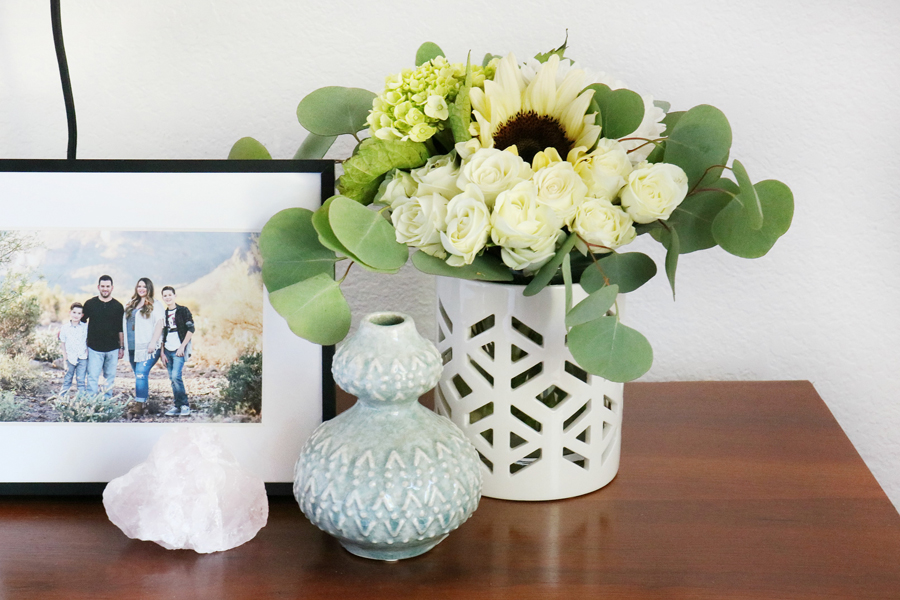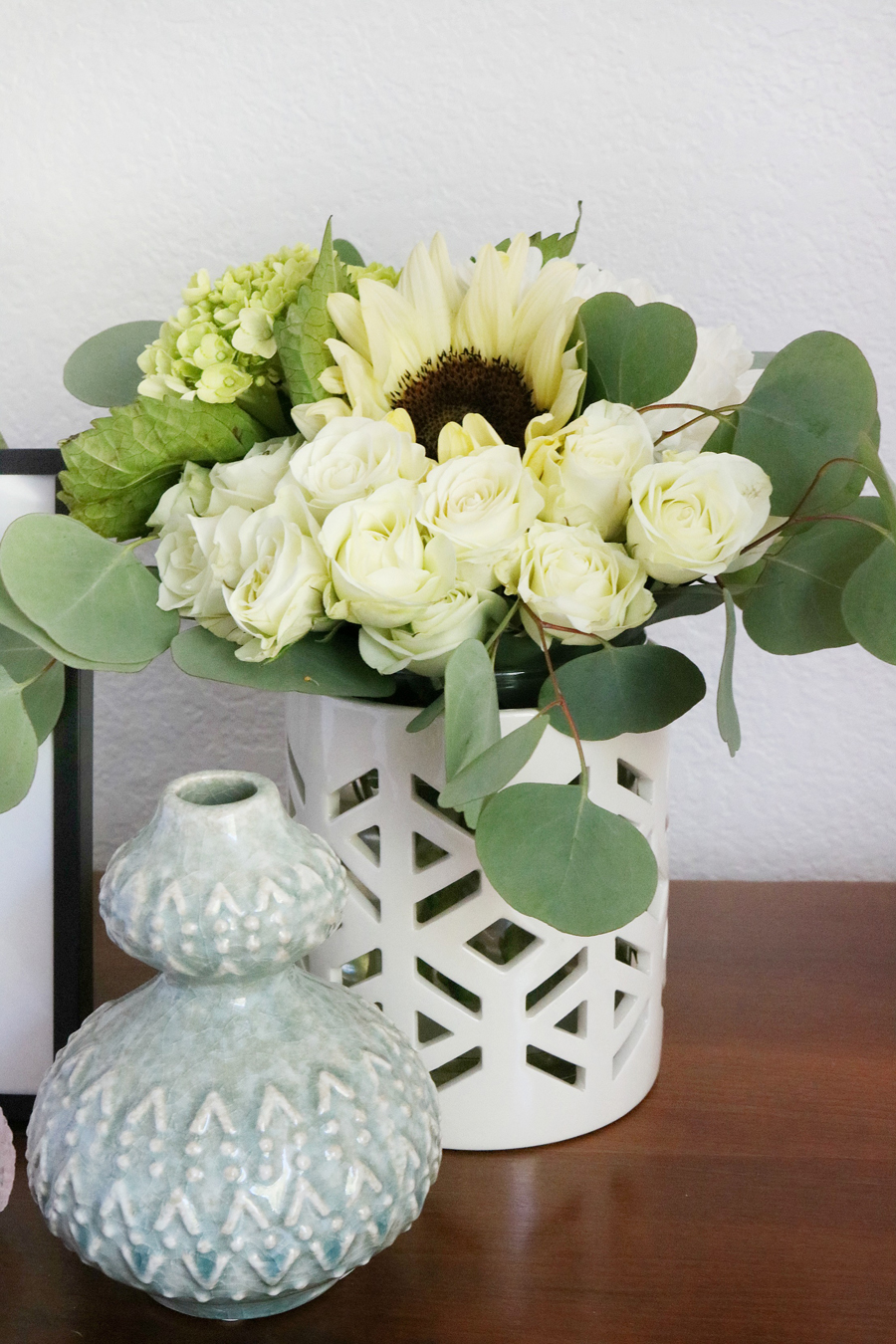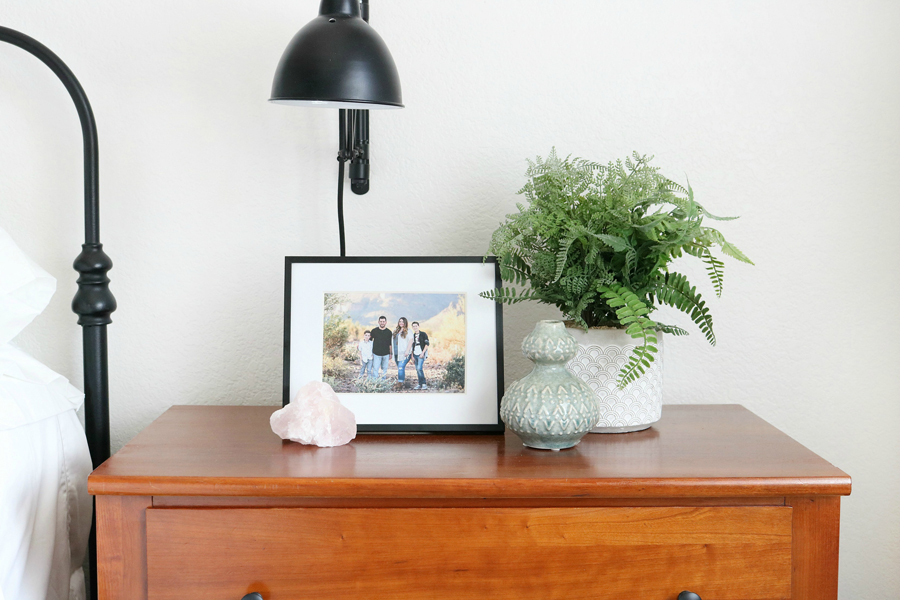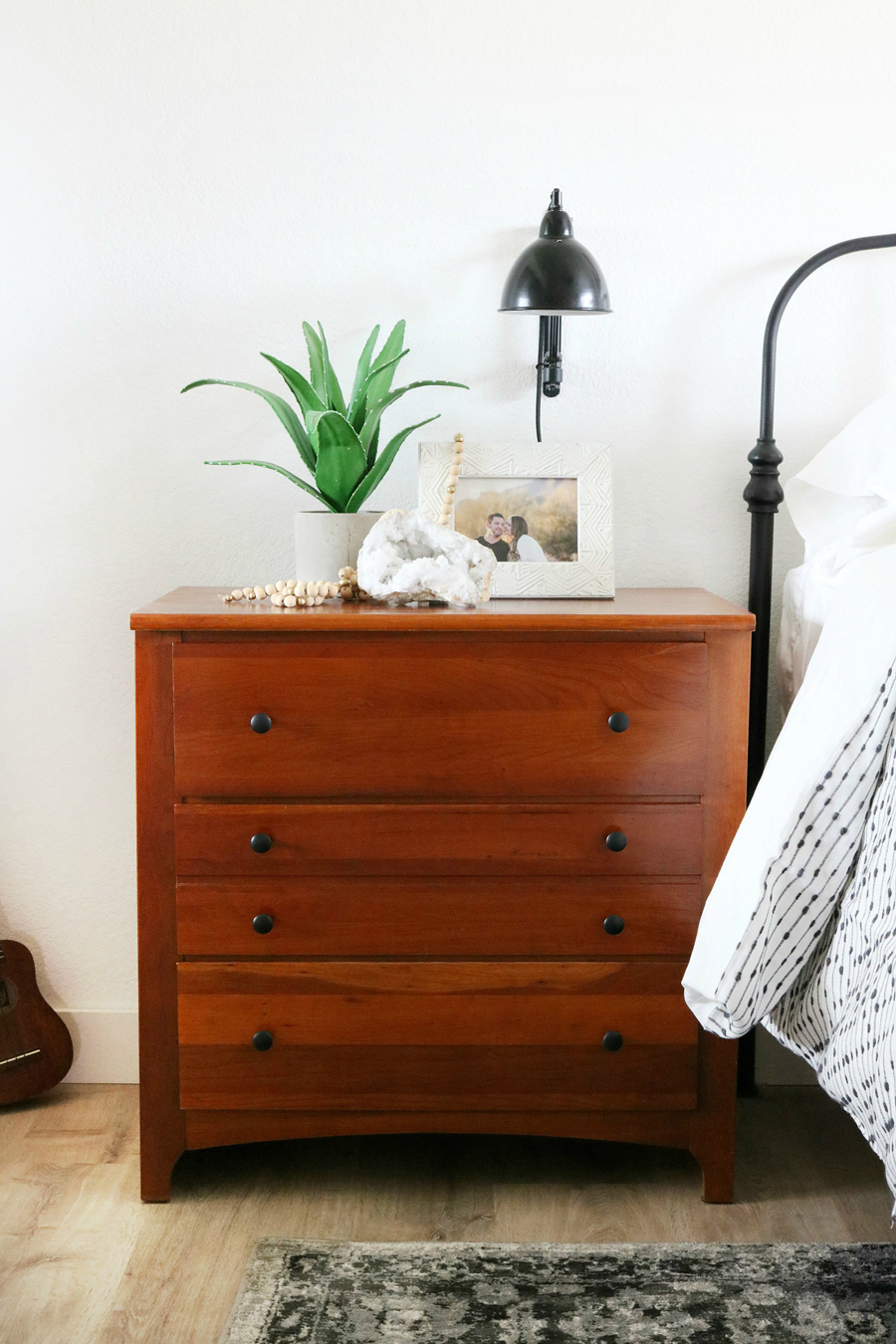 The furniture in this room didn't change, I'm a big believer in using what you have if it's not in your budget to get all new furniture. The bachelor's chests needed a small refresh themselves so I gave them a fresh coat of stain and they look fantastic now. Spray painting the knobs flat black was a quick and easy money-saving solution to give the nightstands a small facelift.
I really love how this Boho Inspired Room Makeover came together, it feels so good to have it done.
Be sure you follow Better Homes & Gardens at Walmart:
Facebook | Twitter | Pinterest | Instagram