There is nothing better than fresh homemade salsa, especially when it's The Best Ever Roasted Tomatillo & Avocado Salsa Verde Recipe! This delicious salsa is so simple to make, everyone will love it!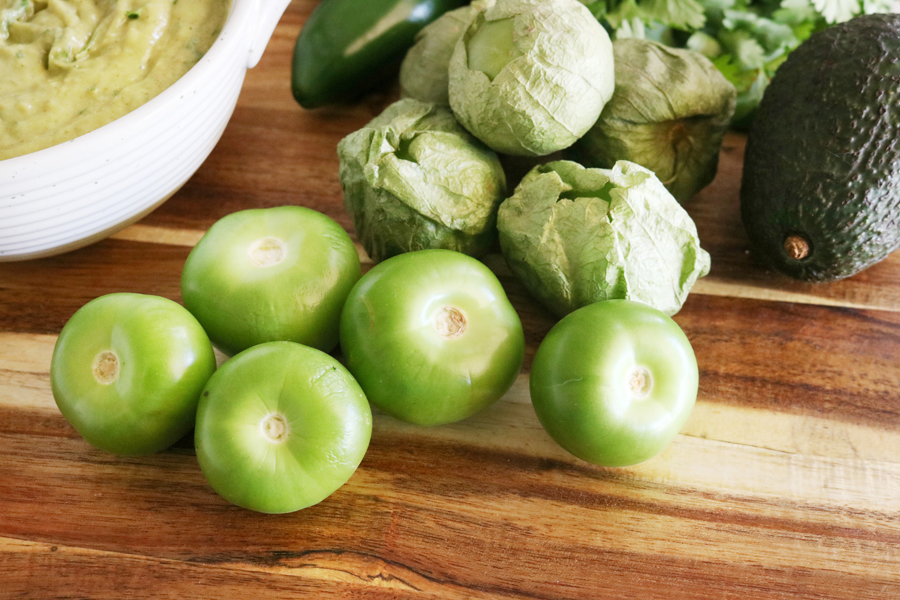 ROASTED TOMATILLO & AVOCADO SALSA VERDE
You may be wondering what a tomatillo is, am I right? A tomatillo is from the gooseberry family. Almost like a green tomato that comes in a cute paper wrapper. You can roast them, use them in sauces, you can even eat them raw with a little lime juice and Tajin chili seasoning, but they are ridiculously good in this amazing salsa. So good!

Every year I make this Tomatillo Salsa as gifts for neighbors, teachers, and friends. I've been told they look forward to it every single year, most consume it in one sitting because it's so good is what I've heard. My family loves it just as much, I usually have to put a couple of jars aside for them…they go crazy for it.
This salsa is really so good with your favorite tortilla chip, it also goes so well with so many Mexican recipes. Enchiladas, tacos, burritos, salads, and even a crispy quesadilla.

HOW TO MAKE ROASTED TOMATILLO & AVOCADO SALSA VERDE
I love easy recipes, this tomatillo salsa is just that. Preheat your oven to 450 degrees.
Let's start with the tomatillo's, start by putting your tomatillo's in a colander or strainer and rinse with cold water. This will make peeling the wrappers from the tomatillo's easier, it will also help to remove their sticky coating. Place all the tomatillo's on a lined tray, I use foil or parchment paper.
Remove most of the seeds and membrane from the jalapenos and add them to the cookie sheet. Roughly chop the white onion and also scatter on the tray. Season lightly with salt and pepper, and toss with vegetable oil.
Place veggies to roast in the oven for about 15 minutes.
Prep your avocado's by removing the pits and set them aside. Remove cookie sheet from the oven, your tomatillo's should be extremely tender.
Place the tomatillo's, onion, minced garlic, jalapenos, cilantro, avocados, lime juice, salt, and cumin in a blender or food processor. I love my Vitamix Blender if you're looking for a great blender. Pulse all ingredients until it's blended smooth.
Depending on the size of your blender or food processor you made need to make this recipe in two batches. Your salsa will be warm from the freshly roasted tomatillos, it's best to let your salsa cool before eating.
HOW TO STORE YOUR FRESH TOMATILLO & AVOCADO SALSA VERDE
It's best to keep the tomatillo salsa in glass mason jars or an airtight container. You can keep it in the refrigerator for up to 7 days, that is if it lasts that long before you eat it all.
CAN I FREEZE TOMATILLO & AVOCADO SALSA?
You can absolutely freeze this tomatillo salsa! Simply put it in a mason jar, airtight container, or a freezer-safe Ziplock bag that is laid flat after filling. You can keep it frozen for up to 2 months.
IF YOU'RE LOOKING FOR GREAT RECIPES TO EAT WITH YOUR SALSA VERDE BE SURE TO TRY THESE!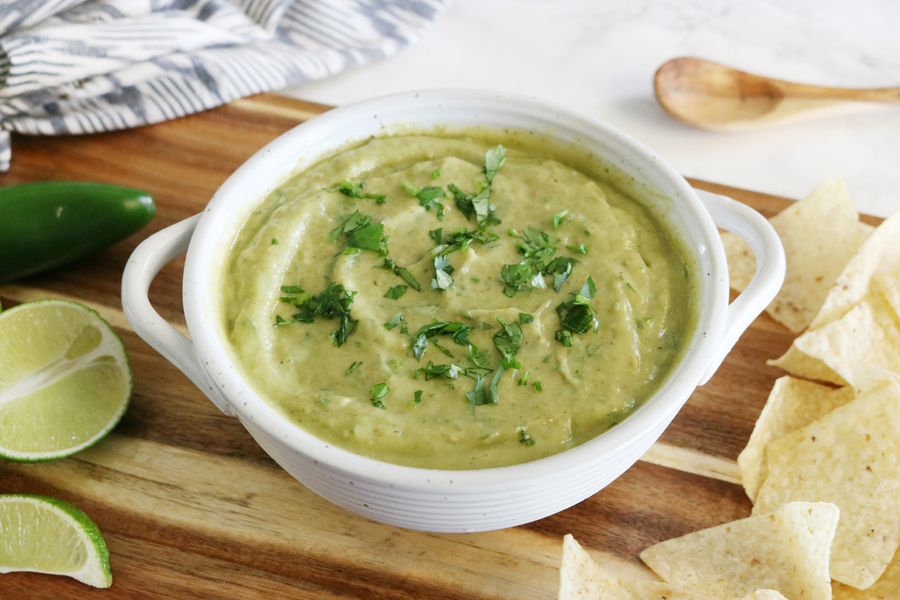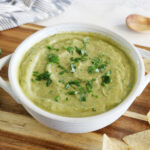 Roasted Tomatillo & Avocado Salsa Verde
2019-11-18 20:32:07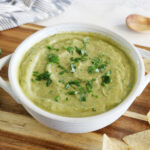 Simple, creamy, and delicious - this tomatillo and avocado salsa verde is great with tortilla chips or on top of your favorite Mexican dish.
Ingredients
1.25lb Fresh Tomatillos, wrapper removed and rinsed
1 Large White Onion, quartered
2 tbsp Minced Garlic
2 Large Jalapenos
2 tsp Ground Cumin
2 tsp Salt
1 cup Cilantro, or 1 Large Handful
2 Large Avocados
2 tbsp Lime Juice
2 tbsp Vegetable Oil
Instructions
Preheat your oven to 450 degrees.
Place tomatillos in a strainer or colander and rinse under cold water. Remove tomatillo's natural wrapper and rinse to remove sticky residue.
Remove seeds and insides from jalapenos and slice lenghtwise.
Roughly chop your onion and place on a lined cookie sheet with jalapeno and tomatillo's. Use parchment paper or foil to line your cookie sheet.
Season everything lightly with salt and pepper, then toss in 1-2 tbsp vegetable oil.
Roast your tomatillo's and veggies for 15 minutes.
Prep your avocado by removing the pits and set aside.
Remove all items from oven and carefully add them to your blender or food processor. Items will be hot and tomatillo's will be extremely tender.
Add in avocados, lime juice, minced garlic, salt, cumin, and cilantro to your blender.
Pulse until salsa mixture is smooth and creamy.
Notes
Add more or less jalapeno depending on your desired spicy level.
Taste test your salsa before serving, feel free to add more salt or lime juice to your liking.
This salsa makes a great gift, just bottle in mason jars!
The Crafted Sparrow https://www.thecraftedsparrow.com/