You know that favorite Mexican restaurant salsa you devour every visit and wish you could take home? Good news, I'm sharing the Best Ever Restaurant Style blender salsa recipe with you and you can eat it any day of the week!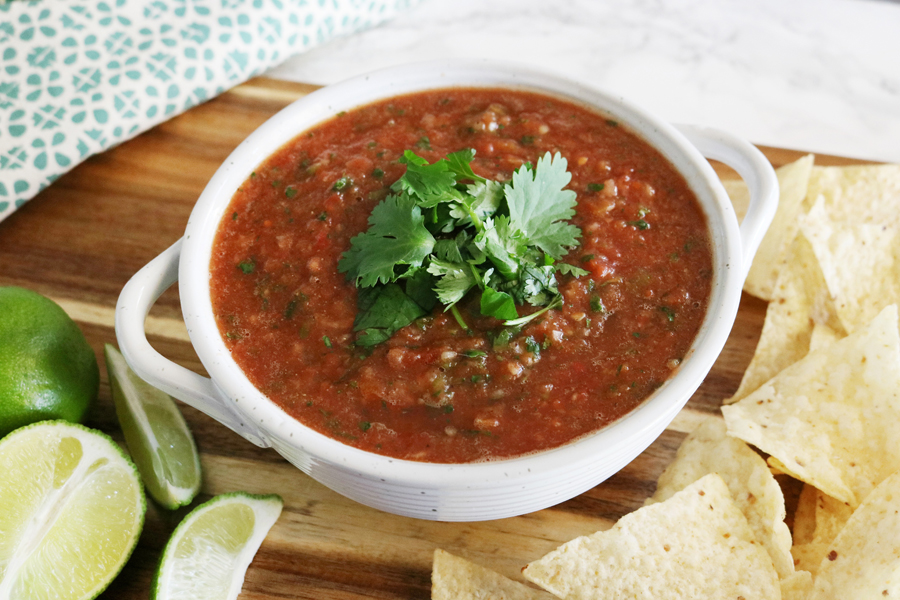 There is hardly ever a day in our house when there isn't some kind of fresh salsa being made. My hubby and son both absolutely LOVE spicy foods and eating salsa with their meals, they are constantly creating new salsa recipes to try. When I crave salsa there are a few kinds I really love and can't get enough of, an easy to make Restaurant Style Salsa is one of them!

I know I'm not the only one who can sit down to a bowl of delicious salsa and chips and go to town, right?! It's at every get-together, party, and social event I usually attend. Salsa recipes are so easy to make and always a huge crowd-pleaser. This Restaurant Style Salsa recipe is so good on cheesy quesadilla's, enchiladas, tacos, and so much more.

HOW TO MAKE THE BEST RESTAURANT STYLE BLENDER SALSA
This is the easiest recipe to make! You can whip it up ahead of time for a get together with friends, pour into a mason jar and give as gifts, or just to have some for a quick snack idea in the fridge. I love to double and even triple this recipe to freeze or when I'm giving holiday gifts to neighbors and friends.
Start by removing most of the seeds and membrane from a large jalapeno, if you love a spicier salsa leave the seeds or add more jalapenos to your recipe. Then roughly chop your jalapeno and toss it into your blender.
I really love my Vitamix Blender for making salsa, it's so easy to use and there are so many recipes I can make with it. Any blender or food processor will be great for this recipe.
Chop up the white onion, garlic cloves, and cilantro and toss in the blender. Add the canned tomatoes, lime juice, honey, salt, black pepper, and ground cumin.
Pulse all the ingredients until they are finely blended. Feel free to taste the salsa and add any additional salt or lime juice to your liking. If you are doubling or tripling the batch be sure to do this in batches so the blender or food processor doesn't overflow.
You can serve the salsa right away or chill it in the fridge for a few hours then serve.
HOW TO STORE RESTAURANT STYLE SALSA
You can keep your salsa in any kind of mason jar or airtight container. It can stay chilled in your refrigerator for up to 7 days if it lasts that long.
CAN I FREEZE THIS EASY BLENDER SALSA RECIPE?
Yes! Freezing salsa is so easy. Again, store it in an airtight mason jar or storage container. Even a freezer-safe Ziplock bag will do, just be sure to lay flat so it freezes in an even layer. It can stay in your freezer for up to 2 months.
LOOKING FOR OTHER DELICIOUS SALSA RECIPES AND THINGS THAT GO GREAT WITH THIS SALSA, BE SURE TO TRY THESE!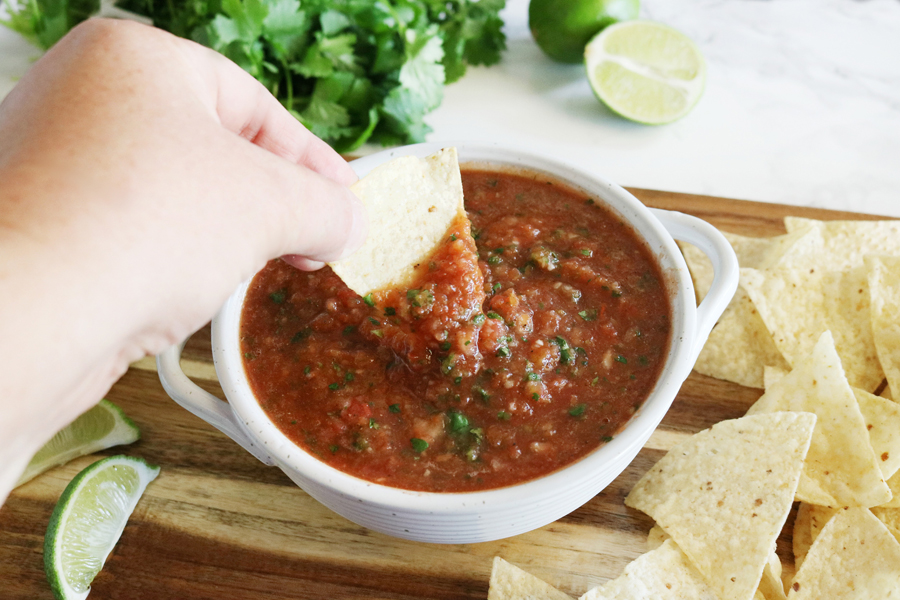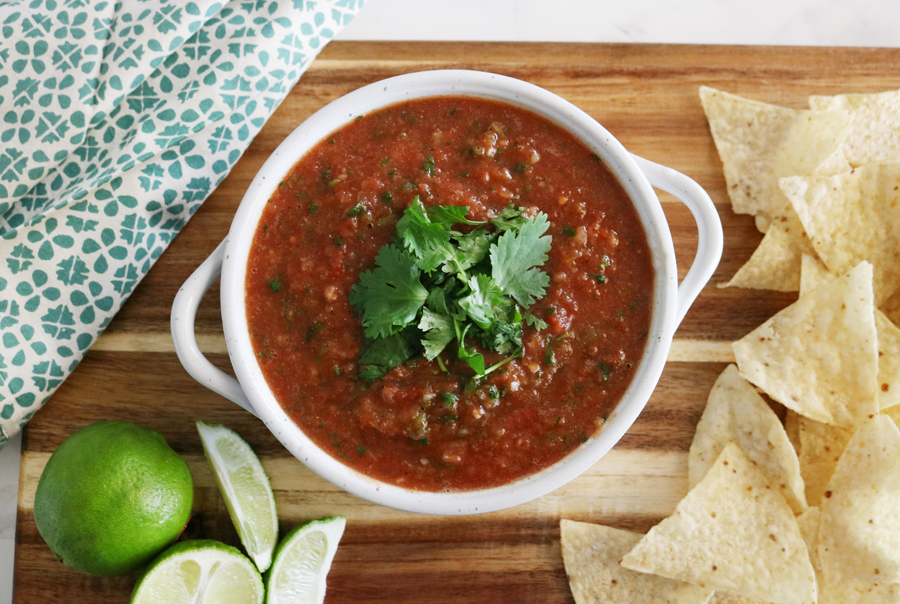 I know you're going to love this super easy Restaurant Style Salsa as much as we do, you'll want to make it all the time.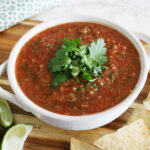 Restaurant Style Salsa Recipe
2019-11-18 14:16:25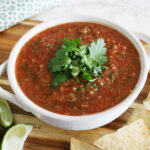 Simple, spicy, and super tasty! This salsa recipe is a huge crowd favorite. Perfect paired with your favorite tortilla chips or Mexican food dish.
Ingredients
1 - 14oz Can Crushed Tomatoes, do not drain
1/2 Medium White Onion, roughly chopped
1 tbsp Minced Garlic
1 Large Jalapeno, remove seeds and insides
1 tsp Honey
1 tsp Salt
1/2 tsp Black Pepper
1/4 tsp Ground Cumin
1 cup Cilantro or a large handful
Juice from 1 Lime
Instructions
Remove seeds from and insides from a large jalapeno.
Roughly chop white onion, cilantro, and garlic.
Add jalepeno, cilantro, onion, garlic, and canned tomatoes to a large blender or food processor.
Add salt, pepper, cumin, lime juice, and honey.
Pulse salsa until finely blended.
Notes
Feel free to double or even triple this batch, just be sure to not overfill the blender or food processor to prevent it from overflowing.
Add more or less jalapeno depending on your desired spicy level.
Taste test your salsa before serving, feel free to add more salt or lime juice to your liking.
The Crafted Sparrow https://www.thecraftedsparrow.com/