Disclosure | This is a sponsored post written by me on behalf of Cricut. All opinions are 100% mine. This post may contain affiliate links at no cost to you.
When it comes to gift-giving the presentation to me is just as important as the actual gift itself! That's where one of my favorite crafting tools come into play, today I'm showing you 10 Fun Little Ways to make gifts special with Cricut Joy!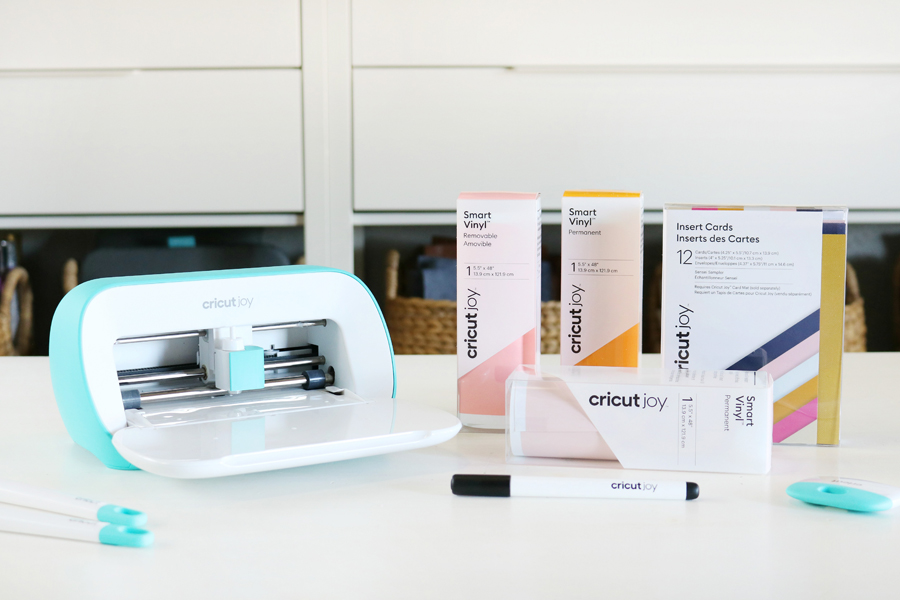 When a friend gets a gift from me they can almost always count on it being wrapped and not in a gift bag. Not that there's anything wrong with a gift bag, but I love wrapping the present with paper and a ribbon of some sort. I just feel like it's the little bit of extra someone needs to feel like you put a lot of thought and effort into the gift your giving. Okay, Okay, I know that not everyone has a talent for wrapping gifts but I promise you anyone can use the 10 Fun Little Ways to Make Gifts Extra Special with Cricut Joy I'm sharing with you and make a gift even better.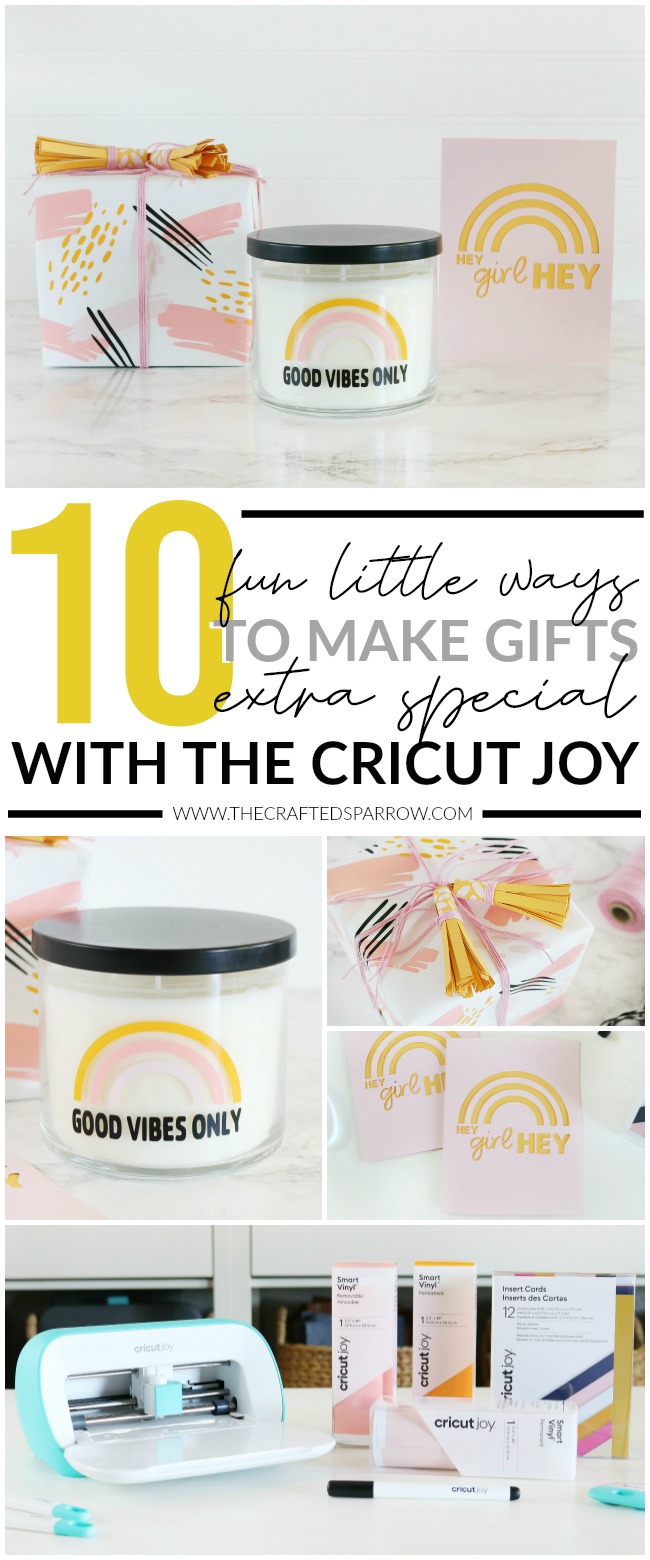 HERE'S SOME OF WHAT YOU'LL NEED TO MAKE YOUR GIFTS SPECIAL WITH CRICUT JOY
SUPPLIES:
First of all if you still haven't see Cricut's newest addition to their machine line-up let me introduce you to The Cricut Joy! Isn't it adorable?! The Cricut Joy is about the size of both your hands and is the most compact cutting machine from Cricut yet. It's the perfect companion to your Maker and Explore Air 2, it's less than half the size of its sister machines. It boasts a single cutting blade and is capable of writing with a pen as well, it has a whole suite of Cricut Joy compatible pens. It might be small, but this little machine is pretty mighty.
You can read all about Cricut Joy HERE. This machine has no buttons and is powered only when you plug it in. It's cutting capability is a width is 4.5″ wide, and can cut up to 20′ of vinyl. This machine doesn't have fancy scoring tools or specialty blades like the Maker or Explore machines, but can still create a huge variety of projects.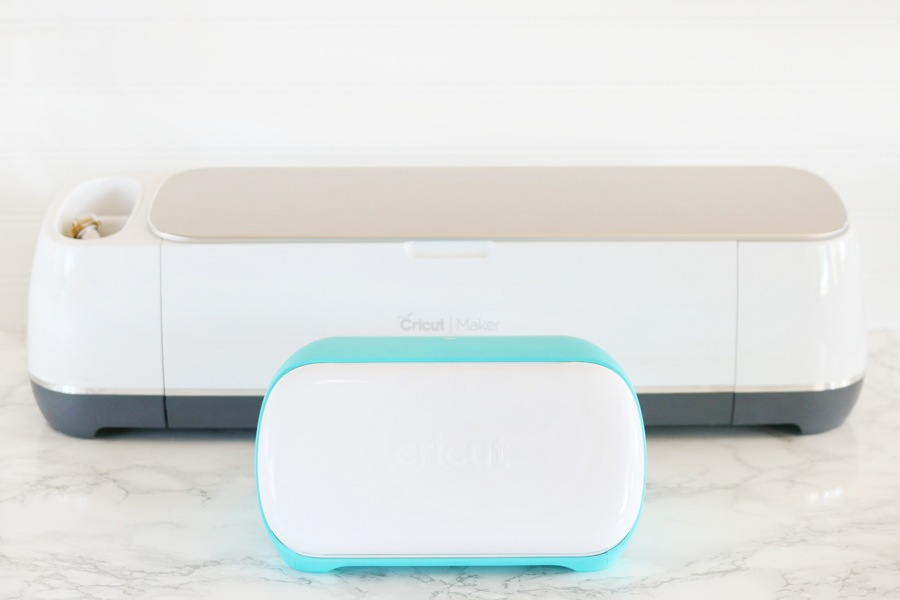 Since we are living it up quarantine style and I'm really missing my friends and our girls night out dinner dates I thought it would be fun to create a cute gift that anyone could make and drop off on their friend's doorstep to just let them know how much you really miss their face! I'm sharing a cute gift idea, coordinating card, custom wrapping paper, and a gift topper so everything with this gift ties together.
DIY GOOD VIBES CANDLE GIFT IDEA WITH CRICUT JOY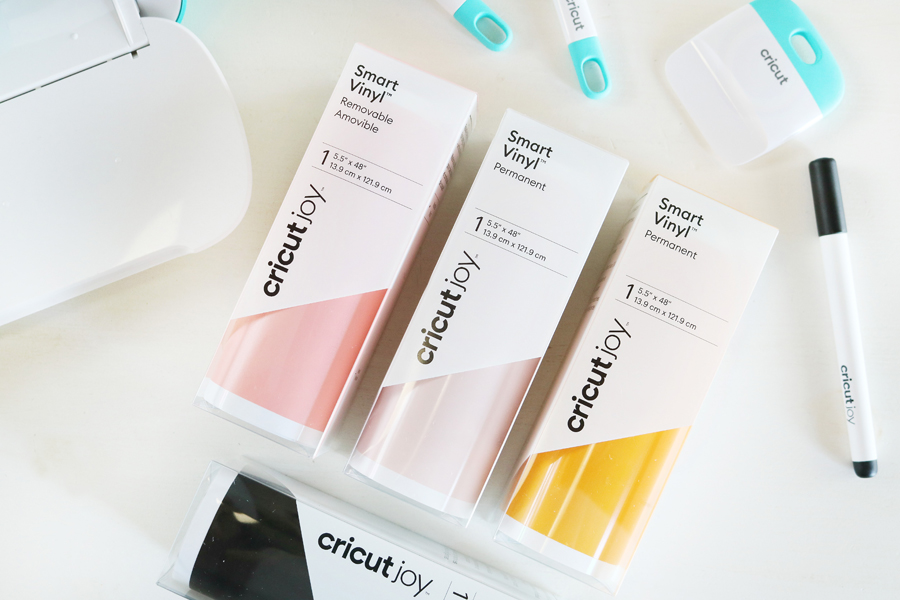 Start by going to this Good Vibes Only Candle Graphic found HERE in Cricut Design Space. Once you click the link to the project you should just be able to hit "Make It" unless you need to customize the decal size to fit another sized candle than what is shown. The candle I used is the same size as other candles from stores like Bath & Body Works or even Marshals & TJMax.
After you hit "Make It" the screen shown below will pop up, you will be cutting the decal out on the Cricut Joy Smart Vinyl so you can select "without mat" which is my favorite feature of the Joy machine. Then hit "Done". Your screen will guide you and instruct you on which vinyl to load first and for each cut. Just follow all the prompts on the screen. Once your Cricut Joy machine is recognized by the Bluetooth connection you will select your materials from the list, for this candle decal you will select Smart Vinyl – Permanent. Then load your vinyl into the machine and hit "Go".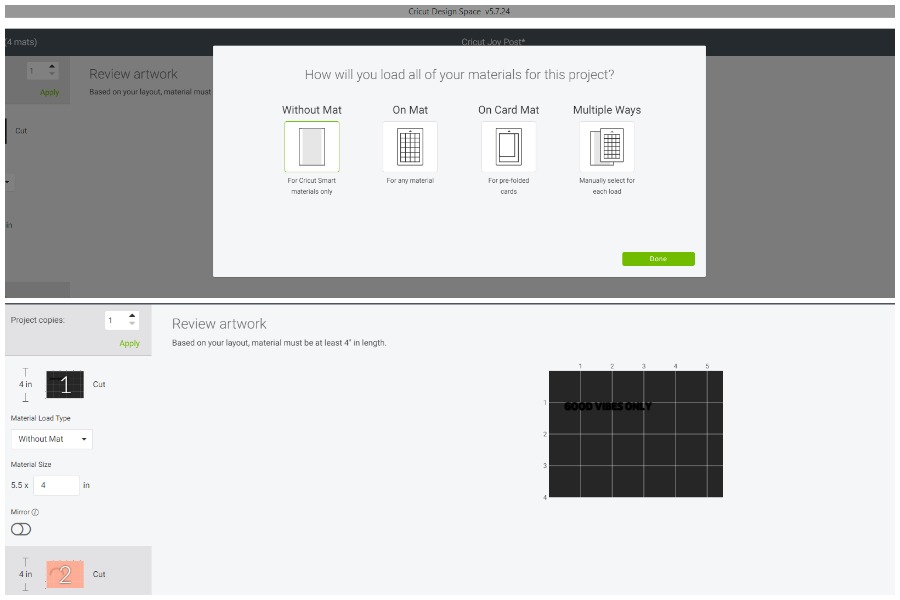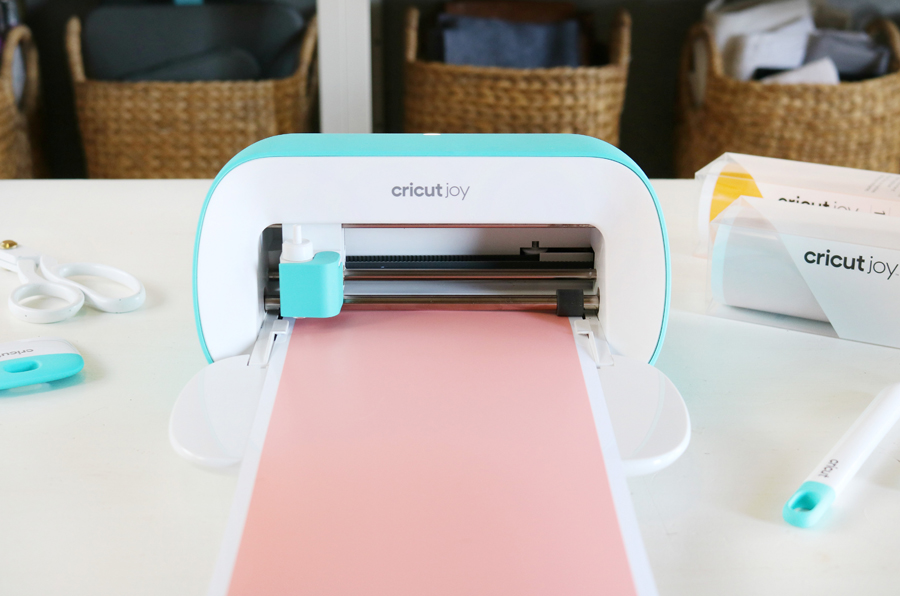 When you have each color of the rainbow and your phrase cut you will need to weed each piece with your weeding tool. I like to trim down any access paper backing I don't need.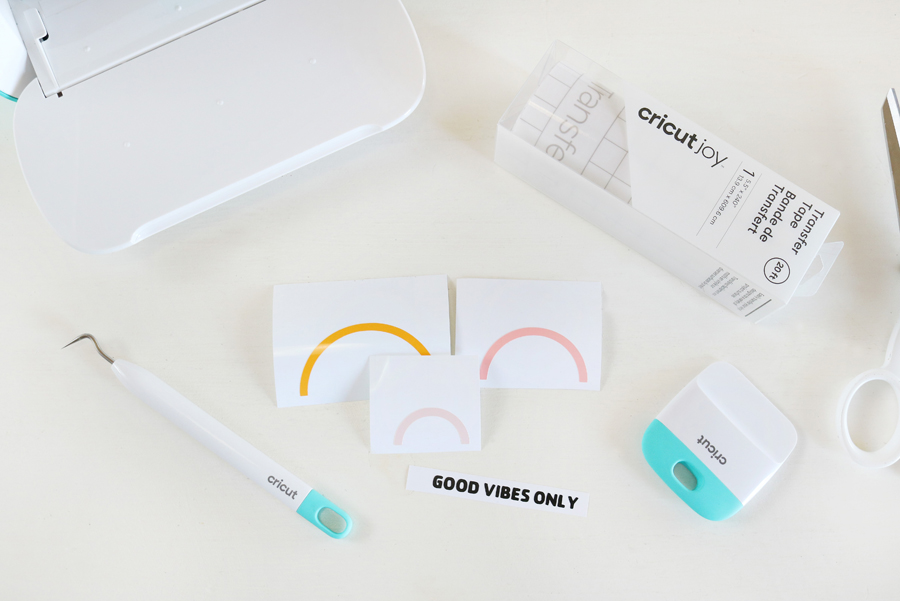 Using your transfer tape you will need to layer each separate color of vinyl for the rainbow on to one piece of backing. Then add your "Good Vibes Only" wording so everything is on one piece of transfer tape and lined up to adhere to your candle.
Carefully place your decal centered on your candle and remove the transfer tape after you smooth it out.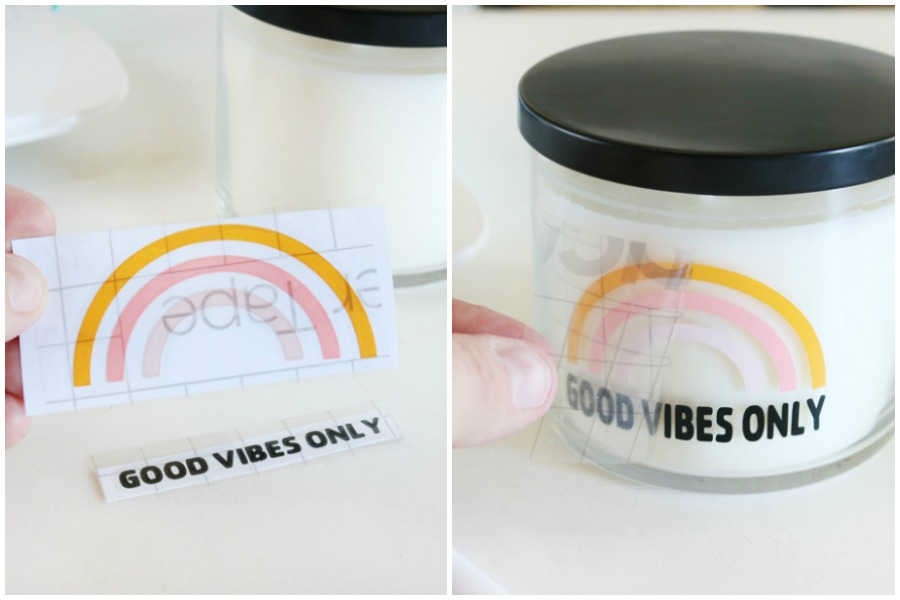 Now that your Good Vibes Only Candle gift is done you need to make a fun card to let your friends know your missing them and to say HEY!
DIY HEY GIRL HEY! CARD WITH CRICUT JOY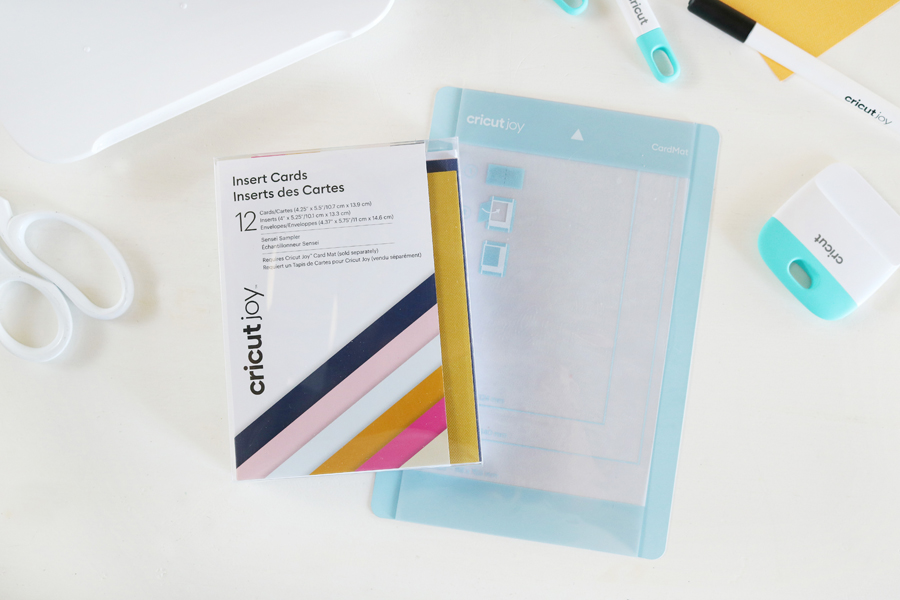 I love that Cricut Joy has this amazing card mat that allows creating cards in minutes to be so easy! I created this fun and simple card to mimic the cute rainbow from the Good Vibes Candle, go ahead and open the Hey Girl Hey Card HERE. Once the project is open hit "Make It' and you will be asked again how you'd like to proceed with your card, choose "On Card Mat". Since I am using the insert cards from Cricut Joy I need to select from the drop-down menu on the left side of the screen to the 4.25×5.5″ material size. You will see that the card graphic to cut isn't centered on the cutting mat preview. That's because this is not a card template project instead it's one I created myself. Simply drag your image and center it like it shown below. When it cuts it will cut perfectly.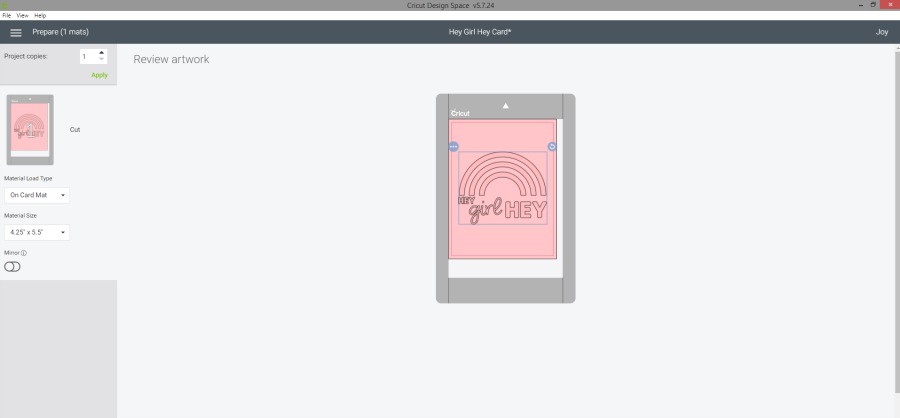 To use the card mat simply remove the plastic protector sheet from the top, place your insert card in the mat and position it in place. Load your mat into the Cricut Joy, select your material which is insert card and hit "Go".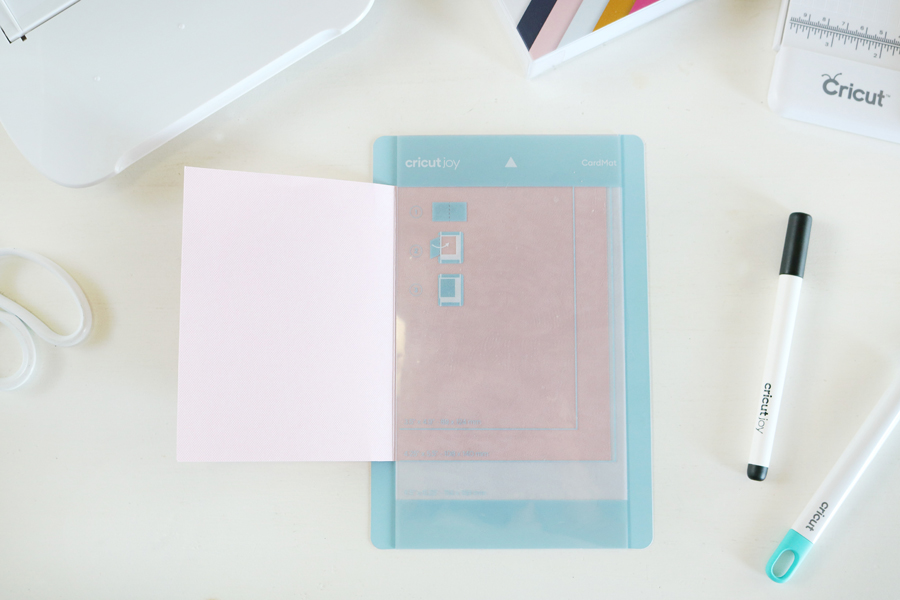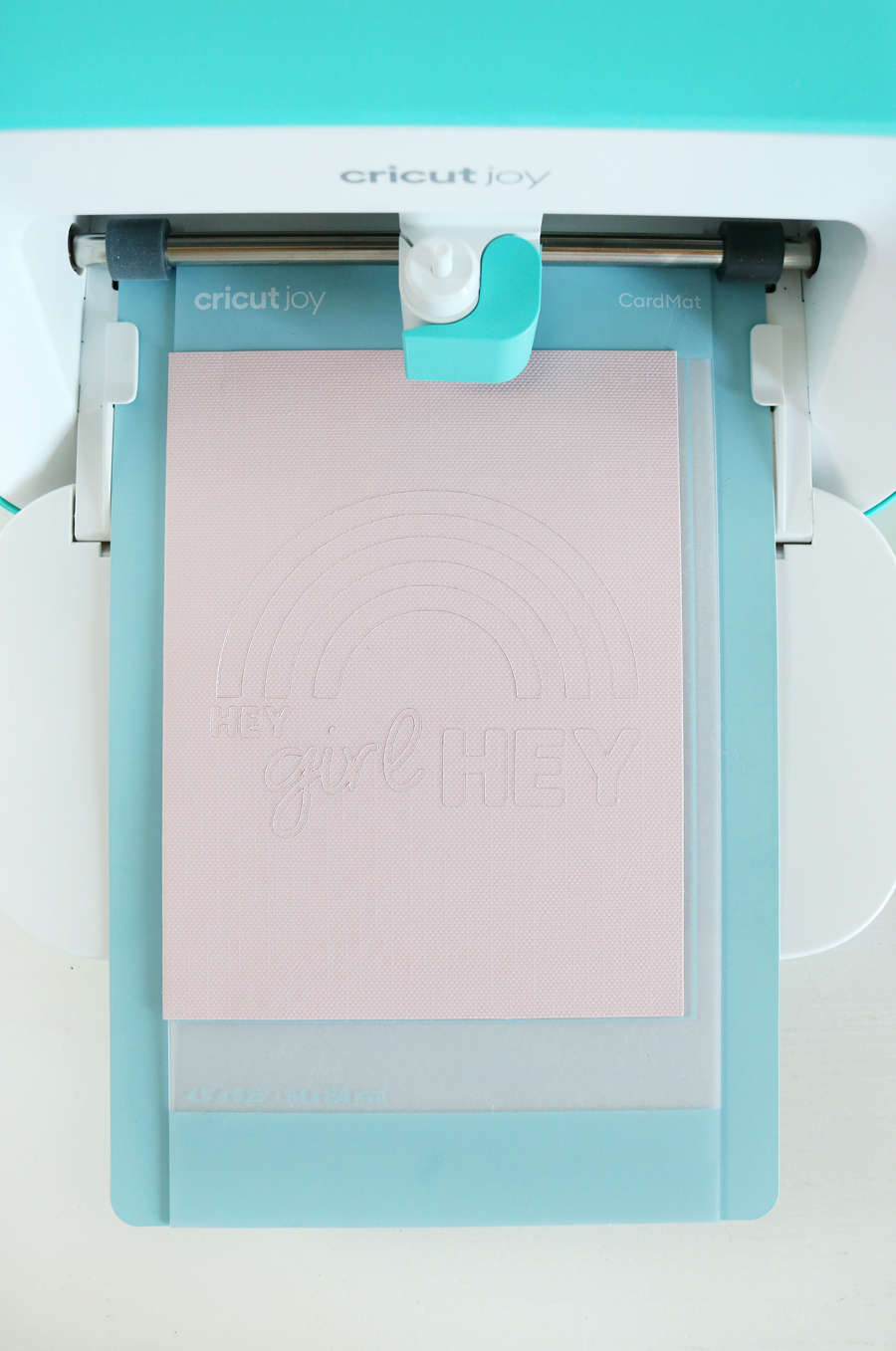 Your card is cut, now when removing it carefully from the mat remember to save the small inside pieces of cardstock from the letters "g" and "l" so you can adhere them next.
Either using a piece of the insert card cardstock that comes in the sample card packs or cutting a custom color piece of Cricut Cardstock adhere a contrasting color using a tape runner to the inside of your card front.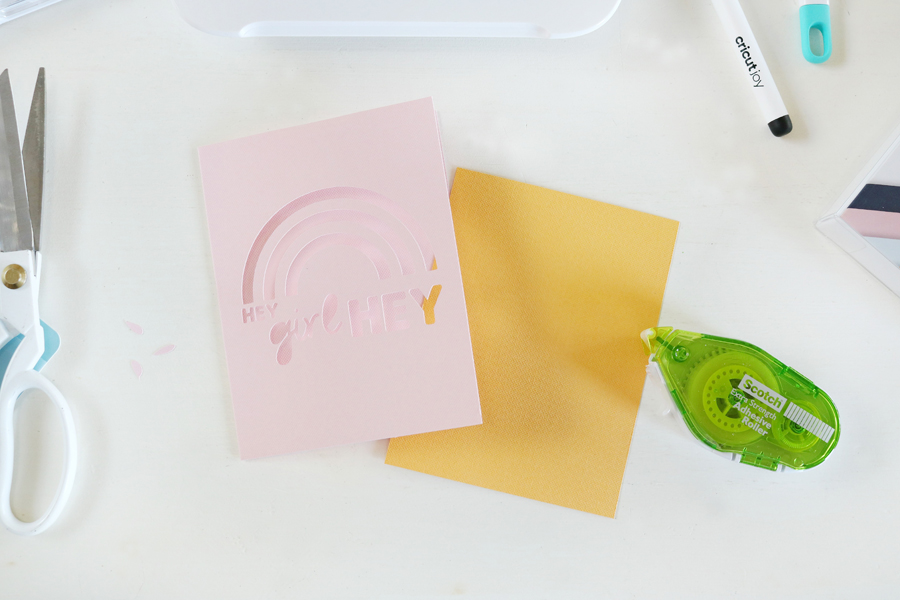 Now we are almost half-way done with our gift. So easy so far, right?! How cute is this card? I love that it's perfect for so many occasions.
DIY Paint Stroke Gift Wrap + Paper Tassels Gift Topper
Time for the last part of our gift, the presentation! DIY wrapping papers are so fun to make, you can paint them – even stamp them – but today we are making vinyl stickers that look like paint strokes. Simply click on the Paint Stroke Vinyl Stickers and Paper Tassels Gift Topper found HERE project in Design Space. Both the stickers and pieces to create the paper tassel gift topper are in this cut file. You will need Cricut Smart Vinyl to make the paint stroke stickers and you will need Cricut cardstock to make the paper tassels. Feel free to customize the sizing on this based on the size of your gift that you are wrapping. Otherwise just hit "Make It".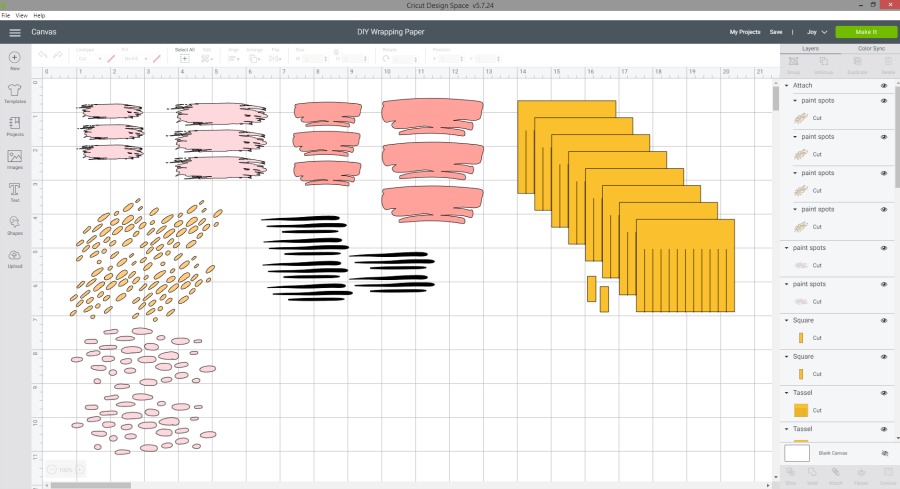 Follow the onscreen prompts, for these cuts you will need to select "Multiple Ways" when it asks you how you will load your materials. For the first cut which is the paper tassels select "on mat" under the material load type and 4.5×12″ for the material size. Select your material from the options listed, I used cardstock. Hit "Go". Once the Cricut Joy cuts all your tassel pieces you will need to unload your mat and cancel the cut so you can go back to the cut order on the left of your screen. Select and start with the black paint stroke lines, each of the vinyl cuts will be made "without mat" and then hit "continue" this will allow you to change the material type to smart vinyl. Hit "Go" again and follow the screen promptings for each color of vinyl.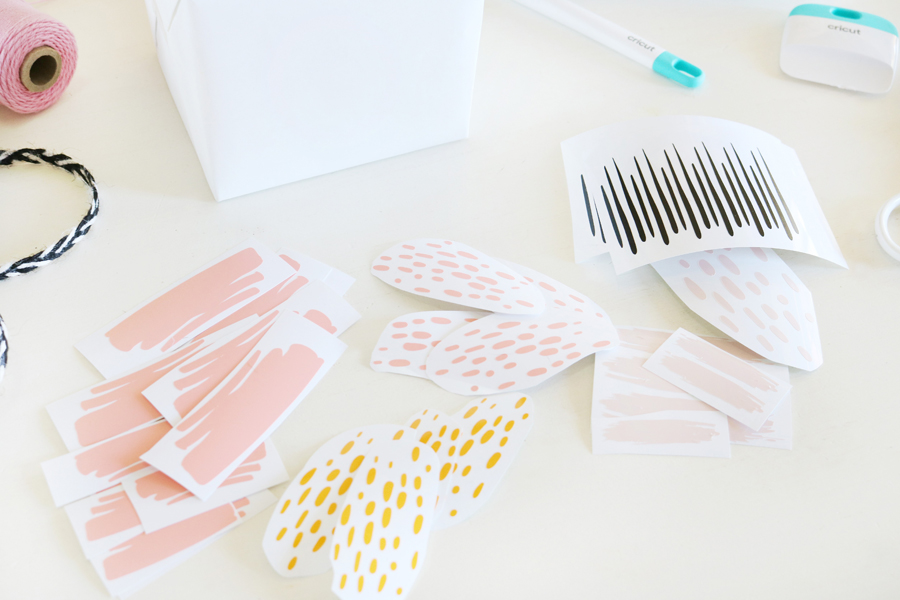 Using your weeding tool remove any excess vinyl you don't need and you're left with all your fun stickers to decorate your gift. I used a white basic inexpensive wrapping paper I found in a dollar bin at my local Target. I first wrapped my gift with the white paper, then applied my vinyl paint stroke stickers.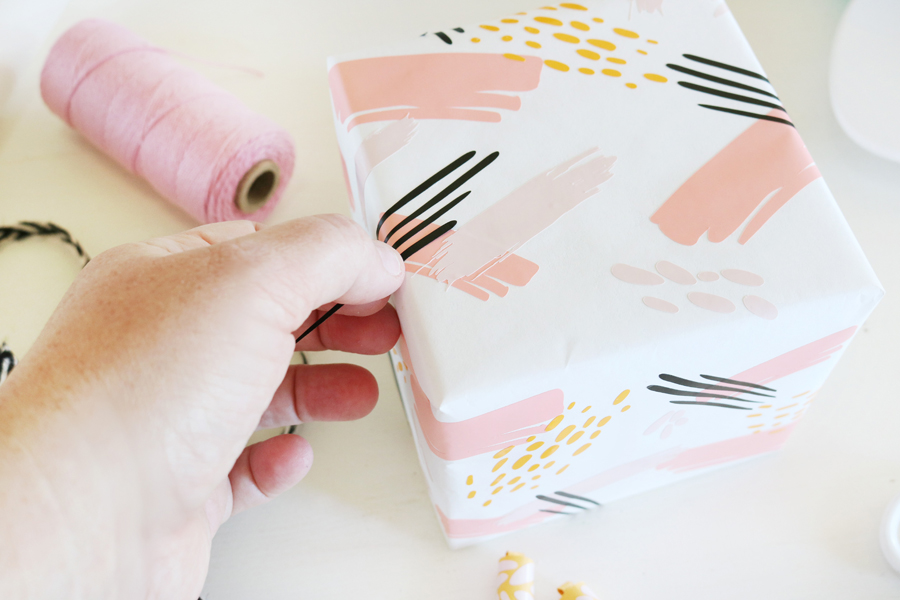 Now for the topper. The paper tassels are so easy! After you've cut them and removed them from the cutting mat simply use a tape runner or glue gun to roll 3-4 tassel sections together, placing the small paper tab in the middle of the paper tassel to create a loop for stringing. Gently loosen up the pieces of the tassel with your fingers by brushing it on the palm of your hand when its glued together.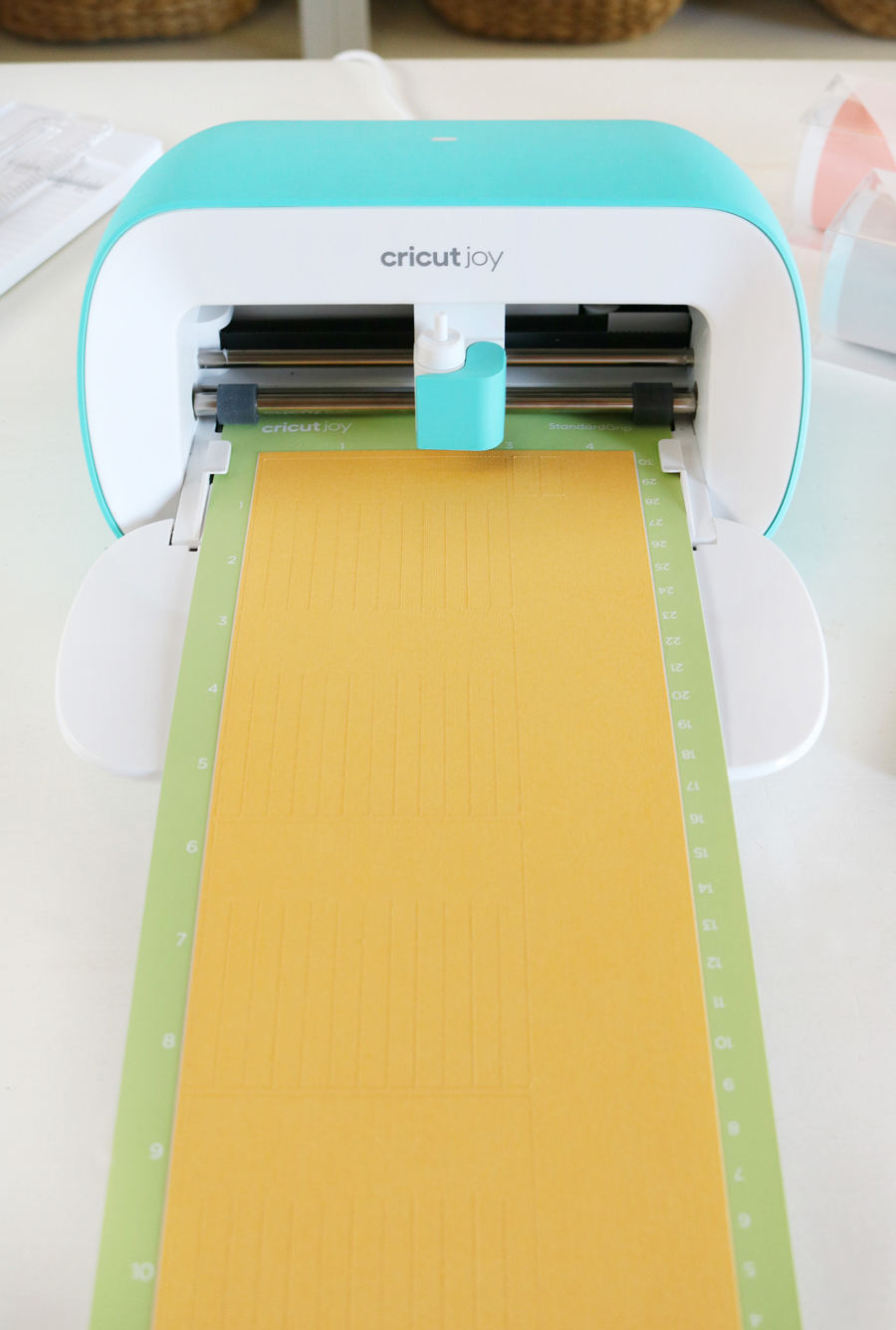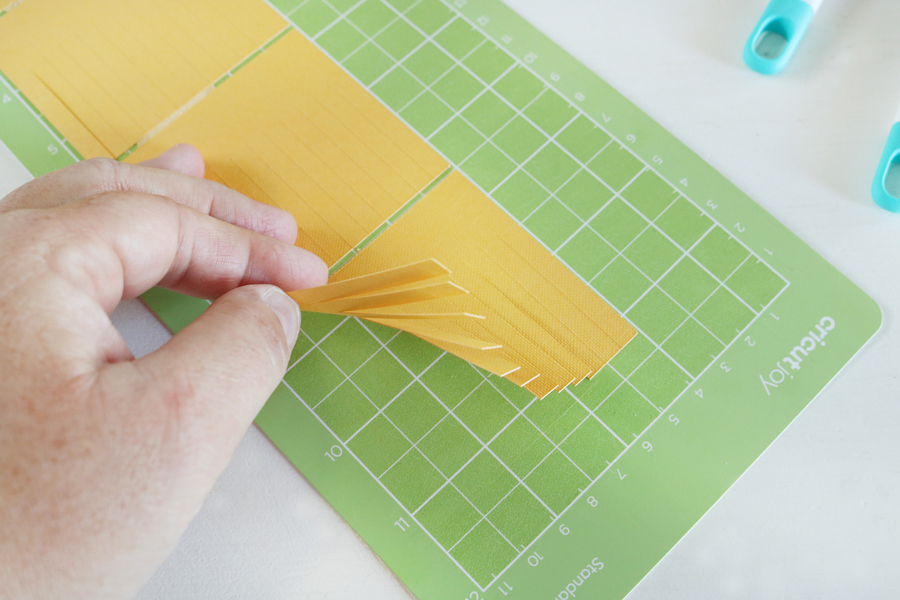 You can add simple contrasting small vinyl stickers for a bit of pattern, and a small amount of bakers twine for texture. String your tassels onto your gift using bakers twine.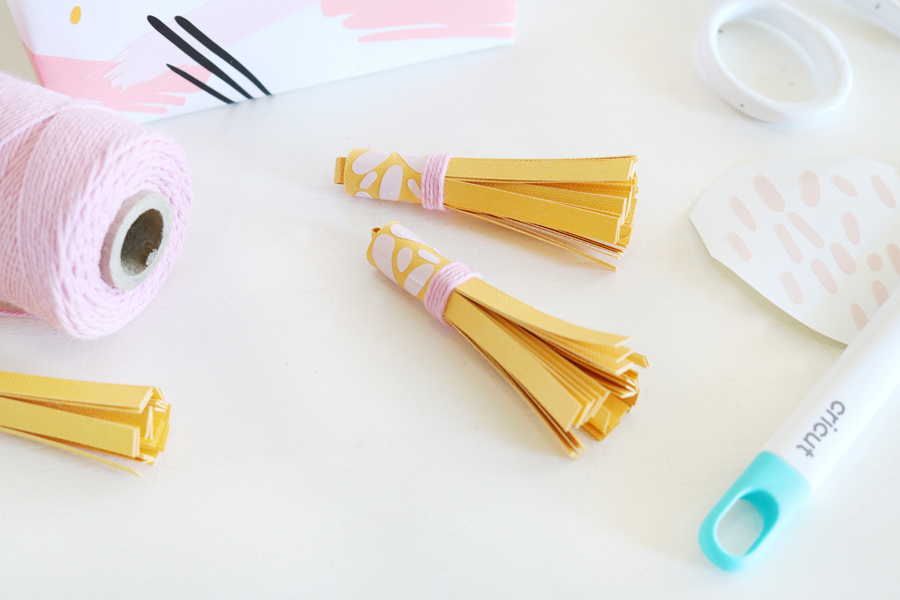 That's it! Your gift is finished and ready to be dropped on your besties doorstep to tell them you are thinking of them and really really can't wait until all this craziness is over!
OTHER WAYS YOU CAN MAKE YOUR GIFT SPECIAL WITH CRICUT JOY:
Create custom gifts like t-shirts, hats, and tote bags with Cricut Joy Smart Iron-On
Make gift tags to fit any gift, any style, any size – search "gift tag" in Design Space or create your own
Want something to go with your gift tag? Create a unique gift topper like paper flowers or a paper bow
Make a card in minutes with Cricut Joy, choose from a premade design or make your own for any occasion
Have a coffee lover? Make a custom mug or stainless tumbler using a premade or custom design with Cricut Joy Smart Iron-On or Cricut Smart Permanent Vinyl
Custom ceramic coasters are such a fun gift idea with Smart Infusible Ink
Giving a gift card? Make a cute gift card holder, fill it with cut metallic cardstock confetti and you're set
Create a bouquet of 3D paper flowers to give alongside your gift
You might be asking why you need a Cricut Joy machine if I have another Cricut cutting machine? The Cricut Joy is so easy to grab and create with, it's compact size makes it perfect for any space – whether it's in the kitchen, your office, classroom or craft studio it takes up hardly any room at all. Plus, think of how easy it is to travel with it! Sometimes the projects we create are quick and easy and don't necessarily require us to get out our trusty full size Maker or Explore, that's why the Cricut Joy is so perfect and a great go-to cutting machine. If you still have questions about this fun new machine be sure to head to Cricut.com to read more. Want to see it in person? You can find the Cricut Joy in stores and online.
IF YOU LOVED THIS GIFT IDEA HERE ARE EVEN MORE FUN GIFT IDEAS MADE WITH CRICUT!
https://bit.ly/3ejmQho