Binge-watching shows has become all the rage. With all the streaming platforms there is something for literally everyone now. One of the most popular streaming services is Netflix, I've been a long time subscriber since the good old days of renting DVD's in the mail. Today I'm sharing The Ultimate List of Binge-Worthy Netflix Shows with you, so get your popcorn and snacks ready!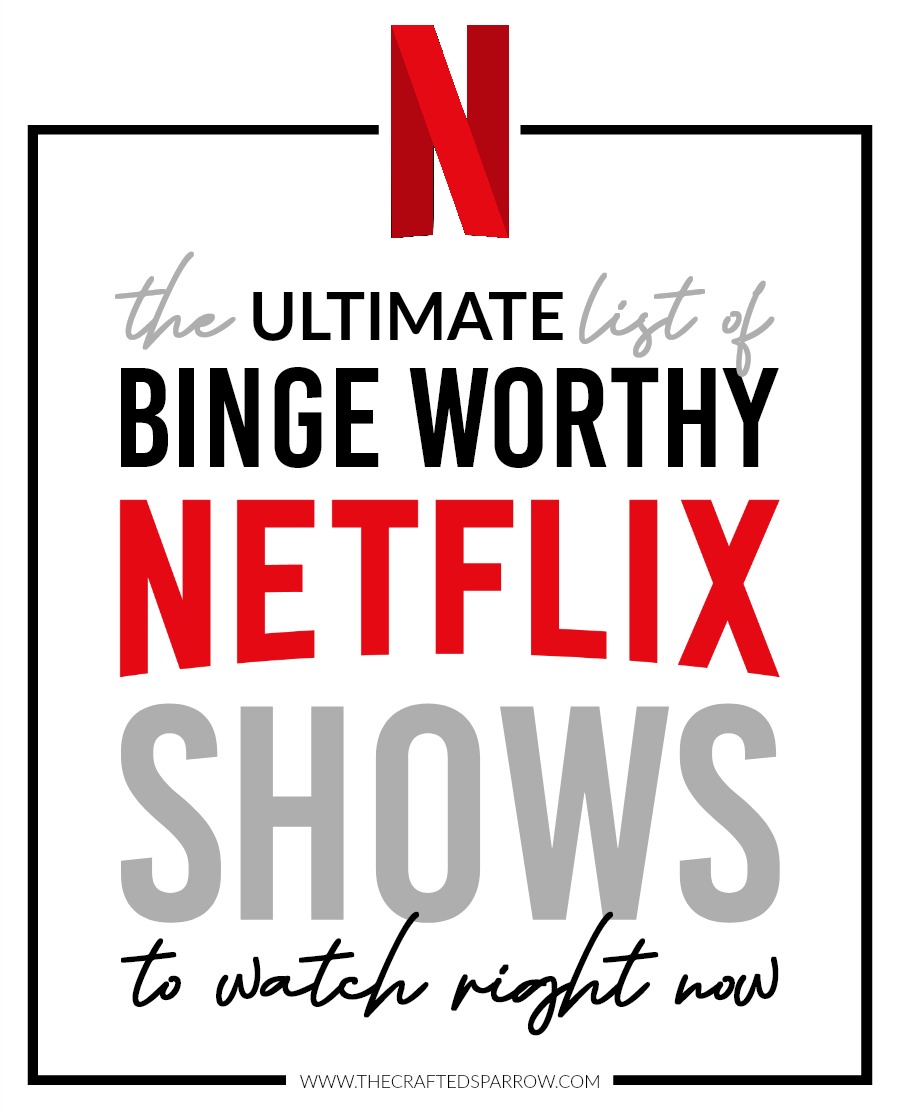 Growing up watching TV and movies was one of our favorite family activities, we loved it…I can still remember some of the shows we watched together after everyone was done with their homework and dinner. Shows like 21 Jumpstreet, The Cosby Show, The Golden Girls, Knight Rider, MacGyver, Little House on The Prairie, Home Improvement, TGIF, ER, and Law and Order just to name a few. I probably just dated myself just a little, but hey there's nothing like a young Johnny Depp am I right?!
Nothing has changed for me over the years, watching tv is still one of my favorite things to do. There are so many amazing shows to watch that sometimes it's hard for me to stop watching. In the age of binge-watching streaming services like Netflix, Hulu, Amazon Prime Video have made it so easy to watch old favorites and all the new amazing shows on almost any device. My friends are always asking for recommendations of what shows to binge because they know how much we love tv and movies.
So here I am sharing The Ultimate List of Bing-Worthy Netflix Shows to watch right now!
I've compiled lists for all the major categories, keep in mind these are just TV shows. I will compile a list of my favorite Movies to watch soon. I have divided shows by age group as well, use your own judgement as a parent to determine what shows are appropriate for your children as each child and household is different. We love using Common Sense Media to research movies, TV shows, books, and video games if we ever are unsure if something will be appropriate for our kiddos.

COMEDY SHOWS FOR THE WHOLE FAMILY
The Office
Parks and Recreation
Fuller House
Alexa & Kate
No Good Nick
One Day at A Time
On My Block

COMEDY SHOWS FOR AGES 14-17+
Young & Hungry
Arrested Development
Portlandia
The Good Place
I'm Sorry
Schitt's Creek

DRAMADY SHOWS FOR 17+
Girlfriends Guide to Divorce
Grace and Frankie
The Ranch
The Let Down
Good Girls
Jane The Virgin
Shameless
Orange Is The New Black
Glow

OTHER GREAT SHOWS FOR THE WHOLE FAMILY
Anne with an "E"
Lost In Space
Stranger Things
The Letter for The King

DRAMA SHOWS FOR AGES 14-17+
Self Made
The Fosters
Gossip Girl
The Haunting of Hill House
Vampire Diaries
Mad Men

DRAMATIC CRIME SHOWS FOR AGES 14-17+
Designated Survivor
Blacklist
Longmire
NCIS
Criminal Minds
Person of Interest
YOU
Hap & Leonard
Narcos
Peaky Blinders
Scandal
Sherlock
Wentworth
Dexter
Ozark
The Sinner
Mindhunter
Bodyguard
Tidelands

TIME PERIOD SHOWS FOR AGES 14-17+
Outlander
The Crown
Call The Midwife
Reign
Alias Grace

MEDICAL DRAMAS
Grays Anatomy
Royal Pains
Private Practice

TEEN DRAMAS
Greenhouse Academy
Free Reign

SMALL TOWN LIGHT-HEARTED DRAMAS
Hart of Dixie
Virgin River
Gilmore Girls
When Calls The Heart

SHOWS BASED ON COMICS 14-17+
Izombie
Riverdale
The Walking Dead
Jessica Jones
Luke Cage
The Flash

SCI-FI & FANTASY SHOWS FOR AGES 14-17+
Altered Carbon
Roswell – New Mexico
The Witcher

DOCUSERIES
Tiger King
Love Is Blind
Cheer

DOCUMENTARIES
Don't F**k With Cats
The Trials of Gabriel Fernandez
Killer Inside: The Mind of Aaron Hernandez
Miss Americana – Taylor Swift
The Pharmacist
Making a Murderer

COOKING & FOOD SHOWS
The Chef Show
Salt Fat Acid Heat
Ugly Delicious
The Great British Baking Show