Valentine's Day or Galentine's Day? Whichever holiday you're celebrating this year I've got a super fun gift idea for you that takes 10 minutes to make and is better than any generic gift you'll find at the store this year! Your girlfriends will love this gift idea, let me show you how easy these Leslie Knope Inspired Valentine's Day Candle Gift Ideas are to make.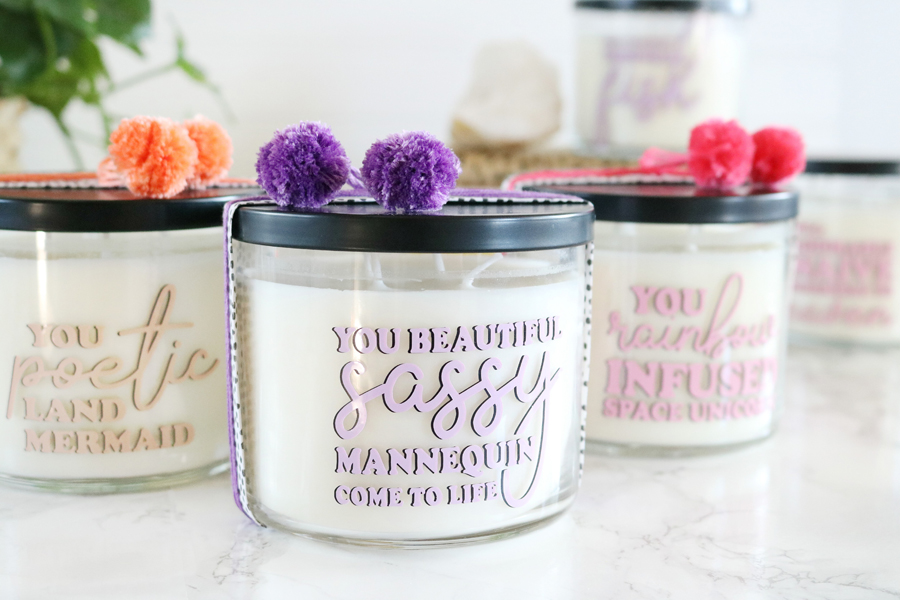 DISCLOSURE | This is a sponsored conversation written by me on behalf of Cricut. The opinions and text are all mine. This post may contain affiliate links at no cost to you.
Everyone knows that February 14th is Valentine's Day of course, but if you're a fan of Amy Poehler – AKA Leslie Knope and her hit show Parks and Recreation then you know very well that February 13th is Galentine's Day! What is Galentine's Day? "Oh, it's only the best day of the year. Every February 13th, my lady friends and I leave our husbands and our boyfriends at home, and we just come and kick it, breakfast-style. Ladies celebrating ladies. It's like Lilith Fair, minus the angst. Plus frittatas." – Leslie
When it comes to Valentine's Day and gift-giving there's the typical flowers, candy, cards, and generic gifts you can find at any major retail store. Love comes in all shapes and sizes. With Cricut, anyone can become a Valentine's Day match-MAKER. This year I'm celebrating my best gal pals with something I know they will love and something that you can't find in stores. These candle gifts are fun and everyone loves a good candle.
TIME TO GET CRAFTY! HERE'S WHAT YOU WILL NEED TO MAKE THESE LESLIE KNOPE INSPIRED GALENTINE'S DAY CANDLES…
SUPPLIES:
Remember that if you're shopping on Cricut.com and you're a Cricut Access member you automatically get 10% off your total purchase of Cricut products!
Please Note: These printables and downloads designed by The Crafted Sparrow are for personal use only. Please do not alter the file or image and claim it as your own. This file is not intended for resale, nor are the printed versions of this file!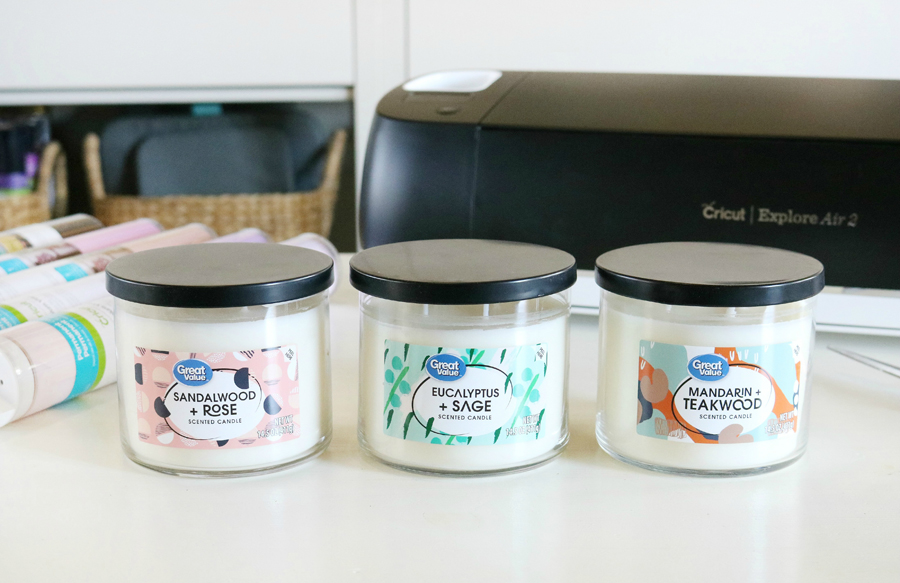 I came across these candles while shopping at my local Walmart store and I knew they'd be perfect for this project. Bonus, they smell amazing and cost $5! The cute black lids and the labels that are meant to be peeled off make them the perfect blank canvas for projects like this. My favorite scent is the Mandarin + Teakwood, but they are all good. If you're shopping for these candles in the store and not online you can find them in the air freshener section located near the cleaning products.
When it came to choosing a vinyl material to use it was easy, I love the Cricut Permanent Vinyl! It was the perfect choice for these Leslie Knope Candles. It's so easy to work with and it comes in so many amazing colors.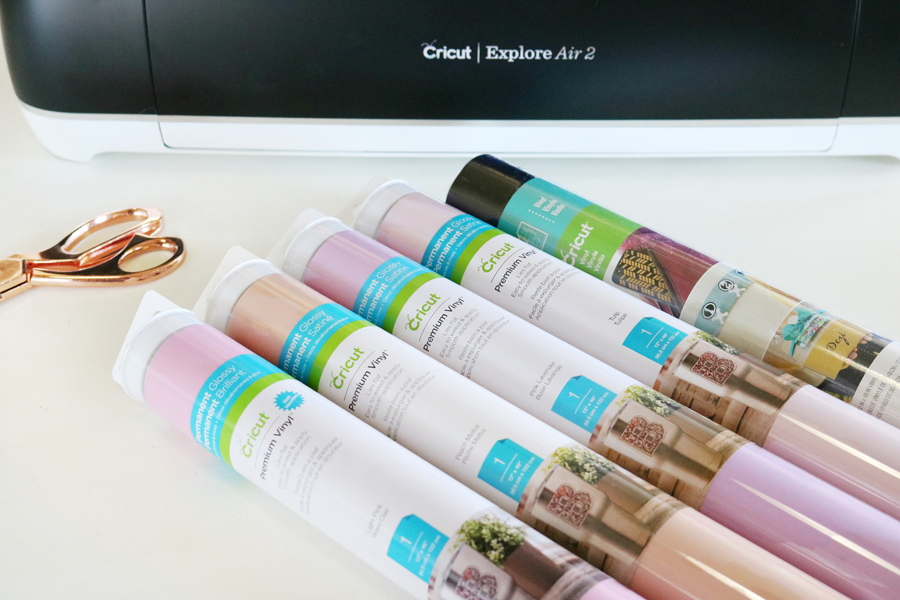 If you haven't done so yet, be sure to download the new Design Space desktop app and open this Leslie Knope Inspired Galentine's Day Candles project HERE.
Once the project is open you can either choose to customize the size of the images to fit your project or surface. I currently have the Design Space images sized to fit the candles I used (which are also the same size as Bath & Body Works candles, and many candles you can find at Marshall's, TjMax, and other stores). If you're uploading the other font style I designed you will simply upload each image into Design Space, then create a cuttable image and save it as a cut file like shown in the image below.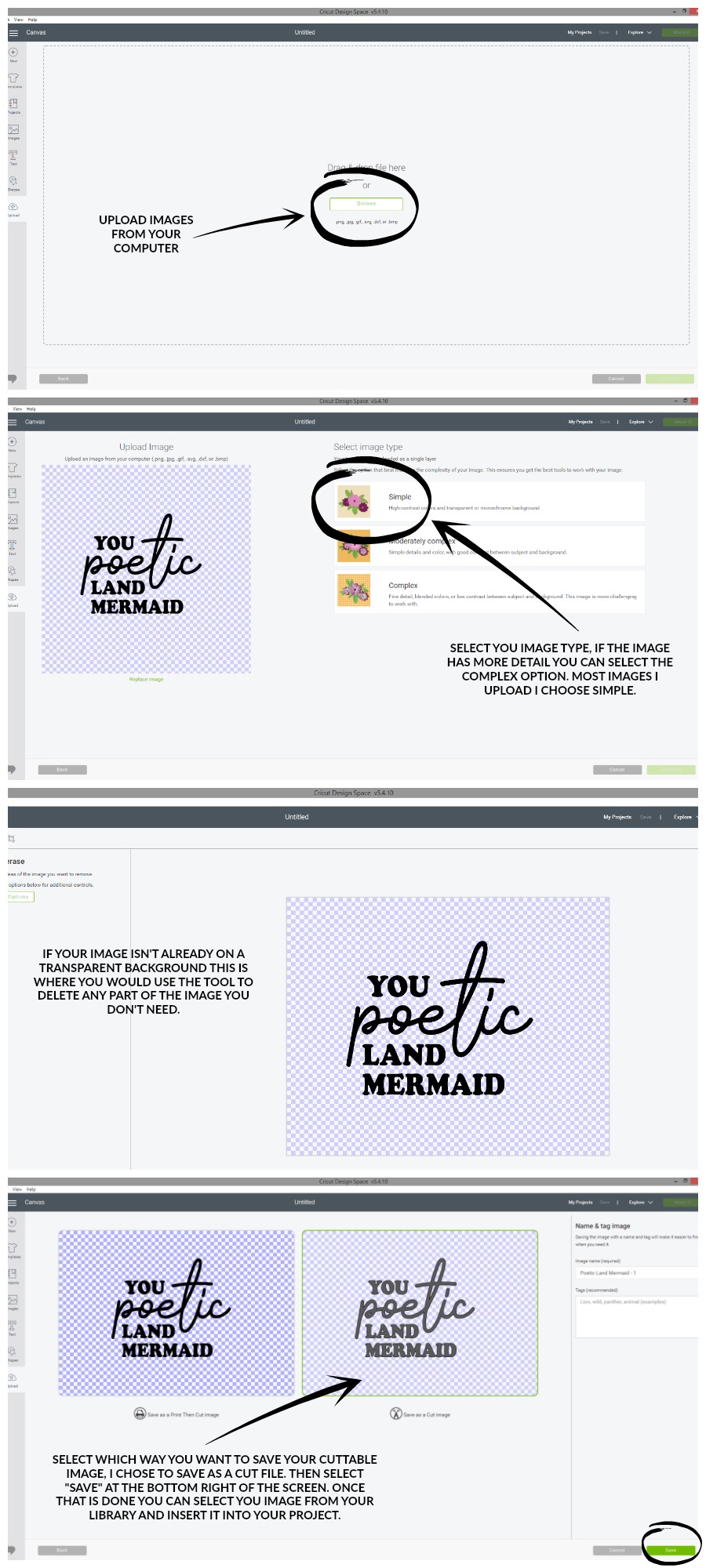 There are two layers that I created for this project, one is the black shadow layer and the second is the main colored layer. The black layer is optional, but really makes the cute colored vinyl pop on a white candle background. Simply hit "Make It"!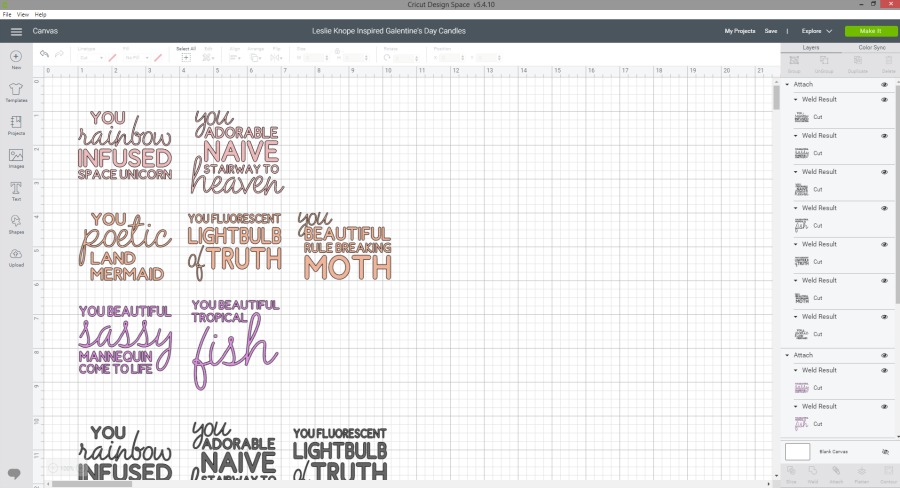 After you've hit the "Make It" button on the screen just hit "Continue" like shown on the image below. This will ask you to choose your machine type, I used my Cricut Explore Air 2 for this project and you can either connect via Bluetooth or the USB cord. On your machine, you will select the material type as "Vinyl". Push the flashing arrow button to load your cutting mat, then push the flashing "C' button to cut your project.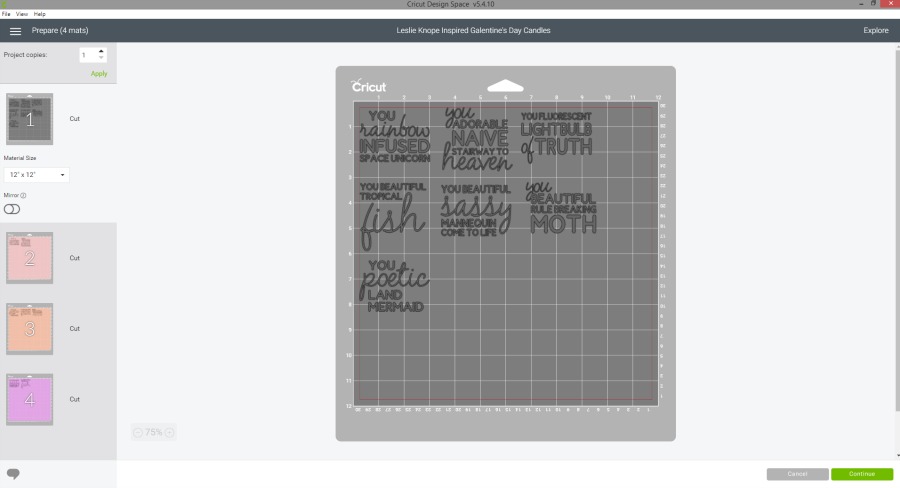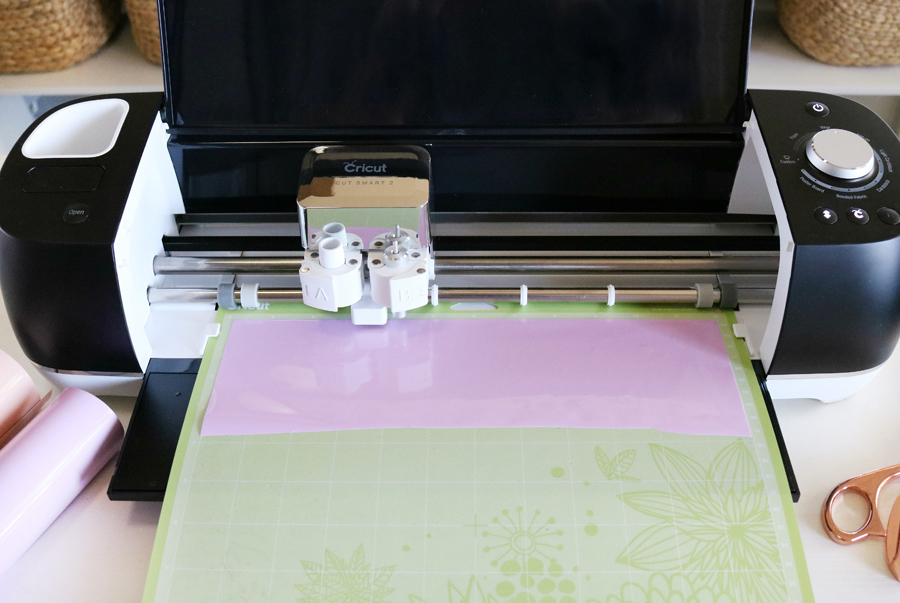 Once each color of vinyl is done cutting you will unload your mat and cut the next color as Design Space prompts you.
Use your weeding tool to remove any of the excess vinyl from your image. Place a piece of transfer tape over the top of the colored layer which is the main image. Use your Brayer tool or scraper to make sure the transfer tape is on good, carefully peel away the backing of the vinyl. I like to place the image face down on a hard surface and roll the paper backing away from the vinyl. This will leave the vinyl image on your transfer tape.
HOW TO LAYER YOUR LESLIE KNOPE GALENTINE'S DAY VINYL IMAGES
Place the black layer down first on a hard surface, I like to use a small piece of tape to secure it to my surface. Carefully take your main colored vinyl image and align it over the black layer, I wanted this to look like a drop shadow effect so I slightly placed the colored vinyl to the right of the black vinyl.
Again, use your Brayer tool or scraper to press the layers of vinyl together. Flip your combined vinyl layers over and again roll the paper backing away from the vinyl. Center your vinyl decal on your candle. Use your finger to smooth the vinyl on to your surface and remove the transfer tape.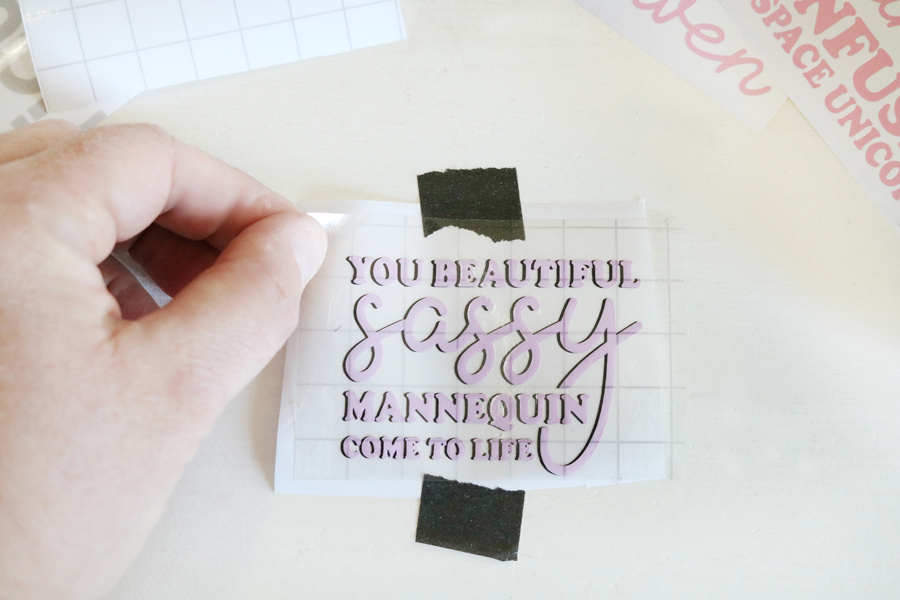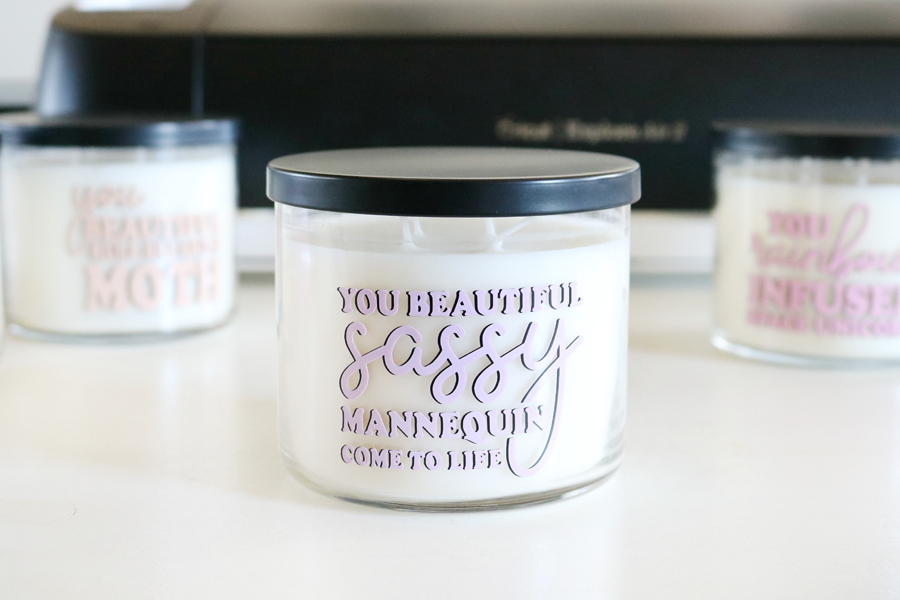 Ta-da! Now you have these adorable and fun gifts for your best friends, co-workers, significant other, or keep them for yourself! I love how these turned out, the colors are perfect and I love that this Galentine's / Valentine's Day gift idea took me about 10 minutes to put together after I cut all the vinyl.
If you loved these Leslie Knope Inspired Galentine's Day Candles be sure to check out these other amazing Valentine's Day ideas!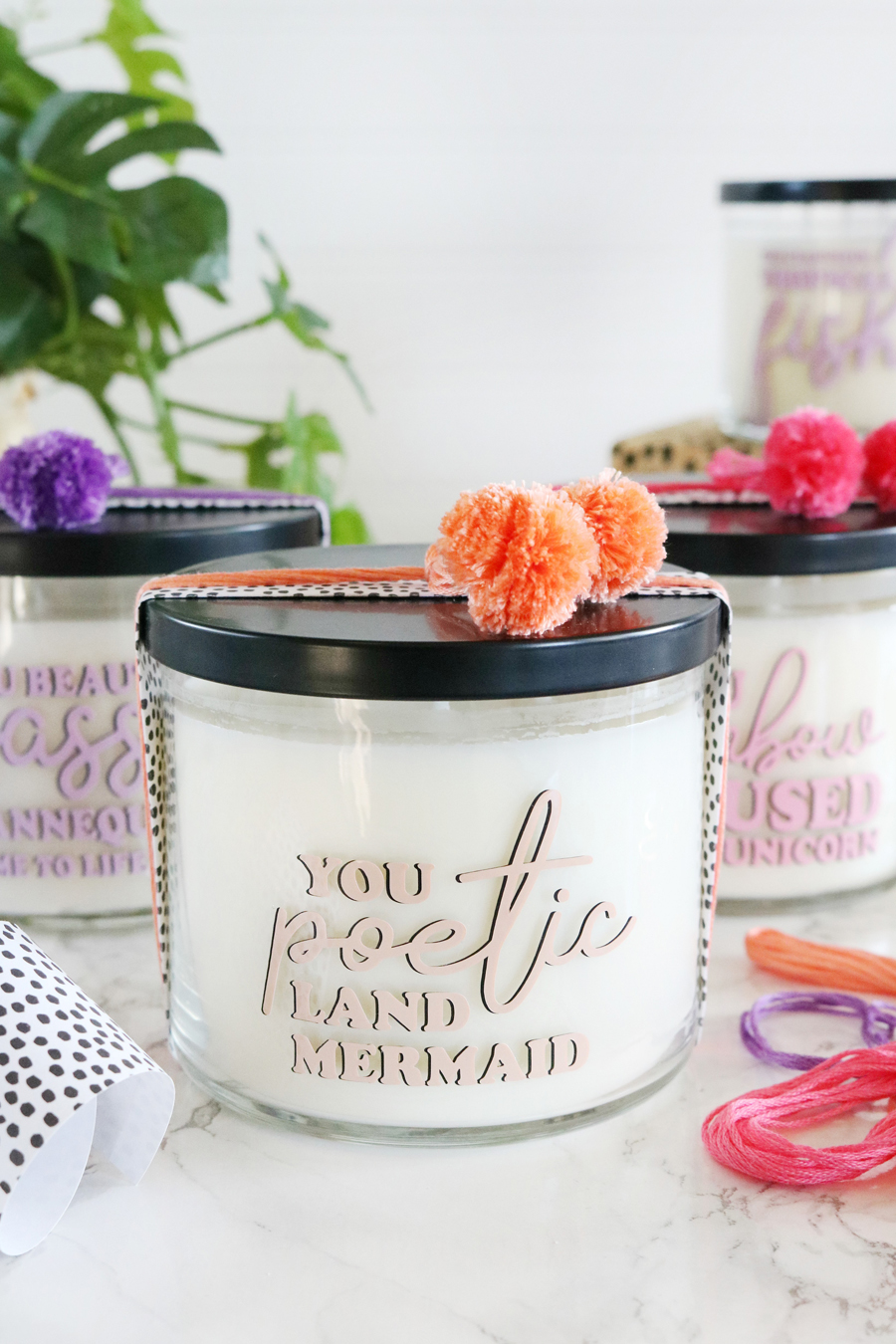 Since I am gifting my cute candles I wanted to package them all in a fun way so the cute graphics can be seen. I had some dalmatian print paper ribbon that I had found at Hobby Lobby in the scrapbook section last year, I folded a length of it in half and secured it with a tape runner around the candle at the bottom. Using some embroidery floss that I had on hand as well that just so happened to match my candles perfectly I made a cute pom-pom tie. I love the Clover Pom Pom Makers, I have them in all the sizes and use them all the time. To make the mini pom poms like I made you will need these mini makers found HERE, I used the purple which is the smallest size. These are the larger sized makers in case you want them too, find them HERE.
If you don't have these supplies, you can use ribbon or twine to package your candles.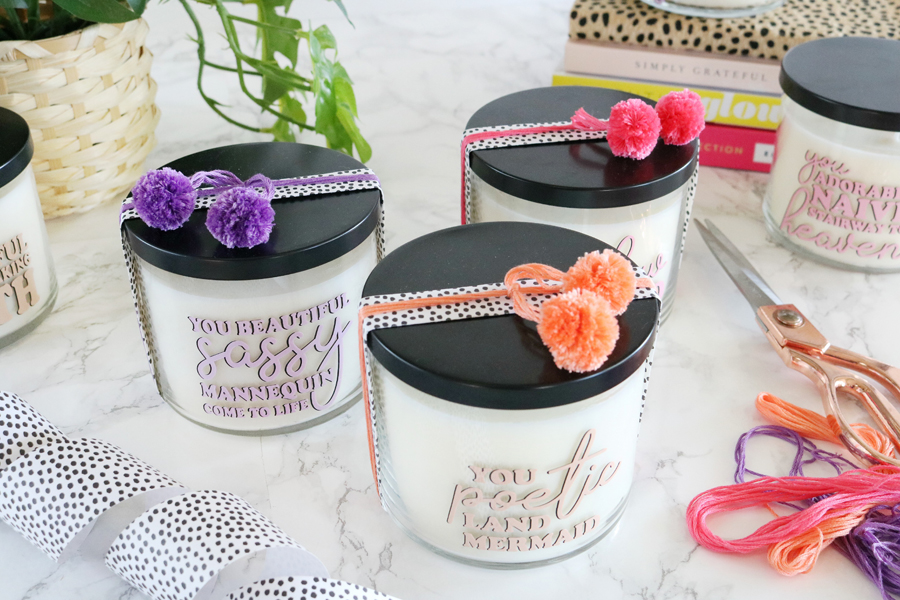 There are a total of 7 Leslie Knope Inspired Galentine's Day quotes for you to choose from for your best gal pals. Pick your favorites or use them all, I guarantee these will be a huge hit. Especially if they love the Parks and Recreation show! Happy Valentine's Day friends.