Yesterday my youngest turned 3! (a little tear just fell) We celebrated his birthday with family and a few close friends again this year. I chose a Circus theme. The colors were red, black, white, yellow, turquoise, and gray. Since it's so stinkin hot here in Arizona we couldn't do the party outside like I usually love to do with our other son's parties. So we were inside the house. Which can be tricky since our house is on the smaller side, but luckily we have a small family. As always I made almost everything.
For the favors I filled little take out boxes with funny face glasses, little wind up toy clowns on bikes, and other little treasures. Plus I sent candy home, no way am I letting my kids eat all that! They each got a pinwheel too.
I took all the picture frames that were in the room and covered them with scrapbook paper and then printed some vintage Barnum & Bailey circus posters. The hanging garland in the archway were made from paint chip samples from. I just punched different sizes with my circle punch and hot glued them to some ribbon.
I made all the fabric pennant flag banners. Just grabbed some inexpensive cotton solids from the fabric store and made a template with some poster board and cut them out. Then I just stitched each flag piece one after another on a piece of ribbon.
I decorated the mantle on the fireplace with tissue paper pomanders, paper carnival tickets from the dollar store, and some more printed vintage Barnum & Bailey circus posters.
To make it look like a large spool of tickets I used Styrofoam from the dollar store and just hot glued tickets to it, stacking a small Styrofoam ring on top and repeating the same thing. Then I printed the "life is a circus" graphic and glued it to a popsicle stick and stuck it in the Styrofoam.
I made this welcome sign for the front door using an old picture frame and gluing some paper fans to it to match the colors of the party.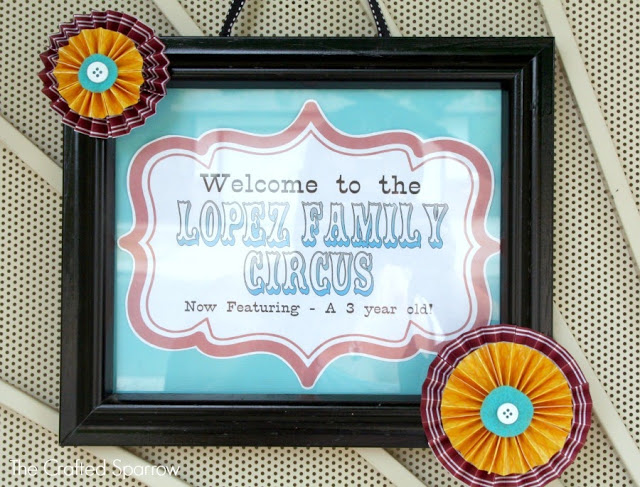 I would have shot more pictures of the food…but we were so hungry we just dove in and ate! We had corn dogs, hot dogs, carmel corn, regular popcorn, and lots of candy & cupcakes.
Such a great party, love celebrating my boys!